Eat Organically with Farm Fresh To You
Farm Fresh To You is a one-stop-shop for fresh organic produce from local farms and artisans. They offer the season s best produce in organic farm boxes and deliver them to your doorstep.Farm Fresh To You believes in eating healthy and aims at producing more organic foods, so that it will benefit the consumers as well as local farmers. All you have to do is to pick a farm fresh box on the website, customise its contents, add farm products and grocery and simply place your order. Shop from Farm Fresh To You online and enjoy amazing Farm Fresh To You discounts during Farm Fresh To You promos.
History of Farm Fresh To You
Kathy Barsotti and Martin Barnes brought their dream to life with the tradition of organic farming and sustainability in 1976. They did so by growing their Capay Organic farm, which started with 20 acres of hard work and a simple dream. They believed that together, we could fight the harm caused by modern agricultural methods and rebuild the entire food system to move towards healthy living.
Farm Fresh To You was started by Kathy in 1992, along with the home delivery option, and she continued her work until 2000, the year she passed away. Kathy and Martin s children kept the tradition alive and continued the mission of bringing together local farms and communities, by following economically and environmentally sustainable methods. Every day they work hard to grow healthy crops, use local sources of water, keep a diverse ecosystem and carefully choose their produce varieties, while fighting modern day challenges. Today, they boast of having donated more than 100,000 lbs of organic produce and delivered over 10,000 boxes to the poor.
Products Sold by Farm Fresh To You
Farm Fresh To You brings to you a wide range of fresh vegetables and fruits in different boxes and also includes a vast list of grocery items to choose from. Shop at Farm Fresh To You online, while enjoying great deals during Farm Fresh To You offers. Listed below are some of the product categories available on Farm Fresh To You.
Boxes –
Farm Fresh To You online offers a set of customisable boxes that can help you stay healthy in today s busy lifestyle. While the 'Mixed Fruit and Veggie box is perfect for families who love to cook and enjoy fresh fruits, the 'No Cooking box contains only fresh fruits and easy-to-prepare vegetables for people on the go. They also have the 'Traditional CSA box, 'Snack Pack , 'Fruit Only and 'Veggie Only boxes.
Artisan & Grocery Basics –
Apart from fruits and vegetables, customers also have the option to customise their boxes by adding their choice of grocery and snack items. The website offers everything right from meat, dairy, meatless products and drinks to hand and body products, pantry, bakery and meal kits.
Make sure to check for the Farm Fresh To You coupons and vouchers offered during the sale period before you proceed with shopping.
| Farm Fresh To You Product Category | Products |
| --- | --- |
| Boxes | Mixed Fruit And Veggie, No Cooking, Fruit Only, Traditional CSA, Veggie Only, Snack Pack |
| Artisan & Grocery Basics | Meal Kits, Pantry, Snacks, Dairy, Drinks, Bakery, Meatless, Meat, Home & Body |
How to Shop on Farm Fresh To You?
It is very easy to order your desired products from Farm Fresh To You. The website also brings to you a number of Farm Fresh To You sales from time to time. The homepage displays how you can get started with ordering your customised box of goodness and also provides an option to compare different farm fresh boxes. You can also find Farm Fresh To You promo codes, vouchers and other discounts on the homepage. You may check delivery to your home or office by entering the respective zip codes in the designated space.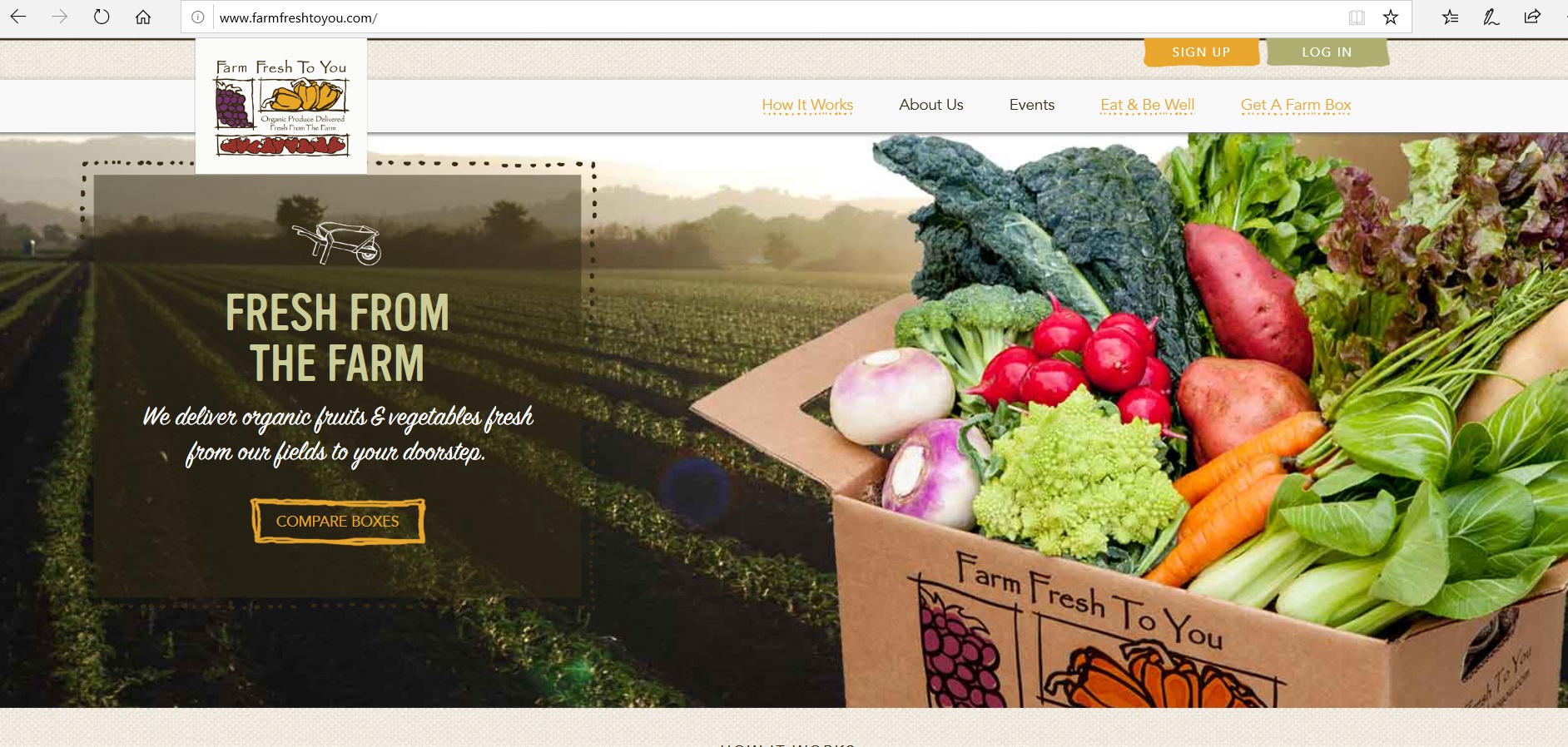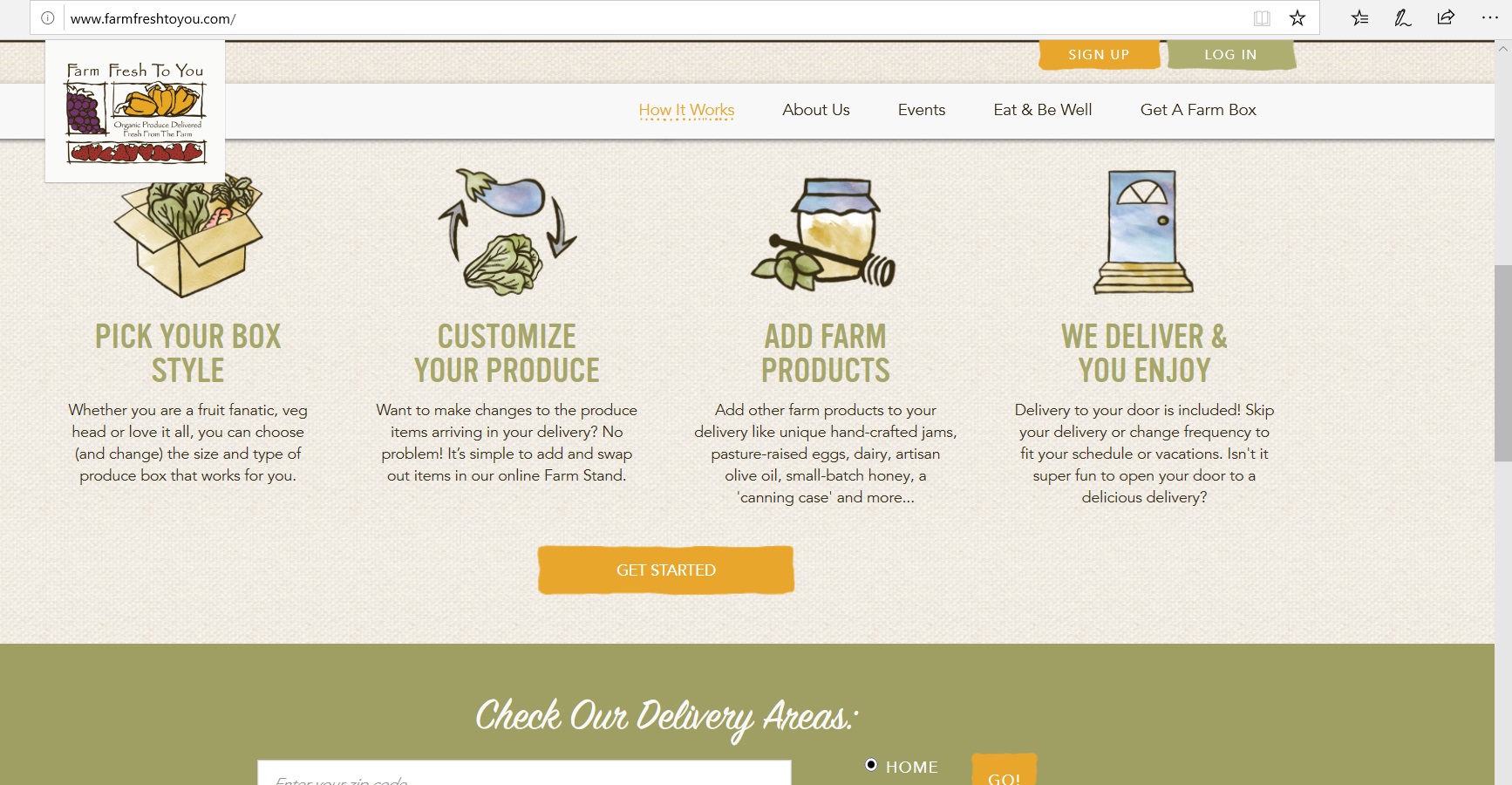 1. When you click on 'Compare Boxes , it displays the different categories of boxes available, such as the Mixed Fruit and Veggie Box, Fruit Only Box, Snack Pack, Veggie Only, etc. Click 'Get Started on the homepage and select your preferred kind of box from the displayed categories by clicking 'Bring me this box .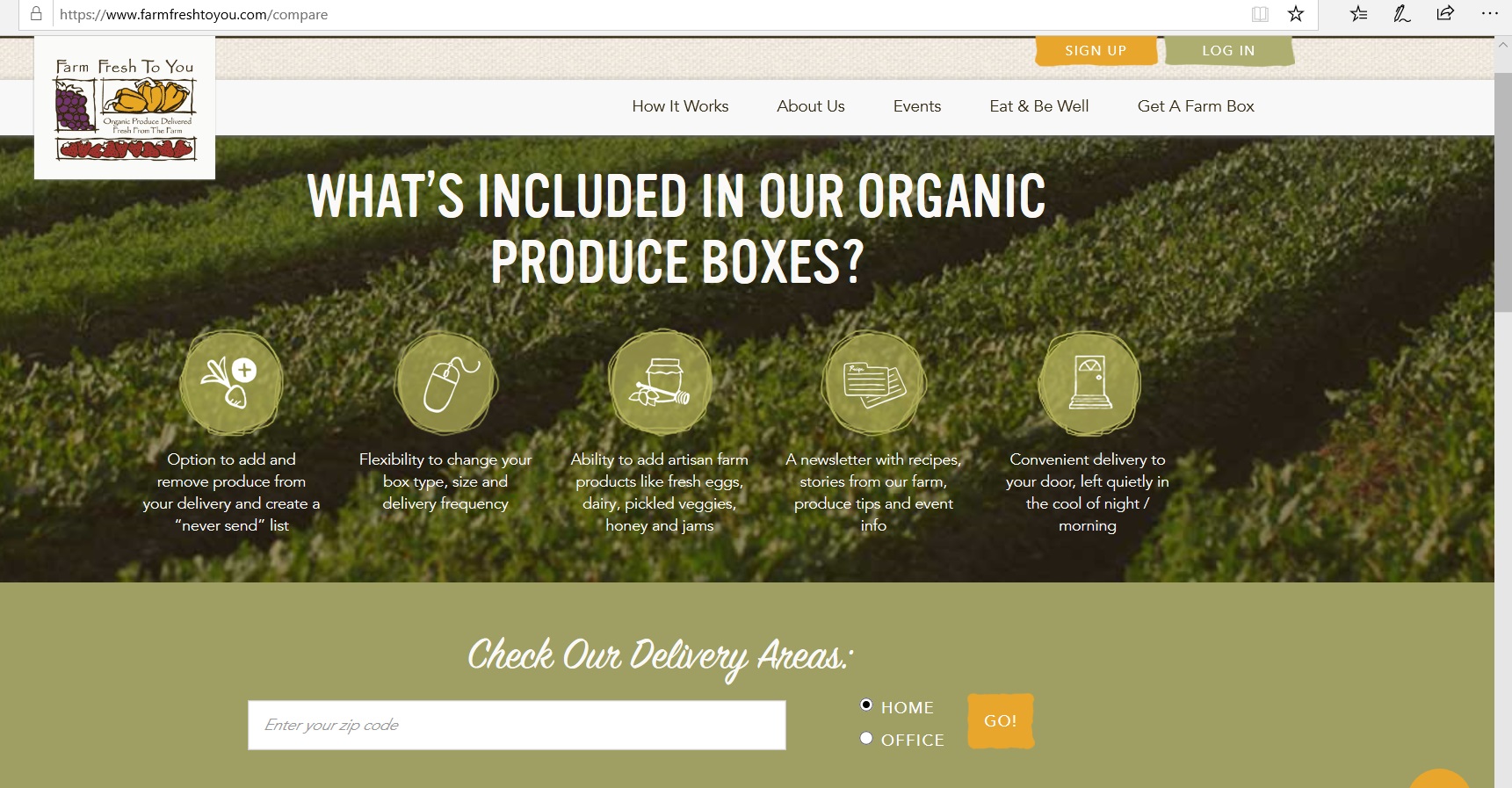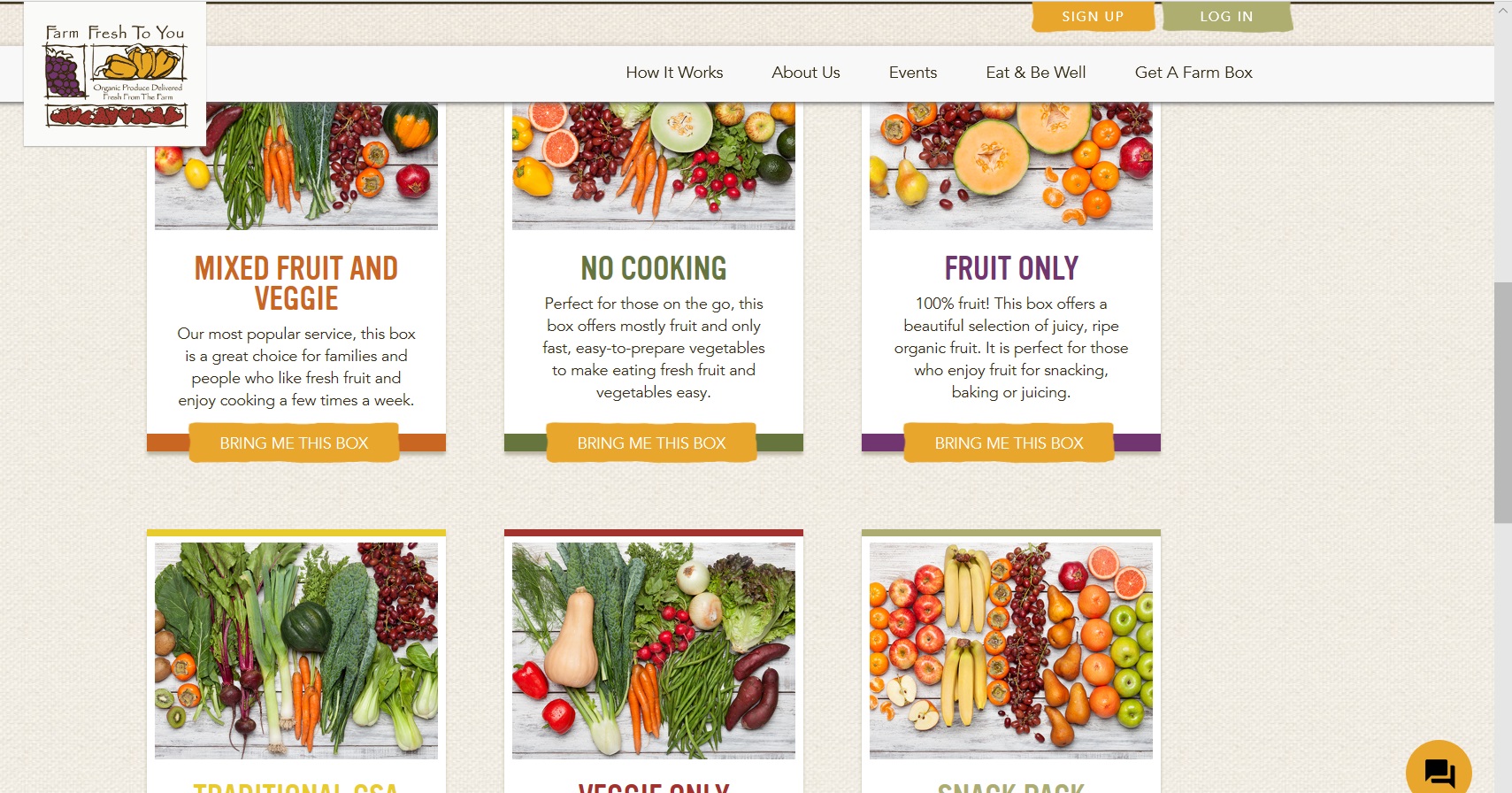 2. It displays the box description, an option to compare box sizes and see the 'sample box content for each size , an option to add some artisan and grocery basics as well as some of their popular add-ons. When you click 'Compare box Sizes , it displays all available box sizes along with their prices. When you click on any of the 'Add Artisan & Grocery Basics options, it displays the different categories of farm products and groceries that you can add to your box. You may go back to browse a different box or select the size, frequency and your zip code and click Update . Then enter your first delivery date and click 'Sign Up for This Service .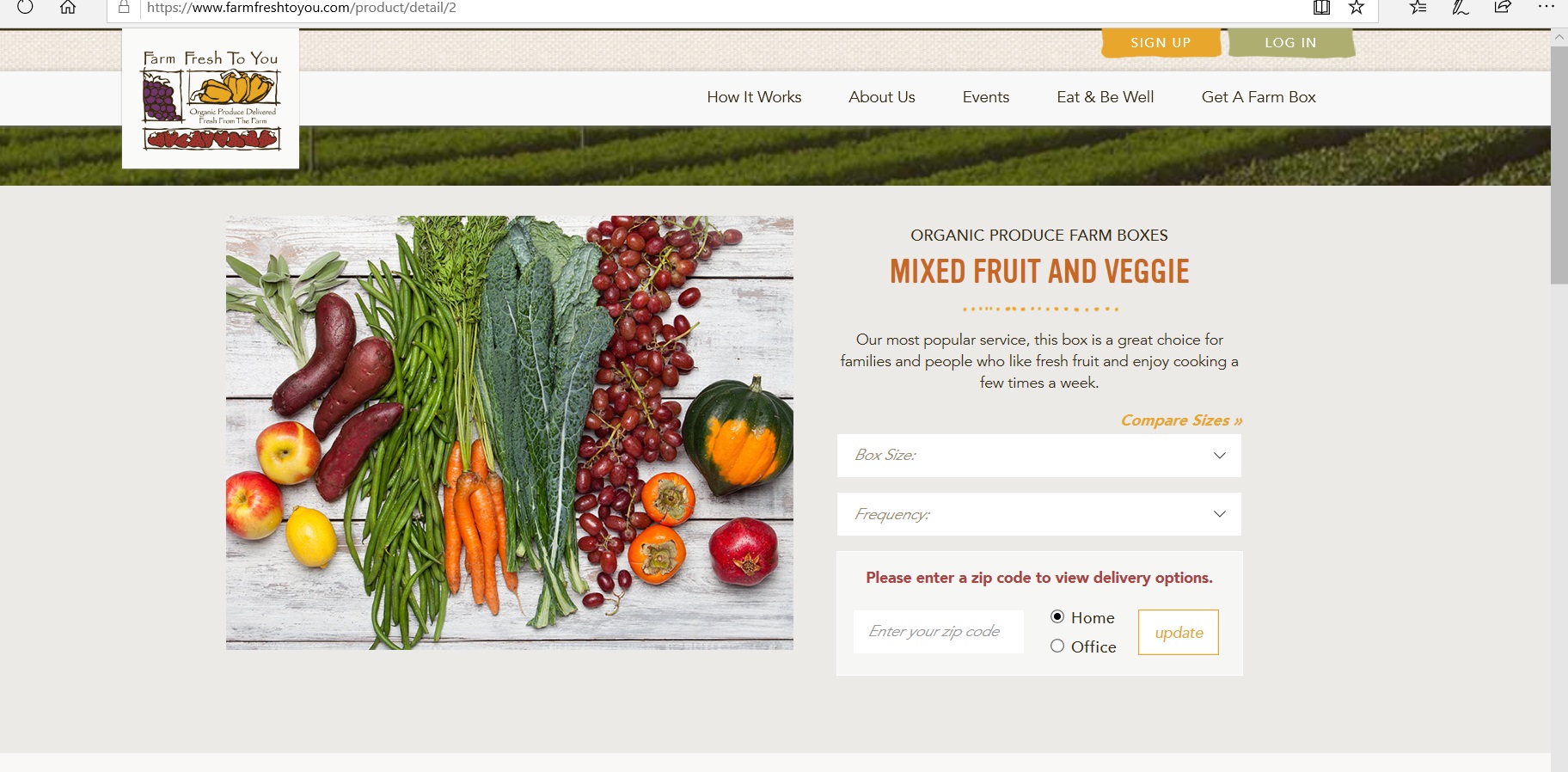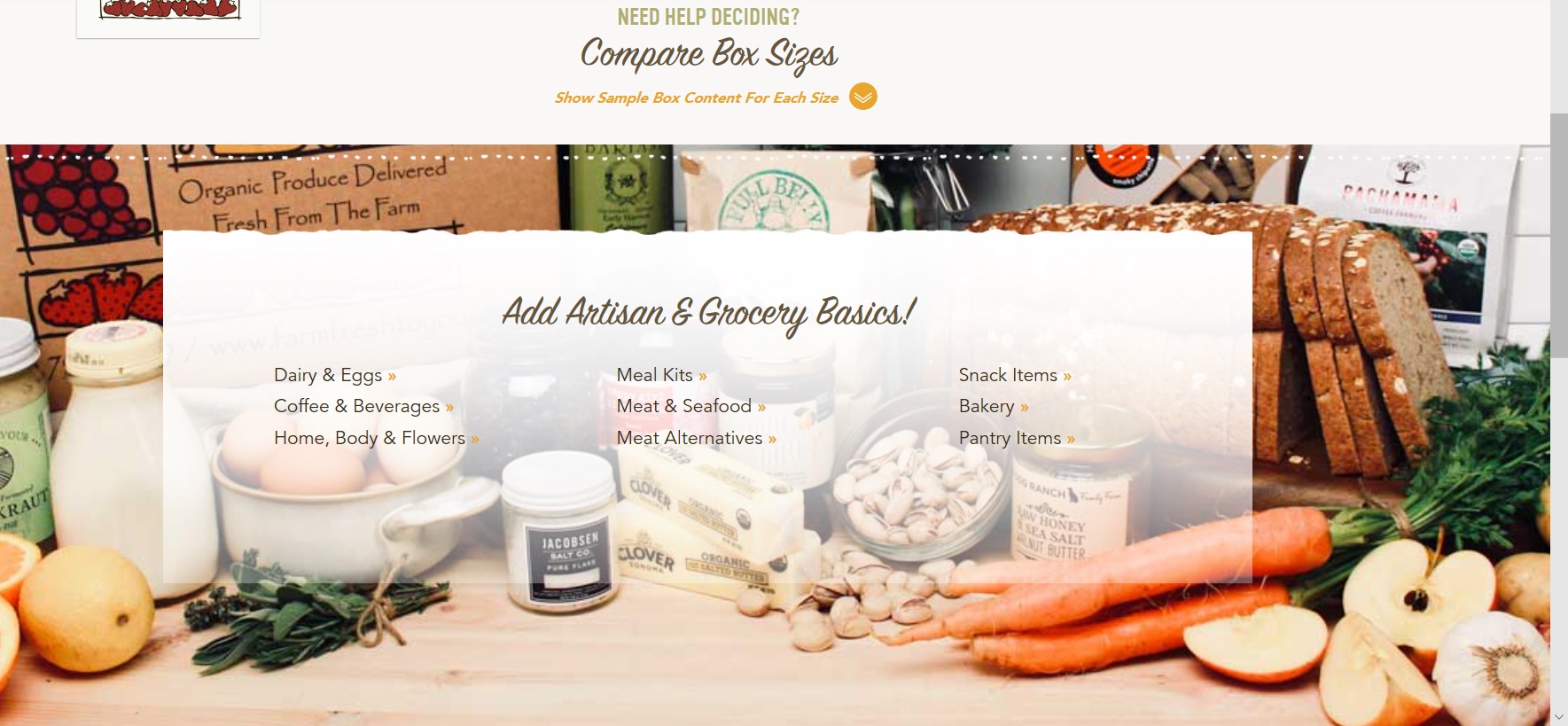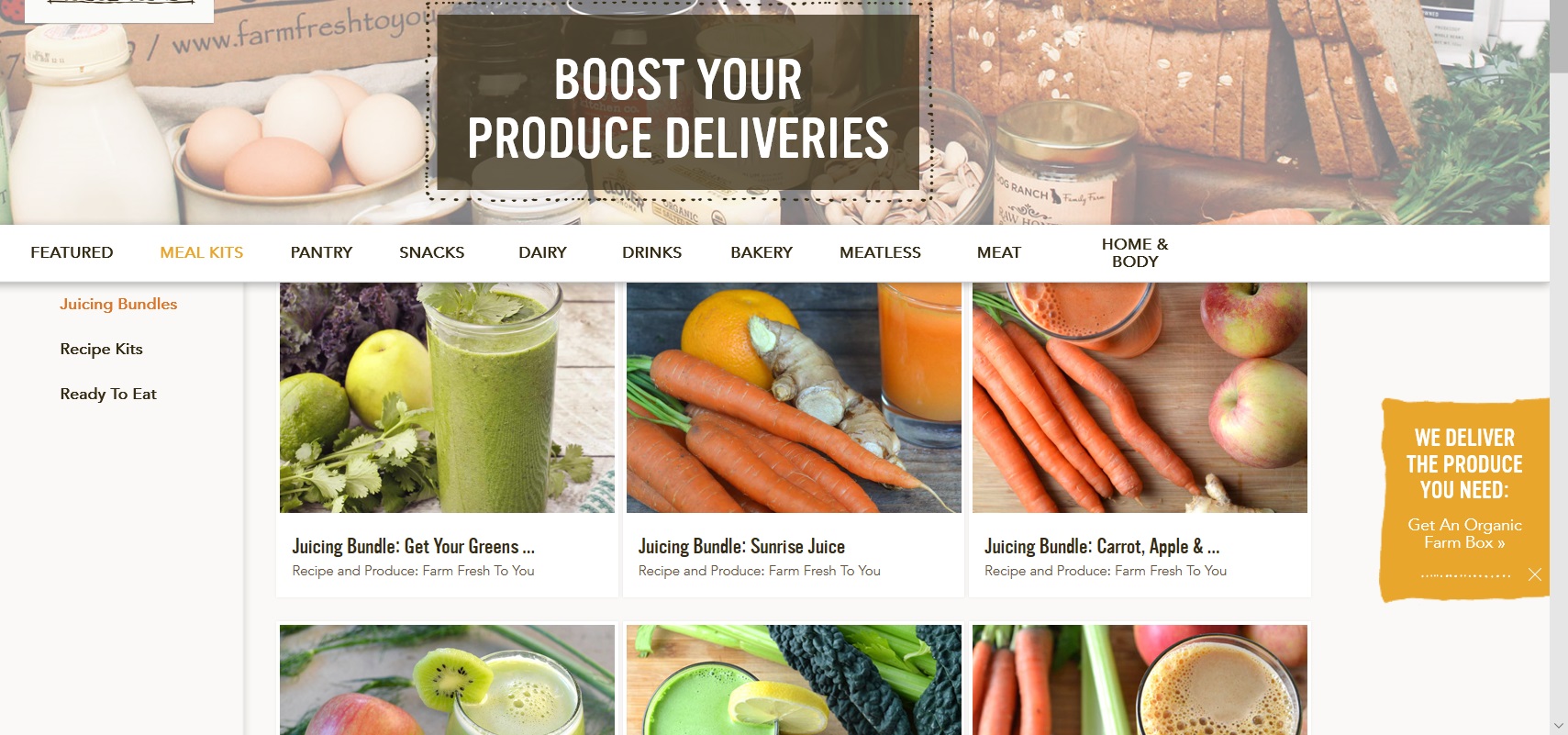 3. The product will be added to your cart, after which you may continue shopping or proceed further by logging in or signing up. Then enter the Farm Fresh To You promo code, hit the 'Submit button and click 'Next . Fill in your delivery and contact details on the next page and click 'Next . On the resulting page, enter your payment details and click 'Review Order to complete your purchase.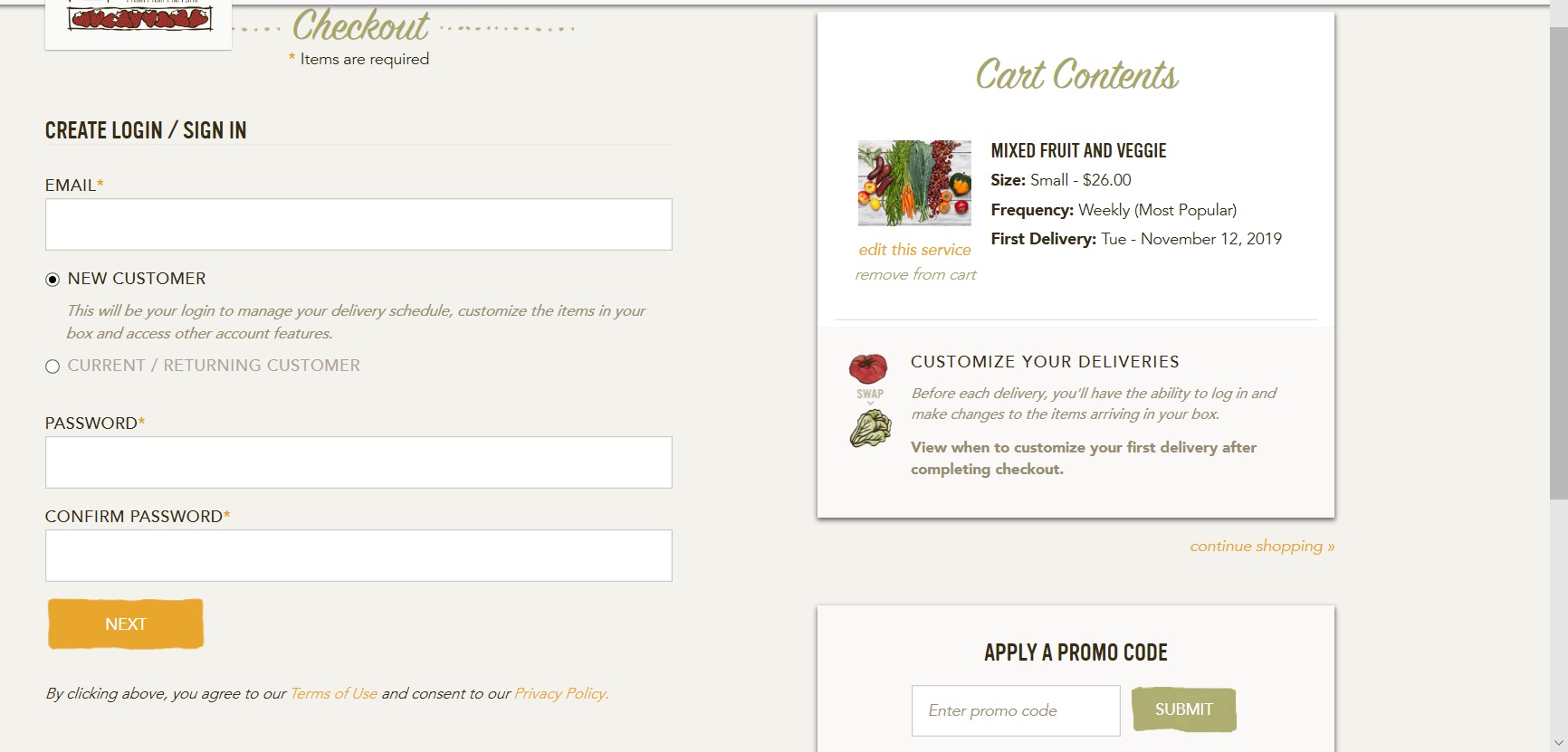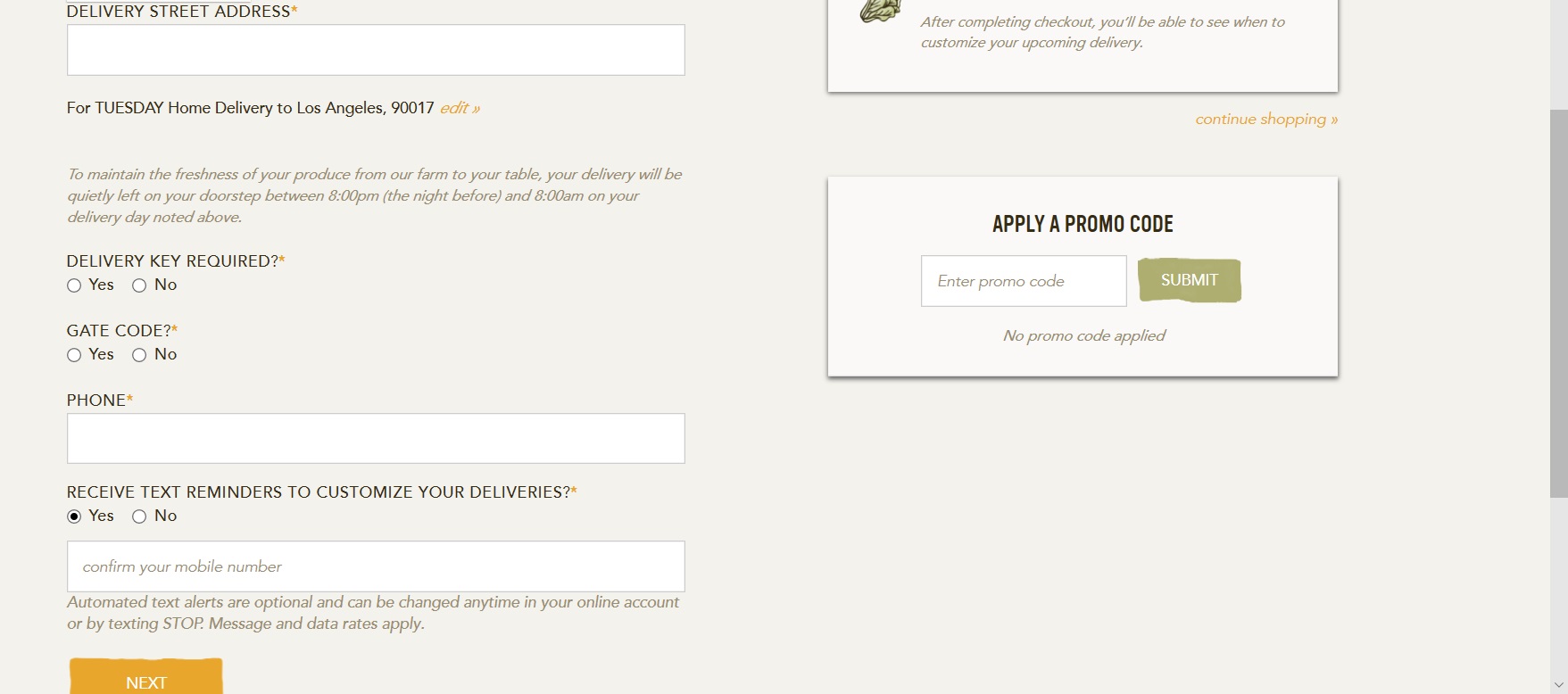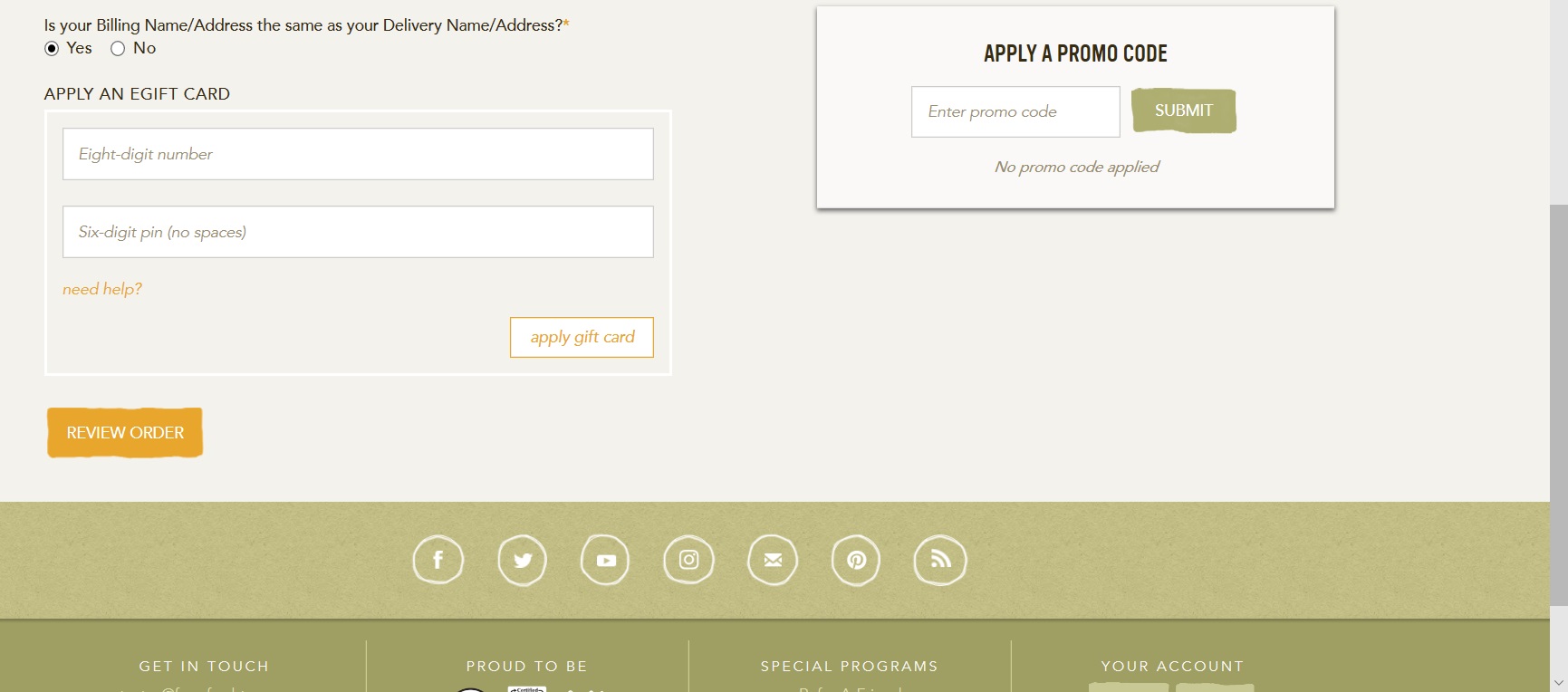 4. You will see your purchase details after placing the order, along with the expected delivery date of your product. An e-mail will be sent to you to confirm your order details.
5. Customers can find great deals on products during promotions and sales. You can avail discounts by using the Farm Fresh To You discount codes on checkout. Make sure to check for special deals before placing an order.
Payment Options on Farm Fresh To You
Farm Fresh To You offers the following payment methods for your convenience.
Credit Card:
Farm Fresh To You accepts VISA, American Express, MasterCard, Discover and eCheck/ACH.
Prepay and Save:
They also offer the 'Prepay and Save payment method, an advance payment option that helps you save 5% on your orders. For every advance payment of $300, you will receive a $315 spending credit on your customer account for future use. Know more about this method by visiting their 'Prepay and Save terms and conditions.
Different Coupon Codes and Discounts on Farm Fresh To You
The website brings to you a number of coupons and Farm Fresh To You vouchers from time to time. Some deals are offered for a long time while others are available for a limited period only. Customers can save a lot of money by applying the available codes and earn cashback if they shop with the merchant via a registered account at ShopBack.
How to Redeem Coupons and Vouchers on Farm Fresh To You?
Online shopping can be a wonderful, convenient experience, with a vast collection to choose from and ample opportunities to save money on every purchase. Most online shopping websites offer coupon codes and vouchers that can be redeemed to earn cashbacks and discounts on products.
Here is a step-by-step tutorial on how to redeem coupons and vouchers at Farm Fresh To You:
Step 1:
Choose from the list of displayed products, select your preferred item and click Add to Cart .
Step 2:
Enter your email and shipping address and proceed to checkout.
Step 3:
Proceed to the payment page. Here, you will find a box under the payment summary section to enter your Farm Fresh To You promo code or any other applicable discount codes for availing discounts.
Step 4:
Choose your payment method and fill in the payment details to complete your purchase.
How to Shop on Farm Fresh To You Using ShopBack
ShopBack offers cashback on products if you shop from Farm Fresh To You. These steps will help you earn cashback from ShopBack:
Step 1:
Select Farm Fresh To You from the list of brands on the ShopBack homepage, or use the search box to find a link to the Farm Fresh To You website.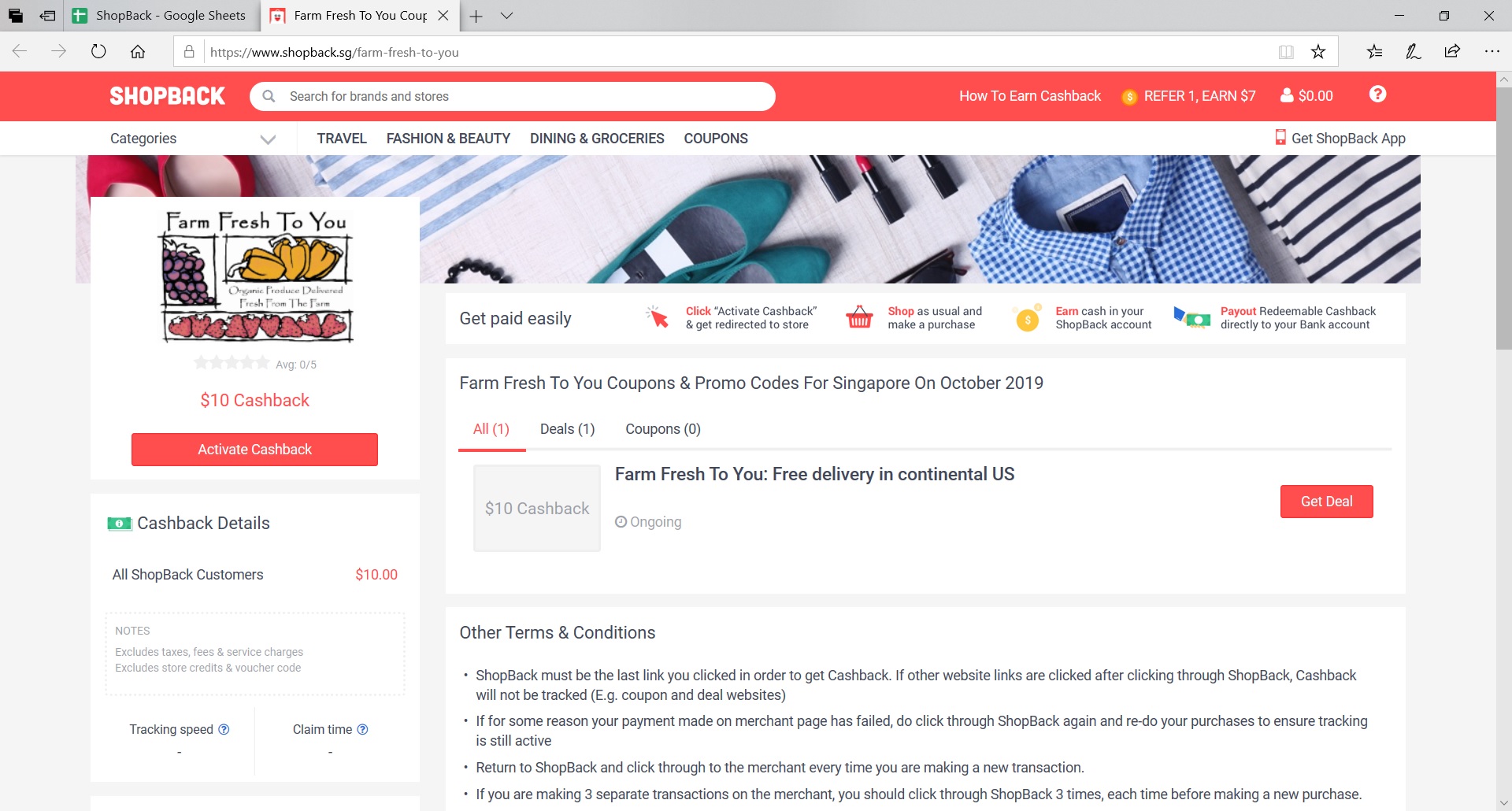 Step 2:
Read the terms and conditions and other relevant information such as cashback details and tips to ensure cashback.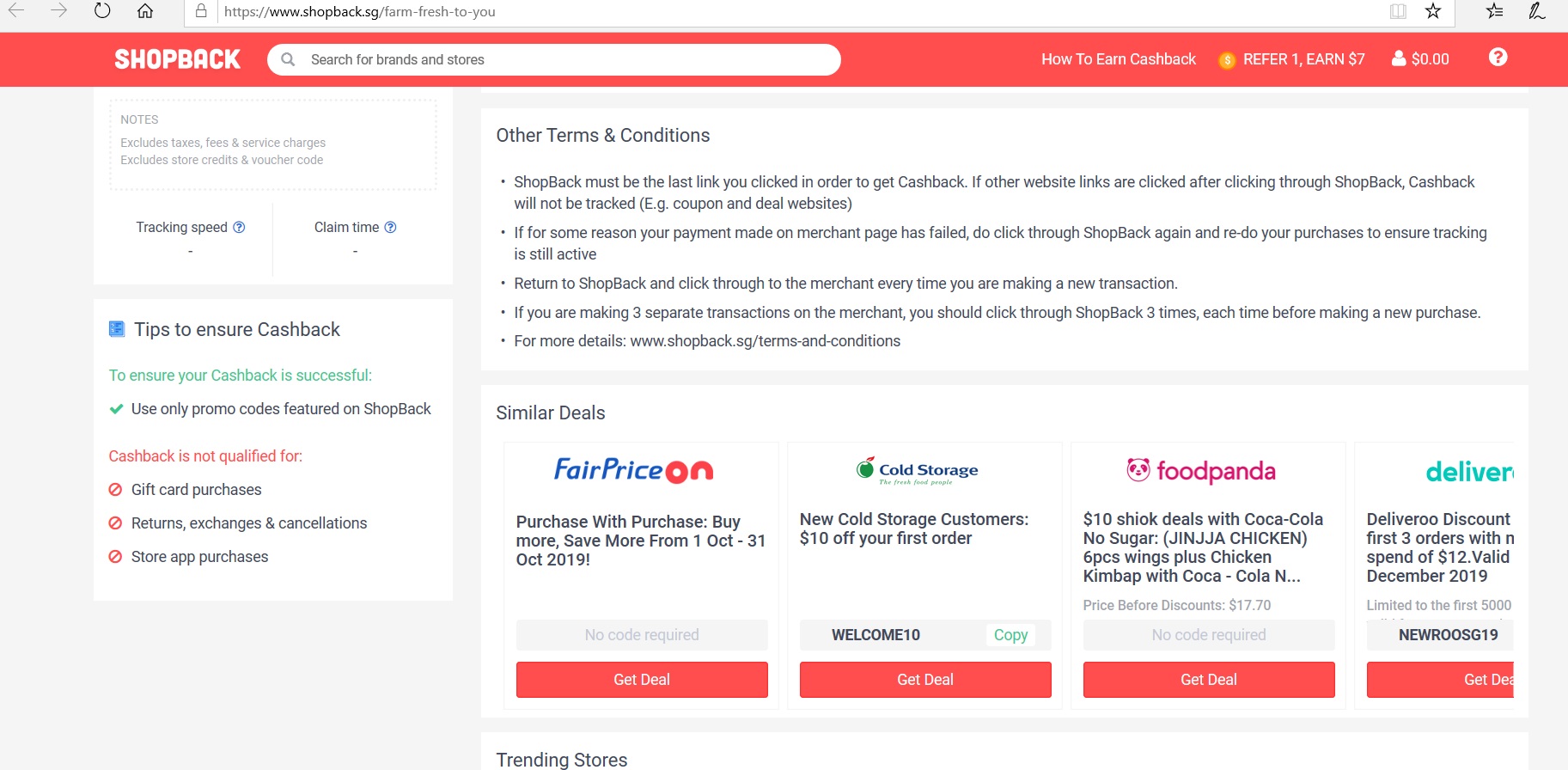 Step 3:
Click Activate Cashback on the left.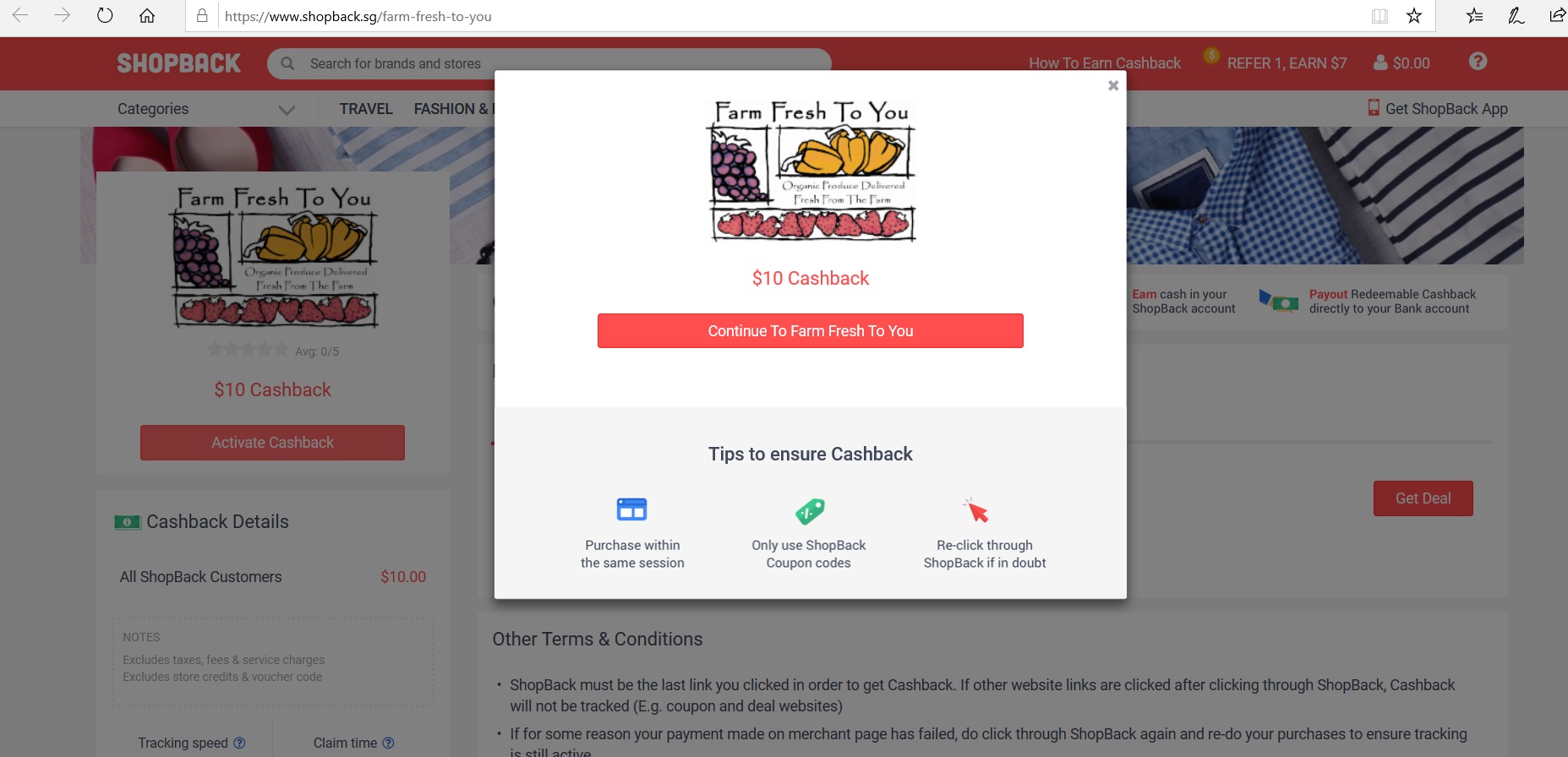 Step 4:
You can find more attractive deals by checking out the 'All section.
Step 5:
On placing the order, you will be eligible to earn Farm Fresh To You cashback from ShopBack. There may be a variation in cashback rates based on your history with ShopBack. Cashback offer is not applicable on purchases made via the Farm Fresh To You app.
Farm Fresh To You Shipping and Return Policy
The shipping and returns policy for Farm Fresh To You is listed below:
Shipping and Delivery:

Once you pick your box style, customise the contents of your box, add more farm products if you wish. Then place your order. It will be delivered to your door and the delivery time will depend on your location.

For home deliveries - In order to maintain the freshness of your box contents, it will be delivered at your door during the cool hours (between 8 PM the previous night and 8 AM on the day of delivery). For office deliveries – the delivery time will be between 8 AM and 5 PM. In case of non-receipt of your delivery, it must be informed to the concerned company people within 24 hours. In case of receipt of damaged/wrong items, it must be notified to the company immediately. Refer their FAQs section for more information.

Cancellations and Refund:

Depending on the return conditions and reason for return, you will receive a full/partial refund or store credit for the specific order. You may also put your subscribed deliveries on hold for up to 3 months, by choosing your next delivery date under the 'Manage Services panel.

Any cancellations or changes to the order or delivery must be made 2 days prior to the scheduled delivery date, before 10 PM. Visit their contact us page and refer to the FAQs to know more about returning or cancelling your order. If you are unhappy with what was delivered to you, you can send them an email at [email protected] within 48 hours from the time of delivery.
Farm Fresh To You Customer Service
Customers can clarify all the queries by visiting their contact us page. They may also connect with the customer care representatives on 1.800.796.6009 or email them at [email protected]