Eyeglasses.com, Top Quality Spectacles and Accessories
Eyeglasses.com is a one-stop destination for purchasing high-quality eyewear from the most sought-after brands across the globe. With the motto "Our Vision is Service", the company lives up to its promise by offering exceptional range of products and services.
Shopping for eyeglasses on the internet can be a little tricky as you cannot try the eyewear to see if it suits you or not. Which is why, eyeglasses.com offers tools on the website to help you make the correct eyewear decision with ease. With an enormous range of eyeglass frames and styles to choose from, you will be absolutely spoilt for choice. Not only that, by using Essilor, world s largest and best quality lens laboratory, eyeglasses.com guarantees to provide finest quality glasses at unbelievable prices. So, what are you waiting for? Log in to www.eyeglasses.com right away and buy a perfect pair of glasses with just a few clicks on your device.
Products Sold on eyeglasses.com
Eyeglasses.com offers the widest range of trendy eyewear for everyone. Customers can find high quality frames as well as lenses from premium brands on the website, at much lower prices than average retail stores. Here is a brief discussion on various product categories available on the online store.
Men:
Purchase the best quality glasses and sunglasses under this category, that have been especially designed for men. There are numerous styles and material options for frames that are extremely durable, comfortable and stylish.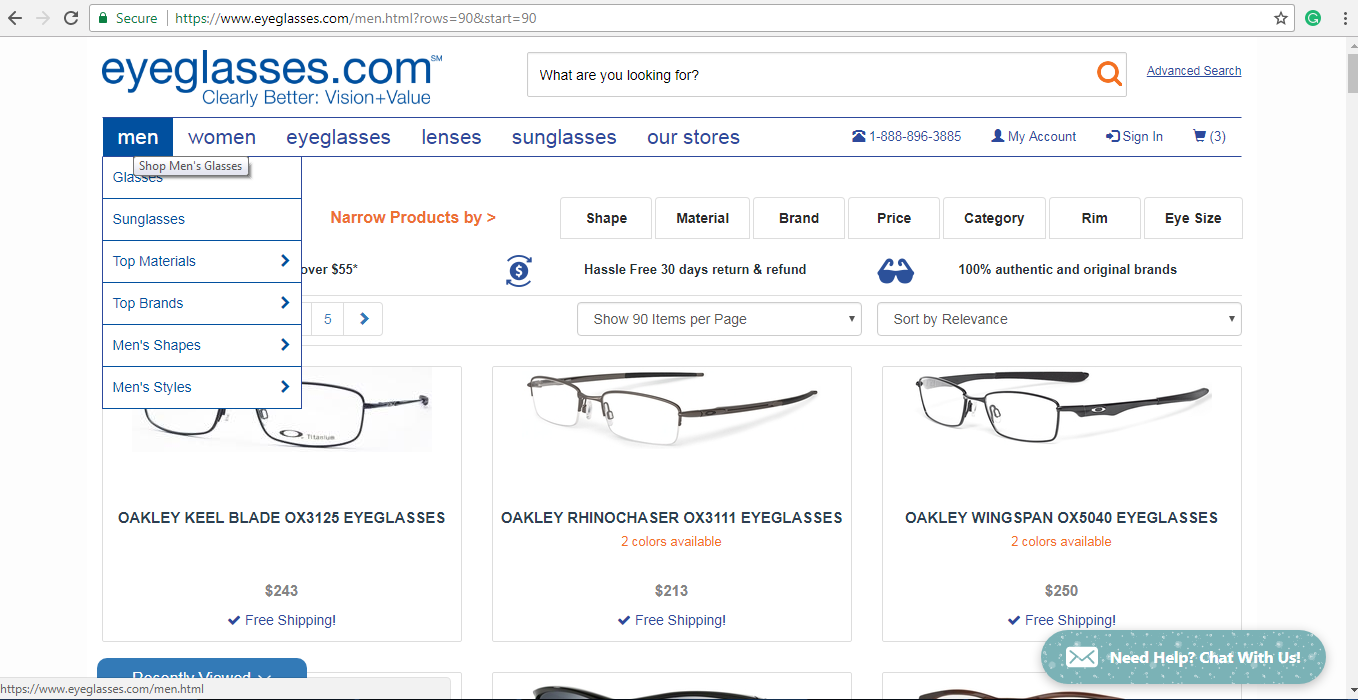 Women:
Women can check out this category for a pair of ideal glasses or sunglasses. The category lists different types of materials, shapes and styles that you can select according to your preferences. The online store offers eyewear from more than 400 brands which gives you plenty of options to explore.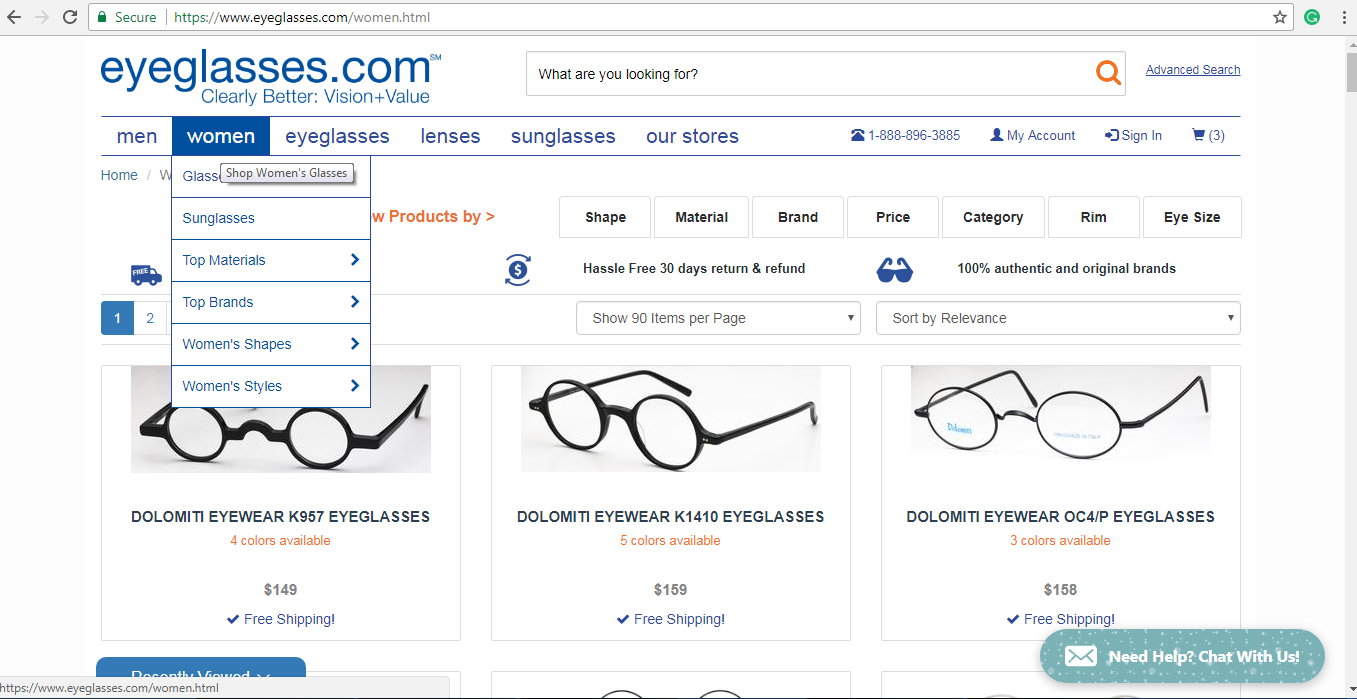 Eyeglasses:
Under this category, the website has listed several types of eyeglasses such as reading glasses, designer, presidential collection, retro, vintage, rimless, prescription eyeglasses and much more. You will also find all the necessary information and guide on how to select the perfect glasses for yourself.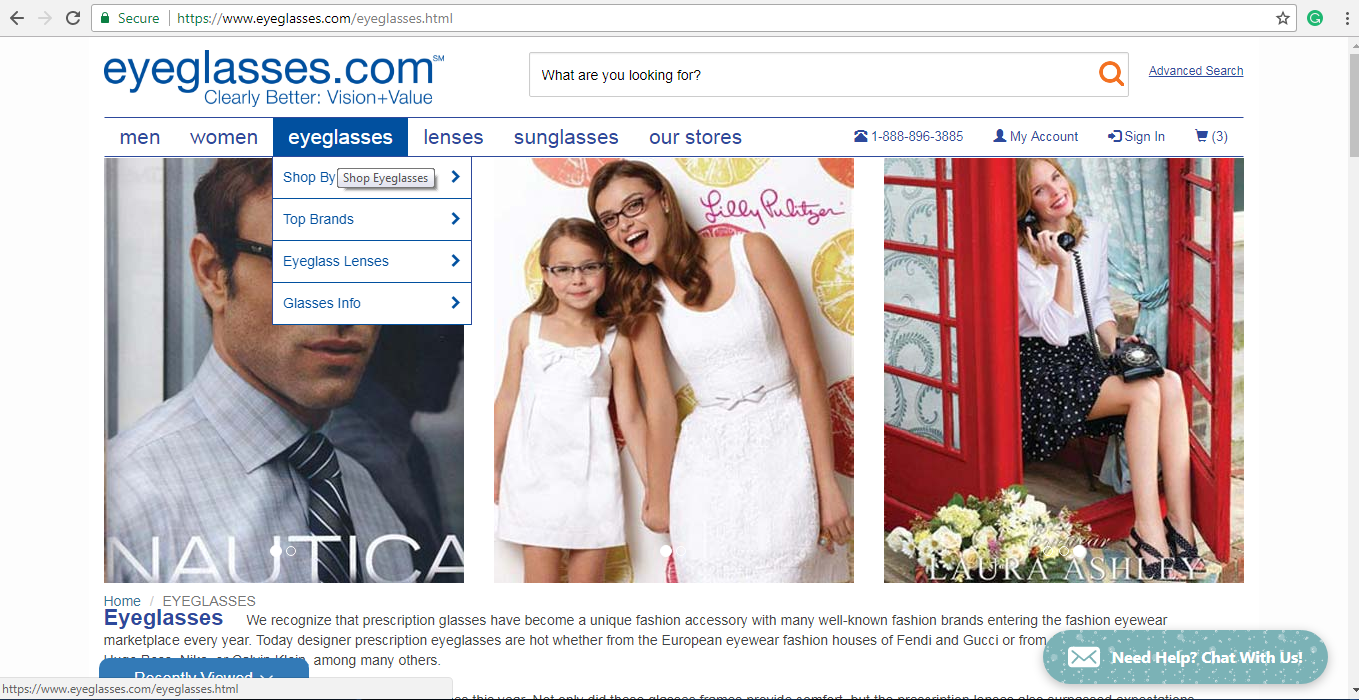 Lenses:
This category has been incorporated for the convenience of customers who are looking for perfect lenses for their eyewear. Here, customers can find sub-categories sorted on the basis of types of lenses such as progressive, bifocal, trifocal, reading vision, computer vision and the like; and the materials used like glass, CR-39, high-index 1.59 polycarbonate, trivex, ultra-high index and plutonite polycarbonate.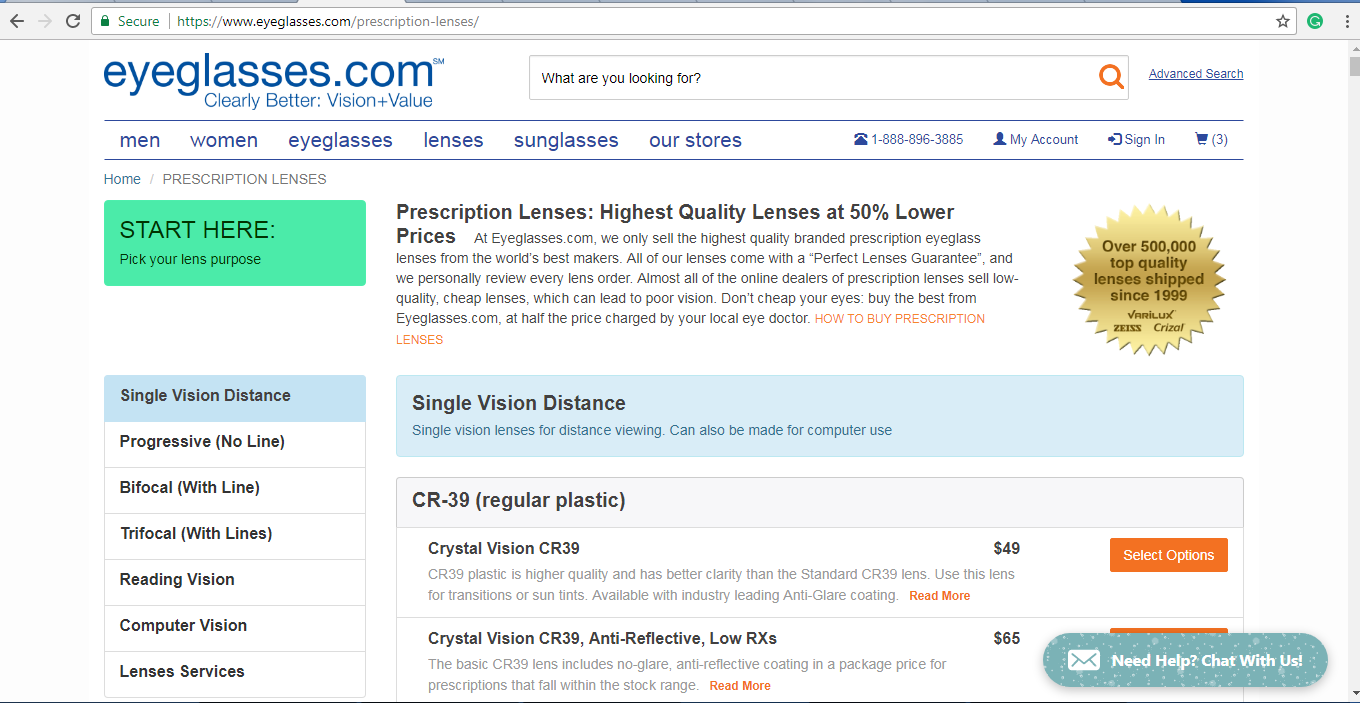 Sunglasses:
From polarised sunglasses to designer shades, one can find all types of trendy sunglasses under this category from more than 400 eyewear brands. Wear the stylish sunglasses from the best luxury brands and set a style statement while protecting your vision at the same time.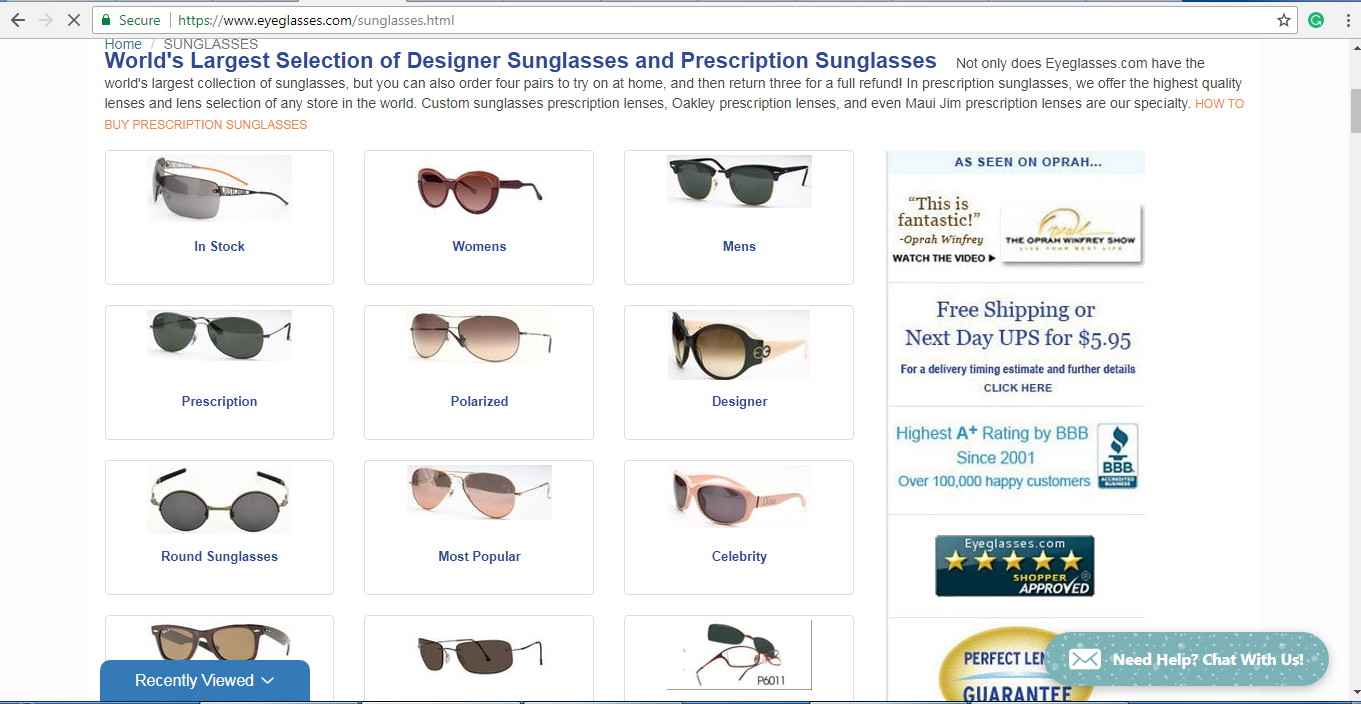 How to Shop at eyeglasses.com
Before you embark on your eyewear shopping spree, you should be aware of the type of glasses that would be right for you. Eyeglasses.com homepage features a comprehensive guide on the various aspects of eyewear shopping. Customers can browse through the information to understand the process of shopping for spectacles online. Also, there is a "Find the Right Glasses" section on top of the homepage to help you search for specific kinds of eyeglasses as per your requirement. You can either select a product category from the header of the page or enter the details in the 'Find the Right Glasses section and continue with the process by clicking on 'Find My Glasses .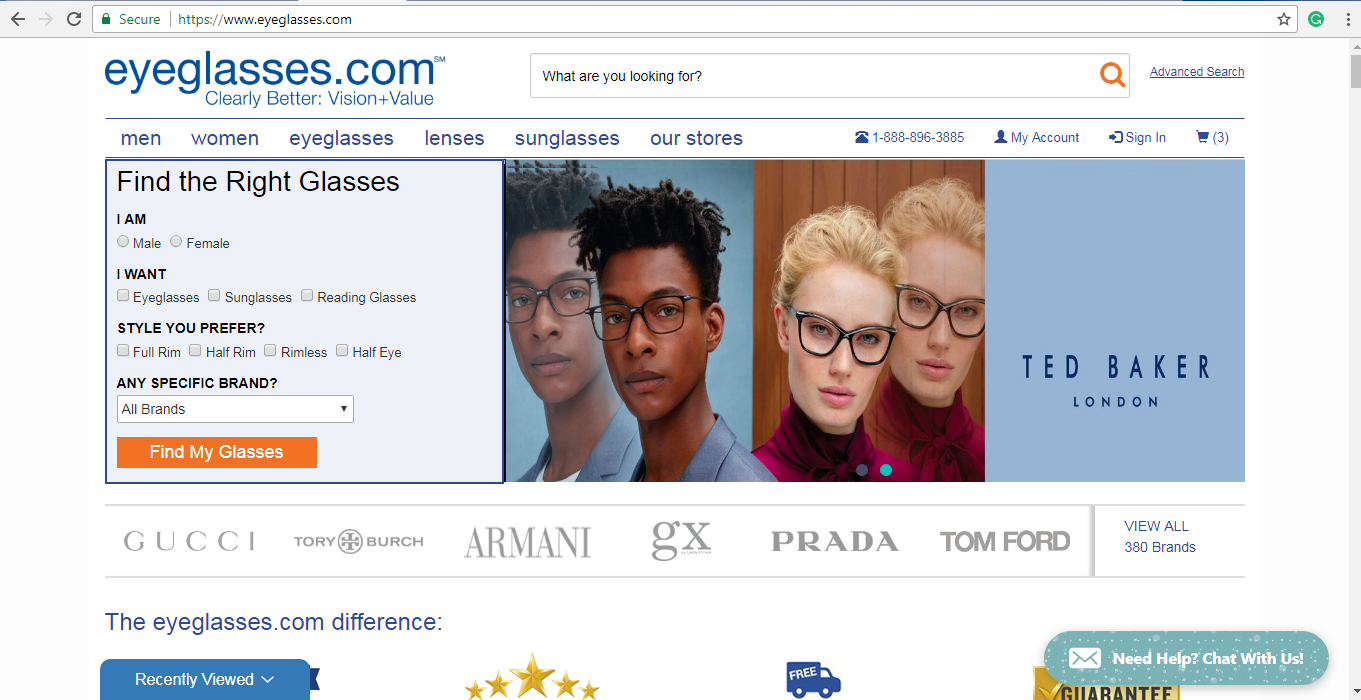 You will land on the page cataloguing all the products under that category. Browse through the list of products and select one by clicking on it.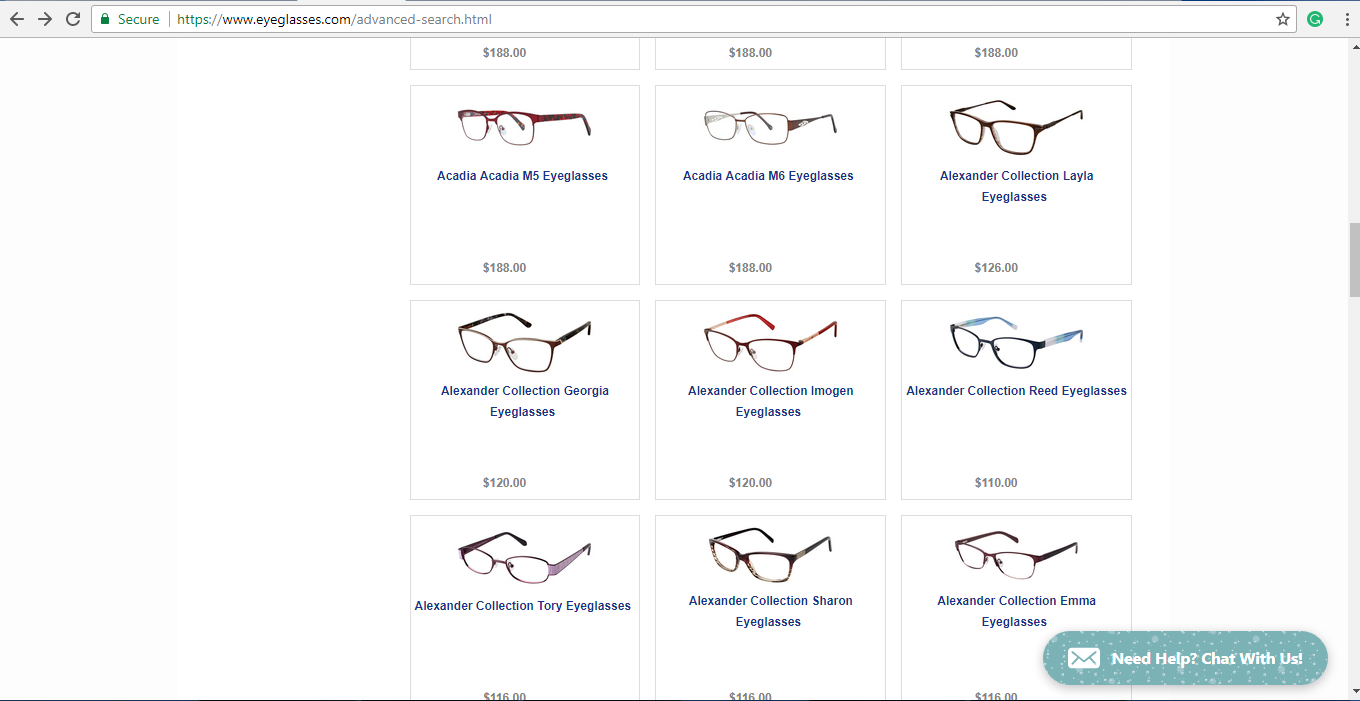 You will land on the product listing page where you will find all the relevant details regarding your chosen eyeglasses. Check all the information and click on 'Add Frame to Cart button once you are satisfied. If you want to buy customised lenses along with the frame, click on 'Add Custom Lenses to Frame button.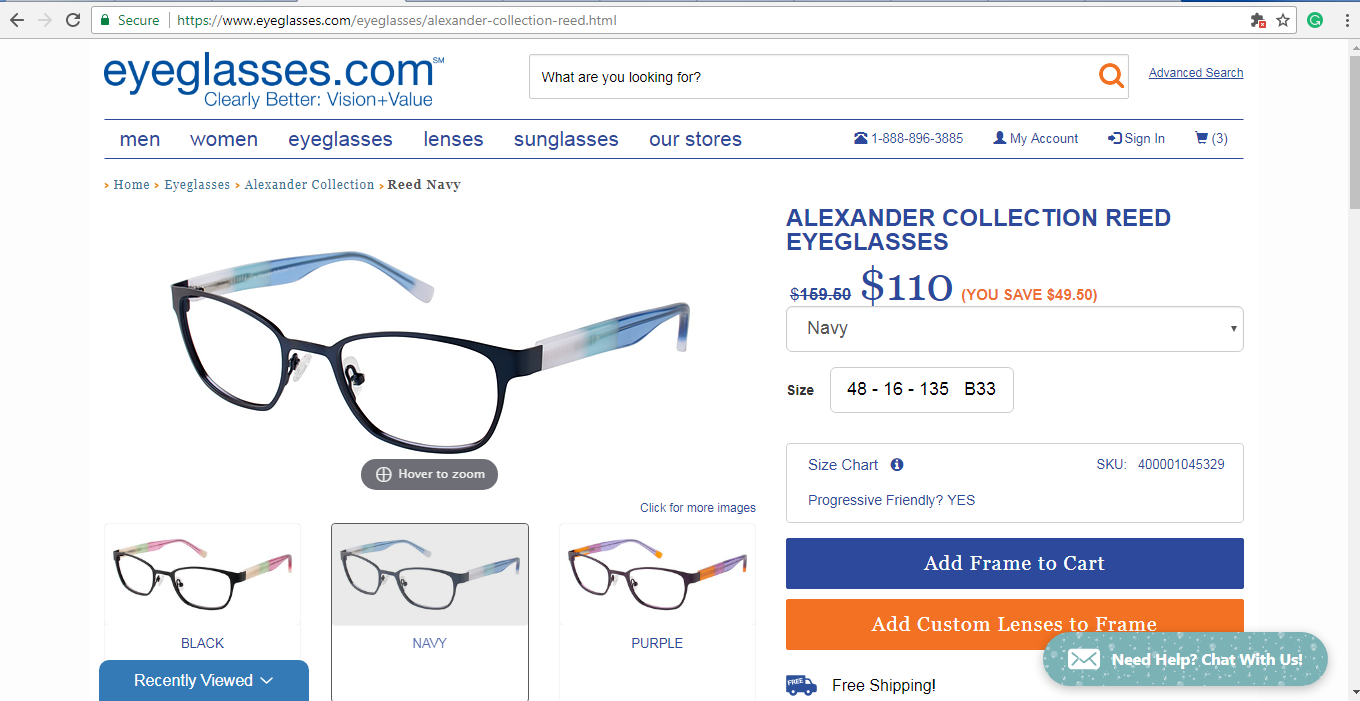 You will be directed to a page where you can customise your lens by choosing the type and material of lenses you need. The cost of the lenses will be added to your bill amount. Scroll down and click on 'Add lenses to cart button.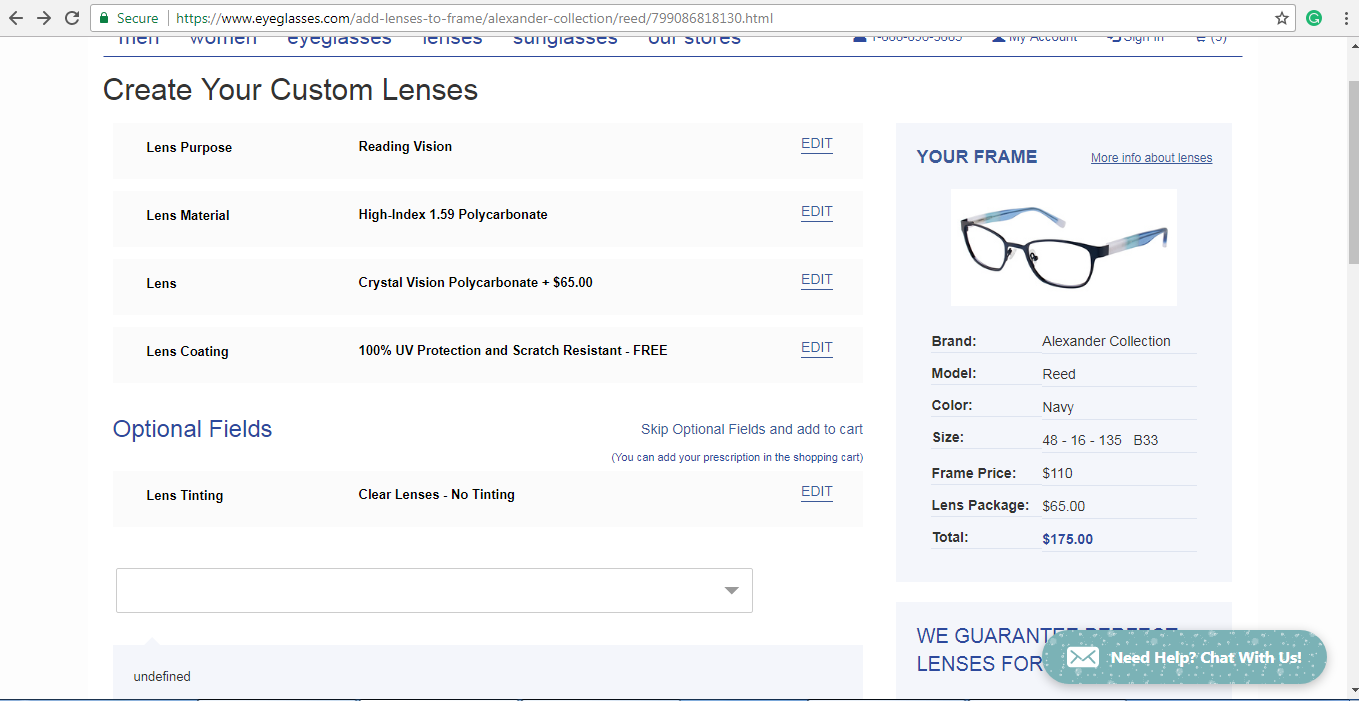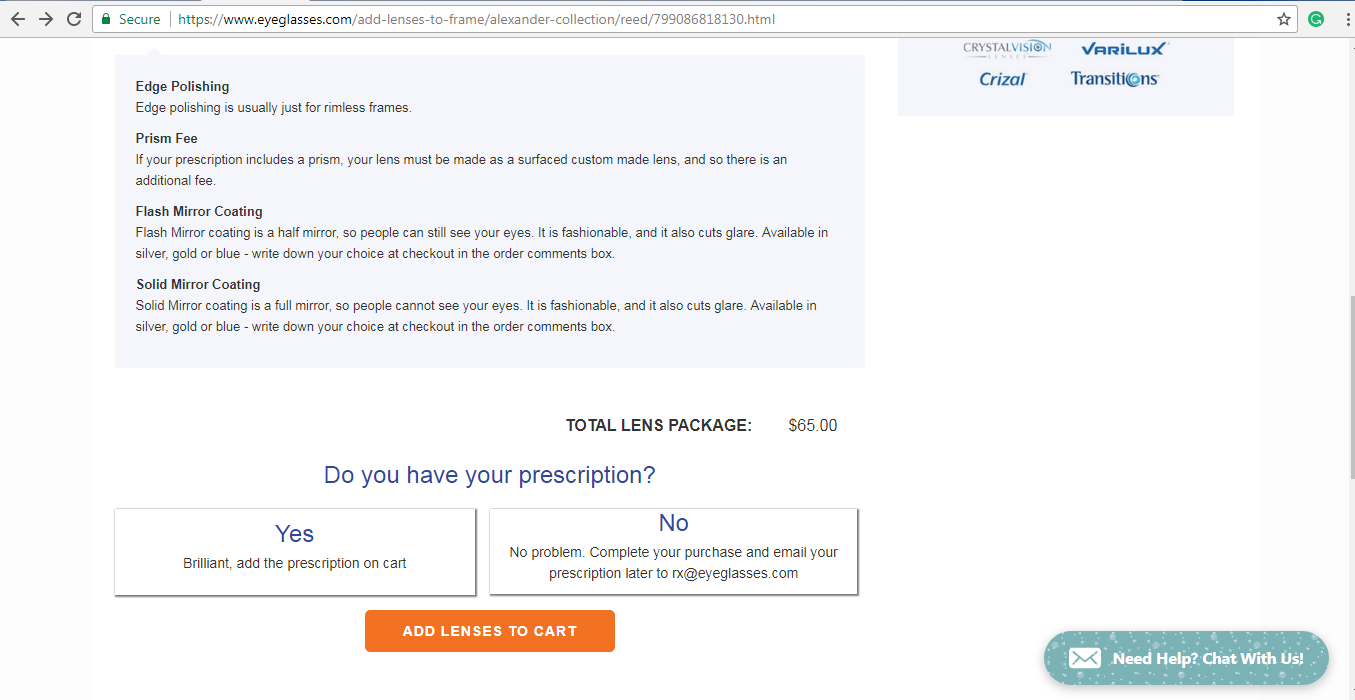 You will land on the cart summary page. Once you are satisfied with your cart, you can proceed to checkout with either Amazon Pay or PayPal. You may also enter any applicable eyeglasses.com coupon code in the box below checkout buttons. Click on 'Apply to redeem the coupon.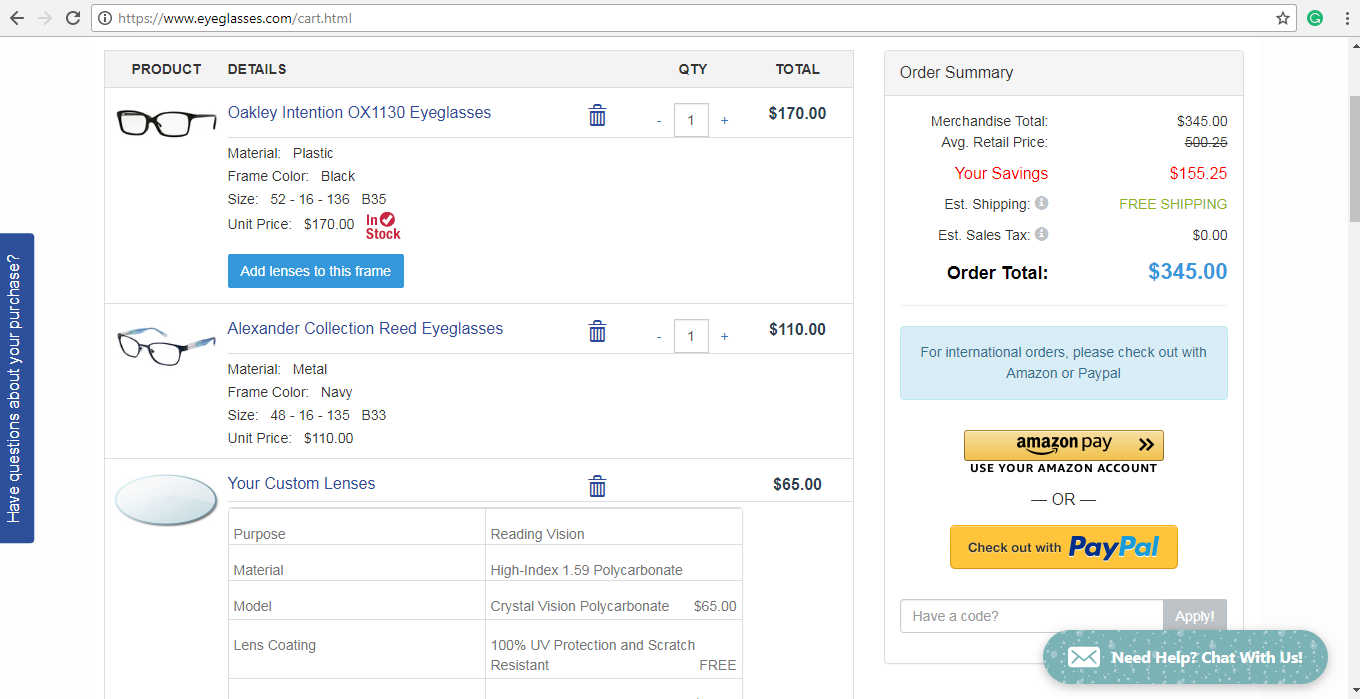 On the next page, your shipping address and other details will be automatically updated according to the information provided in your Amazon Pay or PayPal account. Continue to pay for your order and you will be sent an order confirmation shortly after your transaction is successful.
Payment Options on eyeglasses.com
The following are the modes of payment accepted by eyeglasses.com.
Credit Cards:
eyeglasses.com accepts all major credit cards such as VISA, MasterCard, American Express and Discover. This mode of payment is extremely simple, convenient and secure. Simply provide your card number, date of expiry, CVV/CVC number on the payment window and your transaction will be done.
Amazon Pay:
Amazon Pay is an online payments processing service that can be used for quick, secure and hassle-free online transactions.
PayPal:
PayPal is another trusted online payment system that can be used by customers to pay for their orders. This secure online money transfer channel is one of the most popular means of transactions and can be used anywhere in the world.
Different Coupon Codes and Discounts on eyeglasses.com
famed for its massive discounts and offers. The online store offers heavy discounts on many products on a regular basis. Some offers and deals are available for a long time while some eyeglasses.com codes are offered for limited periods only. To avail these discounts and save your money, redeem eyeglasses.com coupon or voucher listed under the 'Discount Eyeglasses section. On the 'Discounts Galore! page, customers can find many discount coupons and codes.
At present, customers can earn 7% cashback on eyeglasses.com products if they shop with the merchant via a registered account at Shopback.
How to Redeem Coupons and Vouchers at eyeglasses.com
Shopping from eyeglasses.com is a very rewarding experience where customers get plenty of opportunities to save money on their purchase. The online store offers codes and vouchers on top of heavy discounts, that can be redeemed to earn cashbacks and more discounts on products.
Here is a step-by-step tutorial on how to redeem coupons and vouchers at eyeglasses.com:
Step 1:
Select the item that you wish to buy and click on Add Frame to Cart . If you want to purchase customised lens as well, add the lens to cart and provide details for customised lens.
Step 2:
Proceed to the cart summary page where you will find a box below the checkout buttons for entering your eyeglasses.com coupon code. Click on "Apply".
Step 3:
Next, you will land on the checkout page where you need to confirm your shipping address and other information.
Step 4:
Select the payment method as per your convenience and enter the payment details to complete your transaction.
How to Shop on eyeglasses.com using ShopBack
ShopBack offers 7% cashback on various items if you shop from eyeglasses.com. Here are the steps to be followed to earn cashback from ShopBack:
Step 1:
Visit the ShopBack website and select eyeglasses.com store from the list of merchants and brands. You can also use the search box to find the link to eyeglasses.com store.
Step 2:
Read the terms and conditions as well as any other relevant information provided such as the cashback details and tips to ensure cashback.
Step 3:
Click on Activate Cashback button on the top left corner of the page.
Step 4:
If you are looking for more attractive deals and coupons, check out the 'Eyeglasses Promo & Coupon Codes 2018 section.
Step 5:
You will be directed to the eyeglasses.com website to browse and select the products you intend to buy.
Step 6:
You will be eligible to earn cashback from ShopBack on placing your order. The cashback rates might differ based on your history with ShopBack, i.e. whether you are a new or an existing customer.
The cashback offer is not applicable on purchases made on eyeglasses.com Gift cards/ Returns/ Exchanges/ Cancellations.
Eyeglasses.com s Shipping & Return Policy
Eyeglasses.com ships its products to 222 countries with DHL Express and Landmark Standard. The estimated shipping time for DHL Express is around 1-4 days, whereas standard shipping may take 4-9 days to reach the destination in Singapore. For shipping products to Singapore via DHL Express, the company charges $19.00, while the shipping charges are free in case of standard shipping if the order is over $100.
Return Policy:
eyeglasses.com offers 30 days return policy on frames and sunglasses. The following are some important clauses from eyeglasses.com s return policy.
Eyeglasses Frames, Reading Glasses and Sunglasses:
If a customer is dissatisfied with his/her frames or glasses for any reason, he/she must return the product within 30 days for a full refund. Beyond 30 days, any manufacturing defect in the frame/glasses would be covered by the manufacturer s warranty. The customer may return the glasses to eyeglasses.com and they will process the return.
Custom Lenses:
eyeglasses.com offers 'Perfect Lenses guarantee, according to which, they promise to remake your lenses at no-cost if your lenses have not been made perfectly as per the prescription provided by you. In case you want to return the frames ordered with custom prescription lenses or custom non-prescription lenses, you will be offered a full refund on the frame and a 50% refund on the lenses (or a one-time free re-do on the lenses). If you choose one-time free re-do on the lenses and select a less expensive lens package and frame, you will not receive a credit for the cost difference.
To return the products to eyeglasses.com, please ensure that the item is in perfect saleable condition along with all of the original material that eyeglasses.com and the manufacturer sent with the merchandise. Write your order number on the outside of the package and the reason for the return on the back of your packing slip. Enclose the slip in the original packing box and send it to the given address. If you do not have your packing slip, write your name, address, email address, order number, and date of ordering on a separate piece of paper and send this information in the package to the following address:
Eyeglasses.com Customer Service
ssistance, queries or doubts, customers can write to eyeglasses.com customer service at [email protected] or call them on their toll-free number 1-888-896-3885. Customers can also fill this form on the website to contact them.
Connect with eyeglasses.com on: