Enjoy the most luxurious flying experience with Emirates!
Emirates is a Dubai-based airline having its primary hub at the Dubai International Airport. Being one of the largest airlines in the Middle East, Emirates aims at providing its customers a tremendously comfortable fleet and quality in-flight services including seating, dining and entertainment. Emirates is the first airline to have installed video systems in all its flights and in all the travel classes.
The 'Fly Emirates soccer jerseys are a part of Emirates promotions. Emirates is a widespread and growing network connecting the top cities around the world. The airline has a fleet of Airbus A380s and Boeing 777s, which are the among the biggest aircraft in the world. The airline ensures an excellent experience for the customers with various Emirates offers and Emirates deals.
Emirates was launched on October 25 in the year 1985 by Sheikh Mohammed bin Rashid Al Maktoum and Maurice Flanagan. The airline started operations with only two aircraft and operated its first flight to Karachi, Pakistan. Within a span of 38 months, the airline s network grew to cover 12 destinations, including Damascus. Emirates fleet size increased over the years and it began operating flights to the cities- Singapore, Bangkok and Manila in 1989.
The Emirates airline added Boeing 777s with long-haul capabilities to its fleet in the year 1997. During the late 90s, the airline s workforce totalled 11,000 and its passenger arrivals at the Dubai International Airport hit 11 million. Also, in 1999, Emirates made its debut in the hotels market with Al Maha Desert Resort & Spa.
Emirates A380 aircraft began their fleet in 2007, and in 2009, the airline operated Airbus A380 flights to Sydney, Bangkok, Seoul, Auckland and Toronto. In the year 2010, the loyalty programme- Emirates Skywards celebrated its 10th anniversary with a family of over 5 million members. In 2016, Emirates won the Best Airline Award at the Skytrax Awards, and in 2017, the airline was ranked the world s best airline by the TripAdvisor Traveller s Choice Awards.
In-flight Amenities on Emirates Singapore
Emirates has first, business and economy travel classes. The in-flight amenities in all three classes are excellent, except the first class and business class passengers are entitled to a few exclusive facilities.
You will have an amazing experience in Emirates first class. This travel class of the airline has won a Skytrax award in 2017 for "Best First Class Comfort Amenities". Emirates first class has private suites across all its Boeing 777 and Airbus A380 flights, where you can savour delicious meals, entertain yourself with a range of TV shows and video games and rejuvenate at the shower spa with an amazing range of skincare. In Boeing 777 s Game Changer suites, set the lighting and temperature according to your mood and relax on the reclining seats as you view amazing HD projections on the virtual window. Also, you can pamper yourself with the skincare products and perfumes that you receive in a complimentary Bulgari amenity kit in the First travel class. The A380 first class has a common onboard lounge with an open area with good lighting, excellent seating and a 55-inch LCD TV screen. If it is an overnight flight, you will be offered extremely comfortable moisturizing sleepwear with slippers.
Emirates business class offers you an outstanding experience with exceptional onboard amenities. Socialize at the onboard lounge while you enjoy a cocktail (in A380 aircraft), sleep in the smooth and comfortable flat-bed seats and enjoy a drink in the in-seat minibar. You can savour exclusive wines and cocktails and global cuisine in the airline s business class. With ice TV- the in-flight entertainment of Emirates, enjoy a wide collection of pre-loaded games, must-watch movies and TV showsyou re your choice of music over 3500 channels on your personal 23-inch TV screen. Moreover, as a compliment, you will receive a Bulgari amenity kit with excellent skincare products and the perfume- Eau Parfumée au Thé Blanc.
Relax as you travel to your destination with Emirates economy class. The comfortable seats, award-winning entertainment and gourmet meals in the economy class will only add fun to your experience with Emirates. The all-new water-resistant amenity kits come with a toothbrush, toothpaste, socks, earplugs and an eye mask. Stay connected with the world by using the complimentary Wi-Fi on the flight. All the seats come with power points to charge your electronic devices. With ice TV, you can enjoy your favourite TV shows, movies, etc. on your personal screens. The dining experience in Emirates economy class is classic. You can relish Emirati delicacies or take the freedom to request for diet meals. You can pick a wine to match your meal or enjoy complimentary beers and hot and cold beverages during the flight. Use your Emirates discount vouchers to purchase your tickets at a better price. Also, you can redeem your travel miles to upgrade to business or first class.
How to book a flight with Emirates?
The Emirates website allows you to book flights, manage your bookings, book hotels and make arrangements for your transport. You can check the Emirates website for any information regarding their travel services, special services, lounge locations, customer loyalty programme and Emirates special deals. Read about the travel classes available on Emirates flights and the in-flight and on-ground facilities on their official website. You can also use your Emirates vouchers codes during booking.
The homepage of Emirates Singapore has different sections for booking, managing booking and other airline-related information.

Step 1:
On the homepage, select the 'Book tab and click on the 'Book Flights option under it. You will be redirected to the Search Flights page.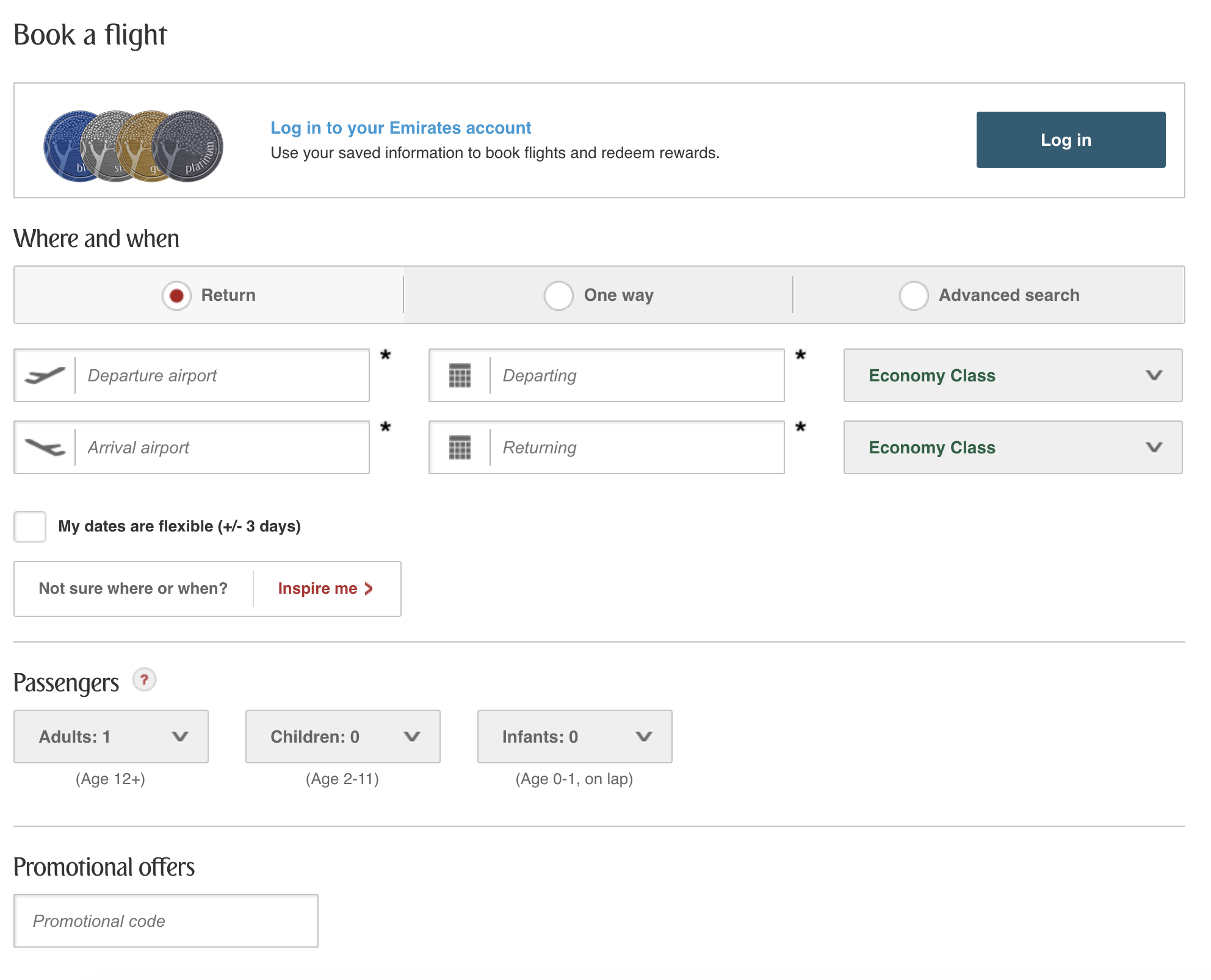 Step 2: Choose the type of journey (Return/One-way) or choose Advance Search if you want to book flights between more than one pair of cities.
Step 3:
Enter the departure and arrival airport details and passenger details and choose the journey dates and travel class. Also, enter the Emirates coupon code or Emirates promo code if you possess any.
Step 4:
Click on the "Search" button.
You will be redirected to the page displaying all the flights between the departure and arrival cities along with the flight details such as the departure and arrival timing, duration of the journey and the prices for different travel classes.
Note:
Alternatively, you can search flights by selecting the "Search Flights" tab on the home page of Emirates. Enter the details- departure and arrival airports, journey dates number of passengers and travel class and click "Search Flights". Use the Advance Search link if you have an Emirates discount code to apply.
Payment Options for Emirates
Emirates allows different payment options to be used in different countries. You can choose the payment option during booking. Here are the diverse payment options available in different countries for Emirates:
Credit Card: Emirates accepts payments through Visa, MasterCard, Diners Club and American Express credit cards.
Debit Cards:
In the UK, you can use your Maestro cards to make payments. Also, in France, payments made through Maestro debit cards are accepted by Emirates.
PayPal:
PayPal is a payment gateway that enables easy and safe money transfers. You can pay for flight tickets using your debit card, credit card, bank account, etc. through PayPal.
Real-time or Online Bank Transfer:
This is the e-payment method. The different e-payment systems in different countries are- IPS in China, EPS in Austria, eNETS in Singapore and Giropay and Sofortüberweisung in Germany.
Western Union:
You can use the Western Union money transfer service to pay for your flight tickets. For this, Western Union applies an additional charge that is not included in the flight fare.
Offline Bank Transfer:
Offline bank transfers or wire transfers are bank account to bank account payments. You can choose this method and transfer the payment amount to the specified bank account. Do not forget to include the payment reference when transferring the amount.
Different Coupon Codes and Discounts on Emirates
Use your Emirates voucher to enjoy outstanding offers. Browse through the 'Book section on the Emirates website to search for offers. The link for special offers provides you with all the information you need regarding Emirates special offers under Skywards and those available on hotels and retail & lifestyle.
How to Redeem Coupons and Vouchers for Emirates?
By going to the 'Book Flights section under the "Book" tab on the homepage, you will able to search flights and make a booking with Emirates. You must enter the Emirates code to be eligible for discounts avail or other similar codes to avail Emirates discounts while you make the booking. By being a member of the Skywards programme, you can earn Emirates coupons and vouchers and get amazing deals on flights and more.
Step 1:
Choose the type of journey, one-way or return, or click select 'Advance Search to book flights between more than one pair of cities.
Step 2:
Enter the details such as departure and arrival airports, journey dates and travel class.
Step 3:
In the 'Passengers section, select the number of passengers for categories such as adults, children and infants.
Step 4:
Under the 'Promotional Offers enter the Emirates discount coupon code.
Step 5:
Click on the "Search" button
How to book a flight with Emirates using ShopBack
ShopBack offers you an Emirates cashback of 1% for flight bookings made with the airline.
Step 1:
Browse through ShopBack s homepage, select the "Travel" tab and click on 'View All Travel Stores .
Step 2:
Select Emirates from the list of travel stores. You will be redirected to ShopBack s Emirates page.
Step 3:
Click "Activate Cashback" present on the left side of the page. You will be prompted to log in or sign up.
Note: If you do not have an account with ShopBack, choose ' Sign Up" to create an account.
Step 4:
Click "Continue to Emirates". You are now eligible for ShopBack s cashback and will be redirected to Emirates official website to make your bookings.
During various Emirates sales, you can gain amazing discounts on your flight tickets. Check out Emirates website for information about the same.
Emirates Cancellation & Refund Policy
Emirates refunds on flight tickets are subject to the fare conditions. Fare conditions are attached to every air ticket and they differ in accordance with the fares. Some tickets may be refundable, and on making changes to the bookings, additional charges may apply. If you cancel your tickets and the fare conditions allow, you can get a refund on the original payment method.
If Emirates flights are cancelled due to unforeseen situations such as bad weather, the airline will try to contact you as soon as possible in advance. To mitigate the inconvenience, Emirates arranges an alternative flight with the same travel class as the original booking and provides accommodation and refreshments if necessary.
For itineraries that originate from the US, if a refund is requested within 24 hours of booking, the refund will be processed within seven days of submitting the request. The customer must submit an e-ticket refund form when applying for a refund.
Emirates Customer Service
You can contact the airline by using the "Contact Us" link at the bottom of the page. You can ask questions regarding your bookings, rewards, baggage, flight delays and other airline-related or flight-related things by choosing the appropriate topic.
Emirates also has a 24*7 Live Chat option on the 'Contact Us page. Click on "Start Live Chat" to ask your query. You can also call Emirates Singapore on Skype at +65 6622 1770 or +65 6415 5459. The contact details for the airline s customer service centres around the world are available on the 'Contact Us page.
You can get in touch with the airline through their social media accounts:
(Twitter support is available 24*7)