Edureka – The Perfect Online Learning Partner
Edureka is a global online training provider that offers world-class training and learning programs for professionals. Helping professionals learn the basics of the latest technologies and further gain expertise in the field, Edureka is transforming the face of online education system. The company's vision to develop into world's largest education system is helping it grow at a fast rate, competing with its close competitors.
Enhance Your Skills with Edureka
Your most-loved online education provider came into existence in the year 2011 when two techies Lovleen Bhatia and Kapil Tyagi decided to bring their idea to life. Today, they boast of having 80% course completion rate in the industry. The whole team of Edureka is enthusiastic in helping students complete the course with confidence. They ensure that they are fully committed to students and that by the end of the course, the required expertise in the subject is acquired successfully.
In 2014, Edureka was recognised by Deloitte as India's fastest growing technology firm and got featured in 'Technology Fast50 India 2014'.
Courses, Certifications and Online Programs at the Click of a Button!
Advance your career to the top level by undergoing exceptional training from industry experts and trainers. They leave no stone unturned in providing the highest level of skill up-gradation, whether it is Data Science, Cloud Computing, Artificial Intelligence, Big Data, Mobile Development or Software Testing.
Courses and Certifications Offered on Edureka
Edureka is the best place for those who wish to learn and upgrade their skill set. The carefully designed products are top-notch, ensuring quality training and certification programs. Here are some of the products and product categories offered on Edureka.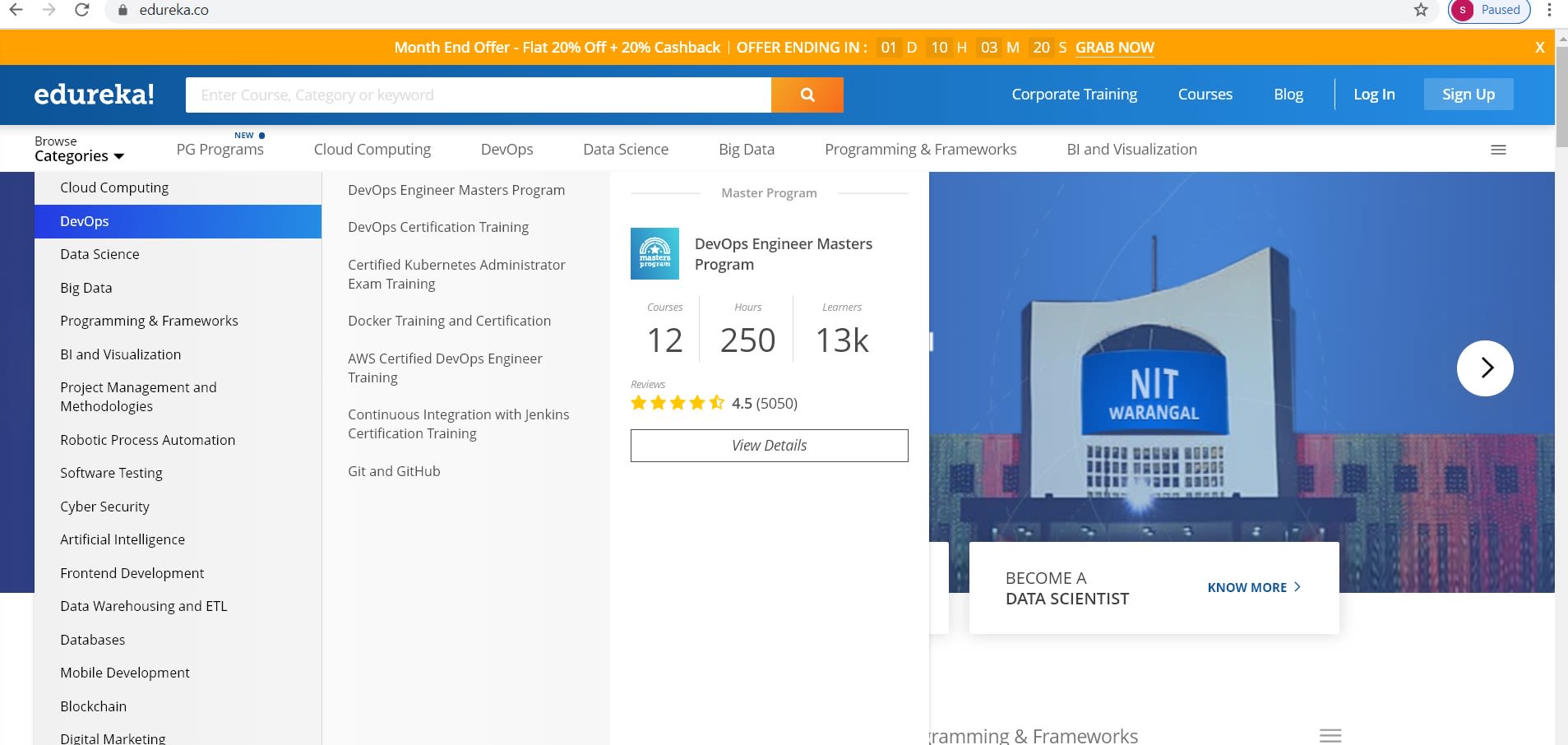 Cloud Computing – Learn cloud computing, basic and advanced, and become an expert with Edureka's top training courses. Some of the courses offered by Edureka include AWS Architect Certification Training, Google Cloud Certification Training - Cloud Architect, AWS Development Certification Training, IoT Certification Training on Azure and Microsoft Certified Expert: Azure Solutions Architect (AZ-300). Which one would you take up?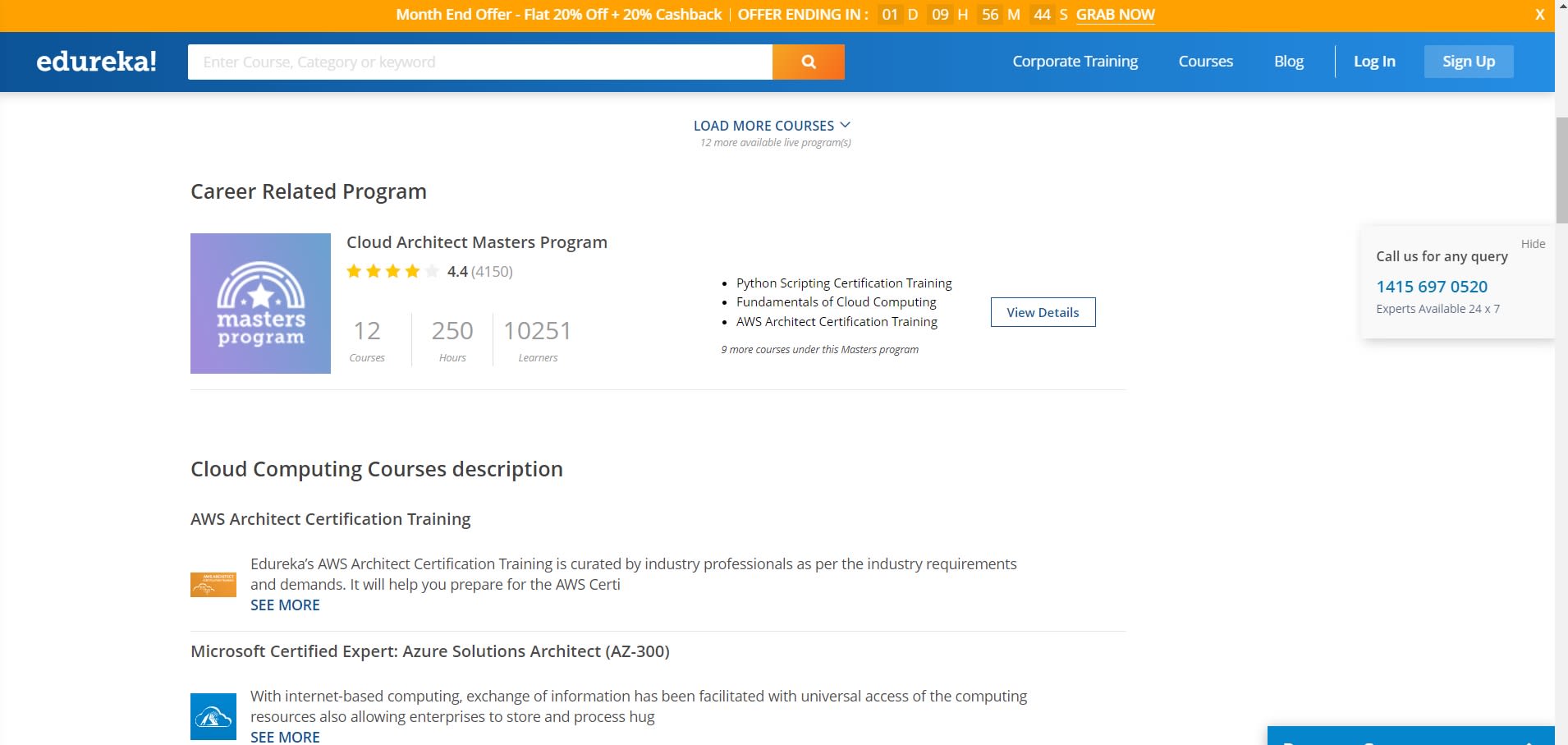 Artificial Intelligence – Artificial Intelligence (AI) is one of the many fast-growing technologies today and greatly in demand. From AI & Deep Learning with TensorFlow and Reinforcement Learning to Machine Learning with Mahout Certification Training and Machine Learning Engineer Masters Program, Edureka offers top class AI courses for you. Take up the course and let your skills do the talking!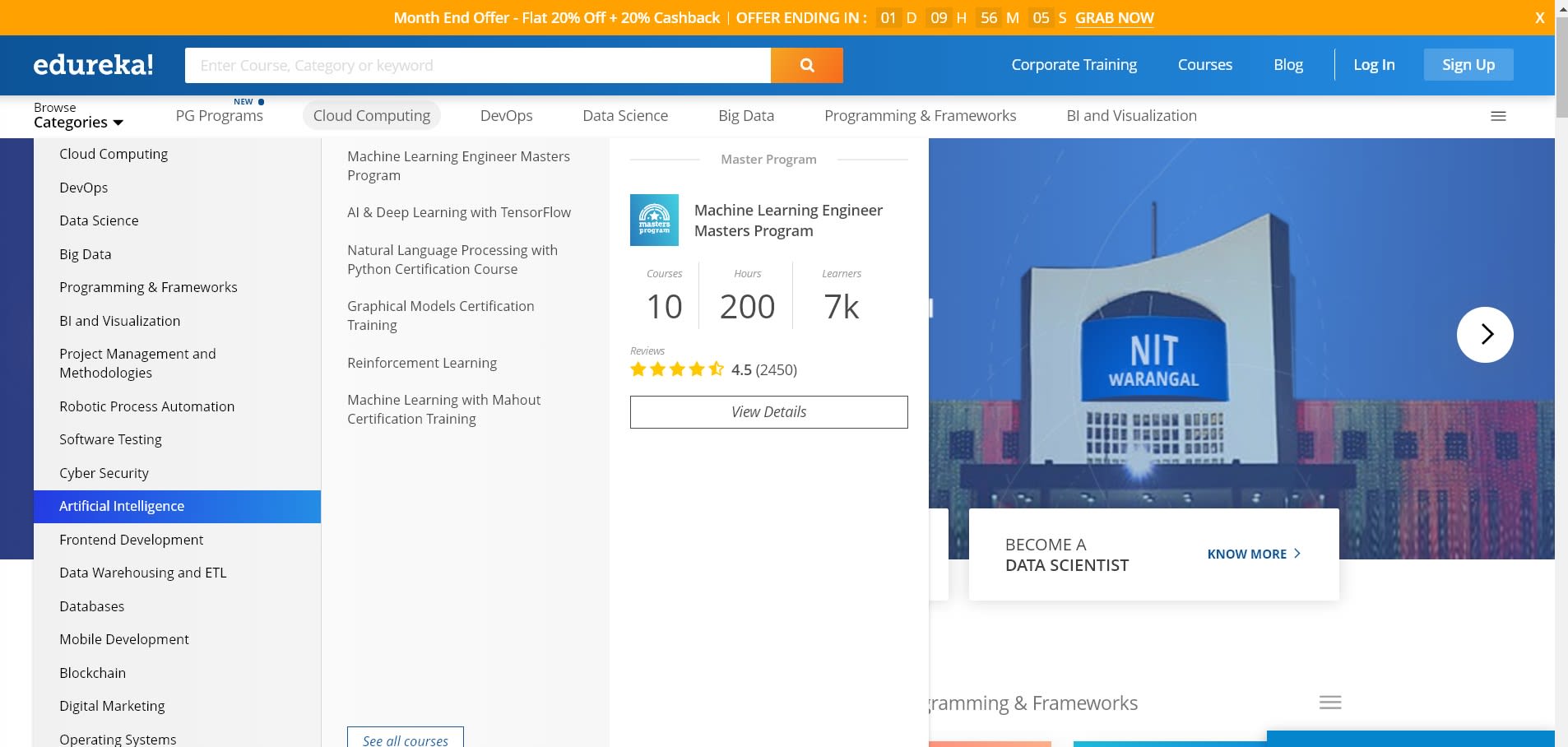 Digital Marketing – Digital marketing jobs are on the rise today and digital marketing experts are much in demand. With Edureka's valuable Digital Marketing Certification Training, Measuring Social Media ROI and Mastering Google Analytics courses, you will be on the right path towards becoming a digital marketing expert. So, start your digital marketing journey today!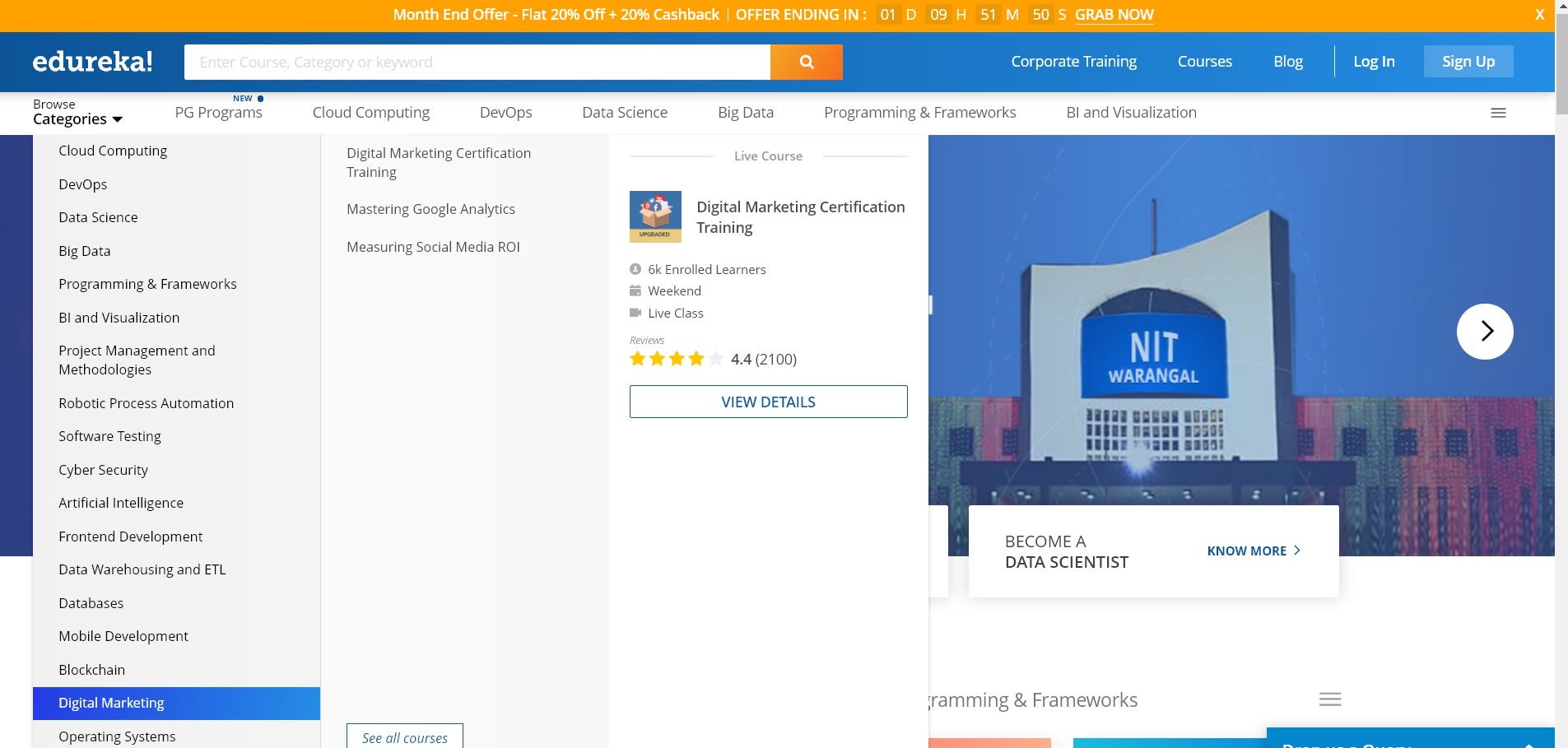 Robotic Process Automation – Robotic Process Automation (RPA) is a growing field and one of the most exciting recent inventions in Business Process Management. Check out RPA training courses like Robotic Process Automation Training using UiPath and RPA using Automation Anywhere and learn more about Robotic Process Automation on Edureka's informative blog posts.
- Edureka - Product Screenshot 5
PG Programs – Sit at home and learn from expert professors of leading universities. Edureka offers excellent Post Graduate (PG) Programs for keen learners, providing an opportunity to receive certificates from top grade universities. Whether you wish to undergo PG programs in Data Science, Cyber security, Digital Marketing or AI and Machine Learning, Edureka is your road to a successful career.
- Edureka - Product Screenshot 6
Don't forget to browse for Edureka coupons and discount vouchers during the sale period before you proceed with shopping.