East Dane Is All About Men s Fashion Clothing!
East Dane is a popular online shopping destination that offers trendy clothing and accessories for men. From fresh designer pieces to beautiful gift items for your loved ones, the site promises authentic products and chic merchandise, true to your diverse tastes. Explore a wide collection of clothing, bags, footwear and accessories on East Dane, while enjoying amazing discounts during the East Dane Black Friday sale and other special occasions.
East Dane focuses on men s fashion and leaves no stone unturned in providing unrivalled customer satisfaction and top-notch services. The eclectic mix of brands and designers on East Dane makes it one of the most sought-after online sites for men who love to experiment on their personal style and go with the current trends.
East Dane was formed in the year 2013 by Shopbop, an Amazon subsidiary and a well-famed US online fashion destination. Martha Graettinger, Ray Zemon and Bob Lamey founded Shopbop in 1999 as a brick and mortar shop in Madison. They chose this location owing to the fact that downtown Madison was filled mostly with fashion-conscious college students. Later in 2006, Amazon.com acquired the company, after which Shopbop operated independently and continued to sell high-end merchandise. Its competition with Amazon led to the birth of East Dane in 2013 as a contemporary men s fashion website and also the shutdown of its physical store in Madison in 2014.
Products Sold by East Dane
Buy amazing products from East Dane while enjoying amazing discounts offered during the East Dane Promo:
Clothing

- Browse through the trendiest clothing for men at East Dane, including a wide range of jeans, t-shirts, sweatshirts, swimwear, suits, blazers etc. from popular designers.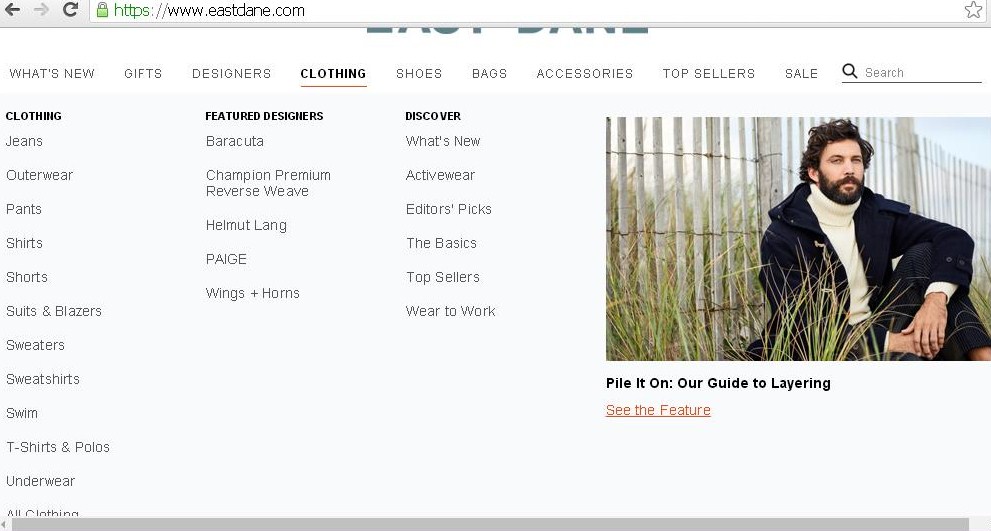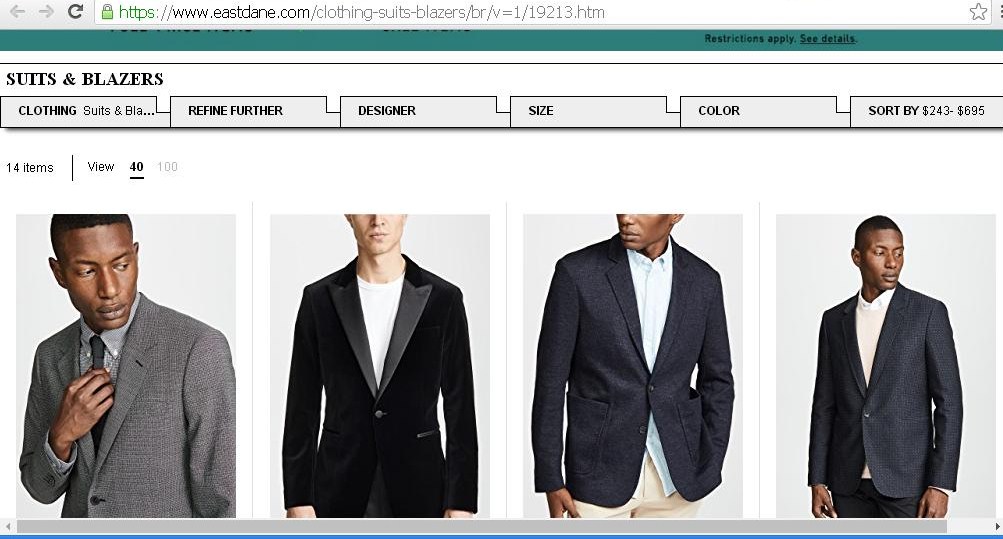 Shoes and Bags

- They have a wonderful collection of men s shoes for all occasions. You can also find designer bags such as duffels, belt bags, pouches, computer bags, totes and much more!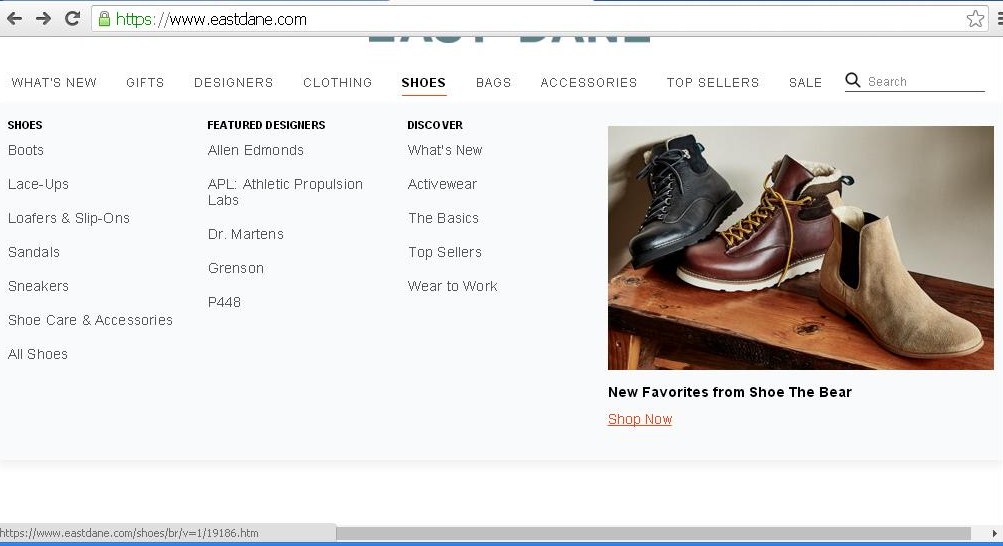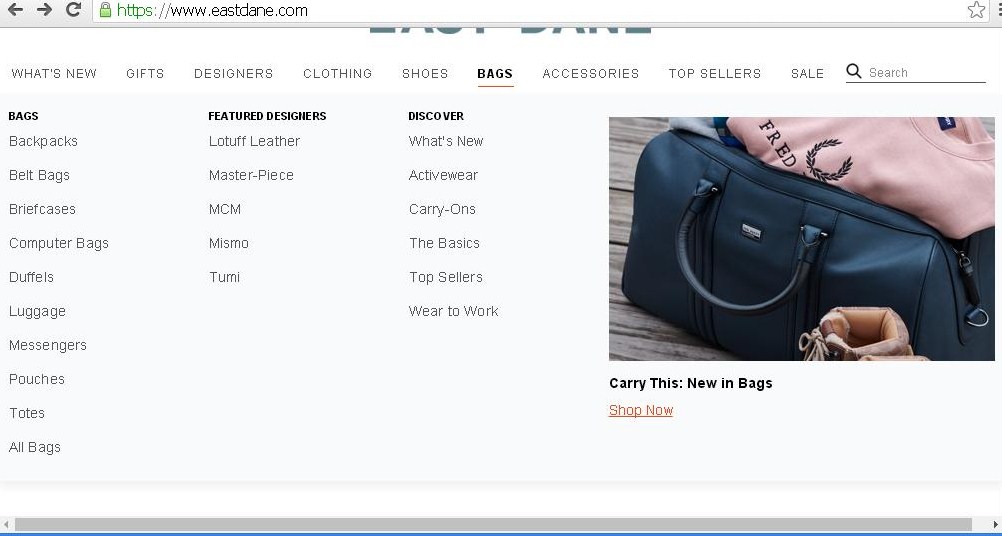 Accessories and Gifts
- Buy that perfect accessory you have been looking for, may be hats, sunglasses, travel accessories, socks, scarves, gloves, wallets, belts, headphones, jewellery etc. at East Dane. You can also shop for trendy gifts for men and women, with the price range of $50 to $250 and more.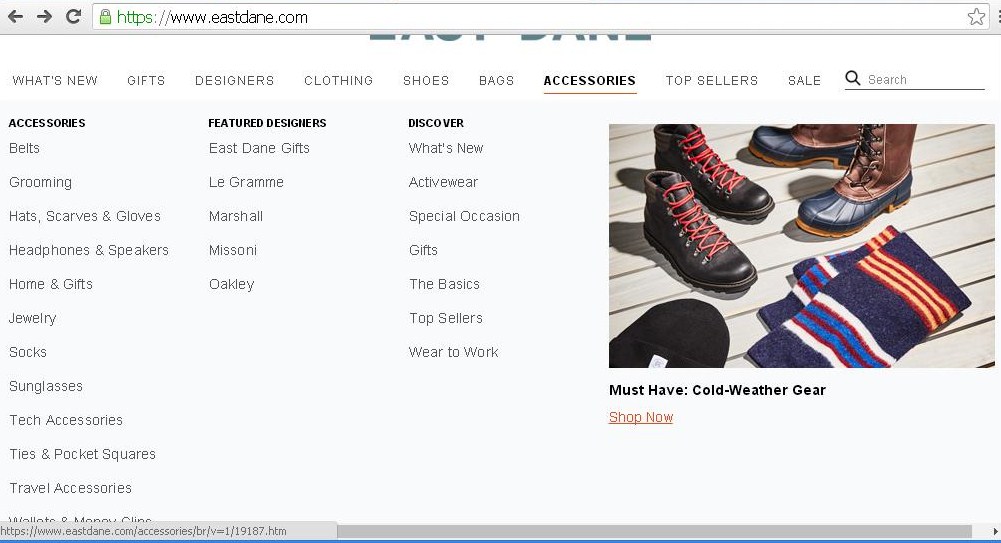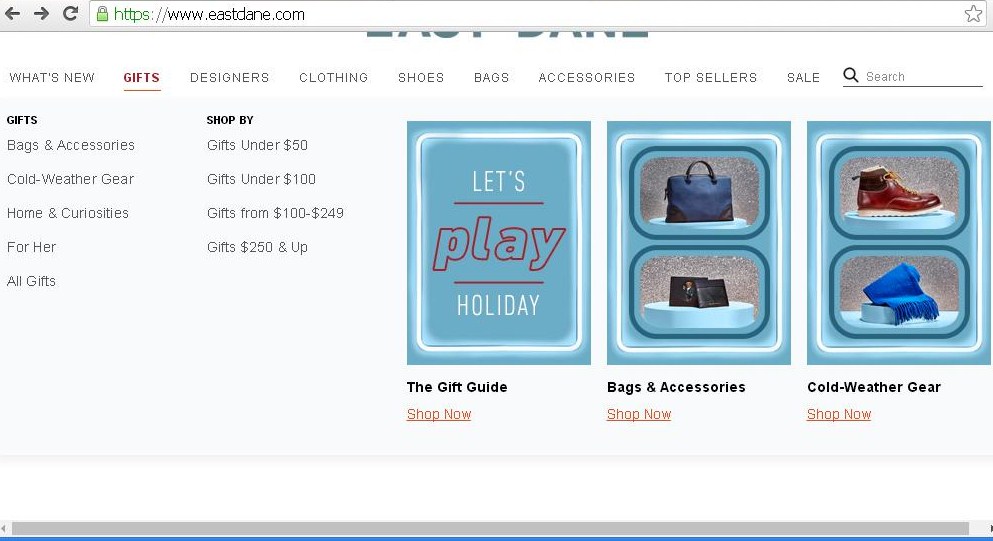 | Product Categories | Product Type |
| --- | --- |
| Clothing | Jeans, Outerwear, Pants, Shirts, Shorts, Suits & Blazers, Sweatshirts, Sweaters, Swim, T-shirts & Polos, Underwear |
| Shoes | Boots, Lace-Ups, Loafers & Slip-Ons, Sandals, Sneakers, Shoe Care & Accessories |
| Bags | Backpacks, Belt bags, Briefcases, Computer Bags, Duffels, Luggage, Messengers, Pouches, Totes |
| Accessories | Belts, Grooming, Hats, Scarves & Gloves, Headphones & Speakers, Home & Gifts, Jewellery, Socks, Sunglasses, Tech Accessories, Ties & Pocket Squares, Travel Accessories, Wallets & Money Clips, Watches |
| Gifts | Bags & Accessories, Cold-Weather Gear, Home & Curiosities, For Her, Gifts Under $50, Gifts Under $100, Gifts from $100-$249, Gifts $250 & Up |
| | |
How to Shop at East Dane?
East Dane offers an easy approach to shopping. All the product categories are displayed at the top of the page, along with a search icon that will let you search for a specific product. The homepage also displays the east dane promo code 2018, east dane coupon 2018 and other coupons available during special offers. At the top left, you also have the option 'Shop Women s clothing, that will redirect you to shopbop, a place for women s fashion.
1. Select 'Shoes from the categories and choose, say, 'Sneakers . Click on the product of your choice from the displayed list. You may also simply click the small heart icon below the product if you wish to add it to your want list.
2. The product details, along with a briefing about the designer and customer reviews will be displayed. Go back to browse a different product or select the shoe size and click 'Add to Cart . Hit 'Checkout and your cart details will be displayed. It also includes a field to enter the east dane promo code. Then click 'Checkout .
3. Create your East Dane account and click 'Continue to Checkout . On the next page, enter your shipping address and other details and click 'Save Address .
4. It will display your address details, along with the order summary after the application of east dane coupon code. Select your preferred shipping method and hit 'Continue . It will redirect you to the Payment page, with your final order total after the use of east dane voucher code. Enter your card details, re-confirm your billing address and then click 'Continue .
5. Then complete your transaction. You will receive your product at a discounted rate by using the east dane discount code 2018.
6. An order confirmation mail or text will be sent on your phone number immediately confirming your order, along with the expected delivery date.
7. Customers can find great deals on products during the east dane sale. You can avail east dane discount by using the east dane promo code on checkout. Make sure to check for east dane promotions before placing an order.
Payment Options on East Dane
East Dane offers a simple payment process for your convenience.
Card Payment
: Customers can shop with their credit cards just by entering the card details during checkout. East Dane accepts Amex, Visa, Alipay, Discover, Master Card, Discover, Diners Club, JCB and UnionPay.
East Dane s Shipping and Return Policy
It offers free express shipping: with prepaid duties plus taxes (2 to 4 days), pay duties and taxes on delivery (2 to 4 days) and free postal shipping (7 to 20 business days).

Delivery excludes holidays and Sundays. Any order placed by you cannot be cancelled or modified. Refer https://www.eastdane.com/ci/aboutShopBop/customerservice.html#shipping#cs=ov=92317678070,os=46,link=shippingAndReturnsLocation-FreeShippingWorldWide,page=3 for more details on shipping.

Refunds for missed shipments will be processed within 7 business days.

Refer https://www.eastdane.com/ci/aboutShopBop/terms-and-conditions.html?go=back for information on international shipping.

Return cost is 35$; all products must be returned within 30 days of delivery, must be unused and with the original tags and packaging. Exchange of products is not available; however, you can return your order and purchase a different one if you are not satisfied with the colour or size.

Refund amount will exclude handling and shipping charges. Final sale products cannot be returned. You can schedule a pick-up for your return or send your products to the address mentioned in https://www.eastdane.com/ci/aboutShopBop/customerservice.html#. Your return will take around 5 business days for processing.
East Dane Customer Service
For any inquiry or help, customers can visit their support page https://www.eastdane.com/ci/aboutShopBop/customerservice.html#cs=ov=92327403590,os=1,link=footerSvcsCustomerService or contact them on 1-608-270-3930 (outside the US) or 1-877-746-7267 (Canada & US), 24X7.