Dusit Hotels & Resorts Promotion & Discount Codes May 2019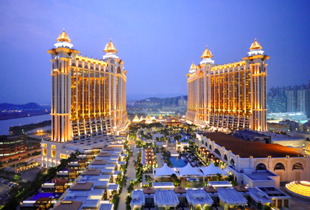 Exclusive deals at Dusit International
Refer to Merchant website for terms and conditions
From 3 Jan 2018 00:00 onwards, Dusit Hotels and Resorts Cashback has been revised to 3% Cashback. ShopBack must be the last link you clicked in order to get Cashback. If other website links are clicked after clicking through ShopBack, Cashback will not be tracked (E.g. coupon and deal websites)

If for some reason your payment made on merchant page has failed, do click through ShopBack again and re-do your purchases to ensure tracking is still active

Return to ShopBack and click through to the merchant every time you are making a new transaction.

If you are making 3 separate transactions on the merchant, you should click through ShopBack 3 times, each time before making a new purchase.

For more details: www.shopback.sg/terms-and-conditions
More about Dusit Hotels and Resorts
Enjoy world-class hospitality with Dusit Hotels & Resorts
Dusit Hotels and Resorts, also called Dusit International, is a Thai hospitality company with branches spread in myriad countries across the world. The company operates services under four brands, namely Dusit Thani, Dusit Princess, dusitD2 and Dusit Devarana. Dusit International aims at providing its guests exceptional services and hospitality to keep them coming back for more. Today, Dusit is one of the world's leading groups of luxury hotels.
History of Dusit Hotels and Resorts
The history of Dusit Hotels and Resorts dates back to the year 1948 when Thanpuying Chanut Piyaoui opened the first hotel, the Princess, on Charoenkrung Road in Bangkok. Although the Princess had only 30 rooms, it had a swimming pool and was the first modern hotel in Bangkok. In 1970, the Dusit Thani Hotel opened in Bangkok. The hotel had 510 rooms and was the first 5-star hotel in the city.
In 1987, Dusit International acquired two resort properties in Pattaya and Phuket. By the 1995, Dusit International had eight hotels. In 2001, Dusit hotels expanded to the Middle East with the first hotel opening in Dubai, UAE. Dusit Devarana was inaugurated in the year 2007 and had 50 rooms.
Dusit International expanded its business in Abu Dhabi, Bahrain, Jeddah and Queensland, Australia over several years. Apart from hotels, the Dusit group also provides hotel management and education services.
Services Offered by Dusit Hotels and Resorts
Accommodation: Dusit International is home away from home with multiple accommodation options, all of them offering utmost comfort. The categories of rooms available at a Dusit property are Deluxe Rooms, Deluxe Pool Rooms, Club Rooms, Dusit Suites, Apartments and Executive Suites. Every type of rooms has specific set of amenities and facilities. Check out dusit.com to find out more.
Meetings and Events: If you are on business travel and choosing to stay at one of the Dusit properties, then you have made the right choice. Whether it is an official meeting or a conference, the meeting and event spaces at Dusit hotels are apt for all kinds of social gatherings. The venues
Spa: A plethora of spa treatments are available at Dusit Hotels and Resorts to ensure the guests a relaxing stay. You can avail services such as luxury spas, facials, body treatments and massages when staying at a Dusit property. Also, you can make reservations for a spa program by going to the official website of Dusit Hotels and Resorts.
Dusit Gold: With Dusit Gold, you can enjoy perks like room, spa and laundry discounts, complimentary breakfast, complimentary minibar and dining discount. To get a Dusit Gold membership, click on the "Dusit Gold" link on the homepage and click "Join Now".
Experiences: Dusit International partners with Thailand's local travel company TakeMeTour. During your stay in any Dusit property in Thailand, you can choose to see Thailand through TakeMeTour. Book a tour across Thailand by going to Dusit's official website.
Dusit Services and Accommodations
Accommodation
Meetings and Events
Spa
Dusit Gold
Experiences
How to Make Bookings at Dusit Hotels and Resorts?
To have a wonderful sojourn, whether it is during a relaxing vacation or business travel, Dusit Hotels and Resorts is the right option. Also, making bookings with the hotel is very easy. Simply go to the official website of Dusit International and follow the steps described below.
Step 1: On the homepage of dusit.com, fill in the details on the right panel. Select a hotel, for example Dusit Thani Krabi Beach Resort and enter the duration of stay (number of days and nights).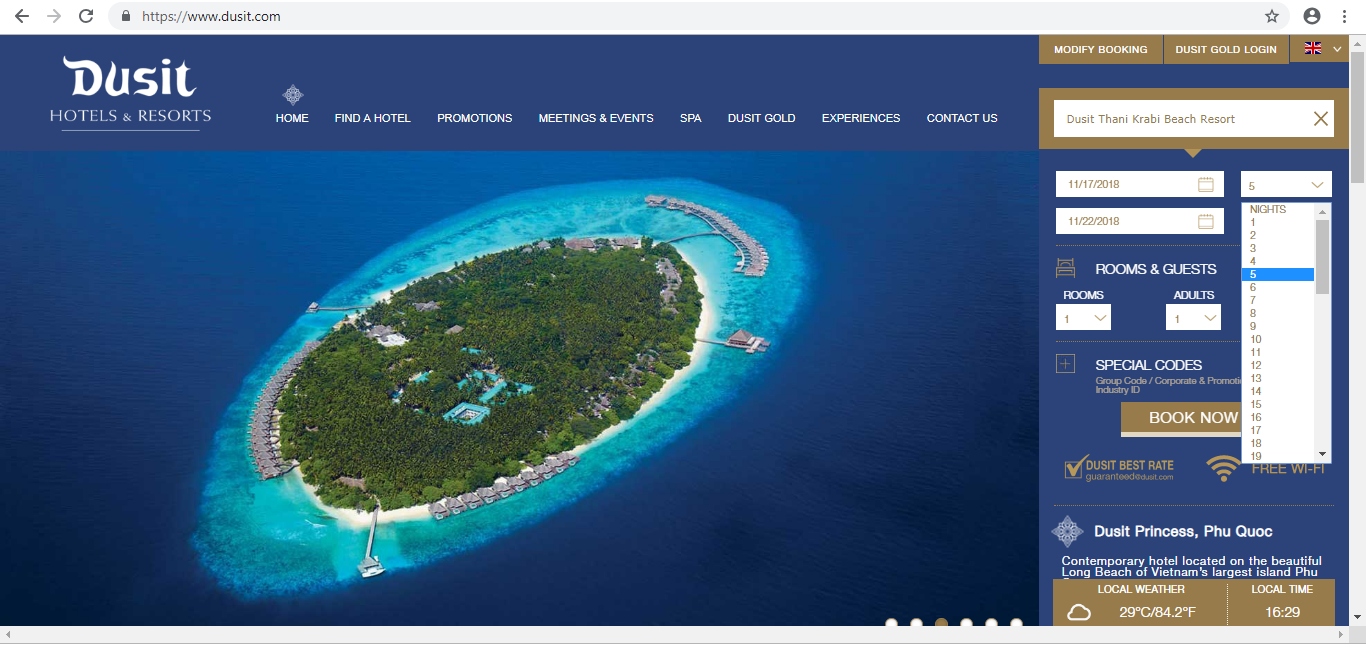 Step 2: Choose the number of rooms you want to book and the number of guests (adults and children) and click "Book Now".
Step 3: Choose the type of room you want to book. Click "Select" for the room you want to book.
Step 4: Select any value-added services if you wish. To use the service during your stay, click "Add Item". Then, click "Select Packages".
Step 5: Fill in your personal information and payment information. Click "Confirm Reservation" to complete the booking.
Payment Options on Dusit Hotels and Resorts
At Dusit Hotels and Resorts, you can pay using your credit or debit cards by American Express, China Union Pay, Diners Club, JCB International, Mastercard and Visa. To make payment, choose the payment type under "Payment Information" on the checkout page.
Different Coupon Codes and Discounts of Dusit Hotels and Resorts
Dusit Hotels and Resorts often runs promotional offers during when special coupons and vouchers are issued. You can use these coupons and vouchers to avail amazing discounts on your bookings. To view all the promotional sales and offers at Dusit International, visit their official website. On the homepage, click the "Promotions" link to find all the information you need.
How to Redeem Coupons and Vouchers at Dusit Hotels and Resorts?
Using a promo coupon or voucher can get you great deals on bookings with Dusit Thani Phuket, Dusit Thani Pattaya and other Dusit hotels. The special coupon code can be a Group Code, Corporate & Promotion Code or Travel Industry ID. You can simply enter one or more of these codes while making a booking and get a discount. Follow the procedure given below.
Step 1: On the homepage of the official website of Dusit Hotels and Resorts, on the panel at the right, select a hotel, for instance, Dusit Thani Manila and enter the dates of stay.
Step 2: Select the number of rooms and the number of guests.
Step 3: Click on the '+' sign next to "Special Codes".
Step 4: Enter the promo coupon code(s) that you have and click "Book Now".
You will be eligible for discounts after applying the promo code. You can then select the room type, fill in your details, make payment and confirm the reservation at your choice of Dusit International hotel, in this case, Dusit Thani Manila.
How to Book with Dusit Hotels and Resorts using ShopBack
Be it with Dusit Thani Bangkok or Dusit Thani Maldives, ShopBack offers a guaranteed 3% cashback when you make a booking. Activate the cashback offer at ShopBack by following these simple steps.
Step 1: To be eligible for the cashback reward, you must first sign up with or log in to ShopBack.
Step 2: On the homepage of ShopBack, click on the "Travel" tab.
Step 3: Under the "Travel" tab, click "View all Travel Stores". You will be directed to a web page displaying the list of all the travel stores available on ShopBack.
Step 4: Select Dusit Hotels and Resorts from the list of travel stores. You will be directed to ShopBack's Dusit Hotels and Resorts web page.
Step 5: Click on the "Activate Cashback" button present on the left to activate the cashback offer.
Step 6: Finally, click "Continue to Dusit Hotels and Resorts". You will then receive 3% cashback on making a booking at Dusit Hotels and Resorts.
Dusit Hotels and Resorts' Terms and Conditions
Dusit Hotels and Resorts collects customers' personal information to provide superior customer service at every Dusit property and keep them updated about promotions and information.
A customer's information may be passed on to different Dusit companies. However, Dusit Hotels and Resorts makes sure to safeguard the customers' personal information.
Dusit Hotels and Resorts Customer Service
To contact Dusit Hotels and Resorts in case of queries, you must click on the "Contact Us" link present on the homepage. You can find the contact information of Dusit hotels in various countries in the Contact page. Also, you can submit your query by filling the form displayed on the left side of the Contact page. Select the department, choose who you want to write to, enter your details and query and click "Submit".
Dusit Hotels and Resorts also has a presence on social media platforms. To connect with them through social media, you follow the links given below.