Deliveroo Discount Codes, Promo Codes & Coupons
Deliveroo coupon code for AMEX Cardholders to enjoy free deliveries for first 4 orders!
New customers making their first 4 orders using the American Express card get to enjoy free delivery using this Deliveroo voucher! Just input the promo code upon checkout to enjoy this offer! Used by 69 users this week
Deliveroo Voucher: 3 Free Deliveries with CITI cardholders!
Use this Deliveroo promo code to enjoy your free first 3 deliveries when you use your CITI card to make your order! Only valid for CITI cardholders. Used by 66 users this week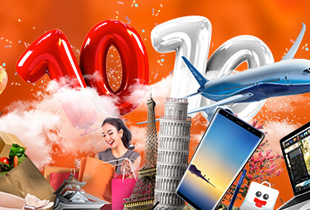 New Deliveroo Customer: Enjoy $6 off your first order!
Deliveroo offers food delivery to your doorsteps in less than 40 mins with the Deliveroo app!
Satisfy your hunger pangs with super fast food delivery! Download the Deliveroo app to enjoy your meal! Be sure to look out for Deliveroo promo code or Deliveroo promotions! Used by 100 users this week
Enjoy Cashback on Deliveroo via desktop, mobile and ShopBack App today!
From 22 September 2017 onwards, you can now get Cashback for Deliveroo via ShopBack Desktop, Mobile web, and ShopBack App.

Cashback not valid on orders before 8 Feb 2017

Please be aware that some transactions may track at a slightly different rate, but will uplift on a monthly basis, once the transaction is confirmed by the merchant.

Accounts that engage in fraudulent orders/activities to game/cheat the cashback system will be banned and Cashback forfeited.
Recent Articles
More about Deliveroo
Deliveroo cashback on top of Deliveroo promotions for your hungry tummy
Order with a Deliveroo code 2016 and fill your belly with delicious food! Stuck in a meeting at work? Too sunny to head out for lunch, or stranded at home during a thunderstorm with your leftovers mysteriously gone (view: in your roommate's belly)? No fear, turn to Deliveroo during your lowest of lows! Deliveroo was founded when its British founder 'foundeROO' moved to New York, and was disappointed much of his favourite dishes at local restaurants couldn't be delivered to his doorstep, hence forming his personal mission - to get great food delivered to hungry customers, even from restaurants who wouldn't offer delivery services otherwise. A great meal can now come at an even better price point with the voucher and coupon for the Deliveroo sale and deal during the Deliveroo promotion we have in store for you! Don't miss out on the discount season to snap up great offers for equally great food, that's on top of Deliveroo cashback with ShopBack.
It's easy to use Deliveroo
Deliveroo is a smart app and online website that aims to bring good food to you in a timely manner. This is why it suggests restaurants and food options in the vicinity once you enter your postal code into the database. It even offers estimated food arrival timings, how considerate it that on days when you're rushing for your next meeting or presentation? Grab the Deliveroo voucher and coupon this Deliveroo sale period before it's over. This is a hard-to-find deal with such an attractive promotion and discount which we have for you to gain convenient food delivery to your workplace or home. You get to earn Deliveroo cashback too on top of these amazing Deliveroo codes.
To bring added convenience to you, Deliveroo makes all transactions cashless, opting to do it over the app for faster delivery times and more efficient food delivery to you, the hungry foodie. You can, and are encouraged, to tip your delivery man - this can be done online when you place your order, or in cash when the delivery 'roo' reaches your side. They get to keep all of the tips, so it's a great idea to support your friendly delivery man! You can now offer an even more generous tip given the Deliveroo voucher and Deliveroo coupon available for you this sale season. Don't miss the Deliveroo deal as it's difficult to come buy such a great discount on top of Deliveroo cashback from ShopBack!
Additionally, you can order food anytime from noon to 11PM daily. Perfect for lunches, dinners and everything in between - post-dinner dessert or afternoon tea, anybody? Grab the Deliveroo voucher and Deliveroo coupon available for you this sale period for you to enjoy.
What's more, you can place orders up to one day in advance. If you hate making last-minute spontaneous decisions, especially when it comes to food, you can now plan your day ahead by pre-ordering the next few meals via Deliveroo. Lay your hands on a coupon and vouchers and Deliveroo code for the best deals.
Great food options with Deliveroo code
For Western food lovers, we have your back. Consider Cedele, the famous artisan cafe and favourite amongst the working class for an indulgent slice of red velvet or carrot walnut cake. Feeling fancy? Try their eggless chocolate truffle cake - totally worth the calories. For meals, you and your colleagues may enjoy some gourmet hearty sandwiches for lunch, such as the roasted chicken, shrimp or pulled beef sandwich with avocado, for your good fat diet and protein boost in the middle of the day. Savour these great dishes with the Deliveroo voucher and Deliveroo coupon coming your way this Deliveroo discount season. So do use these amazing Deliveroo codes 2016 and order now!
In need of wine for a company function or spontaneous team celebration? Check out the Wine Connection. The Australian 'Firebird' Shiraz would be sure to capture your tastebuds, or drier wines like the Sauvignon Blanc. For sweet tooths, how about a Moscato from the Casa San Orsola? There are also accessories available for your convenience, such as jute bags, ice buckets and wine glasses. Whatever it is you're looking for, the Deliveroo voucher and Deliveroo coupon in store for you would be your ticket to great dishes at even better prices. Get the best out of this sale and offer season by ordering from your favourite restaurants.
For the health conscious, try out The Daily Juice. Apart from the usual salad bowls, they've great dishes such as raw cauliflower fried rice and raw zucchini pasta for your carb fix. More importantly, great juices are in store for your detox regimen too. Check out the Pink Velvet, which is strawberry, almond milk and beet in a bottle, or the SupDoc?, a carrot juice reminiscent of the cartoon character it alludes to. For caffeine addicts, the Thumper, which is a mix of coffee and almond milk, is the answer for you. With the Deliveroo voucher, you be sure to get something great out of this discount sale period.
Get the best out of Deliveroo with ShopBack
Get 8% Deliveroo cashback when you order through ShopBack for Deliveroo's services. With such a great food delivery service, it'll be hard to resist using Deliveroo for your next lunch. Connect with Deliveroo through their Twitter, Facebook and Instagram pages. For more great promotions, check out these dining, food and travel deals over at ShopBack.