CyberLink, Software Tools For The Perfect Playback!
CyberLink Corp. is a multimedia software company based in Taiwan. The company is a pioneer in providing PC and smartphone applications for video editing and playback, photo editing, disc burning and other video and audio software such as CyberLink YouCam and CyberLink PowerDirector. Today, it is a globally-known, award-winning brand for the entertainment and creativity software that it produces.
CyberLink has its headquarters in Taipei, Taiwan. Its operations are spread across Japan, Europe, Asia Pacific and North America, with 700 employees worldwide, including 500 under product design and development. It currently has over 100 patented multimedia technologies.
The aim of Professor Jau Huang and a group of students from National Taiwan University, to build digital multimedia products lead to the creation of CyberLink. The company started in 1996 and launched its first product − CyberLink PowerDVD − in the same year.
CyberLink has been listed under Asia s 200 Best under a Billion companies by Forbes and rated under Top 20 Taiwan Global Brands by Interbrand. Also, Business Week named CyberLink one of Asia s 100 Hot Growth Companies.
Products Sold on CyberLink Singapore
CyberLink divides its products into Create, Play and Work sections. The Create section includes photo and video editing software; the Play section comprises audio/video playback tools, webcams and disc burning software and the Work section consists of applications for formal online meetings and communication. The company often runs promotional sales when you can use a CyberLink promo code to avail discounts on a product.
Creative Suite
: CyberLink offers two options for creative suites − Director Suite 365 and PowerDirector & PhotoDirector. These creative suites provide outstanding solutions for video, audio and photo editing, along with access to premium plug-ins and effects. Director Suite 365 comprises four applications: PowerDirector 17, PhotoDirector 10, AudioDirector 9 and ColorDirector 7. The PowerDirector & PhotoDirector creative suite has PowerDirector 17 and PhotoDirector 10 and is an efficient and cost-effective software for photo and video editing. You can get a discount on the original price of the product by using a CyberLink coupon.
Video Editing
: PowerDirector 17 Ultra is a video editing software delivering professional-grade results.
You can create professional videos and do precision editing with the CyberLink PowerDirector video editor. With Screen Recorder 3, you can stream and record your gameplay and edit the video. The screen recorder tool is helpful for gamers, vloggers and work (in terms of recording presentations or making interactive presentations). Also, there s an amazing collection of plug-ins and effects at CyberLink.
Photo Editing
: PhotoDirector 10 is an easy-to-use photo editor. With this amazing photo editing solution, you can get all creative with your photos, whether they are captured on a DSLR or a normal point-and-shoot camera
Audio & Colour: CyberLink provides professional-grade software for audio editing and colour grading. AudioDirector 9 helps you fix and edit sound tracks and includes features such as sound effects, audio-visual syncing and round-trip editing. ColorDirector 7 is the ideal colour grading tool for video makers and vloggers. You can buy these tools from CyberLink at a discounted price by using one of the CyberLink vouchers during the purchase.
Media Playback
: PowerDvD is the flagship product of CyberLink and one of the earliest products released by the company. The world s best media player for PCs and home theatres, PowerDVD plays DVDs, Blu-ray discs, online videos and VR content.
Webcam: CyberLink YouCam and PerfectCam are the best video chat and video conferencing tools. YouCam 7 comprises beautifier tools and fun effects for video chats. PerfectCam is a plug-in for video conferencing tools and comes with virtual makeup, skin smoothening effects and ideal brightness and exposure for a seamless video call. PerfectCam can be used with Skype, Skype for Business, Google Hangouts and U Meeting.
Burn & Convert
: CyberLink s burning, backup and conversion software, Power2Go 12 comes with 50GB cloud storage. You can download videos from Facebook, Youtube, etc. and watch them offline, covert and transfer videos to your mobile and burn CDs, DVDs and Blu-rays quickly. You can buy, upgrade or subscribe to the free trial of Power2Go by going to CyberLink s official website.
Online Presentation
: CyberLink brings to you the ideal software for online presentations and seminars. U Webinar has Microsoft PowerPoint integration and pre-recording capabilities, can be customized to support up to 10,000 viewers and can be integrated with U Messenger to give the audience a way to interact with you.
Video Meeting
: U Meeting is CyberLink s video meeting solution. With unmatchable audio and video quality and real-time interaction capabilities, U Meeting comes with multiple plans varying with respect to the number of participants. Also, PerfectCam can be plugged-in with U Meeting for advanced effects and a better video conferencing experience. Use your CyberLink promo code to purchase the product at a low price!
Instant Messenger
: With U Messenger, you can have a seamless experience of communication. Be it sharing files, making video calls or creating forums, U Messenger provides an easy way of doing them. The application can be downloaded for smartphones or PCs.
| Product Categories | Sub-categories |
| --- | --- |
| Creative Suite | Director Suite 365, PowerDirector & PhotDirector |
| Video Editing | PowerDirector, Plug-ins & Effect Packs, Screen Recorder |
| Photo Editing | PhotoDirector |
| Audio & Colour | AudioDirector, ColorDirector |
| Media Playback | PowerDVD |
| Webcam | YouCam, PerfectCam |
| Burn & Convert | Power2Go |
| Online Presentation | U Webinar |
| Video Meeting | U Meeting |
| Instant Messenger | U Messenger |
| | |
How to Shop at CyberLink?
CyberLink s official website is where you can purchase a variety of software. If you shop during a CyberLink promo sale, you can get a great discount on the purchase. Also, you if you have a CyberLink discount code, you can apply it during checkout and avail a discount. The process of making a purchase at CyberLink is very simple. Follow the steps below:
Step 1
: Browse through the categories of products and choose a category. You will be redirected to the product page.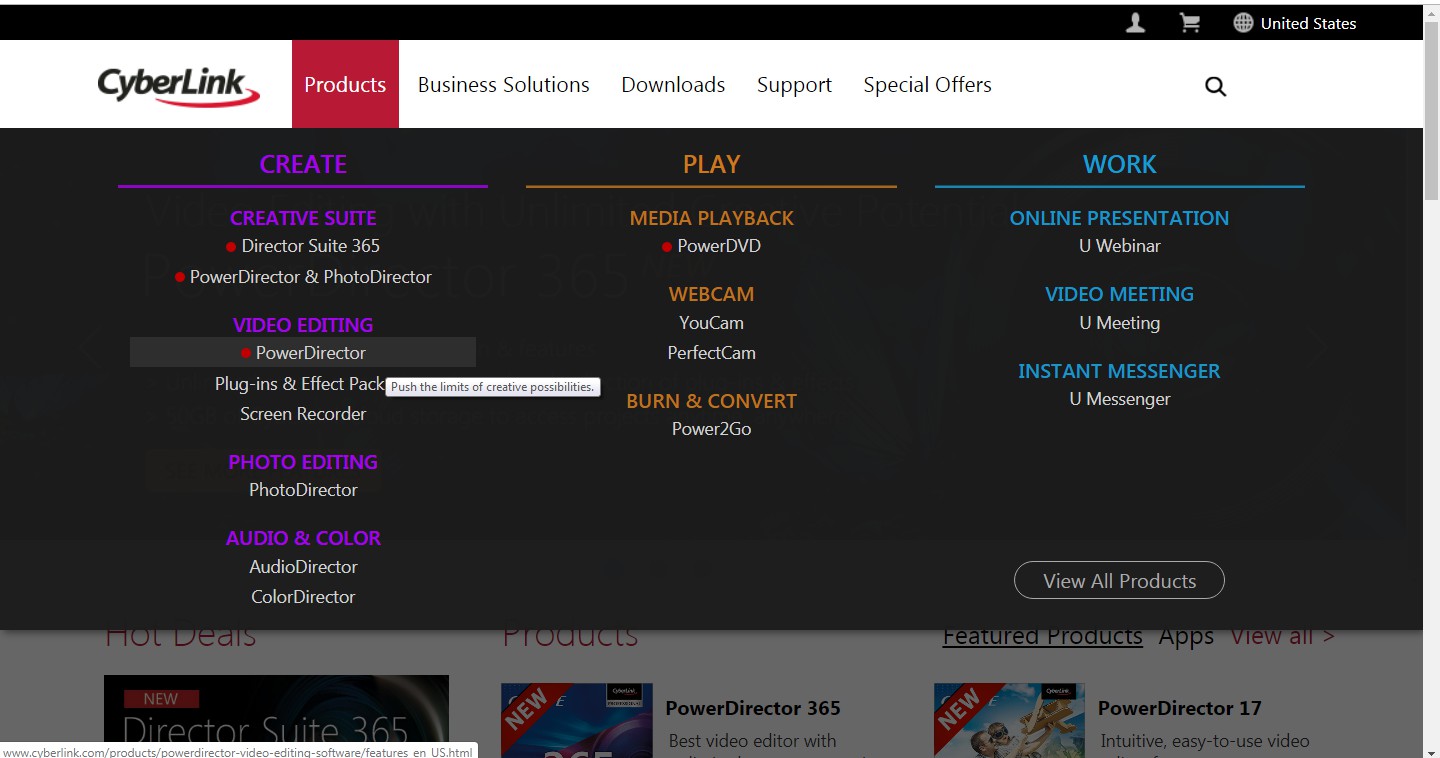 Step 2
: Select the version, choose a purchase option or choose a subscription plan (varies across products) and click "Buy Now". Doing this will redirect you to the shopping cart page.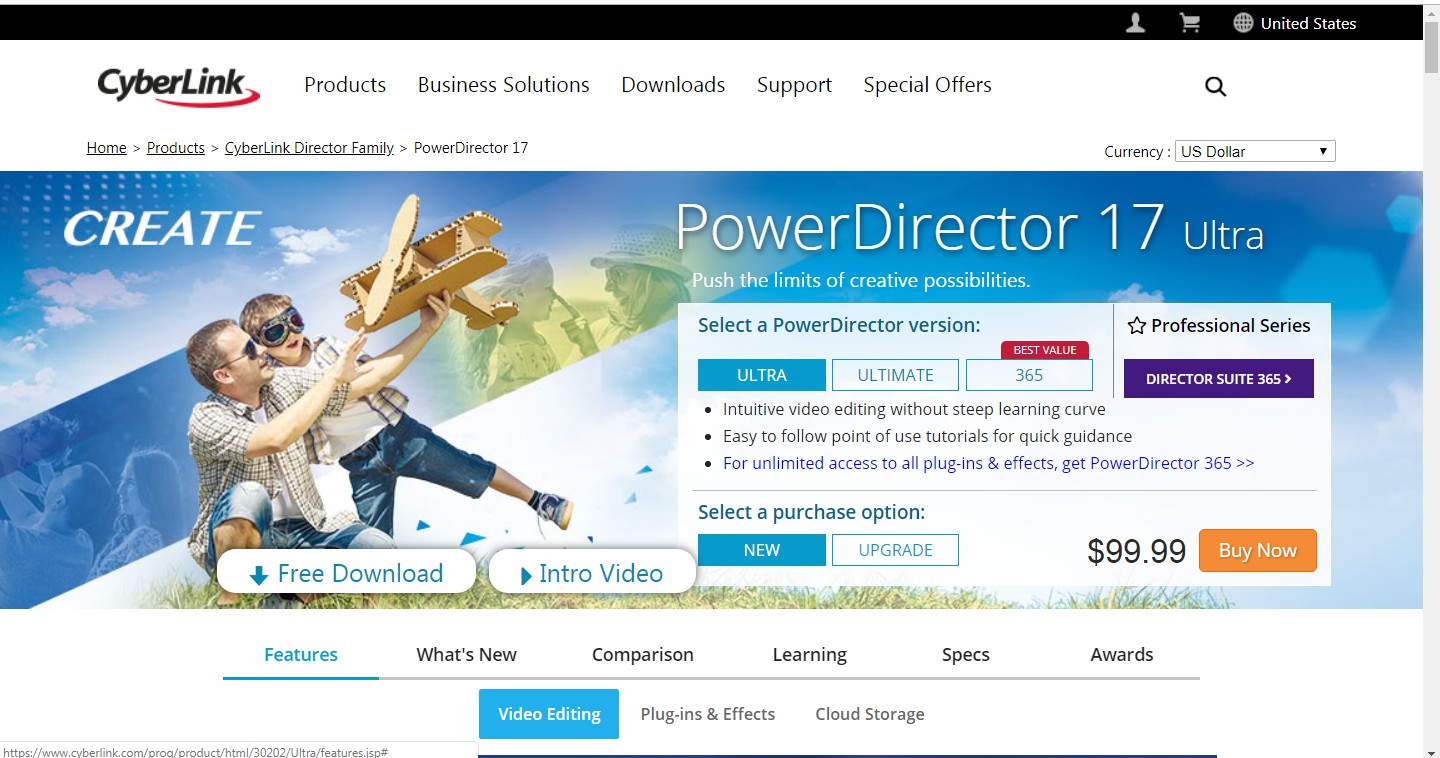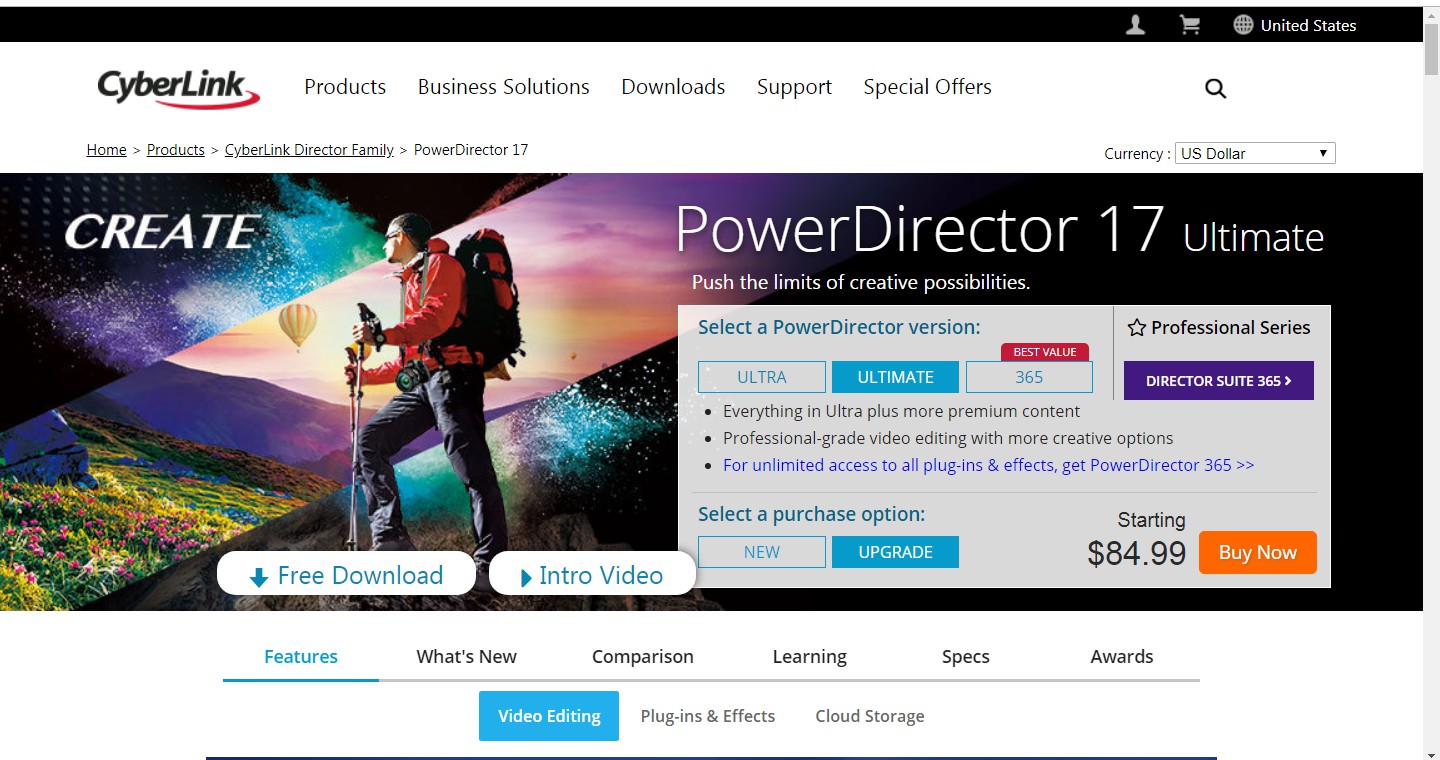 Step 3
: Enter the billing address, choose the payment method, enter the payment details and click "Submit Secure Order".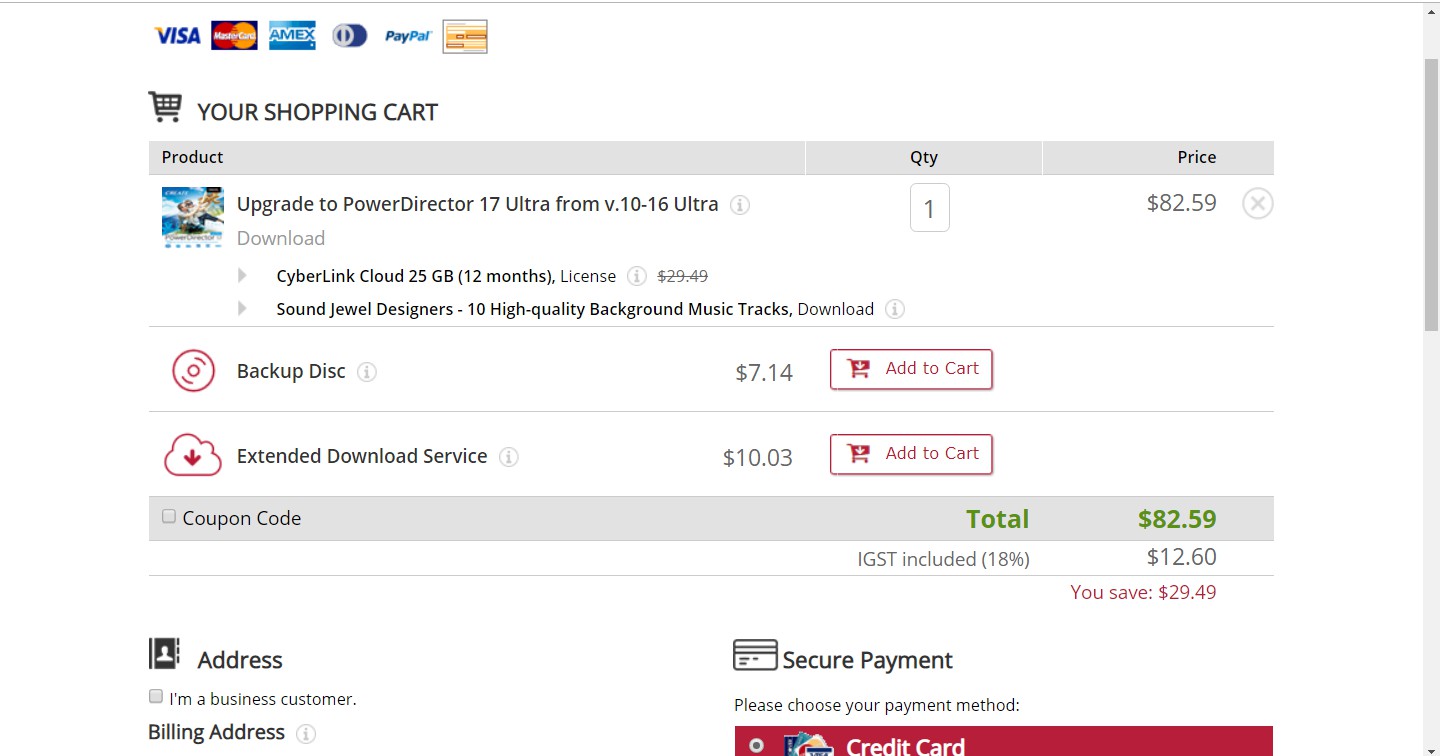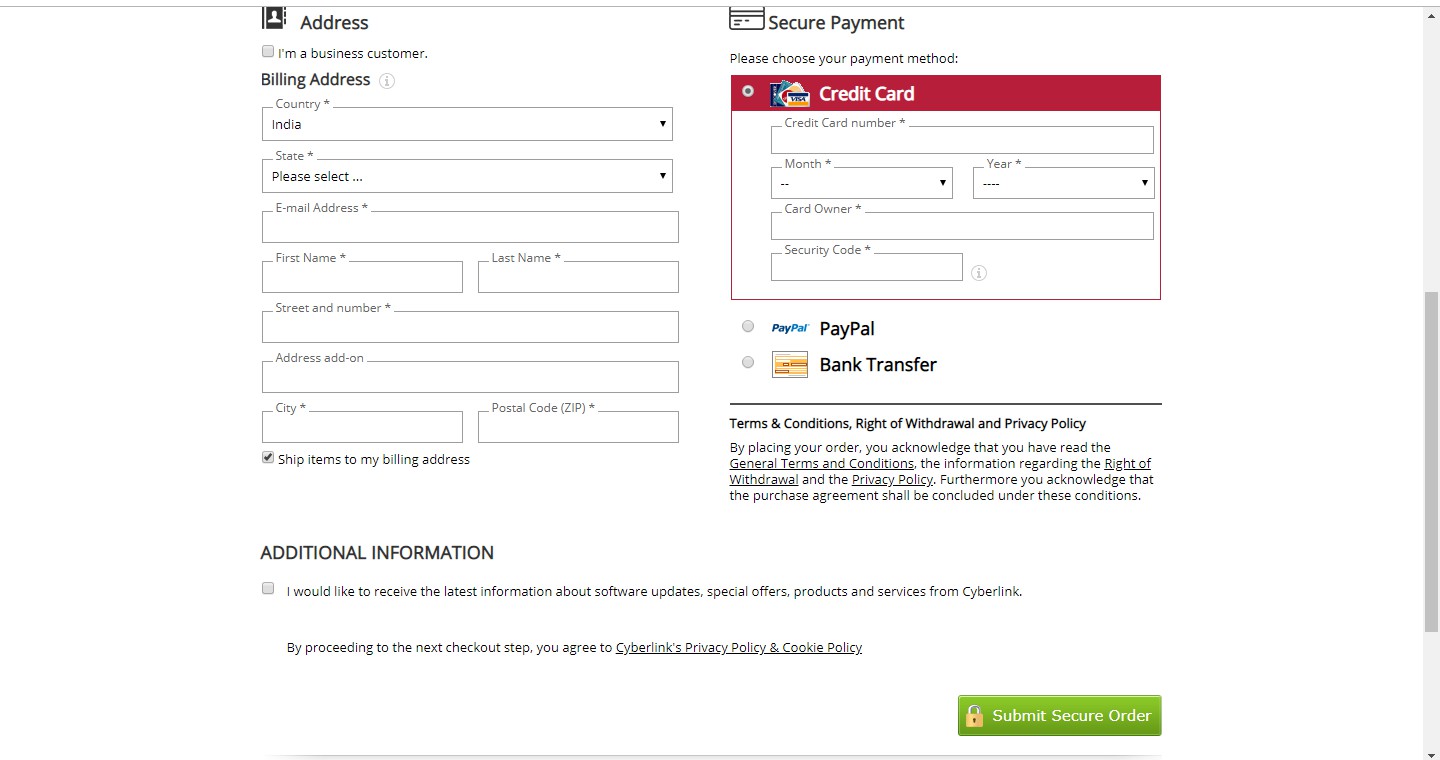 Payment Options on CyberLink
CyberLink s multiple payment options allow you to pay for your purchase conveniently. During checkout, you can choose the payment method, enter the payment details and make payment. Here are the payment methods offered by CyberLink:
Credit Cards
: You can use your Mastercard, Visa, American Express or Diners Club credit cards to make a purchase at CyberLink. Simply enter the card number, date of expiry, owner s name and CVV to confirm the payment.
PayPal
: PayPal is a secure payment method being used widely across the world. Choose PayPal from the payment methods and click "Go on to Overview and Payment". Log in to your PayPal account and make the payment.
Bank Transfer
: Choose Bank Transfer as the payment method and click "Go on to Overview and Payment". You order will be fulfilled only after the transferred amount is received by CyberLink.
Different Coupon Codes and Discounts on CyberLink
A CyberLink sale is when you can get the desired software at a lower price than usual. Also, during a sale, CyberLink promo codes are available. You can use them to avail a great CyberLink discount on your purchase. Check out the official website for information about promotional sales and offers. The "Special Offers" section on the homepage is where the current offers are displayed.
How to Redeem Coupons and Vouchers at CyberLink?
Discount vouchers and coupons are often issued by CyberLink during promotional sales and offers. If you have a CyberLink discount code, you can use it during checkout to avail a discount.
Step 1
: Choose a product and click "Buy Now". You will be directed to the shopping cart page.
Step 2:
Check the coupon code option present under the product list.
Step 3
: Enter the coupon code and click "Redeem". Doing this will make you eligible for a discount on your purchase.
How to Shop on CyberLink using ShopBack
On shopping at CyberLink through ShopBack, you can get a cashback of 7.5%. For this, all you need to do is create an account with ShopBack and follow these simple steps:
Step 1
: After logging in to your account, click on the "Electronics" tab and click "View all Electronics Stores".
Step 2
: Select CyberLink from the list of electronic stores. You will be directed to ShopBack s CyberLink web page.
Step 3
: Click "Activate ShopBack". Then, click "Continue to CyberLink" in the pop-up window.
You will be redirected to CyberLink s official website and can now get a cashback of 7.5% on shopping at CyberLink.
CyberLink s Order Receipt & Return Policy
Shipping and Delivery
: The time taken to deliver your order depends on the payment method you choose. In case of direct debit, you will immediately receive your order and will be able to access it; if you choose Bank Transfer, access to your order will be possible only after the transfer is received by CyberLink; if you pay through PayPal, the order confirmation can take up to four working days.
Orders that consists of backup CDs will be shipped within 24 hours of payment. Shipping in Germany and the U.S. takes place within one week of order placement and shipping to other countries takes two to three weeks.
Return
: You can return a damaged product by submitting a request from the Contact page of CyberLink. Also, with CyberLink s 30-day-money-back guarantee, you can get a refund if you cancel an order or subscription within 30 days of purchase.
CyberLink Customer Service
Follow these steps to contact the customer service centre of CyberLink:
Step 1
: To send a query, find the Support section present at the bottom of the page and click "Customer Services" from the list. This will redirect you to the Support page.
Step 2
: Under "More Support Resources", click "Customer Service".
Step 3
: Enter your contact information, write your query and click "Accept & Submit".
Technical support is offered through email and phone. To get technical support through phone, you must create an account with CyberLink.
You can follow the links below to contact CyberLink through social media.