Ctrip Cashback & Coupon Codes
CTrip: Enjoy Cashback for hotels, activities, flights today!
Limited time only!
ShopBack must be the last link you clicked in order to get Cashback. If other website links are clicked after clicking through ShopBack, Cashback will not be tracked (E.g. coupon and deal websites)

If for some reason your payment made on merchant page has failed, do click through ShopBack again and re-do your purchases to ensure tracking is still active

Return to ShopBack and click through to the merchant every time you are making a new transaction.

If you are making 3 separate transactions on the merchant, you should click through ShopBack 3 times, each time before making a new purchase.

For more details: www.shopback.sg/terms-and-conditions
Recent Articles
More about Ctrip
Ctrip is the best online travel agency in China: Get your Ctrip flights and Ctrip hotel today
Ctrip is one of the biggest online travel agencies in China, providing flight deals and hotel offers for every province in China. With network coverage for all cities in China, Ctrip has rapidly expanded and become one of the favourite online Chinese travel agencies. Ctrip prides itself on its reliable services and great prices, allowing people from all over the world to find the best Ctrip offers and Ctrip deals. For those of you worried about communication barriers or difficulties, Ctrip Chinese has an English website counterpart to cater to the rest of the world. Ctrip English caters to audiences around the world, offering the best prices for all the Ctrip flights and Ctrip hotel. With impeccable customer service for most major languages including Chinese Make your holiday a successful one with Ctrip today. Check out Ctrip Singapore for some of the best Ctrip offers and Ctrip deals today.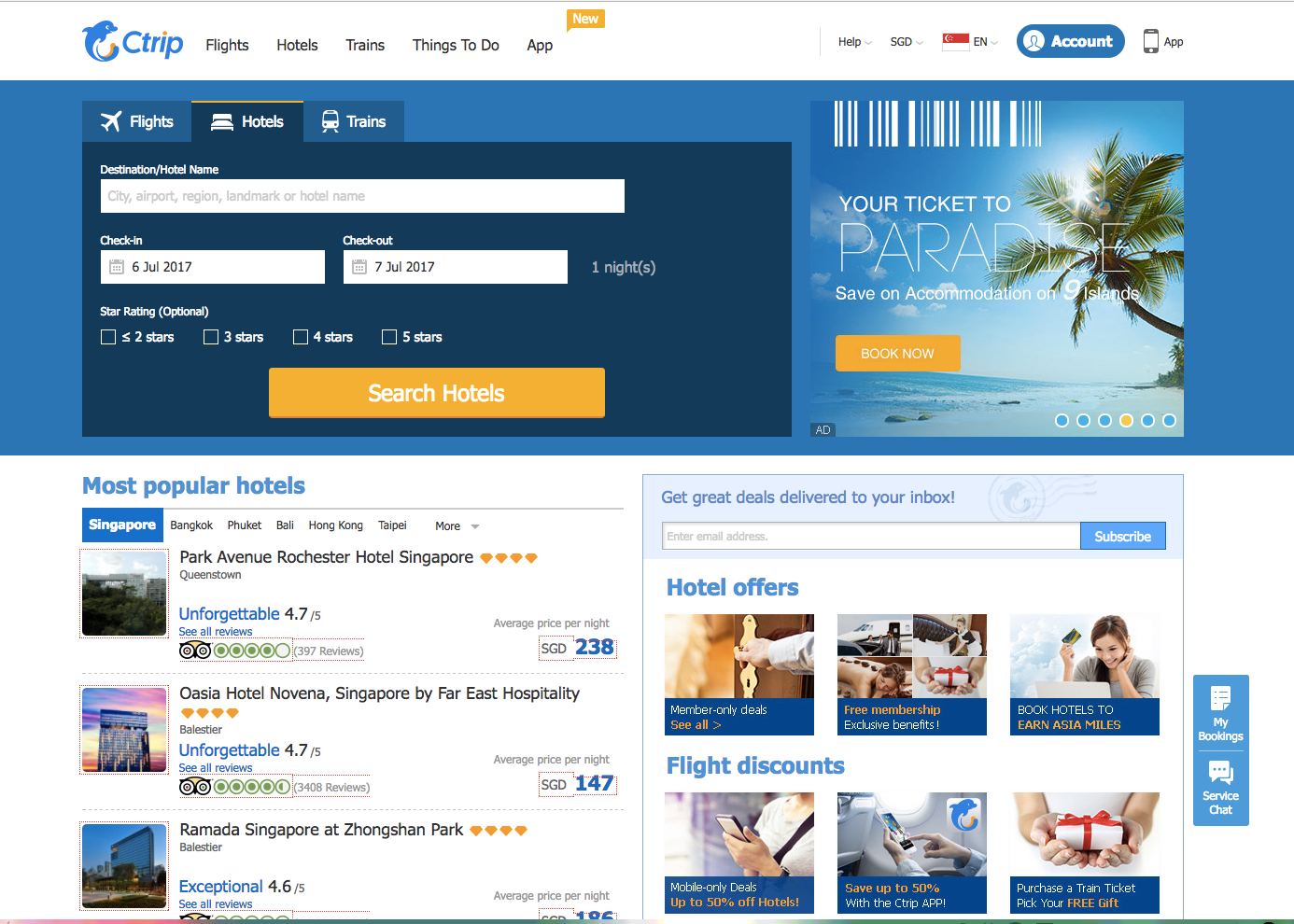 Ctrip is a great deal-finder, giving you the most reliable online travel booking services with top Ctrip offers and Ctrip deals
Are you looking for a luxurious Chinese vacation? Or a short tour of Shanghai? Or a business flight to Beijing? Or a foodie adventure to Nanjing? Ctrip brings you the best of Ctrip flights and Ctrip hotel by working closely with all the largest international and domestic airlines in China to give you the best prices based on real-time data. This makes it easy for you to find flights to, fro and within China to make your dream China holiday possible!
Ctrip consistently offers the lowest prices for your holiday, no matter whether you are looking for flights, hotels, trains tickets or even vacation packages. By going the extra mile to collate the best Ctrip deals and Ctrip offers for your holiday, Ctrip has gained a loyal following around the world for travellers looking to make their holiday perfect. Book with Ctrip for low fares as well as top quality security, convenience, customer service and technical support! The Ctrip's China Fare Alert allows you to set your budget and holidays dates for your domestic China flights; when there is a suitable match for your criteria, Ctrip's China Fare Alert will then send you a simple text or email to cue you to log in and grab your holiday. Make use of top Ctrip offers and Ctrip deals to make your money's worth. Treat yourself to a holiday without busting the bank.
Ctrip Mobile app makes it easy to book your holidays on the go!
To make it easy for you to book your holidays on the go, Ctrip has launched a mobile app to make booking your trips quick, painless and easy.
Whether you're bored on the MRT and dreaming of another place, or at work and browsing for a quick getaway to waste away your time, Ctrip Mobile makes it easy for you to get your perfect trip. The Ctrip hotel and Ctrip flights available on the Ctrip mobile are some of the lowest prices available in the market, so you can rest easy when you book your China holiday with Ctrip today. Apart from offering you the best Ctrip deals for your money, there are several key benefits to booking your flight with the Ctrip Mobile app:
Waive the 3% international credit card transaction fee on the Ctrip mobile app: Only available on the mobile app!
Book flights and hotels under 30 seconds with a few simple swipes on the phone screen
Cancel or modify your booking on the go: No longer will you have to worry about last minute changes or screw ups!
Get personalised notifications of your flight landings, delays or even boarding gate details
Map details for your airport and your hotel locations
What are you waiting for, download the Ctrip Mobile app and start browsing away today. Uncage the wanderlust traveller within you.
Secure online booking: Book all your holiday plans with confidence and convenience on Ctrip today
Ctrip takes data security very seriously. To assuage your concerns about online shopping, Ctrip employs the most advanced online security methods to allow you to book your Ctrip hotel and Ctrip flights with a peace of mind. Whether you would like to pay using international credit cards, Paypal, or cash on delivery, the online booking process on both Ctrip desktop and Ctrip mobile app is secure and breezy. Pick up your air-tickets easily with Ctrip's e-ticketing services today!
Ctrip makes it easy to save with top Ctrip offers and Ctrip deals: ShopBack Singapore gives you additional cashback of up to 4.5%!
Ctrip is the number one online travel agency in China. To help you enjoy the best deals and offers for all your China holiday plans, we at ShopBack have collated a list of Ctrip offers and Ctrip deals for all Ctrip hotel and Ctrip flights. The Ctrip offers here are consistently updated by a team of dedicated ShopBack Singapore workers, giving you maximum savings for your holiday! What more, receive up to 4.5% cashback by shopping with ShopBack Singapore, so get additional savings on top of Ctrip deals and Ctrip offers.
With ShopBack Singapore, not only can you receive Lazada coupons, you can also check out Expedia promotions and Agoda discount codes for holidays to other regions going at great offer prices.
Get connected with Ctrip today
To receive updates on the latest Ctrip offers and Ctrip deals, connect with Ctrip today on their various social media sites. Subscribe to their email services to get the best Ctrip deals delivered right to your inbox. Check them out below and get surfing for your perfect holiday!
Save on all your Ctrip hotel and Ctrip flights when you shop with ShopBack Singapore: ShopBack Singapore gives you the best Ctrip offers, Ctrip deals, and up to 4.5% cashback on top of all your savings from the Ctrip offers!