Cotton On brings you affordable, fast and fashion-forward apparels to you!
Cotton On is an Australian-based shopping company with its retail chain spread over 19 countries worldwide. Cotton On has grown through the years to become globally famous. There are more than 1400 Cotton On outlets across countries including Thailand, Indonesia, Singapore, Brazil and Oman.
The Cotton On website is designed to provide a better and easy-to-use interface to the customers, making it easy for them locate the products. With a variety of products available, the online store saves you the trouble of going to different places to find what you need. Moreover, with the Cotton On app, you can easily shop from anywhere and at any time. Many Cotton On Singapore outlets are spread across the country to give the customers an effortless shopping experience by providing products of almost every category under one roof.
The Cotton On Group was established in 1991. Their first store opened in East Geelong, Australia, and the company started its expansion journey in 1994 with a store launch in Western Australia.
In 2004, Cotton On Kids was introduced by Negil Austin and his friends. The Cotton On group started its international expansion with a store launch in New Zealand in 2006, while in Australia, the company s 100th store opened in the same year. In 2007, Cotton On Body was launched as a women s sleepwear brand. Typo, a major milestone in the success of Cotton On group, was launched in 2009. This is a one-stop destination for stationery, gifts and home décor. Cotton On saw the launch of its 1500th store in Tokyo in 2016. Apart from Cotton On Kids, Cotton On Body and Typo, the Cotton On group operates brands like Rubi and Factorie and owns a women s wear chain called Supre.
The Cotton On Foundation was started in 2007 with the aim of developing 20,000 educational places by the year 2020, for the underprivileged in Uganda, Thailand, South Africa and Australia. This initiative of the Cotton On group raised funds worth $13,631,428 in 2017. co
Products Sold on Cotton On Singapore
The website for Cotton On SG provides plenty of clothing options for men, women, kids and infants. Also, tech accessories, stationery products, homeware and other merchandise are available on the online store. Cotton On sales and Cotton On special offers bring you products at the best prices possible. Here is a brief of the merchandise sold on Cotton On s Singapore website:
Men s Fashion: Cotton On Singapore provides a wide range of diverse clothing options for men. Casual shirts and jeans, knitwear, sportswear, coats and jackets, t-shirts, hoodies and other kinds of men s clothing and shoes are available at the best possible prices. By availing Cotton On discounts, you can buy products at cheaper prices.

Women s Fashion:
The Cotton On Singapore online store enables effortless shopping with a variety of categories women s apparel. Here, you can find for clothes, shoes and accessories for almost any occasion. From tops to bottoms, knitwear to sleepwear, the website offers plenty of options and is the best online shopping destination for women. Cotton On Body Singapore is the one-stop shop for women s activewear, swimwear, sleepwear, lingerie and maternity wear.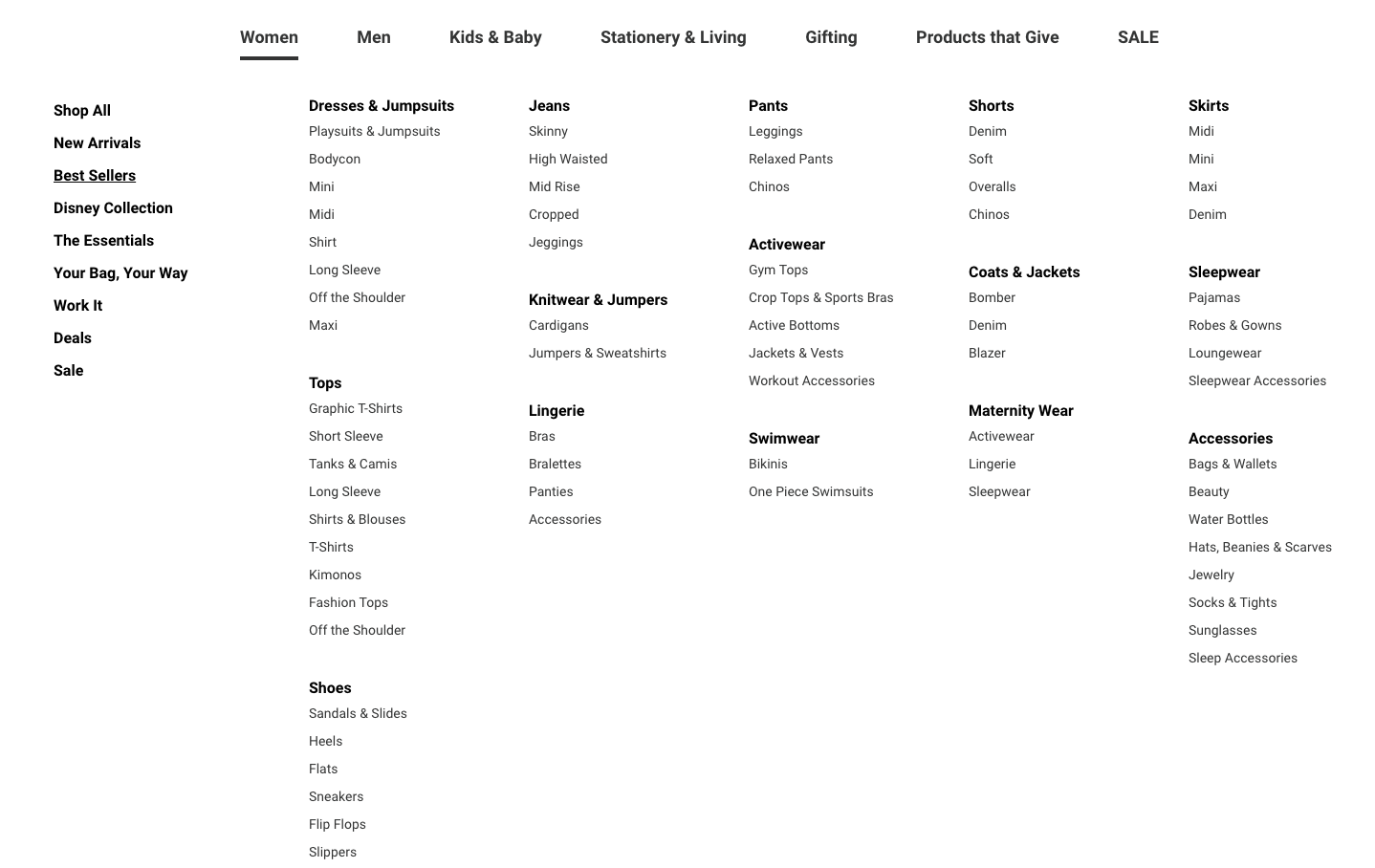 Kids & Baby:
Shopping for your kid s clothes and accessories could not have been easier. Cotton On Kids Singapore operated by Cotton On Singapore offers the customers a wide range of clothing options, from funky t-shirts for boys to pretty dresses for girls and everything in between.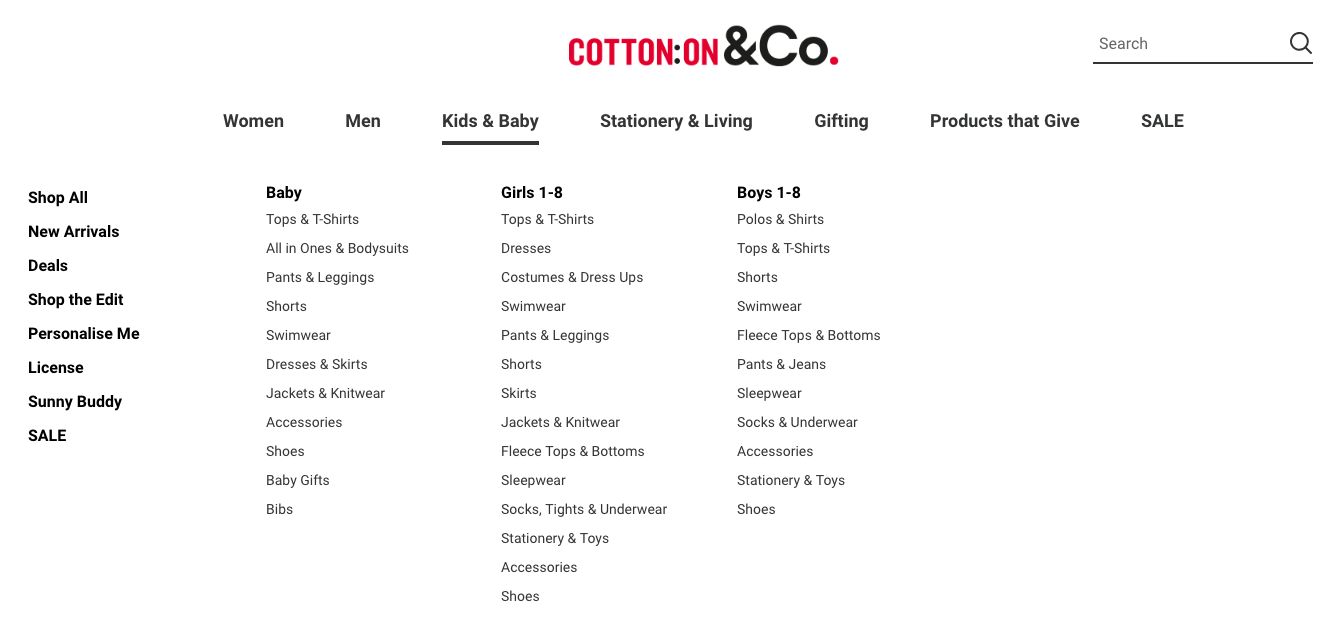 Stationery & Living:
With Cotton On SG, it has become easy for you to shop stationery items like document organizers, pencil cases and staplers, all from one place. From pens to pen holders and notebooks to personal journals, the online store has almost everything you need. Get amazing Cotton On deals on marquee lights, pillowcases, cushions, canvases, mugs and a lot more as you shop here. Use Cotton On codes and Cotton on coupons to enjoy amazing discounts. Tech accessories and beauty accessories are also available here.

Gifting: You no longer need to worry about deciding the perfect gift for your friends or family. With Cotton On, you can shop for a variety of items for men, women and kids. Novelty gifts can also be shopped for on Cotton On Singapore. Cotton On allows to personalize your gifts with the names/initials written on them; journals, pens and handbags are among the products that you can get personalized.
Products that Give: The online Cotton On Singapore store sells some products to raise funds for The Cotton On Foundation. These products include tote bags, t-shirts and bracelets, all available at reasonable prices.
| Cotton On Product Categories | Cotton On Product Sub-categories |
| --- | --- |
| Men s Fashion | Tops, Jeans, Pants, Knitwear & Jumpers, Shorts, Shirts, Jackets & Coats, Activewear, Accessories |
| Women s Fashion | Dresses & Jumpsuits, Jeans, Pants, Shorts, Skirts, Tops, Knitwear & Jumpers, Activewear, Coats & Jackets, Sleepwear, Shoes, Lingerie, Swimwear, Maternity Wear, Accessories |
| Kids & Baby | All-in-one Body Suits, Baby Accessories, Baby Gifts, Polos & T-shirts, Tops & T-shirts, Shorts, Swimwear, Socks, Tights & Underwear, Sleepwear, Shoes, Accessories, Pants, Jeans & Leggings, Fleece Tops & Bottoms, Stationery & Toys, Costumes & Dress-ups |
| Stationery & Living | Homeware, Stationery, Travel Accessories & Bags, Tech Accessories, Art & Craft, Disney x Mickey Takeover |
| Gifting | Gifts for Her, Gifts for Him, Gifts for Kids, Personalized Gifts, Cards & Gift Wraps, Novelty Gifting,Gifts that Give |
| | |
You can have an amazing shopping experience with the user-friendly interface of Cotton On. Also, Cotton On promotional offers can get you amazing deals on a variety of products. You can simply find the product that you are looking for by using the search bar or use the options button to look for the categories.
Shop category wise by using the options button present on the left. If you want to shop at a brand of Cotton On, you can find the brands at the top of the homepage of Cotton On.
Click on the category drop-down to view all the sub-categories.
Select the subcategory and you will be redirected to the product-listing page.
Select the product of your choice and then click on "Add to Bag".
On the same page, you are prompted to choose one between "Continue Shopping" and "Check-out Now". Click on "Check-out Now" if you have finished shopping.
Enter your contact details, choose the delivery method and proceed to make payment.
You can get information about Cotton On offers underneath the brands section on top of the Cotton On SG homepage. Browse through the left navigation bar to find "Sales".
Payment Options on Cotton On
Credit Cards: Credit cards are a convenient payment option. Cotton On allows you to make payment through Visa and Mastercard credit cards.
Visa Checkout: Use the Visa checkout feature (if you have one) to make payment on Cotton On. You can save information such as card number and shipping details and re-use it without having to re-enter the information for every purchase.
PayPal: PayPal is another convenient payment option at Cotton On Singapore. This is a fast and safe method for making online payments.
Different Coupon Codes and Discounts on Cotton On
With Cotton On & Co. Perks, you can avail rewards, offers and Cotton On vouchers across the different Cotton On brands. You must join the rewards programs to avails the perks. To keep yourself updated about the exciting Cotton On promotions and offers, check the section underneath the brands section on top on the page.
How to Redeem Coupons and Vouchers at Cotton On?
To shop online is not only easy but rewarding. You can find great deals and offers on products when shopping on the Cotton On Singapore online store. Use the Cotton On promo codes and Cotton On voucher codes to avail amazing discounts. Here is how you can use your coupons and vouchers:
Step 1:
Click on "Check-out Now" after you add the selected item to your bag. You will be redirected to the check-out page.
Step 2:
Click on the "Edit" button present in the "Order Summary" section in the checkout page. You will be redirected to the My Bag page.
Step 3:
Enter the Cotton On discount code or Cotton On coupon code and click on "Apply".
Step 4:
Click on "Check-out Now" and enter the contact/delivery details to make payment and complete the transaction.
How to Shop on Cotton On using ShopBack?
ShopBack offers 5% cashback on various items if you shop from Cotton On. Here are the steps you need to follow to earn cashback from ShopBack:
Step 1:
Visit the ShopBack Singapore website (https://www.shopback.sg).
Step 2:
Select Fashion from the list of categories. Click on the "View All Fashion Stores" link. Scroll down the alphabetical list of fashion stores and click on the Cotton On store. You can also use the search box to find the link to the Cotton On store.
Step 3:
Click on the "Activate Cashback" button on the left corner of the page. You will be redirected to the Cotton On website to browse and select the items.
If you are not logged in, a pop-up window will prompt you to log in or sign up. If you already have an account with ShopBack, you can select the Log In option, else you can sign up for a new account. ShopBack gives you the option to log in or sign up using either Facebook or your email.
Please make sure cookies are enabled in the browser that you use.

You should preferably disable the pop-up blocker in your browser.

Alternatively, on the Cotton On page of the ShopBack website, you can find attractive deals and coupons, in the Discount Codes, Promo Codes & Coupons section.
Step 4:
When you place the order, you will be eligible for the cashback feature of ShopBack. The cashback rates differ based on product categories and based on whether you are a new or an existing customer.
ShopBack Cashbacks: Your cashback will only be tracked if ShopBack is the last link that you clicked. In other words, if you click other links (other deals or coupon websites, etc.) through ShopBack, your cashback will not be tracked.
Cotton On s Shipping & Return Policy
Cotton On offers free shipping for orders within Singapore. Thresholds for free shipping are calculated after Cotton On promo codes and discounts are applied. However, delivery charges apply. Cotton On s "Click & Collect" free delivery method is available in selected stores in Singapore. Standard delivery charges are $5 and for orders over $50, Cotton On Singapore offers free delivery.
To return a product, you must visit your nearest Cotton On Singapore store. Cotton On divides the returns into two categories: Change of Mind returns and Faulty Product returns. The conditions for Change of Mind returns are:
To be returned within 30 days of purchase

Provide proof of purchase

To be returned within the country of purchase
Cotton On excludes a few products under Change of Mind returns.
For Faulty Products returns, a refund is provided within a reasonable time or you can exchange the product.
Cotton On Customer Service
You can get in contact with Cotton On s customer service centre by clicking on "Help & Contact Us" under the Customer Care section at the bottom of the homepage. You can also use the "Help" option on the bottom-right corner of the page to post your query.
Here are the links to the social media pages of Cotton On: