A whole new world of adventure awaits you at Contiki!
Operated by Travel Corporation, Contiki, a travel company offers unique itineraries in some of world s best destinations. These itineraries are designed especially for young travellers between 18 to 35 years of age. Book your trip with Contiki and look forward for a refreshing memorable holiday. The trip managers take care of accommodation, logistics, meals and many other things that you might require during the journey. The company promises to offer free wifi, comfortable transport, local delicacies, plenty of leisure time and no hidden cost.
With amazing services, 350+ trips in 6 continents, delightful itineraries and affordable rates, Contiki has carved a niche for itself among young travel enthusiasts all over the world. The company mainly operates in Australia, Russia, Europe, Egypt, New Zealand, Japan, South America, North America and Asia. Check out Contiki sales, Contiki discount coupons, Contiki promo coupons, Contiki promo vouchers and Contiki promotions that will help you find great discounts as you book your trip with the world-renowned Contiki.
Contiki was born when John Anderson from New Zealand dreamt of travelling entire Europe with minimal expenditure and in the company of young travel enthusiasts. With a great plan and very little money Contiki was born in Europe. This is how it all started. In 1962, Anderson purchased a minibus and gathered a group of people to explore Europe for 12 weeks. After the first trip, he decided to embark on the Europe trip once again to fit two trips in the summer season. These trips were booked by 19-year to 29-year-old individuals, and from here Contiki was born. In 1968, the company conducted their first expeditions through Africa, Middle East and India. In 1982, the company launched Contiki USA. Over the years, Contiki experienced great heights of success. The company currently boasts of 300 trips in 6 continents.
Contiki offers more than 350 trips to its young travellers. Be it a relaxing holiday, exploring an interesting destination or seeking adventure, Contiki marvels travellers with its unique itineraries and choice of destinations. Contiki discounts, Contiki special offers and Contiki cash backs ensure that you book your trip at affordable prices. Get set for some wonderful experiences as the expert team leaves no stones unturned to make your trip a memorable one. Here s a short preview of some popular trips offered by Contiki.
Cambodia and Laos Uncovered
– The Cambodia and Laos itinerary is designed for 9 days with sightseeing in 2 countries. You can enjoy delightful activities like viewing sunrises, visiting riversides, exploring the world-renowned Angkor Wat, partaking in an alms ceremony in Luang Prabang, enjoying a bike tour and watching ancient Apsara dance performances. During this trip, you will be served 10 meals, 9 breakfasts and 1 regional dinner.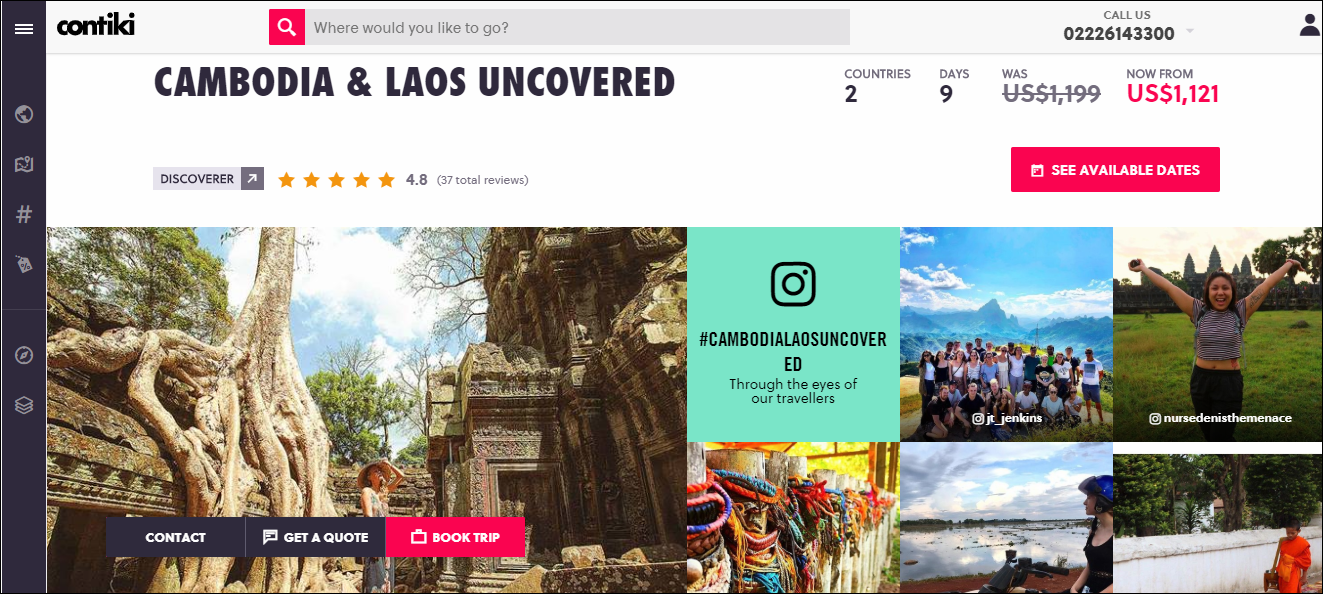 Thai Island Hopper East
– Here s your chance to witness the magical beauty of Thailand. Embark on this 9-day tour and enjoy the aura around magnificent sandy beaches. Have fun as you sail from Koh Samui to Koh Tao to Koh Pha Ngan. Pamper your palate with delicacies from the popular Thai cuisine. Check out Contiki offers and Contiki special discounts for this package on the website.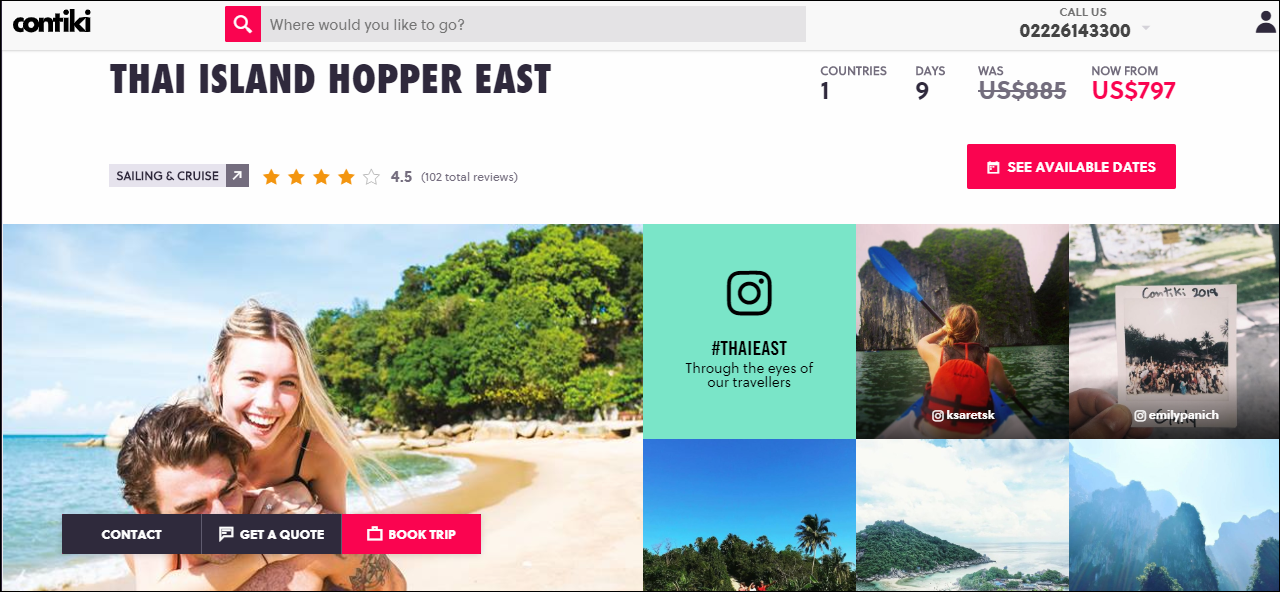 'Sweet As South (Reverse)
– This trip to Southern New Zealand is ideal for those who love adventure. It takes you to Christchurch, Queenstown and Lake Ohau. Engage in fun activities like hiking glaciers in Franz Josef, enjoying bungee and canyon swinging. During this trip, you will be served 11 meals, that is, 3 dinners and 8 breakfasts. Use Contiki promo vouchers or Contiki promo coupons to avail discounts while booking this trip.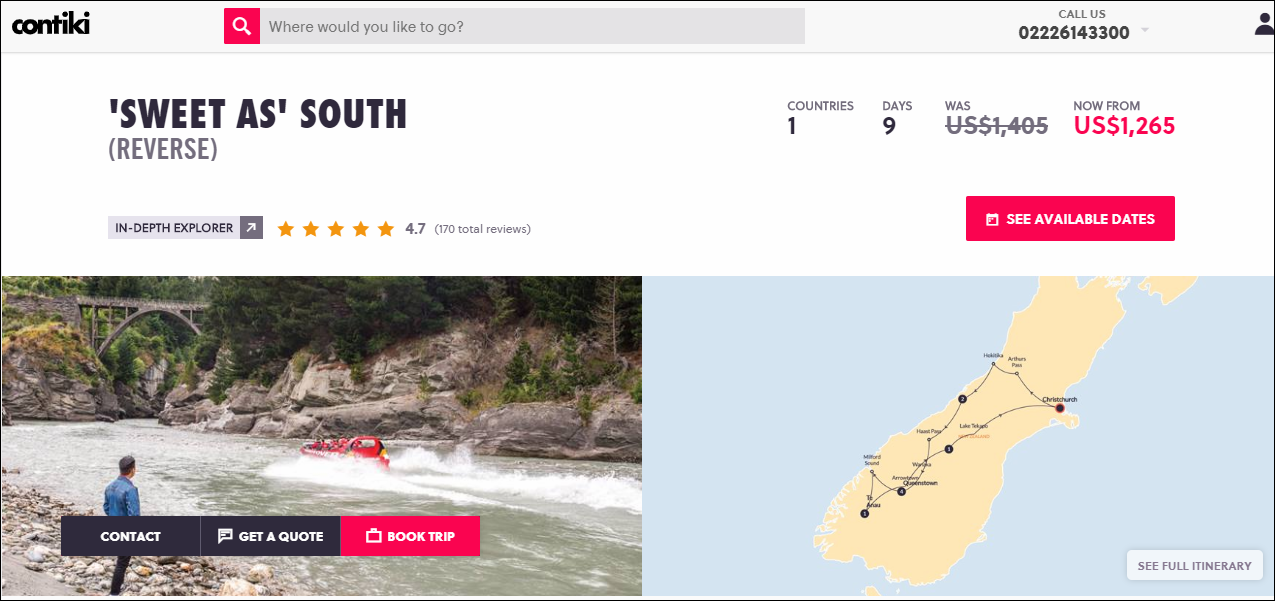 European Discovery
– Fall in love with Europe as you explore 9 countries that include Germany, Austria and Rome. Enjoy the picturesque surroundings. This 12-day tour is perfect for those who wish to take a break from their daily routine and refresh their senses.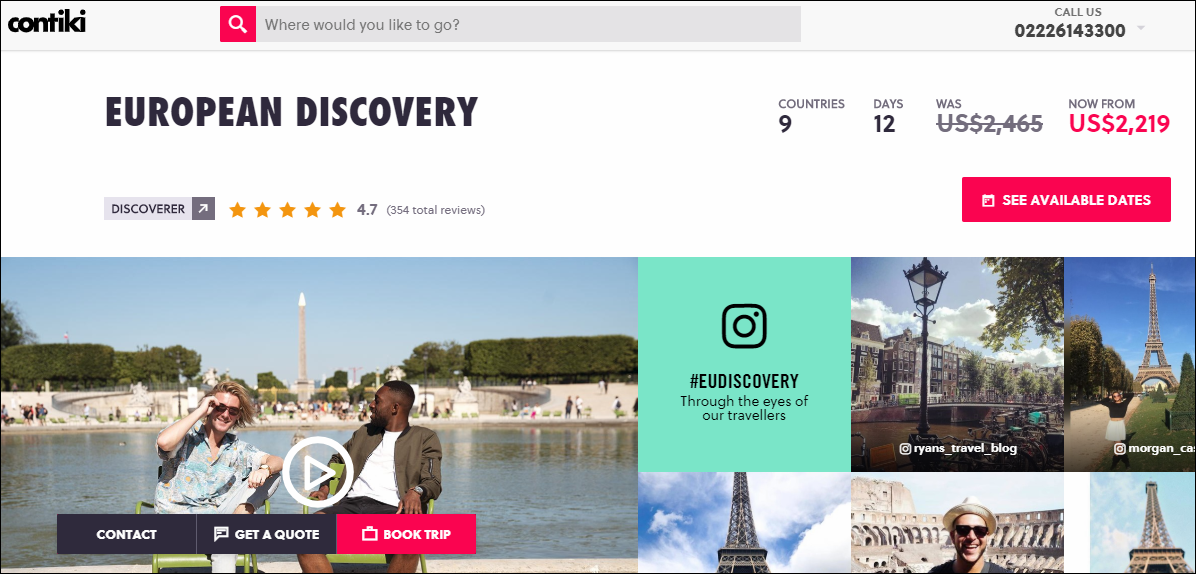 Contiki s Most Popular Trips
Camboadia and Laos Uncovered
Thai Island Hopper East
Sweet as South
European Discovery
European Horizon
Eastern Road
Simply Italy
Mediterranean Quest
London Explorer
European Magic
Check out the Deals section on the website for Contiki offers, Contiki promotions, Contiki special deals, last minute deals and ongoing deals. You can also find Contiki voucher codes and several other Contiki codes that can be used to avail discounts.
How to Book your Trip on the Contiki Website?
Contiki website allows travellers to book their trip easily, quickly and without any hassles. The homepage displays some popular trips and information about the company. The menu icon is situated in the top left corner of the page.
To book a trip, click on the Trips option in the menu. You can see all trips offered by Contiki, with the popular ones listed first, followed by the others. You can search for the desired trip by using filters provided in the right pane of the page.
A faster way to search for a trip is to enter the destination name in the Search box provided at the top end of the page.
Browse through the various trips and click on the required one. The website displays all the details regarding the trip, such as number of days, price, items that the company provides during the trip, itinerary, what s included in the trip and reviews.
You can request for a quote by clicking the "Get a Quote" button and filling information in the provided fields.
Click on the "See Available Dates" button to check dates available for the trip. On clicking this button, you are directed to the calendar. Click on a date from when you would want to go on the trip.
Alternatively, you can also click on the button next to 'View to select the available dates.
On selecting the dates, you will be able to view your trip summary.
Click on the "Book Trip" button to continue with the trip booking process. In the 'Trip Overview page, select the number of adults in the 'Show me costs for box. In this page you can enter Contiki promo code, Contiki discount code or Contiki coupon code in the "Add promo code" box to redeem your coupons and avail discounts. After entering details in the 'Trip Overview page, click the "Continue" button. The 'Deals section of the website provides information on Contiki special discounts and Contiki special deals, which will help you save money as you book your trip.
In the 'Flights & Extras page, enter/select the necessary information in 'Extend your tour , 'Flights to connect you with your trip and 'Additional trips sections, and click the 'Continue button.
In the 'Passengers page, enter the necessary information in 'Full name(s) as shown in passport , 'Lead passenger contact details , 'Past passenger discount and 'Special requirements sections, and click the "Continue" button.
In the 'Payment page, enter the payment details and click the "Pay Now" button.
Your booking will be confirmed after you make the payment. Customers who make full payments can enjoy certain benefits like securing the place right away, instant confirmation and early payment discount.
Payment Options on Contiki
Paying for your bookings on the Contiki website is simple and quick. The company accepts payments via all major credit cards and debit cards from VISA, American Express and MasterCard.
Different Coupon Codes and Discounts Offered by Contiki Singapore
Here s your chance to embark on a dream holiday at competitive prices as Contiki Singapore offers plenty of Contiki promo codes, Contiki vouchers and Contiki coupons from time-to-time. You can redeem these during the booking process and avail discounts. You can check out the 'Deals section of the Contiki website for Contiki promos, Contiki discount coupons, Contiki discount vouchers, Contiki voucher codes and many other latest deals. Apart from Contiki s website, you can find Contiki discount coupons and Contiki discount vouchers on several other websites.
Shopback is currently offering 2% cashback to all those who book their trip through Contiki using their Shopback account.
How to Shop on Contiki using ShopBack
Book your dream trip on the Contiki website using your Shopback account and earn 2% cashback. Follow the steps given below to earn your cashback:
Step 1:
Visit the ShopBack website and select Contiki from the list of merchants and brands on the homepage. You can also use the search box to find the link to Contiki.
Step 2:
Go through important information such as cashback details, tips to ensure cashback, and terms and conditions provided on the website.
Step 3:
Check out the 'Contiki Deals, Offers and Cashback section for Contiki cashback and Contiki special offers.
Step 4:
Click on the "Activate Cashback" button. You will be directed to the Contiki website, where you can book your trip.
To ensure that your cashback is successful, use only Contiki promo codes featured on Shopback. The cashback offer is not applicable on purchases made on the Contiki app.
Contiki s Booking Terms and Conditions
Here are Contiki s booking conditions.
On receiving your deposit for the holiday reservation, Contiki will reserve your place for the selected holiday.

A contract is made between the client and company only after booking confirmation.

In case of circumstances beyond control, Contiki reserves the right to cancel or change your booking.

In case of change or cancellation, Contiki will inform you in advance and will offer you a comparable alternative. However, if an alternative cannot be provided, you will be entitled to a full refund or transfer to another Contiki holiday without any transfer fee or payment.

In case the cancellation or change in booking is due to circumstances beyond Contiki s control (i.e. war or threat of war, civil strife, industrial disputes, natural and nuclear disasters, epidemic, adverse weather conditions, riots, political unrest, terrorists activity etc.), the company will provide a full refund paid for the trip less reasonable expenses incurred by the company regarding your booking.

Contiki is not responsible for any travel arrangements costs affected due to cancellations or rescheduling of any tour departure.
For detailed Contiki s trip booking terms and conditions, visit their website.
For any inquiry or help, the customers can contact the Contiki customer service by dialling 02226143300.