Say Yes to No-Contract Mobile Plans with Circles.Life
Circles.Life is Asia s first ever customer-centric telecommunications company that works solely to provide complete customer satisfaction. The company s data-focused, no-contract mobile plans are a game changer and they are reshaping the digital services industry with their dedicated customer experience. The brand 'Circles.Life resonates with extremely personalised digital services.
The primary mission of the company is to grant power to the customer with the help of their fully integrated, end-to-end digital experience. With Circles.Life, every customer has the power to design and manage a mobile plan that best suits their requirements. They wish to eliminate the hidden charges that exist currently in the telecom companies.
Visit Circles.Life store online to purchase the best plans for your phone and enjoy amazing discounts by applying the Circles.Life promo code during Circles.Life promotions.
Circles.Life was founded in the year 2016 in Singapore, by three friends Rameez Ansar, Abhishek Gupta and Adeel Najam, who aimed at solving the mobile service issues faced by commoners like them. Their aim to build a ground-breaking and seamless digital service experience led to the birth of Circles.Life. Ever since its launch, the company has become one of Singapore s fastest growing telecoms, offering excellent services to all its customers.
In 2017, they came up with the first '20GB for S$20 Data Plus Option, offering a huge 20GB data to customers at merely S$20 per month. The year 2018 saw the launch of S$3 Unlimited Data on Demand, which was the first ever plan to provide a daily unlimited data at S$3/day. They further launched Unlimited Outgoing Calls for just S$16/month, and the S$0/month Flexi Plan. In the Flexi Plan, customers received 1 GB mobile data, a free SIM card, 10 SMS and 30 minutes talk time on signing up for Circles.Life. In 2019, the company reached a total of 5% market share in Singapore and aims to expand further to provide digital lifestyle services such as an event-based app 'Discover (powered by AI) and device insurance.
Circles.Life provides complete mobile network services and possesses a 99.92% 4G+ outdoor coverage in Singapore. They have an excellent company culture, wherein the whole team is free to learn and grow, and come up with their own innovative ideas. It was also featured in the local news for the immense benefits it offered to the employees. Circles.Life boasts of 400 employees working for them in its offices across India, Singapore, Australia, Philippines and Taiwan.
Plans and Services offered by Circles.Life
At Circles.Life, you can find unbeatable value plans for your network at pocket-friendly prices, without having to sign any contract. Shop at Circles.Life online and enjoy exciting deals during Circles.Life offers. Listed below are some of the plans and services available on Circles.Life.
Plans –
Purchase the best plan for your network at reasonable rates on Circles.Life. The site also lets you customise your plan, while offering roaming boosts to use wherever you go! You can add/remove your plans in the app at any time. Apply the Circles.Life promo codes/Circles.Life voucher codes and buy at discounted prices.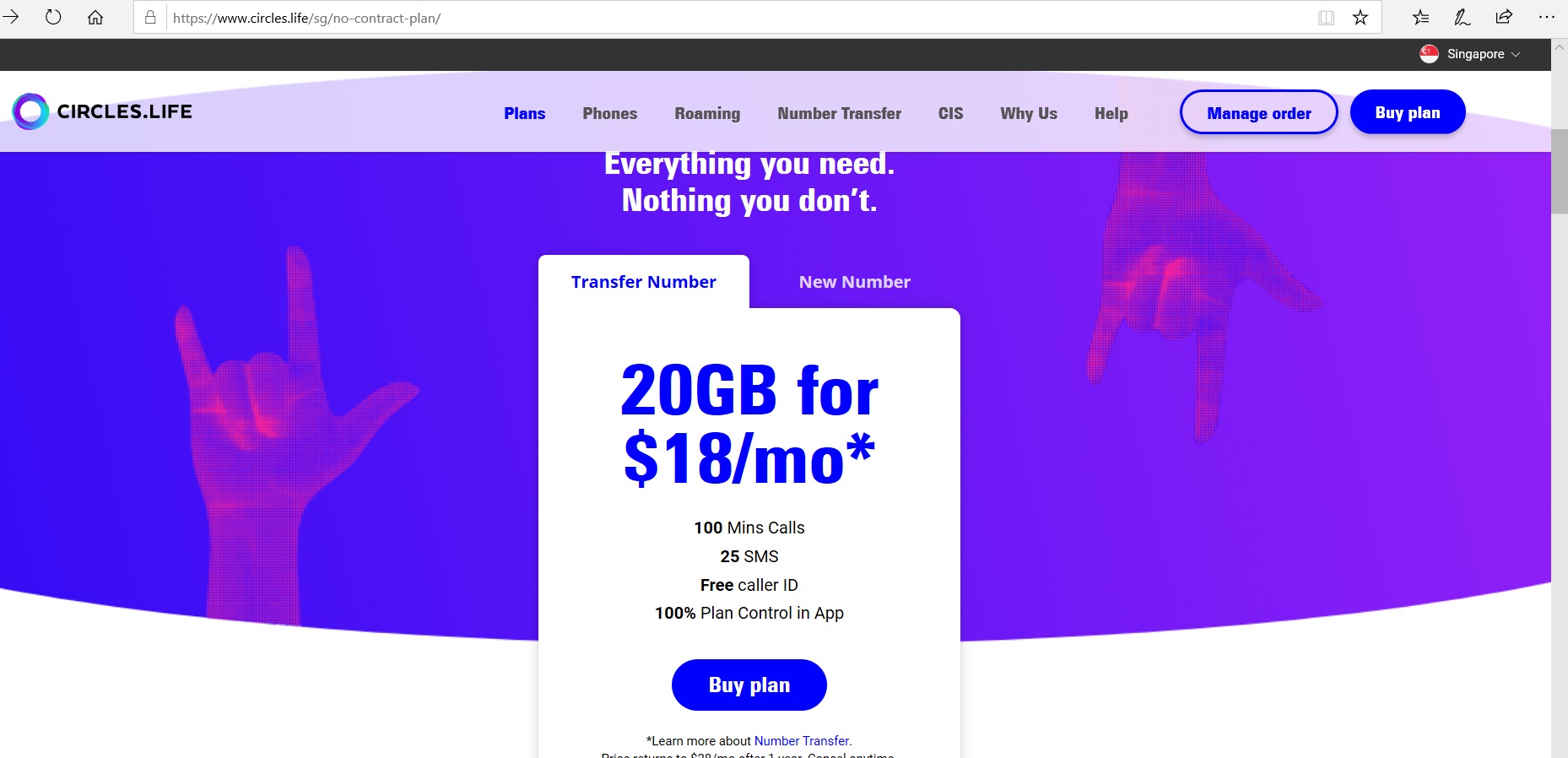 Phones –
Choose your phone, Android or iPhone and buy without having to sign a contract for your SIM. Circles.Life offers phones at discounted prices and lets you pay in installments, while you enjoy unlimited change of plans in the app.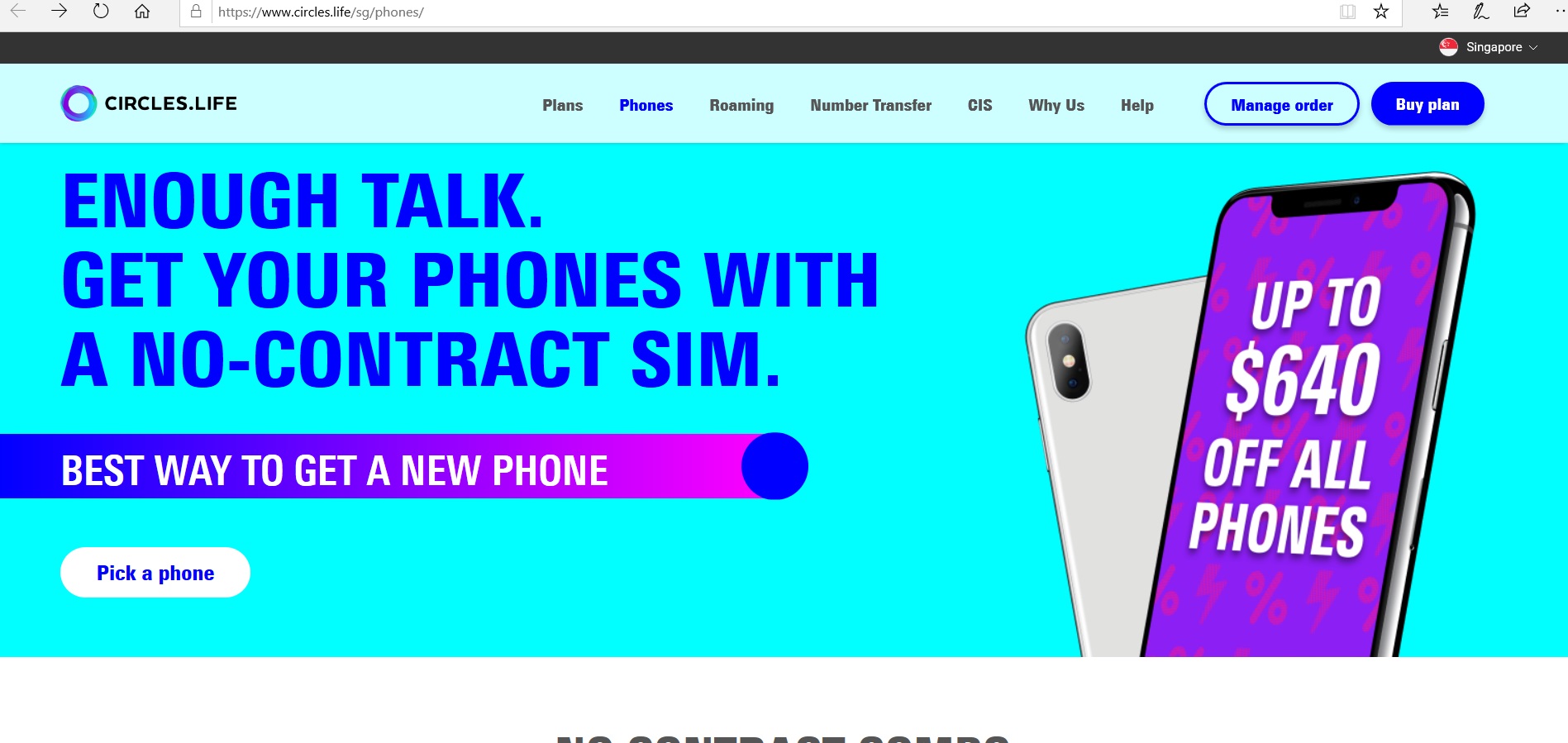 Roaming –
The website offers roam boosts starting from $5 per GB and you can choose from their list of boost plans at any time, via the website or app. You may also opt to pay on the go and you will be charged only for the amount of data you use.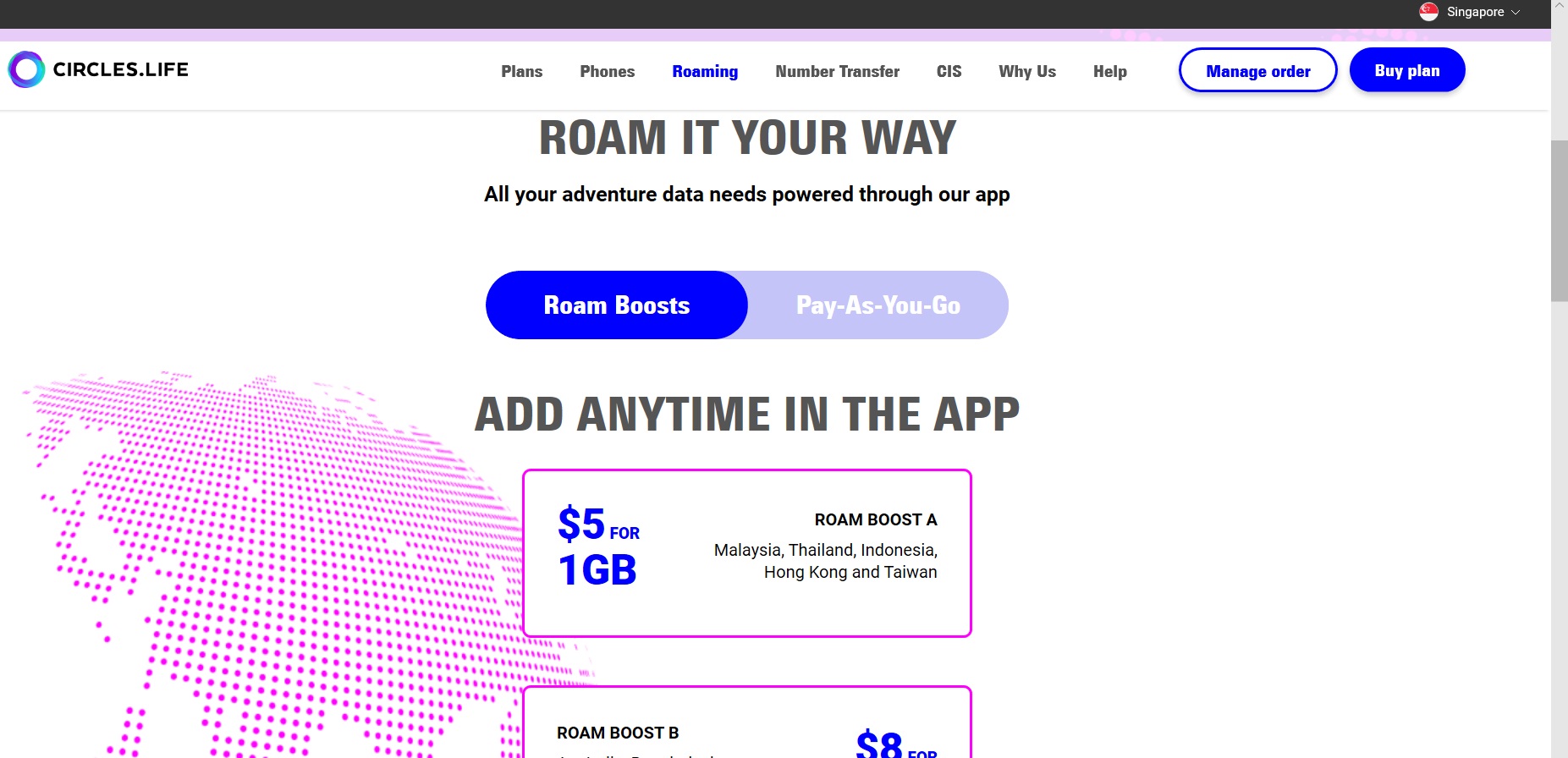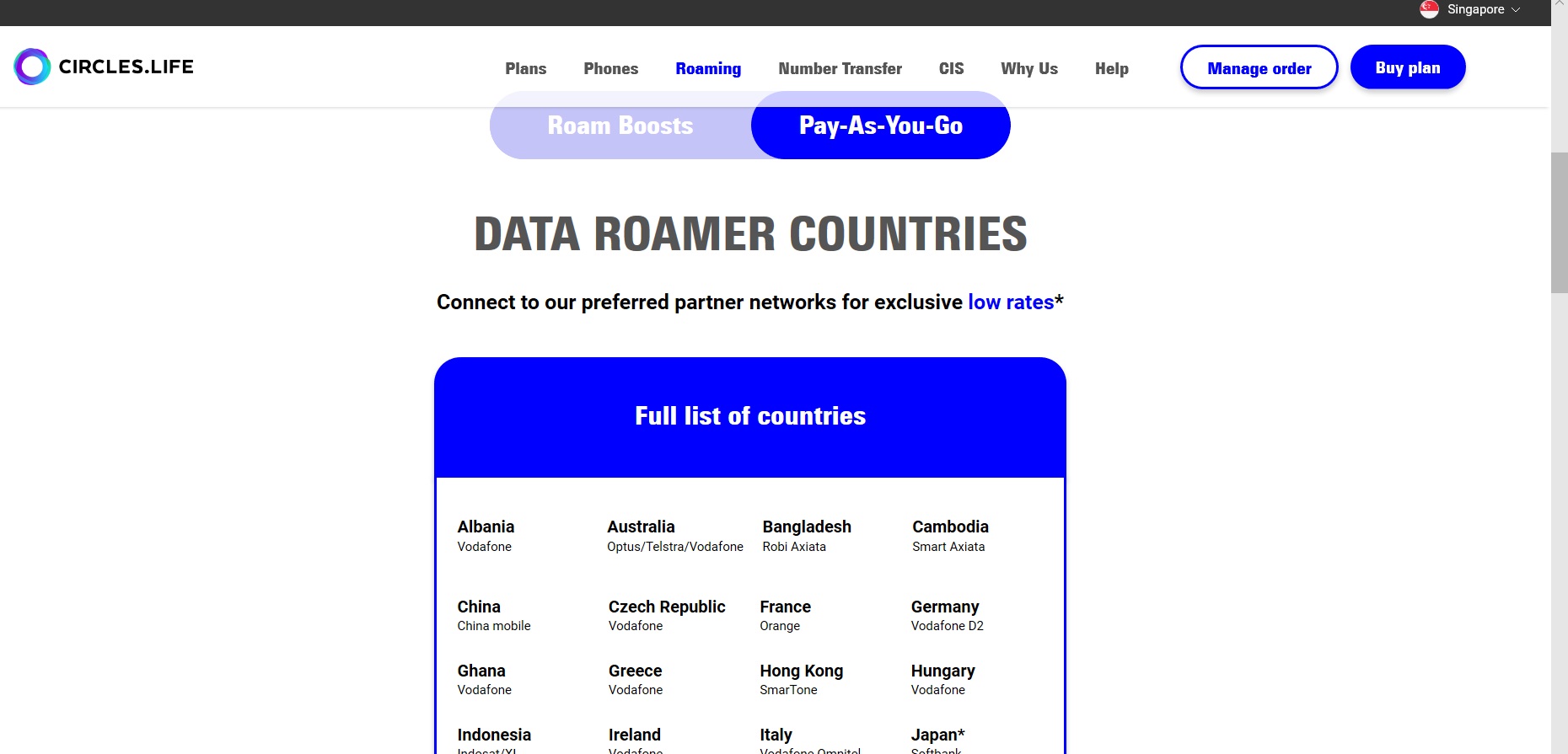 Make sure to check for the Circles.Life coupons and vouchers offered during the Circles.Life sale period before you proceed with shopping. Select the product category and sub-category and choose what you wish to buy from the list of displayed products. Once payment is made, your purchase details will be displayed and an email will be sent to you to confirm your order details, with the expected delivery date of your order.
| Circles.Life Product Category | Products |
| --- | --- |
| Plans | Unlimited Data, Roam Boosts, Add-Ons |
| Phones | iPhones, Android Phones |
| Roaming | Roam Boosts, Pay-As-You-Go |
| Others | Number Transfer, CIS |
Payment Options on Circles.Life
At Circles.Life, the following payment methods are offered for your convenience.
Credit Card:
Circles.Life accepts credit and debit cards for online payments. Outstanding bill will be charged within the month s first 15 working days. It accepts VISA, MasterCard, DBS and POSB.
Different Coupon Codes and Discounts on Circles.Life
The website brings to you a number of Circles.Life discounts and special deals from time to time. Online deals vary from time to time on the validity, with some that last throughout the season and some that are available only for a limited period. Customers can save a lot of money by applying the Circles.Life codes/Circles.Life discount codes.
Currently, customers can earn cashback if they shop with the merchant via a registered account at ShopBack.
How to Redeem Coupons and Vouchers on Circles.Life?
Online shopping sites bring to you a number of vouchers and coupon codes during Circles.Life promos that can be redeemed to earn discounts as well as cashbacks when shopping online. This gives you plenty of opportunity to save, thus making your online shopping a happy and convenient experience.
Here is a step-by-step tutorial on how to redeem coupons and vouchers at Circles.Life:
Step 1:
Browse through the displayed products, select what you wish to buy and click Add to Cart .
Step 2:
Fill in your email address and shipping information before proceeding to checkout.
Step 3:
Proceed to the payment page. Here, you will find a box under the payment summary section to enter your Circles.Life promo code/Circles.Life coupon code or any other applicable discount codes for availing discounts.
Step 4:
Opt for your preferred payment method and enter all the payment details to complete your purchase.
How to Shop on Circles.Life using ShopBack
ShopBack lets you earn cashback when shopping, if you purchase via the website. ShopBack offers cashback on products if you shop from Circles.Life. The following steps will help you earn cashback from ShopBack:
Step 1:
Select Circles.Life from the list of brands on the ShopBack homepage, or use the search box to find a link to the Circles.Life website.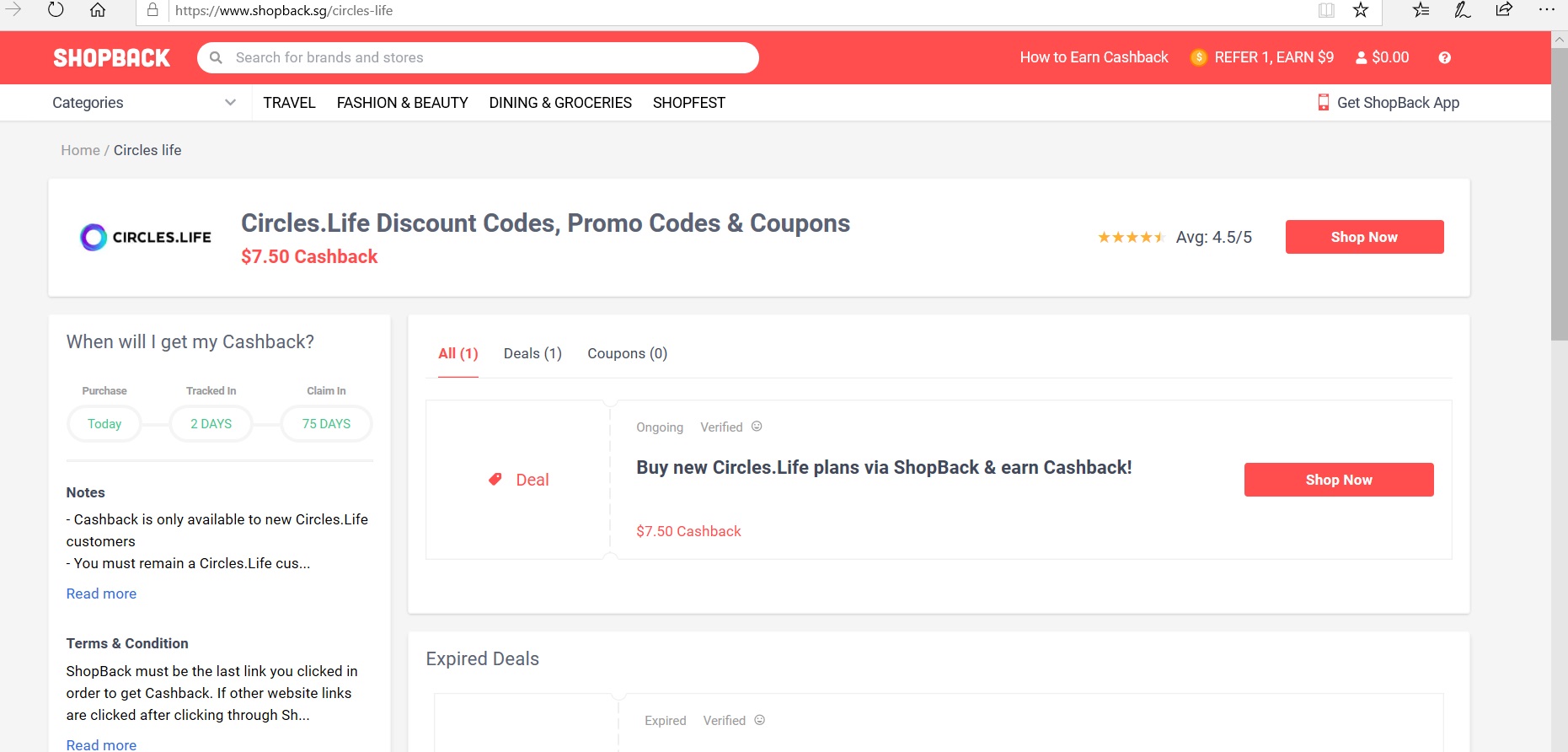 Step 2:
To ensure that you receive cashback, read the terms and conditions and other relevant information such as cashback details and tips.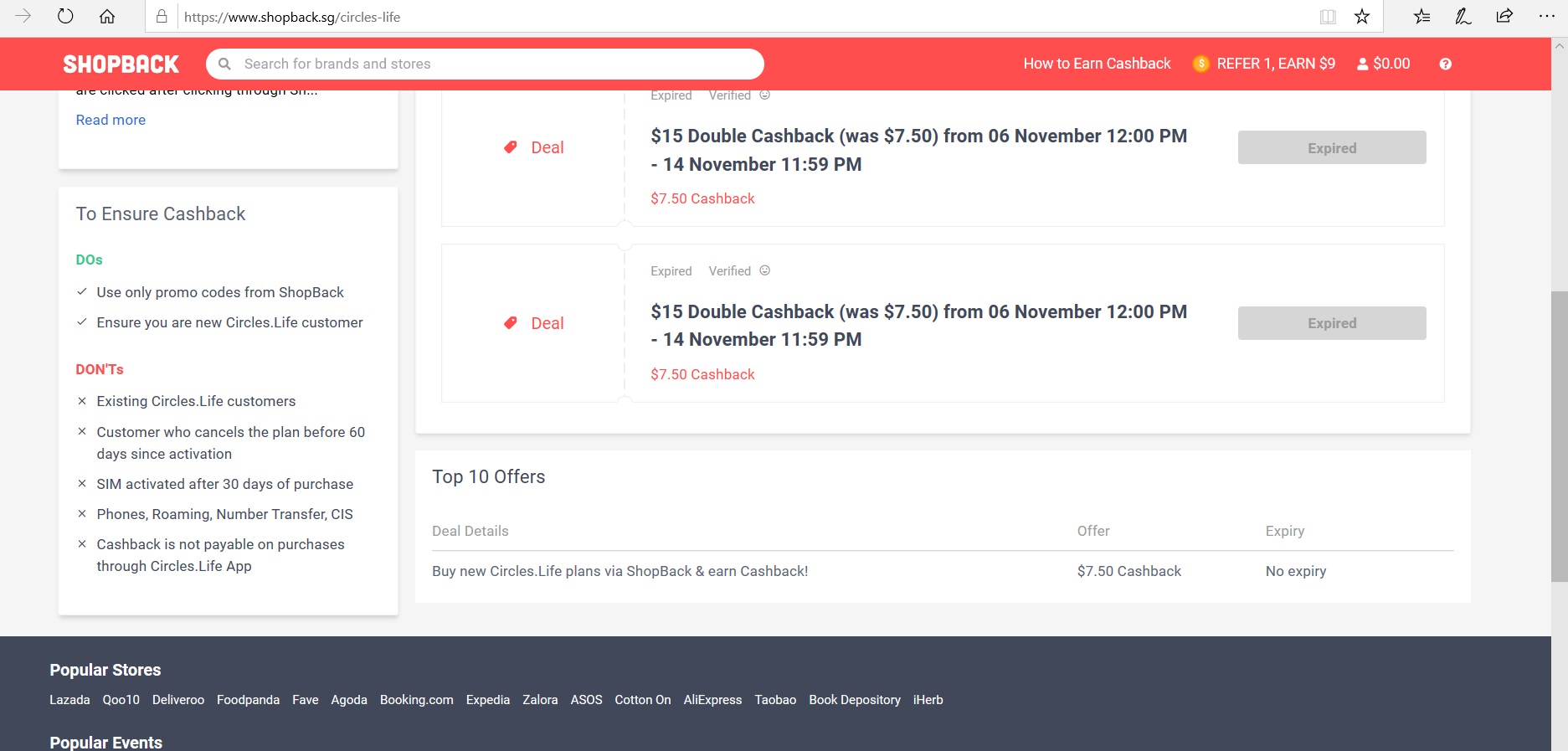 Step 3:
Click on the 'Shop Now button towards the right-hand side of the page.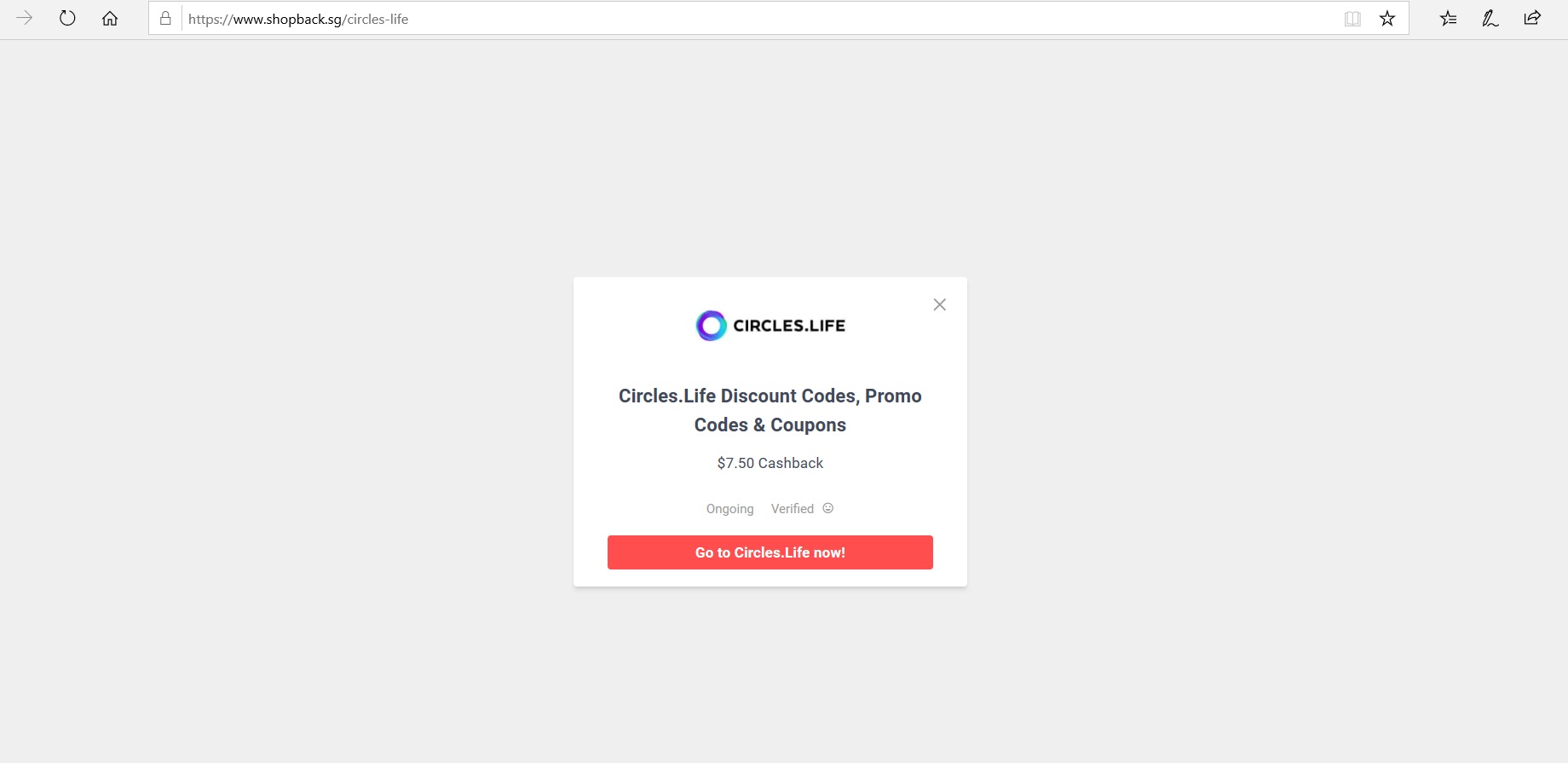 Step 4:
You can find more attractive deals by checking out the 'Discounts + Cashback section.
Step 5:
On placing the order, you will be eligible to earn Circles.Life cashback from ShopBack. There may be a variation in cashback rates based on your purchase history with ShopBack. Cashback offer is not applicable on purchases made via the Circles.Life app.
Terms and Conditions to Earn Cashback Using ShopBack
The following conditions must be met in order to earn cashback when shopping from a site using ShopBack:
Only Circles.Life customers are eligible for cashback and they must be a customer for a minimum of 60 days from the activation date. The SIM activation must happen within 30 days from the date of purchase.

In order to earn cashback, ShopBack must be the last link that you clicked. If you clicked other websites after browsing ShopBack, then cashback may not be tracked. Make sure to return to ShopBack for every new transaction and then click through to navigate to Circles.Life.

Ensure to use only those promo codes that are available on ShopBack and be a member of Circles.Life to earn cashback.
Circles.Life Shipping and Return Policy
The shipping and returns policy for Circles.Life is listed below:
Delivery:

All deliveries will follow the local time on the basis of the delivery location. SIM card will be delivered on the delivery date that you chose while placing the order. For the self-collection option, you will have to collect it from the mentioned pick-up point within 5 business days from the specified collection date. You will receive regular updates of your purchase, right from the time of buying to delivery at your specified address.

If you want your order to be collected by someone else (must be of the age 16 years or above), you need to click this link, login and click the 'Authorise someone else button. Once this is verified, the person collecting your order must be ready with their original ID, your original ID and a confirmation email that you have authorised this person to collect your Welcome Pack.

If you wish to reschedule your delivery or delivery details, you can do so by navigating to 'My Orders on the website or by clicking the 'Reschedule your delivery link in the email sent to you. Please note that any such changes must be done one business day prior to the delivery day, by 6 AM. A fee of S$15 will be charged for re-delivery and it will be waived off if the delivery failure was due to unavoidable conditions beyond your or the company s control.

Cancellation:

You can contact their customer care or chat with them live in case you wish to cancel your order. However, the fees paid for one-time registration are non-refundable.

On receipt of damaged or broken items, you will have to sign for your package and then contact the company for further procedures. If a faulty SIM card gets delivered, it will be replaced with a new one once you inform them. But if the item is defective, you must raise the concern with the manufacturer s customer service team.
Refer their FAQs section for more information.
Circles.Life Customer Service
Customers can visit their contact us page/FAQs section for queries related to Circles.Life vouchers, Circles.Life deals or anything in general. You may also connect with their customer care representatives on +65 8742 1330 or chat with them using their web chat option or the Circles.Life app (Live chat available from 8 AM to 11 PM Monday to Friday and 8 AM to 8 PM on weekends and public holidays). You can also send them a message or chat on the Facebook messenger (8 AM to 11 PM).