Cat & the Fiddle Discount Codes, Promo Codes & Coupons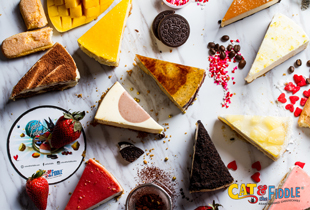 Created by award-winning pâtissier Daniel Tay (founder of Bakerzin), we bake the best gourmet cheesecakes and deliver them to your door.
ShopBack must be the last link you clicked in order to get Cashback. If other website links are clicked after clicking through ShopBack, Cashback will not be tracked (E.g. coupon and deal websites)

If for some reason your payment made on merchant page has failed, do click through ShopBack again and re-do your purchases to ensure tracking is still active

Return to ShopBack and click through to the merchant every time you are making a new transaction.

If you are making 3 separate transactions on the merchant, you should click through ShopBack 3 times, each time before making a new purchase.

For more details: www.shopback.sg/terms-and-conditions
More about Cat & the Fiddle
Cat & The Fiddle makes delicious cakes for every occasion!
Have you ever wanted to order a delicious cake for a party, but didn't know where to order from? With an increasing number of bakeries and cake shops large and small, it can be difficult to find a place that sells good cakes, especially since most of them tend to re-hash the same idea over and over again. Not Cat & the Fiddle, though! With a wide variety of interesting cake designs that not only look good, but taste delicious as well, it's no wonder that Cat & the Fiddle has such a large fanbase of ardent supporters! Whether it's for a birthday, graduation party, housewarming, Christmas, or just any other occasion, a cheesecake from the Cat & the Fiddle is the perfect complement to your food! And what's better is the wide variety of Cat & the Fiddle promotions that are available when you order online. As if that wasn't enough, you can now get cashback when ordering cheesecakes , not just during the discount periods! Just sign up for Shopback, access the Cat & the Fiddle site via the Shopback website, and you can enjoy cashback when you shop! With so many different cakes to choose from, you may find yourself spoilt for choice! If you plan to try them all, you'll have to order from them multiple times for different occasions, so a Cat and the Fiddle promo code is certainly welcome, in order to make trying out every cake on their catalogue not only a delicious, but also inexpensive endeavour.
Enjoy huge discounts when ordering Cat and the Fiddle cheesecakes with promo codes
Of course, half of what makes good great is how they look. Could you imagine posting a photo of a horrible-looking cheesecake on your Instagram feed? Thankfully, Cat and the Fiddle's cakes not only taste delicious, they look incredible, as well! Don't be surprised if your guests end up spending more time taking pictures of the cake rather than eating it! If you're into themed-cakes, such as for your Christmas party, then be sure to check out their seasonal cake designs, which will definitely add a festive cheer to your celebrations! And in an effort to make their cakes even more affordable to all cake-lovers out there, Cat and the Fiddle has many coupons or voucher codes which you can use when placing your order, which makes their cakes not only great, but easily affordable to everyone, whether you're a student celebrating their sweet sixteenth, or the person in charge of getting the cake for the office Christmas party.
Be sure to swing by Cat and the Fiddle's website, Facebook page, or Instagram account and check out the eye-catching designs of their delicious cheesecakes! We're sure that even if you don't like cheesecakes, you'll definitely fall in love with them once you see how attractively Cat and the Fiddle has designed their cakes to be. Just looking at the cakes gives you an idea of the rich, cheesy goodness of their artisan cakes, which positively crumbles in your mouth. Lovingly made by hand, each of their cheesecakes is a project of passion, which makes their cakes not just great for ordering to eat, they also make fantastic gifts to bring along to a party! Surprise the host at your next party by bringing the creamy goodness of Cat and the Fiddle's cheesecakes into their lives. Too busy to go down and pick up the cheesecake yourself? No problem! Just make your order, give them the address to deliver to, and the cheesecake will be delivered, ready-to-eat, at your specified time. Why spend time and energy making a physical trip to a store when you can hop online and, with a few quick clicks of a button, have it delivered right to the party? The regular Cat and the Fiddle promo and coupon also ensures that you will not empty your wallet when making your way through their catalogue of tasty creations.
Has it been awhile since you've eaten a good cake? Then you obviously haven't eaten a Cat and the Fiddle cake!
Tapping on the experience of award-winning classically trained pastry chef Daniel Tay, Cat & the Fiddle isn't your ordinary cake shop. Having already been featured in multiple publications, Cat & the Fiddle aims to make premium cheesecakes which use only the finest ingredients to craft gourmet cheesecakes. You'll probably recognise faithful old classics, as well as some spectacular original creations, including a cheesecake which blends ten different flavours of cheesecake into one, very aptly named the Fickle Feline. Perfect for those who just can't seem to make up their mind from the staggering selections available at the Cat & the Fiddle. If you're into something a little bit more local, though, there's always the locally-inspired Milo Dinosaur cheesecake, which is a perfect blend of a delicious malty chocolate taste with the rich, creamy goodness of cheese. While premium food usually comes with a hefty price tag, you do not have to worry about burning a hole in your pocket while trying to savour every one of the Cat & the Fiddle's tasty creations, because of the many discount code or the vouchers available. Just keep an eye out for the Cat & the Fiddle offers or deals in order to save yourself some cash while treating yourself to some of the best cheesecakes this side of the world. All you need to do is go to the Cat & the Fiddle website, place an order, and have it sent right to your place. It really is just that convenient!
Cat and the Fiddle even allows you to order a gift to go with your cake
Have you ever found it a hassle to have to shop for cakes, as well as gifts, when you're organising a party? Don't you wish there was somewhere you could go where it's all taken care of for you? Well, Cat & the Fiddle has got you covered! It has a wide range of unique and quirky gifts which you can order along with your cheesecake. And we're not talking about the types of generic door gifts that many bakeries sell along with their cakes. You know the type: keychains, cushions, umbrellas, most of which carry a tacky logo from the company. Just swing by the Cat and the Fiddle's website and check out their Gifts section. It has adorable cat cushions, literal books of tea, and beautifully designed hand bouquets. These aren't your run of the mill gifts. And with their frequent sales and coupons for the Cat & the Fiddle, shopping for cakes and gifts online has never been more convenient or affordable! What is even better is that it all gets delivered right to your doorstep. It's like having a bakery and gift shop right in your living room.
Not only are their cheesecakes high quality and affordable, they make ordering convenient and simple, and have frequent promotions to boot! Now, all you have to do is visit the Cat and the Fiddle's website, which, remember, also allows you to order interesting gifts to go along with your cake. And with frequent Cat & the Fiddle coupon codes and discount codes, you do not have to worry about overspending while you shop!
ShopBack Singapore is giving you cashback for ordering from The Cat and the Fiddle
Be sure to use Shopback Singapore when you are ordering your cheesecakes from the Cat and the Fiddle, as ShopBack Singapore is giving you cashback for all your purchases. This is on top of the Cat and the Fiddle discounts you get from Cat and the Fiddle promo codes and Cat and the Fiddle coupons! Just make sure that you have logged into your ShopBack Singapore account. If you don't have an account yet, be sure to create one right away! After you have done so, search for Cat & the Fiddle on the ShopBack Singapore website.
Shop more, save more with ShopBack Singapore!
If you like saving while shopping online with ShopBack Singapore, there are many other stores you can shop from, whether it's ordering food from Foodpanda, or settling all your travel-related matters at Expedia.
Clicking on it will get you redirected to the Cat & the Fiddle website, where you can then place your orders as per normal. Be sure to enter any Cat & the Fiddle voucher codes at the checkout to get the highest savings for your purchases. Alternatively, you can also enter any promo codes you might have for greater savings! After you have made your payment, ShopBack Singapore will track how much you've spent and give you back real cash, which you can later transfer into your bank account! There is no obligation for you to spend this money on ShopBack Singapore or any of our partners sites. Do note, however, that this cash may take one or two days to be updated into your ShopBack Singapore account.
Remember to follow them on their social media sites for Cat and the Fiddle coupon codes and promotions!
If you don't want to miss out on the latest Cat and the Fiddle promotions, be sure to follow them on their social media! Just like Cat and the Fiddle on Facebook or follow them on Instagram. You never know when they might advertise a promotion on any of their social media channels!