Cat & The Fiddle Promo Code & Promotions May 2019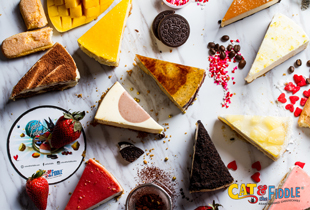 Created by award-winning pâtissier Daniel Tay (founder of Bakerzin), we bake the best gourmet cheesecakes and deliver them to your door.
ShopBack must be the last link you clicked in order to get Cashback. If other website links are clicked after clicking through ShopBack, Cashback will not be tracked (E.g. coupon and deal websites)

If for some reason your payment made on merchant page has failed, do click through ShopBack again and re-do your purchases to ensure tracking is still active

Return to ShopBack and click through to the merchant every time you are making a new transaction.

If you are making 3 separate transactions on the merchant, you should click through ShopBack 3 times, each time before making a new purchase.

For more details: www.shopback.sg/terms-and-conditions
More about Cat & the Fiddle
Get The Best Birthday Cakes In Singapore At Cat & The Fiddle
Cat & the Fiddle is one of Singapore's finest online cheesecake shops. Founded by award-winning Pastry Chef, Daniel Tay, this shop is a haven for cheesecake lovers.
Chef Tay has nearly 20 years of experience, having worked for famous names like the Fauchon of Paris and Les Amis in Singapore. Following his culinary ambitions, Chef Tay founded Foodgnostic, a food solutions company. Going a step further, he went on to establish one of Singapore's first online cheesecake shops – Cat & the Fiddle, with a message of providing quality and affordability for all, and sustainability for the environment.
With exotic flavours to satisfy your cheesecake fantasies, Cat and Fiddle treats you with 17 varieties of gourmet cheesecakes that include classics, Asian and local-inspired cheesecakes, as well as special versions with 10 flavours in a single cake. You can also compliment your cheesecake order with chocolates, a bouquet of flowers, birthday candles, greeting card or customisable stencils.
Cat & the Fiddle offers customers quick delivery options and easy access to their delicious cheesecakes. You can opt for a door-to-door delivery, choosing the options of Urgent / Express / Same-day delivery. They even have mobile van collection points across Singapore for self-collection.
To provide customers with a real-time experience, Cat & the Fiddle opened its first retail store at Clarke Quay Central in Singapore. Cat & the Fiddle also extended its operations to Malaysia in September 2016. They plan to import halal range of cakes from their Halal-certified central kitchen in Malaysia, to cater to local Muslim customers in Singapore.
Products Sold by Cat & the Fiddle
The store sells cheesecakes that come in 17 amazing flavours and bestsellers that have 10 flavours in a single cake. You can even customize your cheesecake with a combination of your favourite flavours. And it's just not the cake, you can complement your cake with a number of goodies. Complete your celebration with fancy merchandise, gifts, flowers and other interesting add-ons.
| Product Category | Sub-Categories/Product Type |
| --- | --- |
| Cheesecakes | Fickle Feline, Fickle Feline 2.0 (No Alcohol) Make Your Own Fickle - Customize Your Own Cake, Naughty And Nice - Devil's Chocolate, Sicilian Wild Cats - Singapore's Best Tiramisu, Jolly Horly - Singaporean Childhood Drink, King Cat Of The Mountain (Mao Shan Wang), Paws Of Fury Yuan Yang Coffee & Tea, Queen Of Hearts - Sweet Strawberry, Sweet And Smokey Taffy - Sea Salted Caramel, The Citrus Tsar - Orange Tea Cheesecake, Maneki Neko - Tangy Lemon & Yuzu, Over The Moon - Classis New York, The Emperor's Romance - Lychee Martini, Once In The Blue Moon - Beautiful Blueberries, The Modern Duke's Pudding - OREA Cookies & Cream, The Russian Whiskers - Juice Mango Vodka, Apple Of My Eye - Apple Crumble, Milo Dinosaur - Singaporean Favourite |
| Merchandise | Notebooks, Pottery Cutlery, T-Shirts, Tote Bag |
| Gifts & Flowers | Chocolate, Cookies, Cushions, Flowers, Tea |
| Add-ons | Cutlery, DIY (Cake Deco), DIY (Stencils), Gift Box, Ribbon & Ice-Pack, Gift Tags, Greeting Cards, Candles |
| | |
The Cat and the Fiddle website has been designed keeping in mind the utility and convenience of the customers. This user-friendly website has a simple interface that gives a smooth and effortless shopping experience to all consumers. The header on the homepage features different product categories under "Shop Now" while the page is divided into sections like 'Singapore's Best cheesecakes', 'Gift with Your Cake' and 'Our Latest Updates'.
To shop at the online store, select a product category listed under 'Shop Now'. You will be directed to the page cataloguing all the products under that category.
Choose a product from the list of products displayed on the screen by clicking on 'Add to Cart'. A pop-up will appear on the top right corner of the page displaying the products in your shopping cart with two options – 'view cart' and 'checkout'. Once you are satisfied, you can proceed with the checkout by clicking on 'checkout' button.
You will land on the cart summary page. Here you can redeem any available cat and the fiddle discount code or cat and the fiddle discount coupon by entering the code in a discount code box in the right pane of the cart summary page. Click on 'Complete Checkout' to proceed further.
On the checkout page, you will come across two options: "Collection" and "Delivery". You can either collect your order from a self-collection point or have your order delivered at your doorstep. Enter your personal details such as name, email ID, contact number and birthday. If you have selected collection method, then choose a self-collection point from the list displaying on the page as well as the collection date and time. In case you have chosen the delivery method, provide your address in the box above payment method. Select your preferred payment method and click on 'continue'. If you hadn't entered a discount code in the previous step, you can enter your cat and the fiddle discount code or cat and the fiddle coupon code here before continuing.
On the next page, complete the payment method for confirmation of your order. You will shortly receive an order confirmation via a text or a mail.
Payment Options on Cat & the Fiddle
Customers can pay for their purchase via the following payment methods:
Credit/Debit Card: Cat & the Fiddle accepts payment made through credit or debit cards such as VISA, MasterCard, Discover and American Express. This is a fast and secure way for online transactions.
PayPal: A trusted online transaction channel, PayPal is one of the most popular modes of payment that can be used from any part of the world. Cat and the fiddle accepts payments via PayPal.
NETS QR: Customers can also pay for their order via NETS QR. Simply access your QR scanner with your smartphone through an app that supports NETS QR and pay by scanning the retailer's QR code.
Different Coupon Codes and Discounts on Cat & the Fiddle
The cheesecake retailer offers several deals and cat and the fiddle discounts on its products. Customers can enjoy the delectable cheesecakes and other products at great prices by applying Cat and the fiddle promo coupons and cat and the fiddle discount vouchers. There are frequent cat and the fiddle promotions on the website where customers can find many amazing cat and the fiddle promo codes or cat and the fiddle promo vouchers. Just redeem these cat and the fiddle coupons and cat and the fiddle vouchers and save a lot of money on your purchase.
Currently, ShopBack is offering 5% cashback to customers who shop with the merchant via a registered account at ShopBack.
How to Redeem Coupons and Vouchers at Cat & the Fiddle
Now, surprising your loved ones on special occasions is not only extremely easy but also fun. You can purchase premium quality cheesecakes online from cat & the fiddle at unbelievable prices by simply redeeming cat and the fiddle coupon codes and cat and the fiddle voucher codes available on the internet.
Here is a step-by-step tutorial on how to redeem cat and the fiddle promos or cat and the fiddle codes:
Step 1: Select the item you want to buy and click on "Add to Cart".
Step 2: On the order summary page, enter the specific cat and the fiddle promo code in the 'Apply your discount code' box.
Step 3: Proceed to the Checkout page and give your email as well as delivery details.
Step 4: Select your chosen payment method and enter the payment details to complete the transaction.
How to Shop on Cat & the Fiddle using ShopBack
ShopBack offers 5% cashback on various items if you shop from Cat & the Fiddle. Here are the steps to be followed to earn cashback from ShopBack:
Step 1: Visit the ShopBack website and select Cat & the Fiddle store from the list of merchants and brands in the dining section. You can also use the search box to find the link to Cat & the Fiddle store.
Step 2: Read the terms and conditions as well as any other relevant information provided on the page such as the cashback details and tips to ensure cashback.
Step 3: Click on "Activate Cashback" button on the top left corner of the page.
Step 4: If you are willing to find more attractive deals and coupons, check out the 'Cat & the Fiddle Discount Codes, Promo Codes & Coupons' section.
Step 5: You will be directed to the Cat & the Fiddle website to browse and select the products you intend to buy.
Step 6: You will be eligible to earn cashback from ShopBack on placing your order. The cashback rates might differ based on your history with ShopBack, i.e. whether you are a new or an existing customer.
The cashback offer is not applicable on purchases made on Cat & the Fiddle app.
Cat & the Fiddle Terms & Conditions
The following are some important terms & conditions to be kept in mind before shopping at Cat & the Fiddle-
Orders can be placed up to a maximum of 30 days in advance of the date of delivery.
Orders can be cancelled at least 36 hours before the scheduled delivery/ collection date by calling on Cat & the Fiddle customers service helpline. However, customers won't receive direct refund. The amount of the order will be credited as store credit to the customer's Cat & the Fiddle account.
Any request for alterations or amends must be made at least 36 hours before the scheduled delivery/collection time. An additional administrative charge of $10.70 will have to paid for any alterations in the order.
All cakes at Cat & the fiddle contain gluten, eggs and dairy products which may not be suitable for consumption for customers suffering from intolerance or allergies to any of the ingredients. Cat & the fiddle is therefore not responsible for any adverse effects arising from consumption of their products.
It is essential that when delivery is confirmed, someone is present to receive the cake(s) at the specified time interval as, without explicit consent, Cat & the fiddle will be unable to leave your order with someone else or unattended since their cakes may deteriorate if left on the doorstep.
Once the order is delivered, Cat & the fiddle will not be liable for any damage rendered to the cake(s) or any other item.
Cat & the Fiddle does not deliver to Jurong Island, cargo areas or restricted airline, BBQ pits as well as locations outside of mainland Singapore except Sentosa Island. Any order made to the excluded locations will be cancelled.
Cat & the Fiddle's Customer Service
For any queries or clarifications, customers can contact the Cat & the Fiddle customer service on the contact number: +6562870077, from Monday to Friday: 9 AM – 7 PM and Saturday/Sunday/Public Holidays: 9 AM – 5 PM. You may also leave a message for enquiry on their website.
Connect with Cat & the Fiddle on: