Bloomingdale's Coupons & Promo Codes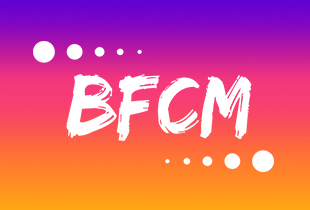 The Greatest Gift Guide: Over 500 Amazing Presents
See Bloomingdale's for full T&Cs. Ships to Singapore.
Save 10% on your next order when you sign up for Bloomingdale's newsletter
See Bloomingdale's for full T&Cs. Ships to Singapore.
ShopBack must be the last link you clicked in order to get Cashback. If other website links are clicked after clicking through ShopBack, Cashback will not be tracked (E.g. coupon and deal websites)

If for some reason your payment made on merchant page has failed, do click through ShopBack again and re-do your purchases to ensure tracking is still active

Return to ShopBack and click through to the merchant every time you are making a new transaction.

If you are making 3 separate transactions on the merchant, you should click through ShopBack 3 times, each time before making a new purchase.

For more details: www.shopback.sg/terms-and-conditions
More about Bloomingdale's
Bloomingdales, Your Choice For Great Prices!
Bloomingdale's Inc., an American department store chain, is a mind-blowing destination for all your fashion requirements. Whether you are looking for clothing, shoes, handbags, jewellery, accessories, and interesting products for your home, Bloomingdale has got you covered. Apart from their website and app, the company flaunts more than 40 full-line stores and over 17 Bloomingdale's outlet stores spread all across United States. The company features products from top designers that include Bloomingdale's Longchamp, AQUA, Jimmy Choo and Kate Spade New York. The company is headquartered in 59th Street and Lexington Avenue of New York City. Bloomingdale's also offers in-store appointments during which their experts help you with all your shopping requirements such as wardrobe revamp, selecting the ideal beauty products, selecting the perfect gift for your special one and even upgrading your home. These services are available at an additional fee. Bloomingdale's 'b.cause' program enables their employees to volunteer, increase awareness and raise funds for a good purpose through charitable events.
So, get set for a fun shopping spree as you browse through Bloomingdale's website and enjoy shopping right from the comforts of your home. What else? Shopping during Bloomingdale's sale makes your shopping experience even more delightful as you shop more and spend less.
History of Bloomingdale's
Bloomingdale's astonishes fans with its remarkable history. The company was established in 1861 by the Bloomingdale brothers, Joseph and Lyman Bloomingdale. It all started off with the 19th century vogue, the hoop skirt. This was the first product that the brothers offered in their Ladies' Notions Shop in New York. In around 1872, when most of the stores sold one type of item, Bloomingdale's offered multiple items in the women's fashion category. By 1920's Bloomingdale's expanded further to cover an entire city block and achieve new heights of success. By 1970's Bloomingdale's had won the hearts of many esteemed customers, including Queen Elizabeth. People were stopping by 59th Street and Lexington Avenue to take a look at the interesting products on offer. From the late 80's to the current times, Bloomingdale's has strived to present its customers with the best of products from top designers. The company operates 31 stores in the following Bloomingdale's locations - New York, Massachusetts, Virginia, Maryland, Pennsylvania, New Jersey, Illinois, Georgia, Minnesota, California, Florida and Nevada. The company's online presence, Bloomingdales.com, ships products to more than 100 countries worldwide.
Products Sold on Bloomingdale's
The products offered on the Bloomingdale's website are a treat to the eyes of not only women, but also men and kids. The website showcases a wide range of latest trendy products such as clothing, shoes, handbags, jewellery, accessories, baby gear, baby essentials and items for your home. Customers from USA will be delighted to know that they can sign up and choose gifts for a wedding registry. A brief idea of the various product categories offered on the Bloomingdale's website is given below.
Women's Clothing: Bloomingdale's offers a plethora of some latest trendy clothing that will surely inspire your fashion fantasies. Browse through the different styles of blazers, coats, jackets, dresses, gowns, jumpsuits, rompers, pants and many more. The website offers clothes for all occasions. Clothing in special sizes such as maternity wear, petites and plus are also available on the website. It features clothing by multiple designers, such as AQUA and Eileen Fisher. To view the complete list of Bloomingdale's clothing brands, check out the Featured Designers section listed in Women category.
Shoes: An array of booties, espadrilles, flats, slippers, mules, slides, wedges and many more types of shoes styled by top designers like Chloe, Jimmy Choo and Tory Burch await you at Bloomingdale's. You can find these shoes at varying price rates thereby enabling you to purchase your favourites without going over budget.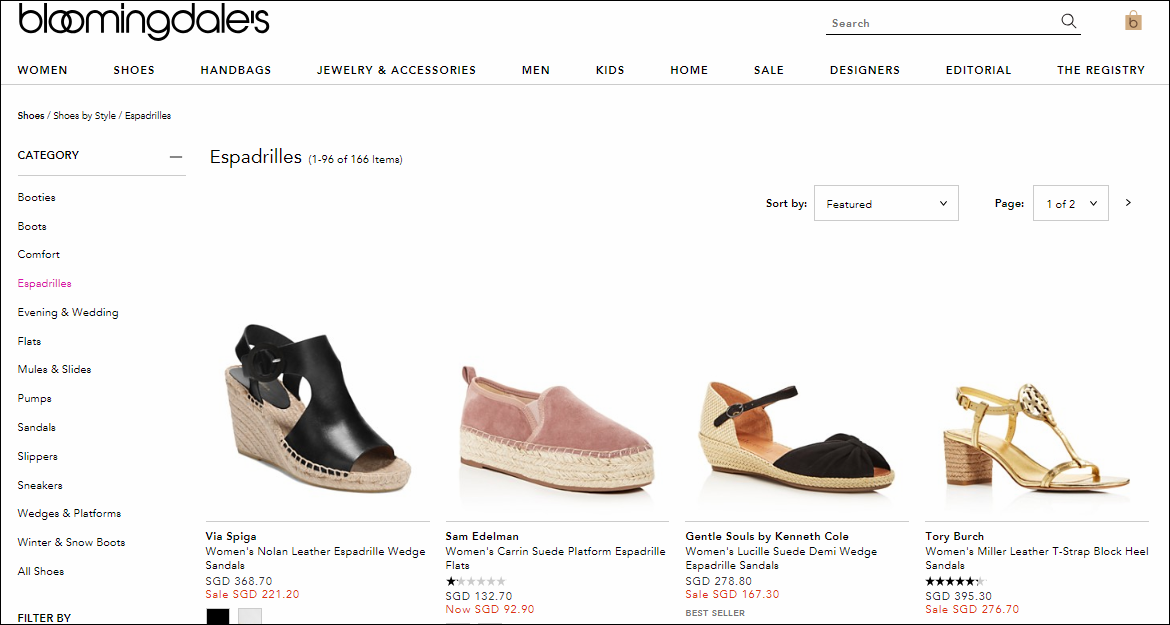 Handbags: Check out Bloomingdale's website for the perfect handbag that suits all your occasions. From backpacks, beach bags and hobos to mini bags and clutches, you can purchase all your bags from Bloomingdale's. An exciting range designed by top names like Kate Spade New York, Marc Jacobs, Michael Kors and Rebecca Minkoff are available on the website.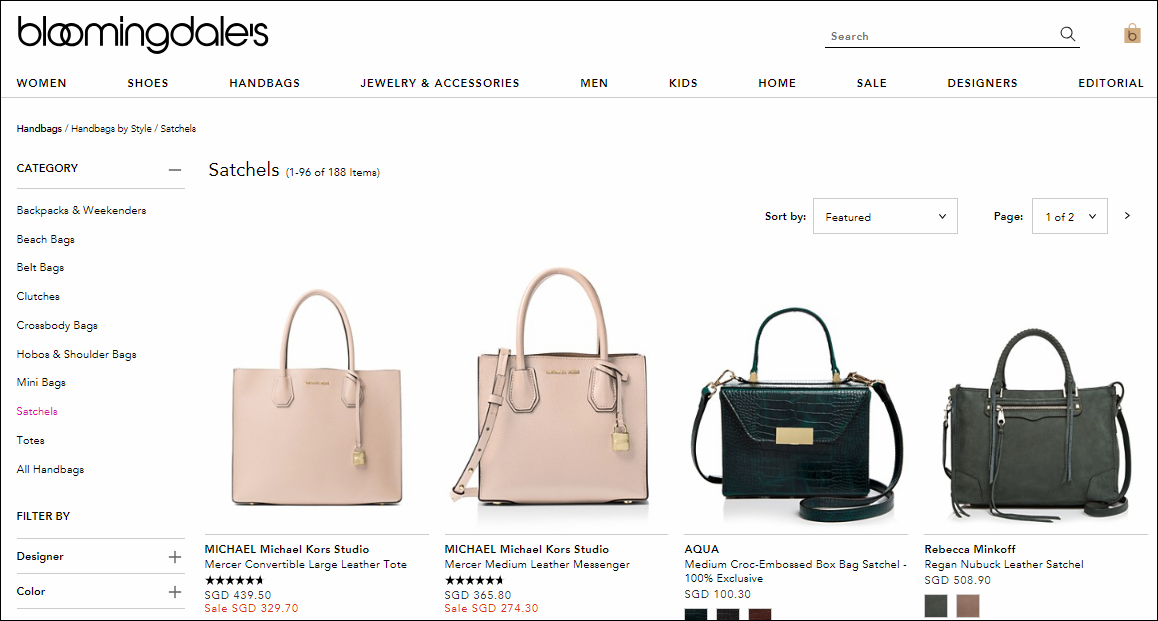 Jewelry and Accessories: Check out Bloomingdale's fine jewellery listed in the Jewelry & Accessories category of the website. Feel delighted as you browse through the spectacular designs of bracelets, earrings, necklaces, rings and diamonds. The website also offers a great collection of watches, sunglasses and accessories such as scarves, wraps, belts, gloves etc.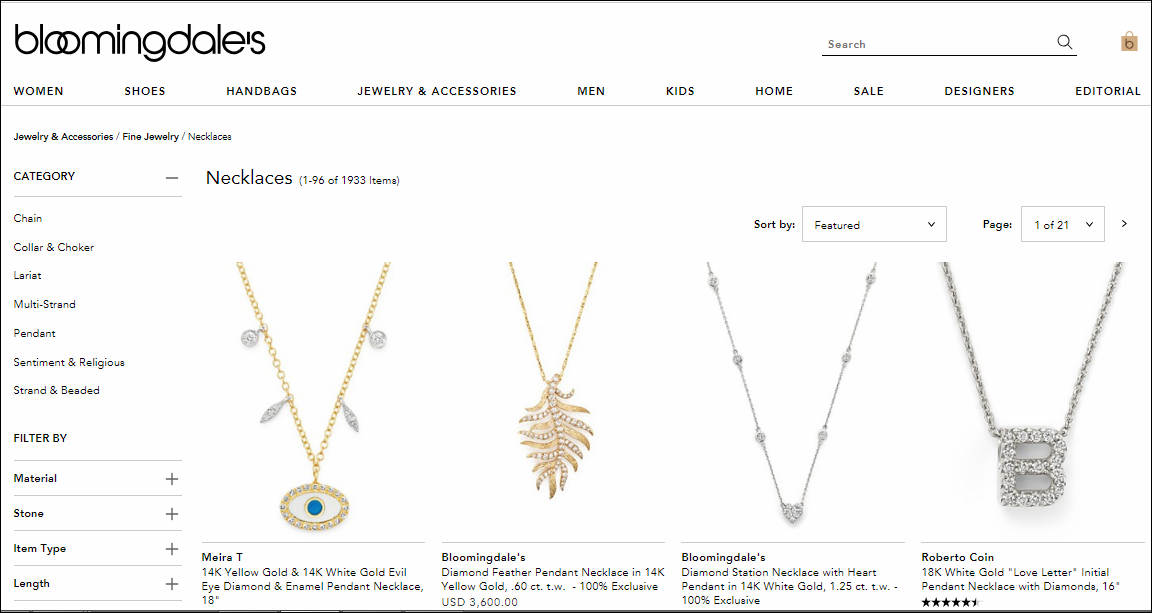 Apart from the ones mentioned above, other categories offered by the website include items for men, kids and your home.
| Product Categories | Sub-categories |
| --- | --- |
| Women | Clothing, Special sizes, Editorial, Featured designers |
| Shoes | Shoes by Style, Editorial, Featured designers |
| Handbags | Featured Designers, Handbags by Style, Wallets & Small Accessories, Shop by Size, Editorial |
| Jewelry & Accessories | Fashion Jewelry, Fine Jewelry, Watches, Sun Glasses, Accessories, Editorial Designers |
| Men | Featured Designers, Editorial Clothing, Shoes Accessories, Tech & Gadgets |
| Kids | Girls, Boys, Baby, Baby Gear and Essentials, Featured Shops, Featured Designers |
| Home | Bedding, Bath, Luggage & Travel, Dining & Entertaining, Kitchen, Home Decor, Furniture, More For the Home, Featured Shops, Featured Brands |
| Sale | |
| Designers | |
| Editorial | |
| | |
How to Shop at Bloomingdale's?
Bloomingdale's website is easy for customers to navigate. All the categories are provided on the header of the website. You must click on the categories to browse through the sub-categories and purchase the necessary items. You can also perform a quick search to find a product of your choice by entering the product name or keywords in the Search bar located at the top end of the homepage.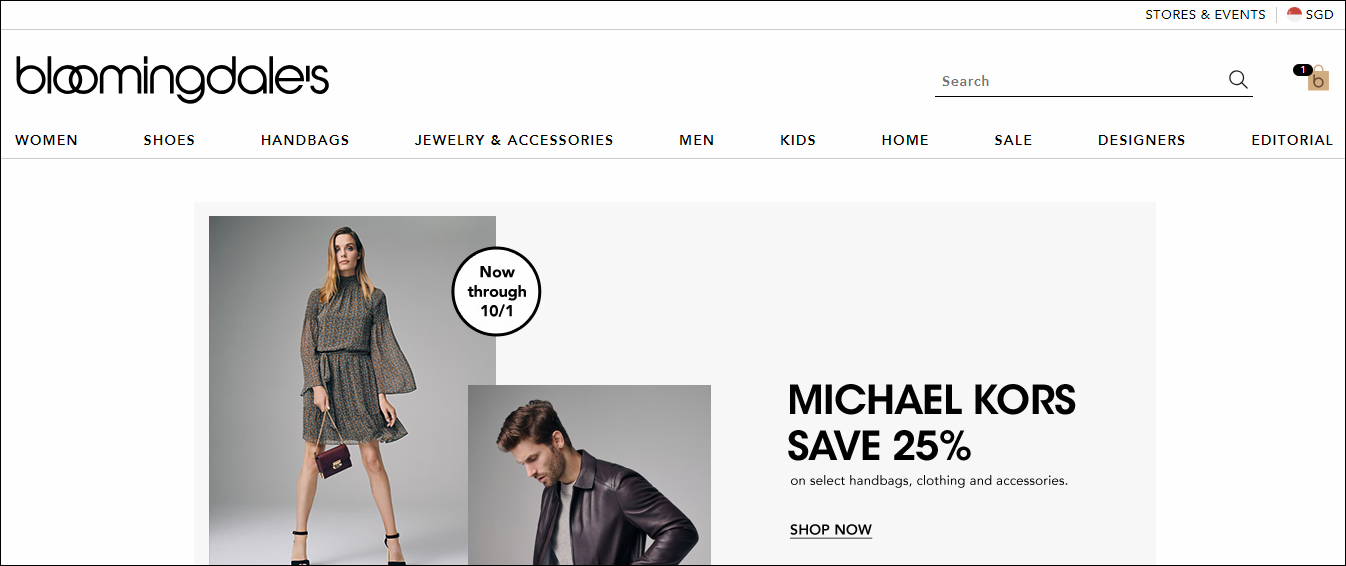 Place the cursor on a category to see the list of sub-categories. Alternatively, you can search for the item by entering the name in the search box at the top of the page.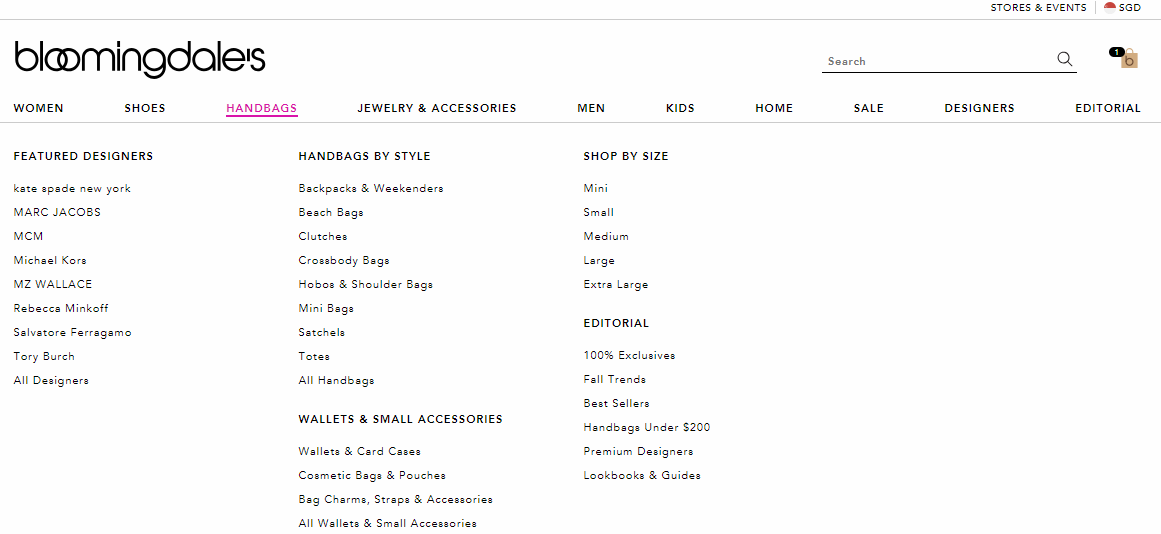 In the sub-category, click on the item that you wish to purchase. All the items listed in the selected sub-category are displayed on the screen. Click on the item of your choice. A page with various details of the item such as images, price, colour and product description is displayed on the screen. Go through the product information. If you wish to purchase the product, add it to your shopping bag by clicking the "Add to Bag" button.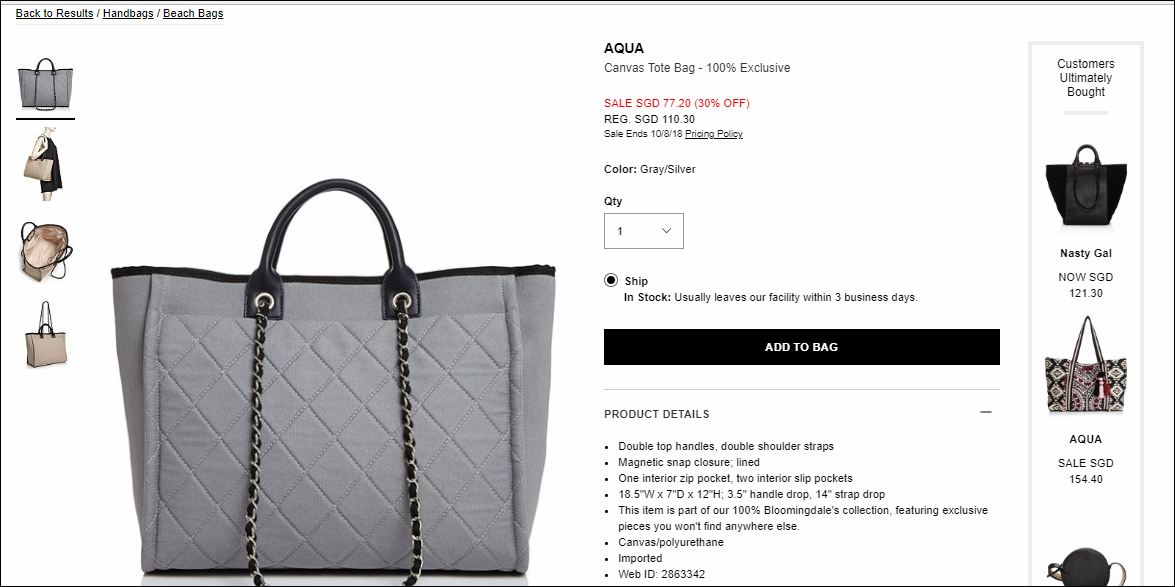 A message indicating that the product is added to your bag is displayed on the screen.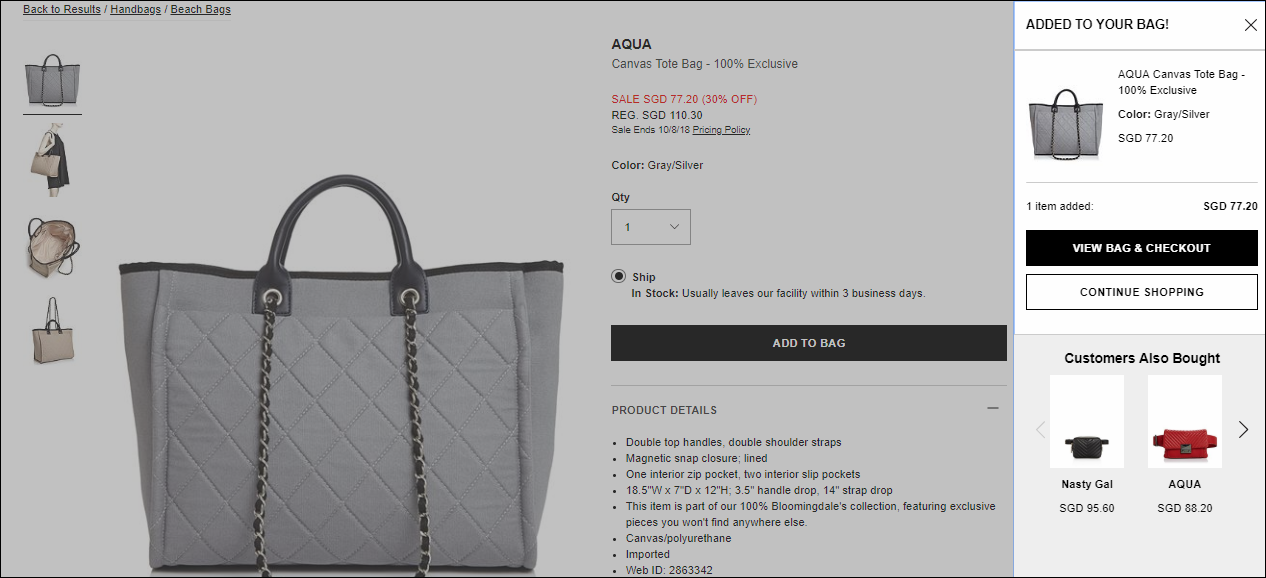 Click the "Continue Shopping" to continue shopping. After this, click the "View Bag & Checkout" button to be redirected to the page where you can view the items in your bag. Here, you can also view your order summary.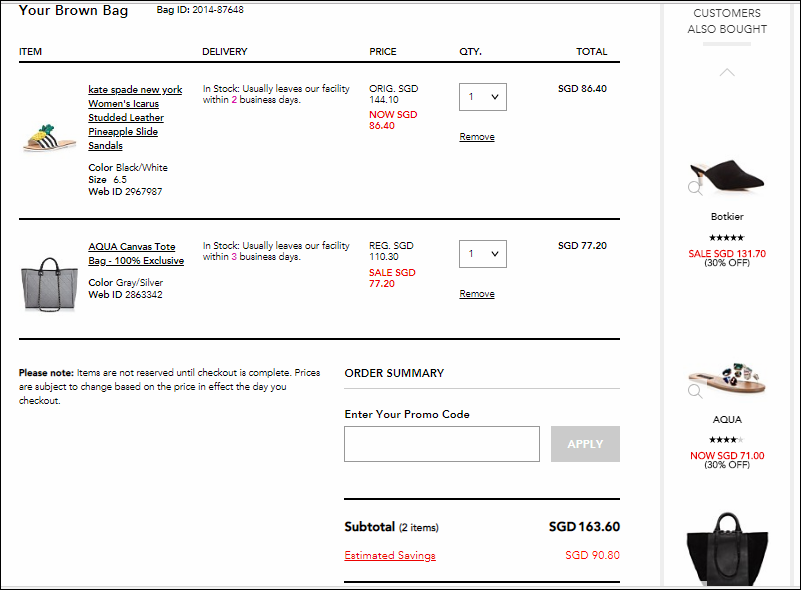 Here's your chance to avail discounts and save some money. You can enter your Bloomingdale's discount code, Bloomingdale's promo code or any other applicable Bloomingdale's code in the "Enter Your Promo Code" box and click the "Apply" button. Next, click the "Continue Checkout" button to continue with the checkout process.
In the next screen, enter your delivery address and select a delivery method of your choice. Click the "Continue" button.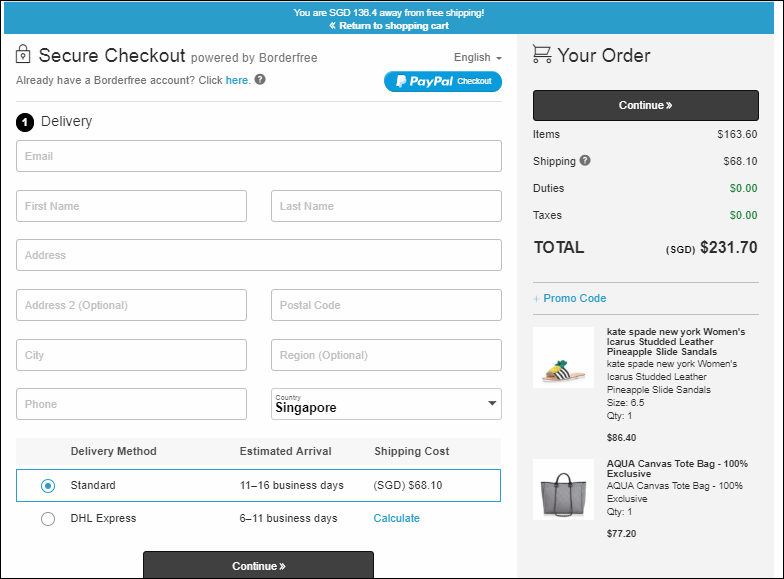 After this, in the "Payment" section, you can view your order summary in the left pane. If you have not already entered the Bloomingdale's promo code, you can enter it in this screen. In the "Payment" section, select the payment method, enter the necessary details and click the "Place Order" button.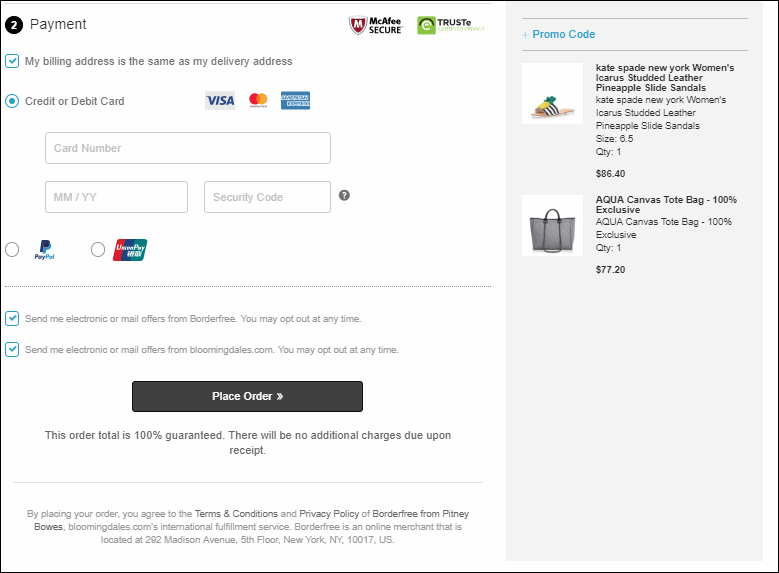 You have successfully placed your order on the Bloomingdale's website. Customers can sign up on the Bloomingdale's website for emails and get information on Bloomingdale's discounts and Bloomingdale's deals.
Payment Options on Bloomingdale's
Bloomingdale's ensures a highly secure payment system and the company accepts the following payment methods.
Payment via credit or debit cards: Customers can pay for their purchases via Mastercard, VISA, and American Express.
PayPal: Customers can pay for their orders via PayPal, a secure online payment system that lets you make digital transactions.
UnionPay Credit Card: China UnionPay is the largest card payment system in the world. UnionPay cards are accepted worldwide and can be used for online payments.
Please note that Bloomingdale's does not accept checks, money orders, Google checkout and COD (Cash on Delivery).
Different Coupon Codes and Discounts on Bloomingdale's
Shopping on the Bloomingdale's website is indeed delightful as customers are spoilt for choice. You get to choose high-grade trendy products from an array of brands on offer. Shopping on the Bloomingdale's website can be even more exciting for those customers who have Bloomingdale's discount coupons or Bloomingdale's promo codes, which can be used to avail discounts and save money. Bloomingdale's coupons, cashback schemes and other money-saving deals are offered from time-to-time by several websites, such as Shopback
How to Shop on Bloomingdale's using ShopBack
Here's your chance to earn 2% cashback by purchasing products from the Bloomingdale's website via a registered account on Shopback. The process to earn the cashback is simple and the steps are given below.
Step 1: Visit the ShopBack website and click on the Bloomingdale's store on the homepage. You can also use the search box to find the link to the Bloomingdale's store.
Step 2: Read information such as cashback details, tips to ensure cashback and other terms and conditions given in the webpage.
Step 3: Go through the "Bloomingdale's Coupons & Promo Codes" section for coupons that can be used on the website to avail discounts.
Step 4: Click on the "Activate Cashback" button. You will be redirected to the Bloomingdale's website to browse and purchase the products you want.
You will be eligible to earn cashback from ShopBack after you place your order on the Bloomingdale's website. Please note that the cashback offer is not applicable on purchases made on the store app.
Bloomingdale's Shipping & Return Policy
Bloomingdales.com's shipping policy for international orders is given below.
Transactions for all international orders are with Borderfree. However, in case of any doubts, you can contact Bloomingdale's customer care at + 1 (513) 573-8170 during business hours.
Bloomongdales.com ships goods to more than 100 countries worldwide. You can check the countries by clicking here. In case your country is not listed here then it is not supported by Borderfree.
An estimated delivery timeframe for international orders is provided during checkout. In case your order is not shipped within the estimated time frame, you will receive an email from Bloomingdales.com containing the new expected shipping date.
In-stock items usually arrive within 4-13 business days after the company receives your order. However, a more precise timeframe is provided during checkout. Please note that the company does not guarantee delivery dates.
Borderfree calculates international shipping rates based on certain factors such as selected shipping level (standard/express), merchandise purchased, weight of item(s) and destination country or region.
Bloomingdales.com does not ship the following items internationally: gift cards, beauty products, electronics, fragrances, gift wraps, gift receipts, furniture, chanel and coach.
International orders must not exceed $25,000 USD.
Restricted items such as aerosols, pressurized spray cans and alcohol-based products like hairspray, nail polish, shaving cream etc are not eligible for Premium or Overnight shipping. Due to air transport restrictions and regulations these items can be shipped by Standard Ground Shipping only.
Bloomingdales.com's return policy for international orders is given below.
If you are not satisfied with your order, you can inform the company by emailing at [email protected] You must return the items within 180 days of purchase.
After you email Bloomingdale's, you will receive instructions from the company about the return shipping address and the amount that will be refunded.
Refund amount for the returned goods will be credited by Borderfree in the same currency and the same exchange rate as your original tender. Shipping fees for preference returns will not be refunded.
In case of returning an item shipped from the vendor, you must check the shipment invoice for return instructions.
Gifts received from an international order can be returned within 180 days of purchase. The refund will be credited to the original tender of the purchaser.
Please note that international orders cannot be returned to Bloomingdale's store locations.
Your credit will be processed immediately after receiving the item.
Bloomingdales.com does not provide exchange service on international orders.