Pursuit A Better World With Better World Books!
Better World Books is an online book selling website that sells both, new and used books. They also donate books and a part of their earnings to literacy partner programs conducted all around the world. The company has distribution storehouses in Indiana, Reno, Mishawaka, Nevada, and Dunfermline. BetterWorldBooks.com strives to offer their customers excellent customer service, user-friendly platform, free shipping to several parts of the world, reasonable pricing and access to popular books. Better World Books awards grants to libraries and non-profit literacy groups that work towards promoting literacy in their communities. Every time a customer purchases a book from BetterWorldBooks.com, the company donates a book to someone in need. Better World Books partner with non-profit organizations like Books for Africa and Feed the Children to donate books to the needy. The company also partners with librarians all across the country to rescue books to be discarded by the libraries into landfills and sell them to raise money for charity. Therefore, apart from making profits, the company strives for the betterment of the environment and society.
History of Better World Books
Better World Books was founded in 2003 in Notre Dame, Indiana USA by college buddies Christopher Fuchs, Xavier Helgesen and Jeff Kurtzman. Post graduation, while clearing up some stuff in the apartment, Christopher and Xavier put up a pile of old and used textbooks for sale on the Internet. They earned a good amount, which led to the idea of establishing Better World Books. They gathered all unwanted books at Notre Dame and resold about 2,000 books to raise $10,000. Encouraged by this success, the duo drafted a business plan. They were joined by their friend Jeff Kurtman, a banking expert who would help establish the business. The trio envisioned a firm with a social benefit and simultaneously earn profits. Till date, the company has raised millions of dollars for literacy and saved tonnes of books from landfills and will continue to do so in the future.
Products Sold on Better World Books
Bookworms will be absolutely delighted as they browse through the various book categories available on BetterWorldBooks.com. Books based on topics such as antiques, architecture, art, biographies and autobiographies, business, economics, comics, computers, cookbooks, crime, education, history, sports and travel await you here. Check out the books available in bargain bin and clearance sale categories that are available at discounted rates. As a part of Better World Books promotions, you can avail discounts by using Better World Books promo codes and other Better World Books codes. The company also offers a great selection of used books. Apart from books, the website also offers audio books, DVD movies and music CDs. Every time you buy a book from this website, the company donates a book to someone who needs it. A short preview of the various types of books available on the website is given below.
Books
: If you are one of those bibliophiles who prefer to go through a book before purchasing it, you will be happy to know that BetterWorldBooks.com offers a preview of thousands of its books. Book categories offered on the website are health and fitness, medical, science, romance, religion, reference, social science, books for children, mystery books, thrillers and many more.
Audio Books
: Add your favourite audio book CD to your collection by purchasing it from Better World Books at a reasonable rate. The website offers a huge collection of audio books for adults as well as kids.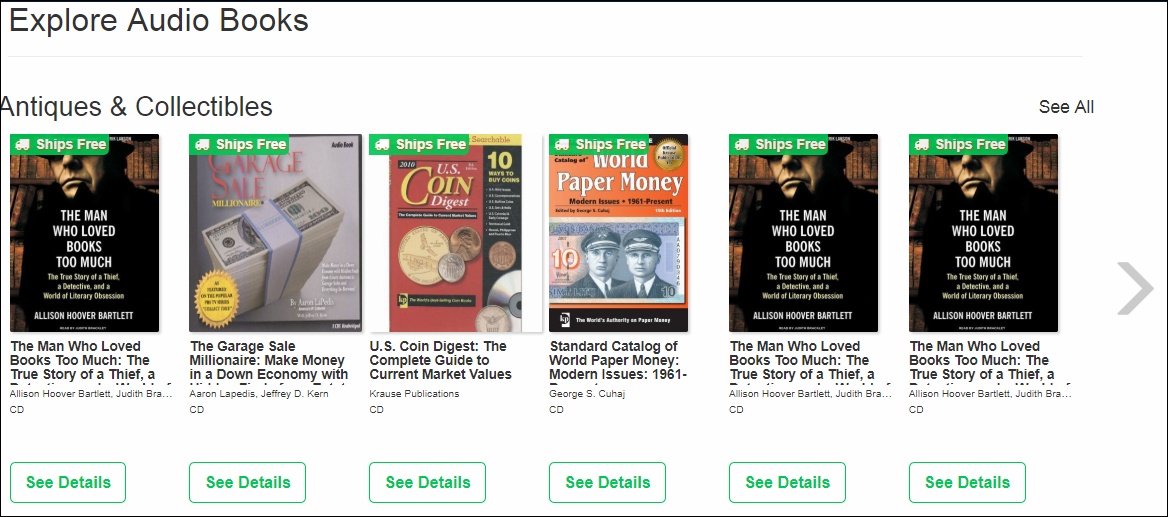 DVD Movies
: Better World Books offers a treasure trove of DVD movies. With categories that include action, adventure, animal, animation, bible, biographical, children, comedy, crime, documentary and many more, you are surely spoilt for choice.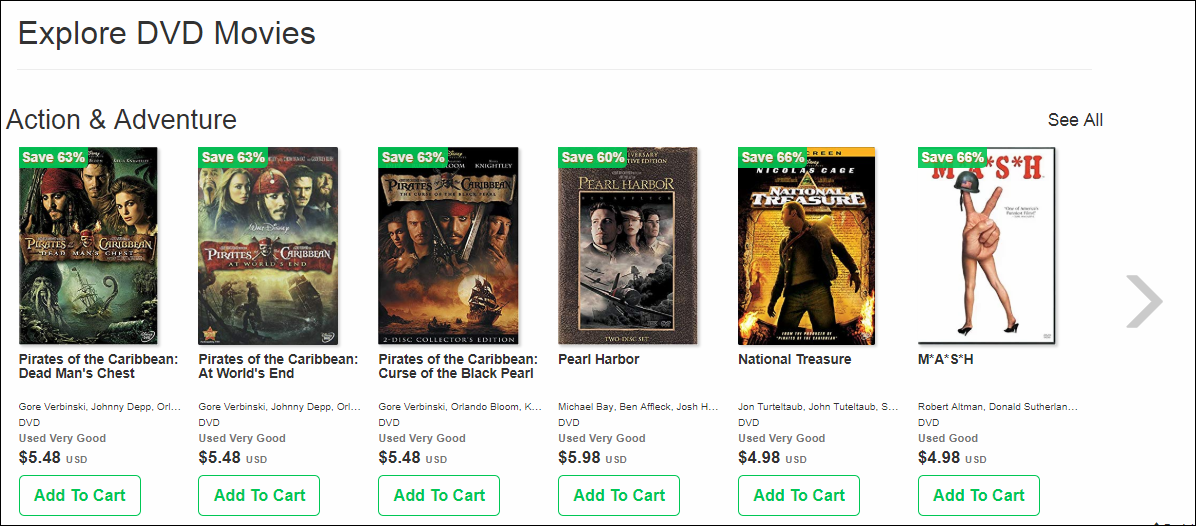 Music CDs
: BetterWorldBooks.com is here to mesmerize you with a wonderful collection of music CDs. Be it Bluegrass, Blues, Children s, Christian, Classical, Country, Western, Dance, Easy Listening, Folk, General, Heavy Metal, Instrumental, Ethnic and International, you can purchase all these on the Better World Books website. You can also avail discounts by using Better World Books discount codes and Better World Books coupon codes that are available online.
| Product Categories | Sub-categories |
| --- | --- |
| Books | All used books, New books, Bargain bin, Clearance Sale, Textbooks, Antiques & Collectibles, Architecture books, Art books, Biographies & Autobiographies, Business and Economics books, Children s books, Comic books and Graphic Novels, Computer and Technology books, Cookbooks, Food and Wine books, Crime books, Design books, Education books, Fiction and Classic Literature books, Funny books, Health & Fitness books, History books, Home & Garden books, Horror books, Magazine and Newspapers, Medical books, Mind, Body and Spirit books, Mystery books and Thrillers, Parenting, Family and Relationship books, Philosophy books, Photography books, Political and Current Event books, Reference books, Religion books, Romance books, Science books, Science fiction books, Self-help books, Social Science books, Sports books, Travel books |
| Audio Books | |
| DVD Movies | |
| Music CDs | |
| | |
How to Shop at Better World Books?
BetterWorldBooks.com is simple and easy-to-use. All the categories of books and other items are provided systematically in the website. All you have to do is click on the "Categories" button situated on the header of the website. You can also find a book by entering the title, author or ISBN in the Search box provided at the top end of the page.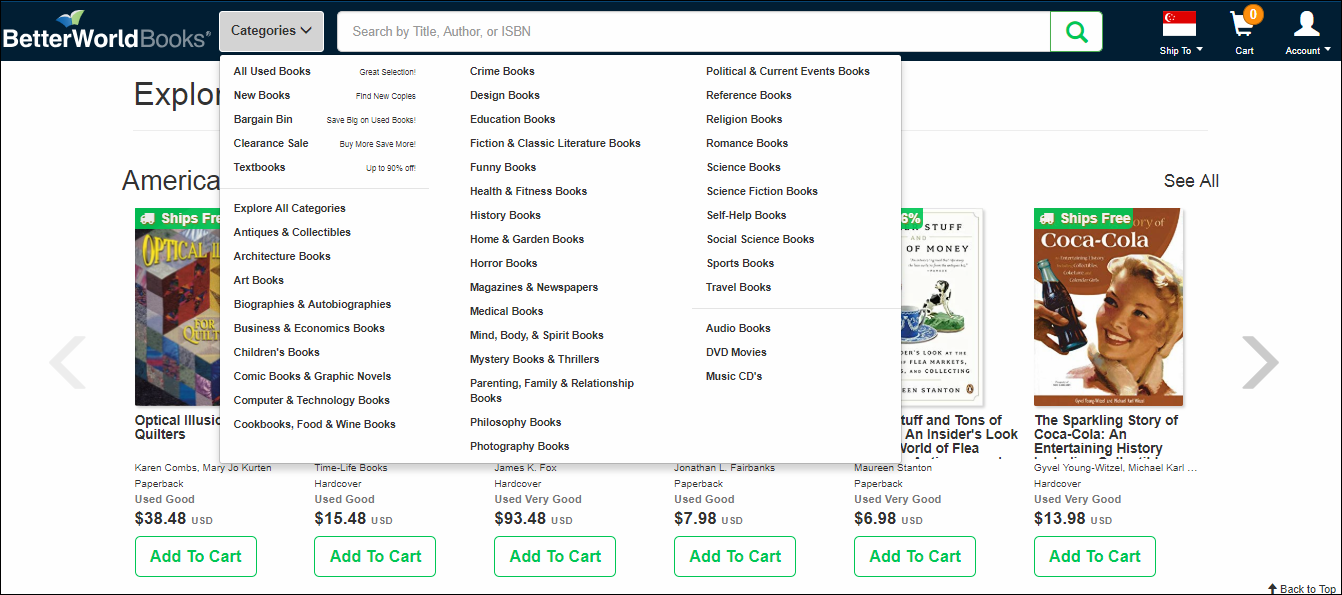 Browse through the categories and click on the required one. A list of all the books or other items like music CDs, movie DVDs etc is displayed on the screen.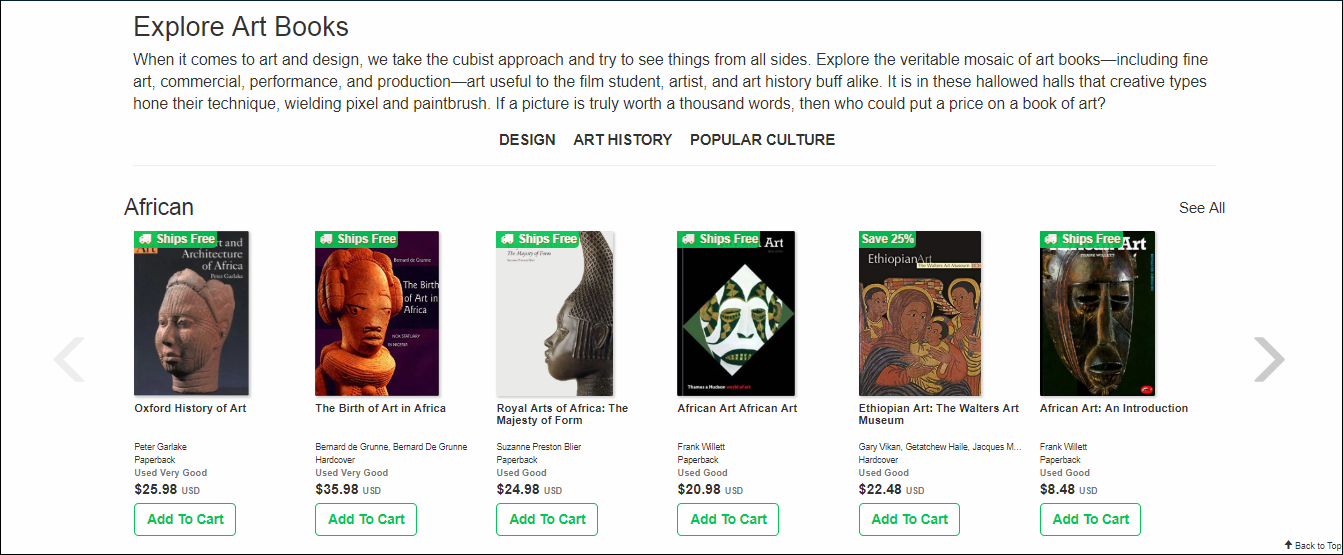 Click on the book or other item that you wish to purchase. The item page with details such as description, information about available copies, details about the book and price is displayed on the screen.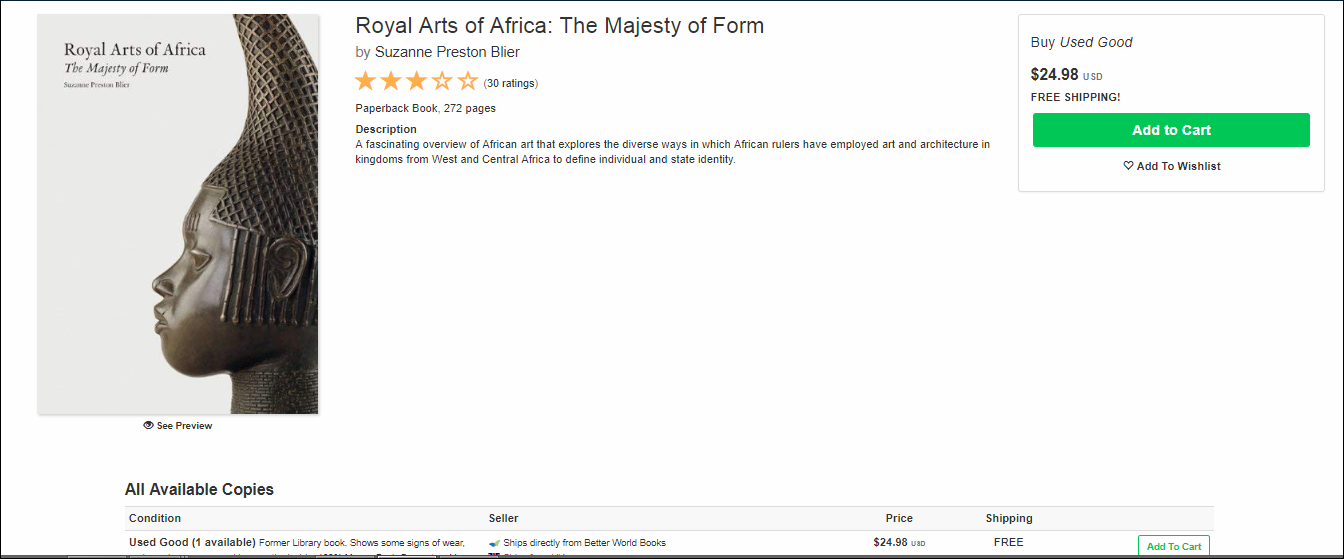 Once you select the book or item of your choice and view its details, click on the "Add to Cart" button. To continue shopping, click the "Keep Shopping" button, else click the "View Cart" button to continue with the checkout process.

On clicking the "view cart" button, you are re-directed to your "My Cart" page. Here, you can view the items in your cart along with the order summary. To avail Better World Books discount, enter your Better World Books promo code in the 'Have a coupon code field and click the "Apply" button.

Next, click on the "Proceed to Checkout" button. In case, you have not already logged in to your account, enter your email and password in the fields, respectively. If you do not have an account on the BetterWorldBooks website, you can create one by clicking the "Create Account" button. Click the "Continue as Guest" button if you wish to checkout without creating an account on the website.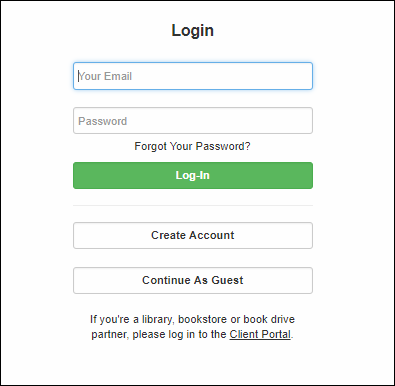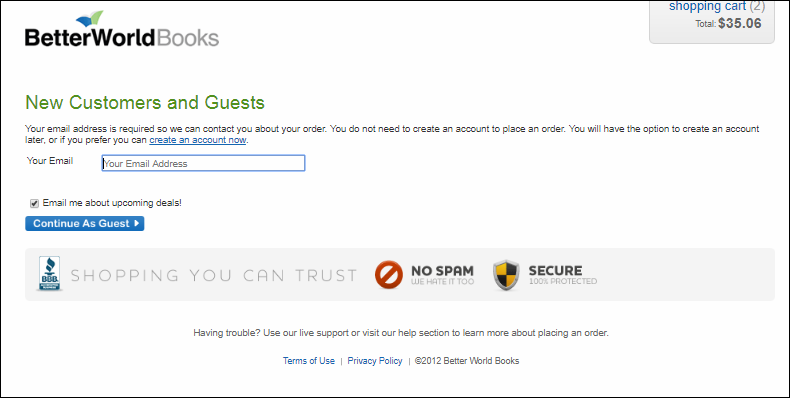 Enter your shipping address in the Shipping Address page and click the "Continue" button.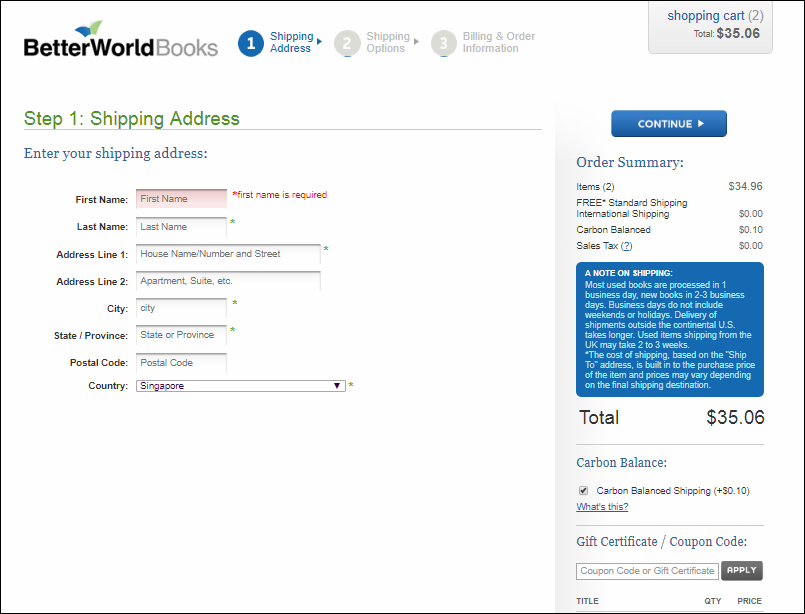 In the Shipping Options page, select a delivery method and click the "Continue" button.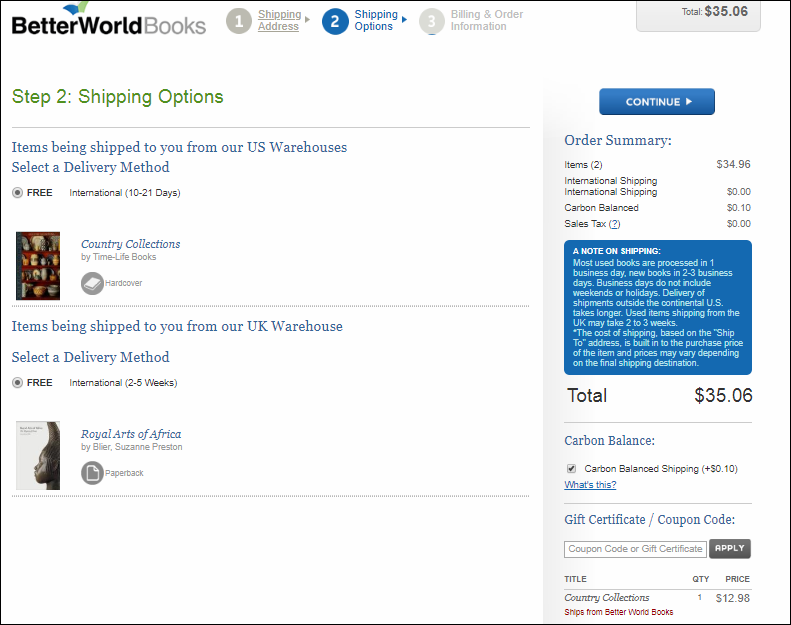 In the Billing and Payment page, select the payment method and enter the necessary details. Enter billing address in case it is not same as your shipping address. Finally, click the "Place Order" button to complete the checkout process.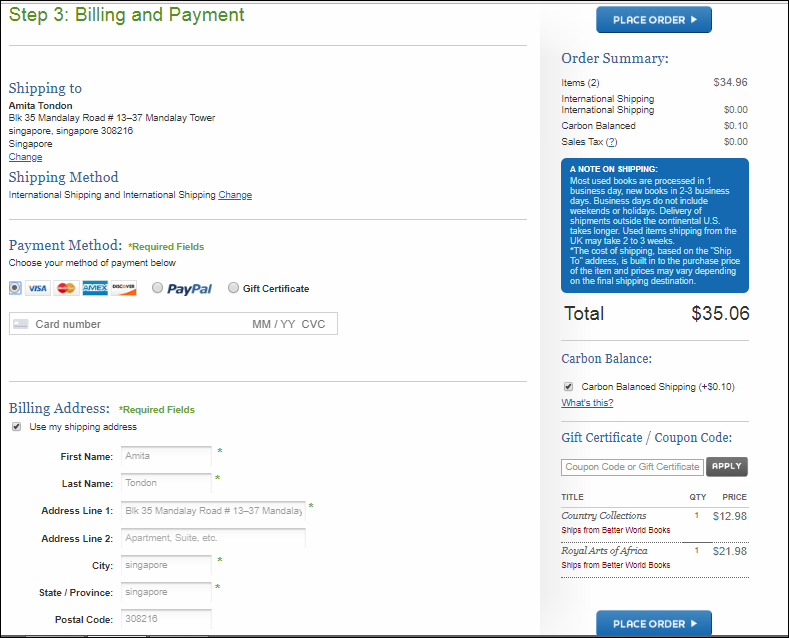 Please note that you can find a great selection of books at the Better World Books Amazon store on the Amazon website.
Payment Options on Better World Books
Customers can pay for their purchases on the BetterWorldBooks website in multiple ways. Also, the company ensures that all your personal and financial information is highly secured. The payment methods offered by Better World Books are as follows:
Credit and debit cards: Customers can pay for their order via Mastercard, Discover and American Express cards.

PayPal: Another option that customers can use to make their payments is PayPal, a highly secure online payment system that enables you to make digital transactions. The company accepts all forms of PayPal transactions including eChecks.

Gift Certificates: You can pay for your order using gift certificates issued by Better World Books. You can combine these certificates with any one of the above payment methods. To purchase a gift certificate, click here.

Pre-paid Gift Cards: Better World Books accepts all pre-paid cards supported by Mastercard, VISA and American Express. However, these cannot be combined with other payment methods.
Please note that Better World Books does not accept cash, paper check, COD and money order.
Better World Books Vouchers and Better World Books Coupons
Purchasing books from the Better World Books website not only enables you to do a good deed but also helps you save some money as you use Better World Books discount codes, Better World Books promo codes and sale discounts that are offered regularly on the website. You can get information regarding ongoing deals, Better World Books coupon code 2018 and promotions by clicking on the "Offers" option located at the top end of the page. Check out the bargain bin and clearance aisle to avail discounts and save some bucks. Apart from Better World Books, you can also find ample offers, cashback schemes and deals on other websites like Shopback.
Shopping on Better World Books using ShopBack
Currently, Shopback is offering 3% cashback to all those customers who purchase books from Better World Books using their registered account on Shopback. The step-by-step procedure to earn the cashback is given below.
Step 1
: Visit the ShopBack website and click on the Better World Books store in the homepage. You can also use the search box to find the link to the Better World Books store.
Step 2
: Go through important information such as cashback details, tips to ensure cashback and other terms and conditions given on the Shopback website.
Step 3
: Check out some attractive deals and coupons in the 'Better World Books Deals Offers & Cashback section.
Step 4
: Click on the "Activate Cashback" button on the top left corner of the page.
Next, you are redirected to the Better World Books website. You are eligible to earn cashback after you place your order. Please note that cashback is not qualified for gift card purchases, returns, exchanges and cancellations.
Better World Books Shipping Options & Return Policy
BetterWorldBooks.com offers free shipping worldwide. The shopping options are given below.
In case your product is shipped directly from Better World Books, it will take 1-2 business days for order fulfilment before shipment and one business day for next day shipment.

Delivery time includes only working days and not weekends and holidays.

Shipping from other sellers and new book providers will take 3 to 5 business days for order fulfilment before shipment.

International shipping takes about 10 to 21 business days to arrive. Business days are from Monday to Friday and exclude holidays.

You can check your product shipping date by logging in to your account.

detailed information regarding shipping options, click here.
The policy to return books on the Better World Books website is given below.
Better World Books accepts returned books provided you ship the books back within 60 days of purchase.

The product to be returned must contain a short note that includes your order number and the reason for your return.

On receiving your return, the company will issue a refund to your account that you used for placing the order.

Please note that Better World Books does not reimburse shipping fees.

Returned new books will be accepted only if unused.

If you are returning the order after more than 60 days of purchase, or if you feel that the company has made an error with your purchase that requires the company to cover the shipping cost, please contact the company by submitting a ticket.

Customers can also return marketplace books purchased through the Better World Books website.

The order package that you receive from the seller will contain a packing slip with detailed return instructions. If you do not receive the return instruction, kindly inform Better World Books customer service by submitting a ticket. Your refund will be processed after the seller confirms the receipt of your return.
Better World Books Contact Information
Customers can contact Better World Books by submitting a ticket. You can also chat with a customer care representative by clicking the blue "Ask Us" button. This button is located on the left hand side and is visible only if a representative is available to chat. You can also email the customer care service at [email protected]
Connect with Better World Books