Get Favourite Books With Barnes & Noble!
A sanctuary for all book-lovers, Barnes & Noble is the largest bookseller in the United States with 630 bookstores across 50 states in the country. A Fortune 500 company, it is a leading retailer of content, educational products and digital media.
If you are an avid reader or music enthusiast who loves to explore all the old and new literary and musical gems, then Barnes & Noble is your paradise. All you have to do is to log on to the official Barnes & Noble website, or download the Barnes & Noble app to start shopping to your heart s content.
History of Barnes & Noble
In 1886, Barnes & Noble originated in New York City with a bookstore called Arthur Hinds & Company. In 1894, Gilbert Clifford Noble became a partner at the shop and changed its name to Hinds & Noble. He was joined by William Barnes in 1917 when Noble bought out Hinds. Thus, Barnes & Noble was born.
The company s initial business was wholesaling, catering mainly to libraries, schools, colleges and book dealers. A few years later, Barnes and Noble opened a large retail store on Fifth Avenue and 18th Street which came to be identified as the company s flagship. The bookseller sold textbooks to hundreds of schools and colleges in New York. They also ran a successful retail division, an import and export division, an out-of-print books division and a non-fiction book publishing division along with the original wholesaling business.
In 1970s, Barnes & Noble embarked on a new journey after Leonard Riggio took over the company as its chairman. They began to expand in New York and Boston by opening smaller discount bookstores. Barnes & Noble expanded further by acquiring two local chains, BookMasters and Marboro Books. In the 1980s, Barnes and Noble developed a superstore version of its original store after experimenting with different store formats and sizes. In 1987, the company acquired B Dalton Bookseller, which made B&N a nationwide retailer overnight. They expanded further by acquiring Doubleday Book Shops from Bertelsmann Company and Scribner s bookstore trade from Macmillan.
1990s was the decade of evolution of the superstore concept of Barnes and Noble when the company raised its appeal by adding cafes (through exclusive arrangement with Starbucks) to the bookstores and launching www.barnesandnoble.com in 1997. The company also published affordable editions of out-of-print titles which have sold millions of copies. In 2001, Barnes and Noble bought SparkNotes.com and in 2003, they purchased Sterling Publishing which expanded their business even further, making them the largest retailer of books in the world.
Products Sold on Barnes & Noble
Barnes & Noble is a treasure trove for all the book-lovers. The online store of the company offers a huge collection of books, magazines, eBooks, audiobooks, comics, collectibles, games, DVDs and so on. Here is a short preview of the different product categories available on the Barnes & Noble website:
Books
: This section of the website features a wide array of books belonging to different subjects like biography, business, cookbooks, fiction, history, romance, religion, science fiction, fantasy, mystery and crime, self-help etc. The category also has sub-categories such as 'customer favourites , 'departments and 'blogs for easy access.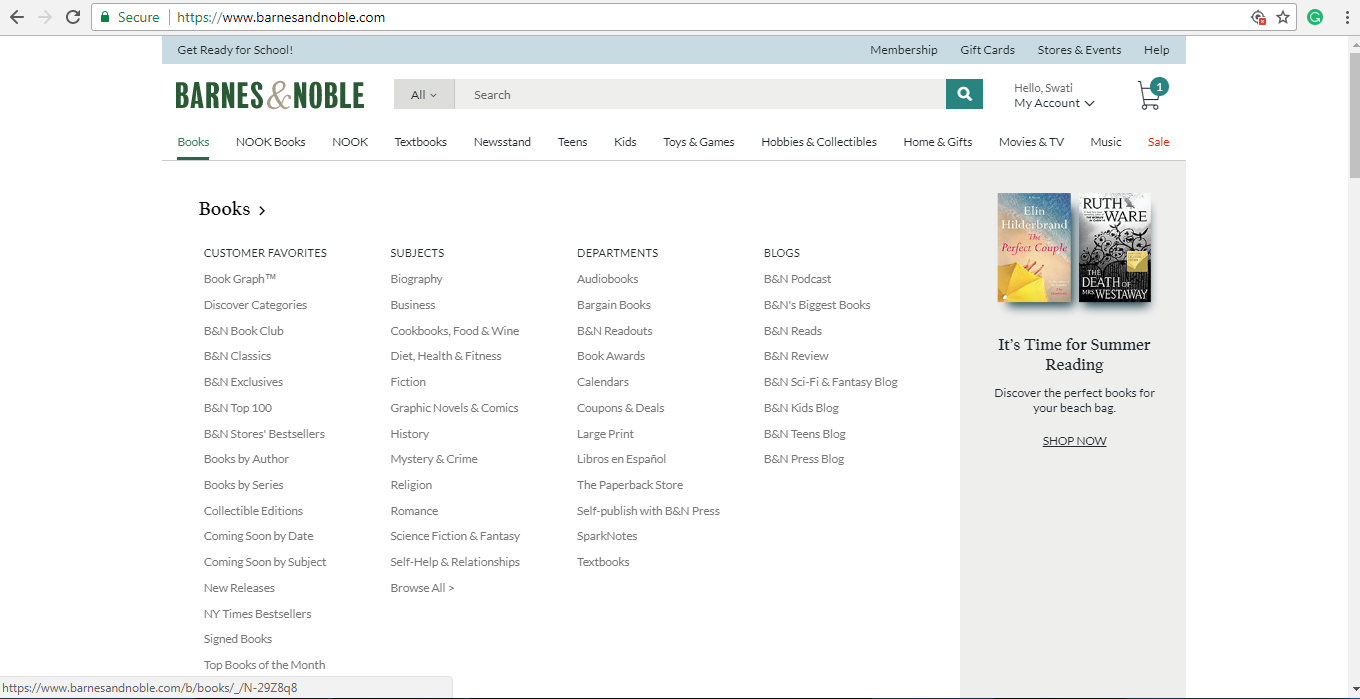 NOOK Books
: Under this category, customers can find a variety of eBooks from many different subjects. Other sub-categories like 'Customer Favourites , 'Departments and 'NOOK Store make it easier to find the genre of your choice.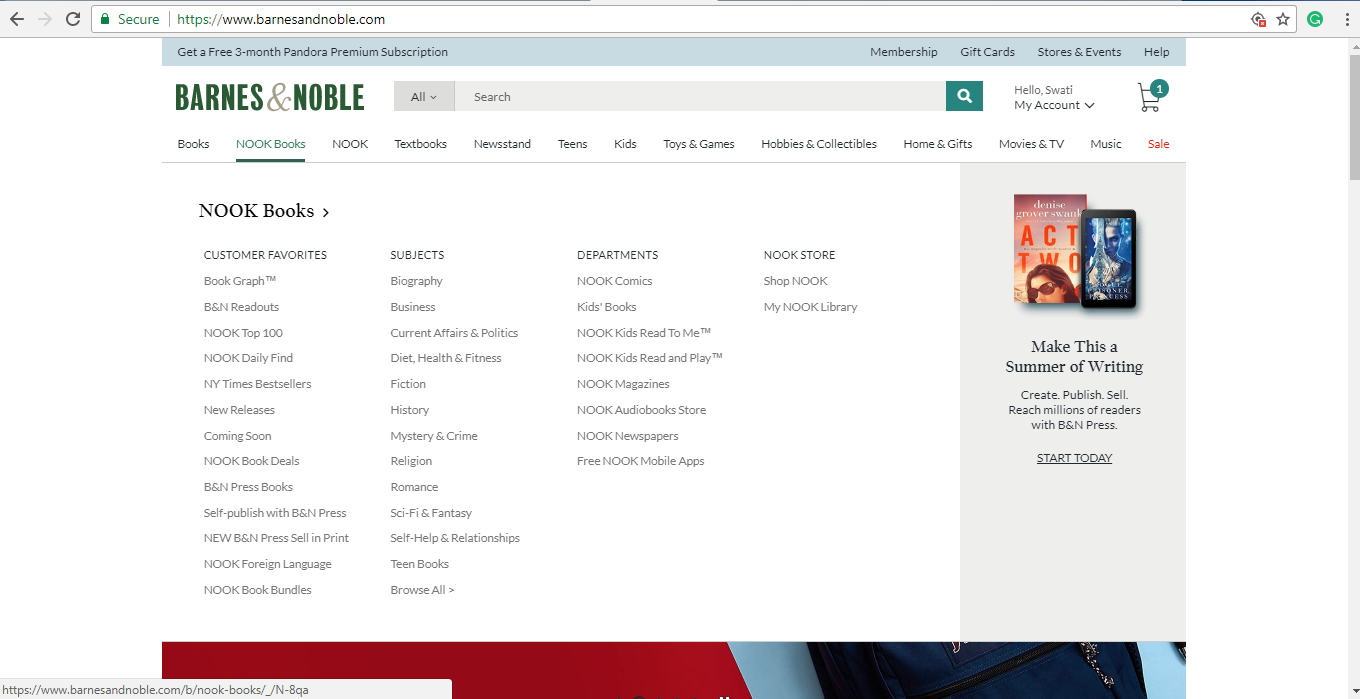 Textbooks
: This is a special category for customers looking for books of academic importance. Textbooks of subjects like history, medicine, business, computer, psychology, science and the like can be purchased from this section.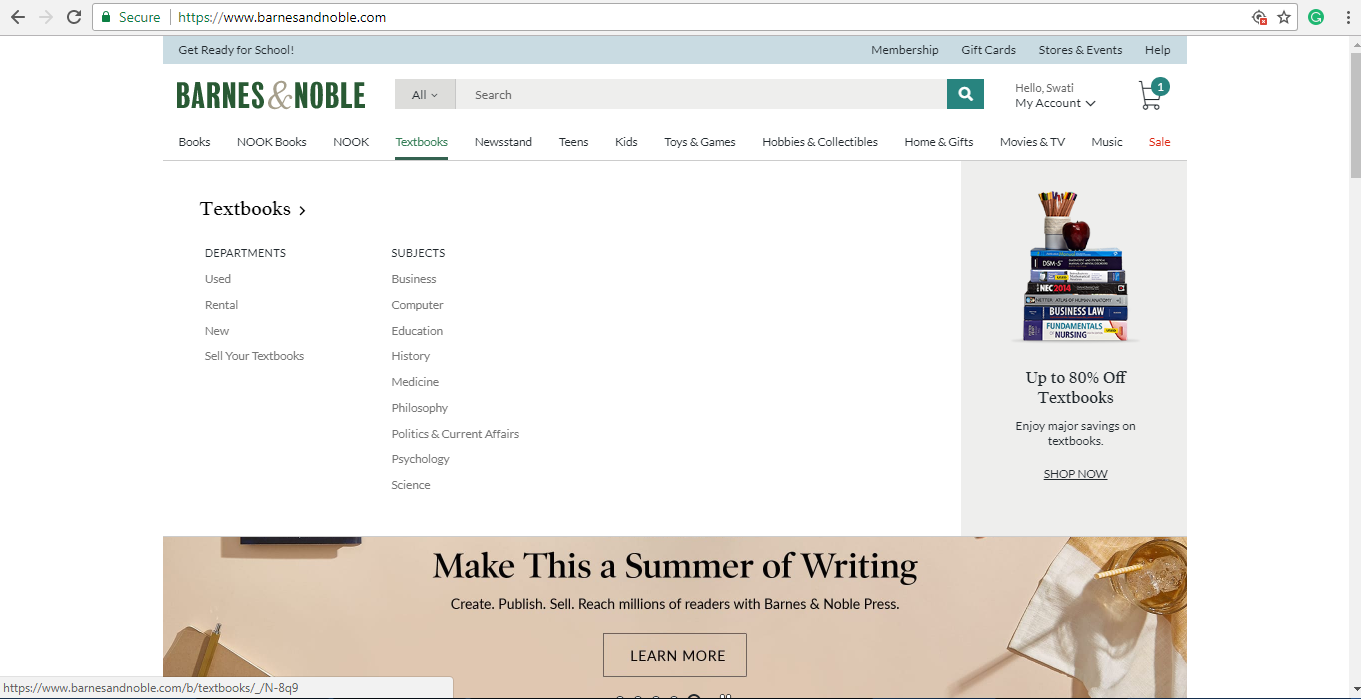 Newsstand
: Customers can purchase subscriptions for various magazines available under this category. There are hundreds of magazines in print or digital format for women and men on the website that can be subscribed here.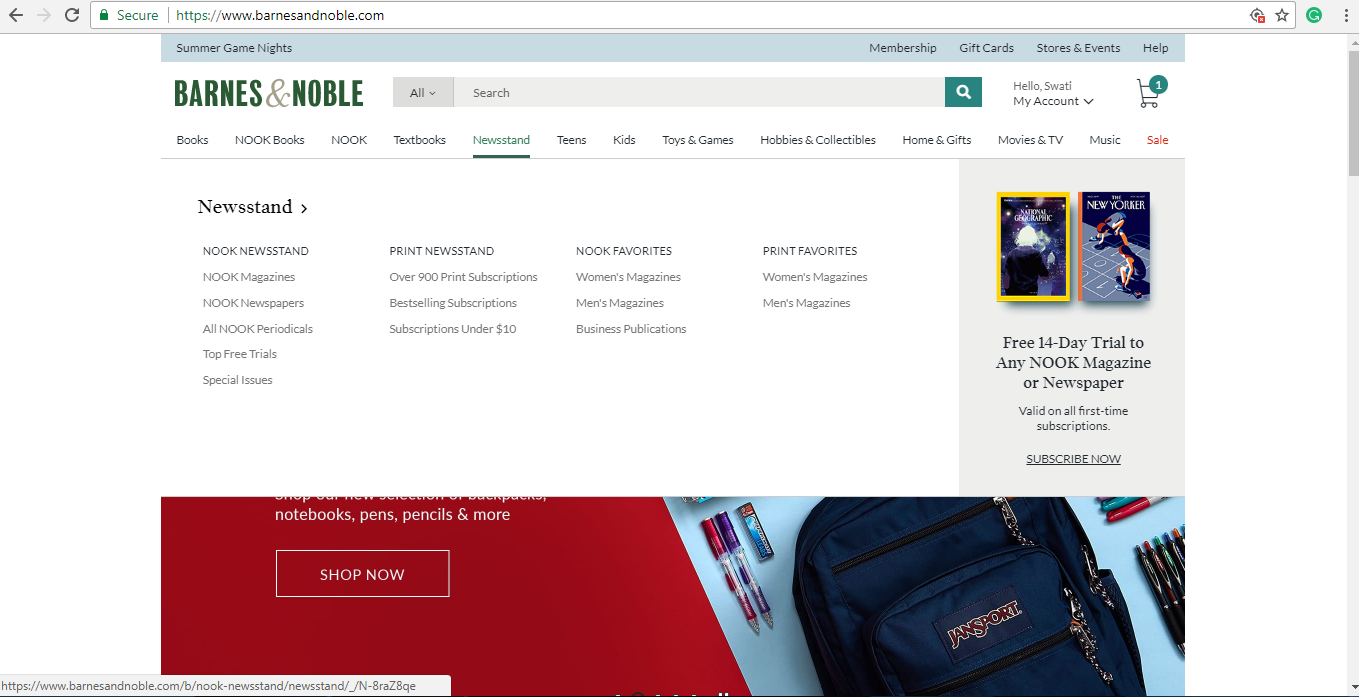 Teens
: This category focuses on the customers in their teenage. Buy the bestselling books and series written by your favourite authors from this category.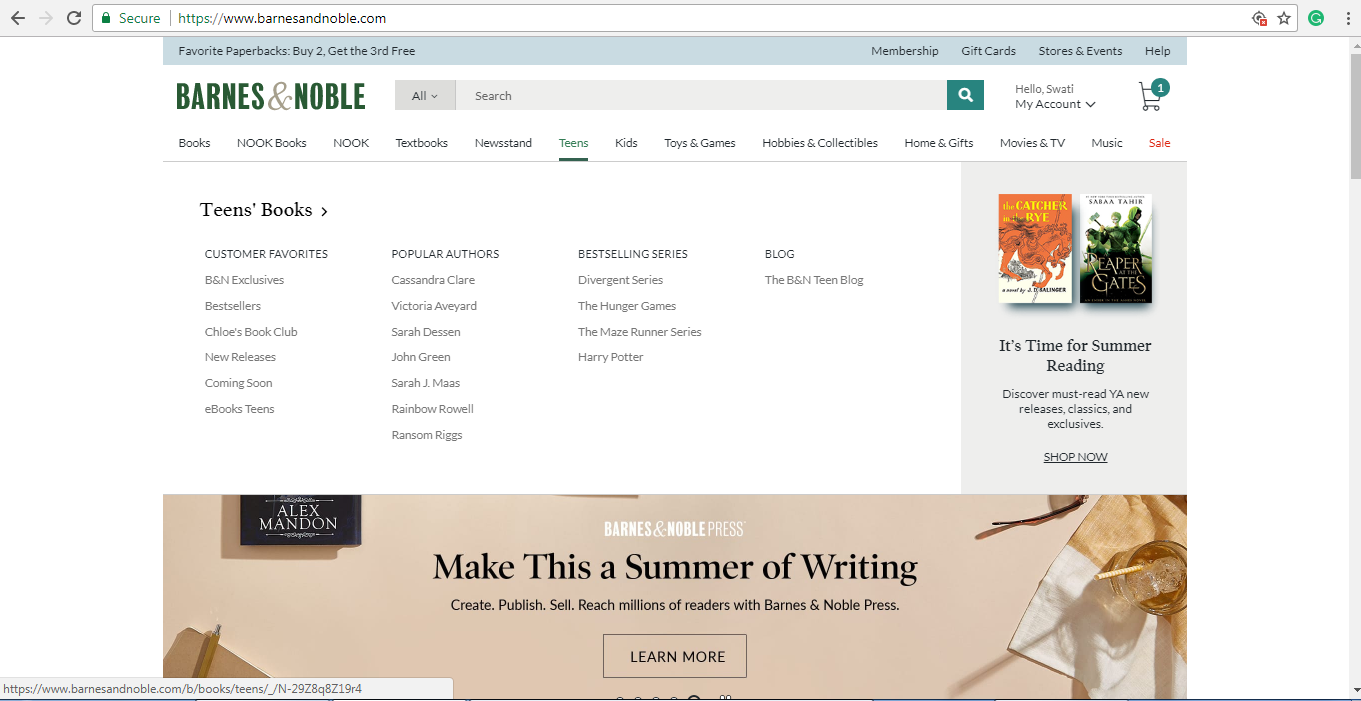 The Barnes and Noble website sells products from a variety of categories which are mentioned below.
How to Shop at Barnes & Noble
Barnes & Noble has a user-friendly website for its customers. Barnes & Noble online store offers a huge range of print and digital versions of books which can be purchased easily by following this simple procedure-
Browse the categories from the top header on the homepage and select a subcategory you wish to explore.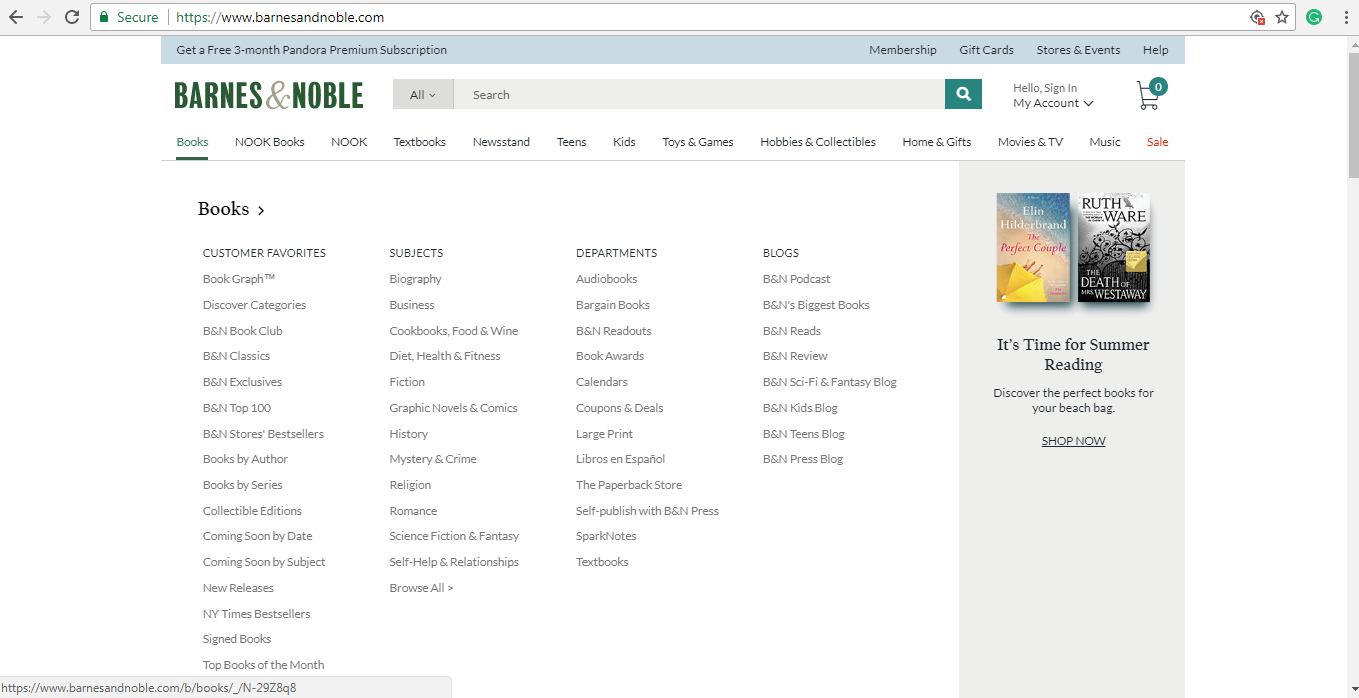 You will land on the catalogue page where all the products under that subcategory are listed. Choose the product you want to purchase.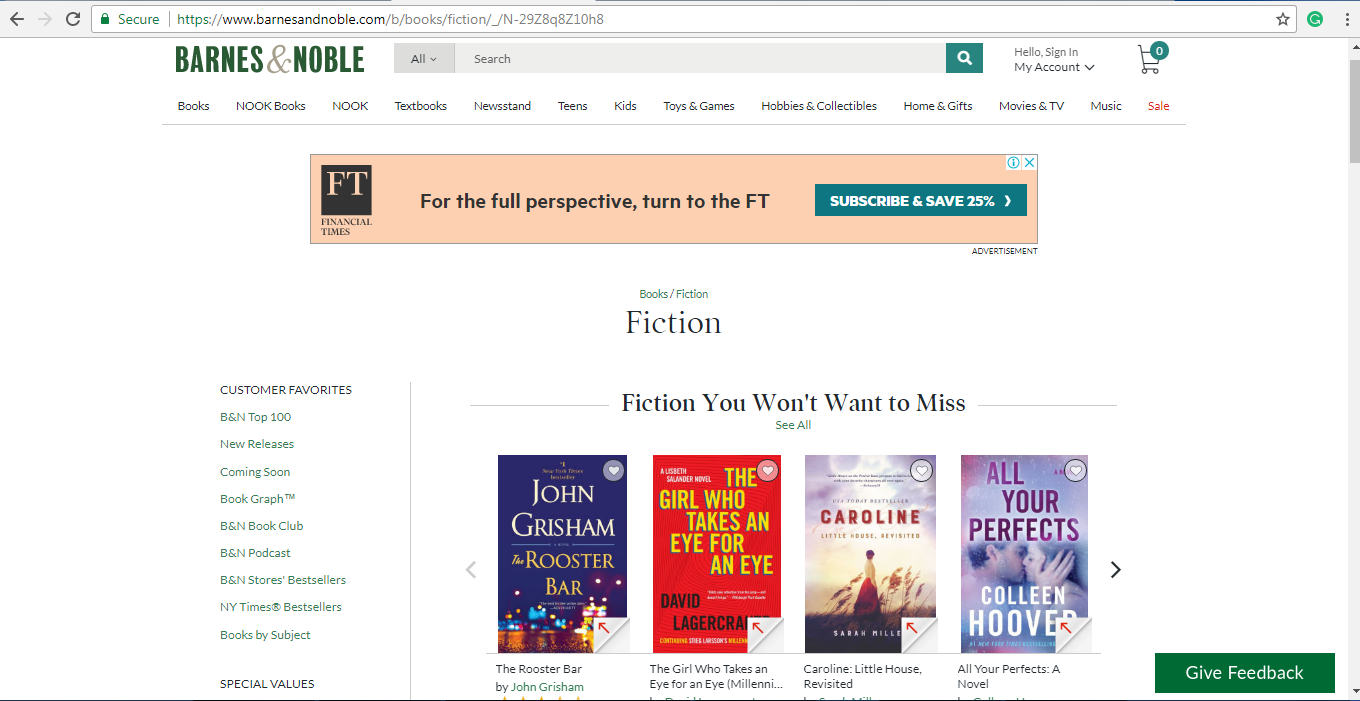 You will be directed to the product listing page. Go through the details of the product mentioned on the page and click on 'Add to Cart once you are satisfied. You can also make an 'Instant Purchase here.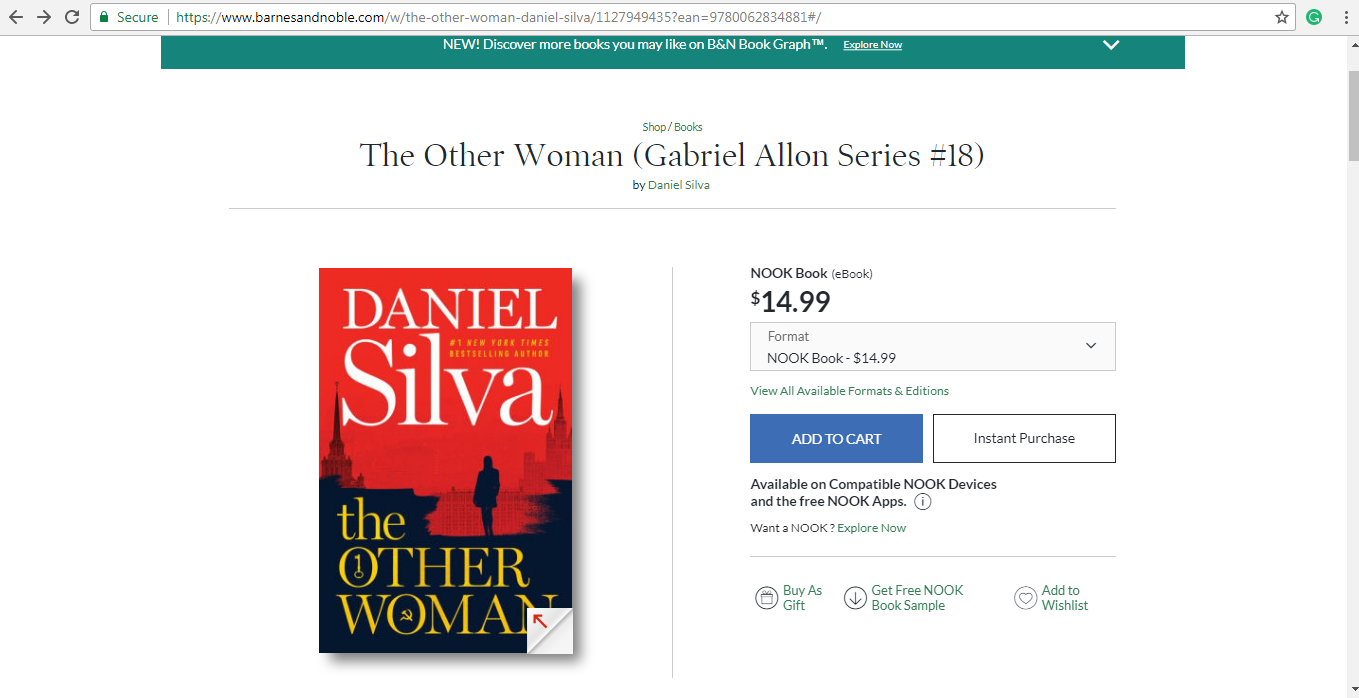 Go to your shopping cart. If you want to add more products to your cart, you can continue shopping, else click on 'Checkout button. You can also apply a valid Barnes & Noble coupon code by entering the code in the 'Apply coupon code box.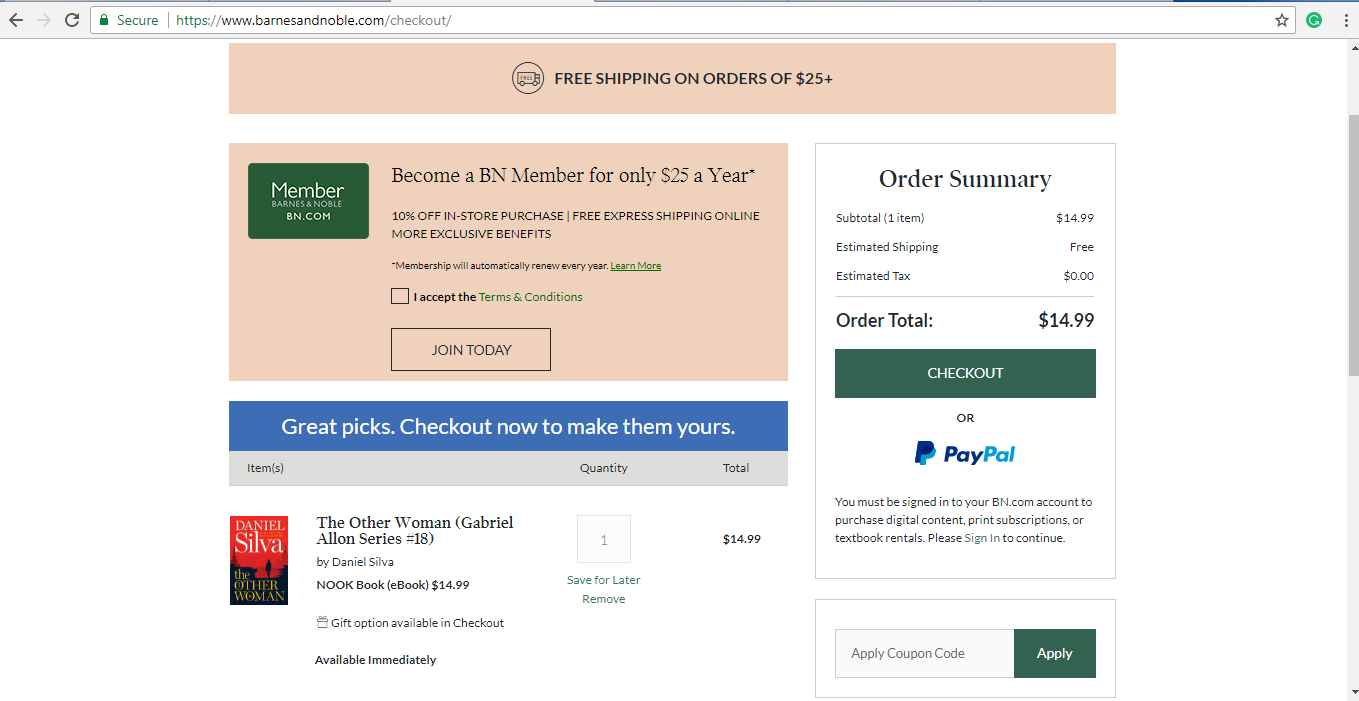 On the checkout page, enter your shipping address and billing information. The shipping charges on your order will be added according to the destination country.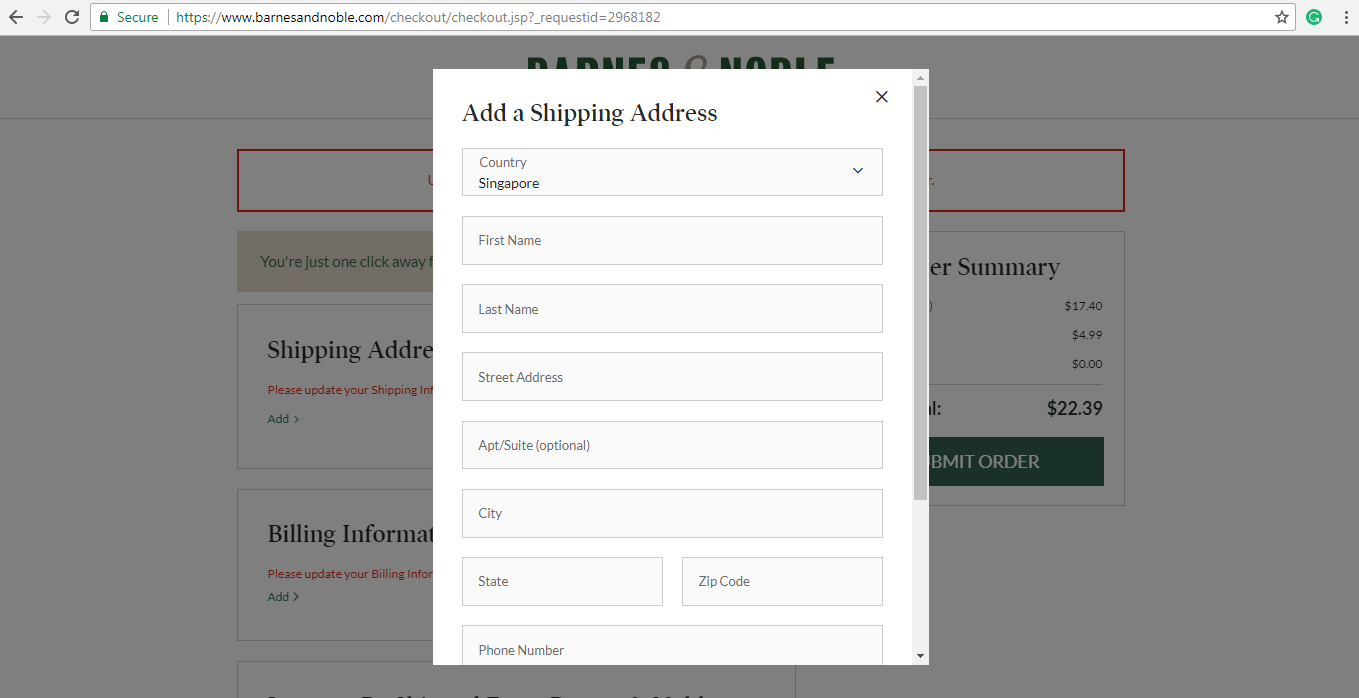 Once you have filled in all the details, click on 'Submit Order . Complete the transaction and you will shortly receive an order confirmation through an email.
Customers at barnesandnoble.com also have the option of purchasing products from Barnes and Noble marketplace, that offers direct shipping.
You can save a lot of money on your purchase by applying various coupons offered during Barnes and Noble sale such as Barnes and Noble 20 percent off codes or Barnes and Noble 50% off coupon.
Payment Options on Barnes & Noble
There are two ways to pay for your order on Barnes & Noble. Here is a brief discussion of the available payment options –
Credit Card

: Barnes & Noble accepts all major international credit cards such as VISA, MasterCard, American Express, Discover, JCB and Diners Club. Transaction through credit card is a fast, safe and secure way to make payments.

PayPal

: Barnes & Noble website offers two ways to pay through PayPal. The express way is the first way where you can select the 'Checkout with PayPal option in the shopping cart. Enter your email address first and you will be directed to the PayPal site to continue the payment process. The second way is available when you reach the payment section of the checkout process. You can select the 'PayPal payment option and proceed to make payment via PayPal website.
Different Coupon Codes and Discounts on Barnes & Noble
The Barnes & Noble website offers many discounts and deals to its customers from time to time. Some Barnes and Noble discounts are offered for a long time while some Barnes and Noble discount codes are available for a limited period only. Customers can save a lot of money on the items by applying the Barnes and Noble promo codes during checkout that the online store offers during Barnes and Noble promotions. You can also avail amazing discounts through Barnes and Noble black Friday deals, offered by the merchant from time to time.
At present, customers can earn 3% cashback on Barnes and Noble specials and other items if they shop with the merchant via a registered account at Shopback.
How to Redeem Coupons and Vouchers at Barnes & Noble?
Online shopping can be very rewarding with plenty of opportunities to save money on products. Various websites offer cashbacks when you shop using their links while others list Barnes and Noble discount coupons and vouchers that you can use for discounts.
Here is a step-by-step tutorial on how to redeem Barnes and Noble coupons and vouchers:
Step 1
: Select the item you want to buy and click on "Add to Cart".
Step 2
: On the shopping cart page, enter the Barnes and Noble promo code or Barnes and Noble eBook coupon code in the box under the Order Summary section.
Step 3
: Proceed to the Checkout page and give your email as well as delivery details.
Step 4
: Select your chosen payment method and enter the payment details to complete the transaction.
How to Shop on Barnes & Noble using ShopBack
ShopBack offers 3% cashback on various items if you shop from Barnes & Noble. Here are the steps to be followed to earn Barnes and Noble cashback from ShopBack:
Step 1
: Visit the ShopBack website and select Barnes & Noble store from the list of merchants and brands on the homepage. You can also use the search box to find the link to Barnes & Noble store.
Step 2
: Read the terms and conditions as well as any other relevant information provided such as the cashback details and tips to ensure cashback.
Step 3
: Click on Activate Cashback button on the top left corner of the page.
Step 4
: If you are willing to find more attractive deals and coupons, check out the 'Barnes and Noble Coupons and Discounts section.
Step 5
: You will be directed to the Barnes & Noble website to browse and select the products you intend to buy.
Step 6
: You will be eligible to earn cashback from ShopBack on placing your order. The cashback rates might differ based on your history with ShopBack, i.e. whether you are a new or an existing customer.
The cashback offer is not applicable on purchases made on Barnes & Noble app.
Barnes & Noble s Shipping and Return Policy
The cost of shipping and the estimated date of delivery of orders made on Barnes & Noble website depend on the shipping speed selected by the customer during checkout, as well as on factors such as product availability, processing time and transit time. For international orders, Barnes & Noble has no set shipping rate. The cost of shipping is calculated and added to your bill amount according to the destination of the order.
International orders may be subject to import duties and custom fees as per the laws and regulations of the destination country. Barnes & Noble does not take the responsibility for such charges. Therefore, customers must contact their customs office for further information.
Return Policy
: If you are dissatisfied with your purchase made on the online store, you may return it for a refund. Returns must be made within 14 days after receiving your order. All the items being returned must be their original condition and the shrink-wrapped items must be unopened.
The packing slip in your shipment gives specific instructions for returning your order. Barnes & Noble also provides a pre-printed return label with the address of their Returns Department. Follow the instructions given and attach the return label with your return. A refund will be initiated by Barnes & Noble to your original form of payment upon receiving the returned item(s).
Note: Customers are required to pay for their return shipping. Barnes & Noble does not refund the shipping charges.
Barnes & Noble s Customer Service
International customers can contact Barnes and Noble customer service for any doubts or query on 1-201-559-3882 (Monday - Friday, 8 am to 11 pm ET, Saturday & Sunday, 9 am to 11 pm ET).
Connect with Barnes & Noble.