Auto Europe Coupon Codes, Deals & Offers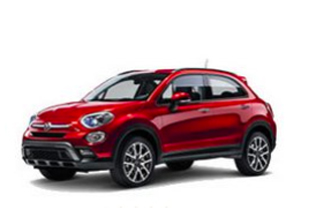 Worldwide Car Rentals
From 3 Jan 2018 00:00 onwards, Auto Europe Cashback has been revised to up to 3.5% Cashback. ShopBack must be the last link you clicked in order to get Cashback. If other website links are clicked after clicking through ShopBack, Cashback will not be tracked (E.g. coupon and deal websites)

If for some reason your payment made on merchant page has failed, do click through ShopBack again and re-do your purchases to ensure tracking is still active

Return to ShopBack and click through to the merchant every time you are making a new transaction.

If you are making 3 separate transactions on the merchant, you should click through ShopBack 3 times, each time before making a new purchase.

For more details: www.shopback.sg/terms-and-conditions
More about Auto Europe
Let Auto Europe take you places
Auto Europe, world's leading car rental service provider, has been serving travellers around the globe for more than 60 years. The company offers car rental services in over 20,000 locations in more than 180 countries in Europe, North America, South America, Asia, Africa and Australia. Auto Europe's expert and award-winning customer service team is at your service 24x7 and guides you to select the perfect rental vehicle that suits your trip. The team also helps you to plan your trip and enjoy a delightful travel experience. Apart from complete travel services and award-winning customer care, Auto Europe boasts of offering competitive car rental rates and great money-saving deals. In addition to travel services, the company provides booking services for air travel from US to Europe, three, four and five star hotel deals all over the world, chauffeur and airport transfer services, luxury and sports car rentals, and motorhome rentals. So, if you are travelling abroad, look no further, just book your services on the Auto Europe website and enjoy a happy travel time. You can use Auto Europe promo codes and Auto Europe cashback
History of Auto Europe
Auto Europe was established by Alex Cecil in 1954. Initially, the company aimed to rent a VW Beetle to Americans travelling in Europe. After some time, Cecil moved to New York and relocated the company to Maine. In 1995, Auto Europe offered hotels and airfare in the name of Destination Europe. In 2010, this division was re-branded as Fly International. Cecil retired in 1997 handing over the business to Imad Khalidi, President and CEO of Auto Europe.
Auto Europe is known for its competitive car hire prices, expanded services, luxury and sports car hire, motorhome hire, chauffeur and airport transfer services, and award-winning customer service.
Services Offered by Auto Europe
Auto Europe offers an interesting range of car rental services to make your journey a delightful one. From one-way car rentals to luxury car rentals, long term car rentals to specialty rentals, you can book these services on the Auto Europe website. A brief preview of Auto Europe car rental services is given below.
Car Rental - Over the years, Auto Europe has established a long-standing partnership with distinguished domestic and international car rental companies such as Hertz, Avis, Europcar, Sixt, Enterprise, Alamod and Peugeot. This association enables Auto Europe to present you with a wide array of cars, excellent services and reasonable rent prices. Specialty rentals or one-way car rentals, you can book these services on the Auto Europe's website.
Luxury Car Rentals – Auto Europe offers customers a variety of luxury vehicles such as Aston Martin, Audi, Bentley, BMW, Jaguar, Mercedes-Benz and many such kinds on rent. Be it high-end cars, sports cars or executive luxury-class models, you can avail these luxury car rentals through Auto Europe. Rest assured, you trip will be a safe, exciting and memorable one.
Long Term Car Rentals – Auto Europe offers great rates on monthly car rentals. The company offers Peugeot lease to those customers who reside outside the European Union, are above 18 years with a driver's license and need to rent a vehicle for more than 21 days. Auto Europe's long term car rentals come with several benefits that include great value for money and extra perks.
Specialty Rentals – Auto Europe's specialty rentals category offers van rentals, one way car rentals, motorhome rentals, GPS rentals and mobile hotspot rentals.
| Services | Type |
| --- | --- |
| Car Rental Services | Car Rental |
| | Luxury Car Rental |
| | Long Term Car Rental |
| | Speciality Rentals (van rentals, one way car rentals, motorhome rentals, GPS rentals, mobile hotspot rentals) |
| | |
How to Book a Rental Car with Auto Europe?
The Auto Europe website is simple and easy to use. All your car rental bookings can be completed in a jiffy. In case of any doubts, you can contact the company's reservation specialists who are available 24x7 to answer all your queries and help you select a vehicle that is apt for your trip. Customers who have subscribed for the newsletters can find Auto Europe promo codes or Auto Europe vouchers on the website that can be used to avail discounts. The booking options are provided at the top end of the homepage. You can also find customer reviews, Auto Europe's popular worldwide car rental destinations and so on.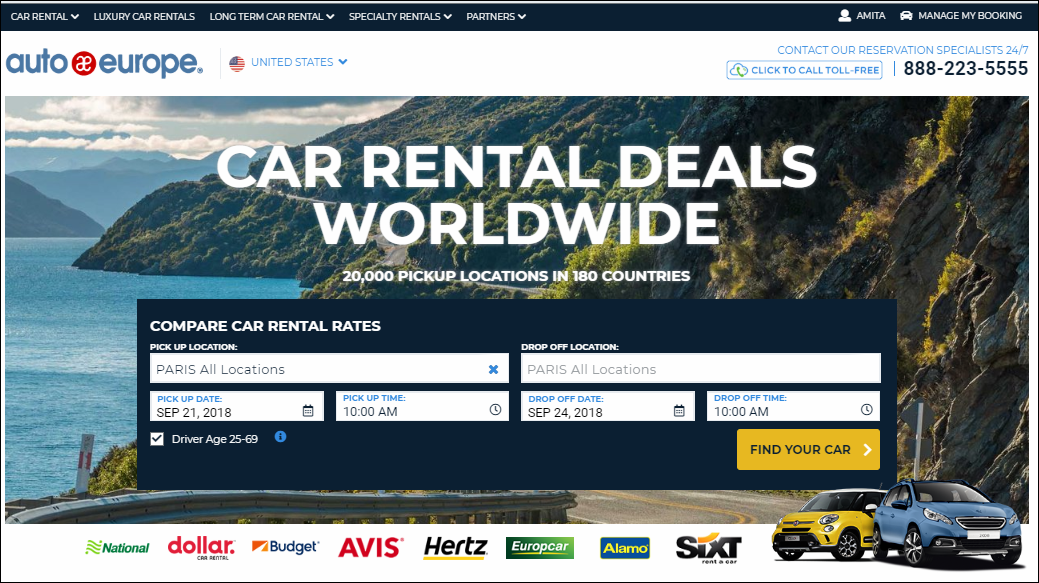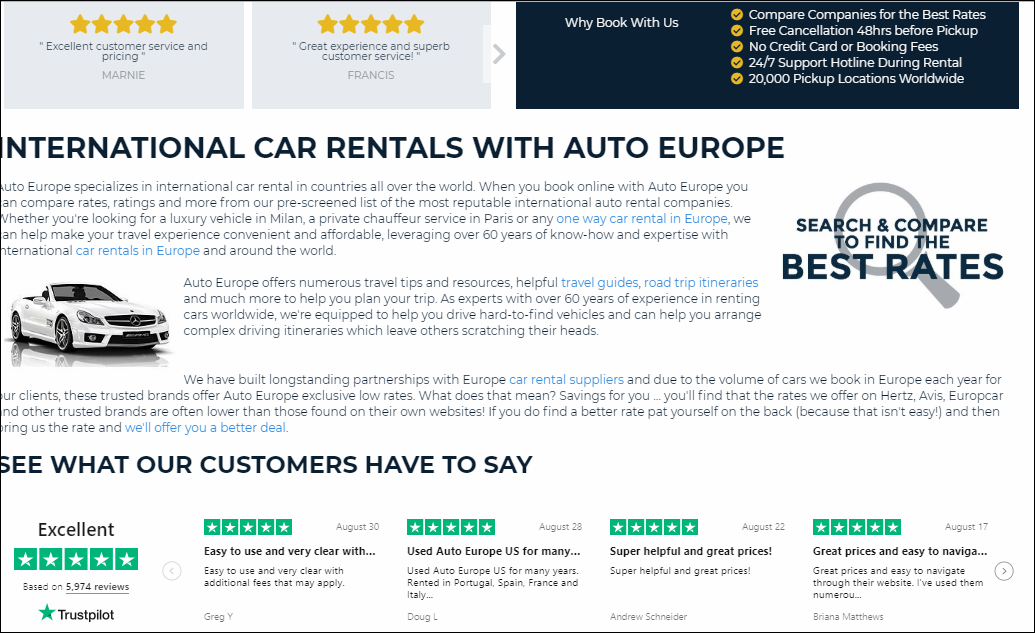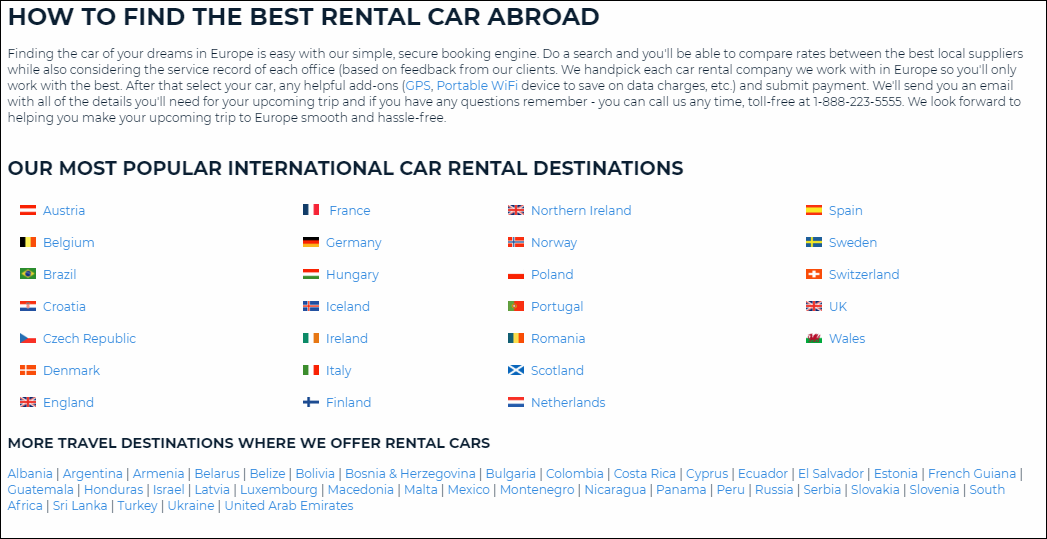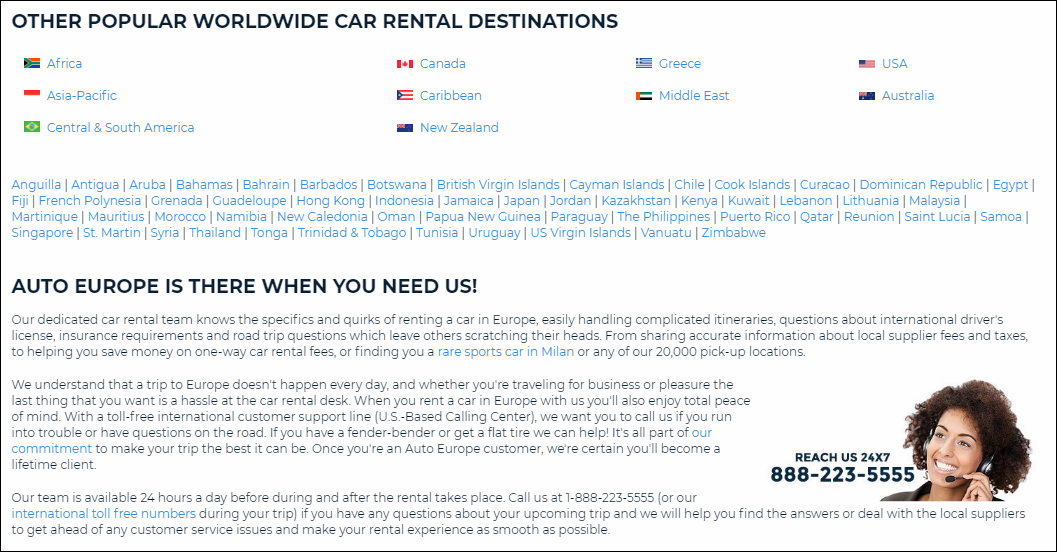 In the homepage, enter the pick-up location, drop off location, pick-up date, pick-up time, drop off date and drop off time in the fields provided. Select the 'Driver age 25-69' checkbox if applicable and click the "Find Your Car" button.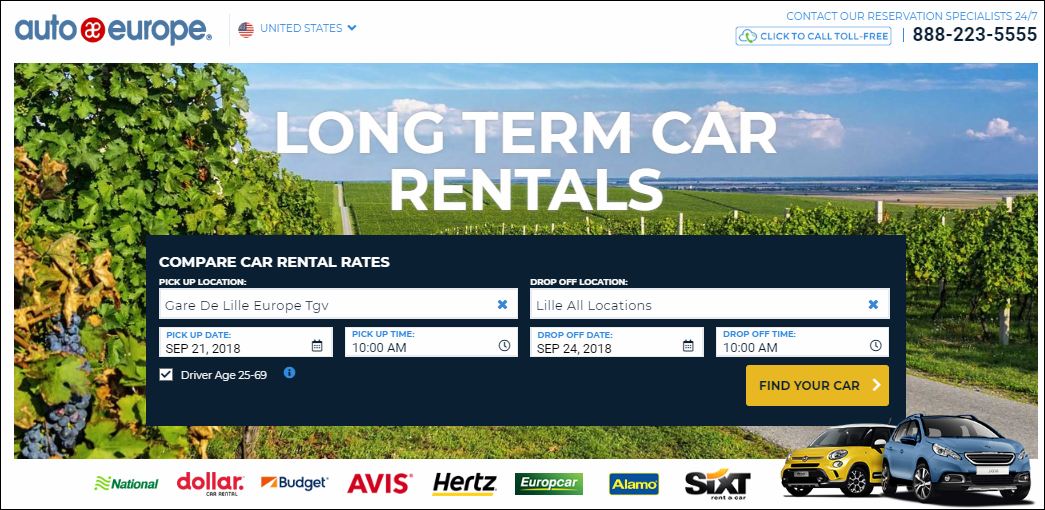 All car types available on rent for the selected days and locations along with the rates from various suppliers are displayed on the screen.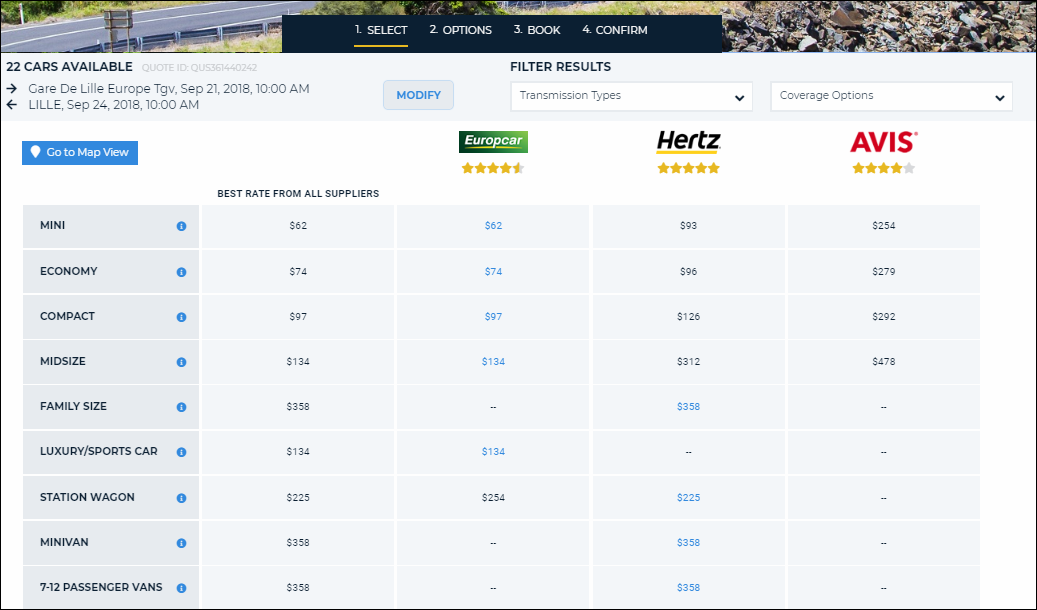 Click on the car type that you wish to book for your journey. You can also click on a rate provided in the columns. A list of cars along with supplier names, locations and rate details is displayed on the screen.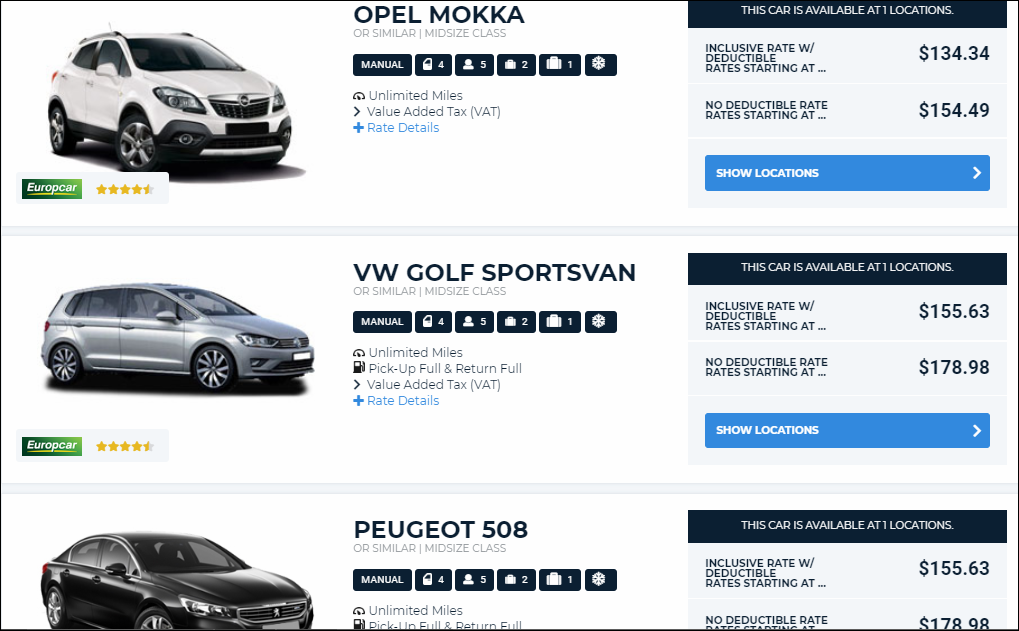 Next, click on the "Show Locations" button. A screen with pick-up location and drop off location is displayed. Click on a location to view the rates. Click on the "Select" button to select a car and rental rate.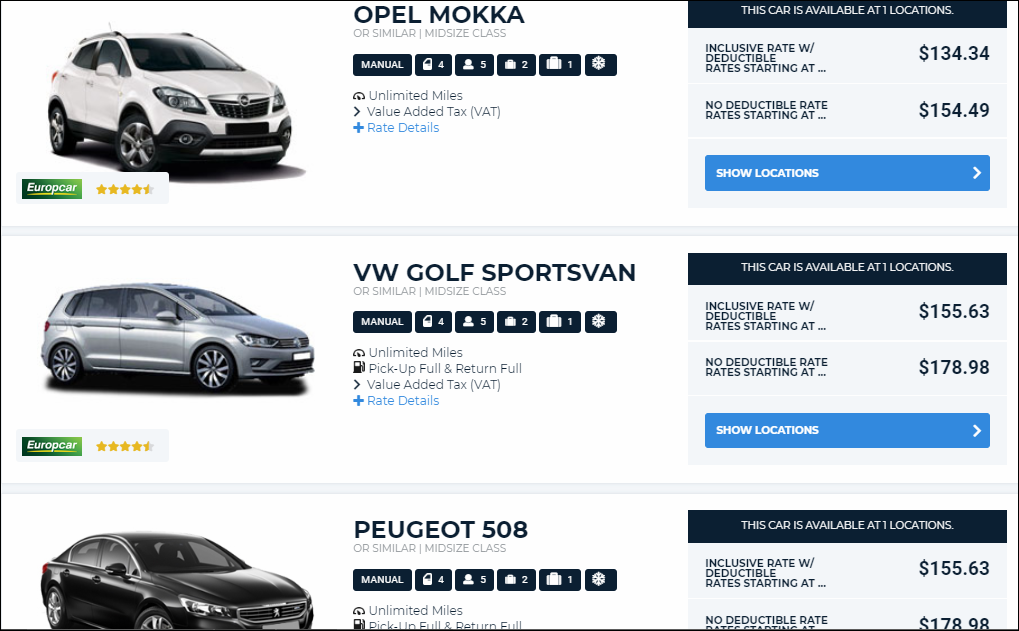 In the Options page, select the number of necessary optional equipments that you will need for the journey. These include infant seat, child seat, booster seat and GPS. Click on the "Continue" button.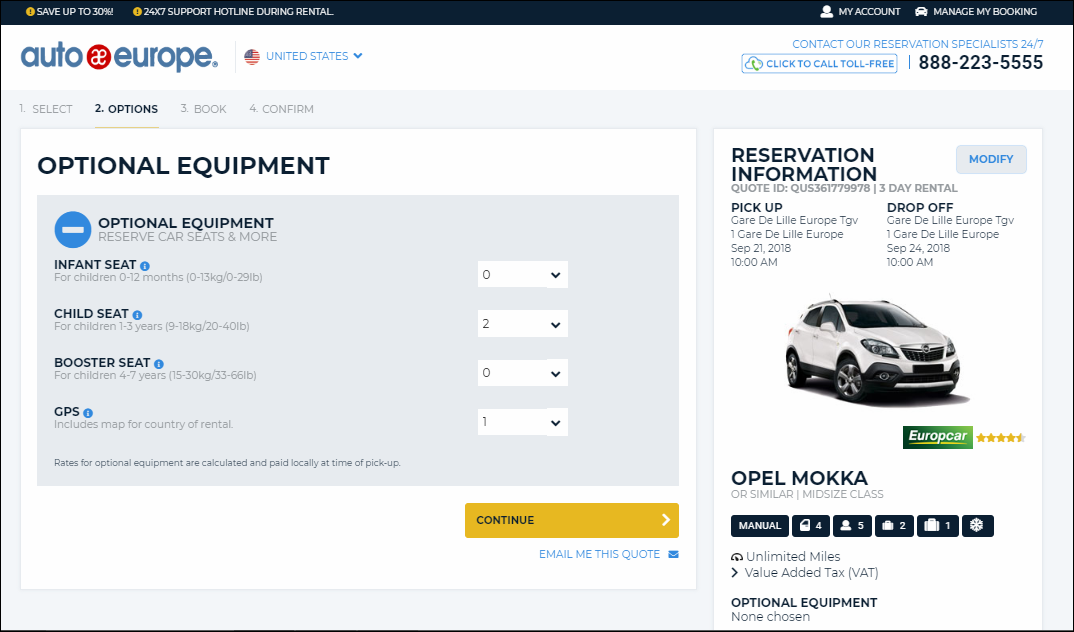 In the Book page, enter the driver's information and payment details. Travel agents must enter information in the 'Travel Agent & Association Details' section. Make sure that you read the terms, conditions and local fees details before clicking on the 'Click to confirm you've read and agreed to the Terms, Conditions & Local Fees' checkbox. Click the "Submit Payment" button.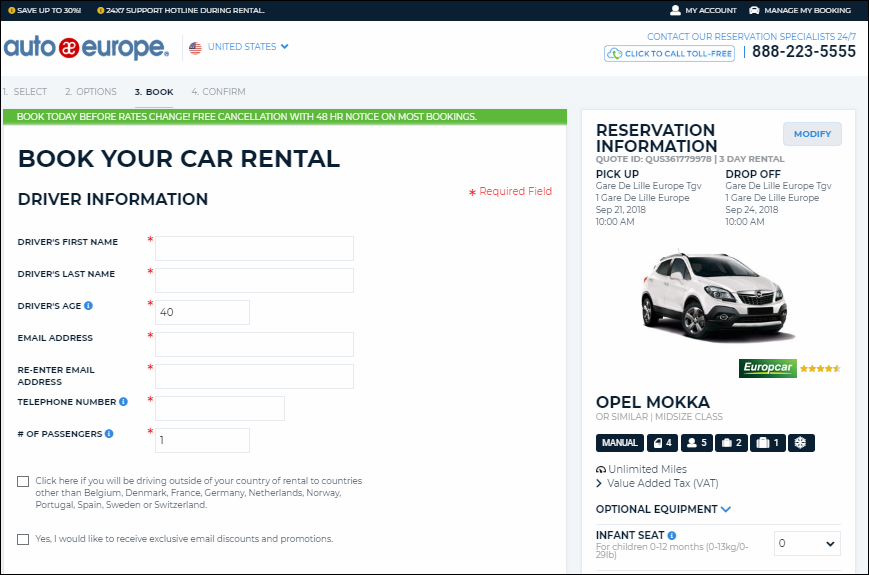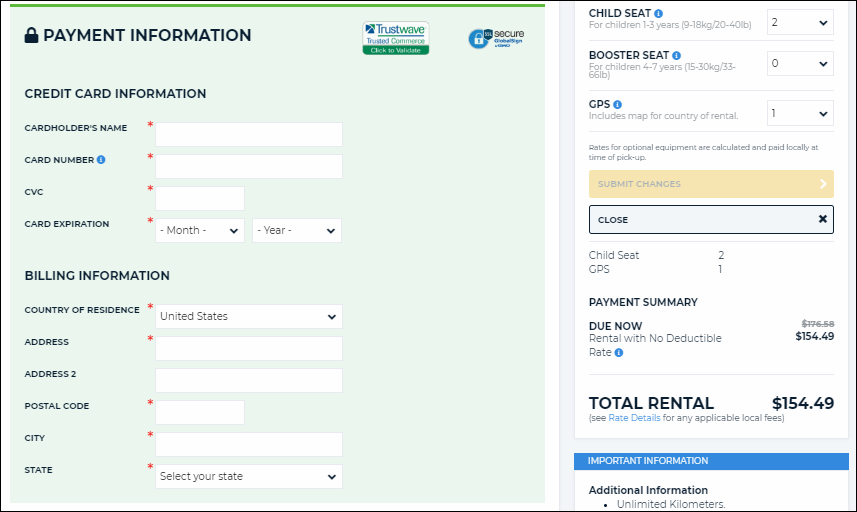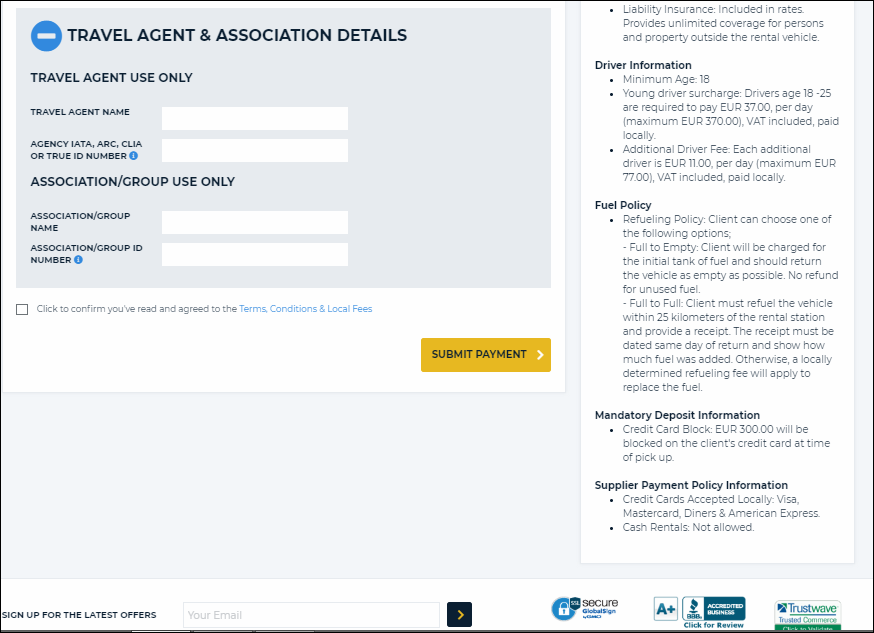 After entering the payment details, confirm the booking in the Confirm page.
Payment Options on Auto Europe
Auto Europe offers a quick and hassle-free payment system. The company accepts credit and debit card payment methods. However, car rental suppliers might need a valid credit card in the primary driver's name to pick up the rental vehicle. Auto Europe may sometimes book cash rentals based on the supplier contracts. In such a case, you have to take an inclusive rate and pay prior to departure. You will have to leave cash deposit with the supplier at the time of pick-up.
Please note that Auto Europe does not accept airline miles or credit card points towards car rentals. Auto Europe accepts cards from companies like American Express, Mastercard and VISA.
How Does Booking a Car with Auto Europe Save Your Money?
Renting a car abroad can be quite a pricey affair. A lot of travellers and tourists will not want to shell out money on just renting a car. Keeping this in mind, the team at Auto Europe offers you the lowest rental car rates in the industry along with free car rental upgrades. The company also offers monthly sales and Auto Europe promotions that will help customers save a lot of money. Auto Europe offers AAA discounts and inclusive rates to their customers.
Customers can sign up for the newsletter and receive Auto Europe discount code, Auto Europe promo code or any other Auto Europe code and save some money on their next booking. By signing up, newsletter subscribers will receive exclusive special Auto Europe offers along with general Auto Europe discount deals.
How to Book Services on Auto Europe using ShopBack
Shopback is here to help you save some money as you book your car rental on the Auto Europe website. Customers who book their car rentals on Auto Europe through a registered account on Shopback can earn up to 3.5% cashback. To book your car rental on the Auto Europe website through Shopback, follow the procedure given below.
Step 1: Visit the ShopBack website and select Auto Europe from the list of merchants and brands on the homepage. You can also use the search box to find the link to the Auto Europe website.
Step 2: Read important information such as cashback details, tips to ensure cashback, and terms and conditions.
Step 3: Read information given in the "Auto Europe coupon codes, deals & offers" section to avail more deals and discounts.
Step 4: Click on the "Activate Cashback" button. You will be redirected to the Auto Europe website to browse and book your car rental.
You will earn cashback from ShopBack after you confirm your booking.
Auto Europe's Terms Regarding Reservation and Cancellation Policy
Here's Auto Europe's reservation policy.
Auto Europe's reservations are confirmed within 20 minutes after you make the payment. In case of a last minute reservation, that is pick-up within the next 48 hours, you must contact Auto Europe's reservation centre at 1-888-223-5555.
To change a car rental booking free of cost, contact Auto Europe before the end of the rental period. Please note that all the changes must be processed by Auto Europe and not through the car rental suppliers. Changing reservation subjects you to the current rental rate.
If you have found a better / lower rate with Auto Europe's competitors, where in the vehicle includes the same terms, locations, and rental car fees, Auto Europe will beat the price for you. All you have to do is fill the company's Guaranteed Best Rate form.
Here's Auto Europe's cancellation policy.
Auto Europe issues a full refund for cancellations made at least 48 hours before your reserved pick-up date and time.
You will be charged a fee of $75 for cancellations made with less than 48 hours notice.
In cases where no notice of cancellation is provided until the reserved pick-up date and time, you will not receive a refund.
Please note that all cancellations must be processed by Auto Europe and not by the local car rental suppliers.
Auto Europe Customer Service
Auto Europe's award-winning customer service is here to help you 24x7. In case of queries and doubts, call Auto Europe's toll free number 1-888-223-5555 within North America. For Auto Europe toll-free number by country list, click here. You can email Auto Europe's reservation department at [email protected] and customer service department at [email protected].
Connect with Auto Europe