Best of Korean beauty products with Althea
Althea is a one-stop online shopping destination for Korean beauty products. The e-commerce website has an active presence in Southeast Asian countries such as Malaysia, Singapore, Indonesia, Philippines and Thailand. However, the online store ships their products to over 250 countries, including major markets in the US and the Asia-Pacific region.
Althea has carved a niche for itself with specialisation in Korean beauty (K-Beauty) products such as cleansers, lotions, toners, sheet masks, makeup, shampoos, conditioners and the like. Thanks to the online store, it is now easier to buy products from many popular Korean beauty and skincare brands like Innisfree, Skinfood, Nature Republic, Laneige, Etude House, Tony Moly, Clio, Banila Co. and The Face Shop at reasonable prices. All you have to do is log on to the Althea sg (Singapore) website or download 'Althea: Best of Korean Beauty mobile app and shop to your heart s content!
Althea was launched by Frank Kang in partnership with Christopher Cynn and Jae Kim, in June 2015. Co-founder and CEO Frank Kang, a Korean, hit on the idea for an online K-Beauty products store when he was living in Malaysia and was frequently requested by his friends to bring back Korean beauty products whenever he travelled to his home country.
The Korean cosmetics are famed for their superior quality, owing to the fast-paced product innovation in the K-Beauty industry, which is manifested in the use of unique ingredients such as snail mucous, horse oil and 24k gold. Despite the immense popularity and high demand for K-beauty products, their availability is very scarce in most parts of the world. To address this demand, Althea was launched in Malaysia in 2015 and was expanded to Singapore, Indonesia, Philippines and Thailand within one year.
The company s vision is to introduce new and authentic products by beauty brands that exclusively operate in Korea and need a dedicated route to overseas sales. CEO Frank Kang estimates these K-beauty brands to be around 10,000 in number, offering a massive business opportunity to all the stakeholders.
In 2016, Althea raised US $3.5 million for Series A round of expansion, provided by investors like Mirae Asset Ventures, 500 Startups, Posco Ventures, Tekton Ventures and Cherubic Ventures. In the first phase of expansion, Althea focused mainly on Southeast Asian markets. Within a year, Althea claimed to attract 500,000 monthly unique visitors on their website and were recognised by Forbes as Southeast Asia s largest Korean Beauty website with an annualised revenue run rate of $10 million.
In Series B round in 2017, Althea raised US $7 million from investors including Korea Development Bank, Bridges Alliance Partners, FirstFloor Capital, Innoven Capital and Tekton Ventures. These funds were utilised by Althea to launch and grow its private-label product line and expand its reach globally.
Since its launch in 2015, the company has diversified from being an online retailer for third parties, to developing and marketing its in-house product line.
Althea offers a wide range of beauty products at affordable prices. The online store lists its products under 4 broad categories – skincare, makeup, hair and body, and Korea s trendy. Althea currently stocks products from around 105 Korean beauty brands ranging from globally popular brands such as Laneige, Innisfree and Etude House to fairly lesser-known brands like HERA, Brillar and Catrin. Here s a short preview of product categories that are available on Althea
Skincare
- For a flawless, porcelain skin, consumers can buy a wide array of Korean skincare products like skin toner, lotions, serum, eye cream, cleansing cream, peeling/scrub, sleeping mask, mask sheet and mist/sun care on Althea website. These skincare products are available in many brands at reasonable prices.
Makeup
– Althea offers its customers many varieties of face makeup, lip makeup and eye makeup products to choose from. These high-quality makeup products including primers, BB/CC cream, foundation/concealer, blusher/highlighter, lipsticks, tint, eye shadow and eye liner are available from many sought-after Korean beauty brands and are a value for money.
Hair and Body
– This is a category of products that forms an essential part of everyone s body care regimen. Althea makes sure to offer its customers the best of products for healthy and nourished hair and body. The products listed under this category include shampoo and conditioners, hand and foot care products, deodorants, body cleansers and the like.
Korea s Trendy
– Under Korea s trendy category, Althea has carefully curated the trendiest and most in-demand beauty products of Korea. This category helps the customers to easily choose and buy cosmetics that are the latest trend. The category includes skincare products, makeup, cleansers, hair and body products and packs and masks from popular brands.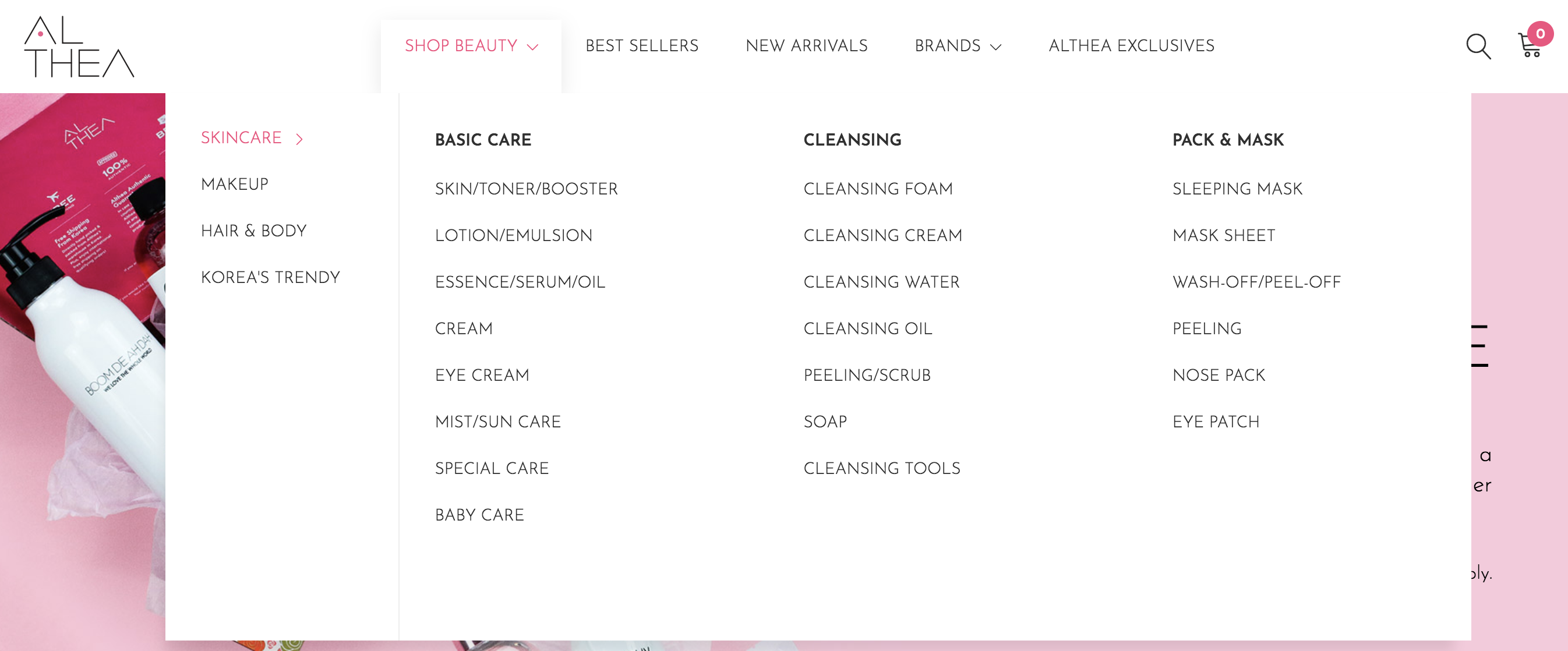 | Althea Makeup Categories | Althea Makeup Products |
| --- | --- |
| Basic Skincare | Toner, Booster, Lotion, Emulsion, Essence, Serum, Oil, Cream, Eye Cream, Mist, Sun Care, Special Care, Baby Care |
| Cleansing | Cleansing Foam, Cleansing Cream, Cleansing Water, Cleansing Oil, Peels, Scrubs, Soaps, Cleansing Tools |
| Packs and Masks | Sleeping Mask, Mask Sheet, Wash-Off/Peel Off, Nose Pack, Peeling, Eye Patch |
| Makeup | Primer, BB/CC Cream, Makeup Base, Foundation/Concealer, Cushion, Powder/Pact, Blushers, Highlighters, Shaders |
| Lip Makeup | Lipsticks, Tints, Lip Treatment, Eye Shadow, Eyeliner, Mascara, Makeuptools |
| | |
| Althea Hair and Body Categories | Althea Hair and Body Products |
| --- | --- |
| Hair care | Shampoo and Conditioner, Treatment and Essence, Hair Colour |
| Body Care | Deodorant, Hand and Foot Care, Nail Care, Body Cleanser |
| | |
| Althea Korea s Trendy | Products |
| --- | --- |
| Korea s Trendy | Skincare, Makeup, Cleanser, Hair and Body, Pack and Mask |
| | |
The Althea website offers a user-friendly interface that is easy to navigate for the customers. The search box at the top of the website page facilitates the users to conduct a product-specific search. There are different categories on the header for shopping products, best sellers, new arrivals, featured brands and Althea exclusives. From here, customers can choose the categories they want to explore and shop.
The homepage is divided into sections featuring 'Best of K-Beauty direct from Korea, with love , 'Collections and 'New Arrivals .
1. Browse the categories and sub-categories on the page. The website will display the sub-categories on top of the webpage from where you can choose the type of product you wish to buy.
2. Select the type of product that you need from the options. You will land on the product listing page. Check the details of the products and proceed to buy your desired product by clicking on the "Add to Cart" button.
3. Click on the shopping cart icon on right corner of the page. You will see two options i.e. view cart and checkout. If you wish to purchase more items, you can continue shopping and add more products to your cart. Once you are satisfied with the list of products in your cart, click on the "Checkout" button.
4. You will be directed to the page displaying your shopping cart summary. You can find a box on the right corner where you can enter the Althea discount code, if applicable. After applying the Althea coupon code, click on "Proceed to Checkout".
5. The customer login box will pop out where you can enter your email ID and password to login or sign-in through Facebook or Google+. Enter your shipping details. The delivery charges will be displayed on the screen. Make payment on the next screen to complete the transaction. Shortly after, you will receive an order confirmation mail or a text confirming your order on your phone number, along with the expected date of delivery of your order.
Customers can find great deals on products during the Althea sale or Althea promotions displayed on the homepage. You can avail the discounts by using Althea vouchers and Althea coupons during the checkout process.
Payment Options on Althea
You can pay for your orders via multiple channels when you purchase from Althea. The following are the payment options available on the website-
Adyen: Adyen can be used by the customers to make electronic payments by using Visa or MasterCard credit/ debit cards or American Express cards. Adyen s online payment platform acts as a payment gateway or payment service provider and connects with the payment methods across the world. This safe and secure payment platform is user-friendly and an efficient medium for transactions.
PayPal: PayPal is another trusted online payment system that can be used by customers to pay for their orders. This secure online money transfer channel is one of the most popular means of transactions and can be used anywhere in the world.
Different Coupon Codes and Discounts of Althea Singapore
Althea offers many discounts and deals to its customers from time to time. Some Althea discounts are offered for a long time while some Althea discount coupons are available for a limited period only. The consumers can save a lot of money on K-beauty products by applying the Althea promo codes or Althea voucher codes that the online store offers during promotional periods. At present, the customers can earn 5% cashback on Althea products if they shop with the merchant via a registered account at Shopback.
How to Redeem Coupons and Vouchers at Althea?
Online shopping can be a very rewarding experience where customers get plenty of opportunities to save money on their purchase. Several websites offer codes and vouchers that can be redeemed to earn cashbacks and discounts on products.
Here is a step-by-step tutorial on how to redeem coupons and vouchers at Althea:
Step 1:
Select the item that you wish to buy and click on Add to Cart .
Step 2:
Proceed to the Checkout page and fill in the details of your email as well as shipping address.
Step 3:
Click on next to move to the payment screen. Here, you will find a box under the payment summary section to enter your Althea promo code or any other applicable Althea code for availing discounts.
Step 4:
Select the payment method as per your convenience and enter the payment details to complete the transaction.
How to Shop on Althea using ShopBack
ShopBack offers 5% cashback on various items if you shop from Althea. Here are the steps to be followed to earn cashback from ShopBack:
Step 1:
Visit the ShopBack website and select Althea store from the list of merchants and brands on the homepage. You can also use the search box to find the link to Althea store.
Step 2:
Read the terms and conditions as well as any other relevant information provided such as the cashback details and tips to ensure cashback.
Step 3:
Click on Activate Cashback button on the top left corner of the page.
Step 4:
If you are willing to find more attractive deals and coupons, check out the Althea Coupon Codes, Discounts + Cashback section.
Step 5:
You will be directed to Althea website to browse and select the products you intend to buy.
Step 6:
You will be eligible to earn cashback from ShopBack on placing your order. The cashback rates might differ based on your history with ShopBack, i.e. whether you are a new or an existing customer.
The cashback offer is not applicable on purchases made on Althea app.
Althea s Shipping and Return Policy
The shipping rates of products are based on the origin and customer s delivery location. Althea offers free shipping on all orders above S$29.
You can see the shipping fee in your order summary before you make the payment.
Althea offers a 30 days unconditional return and refund policy for the products. If you are not completely satisfied with the delivered item (with any reason), you can send it back to the merchant. You must contact Althea by email within 30 days upon receiving the product and the company s customer care will provide you with some simple instructions on returning your product for a full refund, subject to the following terms and conditions-
- Returns must be made within 30 days from date of receiving the item.
- You must first inform the company via email before returning the product (s) for a refund.
- The item shall be returned with the original box and invoice.
- The customer must include the necessary information (upon contacting Althea) on the return parcel for the company to identify your product and purchase.
- Customised products and products bought during promotional events are not eligible for returns and/ or exchanges.
- Refunds will be processed within 7 business days after the company receive your returned item(s).
- The customer shall bare the postage fee when shipping back the product during the return process. The company will refund a maximum of S$3.00 for your return shipping charges to your account.
- The Company does not refund international shipping charges that customers have paid during their purchase.
- All reimbursements (if any) and refunds will be in the form of Althea Reward Points.
For any inquiry or help, the customers can contact the Althea customer service by sending an email to [email protected] along with their queries.