Althea Coupon Codes, Discounts + Cashback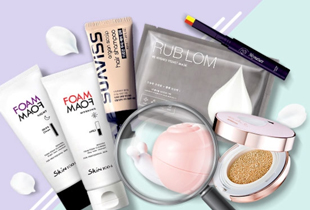 Free shipping on orders above $29!
Refer to merchant site for more details.
ShopBack must be the last link you clicked in order to get Cashback. If other website links are clicked after clicking through ShopBack, Cashback will not be tracked (E.g. coupon and deal websites)

If for some reason your payment made on merchant page has failed, do click through ShopBack again and re-do your purchases to ensure tracking is still active

Return to ShopBack and click through to the merchant every time you are making a new transaction.

If you are making 3 separate transactions on the merchant, you should click through ShopBack 3 times, each time before making a new purchase.

For more details: www.shopback.sg/terms-and-conditions
Recent Articles
More about Althea
Althea brings you Korean Beauty products at affordable prices with sales, discounts and voucher codes!
Althea was founded in June 2015 to be a one-stop shop online for Korean beauty products in the South East Asia region including Singapore. Althea is the name of the national flower of Korea and represents the beauty of the country. The vision of Althea to share Korean Beauty to the world, assisting consumers to have access to the best and latest beauty Korean products at just one website. Althea liaises with K-beauty suppliers directly for this cross-border collaboration and brings the K-beauty selections at pocket-friendly prices to Singapore and the rest of the South East Asia Region. Althea offers you products from skincare, makeup to hair and body – often featuring the trendiest and hottest K-Beauty products directly from Korea! Not forgetting the great discounts that come with Althea promo code and Althea coupon code 2016 when you shop at Althea!
Use Althea coupon codes and voucher code to save when you shop at South East Asia's premier destination for K-beauty products
Althea promises to provide K-beauty products at the lowest prices to customers. On top of sales, promotions and discount codes, there's also free international delivery for all orders above SGD$50! Your items are handpicked and packed from Althea warehouse in Korea, and you will receive your items within 5-8 working days from the day you purchase. Don't forget to key in discount code or voucher code when you complete your transaction to grab the attractive discounts!
Althea Authenticity Guarantee for all K-Beauty products, shop with a peace of mind and with great savings from Althea promo codes and voucher codes!
In the event the product is confirmed as non-authentic, Althea will honour returns right away and refund twice the purchase value. Althea stands strong in their guarantee as they hand pick every item from the reputable K-Beauty suppliers they work with and there is a five point quality assurance check for all products before delivery to customers. The sourcing team ensures they work with reputable merchants and subject products to stringent criteria when introducing new brands. And Althea also has a 30-day return policy on all sales made. You can be assured of the product you are purchasing though the price is inexpensive with discounts and voucher codes – you are definitely getting the real deal!
Althea Best Price Policy assures that you do not pay extra but less with Althea coupon code 2016 and discount code!
Althea believes in eliminating middlemen and translating that savings back to consumers with the lowest price in the market other than just providing discount codes! As all products are packed and brought in straight from Korea, you can be assured that your parcel is not handled by any other parties except Althea when packing. Althea works with brands directly to provide you K-Beauty products at lowest prices and furthermore, you can take advantage of Althea coupon codes and discounts to save even more!
Shop with a smile with Althea coupon codes, Althea Safe Delivery and 30-day unconditional refund
Althea has a strict quality check system in place for all goods entering the warehouse, ensuring the expiration date and authenticity of every single parcel. Before delivery, all items are bundled in a safe parcel so you will receive all items together! If for any reason you are not completely satisfied with your product, Althea will refund your purchase within 30 days of you receiving the item, no questions asked! All you need to do is to email Althea and ensure you keep the original box and invoice for Althea to help you with your inquiry.
Check out their blog for the latest Althea sales and beauty tips!
On Althea blog, you can find reviews on products, beauty tutorials and beauty tips. There are also contests to take part in. If you have something to contribute, do send Althea letters and they might just publish it! On their blog, they have a beauty breakdown section explaining common beauty issues and solutions. For the tried and tested section, you have reviews on individual products and you can get first-hand advice for the products you are interested in. The blog is also multi-lingual to cater to consumers from different countries.
ShopBack Singapore gives you greater savings on top of Althea discount codes and promo codes
Be sure to use ShopBack Singapore when you are purchasing at Althea as ShopBack Singapore is giving you rebates for your purchases. This is on top of the savings you get from the sales and promo codes from Althea! Firstly, you should make sure that you logged into your ShopBack Singapore account. If you don't have an account yet, be sure to create one right away! After you have done so, search for Althea on ShopBack Singapore. Clicking on it will get you redirected to Althea website where you can then make your purchases as per normal. Be sure to enter your Althea promo code the checkout to maximise your savings for your buys. After you have made your payment, ShopBack will track how much you've spent and give you back real cash, which you can later transfer into your bank account! There is no obligation for you to spend this money on ShopBack Singapore or any of our partner's sites. Do note, however, that this cash may take one or two days to be tracked into your ShopBack Singapore account.
Don't forget to follow Althea on their social media sites and platforms for the latest Althea promotions and deals!
If you don't wish to miss out on the latest Althea deals, be sure to follow them on their social media! Just like Althea on Facebook or follow them on Instagram. Alternatively, you can also check out their blog for latest beauty tips and promotions! If you like saving while shopping online with ShopBack Singapore, there are many other stores you can check out under the General Section like Reebonz or Skinstore.com! Contact us via the ShopBack Singapore hotline or drop us an email should you face any issues. Our friendly customer service team will be glad to assist you.