Your Home Away From Home With Airbnb
Airbnb, an American company, offers a home rental interface that enables people to search and rent short-term lodging in over 191 countries. Airbnb boasts of over 5 million listings in 81,000 cities across the globe. The Airbnb website makes it easier for people to look for short-term accommodations, away from their homes. The company offers an impressive array of broker-owned accommodations that include cottages, home stays, apartments, villas, tree houses, castles, hostels, hotel rooms and so on.
Airbnb experiences make sure that travellers enjoy a unique experience as they explore a completely different side of a destination through handcrafted activities conducted by locals. Apart from stay and experiences, Airbnb ensures that you enjoy the culinary journey too. In partnership with Resy, Airbnb offers restaurant reservation services, wherein you can book a table at almost 650 restaurants all across United States at renowned restaurants such as Kismet in Los Angeles, Petit Crenn in San Francisco and Thip Khao in Washington, D.C. via the Airbnb website and app.
To avail Airbnb s impeccable services, all you have to do is log on to the Airbnb Singapore website and book your requirements for a marvellous journey that you will surely cherish lifelong! Do not miss Airbnb deals and Airbnb sale offered on the website.
Airbnb s inception story is truly inspiring. Back in 2007, without any investors, financial backup or even employment, Airbnb founders Brian Chesky and Joe Gebbia were looking for ways to earn some bucks to pay their rent. There was a design conference to be held in San Francisco and most of the city s hotels were fully booked, so the duo came up with a plan. They purchased three airbeds and set them on their living room floor and cooked their guests some breakfast. They quickly created a website called 'airbedandbreakfast.com . Within a week s time, they had three guests using the airbeds and relishing the breakfast. They charged each guest $80 per night. The idea was a success and Airbnb was born. Very soon, Chesky and Gebbia were joined by the third co-founder, Nathan Blecharczyk, a Harvard graduate and technical architect.
From a humble set up the company has now grown to boasts of almost 5 million lodging options across 81,000 cities and is reportedly valued at 31 billion dollars.
Products Offered by Airbnb
Airbnb.com offers a wide range of homes all around the world and to match your kind of trip, all at affordable prices. Customers can also book fun activities led by local hosts or guides and a table at a restaurant of their choice, anywhere in US.
Please note that Cashback from ShopBack is only available for Homes bookings. Experiences, Restaurants and Host fees are not eligible for Cashback.
Homes
– The aptly-designed Airbnb website lets you book a home for your stay in over 81,000 cities around the globe. This includes cities like Sydney, Cape Town, Buenos Aires, Seoul, Barcelona and so on. The website provides filters such as dates, number of guests, home type, price, instant booking, trip type, free cancellation, amenities, facilities, property type and unique homes, to narrow down your search and finalize an accommodation of your choice.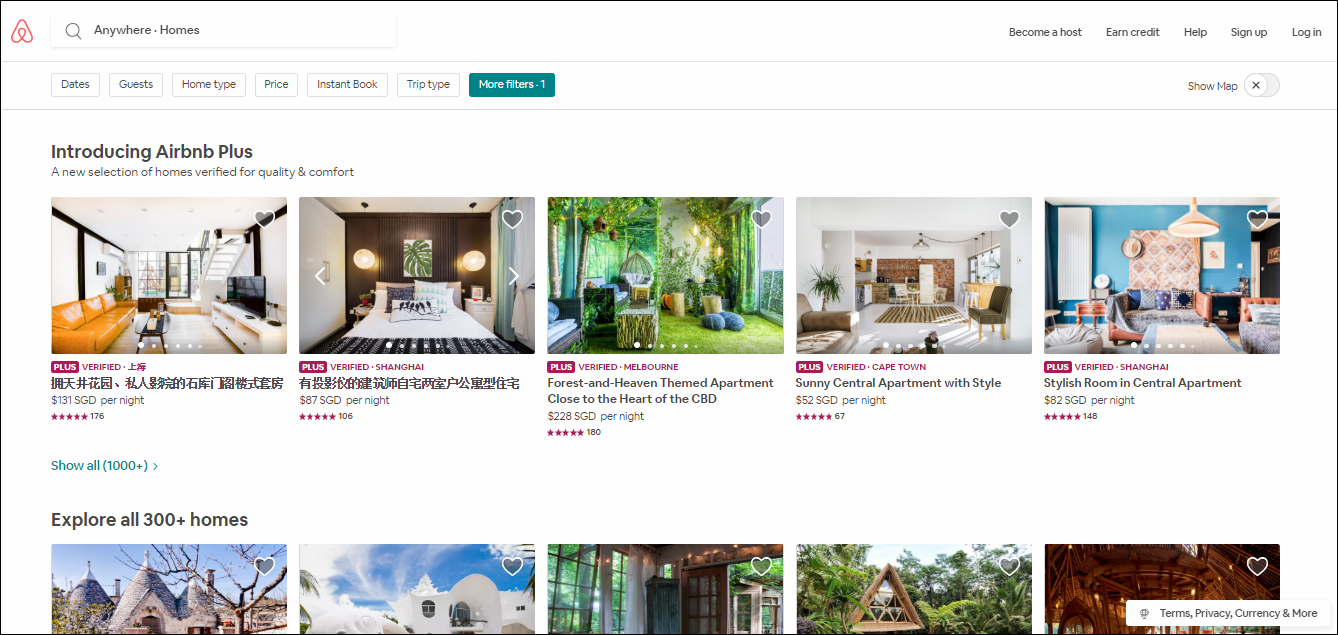 Experiences
– The Airbnb Singapore website offers an array of experiences that are awe-inspiring. You can pick your favourite based on the categories mentioned in the 'Explore experiences section of the webpage. The categories include nature, concerts, classes & workshops, surfing, arts, sports, food & drink, history, entertainment, health & wellness, music, social impact, nightlife etc. The website also lets you choose an experience based on the city you wish to travel. Customers can use filters such as dates, number of guests, price and time of the day to narrow down the search for activities/experiences.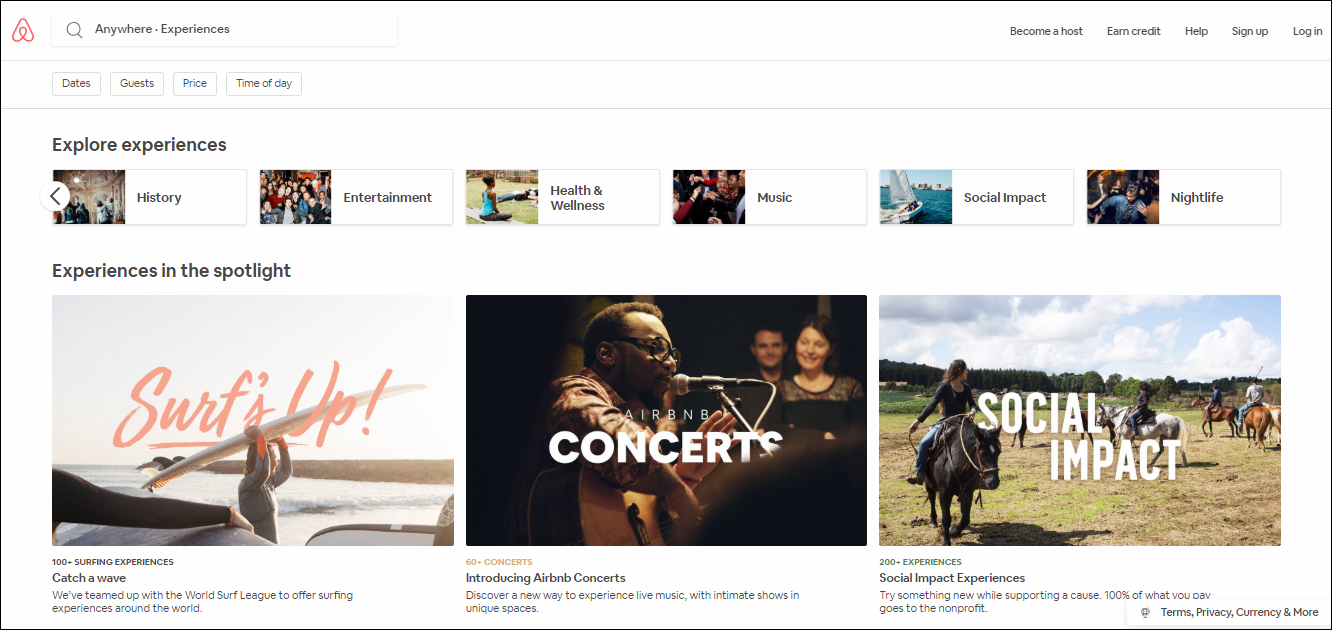 Restaurants
– You can book a table at a restaurant of your choice, anywhere in US through the Airbnb website. You can filter your search based on dates, number of guests, time of the day, type of meal and cuisines.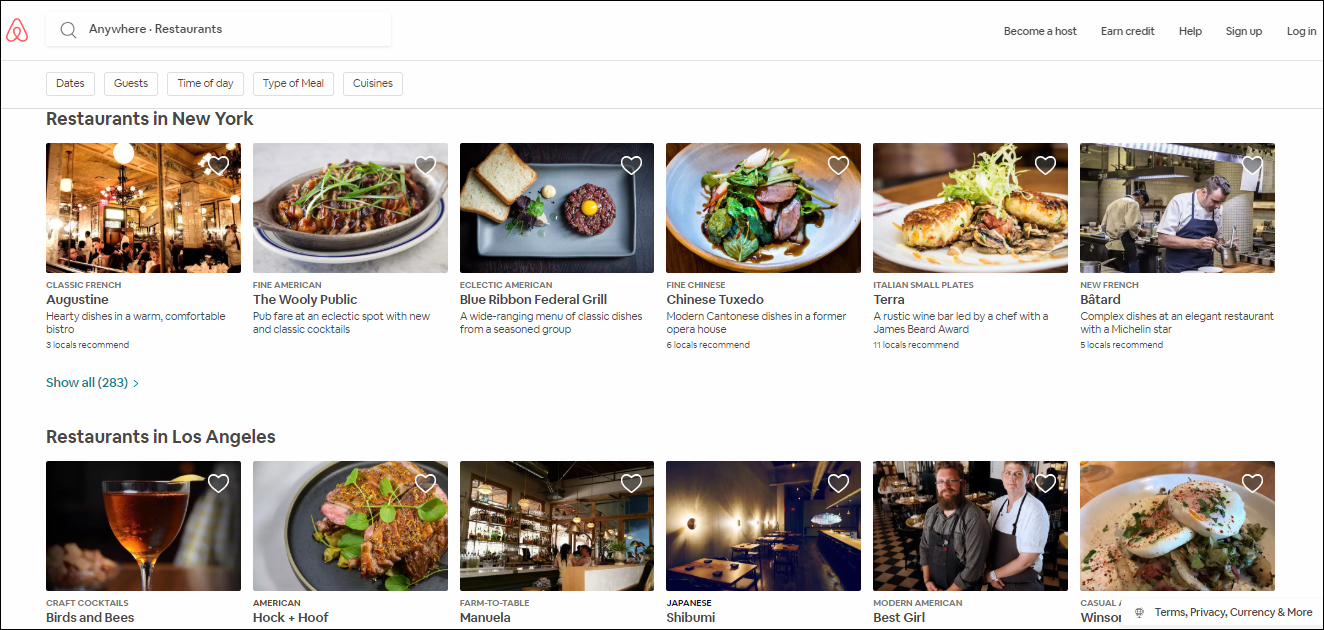 Some of the categories and sub-categories for homes, experiences and restaurants offered on Airbnb website are mentioned in the table below.
| Airbnb Homes Type | Notable Airbnb Homes |
| --- | --- |
| Airbnb Plus | Forest-and-heaven themed apartment close to the heart of the CBD (Melbourne), Sunny Central Apartment with Style (Cape Town), Stylish Room in Central Apartment (Shanghai), Splendido Loft Appartmento Vicino a Piazza Dei Spagna (Rome), Romantic Lakeside Home with Views of Lake Como (Menaggio) |
| Homes for Family Trips | The World Famous Seashell House - Casa Caracol (Isla Mujeres), Trullo Aromatic Green (Ostuni), Hector Cave House (Santorini), The Lake Tahoe Chalet (South Lake Tahoe) |
| Homes for Work Trips | Luxury Gold Coast Hinterland Villa (Mouth Nathan), Beautiful Flat in Milano Center (Milan), Urban Farmhouse at Curtis Park (Denver) |
| | |
How to Make Reservations on Airbnb?
The Airbnb website is user-friendly and easy to navigate. You can book a home from more than 190 countries for your next trip. To book a home of your choice using the Airbnb website, click on Homes in the homepage.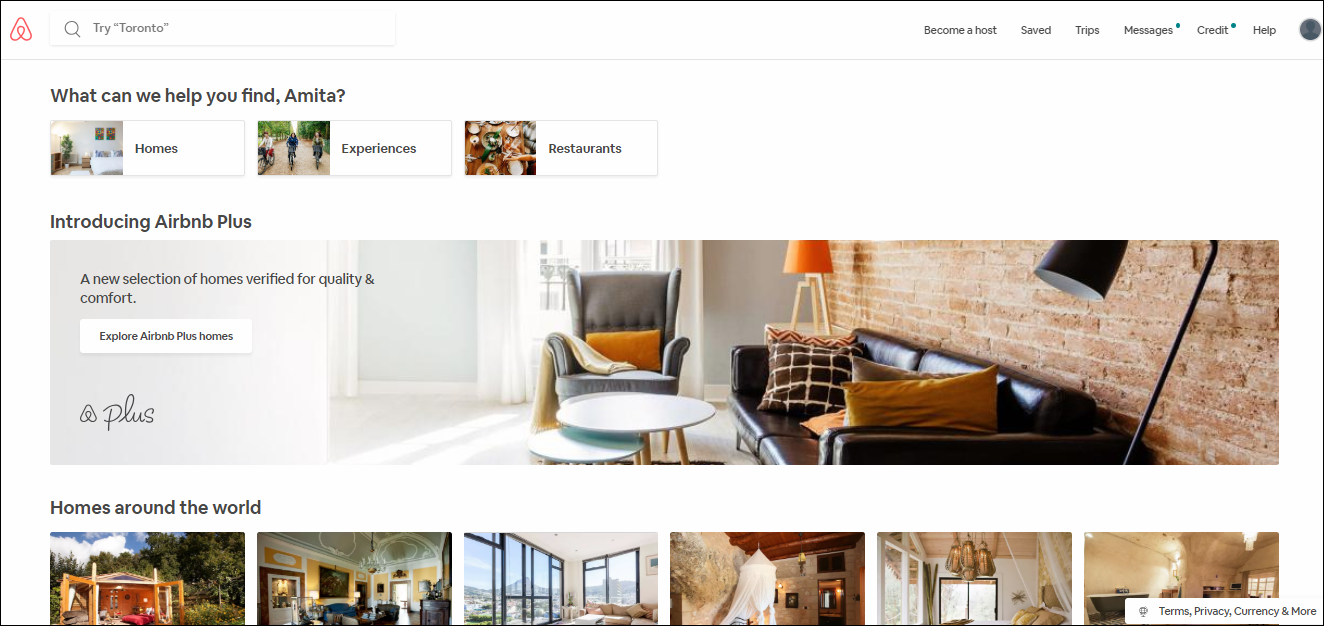 Step 1:
The homepage displays various categories of homes offered by Airbnb around the world. Browse for a home of your choice. You can filter your search based on dates, number of guests, home type, price, instant book, trip type and so on.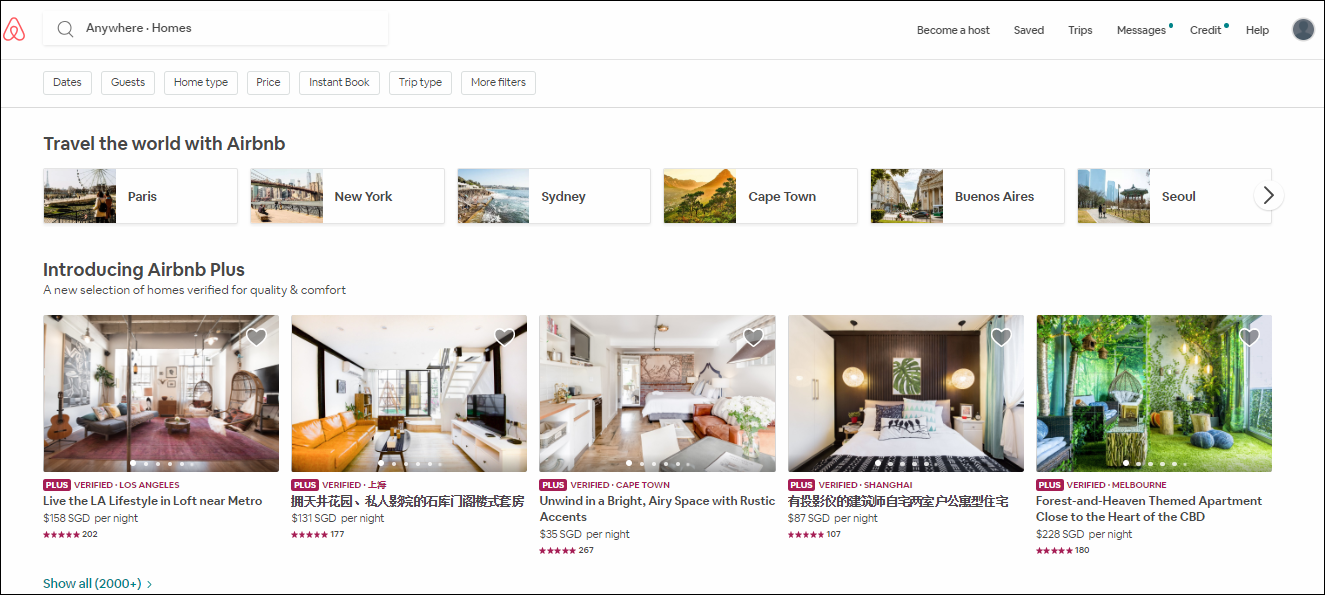 Step 2:
Click on the shortlisted home. You will be redirected to a page that allows you to take a tour of the home/apartment. You can scroll through the pictures and read the description and other details of the home such as accessibility, location, reviews, host information, availability, cancellation policy and house rules.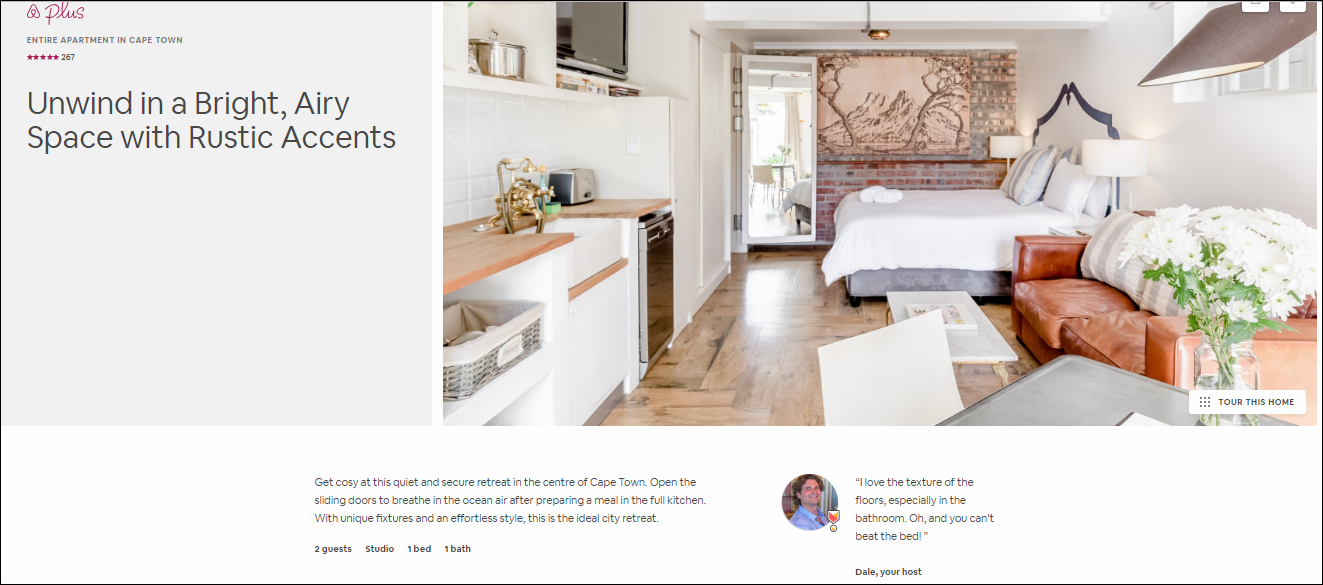 Step 3:
Make sure that the home is available on the required dates by checking the availability. For this, click the 'Go to calendar option in the 'Availability section. Here, you will see the cost of the home. Select the check-in and checkout dates.
The screen displays cleaning fee, service fee and total.
Step 4:
Click the 'Book button to continue with the booking process. You are redirected to a screen where you can review the trip details in the 'Review trip details section. Click the 'Agree and continue button to continue with the booking process. You can now view the 'Who s coming? section. Select the number of guests and enter a message for the host in the provided box. Click the 'Continue button.
Step 4:
In the 'Confirm and pay screen, select the payment options, enter your name and payment details.
Step 5:
You can redeem your Airbnb coupon by clicking on the 'Redeem a coupon option and entering your Airbnb coupon code, Airbnb promo code, Airbnb discount code or any other Airbnb code, if applicable. Click the 'Apply option to avail discounts. Finally, to confirm your booking, click the 'Confirm and pay button. You won t be charged until the host confirms your booking. Host have 24 hours to respond to your booking requests. After the host accepts your stay, you will receive a confirmation message in your inbox. Click on it to view the details.
Some hosts allow you to confirm a reservation right away. For homes like these, you can view the 'Instant Book button. However, some hosts would like to approve reservations before finalizing them, in such cases, you can view the 'Request to Book option.
Customers can find great Airbnb offers on reservations during Airbnb promotion. You can avail the discounts by using your Airbnb voucher, Airbnb coupon and Airbnb promo code during the checkout process.
Different Coupon Codes and Discounts of Airbnb
Airbnb offers multiple discounts and deals to its clients from time to time. Customers can make their reservations as well as save a lot of money by applying the Airbnb promo code or Airbnb voucher code that the website offers during promotional periods. Guests can also avail of the Airbnb special discount and Airbnb special offer.
Some websites offer Airbnb coupons and Airbnb cashback. Currently, Shopback is offering $5 cashback on Airbnb reservations to those customers who make bookings via a registered account at Shopback.
How to Redeem Coupons and Vouchers at Airbnb?
Airbnb ensures that all their customers enjoy a rewarding stay and a fulfilling experience by providing plenty of opportunities to save money during the reservation process. Customers from Singapore can avail of Airbnb promo code Singapore, Airbnb coupon code Singapore and Airbnb discount code Singapore. First time users can use Airbnb first time user coupon code to avail discounts. Several websites such as Shopback offer Airbnb discount codes and coupons that can be redeemed to earn cashbacks and discounts during the reservation process.
Here is a step-by-step procedure to redeem coupons and vouchers on the Airbnb website:
Step 1:
Select a home that you wish to book.
Step 2:
Read the details and proceed to the Checkout page.
Step 3:
Navigate to the 'Confirm and pay screen. Here, select the appropriate payment method and enter the required information in the fields provided. Click on the 'Redeem a coupon option. You will see a box where you can enter your Airbnb promo code or any other applicable code.
Step 4:
Click the 'Confirm and pay button to proceed with the reservation process and avail the discount.
How to Shop on Airbnb using ShopBack
Currently, Shopback is offering $5 cashback to those customers who make their reservations on Airbnb via a registered account on Shopback. Here are the steps to be followed to earn cashback from ShopBack:
Step 1:
Visit the ShopBack website and select Airbnb from the list of merchants and brands on the homepage. You can also use the search box to find the link to Airbnb.
Step 2:
Go through the terms and conditions, and other important details provided in the 'Cashback Details and 'Tips to ensure Cashback sections.
Step 3:
Click on Activate Cashback button on the top left corner of the page.
Step 4:
For more attractive deals and discounts, check out the Airbnb Discount Codes, Promo Codes & Coupons section. You can find Airbnb discount coupons and Airbnb promo coupons here.
Step 5:
You will be directed to the Airbnb website to browse and make the necessary reservations.
Step 6:
You will be eligible to earn cashback from Shopback on completing the reservation process. Cashback will be ready for withdrawal 75 days after the stay. Please note that cashback is not applicable for purchases made on Airbnb app.
Airbnb s Terms and Conditions
To use or register on the Airbnb website, you must be at least 18 years old and qualified to enter in legally binding contracts.

You must register an Airbnb account to use their certain features. Complete and correct information must be provided during the registration process.

Airbnb does not allow you to register more than one account, unless absolutely necessary and with Airbnb s permission. Also, you cannot transfer your account to another party.

Guests and hosts are responsible for modifying a booking via the Airbnb platform.

Airbnb Payments will collect the total fees based on the agreement between guest and Airbnb Payments through the platform. Airbnb collects the total fees after the booking is accepted by the host. Visit their website to read Airbnb s complete payment terms.

If you cancel a confirmed booking, Airbnb will refund the amount due to the Guest pursuant to the listing s cancellation policy and as per the Airbnb terms. If the host cancels your confirmed booking, Airbnb will refund the complete fees to the guest within a reasonable time of cancellation.

Airbnb reserves the right to modify the mentioned terms and conditions. The new terms will be updated on the website and the date will be mentioned at the top of the terms. For the complete terms and conditions visit the Airbnb website.
For any inquiry or help, the customers can contact Airbnb customer service by visiting the help centre and filling the online form available on their website.