AirAsiaGo Deals & Vouchers April 2018
Tokyo Hotels: Up to 40% Off
Promotions and discounts online on AirAsiaGo. See merchant site for more T&Cs.
Hong Kong Hotels: Up to 25% Off
Promotions and discounts online on AirAsiaGo. Limited time only. See merchant site for more T&Cs.
Bangkok Hotels: Up to 65% Off
Promotions and discounts online on AirAsiaGo. Limited time only. See merchant site for more T&Cs.
Up to 33% Off for Flights + Hotel
Promotions and discounts online on AirAsiaGo. See merchant site for more T&Cs.
Check our more details at www.shopback.sg/terms-and-conditions
Recent Articles
More about AirAsiaGo
Fly the best for less with AirAsiaGo promotions
If you think AirAsia is the only way to fly, you'll be pleased to know that AirAsiaGo Singapore gives you just that – the best of AirAsia flights at the most affordable prices! For the not-so-frequent flyers out there, AirAsiaGo Singapore is a third party booking website that helps you source the good and the bad of the AirAsiaGo promos – all in one place! Gone are those days of mindless scouring airline sites and comparison booking sites – with one single website you can now find all the AirAsia flights you need, complete with date and destination choices and more. And when you make your bookings with AirAsiaGo voucher codes and coupons, you save big time on a top-notch flight. Why AirAsia? And why not? This cosy Malaysian airline is a clear favourite with locals and foreigners alike with good reason – for combining quality, comfort, and affordability all in one international carrier. And if you thought the pocket-friendly prices couldn't get any friendlier, the online AirAsiaGo coupon codes and AirAsiaGo promos prove you wrong!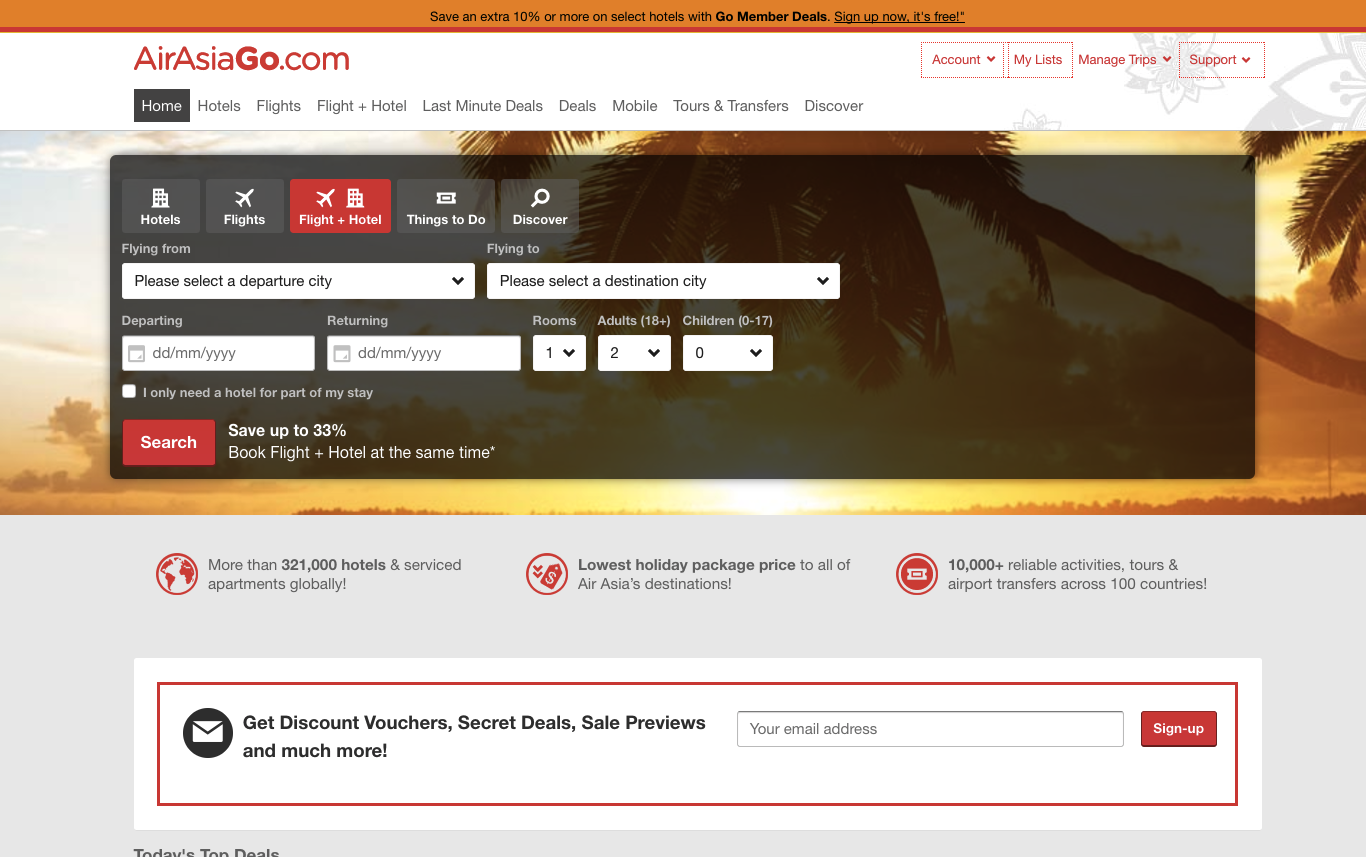 From seat preferences to hotels – AirAsiaGo Singapore ensures the smoothest of journeys!
In the game of pleasant flying, there's more to the AirAsiaGo promo deals than just cushy seats. Absolutely have to fly at a specific time in the day? Or maybe you just want to bring in a little extra baggage. No matter the request, AirAsiaGo Singapore ensures that even the fussiest flyer is kept happy, and without a hole in their wallet. Be sure to use your AirAsiaGo voucher codes on the existing AirAsiaGo promotions, to get your ideal flight, baggage allowance, stopover preference, and even flight rating! With the great AirAsiaGo promos in hand, you'll be able to land your favourite country for a stopover in a heartbeat – literally.
And once you've booked your perfect AirAsia flight, AirAsiaGo Singapore brings you world-class services in weeding out the cheapest quality hotels for your holiday. Banish all your fears of not finding the perfect hotel to suit your budget and your heart – with over 510, 000 partnering hotels all over the world, the AirAsiaGo promotions guarantee that you'll find exactly what you want, wherever you are.
Get tech-savvy and indulge in the AirAsiaGo coupons even when you're on the go
Simply put, the AirAsiaGo Singapore app is your answer to days of endless worrying because you can't check for flight deals 24/7. Let your laptop take the backseat when you book with the AirAsiaGo mobile app, available on iPhone and Android. The AirAsiaGo Hotels and Flights app lets you stay up-to-date about all the latest AirAsiaGo promo codes, deals and sales offers, even when you're out and about. You'll be thanking your lucky stars for the real-time itineraries and notifications that'll keep you informed about the latest and greatest AirAsiaGo promotions. And you never know when the team at AirAsiaGo might drop an exclusive mobile AirAsiaGo coupon code just for mobile users!
And the convenience doesn't end there. After booking your bargain AirAsia flight, you can use the mobile app to access your booking and itinerary whenever you want, so you can make changes or cancellations in an instant. On top of that, the AirAsia Mobile Exclusive hotel deals give you up to 40% off on great hotels – no additional AirAsiaGo coupons required! View real reviews of hotels, sort them by price, deal, or review, and book everything within just 30 seconds. It's really that easy, and you get to save your AirAsiaGo voucher codes for the next trip.
Get the best of AirAsiaGo voucher codes all in one place – ShopBack Singapore!
ShopBack Singapore is your handy portal to all the latest active AirAsiaGo coupon codes, promotions, and AirAsiaGo voucher codes. We're doing what AirAsiaGo Singapore does best – taking the effort and time of sourcing for the most value and compressing it all into one place just for you. But we're taking it one step higher – with a ShopBack account you get first dibs on all active AirAsiaGo voucher codes and discounts. And on top of all the AirAsiaGo coupon ad voucher codes available on the Internet, we're giving you up to 8% cashback on your AirAsiaGo bookings too!
All you have to do is:
Log in with your ShopBack account
Click on the AirAsiaGo coupon or AirAsiaGo voucher code of your choice
Be redirected to AirAsiaGo.com, where you can continue your browsing and booking
At checkout, enter the AirAsiaGo coupon or voucher code
And voila! The savings and sweet cashback are yours in just 2 days.
Want more AirAsiaGo voucher codes? Stay connected!
The only way to get in on all the AirAsiaGo voucher codes and AirAsiaGo coupon codes is simply to be a loyal customer – especially one who follows them on social media! The Facebook and Twitter pages hold more than just airline updates; stay connected and you'll get instant access to all the latest AirAsiaGo coupons and sale updates – and maybe even an exclusive AirAsiaGo promo code.
Open to flying something other than AirAsia? Check out booking site giants Expedia and Agoda for insane flight and hotel deals and promotions, and cashback of course.