AirFrance Promos & Deals May 2019
Enjoy Cashback on all Air France flights!
ShopBack must be the last link you clicked in order to get Cashback. If other website links are clicked after clicking through ShopBack, Cashback will not be tracked (E.g. coupon and deal websites)

If for some reason your payment made on merchant page has failed, do click through ShopBack again and re-do your purchases to ensure tracking is still active

Return to ShopBack and click through to the merchant every time you are making a new transaction.

If you are making 3 separate transactions on the merchant, you should click through ShopBack 3 times, each time before making a new purchase.

For more details: www.shopback.sg/terms-and-conditions
More about Air France
Enjoy a taste of French hospitality
Founded in 1933 as a result of a merger between conglomerate of aviation corporations, Air France is the flag carrier service for France with a modern fleet of over 230 passenger and cargo aircrafts. Flying to over 200 destinations worldwide, Air France is one of the most established and premier airline in the world.
What sets the French flag carrier apart from others in the business is their serious undertaking of the Air France 8 Commitments:
1. 'We keep you informed' - Up till your departure, Air France strives to keep you in the loop with regards to any developments that might arise resulting in any sort of delay, cancellation or changes made to your flights. In order to execute such real-time updates Air France employs an extensive range of channels that includes, mobile phone calls, SMS, emails and social media platforms Twitter and Facebook.
2. 'We respond to you through social media 7 days a week' - Keeping up with their ethos of providing excellent customer service, Air France provides customer care 7 days a week via their very active social media pages, Twitter and Facebook. Incidentally, their social media pages are also a good way to source for an excellent Air France promotion or an Air France offer that can offer you a sweet deal on flight tickets.
3. 'We offer you alternative solutions' - In the case of a flight delay or cancellation Air France will work towards providing you with a solution to ensure you're duly compensated be it a flight transfer or a reschedule. In the event of a changed flight, your baggage will them be readily delivered to your new destination.
4. 'We ease your procedures' - In any event resulting in the delay of your flight for more than 5 hours, you can choose to postpone that flight for a later date or just cancel it with the help of their ever-present customer service team.
5. 'We strive to provide you the best assistance on board' - Their emphasis on great customer care extends to their in-flight service. Be it a faulty screen or a seat, the on-board crew will go the extra-mile to ensure your flight is as comfortable and fuss-free as possible.
6. 'We assist you in case of Delayed Baggage' - Air France's AF Connect service will take the initiative and inform you if your luggage goes missing with the necessary compensations handed out. If Air France manages to retrieve your missing luggage you will be informed immediately upon which delivery can be arranged.
7. 'We offer extra special care for you loyal customers' - Reap the benefits of being a member in one of Air France's membership scheme. From the 4-tiered Flying Blue scheme to the SkyTeam Elite members which earns you priority access to the call centres. You can also be the beneficiary of an exclusive Air France promotion or and Air France deal that is only on offer for members.
8. 'We appreciate your feedback' - One of the reason why Air France is constantly improving their levels of service is their receptiveness to customer feedback. Your opinion is valued highly and their customer service team is always at the ready to tend to your needs or concerns.
With these commitments firmly rooted in everything they do, Air France continues to be a step ahead of their competitors and will always remain relevant in the eyes of the travelling consumers.
Book flights online with an Air France promotion
Air France's convenient online booking platform is cleanly designed and laid out perfectly to enhance usability. With just a few clicks of a button you can be one step closer to your dream trip. You can also take advantage of an Air France offer or promotion that is showcased within the page itself to net yourself a sweet deal on flight. You might also want to look out for an exclusive promotion on offer for Air France's Flying Blue members which provides an ever sweeter deal for flight tickets.
Watch as your savings soar even higher when you combine an Air France deal with ShopBack!
Do not get too excited and hasty when faced with a great Air France offer or promotion. Take a step back and think about the ways you can maximize that Air France deal. One sure-fire and simple way you can do that is by shopping through ShopBack. When you sign-up with ShopBack, you get 1% of Cashback from your total amount spent on Air France. The amount you save really becomes apparent when you combine an Air France deal with Cashback from ShopBack. So keep this in mind every time you see a deal or promotion on any of their channels.
Never miss out on a deal or promotion from Air France
Subscribe to these Air France channels so you'll never miss a promotion or deal from Air France.
ShopBack is also another way you can source for a great deal or offer. That and the fact that you get 1% Cashback off the total amount spent is enough reasons to sign up with ShopBack.
Fly on France's finest with Air France!
Air France is a leading global player in three main areas of activity: passenger transport, cargo transport and aircraft maintenance. From its hubs at Paris-Orly and Paris-Charles de Gaulle airports, Air France airlines operate flights to more than 320 destinations and 118 countries. Air France is a founding member of the SkyTeam global alliance, alongside Korean Air, Aeromexico and Delta. With the North American airline, Air France has also set up a joint venture dedicated to the joint operation of several hundred transatlantic flights every day.
]Air France has fundamental assets in a strongly competitive context: the powerful hub of Paris-Charles de Gaulle, a balanced network, an optimized fleet, member of SkyTeam, a global alliance with 20 member airlines, a trans-atlantique joint venture agreement with Delta, an innovative product offer, putting the customer at the heart of its strategy, a strict cost control strategy.
Founded in 1933, Air France is the number one French airline and, together with KLM, one of the world's largest air carriers by revenue and passengers transported. The airline's activities involve three main businesses: passenger traffic, cargo traffic and maintenance. In 2015, Air France-KLM registered revenues of €20.54 billion for its Passenger business, €2.42 billion for Cargo and €1.58 billion for Maintenance.
The airline has now become a trusted name in the skies globally, with expanding businesses in the Asia-Pacific region including Singapore.
Services offered by Air France
People looking to travel the world can plan their entire trip easily with Air France flights. The brand offers numerous services taking into account the needs of all travellers everywhere. In addition, Air France offers, discounts and deals enable additional savings on all bookings. The services offered by Air France include:
| Services offered by Air France | Cashback |
| --- | --- |
| Flights | 1.0% Cashback |
| Hotels (via partner) | No Cashback |
| Rental Cars (via partner) | No Cashback |
| Airport Transfers | No Cashback |
| Activities (via partner) | No Cashback |
| Parking | No Cashback |
Book a flight with Air France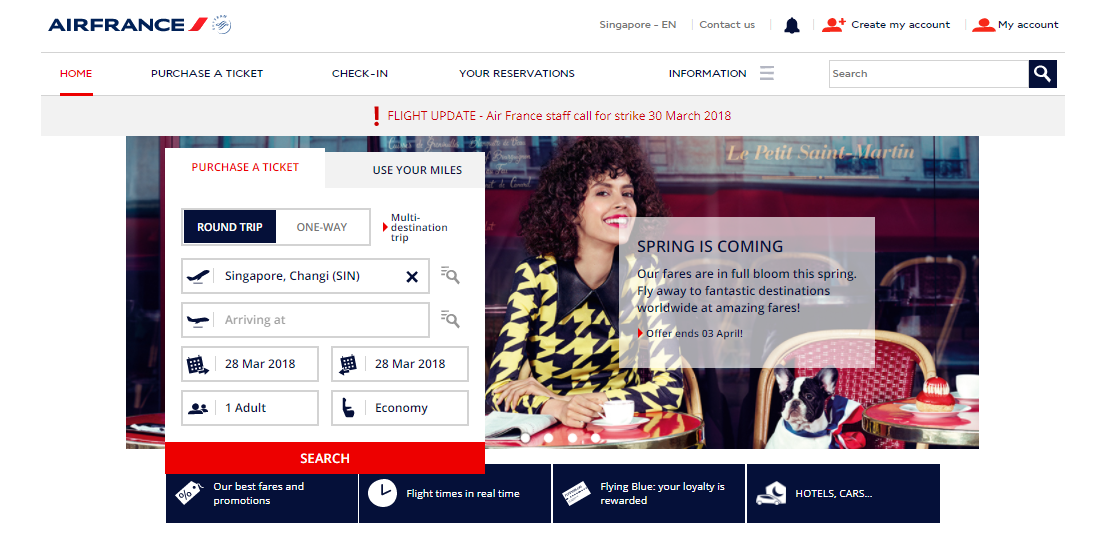 The Air France booking section on the website is well-laid out and quite easy to navigate. To book your tickets, simply follow the steps given below.
Step 1: Click on the 'Purchase a Ticket' tab on the main page. In the page that opens, enter travel details such as departure, arrival, travel dates and number of passengers. You can also choose your cabin and fare ranging from Air France Economy, Air France Premiere Economy, Air France Business and La Premiere. When done click on 'Find A Flight'.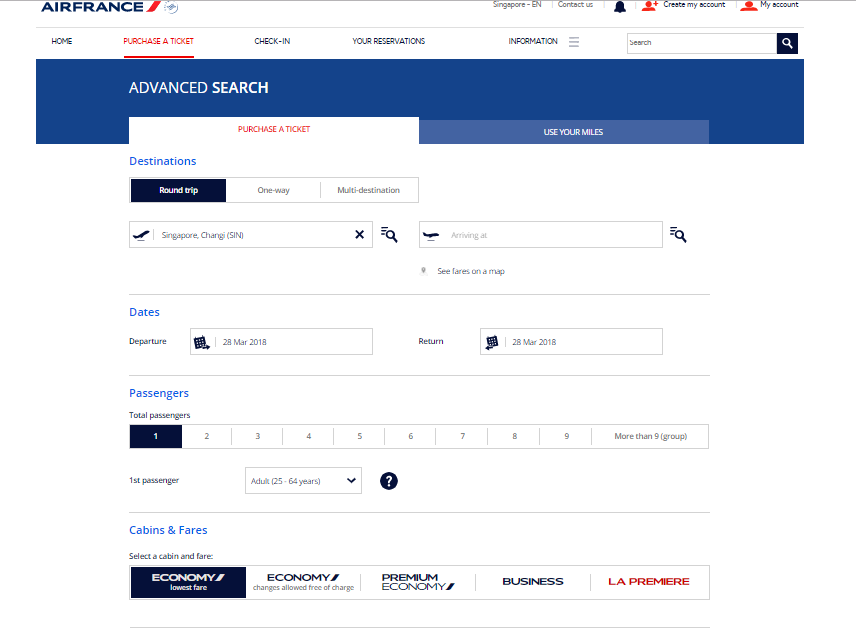 Step 2: You will be redirected to a page showing you all the available flight options along with the best Air France deals listed at the top. Choose your departing and returning flight from the list available. You will be able to see a flight summary at the bottom. If the details are correct, click 'Continue'.
Step 3: Next, you will have to enter your personal details to book your ticket. In case you have an Air France discount voucher or Air France discount code, be sure to add it in the box given for the applicable discount.
Step 4: From here you will be redirected to the payment page where you will be able to see your trip summary as well as final payable amount. In case you have an Air France voucher or code you can enter it in the space for the Air France discount.
If you aren't completely sure about your flights, Air France offers you the chance to lock in this fare and pay for your ticket later on their website for SGD 30. Reservation for your selected dates and fares will be guaranteed for the next 3 days. By purchasing the Time to Think option now, you can guarantee your flights and fares. Head to the "Your Reservations" area to confirm your purchase. This option is non-refundable and does not allow you to change your original reservation.
Step 5: Once your payment has been confirmed, Air France will send you:
Booking confirmation e-mail
Ticket
Air France also offers several other trip options
Car rental with Hertz
Travel partner Hertz, world leader in car rental services, provides exceptional service and exclusive offers in over 150 countries. Enjoy a unique travel experience and a range of benefits:
Best price guaranteed
15% discount on your car rental with HERTZ
Up to 10% discount on your car rental, with Thrifty, Dollar or Firefly (excluding promotional offers)
€1 spent = 5 Flying Blue Miles
100 extra Flying Blue Miles if you book your car rental online or in the Air France mobile app
Guaranteed best offers with accorhotels.com
The airline's partnership with AccorHotels.com brings you a whole range of exclusive perks:
A wide selection of accommodation options: luxury hotels, international chains, independent hotels
Exclusive offers and private sales
Up to 10% discount for "Le Club AccorHotels" members
€1 spent = 1 Flying Blue Mile
Book activities at your destination
To make your trip even more fun, choose from the leisure activities offered by their partner Ceetiz. You can benefit from many advantages, including:
Guaranteed best price
No booking fees
Priority tickets
Discounts of up to 50% off
A wide selection of activities
Airport: choose your transfer
Want to arrive at the airport in total comfort? Need to leave the airport as quickly as possible? With Looking4Transfers, you can book your transfer anywhere in the world! Through this partnership, you receive:
A transportation method suited to your needs (motorcycle taxi, private transfer, shuttle, minibus, chauffeured car, etc.)
Preferential rates for priority customers
Periodic offers at select destinations
Excellent service from every provider
Your parking space anywhere in the world
Do you need to leave your vehicle near the airport during your trip? Take advantage of the partnership with Looking4Parking:
A large number of parking spaces at destinations served by Air France
High-security parking lots
Competitive rates checked daily to ensure you receive the best price
Periodic offers at select destinations
A wide range of services (parking at the airport, valet service or park and ride service)
Payment options for online bookings on Air France Singapore
Credit cards ($ 20.00 fee)
MasterCard
Visa
JCB
Diners Club
UATP / AirPlus
American Express
Debit cards (no fee)
Visa Debit
Visa Electron
Debit MasterCard
Maestro
eNets online banking (no fee)
DBS/POSB
OCBC
UOB
Citibank
Depending on your bank, there may be a daily transfer limit. If the daily spending limit exceeds the total amount, you have to increase this limit before you proceed.
Best Air France promotion and discount offers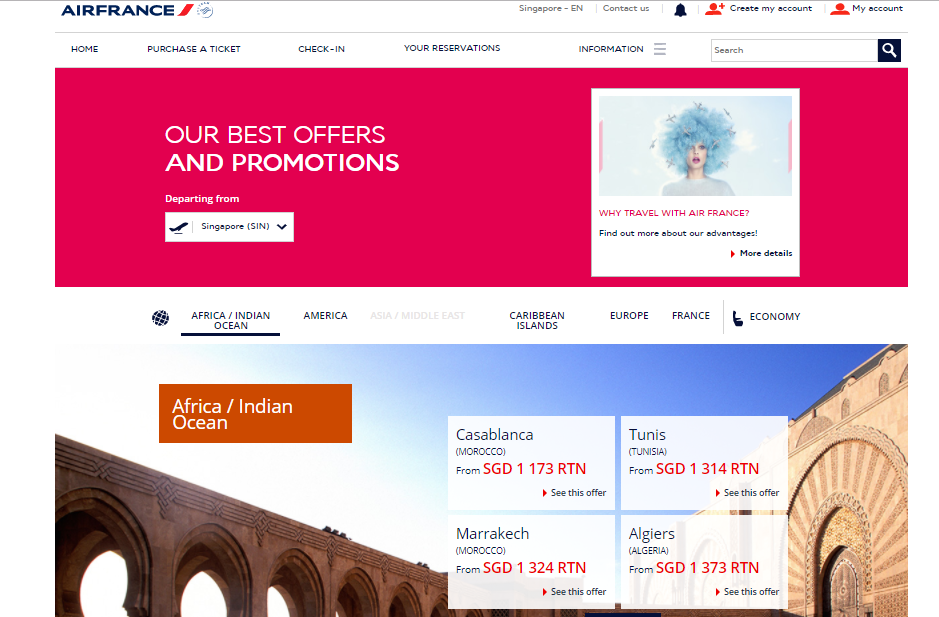 Look up the Air France special offers and promotions section to take advantage of the Air France deals or the much-awaited Air France sale. Here, customers can find discounted travel options for a quick getaway at multiple destinations across the world. In addition, travel enthusiasts can also find cheapest fares for the next 6 months in this section which is updated regularly.
Access Air France promo codes, coupons and more on ShopBack
Air France offers customers numerous promo and coupon codes to make their trip more exciting and cost-effective. However, when booking online via ShopBack, customers can not only find all these deals well-organised and visible at glance, but can also earn cashback with each booking.
How to book on Air France using ShopBack in Singapore
ShopBack offers up to 1.0% cashback if you travel using Air France. Here are the steps you need to follow to earn cashback from ShopBack:
Step 1: Visit the ShopBack website and click on the Air France store at the bottom of the homepage. You can also use the search box to find the link to the link to the store.
Step 2: Click on "Activate Cashback" button on the top left corner of the page.
Step 3: If you are interested in finding an attractive Air France coupon code, check out the Air France promo code, coupon and voucher section.
Step 4: You will be redirected to the Air France Singapore website to browse and book your travel.
Step 5: When you confirm your booking, you will be eligible to earn Air France cashback from ShopBack.
Manage your booking easily with Air France
If you have a ticket for an Air France flight, you can view or modify your booking by simply going to the "Your reservations" section of the website. You can change your flight, book a more comfortable seat, or choose an "A la Carte" menu. Choose your flight options to suit your needs.
You can also check in online from 30 hours before your flight. When checking in, you can change your seat and get your boarding pass, which you need to board your flight.
Cancellation and refunds
For online cancellation, you will find all information concerning flights changes and cancellation in the "Review / modify your reservations" section. Please note: changes and cancellation are subject to the fare conditions of your ticket. These conditions appear on your booking confirmation.
Online refund is available if: you have a ticket that permits refunds with or without a fee, you purchased your ticket at least 2 days or up to 12 months prior to today's date, you do not get your boarding pass yet.
If your ticket can be refunded, please visit the Review/modify your reservations section on the website. If you did not purchase your ticket from Air France, please contact your point of sale.
Please note: if you have already checked in online, you must first cancel your check-in before modifying your flight.
For initiating a refund, you will need to complete the refund claim form available on the website.
Please note: If your booking file contains more than 1 person, the refund request will apply to all the tickets.
The refund amount is calculated according to the ticket fare conditions (excluding service fees which are non-refundable). In case you have already checked in, be sure to cancel your check-in online before requesting your refund.
With Flying Blue, your loyalty is rewarded: the more Miles you earn, the faster you reach the next levels of the program. And with more benefits the higher you go, it pays to be faithful. There are four tiers or classes of the Blue reward programme. These include:
Blue Ivory
Blue Silver
Blue Gold
Blue Platinum
Every year on December 31, your Level Miles balance is calculated along with the number of qualifying flights you have taken over the last 12 months. To move up to the next level or to keep your current membership level, you must reach the number of Level Miles or qualifying flights required.
Earning Blue miles
With Flying Blue, you earn 2 types of Miles. Award Miles can be used to purchase Award tickets, services associated with your flight, or products offered by the partners. They never expire, as long as you take a qualifying flight (any flight awarding Level Miles) at least once every 2 years. In addition, Level Miles enable you to upgrade your Flying Blue card level to take advantage of more services and benefits.
By booking a flight: The more you fly with AIR FRANCE, KLM or a Flying Blue partner airline, the more Miles you earn. Simply provide your Flying Blue card number when you book your flight and even if you forget, you still have 6 months to claim your Miles.
By booking a hotel stay, rental car or other services: From hotel stays and rental cars to entertainment and financial services, the vast network of Flying Blue partners helps you earn Miles all year long. With certain special offers such as an Air France coupon or Air France voucher code, you may be eligible to earn more miles.
By shopping online on the Air France shopping site
Air France Shopping offers a wide selection of quality items, including baggage, apparel, lifestyle items, games and major brands. On the online shopping site, prices are listed both in euros and in Miles. In addition, you earn more Miles for all purchases paid for in euros.
On partner shopping sites: Earn even more Miles for purchases made on a variety of online shopping sites, including groceries, appliances and apparel.
Redeeming Blue miles
Choose from Award tickets, hotel stays, rental cars, as well as products available on the Air France shopping site and partner sites: on board, at the airport or at home, you have plenty of options to choose from.
To purchase award tickets: Your Miles can be used to purchase tickets from AIR FRANCE, KLM or one of the partner airlines. These tickets are called "Award tickets."
To personalize your trip: Use your Miles to discover the additional services and options Air France offers to make your trip an even better experience, such as,
Upgrades
"A la Carte" Menus
Seat Options
Baggage Options
Get in touch with the Air France team in Singapore
You can contact the Web assistance for enquiries on an Air France code, online bookings or if you have questions on your existing booking at +65 64155111 from Monday to Friday, 08.00 AM to 5.30 PM.
In addition, be sure to follow the brand on social media for latest updates.
You can also check out other travel related sites for similar services like Expedia or KKday.