Book Your Next Trip With Voyagin!
Voyagin is an online platform for booking travel tours and activities. It is like the local friend that provides you with all the information about the destination and the fun things to do there. The travel company offers tours to over 200 cities in 13 different Asian countries, including Japan, Malaysia, Thailand, Taiwan and South Korea. Activities like deep-sea diving, mountain trekking, jungle safaris and water park tours are hosted by Voyagin. Voyagin enables third-party operators to publish their tours and other travel-related services on the website, and these tours and services can be booked by the users through Voyagin. For those of you wondering if Voyagin is safe, Voyagin offers activities that have been attempted by their own people and activities or experiences that most people have vouched for.
With the headquarters located in Tokyo, Japan, and offices in Singapore, Voyagin strives to offer the best travel experiences to you and ensures that you unearth the hidden treasures of your favourite place in a hassle-free way. With the mission of facilitating seamless experiences and getting you to explore the beauty of Asia, Voyagin is among the best travel companies in Asia.
Voyagin was founded in January 2011 by Masashi Takahashi. The company was initially named FindJPN with Takahashi as the CEO and provided services only in Japan. In the year 2012, the company was rebranded as Voyagin and expanded to offer tours and activity services globally. Rakuten Inc., the dominant e-commerce company of Japan acquired Voyagin in July 2015.
Since the beginning of its journey, Voyagin is offering seamless booking procedures, cheaper prices and world-class customer service. The users are free to post their experiences on the website as reviews.
Products Offered Voyagin Singapore
Voyagin offers tours to the best destinations all around Asia. Travel to the best cities and theme parks and enjoy thrilling adventure activities with your friends and family as you book with Voyagin; the company ensures to give you a personalised experience. With the various Voyagin vouchers and Voyagin coupons, you can avail amazing discounts on your bookings. The Shore Excursion Tours in Japan are another specialty of Voyagin.
Top Destinations
: On the homepage of Voyagin, the "Top Destinations" section displays various destinations across Asia. Tokyo, Singapore, Phuket, Osaka and Seoul are among the top destinations served by the company. You can book tickets to your desired attraction, book local tours and make reservations at a restaurant in the city you want to travel to through Voyagin Tokyo. Below the "Top Destinations" is the list of other countries where the company operates travel services.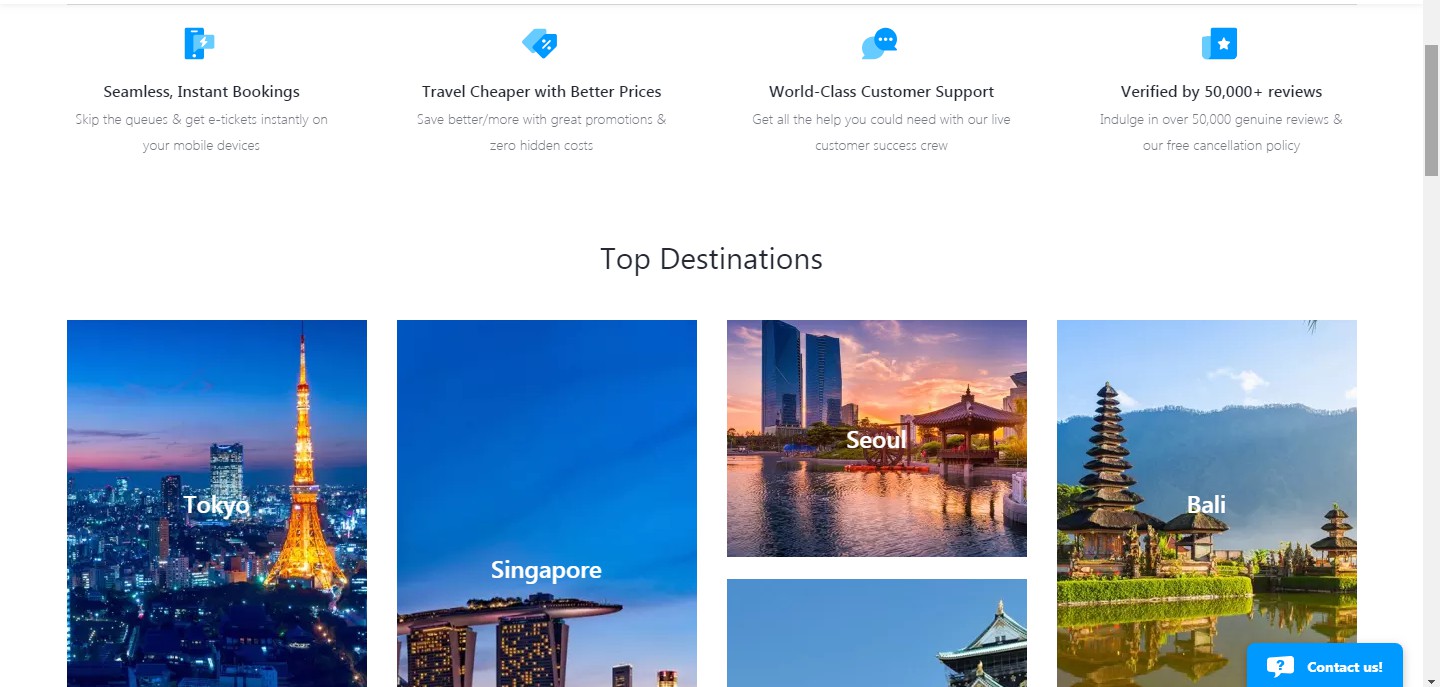 Best Sellers
: The "Best Sellers" section on the homepage displays the top theme parks across different countries. From Voyagin Universal Studios Singapore to Waterbom Bali, you can pick your favourite destination to visit. Disneyland Hong Kong, Sunway Lagoon Malaysia and Night Safari Singapore are some other top picks for you.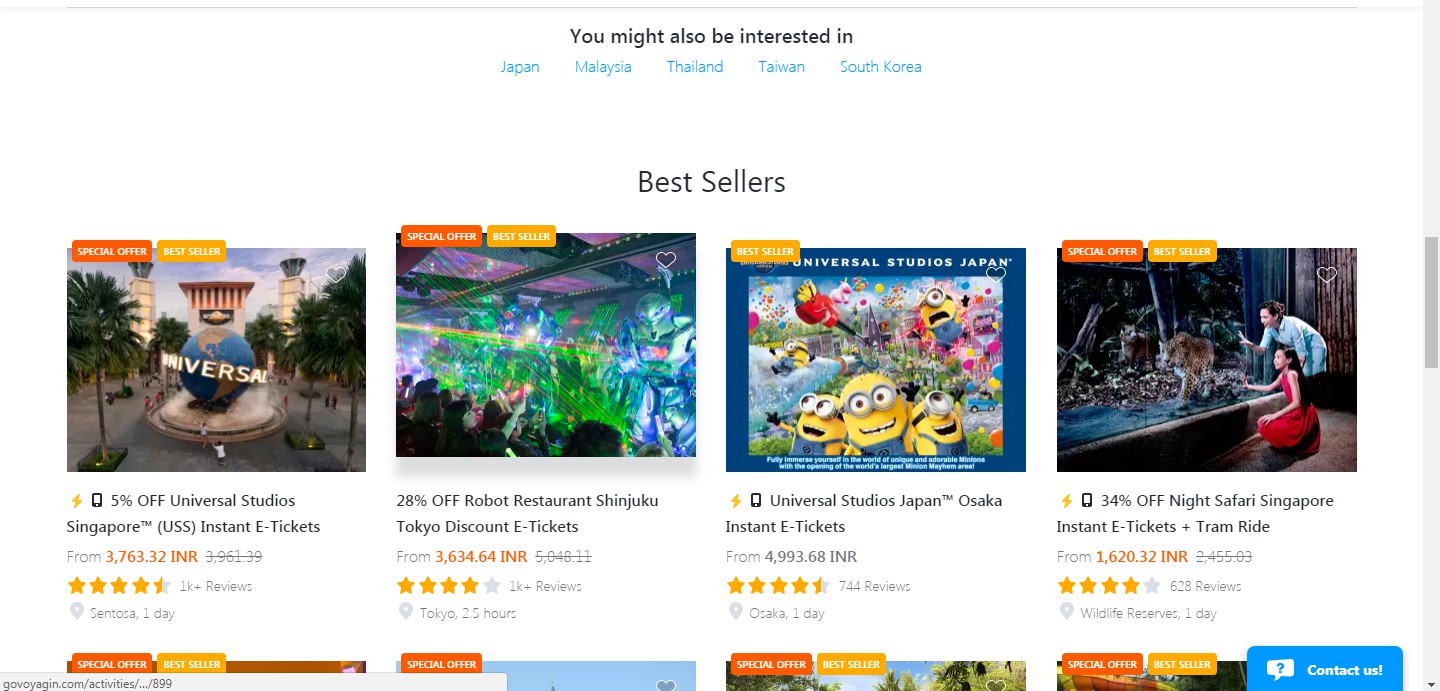 Special Features
: If you are travelling to Japan, then the "Special Features" section gives you all the information you need. You can book bullet train tickets to travel in Japan or go for Sumo tournaments. Also, to ensure you of a comfortable trip, Voyagin offers customized tours under VIP and group bookings.
| Product Categories | Sub-categories |
| --- | --- |
| Top Destinations | Tokyo, Singapore, Seoul, Bali, Bangkok, Kyoto, Osaka, Phuket |
| Best Sellers | Universal Studios Singapore, Robot Restaurant Shinjuku, Universal Studios Japan, Night Safari Singapore, Waterbom Bali, Disneyland Hong Kong, Bali Safari & Marine Park, Sunway Lagoon |
| pecial Features | Shinkansen (Bullet Train), Tickets Sumo Tournaments in Japan, Customized Tours |
| | |
How to Book Tours on Voyagin?
With Voyagin, you can have a seamless and rewarding experience in planning and booking your trips. The company has options for booking city tours, activities like makeovers, night walks and cycling and other offbeat activities. If you have a Voyagin promo code or Voyagin coupon code to use, then you can avail tours and activities at cheaper prices. The homepage of Voyagin has different sections− top destinations, best sellers and special features.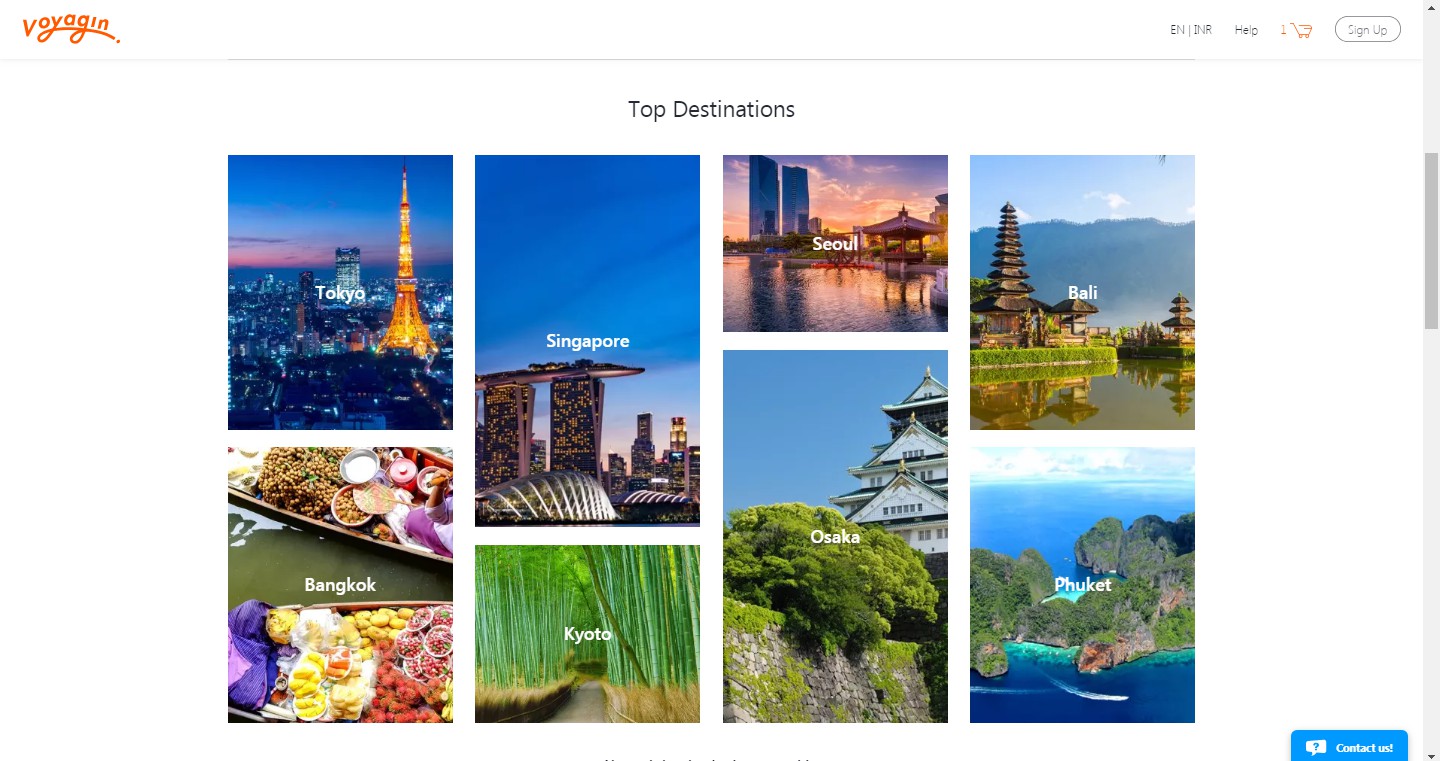 Step 1
: Browse through the different sections on the homepage. Choose a category and click on it.
For example, if you click on one of the top destinations, then you will be redirected to a different page displaying all the things to do in the city. Click "Discover".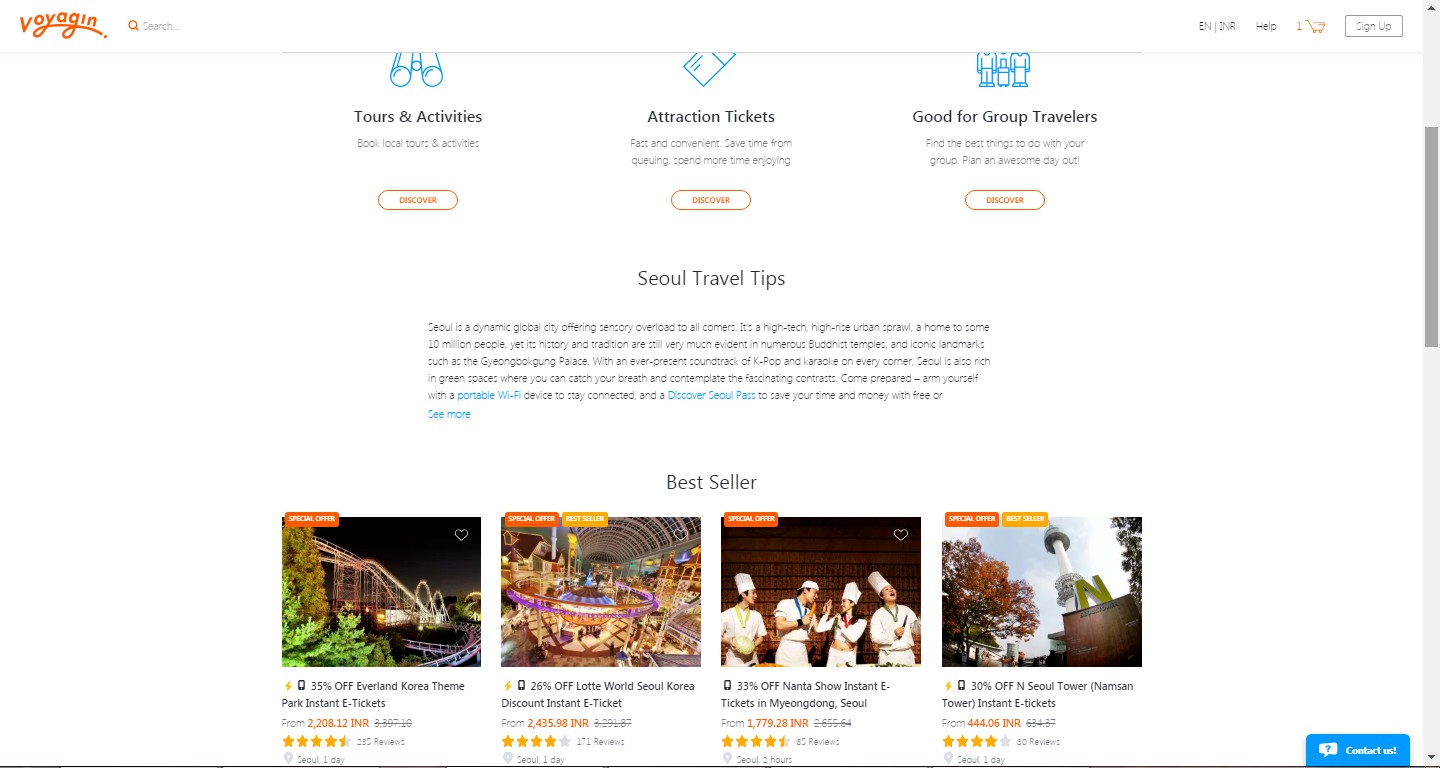 Step 2
: Click on your desired activity/attraction. A list of experiences appears along with the quotes.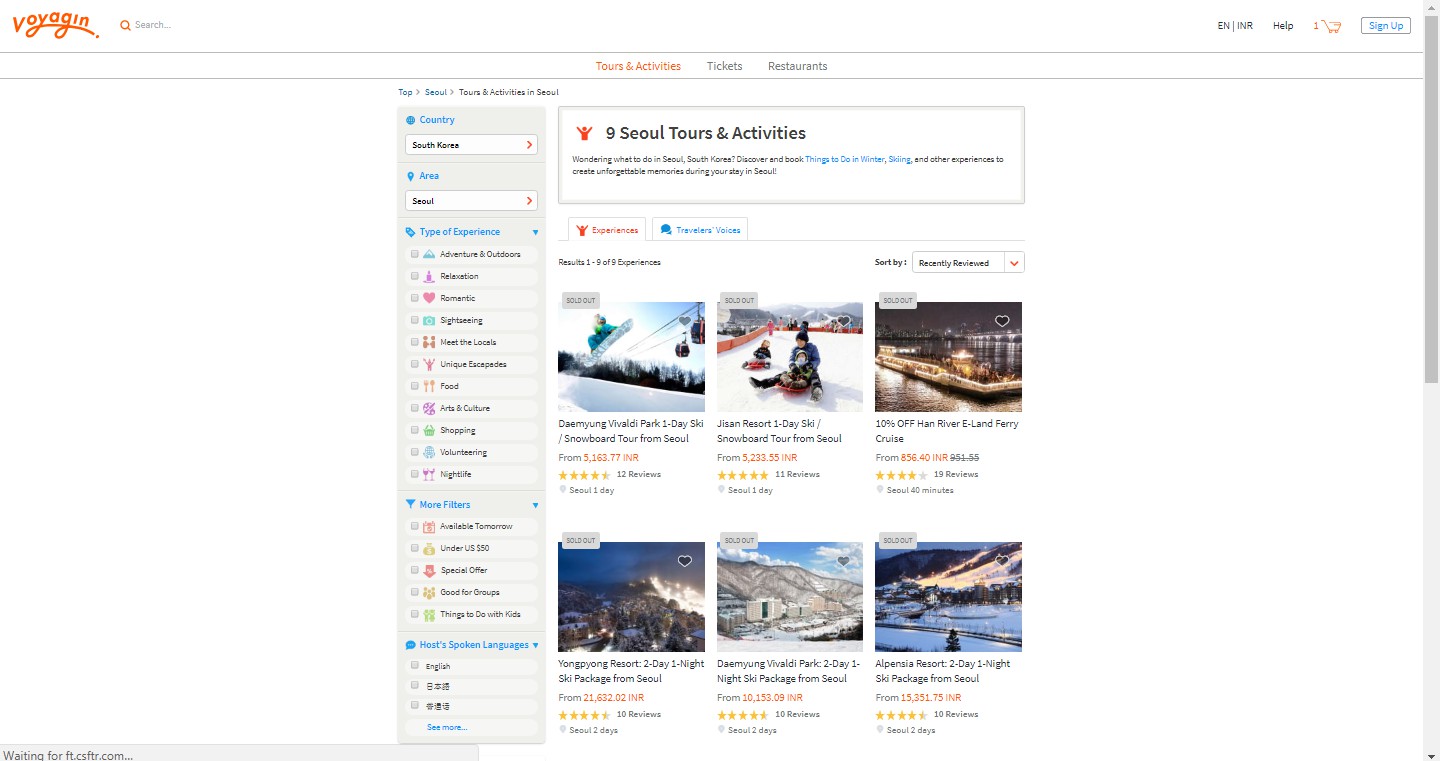 Step 3
: Select the one you wish to visit. By clicking on it, you will be redirected to a page that provides the description of the package, inclusions and highlights of the tour. Click "Book Now" present on the right side of the page.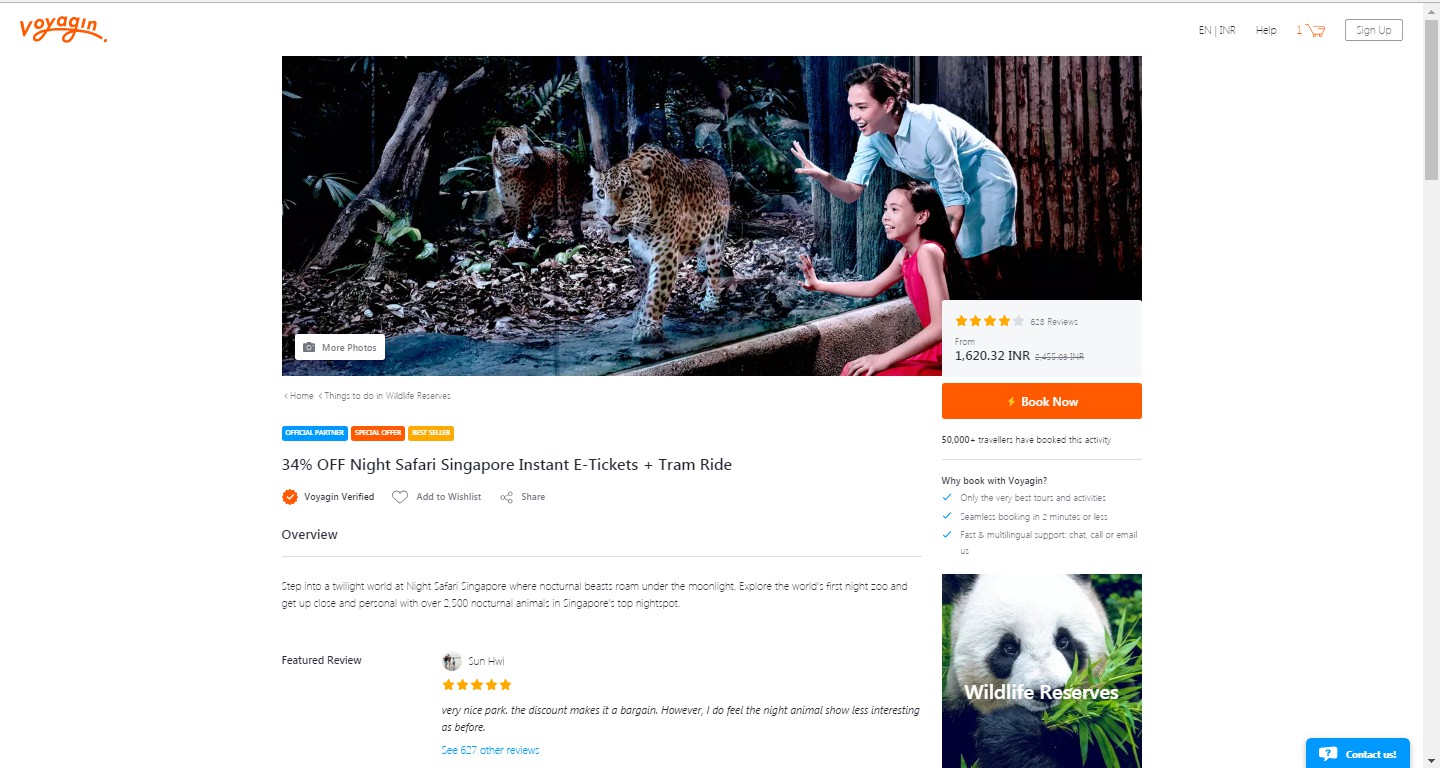 Step 4
: Choose the date, the number of people travelling, etc. and click "Add to Cart".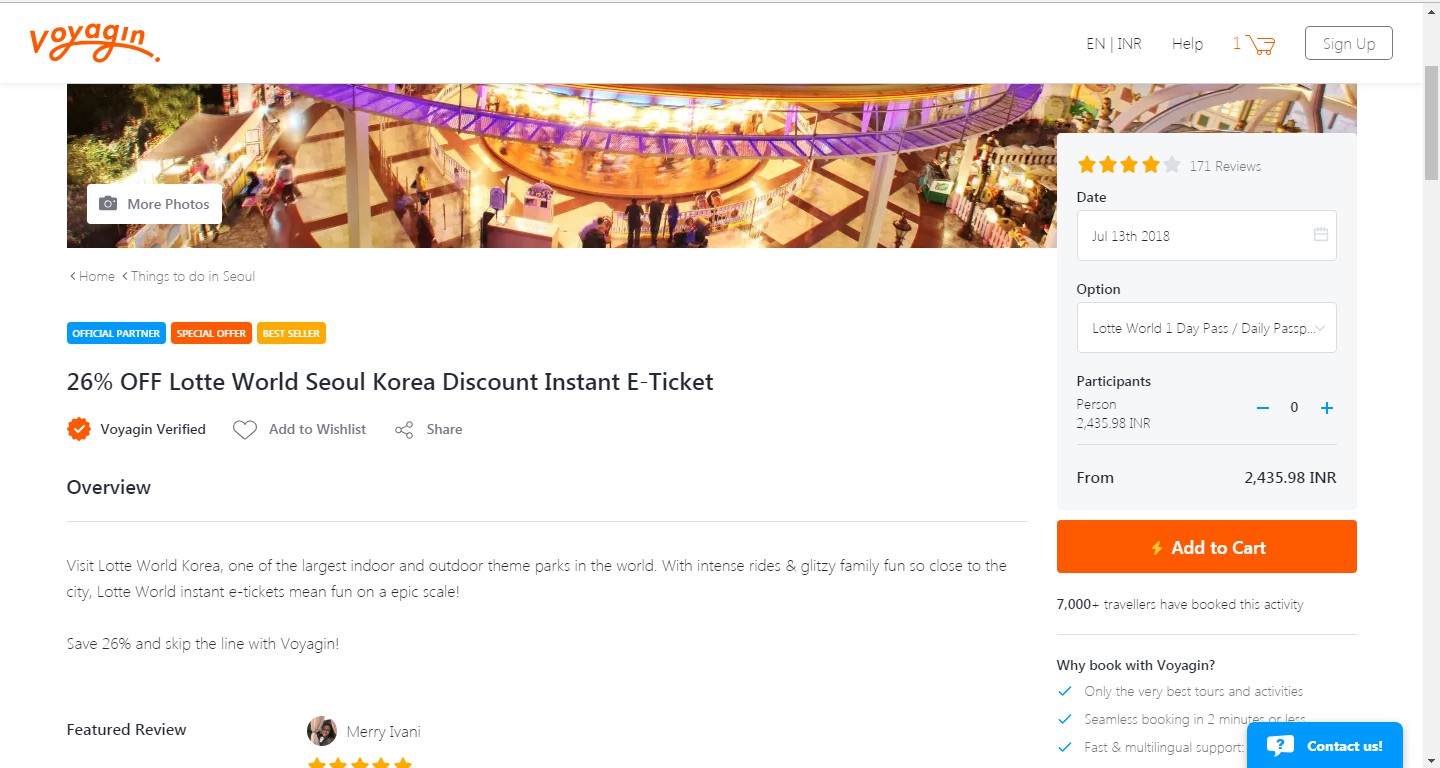 Step 5
: You will be prompted to choose between "Continue Shopping" and "Go to Cart". Click "Go to Cart" if you are done choosing a tour/activity. You can go back to choosing other activities by clicking "Continue Shopping".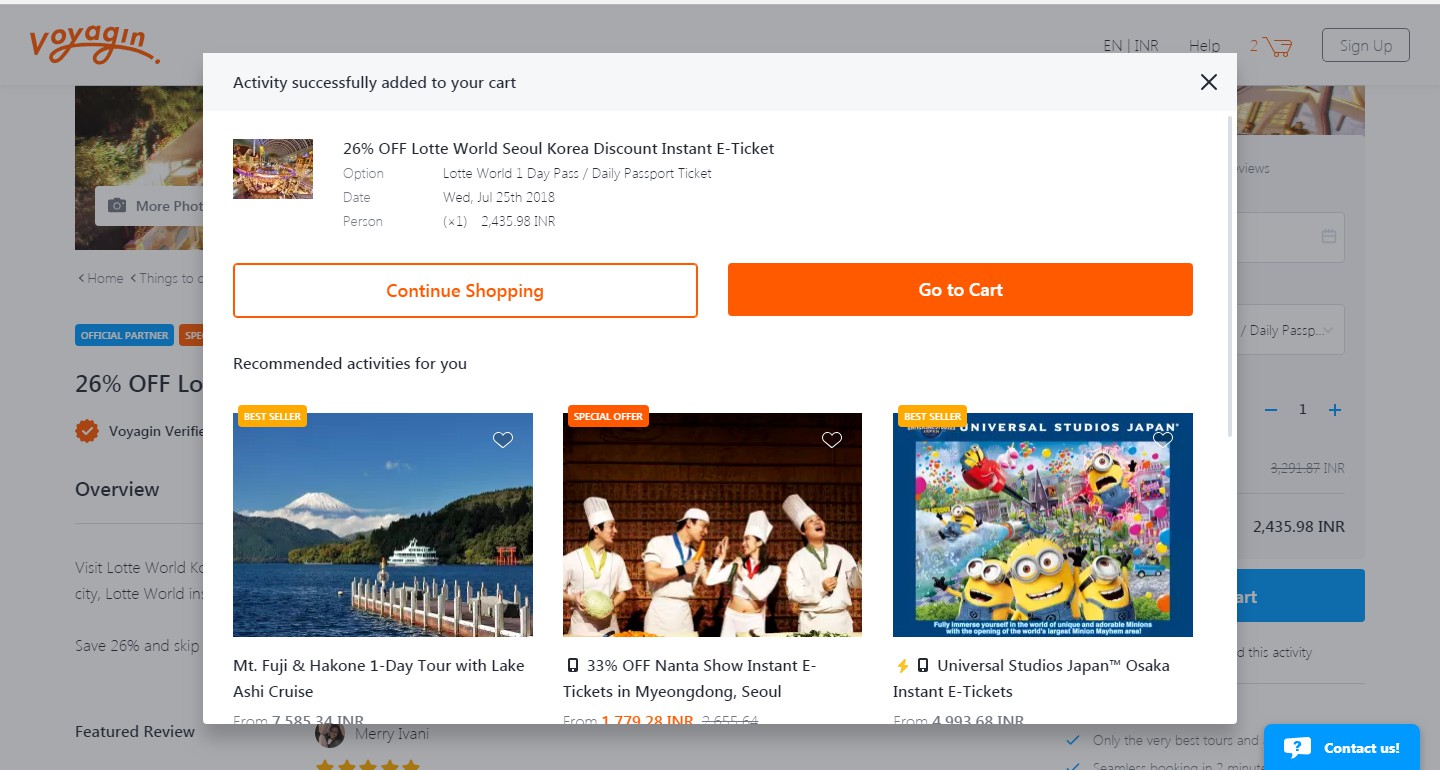 Step 6
: On the cart page, click on the "Checkout" button.
Step 7
: Enter your details (name, email ID, etc.) and the payment details. Finally, click "Complete Payment".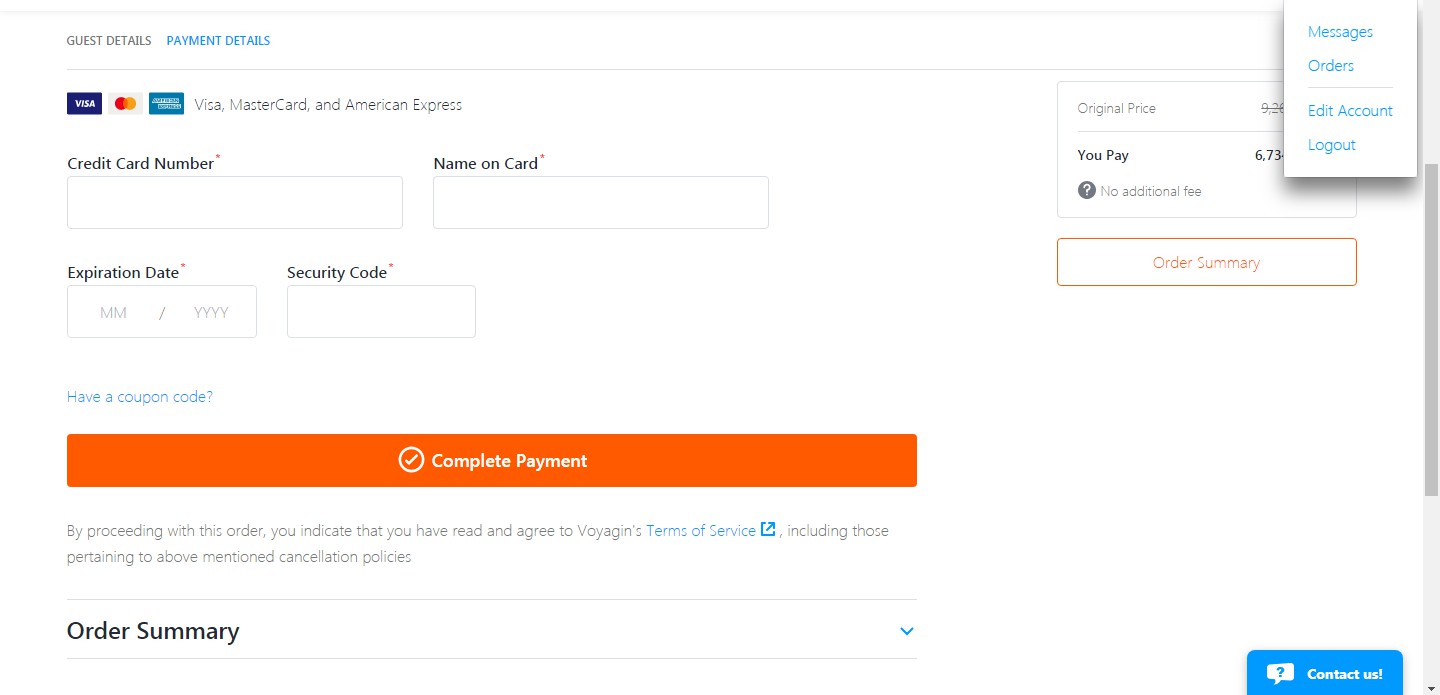 Payment Options on Voyagin
Making payments at Voyagin is completely secure. Since customers nowadays prefer different payment methods, multiple payment options are available on Voyagin. It accepts payments through two methods:
Debit and Credit Cards
: Credit and debit cards are the most common modes of payment used around the world. You can use your Visa Card, MasterCard or American Express debit or credit cards to make payments for the bookings.
PayPal
: This is a secure way of paying for your bookings with Voyagin. This trusted payment method is used worldwide and is an easy way of transacting.
Different Coupon Codes and Discounts on Voyagin
For excellent Voyagin discounts on your favourite packages, log in to the website of the travel company. The 'Best Seller section on the homepage displays different attractions and tours with discounts and offers. Explore the 'Top Destinations section and get amazing discounts on trips to a number of cities. You can avail additional discounts by using Voyagin codes and Voyagin discount coupons.
How to Redeem Coupons and Vouchers at Voyagin Singapore?
Voyagin discount codes and Voyagin coupon codes can be applied when making payment for your selected tours and activities. Follow the simple procedure mentioned below to redeem your Voyagin coupon code 2017 and get amazing deals on tours to your favourite city and your desired activities.
Step 1
: Select the product that you wish to explore and click "Book Now".
Step 2
: After filling in the travel time, the number of participants, etc., proceed to the cart and click "Checkout".
Step 3
: Fill in your details (name, email address, payment details) and click on the "Have a coupon code?" link.
Step 4
: Choose the product you wish to apply the coupon code to and click "Apply".
You can now book your activity or tour at a discounted price.
How to Book on Voyagin using ShopBack
ShopBack offers a cashback of 3.5% for bookings made on tours and activities at Voyagin. To avail this cashback, you need to register with ShopBack. Here are the steps to follow to get the cashback:
Step 1
: After signing up or signing in, browse through the homepage to find the "Travel" tab.
Step 2
: Under the "Travel" tab, click "View all popular stores". A list of stores will appear.
Step 3
: Find Voyagin on the list and click on it. You will be redirected to a different page.
Note: On the page that you are redirected to, you can alternatively check out the various deals and coupons available on Voyagin products.
Step 4
: Click on the "Activate Cashback" link present on the left side of the page. In the pop-up window (if appearing), click "Continue to Voyagin".
You will be redirected to the official website of Voyagin. You can browse through the website and book the activity of your choice.
Voyagin s Cancellation and Refund Policy
How to Cancel a Booking
: Go to your "Dashboard" and then go to "Your Bookings". Click on the experience you want to cancel and click on the "Cancel" button.
Bookings can be cancelled up to two days prior to (from one month to two days) when the tour or activity is scheduled. However, the cancellation must be done 48 hours before the scheduled time of the tour or activity, keeping in mind the destination s time zone. For instance, if the activity is booked for May 8th in Malaysia, then it must be cancelled on May 6th before 12 AM according to the time zone of Malaysia. If the cancellation is done less than two days before the scheduled activity/tour, then no refund will be provided.
Flexible Ticket
: Bookings of some activities are not accepted immediately; if such activities are booked with flexible tickets, then the refund can only be received if the cancellation is made before the booking is accepted. Otherwise, no refund will be provided.
Fixed Date Ticket
: Fixed Date Tickets are not refundable. However, if you pre-ordered the activity and tickets have not been purchased, then a refund is possible for 80% of the total amount. If the booking of an activity is not accepted and a cancellation request is raised, then a full refund will be provided.
Note: Not all the activities and experiences on Voyagin are refundable. Make sure you read the terms and conditions of cancellation. Your booking is said to be cancelled only if a confirmation email is received from Voyagin.
The company is known for its excellent customer support. You can email your queries to [email protected] or call their helpline number in case of a problem. Click on the "Contact Us" link at the bottom of the homepage to get the customer service numbers for various countries. Also, a chatbox appears on the website through which you can chat with the customer support team of Voyagin. Live chat is available from 10 AM to 7 PM JST.
The users can get in touch with Voyagin through its social media pages: