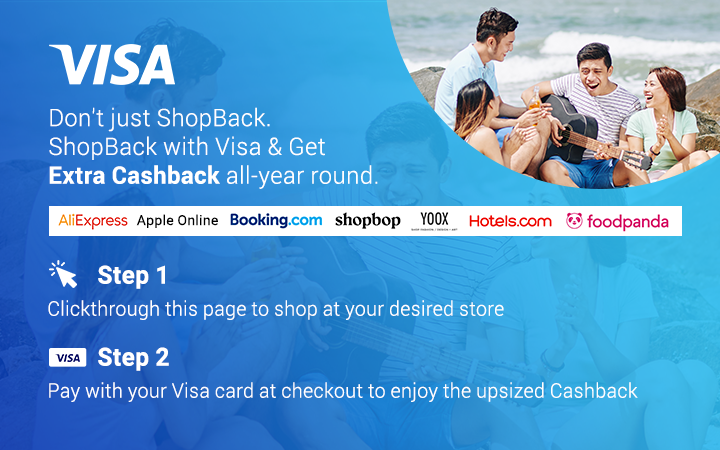 Travel & Food
Always-on upsized Cashback till 31 Dec 2019
Marketplace & Electronics
Always-on upsized Cashback till 31 Dec 2019
Fashion & Beauty
Always-on upsized Cashback till 31 Dec 2019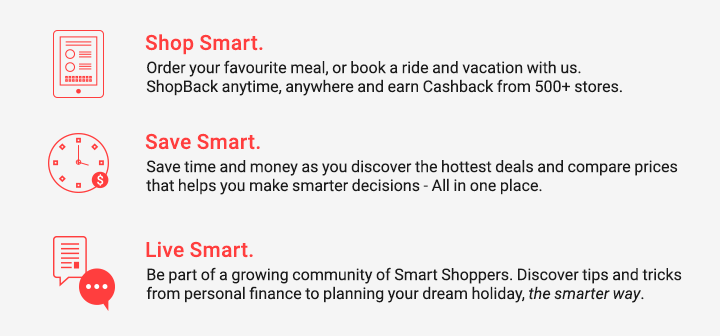 Visa Terms & Conditions:
Valid from 1 Feb 2019 - 31 Dec 2019.
Limited to first 500 orders daily.
If your Cashback is not tracked within the tracking period, please file a missing Cashback claim here and we will investigate your claim.
If your last click is not from this campaign page, ShopBack reserves the right to reject the Cashback awarded to the customer.
ShopBack reserves the right to deny Cashback to purchases made without Visa cards.
ShopBack reserves the right to amend the terms & conditions of this promotion without prior notice.
Aug Wed Munchies (Mr Bean) Terms and Conditions:
Valid only from 28 Aug, 0:00 - 23:59. Valid only on Mr. Bean's Classic Soya Milk (U.P $1.80) transactions made on Foodpanda and transacted with a valid Visa card. Valid only on transactions made via the Visa page whereby customers must enter their first 6 digits of their Visa card number in order to access this page, clickthrough the featured deal to Foodpanda and checkout within 1 window to enjoy this promotional rate. If you link your Visa card with ShopBack GO, you will still be required to follow the steps above, access this page with your 6-digit Visa card number and clickthrough the deal to qualify for this promotion. 100% Cashback for Mr. Bean Classic Soya Milk is capped at $5 per transaction. Users may order more than 1 quantity of the Classic Soya Milk drink until the cap is reached. Promotional Cashback is not valid on any extra fees and delivery charges on the order. Total transactions are capped at 500 per day. Once the limit is reached, the deal will expire and users are no longer able to access the deal from the page. ShopBack reserves the right to invalidate any transactions and credited Cashback that do not fulfil the terms & conditions. ShopBack reserves the right to amend or withdraw the terms and conditions without prior notice.