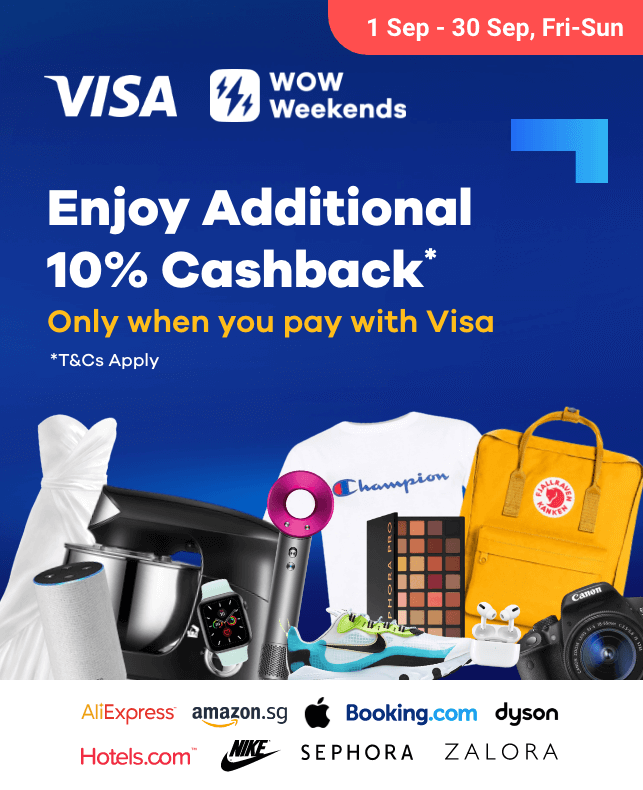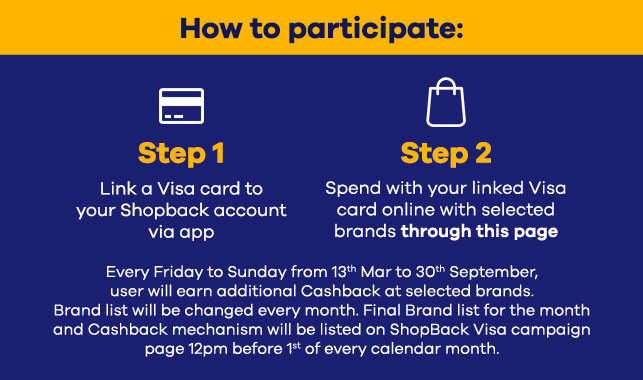 Terms & Conditions (Visa Wow Weekends - September)
- Promotion is valid from 4 Sep 2020 00:00 - 6 Sep 2020 23:59; 11 Sep 2020 00:00 - 13 Sep 2020 23:59; 18 Sep 2020 00:00 - 20 Sep 2020 23:59; 25 Sep 2020 00:00 - 27 Sep 2020 23:59 (defined as "Promotion period")
- Valid only for all ShopBack user that has linked their Visa card to ShopBack (defined as "Participants").
- Valid only for the online stores listed on this page. Not valid for any other online stores or ShopBack GO stores.
- Linking of cards can be done only via ShopBack app (click on the Account/Profile Icon -> tap on Link/Manage Cards to add your card details). If you already have a Visa card linked to your ShopBack account, proceed to shop as usual.
- Users need to click through this Visa Wow Weekend page on ShopBack website or ShopBack app to make a purchase with a Visa card to enjoy the 10% Upsized Cashback. Any purchases made outside of this page will not qualify for the promotion.
- 10% additional Cashback is capped at $10 per order (cap on the additional Cashback amount). No cap for the base Cashback.
- Merchants' terms and conditions apply.
- ShopBack reserves the right to amend and/or withdraw the terms and conditions without prior notice.
- ShopBack reserves the right to pause the promotion at any time within the campaign period.
- Any orders suspected of fraud will be immediately disqualified.
- Base Cashback will be tracked within the tracking period of each merchant.
- Additional Cashback will not be tracked into account as it will only be credited into participant's ShopBack account by 30 November 2020
- Any rejected/canceled/refunded/exchanged or returned purchases will be disqualified from the promotion. Missing cashback will not be eligible for the bonus too.