Under Armour: The Idea That Became a World Phenomenon
An American Company, Under Armour manufactures footwear, sports and casual apparel. With its global headquarters in Baltimore, Maryland, this American company has a global footprint with additional offices situated in Amsterdam, Austin, Pittsburgh, Munich, Hong Kong, London, Jakarta, Paris, Mexico City, Santiago, Seoul, Panama City, Sao Paulo, Shanghai and Toronto.
Over the years, Under Armour has emerged as a premium sports brand renowned for its technology and innovation. The company s mission is "To make all athletes better through passion, design and the relentless pursuit of innovation", and Under Armour constantly delivers the same by innovating products like HeatGear, ColdGear, Charged Cushioning footwear, UA HOVR and the like. A treasure trove for all the fitness and sports enthusiasts, the Under Armour online store offers a wide range of products especially designed to enhance your comfort and performance. All you have to do is to log on to the Under Armour website or download the Under Armour official app and start shopping.
Under Armour was founded in 1996 by Kevin Plank. Kevin Plank, then 23 years old, was a former special teams captain of the University of Maryland Football team. With experience as a fullback at the University of Maryland, Plank observed that his compression shorts worn during practice remained dry even though his T-shirts worn under his jersey would get soaked in sweat and had to be changed frequently. This inspired him to develop the prototype of a T-shirt called HeatGear using moisture-wicking synthetic fabric to keep the athletes cool, dry and light in hot conditions.
Kevin Plank began his business from his grandmother s basement in Washington D.C s Georgetown neighbourhood. He travelled extensively on the East Coast to sell his revolutionary new product out of his car trunk. By the end of 1996, he had concluded his first team sale making $17,000.
Under Armour introduced another famous ColdGear fabric in 1997 which keeps athletes dry, warm and light in cold conditions. Next, it launched the AllSeasonGear line which keeps athletes comfortable amidst extreme conditions.
By 1998, Kevin Plank had moved Under Armour to its new headquarters and warehouse in Baltimore which continues to be the company s global headquarter. In 1999, Under Armour received its first big break when they were contacted by Warner Brothers to outfit two of its feature films, The Replacements and Any Given Sunday. This benefitted the company in terms of extensive publicity and sales. The following year, the brand gained even more attention by becoming the outfitter of the new XFL football league. The league was broadcasted on national television which helped Under Armour get more recognition among the masses.
In the past decade, Under Armour has come a long way by launching a series of exclusive sports products for men and women such as athletic shoes, T-shirts, jackets, hoodies, protective gears, bags, gloves, pants, leggings and caps as well as American football, basketball and soccer uniforms. Over the years, Under Armour signed endorsement deals with several famed athletes like Kevin Durant, Stephen Curry and Jordan Spieth which made the brand a household name in America and other countries.
Products Sold on Under Armour
Under Armour offers a variety of products for the fitness and sports enthusiasts. The official website of the company provides an easy and effortless shopping experience to its customers who can purchase products including athletic shoes, sports gears, training essentials, athlete recovery sleepwear, sports accessories and the like. Here s a short preview of the categories of products available on the website:
Men
– For all the men involved in sports and fitness activities, this category is a one-stop destination where they can find everything they need from shoes for different sports and sports apparel to accessories.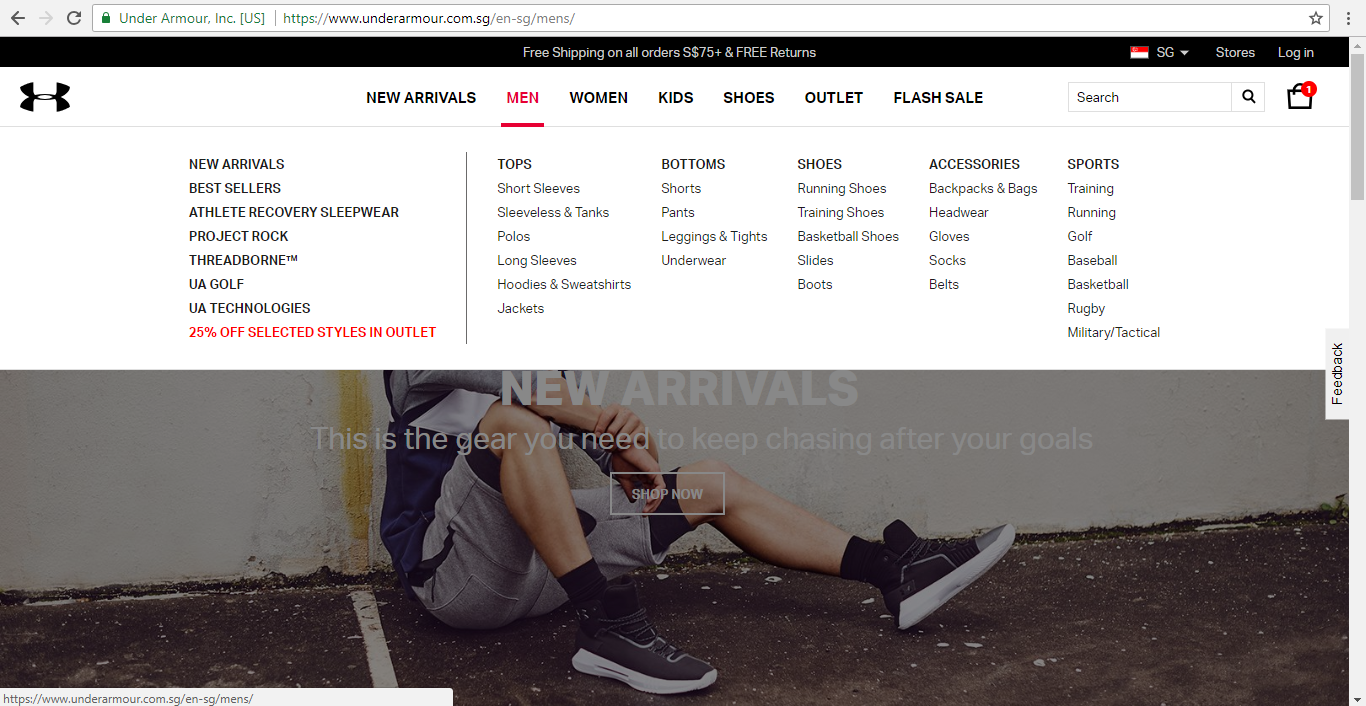 Women
- This category has been compiled for all the athletic women who believe in a healthy lifestyle involving fitness and adventure activities as well as different sports. Women can purchase a great range of sports shoes, Under Armour shirts, hoodies, sweatshirts, pants, shorts etc. from this category.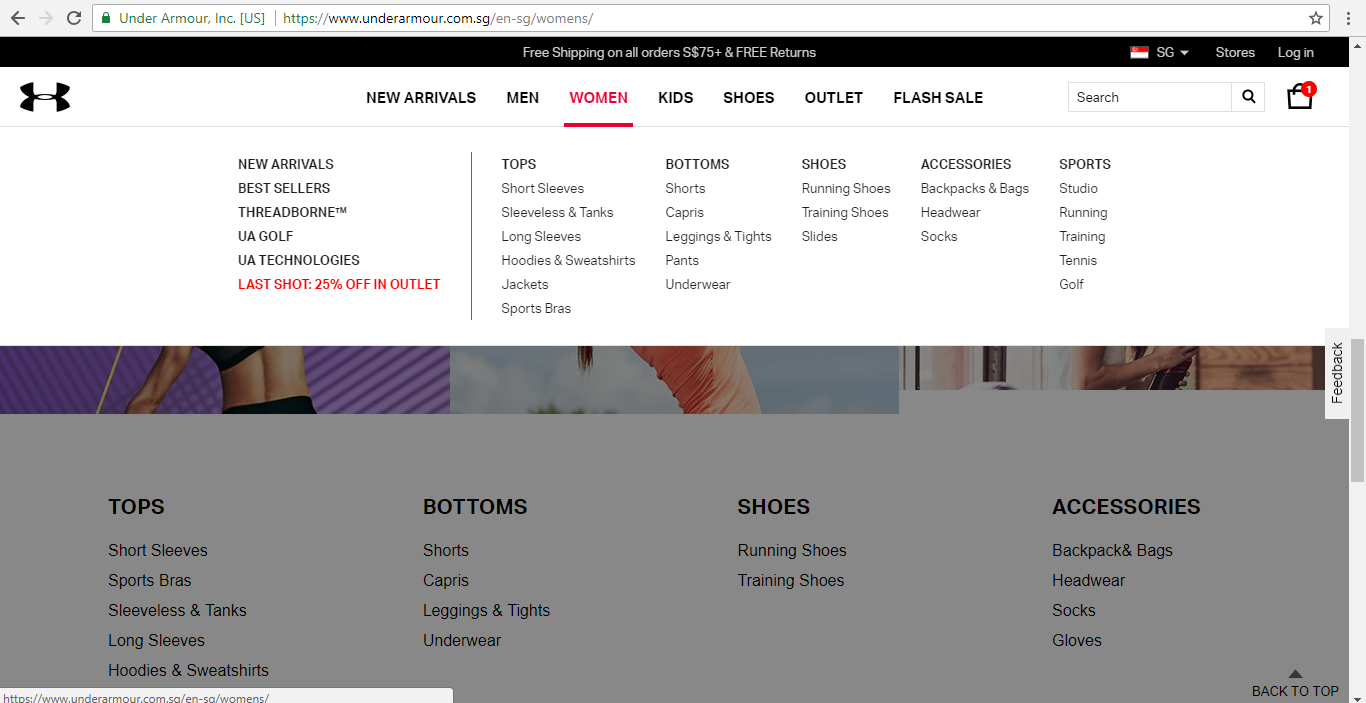 Kids
– Specially designed shoes, tops and bottoms for young boys and girls of different age groups and heights, can be purchased from this category. Under Armour ensures highest level of comfort and agility in their sports range for the budding athletes.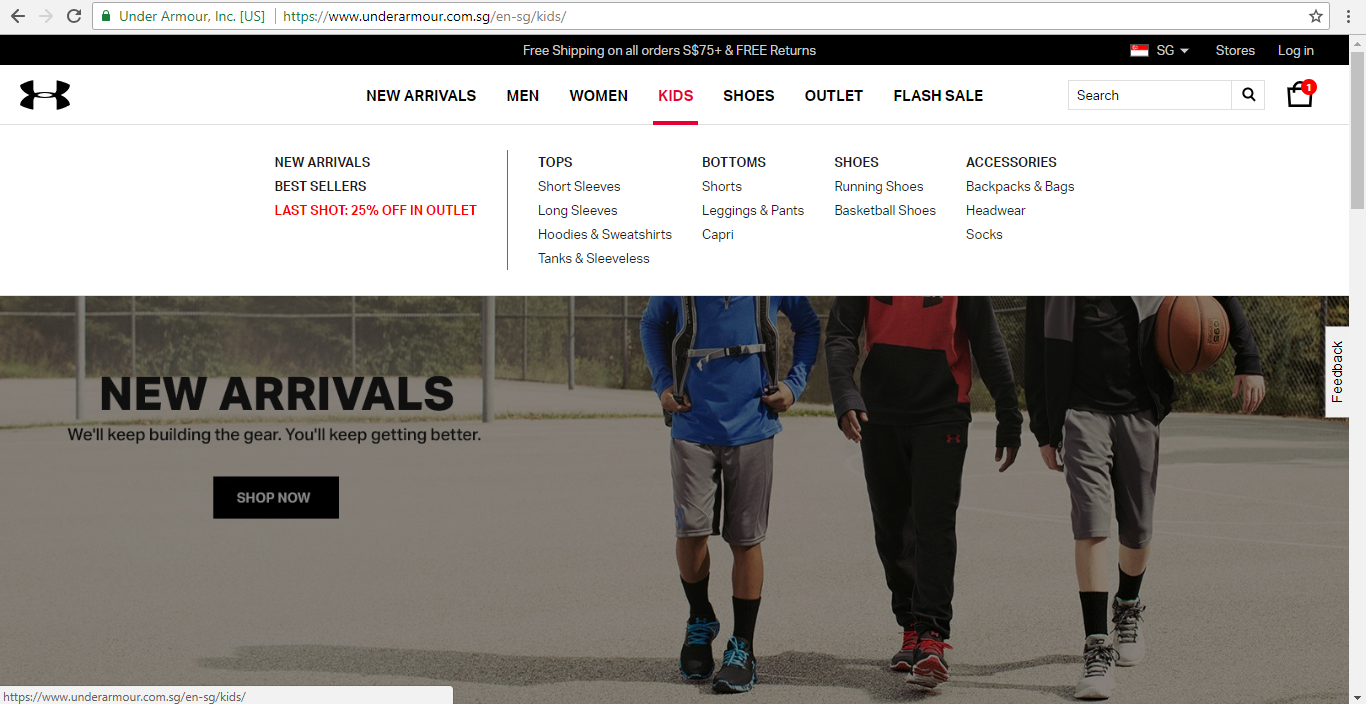 Shoes
– This section of the website has listed all types of shoes available under the brand. Customers can purchase Under Armour shoes for different activities such as running, training, basketball, golf and the like.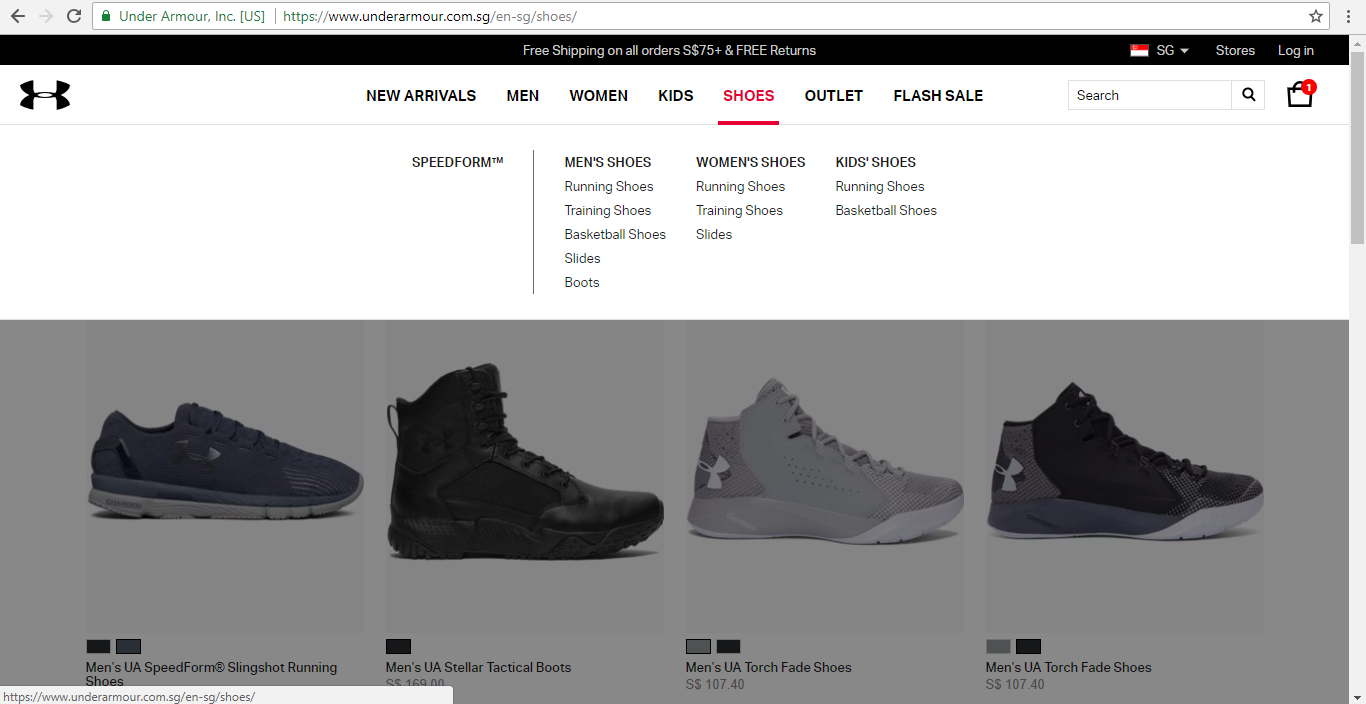 | Under Armour Product Category | Under Armour Product Sub-category |
| --- | --- |
| Men | Short Sleeves, Sleeveless, Tanks, Polos, Hoodies, Sweatshirt, Jacket, Shorts, Pants, Leggings, Tights, Underwear, Running Shoes, Training Shoes, Basketball Shoes, Slides, Boots, Backpacks, Bags, Headwear, Gloves, Socks, Belts |
| Women | Short Sleeves, Sleeveless, Tanks, Long Sleeves, Hoodies, Sweatshirts, Jackets, Sports Bras, Shorts, Capris, Leggings, Tights, Pants, Underwear, Running Shoes, Training Shoes, Slides, Backpacks, Bags, Headwear, Socks |
| Kids | Short Sleeves, Long Sleeves, Hoodies, Sweatshirts, Tanks, Sleeveless, Shorts, Leggings, Pants, Capri, Backpack, Bags, Headwear, Socks |
| | |
How to Shop at Under Armour
The Under Armour website offers a user-friendly interface that is easy to navigate for the customers. The search box at the top of the homepage allows the users to conduct a product-specific search. There are different categories on the header for shopping products for men, women, boys and girls; new arrivals; technology and Under Armour outlets. From here, customers can choose the categories they want to explore and shop.
The homepage is divided into sections featuring 'New Arrivals and their bestselling technology products and occasionally features Under Armour sale.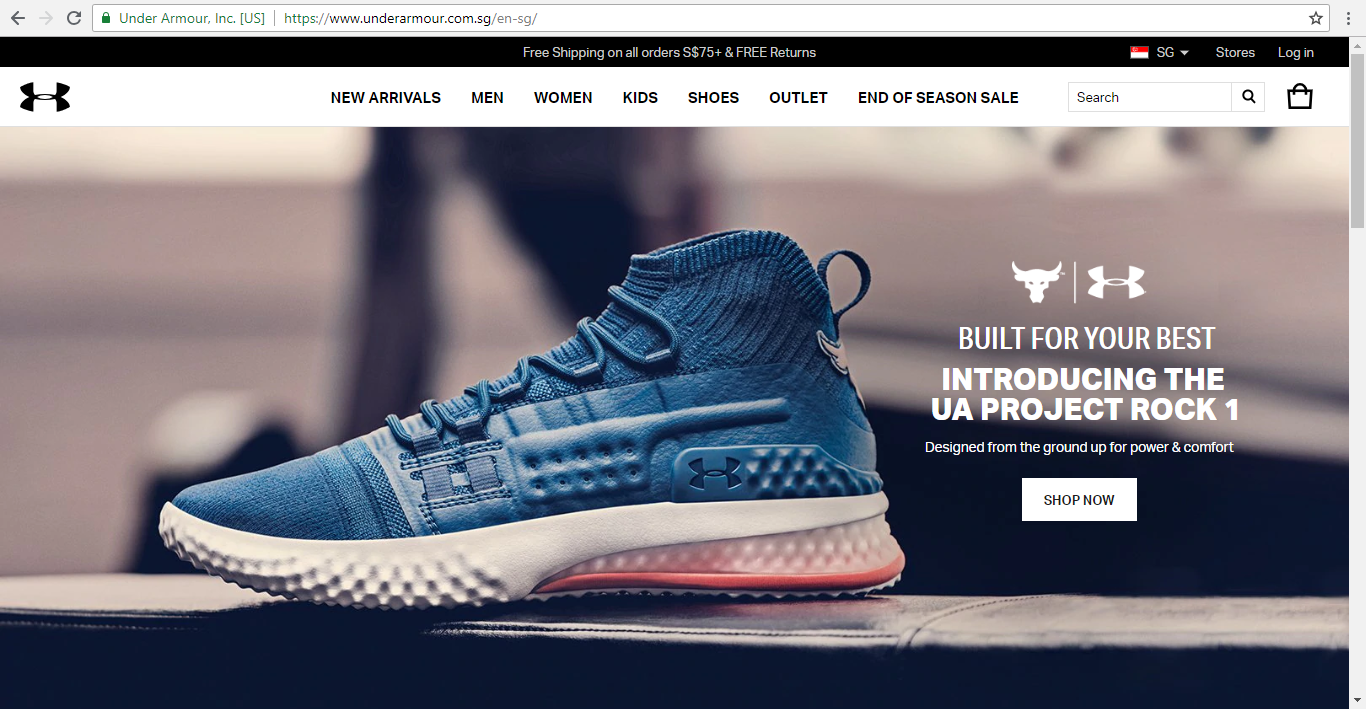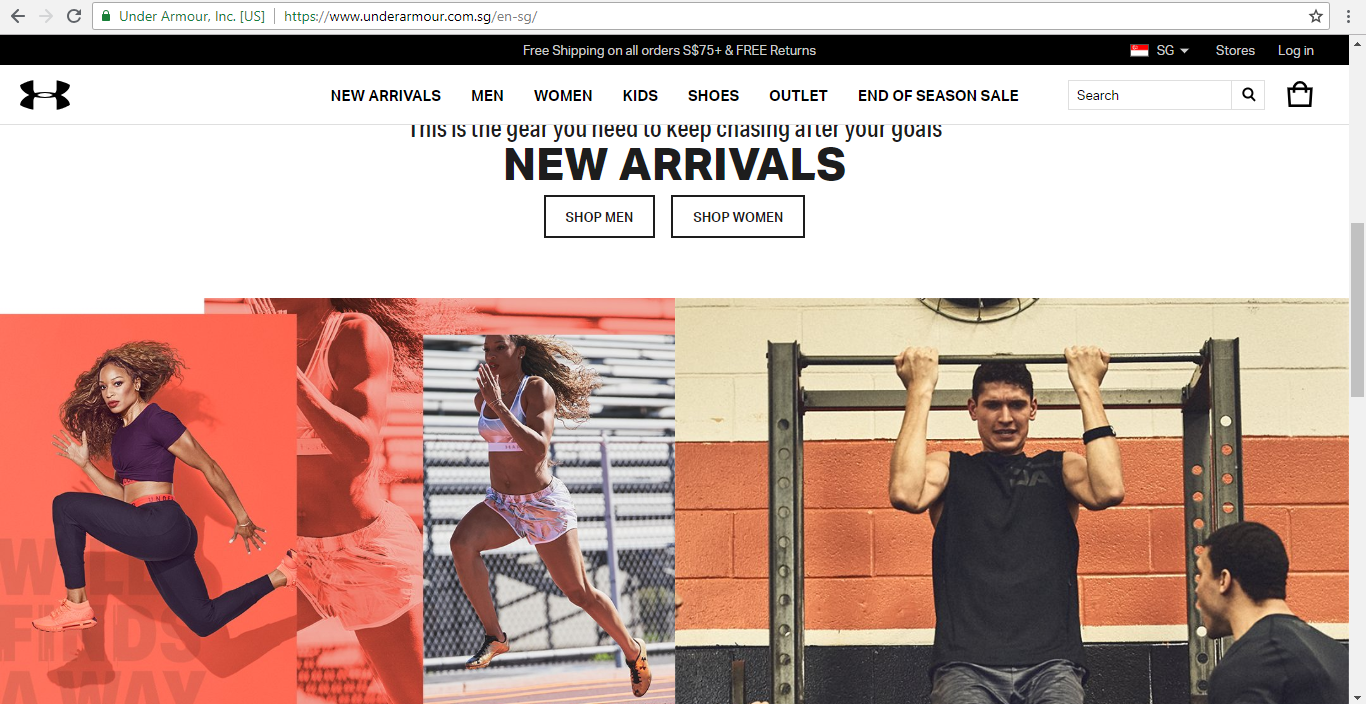 Browse the categories and sub-categories on the page. The website will display the sub-categories on top of the webpage from where you can choose the type of product you wish to buy.

Select the type of product that you need from the options. You will land on the product listing page. Check the details of the products and proceed to buy your desired product by clicking on the "Add to Cart" button.

Click on the shopping cart icon on right corner of the page. To proceed to the checkout page, click on 'bag and checkout . If you wish to purchase more items, you can continue shopping and add more products to your cart. Once you are satisfied with the list of products in your cart, click on the "Checkout" button. You can also enter your Under Armour promo code or Under Armour discount code in the "Add promo code" box.On the checkout screen, enter your shipping details. The delivery charges will be displayed on the screen. Make payment on the next screen to complete the transaction. Shortly after, you will receive an order confirmation mail or a text confirming your order on your phone number along with the expected date of delivery of your order.
Payment Options on Under Armour
Customers can pay for the products they are buying via multiple payment methods. These payment options are briefly discussed here:
Credit Card

- The customers at Under Armour can make payments for their orders through their credit cards verified by VISA, MasterCard or American Express. This payment option is a safe and secure way to transfer money online.

PayPal:

PayPal is another trusted online payment system that can be used by customers to pay for their orders. This secure online money transfer channel is one of the most popular means of transactions and can be used anywhere in the world.
Different Coupon Codes and Discounts on Under Armour
Under Armour offers many discounts and deals to its customers from time to time. Some Under Armour discounts are offered for a long time while some Under Armour discount coupons are available for a limited period only. The consumers can save a lot of money on the products available on the website by applying the Under Armour coupon codes or Under Armour voucher codes that the online store offers on sale.
At present, the customers can earn up to 6% cashback on Under Armour products if they shop with the merchant via a registered account at Shopback. There are some other Under Armour deals that can be availed via ShopBack such as Under Armour coupons and Under Armour vouchers for heavy discounts during Under Armour promotions.
How to Redeem Coupons and Vouchers at Under Armour
Online shopping can be a very rewarding experience where customers get plenty of opportunities to save money on their purchase. Several websites offer codes and vouchers that can be redeemed to earn cashbacks and discounts on products.
Here is a step-by-step tutorial on how to redeem coupons and vouchers at Under Armour:
Step 1:

Select the item that you wish to buy and click on Add to Cart .

Step 2:

On the order summary page, you will find a box under the order summary section where you can enter your Under Armour discount voucher or any other applicable Under Armour code for availing discounts.

Step 3:

Click on checkout to proceed to the checkout page and fill in the details of your email as well as shipping address. Click on 'continue to go to the payment screen.

Step 4:

Select the payment method as per your convenience and enter the payment details to complete the transaction.
How to Shop at Under Armour using ShopBack
You can earn up to 6% cashback on various items if you apply Under Armour promo codes via ShopBack. Here are the steps to be followed to earn Under Armour cashback from ShopBack:
Step 1:

Visit the ShopBack website and select Under Armour store from the list of merchants and brands on the homepage. You can also use the search box to find the link to Under Armour store.

Step 2:

Read the terms and conditions as well as any other relevant information provided such as the cashback details and tips to ensure cashback.

Step 3:

Click on Activate Cashback button on the top left corner of the page.

Step 4:

If you are willing to find more attractive deals and coupons, check out the Under Armour Discount Codes, Promo Codes & Coupons section.

Step 5:

You will be directed to the Under Armour website to browse and select the products you intend to buy.

Step 6:

You will be eligible to earn cashback from ShopBack on placing your order. The cashback rates might differ based on your history with ShopBack, i.e. whether you are a new or an existing customer.
The cashback offer is not applicable on purchases made on Under Armour app.
Under Armour s Shipping and Return Policy
Under Armour offers express shipping on all orders. The shipping charges for orders up to S$ 74.99 are S$ 3.90 while the company offers free shipping on orders above S$ 75. Customers can expect the delivery of their orders in up to 2-3 business days.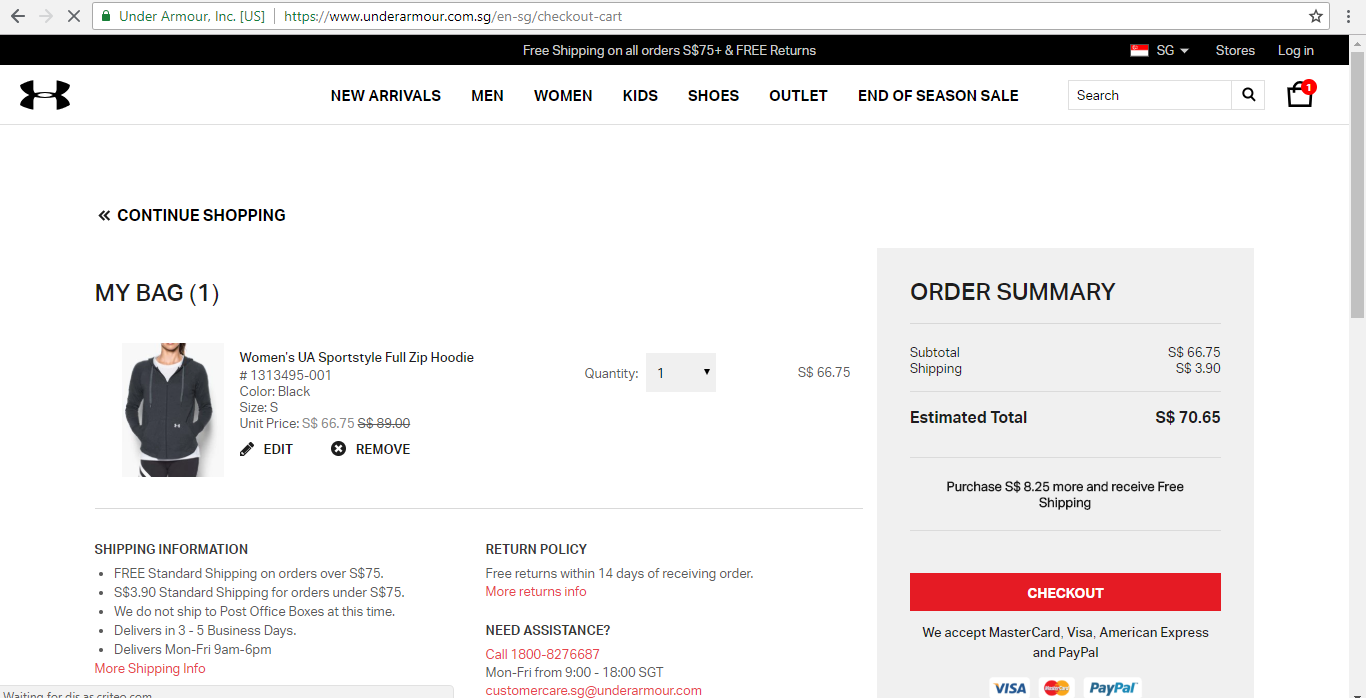 The products sold by Under Armour in Singapore are covered under the Under Armour s 14 day return policy. As per the policy, consumers can initiate a return request within 14 days of receipt of their order, if the delivered product is damaged or defective. The following criteria are applicable for eligibility for return-

The process for return must be initiated within 14 days of receiving the order.

Items should not be worn and should be kept in their original packaging.

Footwear and Clothing returns will only be accepted if the original label/hangtag is intact and has not been detached or removed.

Certain products such as Headwear, undergarments (Boxer/jocks, thongs and panty) cannot be exchanged, returned or refunded.
To initiate a return, or any other related query, customers must contact the Customer Service team of Under Armour. Under Armour does not exchange products purchased through their website. If a consumer wishes to exchange a product, he/she will have to return the purchased item for a refund and place a new order.
Under Armour Customer Service
For any query, customers can contact the Customer Service of Under Armour by sending an email at [email protected] or by calling on their helpline at 1800-U-ARMOUR (1800-8-276687) from Monday to Friday between 9 a.m. to 6 p.m. GMT +8.
Connect with Under Armour-