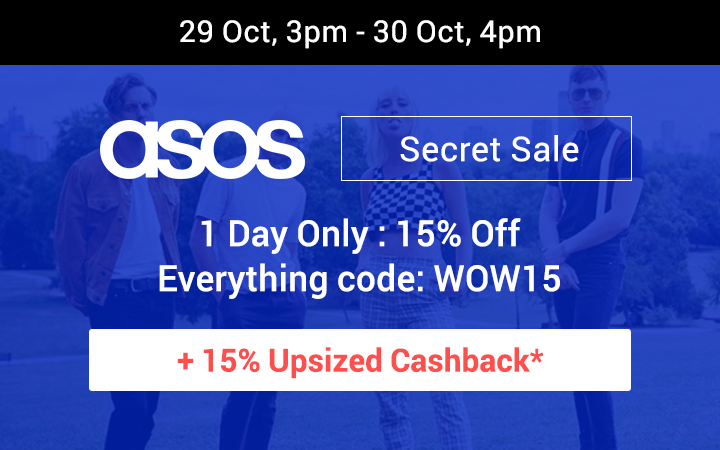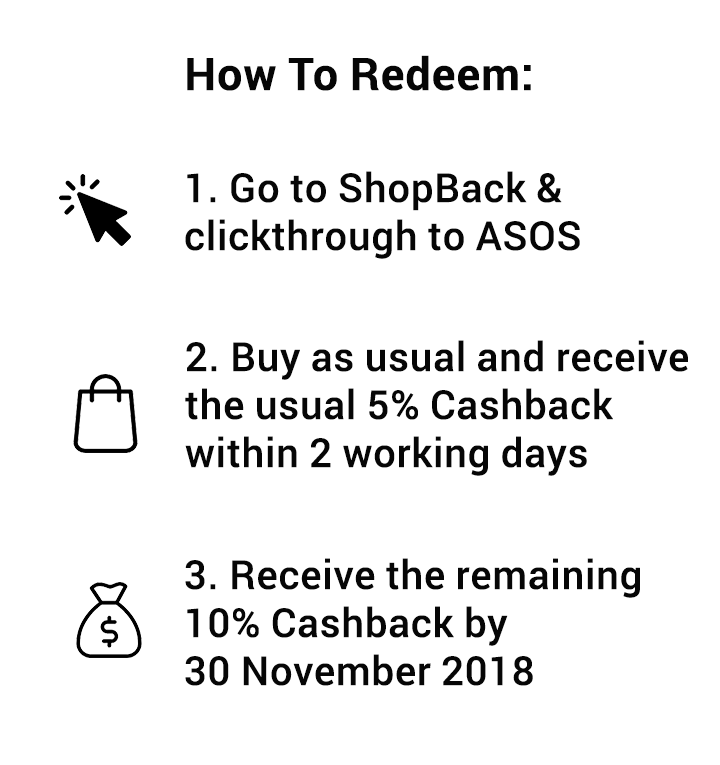 Terms & Conditions
To Qualify:
Promotion is valid for ASOS orders made between 29 Oct 2018, 15:00 - 30 Oct 2018, 16:00. Subsequent orders will only qualify for 3.5% Cashback no cap, no min. spend.
Limited to one-time redemption per individual only throughout the whole campaign period.
Cashback is capped at $15 per order.
Valid for new and existing ASOS Customers.
Valid for new ShopBack customers only. New ShopBack customers are defined as users who have a registered ShopBack account but have not made a transaction via ShopBack before.
ShopBack user must clickthrough this page to the ASOS page & buy within 1 window to qualify.
ASOS terms & conditions apply. ShopBack will not be held responsible or liable for any any claims, damages, losses, expenses, costs or liabilities whatsoever resulting or arising directly or indirectly from the transaction.
ShopBack reserves the right to amend the terms and conditions without prior notice.
Exclusions:
Promotion is not applicable on ShopBack transactions that are not tracked, transactions made from accounts suspected of fraudulent activity.
ShopBack reserves the right to disqualify users who are suspected of fraudulent activity i.e. creation of multiple ShopBack accounts.
ShopBack reserves the right the change the terms and conditions of this promotion without prior notice.
Bonus Cashback:
Customers will receive 3.5% Cashback within 2 working days. Customers will receive remaining 11.5% Cashback capped at $15 as Bonus Cashback credited into their ShopBack account by 30 November 2018.