3 step(s) to get your Shopee Cashback
Step 1: Click & Open/Download Shopee App
Using your mobile phone, go to www.shopback.sg/shopee and click on the "SHOP NOW" button to be redirected to the Shopee app or to download the Shopee app.

Step 2: Update Your Shopee Email Address & Checkout
Please update your Shopee Email Address with your ShopBack Email Address before making your order. Checkout as per normal.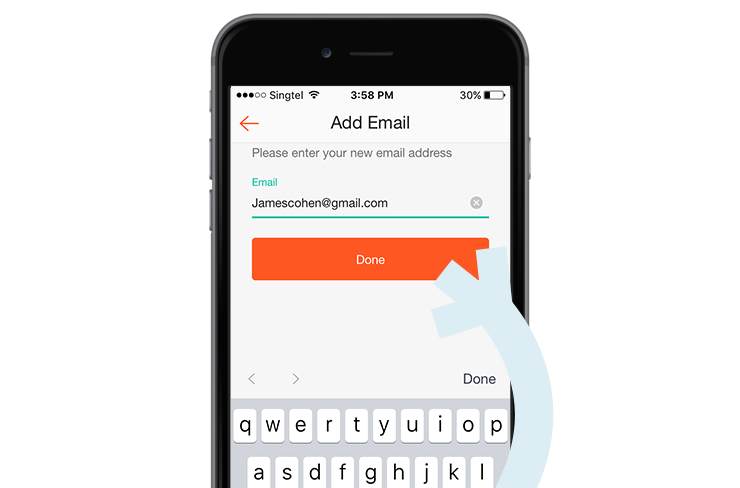 Step 3: Forward your Order Confirmation Email to

shopee@shopback.com

.
Once you've completed your purchase, forward your Shopee Order Confirmation Email to
shopee@shopback.com
within 7 working days to qualify for Cashback.**

**Important Points to Note to get Successful Cashback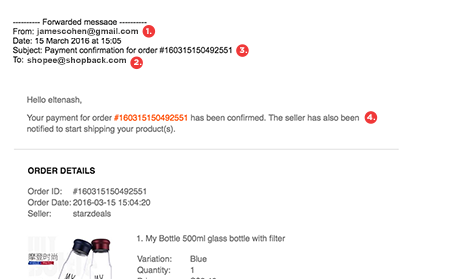 • Please ensure that your cart is empty before clicking through Shopee via ShopBack.
• Please update your Shopee Email Address before making your order.
• All order confirmation emails must be forwarded from your ShopBack email account. If you've received your order confirmation email from a different email account as your ShopBack email account, forward the email to your ShopBack email, then forward again to
shopee@shopback.com
.
• Please do not insert any additional text in the forwarded email as it will affect the tracking of your Cashback.

Shopee Terms & Conditions
IMPORTANT: Final Cashback amount will be reflected only after at every end of month. All Cashbacks will be tracked at 5% but will be uplifted on a monthly basis, once Shopee confirms if the order is made by a new or existing customer.

1. New Shopee Customers get 10% Cashback (capped at SGD$10) | Existing Shopee Customers get 5% (capped at SGD$4) for payments made from 14 June 2016.
2. Remember to forward your Order Confirmation Email using the same email address as your ShopBack email address after you make your purchase within 7 days. Any late emails received by us will not qualify for Cashback.
3. Cashback is applicable to the Subtotal amount of the purchase with payment made by in-app (mobile app) card payments with Shopee Guarantee - Credit/Debit Card or Bank Transfer payments only, made from 14 June 2016.
4. Cashback is not applicable to shipping, delivery fees, miscellaneous, ticket and voucher categories
5. Refunds, cancellations or order changes will not be awarded Cashback.
6. Cashback given will be subjected to Shopee's Terms and Conditions.
7. Please ensure that your cart is empty before clicking through ShopBack.
8. If you face any errors (eg. payment rejected, incorrect details entered, among others) while paying at the checkout page, close that window, return to ShopBack and click through Shopee again to make your purchase.
9. Cashback will be rejected if you face payment errors but still continue with payment.
10. Please note that the use of coupon or voucher codes not posted and approved by ShopBack may affect your eligibility for Cashback.
11. Accounts that engage in fraudulent orders/activities will be banned and Cashback will be forfeited.
12. Cashback will only be paid for legitimate transactions.
13. Please be aware that some transactions may track at a slightly different rate, but will uplift on a monthly basis, once the transaction is confirmed by the merchant.
14. Users are required to click through ShopBack's "Get Cashback" button and complete purchase entirely within the same window to qualify for cashback
15. Whilst the vast majority of transactions from merchants track successfully, occasionally a transaction may not get reported. If you believe this to be the case, please submit a 'Missing Cashback' query within 100 days of the transaction.
16. Please note that some merchants may not be forthcoming with untracked cashback. We endeavour to chase untracked cashback but reserve the right to halt enquiries at any time.
17. As there may be changes to the Terms and Conditions from time to time, do check this page regularly for any updates.

ShopBack's ability to pay cashback on an order is dependent on the Affiliate Store paying ShopBack first. Unfortunately, at times for various reasons, the Affiliate Store does not recognise an order as valid and as such would not pay ShopBack for it. While we typically seek to make a case before the Affiliate Store for payment, unfortunately, we are unable to credit cashback unless and until such payment is received.