Shopee Discount Code & Coupon May 2019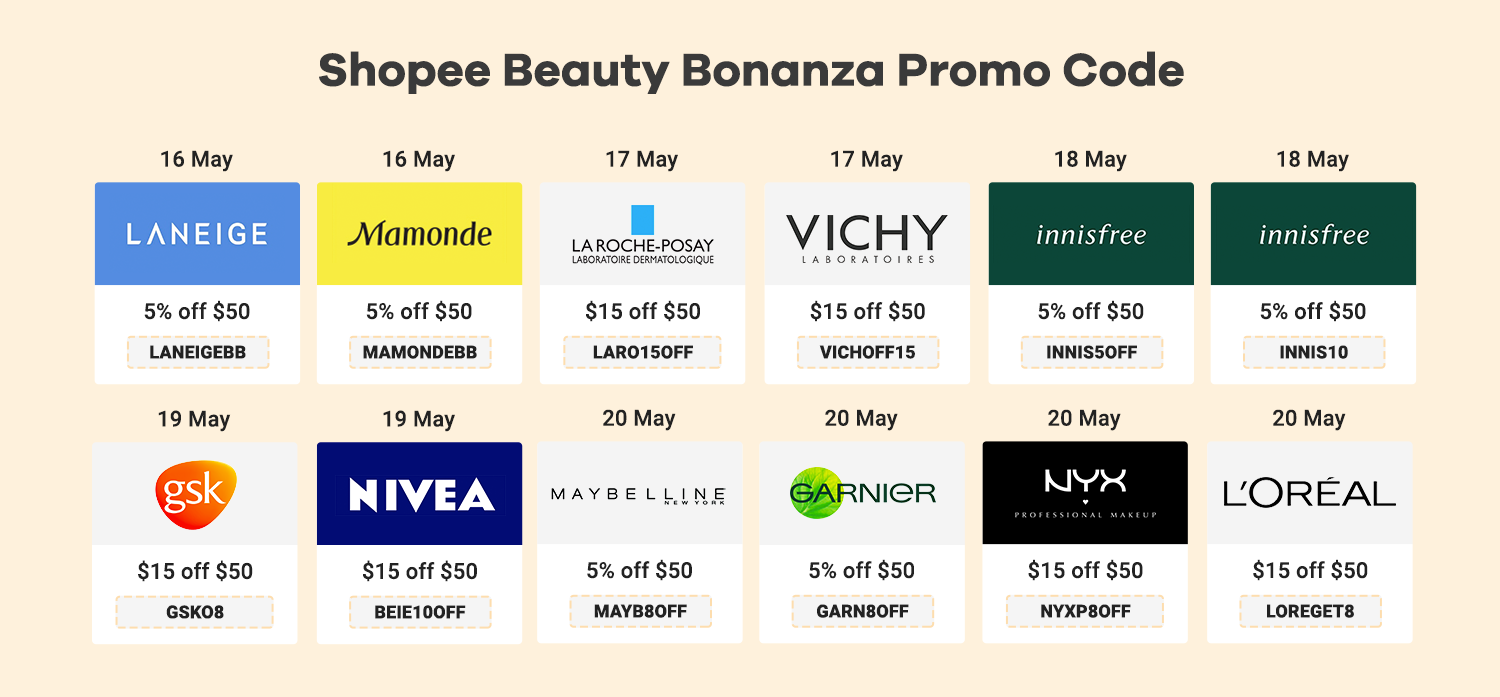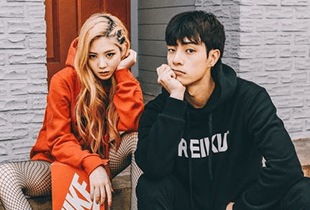 Up to 8.0% Cashback via ShopBack App
[App Only] Kinohimitsu: $10 off $80. Ends 5 May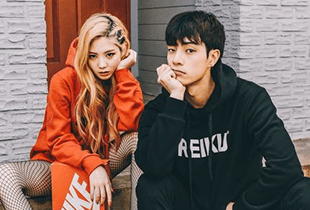 Up to 8.0% Cashback via ShopBack App
[App Only] New Shopee Customers: $7 OFF min spend $15. Ends 31 Dec 2019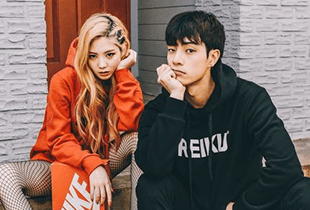 Up to 8.0% Cashback via ShopBack App
[App Only] Shopee Promo: Up to 50% Off Selected Products
Enjoy up to half price off with this Shopee sale. No Shopee promo code required! | Validity: 20 July 2018 | ...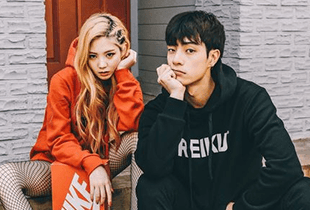 [App Only] Shopee all promotions at your fingertips
| Validity: Ongoing | ...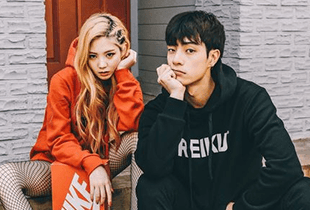 [App Only] Home Bazaar: Up to 60% off. Get a chance for more savings with Cashback and a Shopee promo code with ShopBack!
| Validity: Ongoing | ...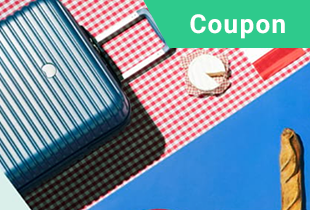 [App Only] Shopee: Up to 80% Off Leading Beauty And Skincare Brands and more with Cashback or a Shopee discount code!
Enjoy bigger savings on eye pencils, makeup pallettes and more with cashback and Shopee promo code! | Validity: Ongoing | ...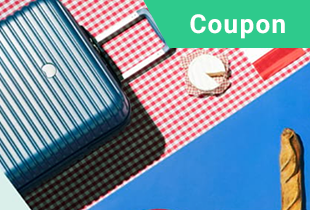 [App Only] FREE SHIPPING: Korean products on up to 30% off storewide! Be sure to look out for a Shopee discount code to save more!
All-things-Korean! From favourite Korean snacks to footwear and apparels straight from Korea, now all on ...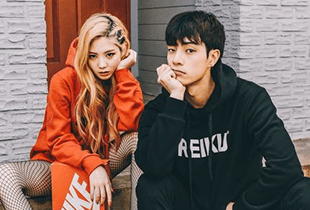 Up to 8.0% Cashback via ShopBack App
[App Only] Shopee sales of up to 80% off different products daily!
Keep your eyes peeled for the latest deal, who knows? Your favourite piece of tech might just go on Shopee discount! ...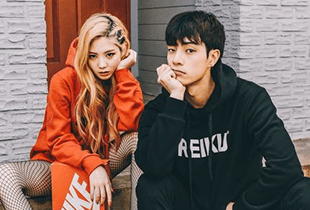 Up to 8.0% Cashback via ShopBack App
[App Only] FREE shipping across China marketplace with Shopee promos
Site wide free shipping when you shop on China marketplace with Shopee promos....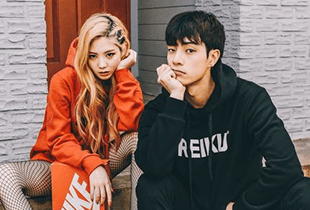 Up to 8.0% Cashback via ShopBack App
[App Only] Shopee promo: 100% authentic products with FREE shipping on Shopee
Products arrived faulty? Guaranteed 15 days return when you purchase with Shopee. ...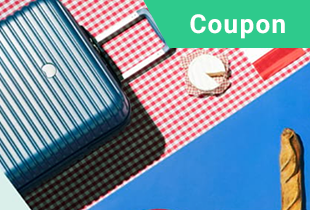 Shopee promo code: $5 off for ne users with minimum purchase of $10. Expires 7 days after signup. Use code WELCOMESHOPEE.
Validity: Expires 7 days after signup...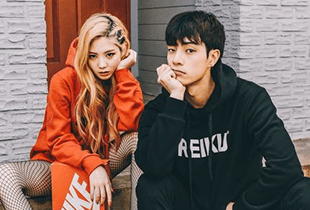 Up to 8.0% Cashback via ShopBack App
[App Only] Women's clothing collection on Shopee, click through to check them out! Look for a Shopee coupon before shopping!
Shop from major apparel brand like triumph and many other styles that are in-trend! Look out for upsized Cashback and Shopee promo codes at your disposal to make your purchases even more affordable!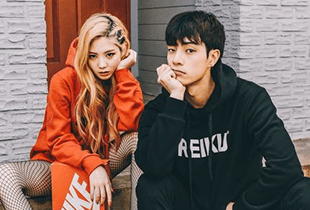 Up to 8.0% Cashback via ShopBack App
[App Only] A wide array of the latest computer necessities on Shopee! Save on those with cashback and by looking for a Shopee promo code!
Unbeatable prices for your computer's accessorizing needs! For a chance at greater discount, keep your eyes peeled for Shopee promo codes to go along with Cashback through ShopBack! Merchant's terms & conditions do apply.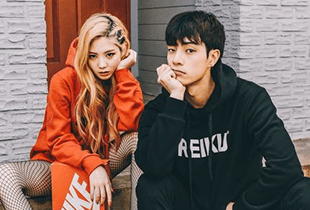 Up to 8.0% Cashback via ShopBack App
[App Only] Essential products for all your health and beauty needs at great prices with Cashback and a valid Shopee promo.
Running list of health and beauty products to choose from! Keep a look out for Shopee promo code for even bigger discounts. Merchant's terms & conditions do apply.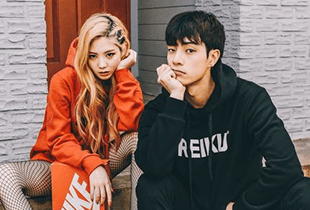 Up to 8.0% Cashback via ShopBack App
[App Only] Shop for children's toys with ShopBack today for savings with Cashback or a Shopee promo code!
Great selection of children's toys on Shopee! Make your purchases more affordable with ...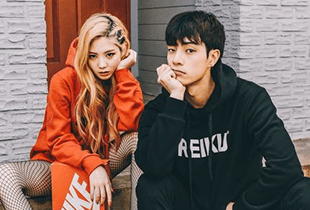 Up to 8.0% Cashback via ShopBack App
[App Only] #ShopeeTech Phone Accessories: Lowest price for your tech and gadget purchases with Cashback and when you use an available Shopee discount code!
Shopee Promo: Stand a chance to win a free gift this Mother's Day. Find out more details at Shopee's website.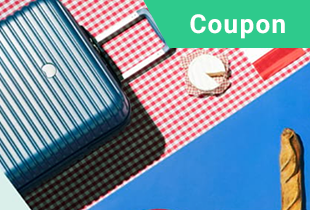 [App Only] Shopee discount: Tech gadgets and peripherals for under S$15!
Catch these deals before they're gone! Tech accessories, gadgets and many more to choose from. Use a Shopee promo code for even bigger discounts! Merchant's terms & conditions do apply.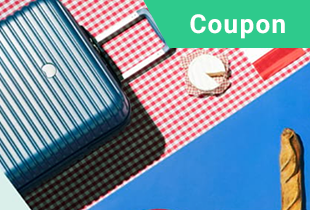 [App Only] Find info on the latest Shopee promo code from ShopBack to save on appliacnes orders from the Tiger store!
Affordable electronics and appliances!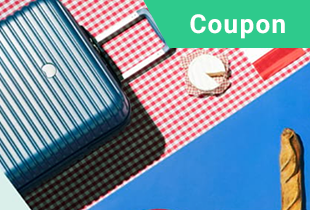 [App Only] Up to 50% men's bomber jackets or more if you look for a Shopee promo code at ShopBack!
Go for the bad boy look with stylish bomber jackets available at Shopee!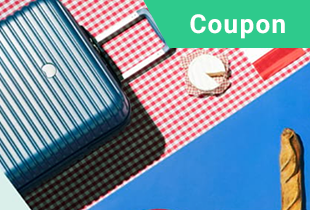 [App Only] Up to 50% off: Timex watches. More savings if you find a Shopee promo code at ShopBack!
The trusted name in quality wristwatches!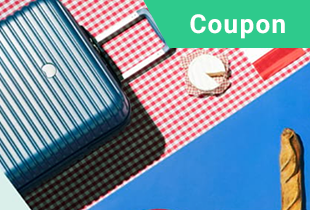 [App Only] Find a Shopee coupon to save more on top of up to 60% off on slippers.
Go casual with Shopee!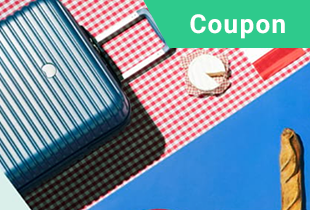 [App Only] Use Shopback to enjoy Cashback when you shop! Enjoy up to 20% off on clutches with Shopee promo!
Enjoy great savings on clutches with Shopee!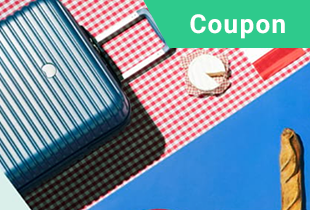 [App Only] Up to 59% savings or more pet beds with Shopee! Visit ShopBack for Cashback and to find a promo code!
A throne for your favourite furry friends!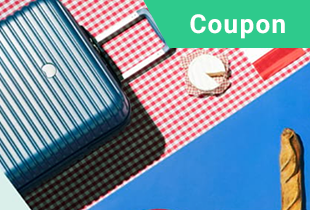 [App Only] Up to 72% on fine jewellery! Visit ShopBack for the latest Shopee promo code and Cashback!
Choose from a wide variety of rings, bracelettes and many more!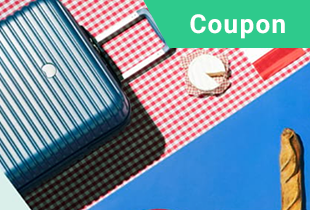 [App Only] Earn Cashback on hoverboards at Shopee! Find the latest promo code at ShopBack to save more!
Enjoy additional savings with Cashback!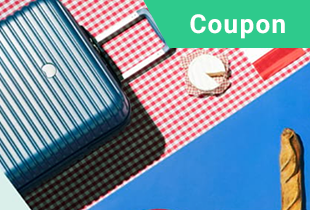 [App Only] Shopee: Up to 21% off on drone storage bags. Get Cashback and look for the latest Shopee promo at ShopBack!
Something to help you store your drones safely!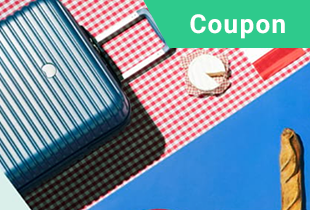 [App Only] Go to ShopBack and find the latest Shopee promo code to save more on multivitamins on top of up to 45% off
Hit your daily reccommended intake of vitamins and minerals!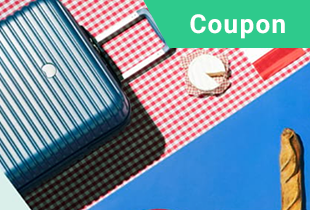 [App Only] Innisfree facial foam at up to 80% off! Check ShopBack out for the best promo code so you can get more discounts!
Shop with ShopBack to enjoy Cashback rewards!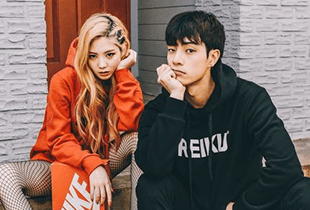 Up to 8.0% Cashback via ShopBack App
[App Only] Men's board shorts: Enjoy up to 65% off! You can save more by finding a Shopee promo code!
For those living the aquatic life!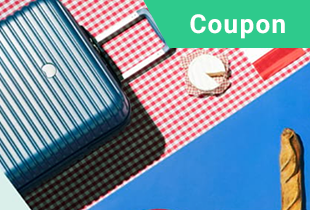 [App Only] Shopee: Razer headset - up to 34% off. More savings if you look for a discount code at ShopBack!
For an even more immersive gaming experience!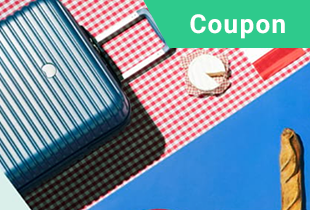 [App Only[ Up to 75% off or more if you find a Shopee discount code at ShopBack for your Anker products purchases!
Instant power at your fingertips!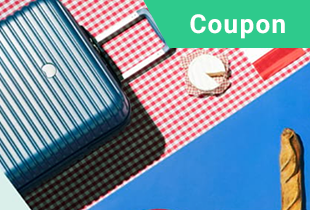 [App Only] Save up to 40% on NYX eye shadow at Shopee! Don't forget to visit ShopBack to find the latest promo code for even bigger savings!
Great quality eye shadow at even greater prices!
-Cashback will be tracked at the lower amount but will be uplifted once Shopee confirms that the order is made by a new customer. Final Cashback amount will be reflected 90 days from your purchase date.

-If for some reason your payment made on merchant page has failed, do click through ShopBack again and re-do your purchases to ensure tracking is still active.

-For more details, check out: www.shopback.sg/terms-and-conditions
Recent Articles
More about Shopee
Top Shopee promo codes and deals 2019
| Shopee offers | Validity | Promo code |
| --- | --- | --- |
| New customers: $7 off with min spend of $15. Terms and conditions apply. | Valid till 31 December 2019 | SB7NEW |
| $5 off for new users with minimum spend of $10 | Valid 7 days after signup | WELCOMESHOPEE |
| Up to 40% off RB Health Brands: Durex, Dettol & Enfagrow | Valid till 12 May 2019 | No promo code required |
| Free shipping: Plus up to 30% off Korean products | Ongoing | No promo code required |
| Tech products as low as $15 and below | Ongoing | No promo code required |
| Levi's Official Store: Up to 60% off! | Ongoing | No promo code required |
| JBL Official Store: Up to 50% off! | Ongoing | No promo code required |
| Triumph Official Store: Up to 60% off! | Ongoing | No promo code required |
| Home Bazaar: Up to 60% off | Ongoing | No promo code required |
| | | |
Find anything you want at Shopee!
Shopee is a one-stop online destination for convenient and intuitive shopping. It is a leading e-commerce platform in Southeast Asian countries such as Indonesia, Taiwan, Vietnam, Thailand, Philippines, Malaysia and Singapore. The online store offers a wide assortment of products from different categories such as men's wear, women's apparel, mobile and gadgets, home and living, home appliances, jewellery and accessories, sports and outdoors, pet accessories, health and beauty and the like.
The intent behind launching this website was to provide a diverse platform to the consumers of Southeast Asia where they can shop anytime, anywhere. The online marketplace empowers its customers to shop online from the comfort of their homes, without having to go through the time and energy consuming cycle of shopping at the departmental stores. All that you need to do is to log on to Shopee SG (Singapore) website or download the Shopee app on your mobile phones to get started.
Shopee was launched by Chris Feng in 2015, in Singapore. Shopee is based on the consumer to consumer (C2C) marketplace model, which involves electronically facilitated transactions between consumers through a third party. In such a marketplace, the website acts as an intermediary between a buyer and a seller.
According to Chris Feng, the CEO of Shopee, their version of a marketplace took inspiration from several existing e-commerce models with some alterations. To facilitate business, they had a lower barrier to entry for all sellers and buyers, built-in payments, transaction management system, delivery and logistics, review and chat system. The e-commerce website's model was an amalgamation of all the best practices of platforms like Rakuten, Alibaba, Gumtree and the Classifieds, creating a version that is closest to the "true marketplace model" as per the CEO of Shopee.
Shopee offers a user-friendly online marketplace where consumers can find almost all the products required for their daily needs, at affordable prices. Through an intensive but appealing marketing campaign, the website quickly gained popularity in Southeast Asia and expanded to countries like Malaysia, Thailand, Taiwan, Indonesia, Vietnam and the Philippines within one year of its launch.
The company continues to deploy innovative ideas such as lowering the entry barrier by coming up with a series of appealing user interface and encouraging the sellers and buyers to build communities. Shopee, being a comparatively new player in the market is earning rapid popularity and is expected to achieve major milestones in the e-commerce business domain of Southeast Asia in years to come.
Shopee is the ultimate go-to destination for all your shopping needs. The online marketplace has a huge range of products to offer from a comprehensive collection of men's wear, women's apparel, home appliances, mobile and gadgets, jewellery and accessories, watches, men's shoes, women's shoes, food and beverages, etc.
Below is a short preview of various categories available on the website.

Men's Wear – A category organised for the contemporary men, it offers a great range of products like T-shirts, shirts, sportswear, jackets and coats, formal wear, jeans and pants, swimwear etc.
Women's Apparel – This section of the website houses a vast collection of women's wear including dresses, tops, playsuits and jumpsuits, skirts, shorts, pants and leggings, beachwear and ethnic wear.
Mobile and Gadgets – If you are looking for the latest gadgets and mobile phones, this category is your haven. Shopee offers branded mobile phones and tablets, digital wearable, batteries and powerbanks, memory cards, mobile accessories etc. under this category.
Health and Beauty – For a perfectly healthy skin and body, Shopee offers a wide range of beauty and grooming products for makeup, bath and body, skincare, health and wellness, beauty tools, fragrances, men's grooming etc.
Food and Beverages – This category is exclusively meant for food products and beverages including snacks, instant meals, alcoholic beverages, sweets and chocolates, dried food, frozen food and the like.
Toys, Kids and Babies – For the young parents who haven't had the time to go to local stores for shopping for their kids, Shopee offers this section where customers can buy products from sub-categories like kid's fashion, kid's accessories, feeding and nursing, bath and baby care, toys and games, learning and education, maternity products etc.
Home Appliances – To provide a convenient platform for shopping appliances required for regular use at home, Shopee introduced this category where customers can buy kitchen appliances, housekeeping and improvement, air conditioners, televisions, tools and small appliances and the like.
Home and Living – Consumers can buy a variety of items to beautify their homes under this category. Furnitures, housekeeping, home décor, kitchen and dining, bathroom, beddings, lighting, security and surveillance, outdoor and gardening and aromatherapy are some of the sub-categories under this section.
Men's Shoes – From formal shoes to casual, this category offers plenty of options to the stylish men seeking products like sneakers, sandals and flip-flops, sports shoes, formal shoes, boots, loafers and slip-ons.
Women's Shoes – For the fashionable ladies, this category is a must-explore destination including heels, flats, sandals, slippers, boots, sneakers etc.
Watches – Customers can buy a great collection of watches under this category including fashion watches, digital watches, luxury watches, sports watches, accessories etc.
Jewellery and Accessories – If you are looking for a place to buy trendy jewellery and accessories, then this is your go-to place. Offering a wide range of necklaces, bangles and bracelets, rings, earrings, eyewear, scarves and shawls, hair accessories, belts, anklet etc., this category is sure to fulfil your expectations.
Computers and Peripherals – For buying products like computer peripherals, laptops, storage devices, networking, printers and imaging, software, desktops, computer accessories etc, this category is the ultimate destination.
Bags and Luggage – Customers can buy wallets, cardholders, shoulder bags, sling bags, backpacks, luxury bags, travel and luggage, clutches and pouches from this category.
Games and Hobbies – This category is a complete entertainment solution for the customers of Shopee, where they can buy consoles and accessories, camera and accessories, video games, blocks and building toys, card and board games, game and pop merchandise etc.
Design and Crafts – For the creative souls and art-aficionados, this category offers craft supplies, cards, posters and prints, notebooks, gifts, handmade products, party goods, jewellery craft, bouquet etc.
Sports and Outdoor – The fitness enthusiasts can explore this category where they can find a variety of products under the sub-categories- sports equipment, outdoor activities, recovery and protection, sports nutrition, scooters and hoverboards etc.
Pet Accessories – For your beloved pets, Shopee provides this category where pet-owners can buy products for their dog, cat, fish or other pets, from subcategories- accessories, hygiene and grooming, pet furniture, pet health and wellness etc.
| Shopee Product Categories | Products |
| --- | --- |
| Men's Wear and Women's Apparel | T-Shirts, Shirts, Sports Wear, Jackets and Coats, Hoodies, Sweaters and Cardigans, Formal Wear, Shorts and Bermudas, Jeans and Pants, Accessories, Swimwear, Underwear, Men's Bags, Polo, Dresses, Tops, Playsuits and Jumpsuits, Skirts, Shorts, Pants and Leggings, Outerwear, Lingerie, Beachwear, Active Wear, Ethnic, Sports Shoes, Sneakers, Sandals and Flip-Flops, Socks, Shoe Accessories, Heels, Flats, Slippers, Boots, Others |
| Mobile and Gadgets | Mobile Phones and Tablets, Audio, Digital Wearable, Batteries and Powerbanks, Memory Cards, Gadgets, Mobile Accessories, Others |
| Health and Beauty | Skincare, Makeup, Women's Hair Care, Bath and Body, Personal Care, Health and Wellness, Nails, Beauty Tools, Fragrances, Men's Grooming, Cosmetic Storage, Others |
| Food and Beverages | Snacks, Beverages, Instant Meals, Alcoholic Beverages, Sweets and Chocolates, Dried Food, Frozen Foods, Others |
| Toys, Kids and Babies | Kid's Fashion, Baby and Toddler, Fashion, Kid's Accessories, Diapers and Potties, Feeding and Nursing, Bath and Baby Care, Toys and Games, Baby Gear, Learning and Education, Gift Sets, Nursery, Maternity Products, Maternity Fashion, Baby Safety, Others |
| Home Appliances | Kitchen Appliances, Housekeeping and Improvement, Garment Care, Cooling, Entertainment, Others, Tools and Small Appliances, TV Accessories, Televisions, Large Kitchen, Appliances |
| Home and Living | Furniture, Home Organisation, Housekeeping, Home Decor, Kitchen and Dining, Bathroom, Beddings, Lighting, Aromatherapy, Security and Surveillance, Stationery and Supplies, Outdoor and Gardening, Automotive, Others |
| Watches | Fashion Watch, Digital, Couple Set, Luxury Watch, Sports Watches, Accessories, Others |
| Jewelry and Accessories | Necklaces, Bangles and Bracelets, Rings, Earrings, Eyewear, Scarves and Shawls, Hair Accessories, Hats and Caps, Belts, Tattoos, Anklet, Keychain, Brooches and Pins, Others, Fine Jewellery, 999 Pure Gold and Silver |
| Computers and Peripherals | Computer Peripherals, Laptops, Storage, Networking, Printers and Imaging, Software, Desktops Computer, Accessories, Components, Others |
| Bags and Luggage | Wallets and Cardholders, Shoulder Bags, Sling Bags, Backpacks, Luxury Bags, Travel and Luggage, Clutches and Pouches, Others |
| Games and Hobbies | Consoles and Accessories, Camera and Accessories, Video Games, Blocks and Building Toys, Card and Board Games, Collectible Figurines, Game and Pop Merchandise, Antiques and Collectibles, Novelty and Desk Toys, Cue Sports, Darts, Music, Others |
| Design and Crafts | Craft Supplies, Cards, Posters and Prints, Notebooks, Gifts, Handmade, Party Goods, Wedding, Bouquet, Jewellery Craft, Stickers, Others |
| | |
Shopee has a user-friendly interface that offers a convenient and smooth shopping experience for users. The search box on the header of the homepage can be utilised to conduct product-specific searches. The homepage is divided into several sections like trending searches, categories, flash deals, Shopee mall, popular products and daily discover.
1. From the categories section, customers can choose the category they want to explore and shop.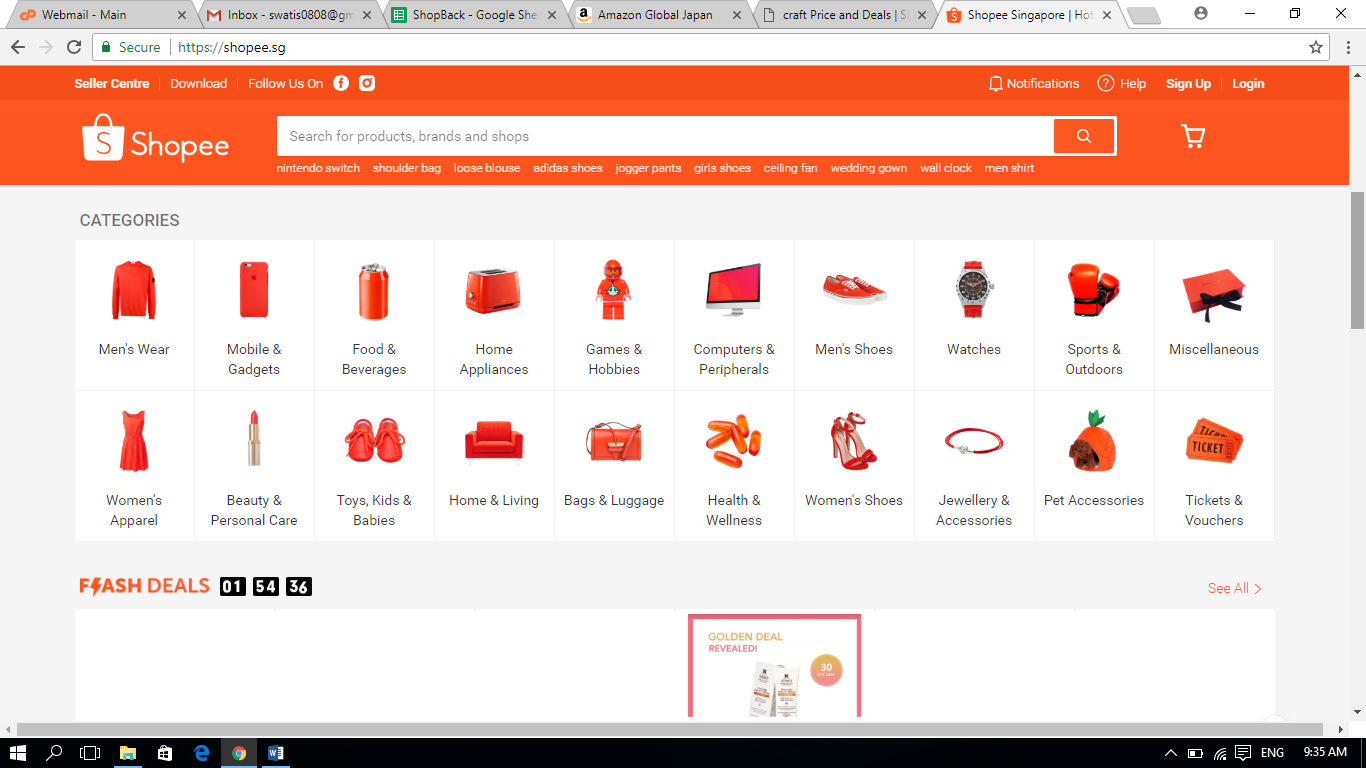 2. Browse the product categories and choose the one you wish to explore. You will be directed to the page listing subcategories, Shopee sale and products.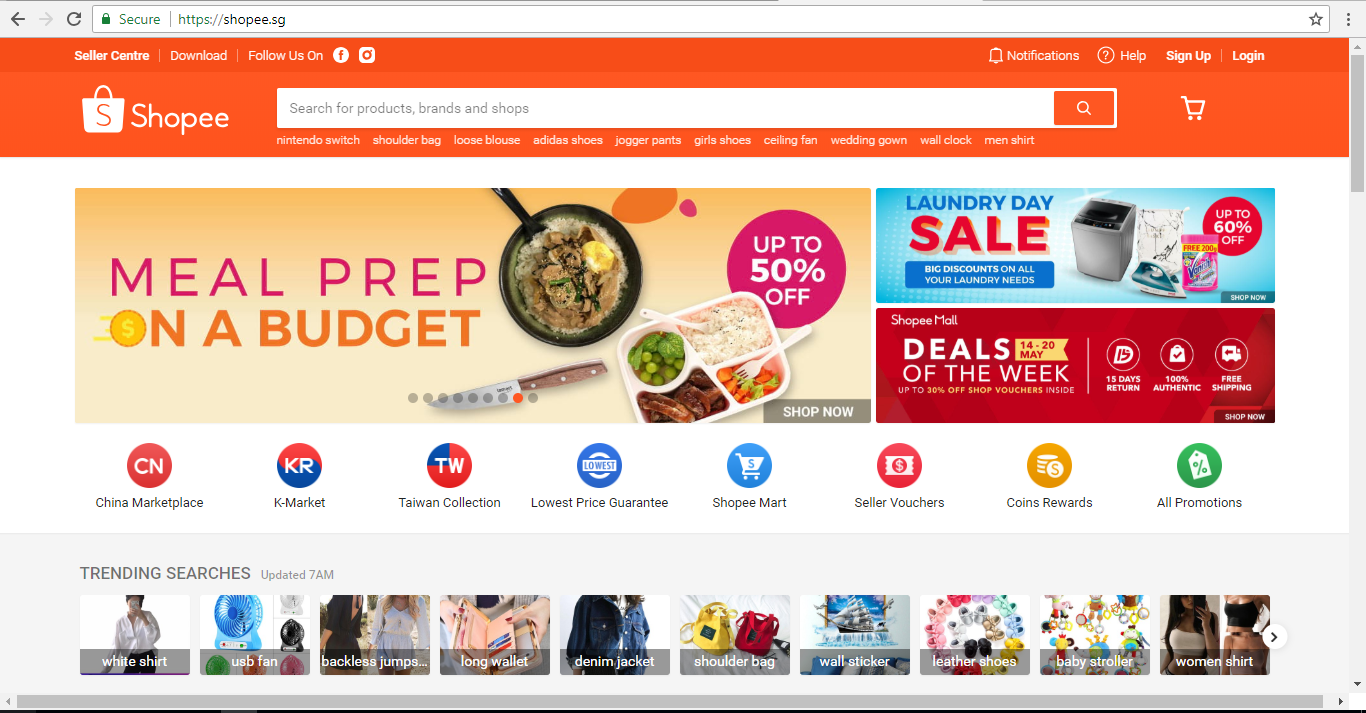 3. Select the product of your choice from the page. You will land on the product listing page. Check the details of the product and proceed to buy the product by clicking on the "Add to Cart" button if you are satisfied.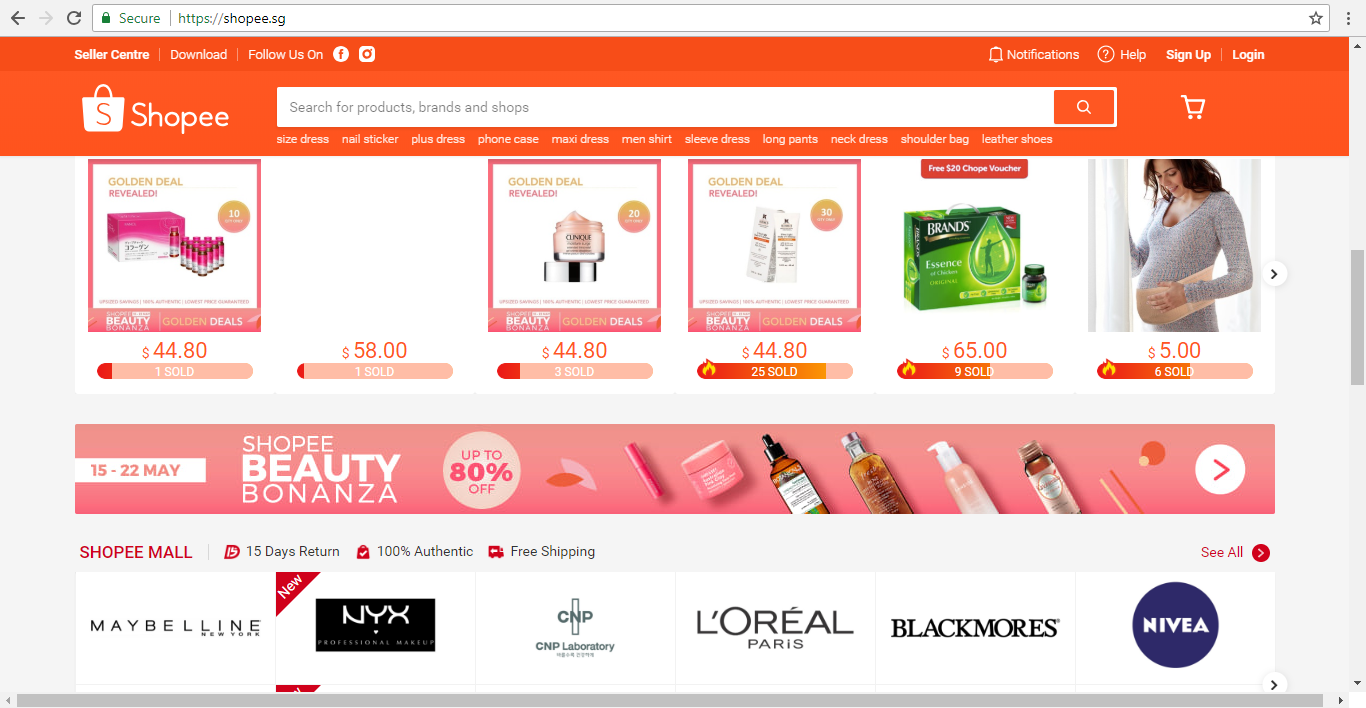 4. You will move to the "Checkout" screen. If you wish to add more products to your cart, you can continue shopping. Once you have added everything you want to purchase, click on the "Checkout" button.
5. Fill in your email and shipping details on this screen. The delivery charges will also be displayed on this screen. Make payment for your order on the next screen to complete the transaction. You will receive order confirmation via email along with the expected date of delivery.
6. If you are interested in saving more money, you can explore the Shopee deals and Shopee offers on the homepage as well as the product listing page. The online marketplace regularly offers Shopee promo or Shopee promo codes, Singapore for several product promotions.
Payment Options on Shopee
There are multiple payment options available on the Shopee website. Here is a brief discussion on these payment options:
Cash on Delivery: Shopee accepts cash for payment of orders in selected countries. Buyers may directly pay the amount of the bill to the agent upon delivery. This is a popular mode of payment due to its convenience and security.
Credit or Debit Card: The customers at Shopee can make payments via VISA or MasterCard credit or debit cards. This payment option is a safe and secure way to transfer money online.
Bank Transfer: At Shopee, shoppers can transfer money through ATM or i-Banking to one of the designated Shopee Guarantee bank accounts. It is an easy and efficient way to make payments in real-time. Once the payment is complete, the customer must confirm the bank transfer by uploading the receipt or the screenshot of their transaction within 3 days of the payment date.
Shopee Wallet: Shopee offers a convenient payment option called Shopee Wallet where money from Shopee sales and refunds is stored. If the balance is sufficient in the customer's Shopee Wallet, he/she can use the Wallet to make payment for Shopee purchases.
Be sure to look for and use a Shopee discount code before making payment to enjoy greater savings!
Different Coupon Codes and Vouchers on Shopee Singapore
Shopee offers many discounts and deals to its customers from time to time. Some Shopee discounts are offered for a long time while some Shopee discount coupons are available for a limited period only. The consumers can save a lot of money on the products available on the website by applying the Shopee voucher codes or Shopee promo codes 2019 that the online store offers during promotional periods.
At present, the customers can earn 10% cashback on Shopee products if they shop with the merchant via a registered account at Shopback. There are some other shopping deals on Shopee that can be availed via ShopBack such as Shopee coupon codes and Shopee vouchers for free shipping across China marketplace or for heavy discounts on products of daily use.
Save on Beauty and Tech Brands During Shopee 5.5 Sale!
The biggest Beauty and Tech sale is finally here. Check out the Shopee 5.5 sale for unimaginable savings on products from some of the top Beauty and Tech brands on the market! This Shopee 5.5 promo is the perfect time for yo to pick up those items that have been sitting in your shopping cart for months just waiting for you to chek them out! But wait, we have'nt even gotten to the best part about this sale, you can earn Cashback on top of the Shopee 5.5 offers! Simply check ShopBack for the latest and most up to date Shopee 5.5 promo code and apply them before checkout! And that's it! you'll be on your way to huge savings AND earning some Cashback to boot!
Find the Perfect Gift for your Mom during Shopee Mother's Day Promo!
Checkout this Shopee Mother's Day promo to save on a Mother's Day gift! Whether you;re looking to get some expensive deisgner labels or looking for something more personalised and unqiue, the Shopee Mother's Day sale has got you covered! But the absolute best thing about the Shopee Mother's Day promotion is that not only do you save money, you can also earn Cashback on your orders! Simply use ShopBack's Shopee Mother's Day promo code before you checkout and earn Cashback on top of any savings afforded to you during the sale!
ShopBack lets you in on any available Shopee Black Friday promo code or sales to help you save more!
If you're looking to enjoy some awesome discounts on your shopping trip, especially on November, all you need to do is go to ShopBack! Here you can be updated on any going ons and see if there is a Shopee Black Friday promo code for you to take advantage of. What's better than saving with Cashback than getting more discounts from a Shopee Black Friday code?
Contiue your shopping adventure with the latest Shopee Cyber Monday deals at ShopBack!
If your shopping journey still must go one this November, then you definitely should go on! Have a peace of mind knowing that if there are savings to be made from a Shopee Cyber Monday sale, ShopBack will bring it to you! So enjoy your savings from the latest Shopee Cyber Monday offers and Cashback with ShopBack!
ShopBack aims to bring the best info on Shopee 1212 sales and deals!
1212 is one of the biggest days for Shopee! You can expect some great things to go down on that date. You can also bet on ShopBack to help you make it easier to be a part of it with the latest info on Shopee 1212 promos and sale going on so you can enjoy some sweet, sweet savings when you shop! So do look out at ShopBack this 1212!
Tis the season to be saving at ShopBack with the latest Shopee Christmas and New Year Sales!
In the spirit of giving, ShopBack is providing you savvy shoppers with all the greatest scoop on Shopee Chrstimas and New Years sales! From the best promo codes to the latest promotions there's something to help you out in your quest for merrymaking and gift-giving at ShopBack!
How to Redeem Coupons and Vouchers at Shopee?
Online shopping can be a very rewarding experience where customers get plenty of opportunities to save money on their purchase. Several websites offer codes and vouchers that can be redeemed to earn cashbacks and discounts on products.
Here is a step-by-step tutorial on how to redeem coupons and vouchers at Shopee or other popular merchants like Ezbuy or Qoo10:
Step 1: Select the item that you wish to buy and click on 'Add to Cart'.
Step 2: Proceed to the Checkout page and fill in the details of your email as well as shipping address.
Step 3: Click on 'next' to move to the payment screen. Here, you will find a box under the payment summary section to enter your Shopee discount voucher or any other applicable Shopee code for availing discounts.
Step 4: Select the payment method as per your convenience and enter the payment details to complete the transaction.
How to Shop on Shopee using ShopBack
You can earn up to 10% cashback on various items if you apply Shopee coupons via ShopBack. Here are the steps to be followed to earn Shopee cashback from ShopBack:
Step 1: Visit the ShopBack website and select Shopee store from the list of merchants and brands on the homepage. You can also use the search box to find the link to Shopee store.
Step 2: Read the terms and conditions as well as any other relevant information provided such as the cashback details and tips to ensure cashback.
Step 3: Click on "Activate Cashback" button on the top left corner of the page.
Step 4: If you are willing to find more attractive deals and coupons, check out the' Shopee Discount Codes & Shopee Promotions' section.
Step 5: You will be directed to Shopee website to browse and select the products you intend to buy.
Step 6: You will be eligible to earn cashback from ShopBack on placing your order. The cashback rates might differ based on your history with ShopBack, i.e. whether you are a new or an existing customer.
The cashback offer is not applicable on purchases made on Shopee app.
Shopee's Shipping and Return Policy
The shipping charges of the products depend on their weight and dimensions as well as the origin and the location of delivery. The shipping option chosen by the customer also influences the shipping charges on the item purchased. Customers can see the shipping charges in their order summary before proceeding to make payment for the order. In case of any discrepancy, the buyers can approach Shopee for a return/ refund for their purchase under Shopee's return policies.
Customers may only apply for the refund and/or return of the Item in the following circumstances:
The Buyer did not receive the item
The Item was defective and/or damaged on delivery
The item delivered by the seller does not match the agreed specification (e.g. wrong size, colour, etc.) to Buyer
The Item received by the Buyer is materially different from the description provided by Seller in the listing of the Item
By way of private agreement between the buyer and the Seller and Seller must send his/her confirmation to Shopee confirming such agreement.
Buyer's application must be submitted via the Shopee mobile app.
The buyer's application will be reviewed by Shopee on a case-by-case basis. Shopee will then proceed with initiating a return/refund process with the seller once it is convinced with the return/ refund application's merit. Different time-frames have been stipulated by Shopee for different countries. For Singapore, the return/refund is covered under 9 days policy. Another important condition to be kept in mind is that the buyer must ensure that the item (including any complimentary item/ accessory) is returned to the Seller in the condition received by buyer on delivery.
Shopee's Customer Service
Customers can contact Shopee Customer Service by writing to [email protected] or by calling on their customer service number i.e. +6562066610 (Monday to Friday - 9.00 am until 6.00 pm) excluding public holidays.
Note: Include your Shopee username in the email for reference.
Connect with Shopee to find the latest deals and Shopee promo code 2019
Check out Shopee Promos Across the Region