Eat Sustainable Foods with Sasha s Fine Foods
If you are a health freak who believes in consuming ethically sourced and sustainably produced food items, then Sasha s Fine Foods is your best bet. This online grocer is no ordinary grocery store! Known for consistently living up to her standards, Sasha s Fine Foods promises to deliver high-quality food products that are hormones or antibiotic free and contain zero chemicals. Sasha, the owner of this brand, believes in selling only those items that she has personally procured from her trusted suppliers. An ardent advocate of sustainable farming and animal welfare, she strives to deliver food products that are cleanest and greenest on the planet. So, wait no more and try Sasha s Fine Foods for your next grocery shopping. Eat healthy and stay fit!
History of Sasha s Fine Foods
Sasha s Fine Food was founded in 2011 by Ms Sasha Conlan, a British lawyer who had relocated to Singapore with her family in 2008. The online grocery was initially called The Barbie Girls, however, in 2017 Sasha decided to rebrand the company with the name Sasha s Fine Foods. The inception of this online grocery goes back to the time when Sasha had newly relocated to Singapore. She observed that the Asian markets had a huge variety of ingredients which were being sold without clear labels. Many essential items such as meat, seafood, fruits, vegetables and pantry were of dubious origin. There was no way of finding out whether the food items being sold in the markets were hormones and antibiotics free and whether they contained any harmful additives or artificial preservatives. Being a health conscious person who strongly advocated ethical farming and clean sustainable production practices, she was inspired to start her own e-grocery, selling carefully sourced products from trusted suppliers. Initially, the website sold barbeque meat sourced from ethical suppliers from New Zealand whom she had personally met. Soon, the quality and purity of her products began earning her many customers which prompted her to expand her product base. As of now, Sasha s Fine Foods continues to offer high-quality healthy food items that have been sourced only from reliable suppliers across the world.
Products Sold by Sasha s Fine Foods
Sasha s Fine Foods offers a wide assortment of foods products that are not only fresh, but also clean and chemical-free. Whether you prefer fresh produce or processed food, you can always rely on Sasha s Fine Foods to deliver the best-quality food items sourced from trusted suppliers. Here is a preview of the various product categories available on the website:
Meat, Fish & Plant: This category lists different types of meat and fishes for the meat lovers. Succulent and flavourful meat such as beef, lamb, pork and chicken as well as seafood and fishes available under this category contain no antibiotics or hormones, since they have been sourced from ethical suppliers.
Local Produce:
This category features the food items that have been sourced from local farms or cultivated in Singapore in clean and controlled environment. The meat & fish, fruit & veg, bakery, pantry and ready to eat items available here are not only delicious but also very healthy and pure.
Fruit & Veg:
Here you can find exotic varieties of fruits and fresh vegetables that have been sourced from different countries. No artificial preservatives have been added to these fruits and vegetables and therefore they are sure to delight your taste buds and nourish your body at the same time.
Dairy & Eggs:
Customers can purchase farm fresh eggs and dairy products such as milk, yoghurt and cheese under this section.
Ready to Eat:
Try the scrumptious 'Our Very Own Meals prepared by in-house chef of Sasha s Fine Foods using finest quality ingredients. From burgers to pies and soup to hand-made pasta, there are a lot of delicious items that will leave you craving for more.
Pantry:
Stock your pantry with premium quality products such as granola & spreads, oil, vinegar & cooking sauces, snacks, wine & spirits, coffee & tea and a lot more. Sourced from different countries, these products have been prepared with best produce and contain no artificial preservatives.
Bakery:
Purchase mouth-watering breads and cakes under this category. Freshly prepared flavourful breads and cakes, baked to perfection, are just what you need to lift up your spirit.
| Sasha s Fine Foods Product Category | Products |
| --- | --- |
| Meat, fish & plant | Poultry, Beef, Pork, Lamb, Burgers, Sausages & Bacon, Meat Boxes, Prawns & Other Seafood, Salmon, White Fish, Smoked & Terrines, Seafood Boxes, Meals, Burgers, Snacks |
| Local produce | Meat & Fish, Fruit & Veg, Pantry, Bakery, Ready to Eat |
| Fruit & veg | Fruit, Veg, Acai |
| Dairy & eggs | Eggs, Milk, Yoghurt, Cheese, Dairy Free |
| Ready to eat | Our Very Own Meals, Pies & Quiches, Soups, Broths & Stocks, Fresh Pasta, Cold Meats, Olives & Terrines |
| Pantry | Granola & Spreads, Dry Pasta, Oil, Vinegar & Cooking Sauces, Fermented, Snacks, Coconut & Chocolate, Coffee & Tea, Non-Alcoholic Drinks, Wine & Spirits |
| Bakery | Bread, Cakes, Gluten Free |
How to Shop at Sasha s Fine Foods
The official website of Sasha s Fine Foods has a simple and intuitive design that allows the customers to shop without any confusions. The header on the homepage lists all the product categories while the homepage displays new products, Sasha s Fine Foods promotion and ongoing Sasha s Fine Food deals. On hovering the cursor over the product categories, a drop down will appear to display the sub-categories of the particular product category. To shop, select a sub-category by clicking on it.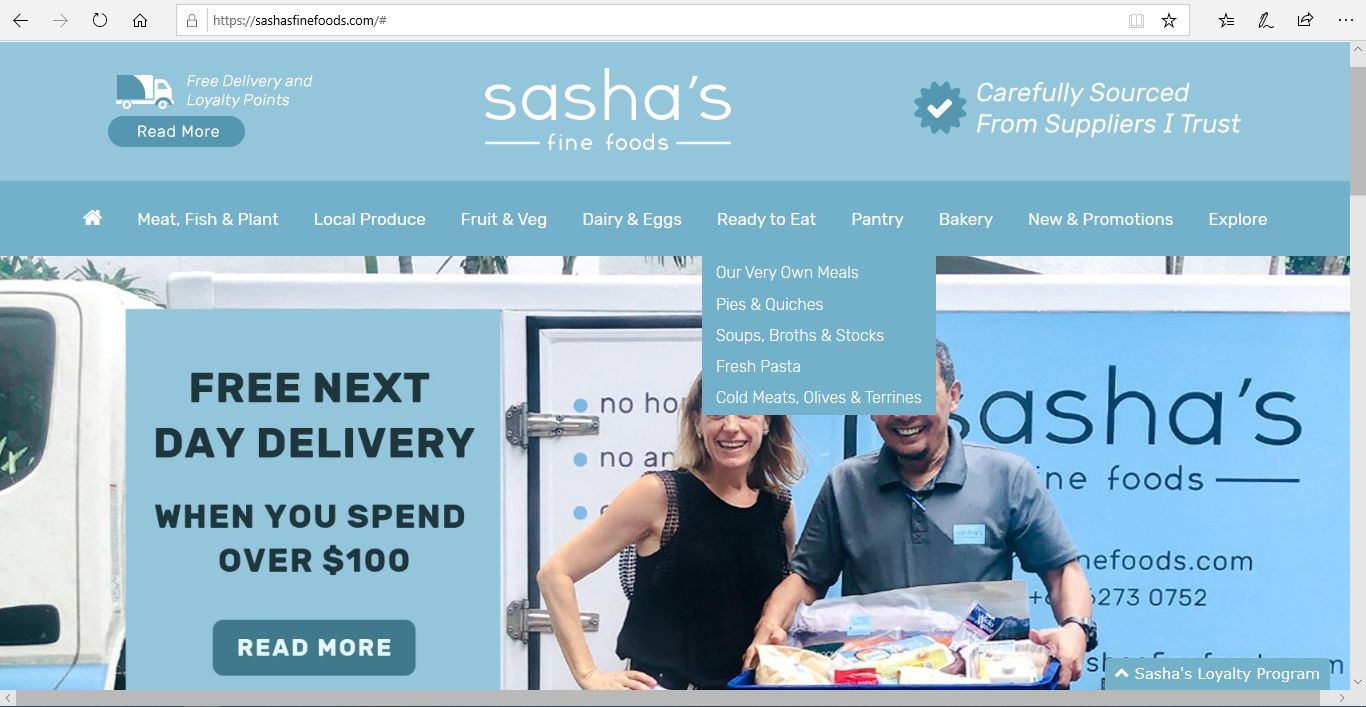 You will land on the page where all the products under your chosen sub-category are catalogued. Go through the list of items and select a product you wish to purchase by clicking on 'Add to Cart .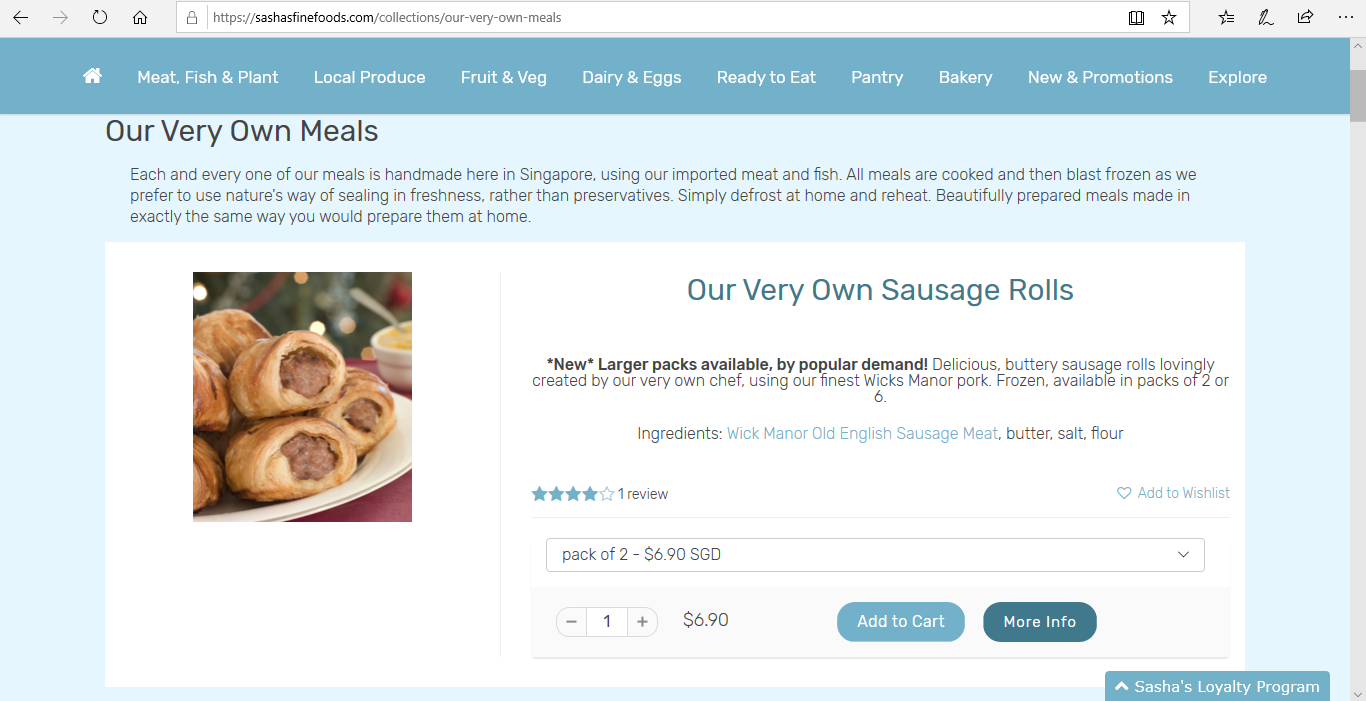 After adding all the products you want to purchase to your cart, click on the shopping cart icon on the top right corner of the page. You will be directed to the shopping cart summary page. Scroll down and enter the preferred date and time slot for delivery of products. You can also add some instructions in the 'Order Notes box if you wish to. Click on the 'check out button to proceed further.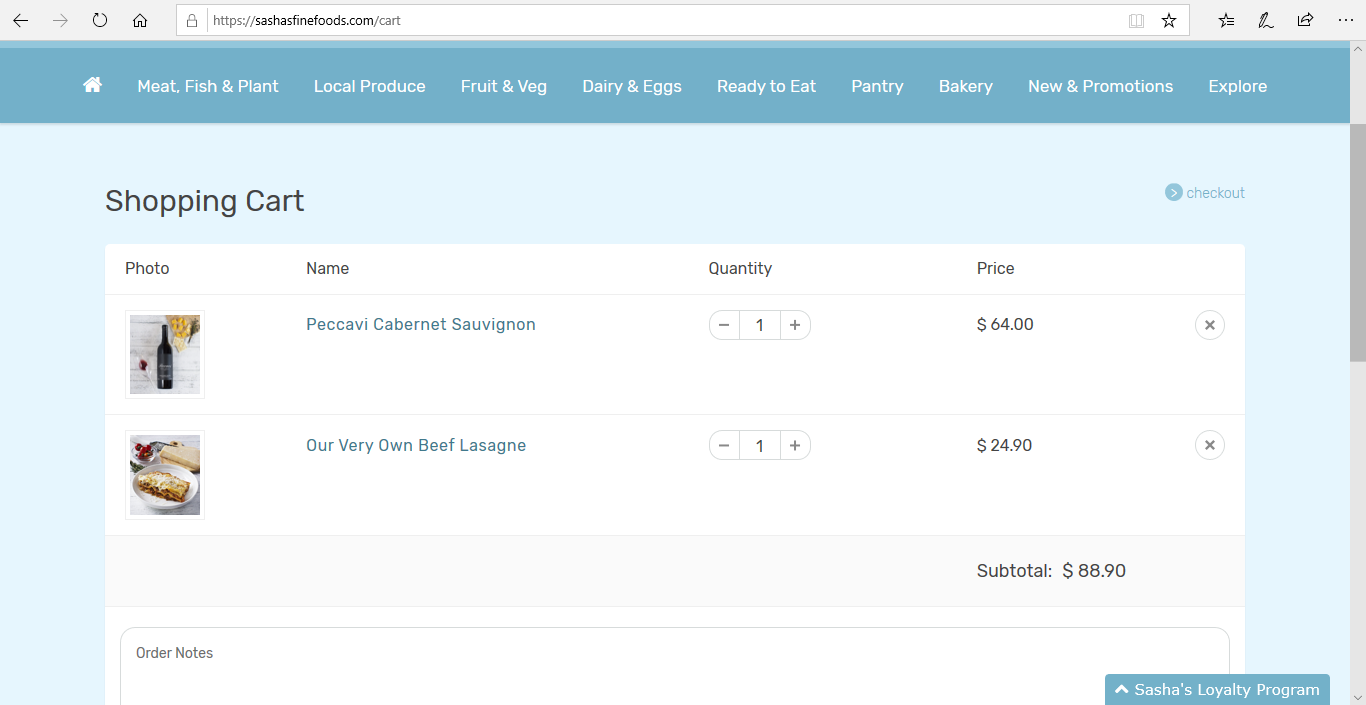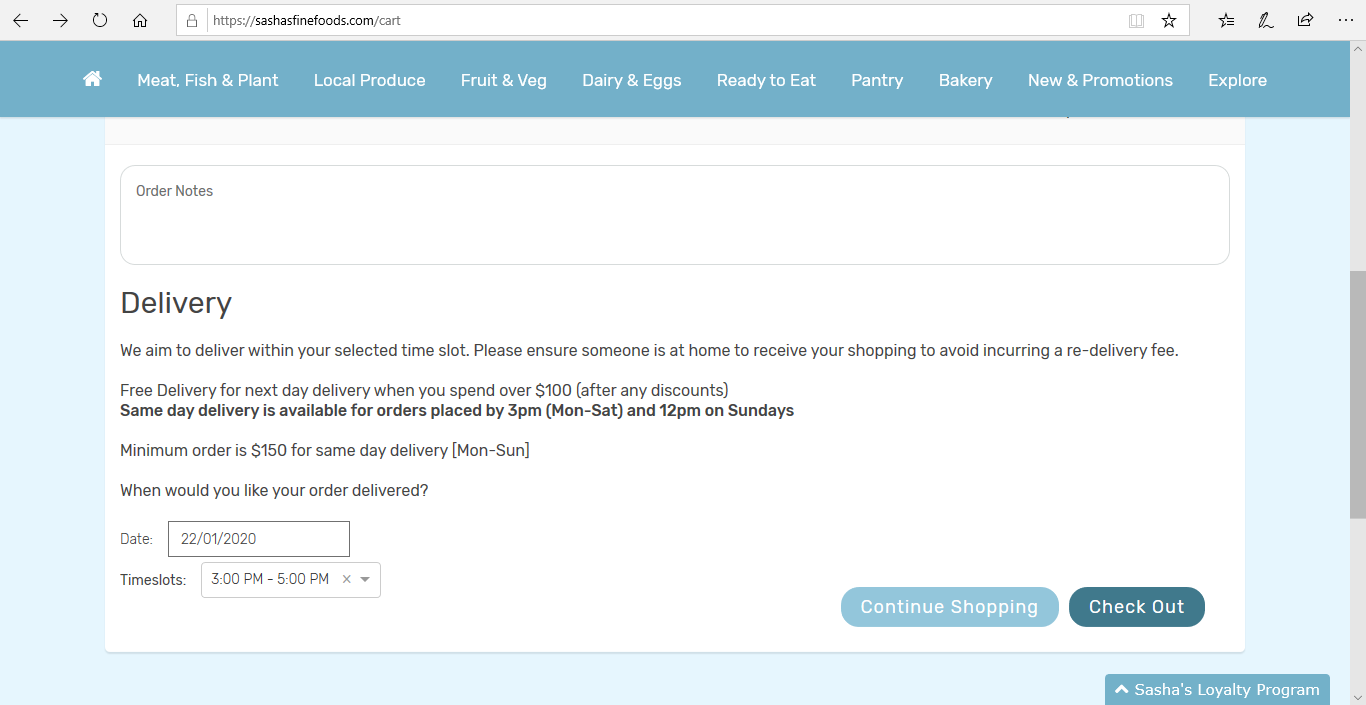 On the checkout page, enter your details such as name, delivery address and contact information. If you have a Sasha s Fine Foods code, then redeem it in the promo code section. You can search for Sasha s Fine Foods promo codes under their 'New & Promotion section. Continue to pay for your order and your order will be confirmed once the transaction is successful.
Payment Options on Sasha s Fine Foods
Sasha s Fine Foods offers the following payment options to its customers:
Credit Cards:
The Visa, MasterCard and American Express credit cards are accepted modes of payment at the Sasha s Fine Foods website. You can easily and securely pay for your orders by providing your card number, expiry date and cvv number.
PayPal:
PayPal is another trusted online payment system that can be used by customers to pay for their orders. This secure online money transfer channel is one of the most popular means of transactions and can be used anywhere in the world.
Apple Pay:
Apple device owners can easily use this digital payment wallet to pay for their purchase. This quick and secure payment service is accepted by Sasha s Fine Foods.
Different Coupon Codes and Discounts on Sasha s Fine Foods
Sasha s Fine Foods offers many discounts and deals to its customers from time to time. Some Sasha s Fine Foods discounts are offered for a long time while some Sasha s Fine Foods vouchers are available for a limited period only. Consumers can save a lot of money on the products available on the website by applying the Sasha s Fine Foods coupon codes or Sasha s Fine Foods voucher codes that the online store offers under its promotion section. The grocery and gourmet meals store also provides Sasha s Fine Foods promo during Sasha s Fine Foods sale.
At present, the customers can earn cashback on products if they shop with the online store via a registered account at Shopback. There are some other Sasha s Fine Foods coupons that can be availed via ShopBack.
How to Redeem Coupons and Vouchers at Sasha s Fine Foods
Online shopping can be a very rewarding experience where customers get plenty of opportunities to save money on their purchase. Several websites offer codes and vouchers that can be redeemed to earn cashbacks and discounts on products.
Here is a step-by-step tutorial on how to redeem Sasha s Fine Foods promo code:
Step 1:
Select the item that you wish to buy and click on Add to Cart .
Step 2:
On the order summary page, select your preferred date and timeslot for delivery of your order and click on checkout.
Step 3:
On the checkout page, fill in your contact details as well as delivery address. Also enter your Sasha s Fine Foods promo code in the field for redeeming coupons.
Step 4:
Select the payment method as per your convenience and enter the payment details to complete the transaction.
How to Shop on Sasha s Fine Foods using ShopBack
ShopBack offers cashback on your shopping if you shop from Sasha s Fine Foods. Below mentioned are the steps to shop via ShopBack:
Step 1:
Choose Sasha s Fine Foods from the list of merchants under the 'Groceries section on the ShopBack homepage, or use the search box to find a link to Sasha s Fine Foods webpage.
Step 2:
To ensure cashback, carefully read do s and don ts, notes, terms and conditions and other relevant information mentioned on the left hand side of the website.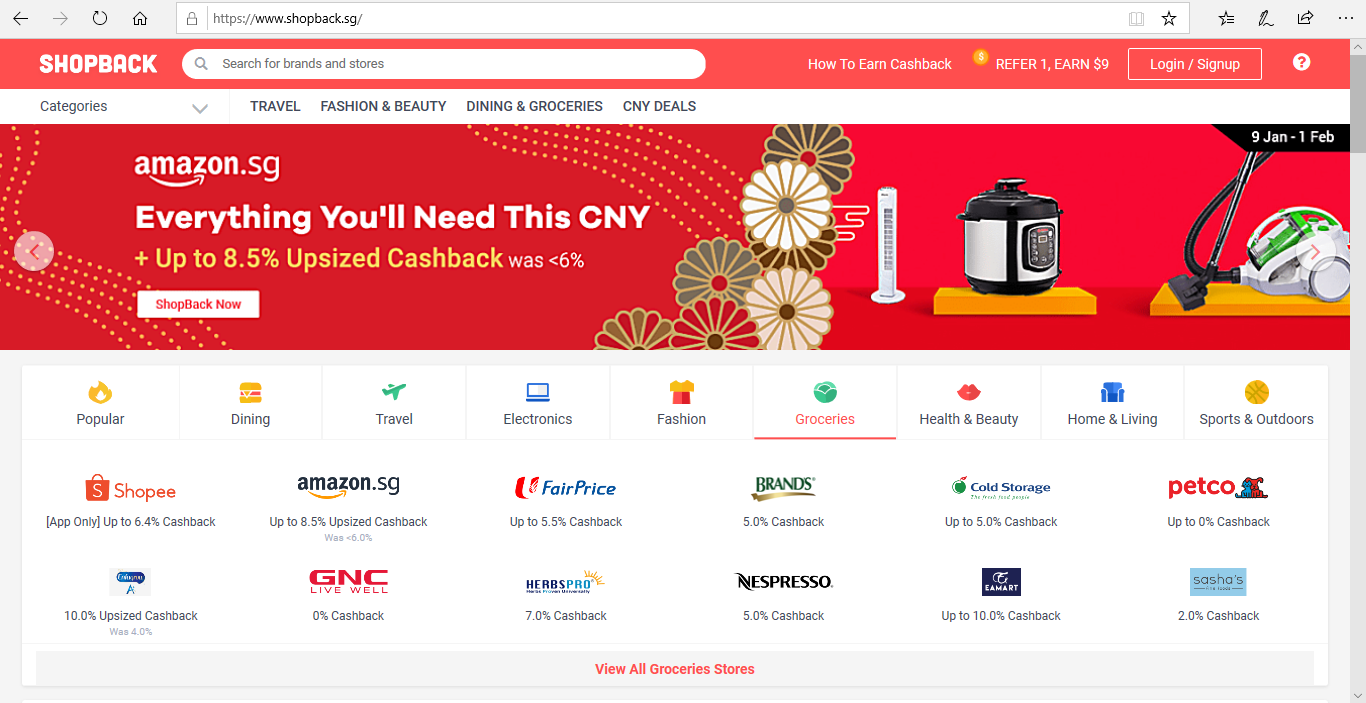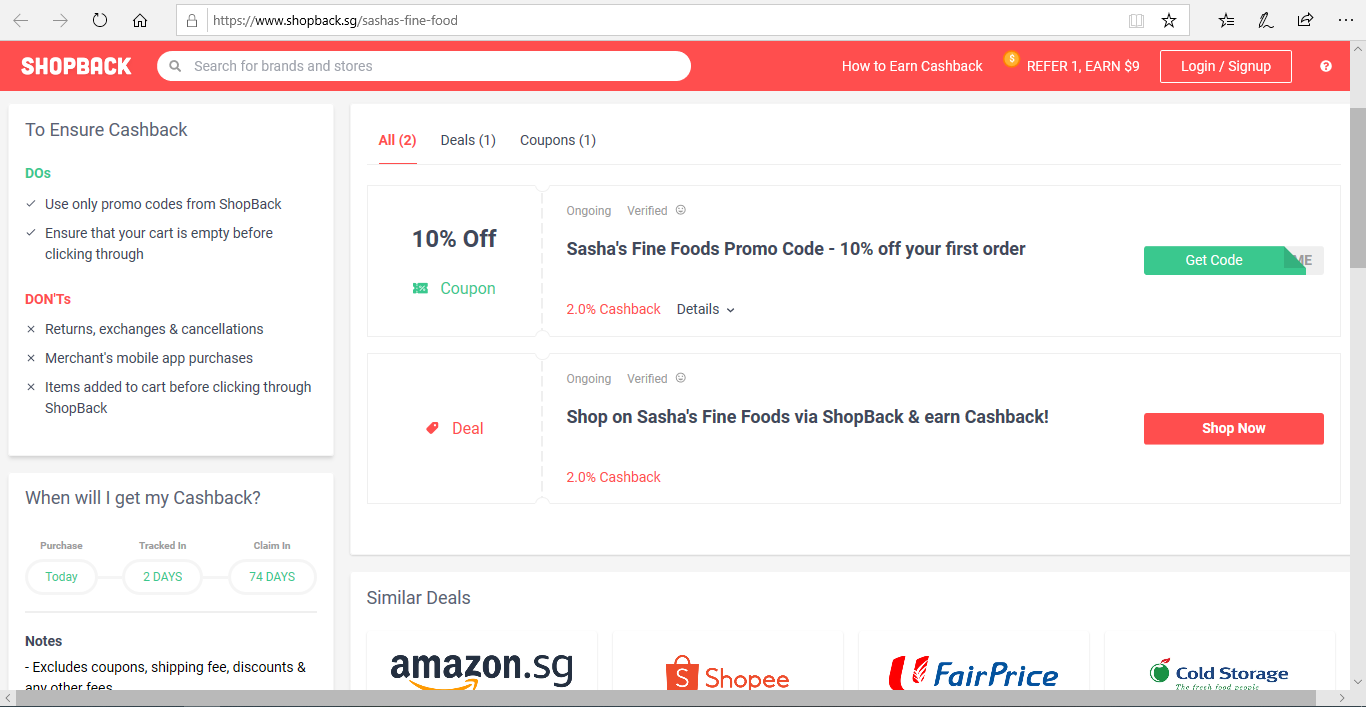 Step 3:
Click on 'Shop Now button, and then click on the 'Go to Sasha s Fine Foods now! button on the pop-up window.
Step 4:
You can explore more tempting deals by checking out the 'Sasha s Fine Foods Discount Codes, Promo Codes & Coupons section.
Step 5:
You will be eligible to receive Sasha s Fine Foods cashback from ShopBack after placing the order. Cashback offer is valid only when you shop via ShopBack website.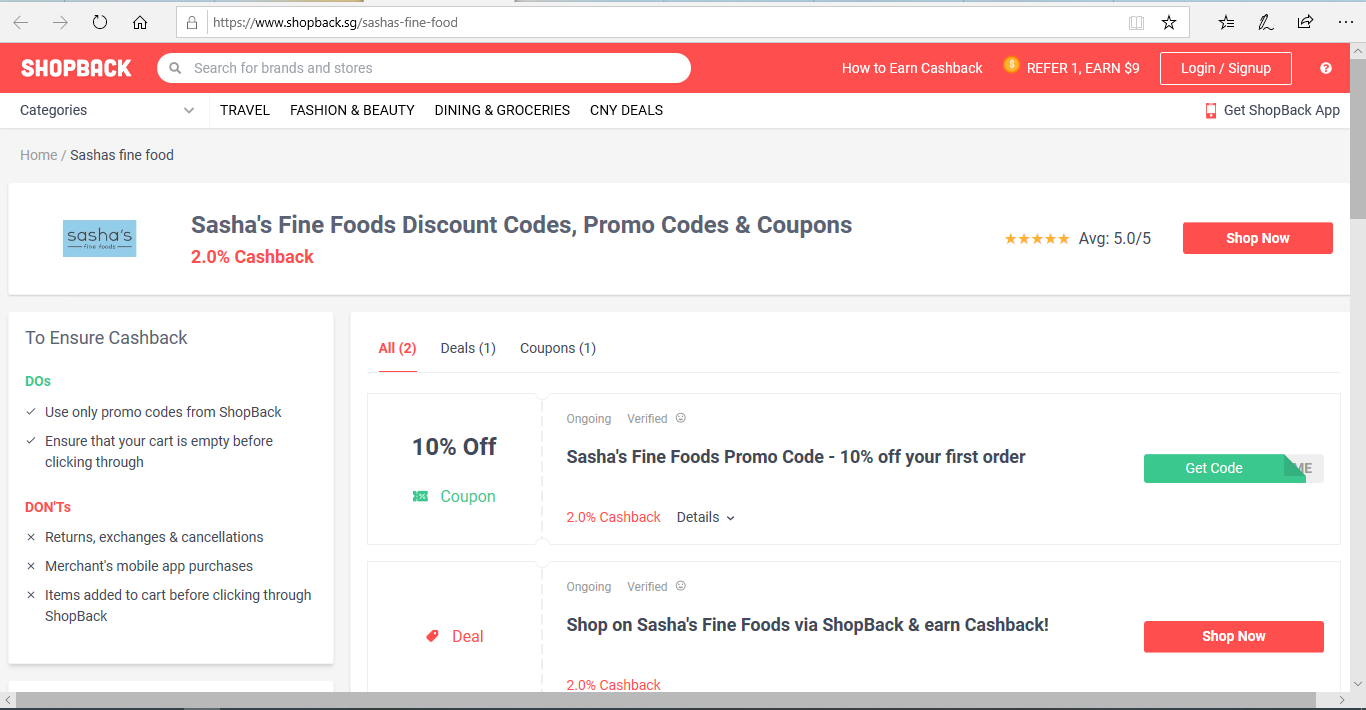 Sasha s Fine Foods Delivery and Refund Policy
Sasha s Fine Foods does not have any minimum order for deliveries. If the order costs up to $100, the customer has to pay $10 as delivery charges. If the cost of the shopping cart exceeds $100, then the order qualifies for free delivery.
Sasha s Fine Foods usually delivers the orders by next day. The date of delivery and timeslot can also be selected during the checkout process. The online store also provides same day delivery on orders with a value of $150 and above.
Refund Policy:
If a customer is unsatisfied with any item in their order due to quality issues or damage during transit, then he/she must contact Sasha s Fine Foods via email or telephone. The merchant will initiate your refund upon intimation. Refund can also be claimed if any item is missing from your order or you have received an incorrect item. In such cases, you must notify Sasha s Fine Foods within 24 hours of delivery. The refund will be credited to your account within 10 business days.
Sasha s Fine Foods Customer Service
For any assistance, enquiry or complaint, contact Sasha s Fine Foods via phone at +65 6273 0752 or by writing to them on [email protected] Their office is open from Monday to Friday: 9AM – 6PM and Saturday: 9AM – 1PM.
Connect with Sasha s Fine Foods on: