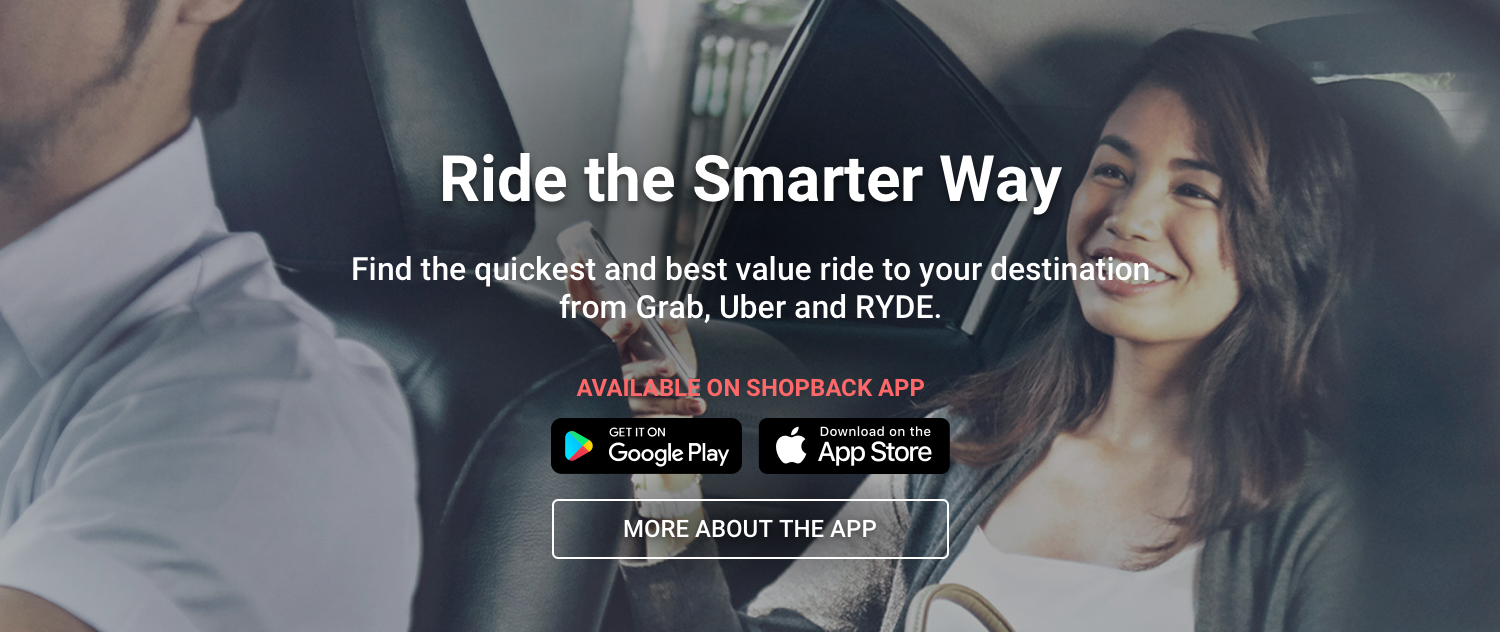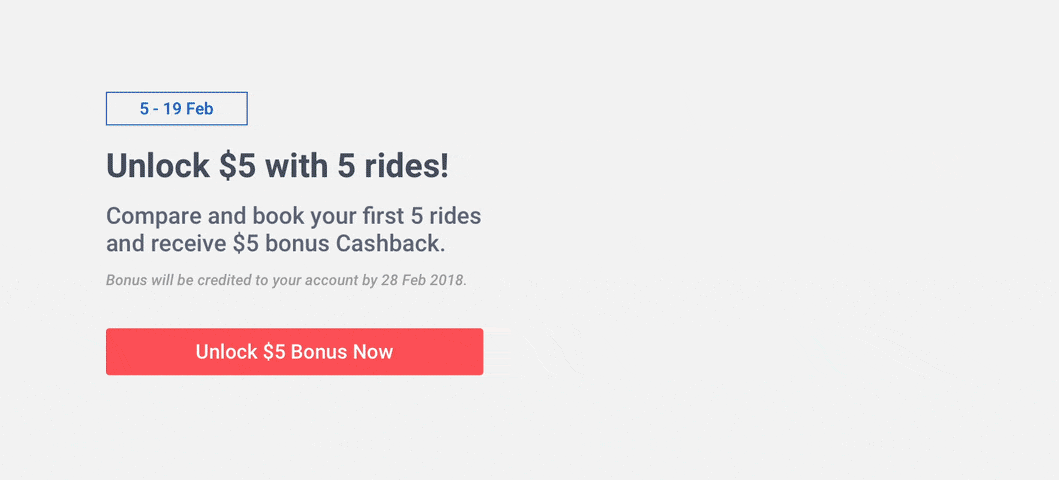 Terms & Conditions
Valid for first 5 rides via ShopBack taken between 5 Feb 2018, 0:00 - 19 Feb 2018, 23:59.
Not valid on Grabhitch and Grabtaxi rides.
Valid only for New-to-Rides users defined as ShopBack users who have not taken a Grab/Uber/Ryde ride via ShopBack before.
Valid for selected new and existing ShopBack users.
Valid for all rides taken on the Rides Comparison feature on the ShopBack App, including those without Cashback.
Valid for one-time redemption throughout the whole campaign period only.
Limited to first 5,000 customers who successfully qualified only.
A successful ride will be defined as a user who has installed the ShopBack App and clicks through the Rides Comparison feature on the App's homepage to book a ride and successfully completes a ride from Grab, Uber or Ryde. By making 5 completed rides, the ShopBack user will be qualified for the Extra $5 Bonus Cashback.
$5 Bonus Cashback will be credited into the user's ShopBack account by 28 Feb 2018.
$5 Bonus Cashback is valid on top of existing $0.20 Cashback for selected rides only.
FAQ
1. What is the Rides Comparison feature and where can I find it on the App?
It's a user-friendly feature that allows you to compare the fastest and best value ride to get to your destination. Simply, input your destination address using the feature and it will calculate the fastest and cheapest ride you may take with Grab, Uber or Ryde to get where you want. From there, you are able to clickthrough directly into Grab, Uber or Ryde with your destination details intact and book your ride as usual.
2. Is this promotion valid for ALL rides featured on the Rides Comparison including those without Cashback?
Yes, as long as it's successful ride taken via the ShopBack App, it will be recognised as a qualifying ride regardless of whether there is Cashback issued on the ride.
3. I've taken Grab/Uber/Ryde before but not with the ShopBack App, do I qualify for this promotion?
Yes, of course! As long as this is your first 5 rides via ShopBack, you will automatically qualify for the $5 Bonus Cashback. :)