Rail Europe World Deals, Offers & Cashback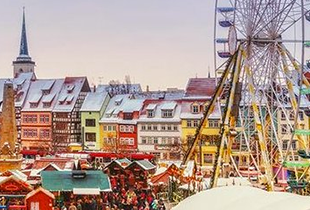 Travel by train in Europe with Rail Europe, your travel planner.
ShopBack must be the last link you clicked in order to get Cashback. If other website links are clicked after clicking through ShopBack, Cashback will not be tracked (E.g. coupon and deal websites)

If for some reason your payment made on merchant page has failed, do click through ShopBack again and re-do your purchases to ensure tracking is still active

Return to ShopBack and click through to the merchant every time you are making a new transaction.

If you are making 3 separate transactions on the merchant, you should click through ShopBack 3 times, each time before making a new purchase.

For more details: www.shopback.sg/terms-and-conditions
More about Rail Europe World
Rail Europe World - the best way to travel Europe!
If you're touring the entire trajectory of Europe and have to travel within cities, there's no better way than to do it via train. Thanks to the Schengen Area agreement, interstate travel between a whole plethora of European cities is as easy as walking freely into another neighbourhood of sorts. Except that you're gonna take the train with Rail Europe World, and here's just a few reasons why you should.
Get Rail Europe World promo codes and Rail Europe World discount coupons with ShopBack Singapore's cashback offers.
At Rail Europe World, you can select a plethora of trains to ride on - depending on your destination and your travel goals. For example, are you aching to get from London to Paris as fast as possible? Or are you taking the train partly to see the sights in the liminal spaces between two countries? Here are your options:
High speed trains: They can operate at a speed of up to 320 km/h. Being modern, comfortable and offering a high level of service, they are often the best way to travel long distances.
Night trains: Most of them operate on long distance routes. Amenities on board include a restaurant car, sleeping carriages, women-only carriages, restrooms etc. Night trains are often regarded as a practical way to save a night's accommodation.
Scenic trains: Most scenic trains operate in Switzerland but other countries in Europe have equally interesting scenic trains. From the comfort of your seat, you will enjoy the best of European landscapes.
Regional trains: They are also known as local trains. The most common regional trains are the InterCitys. Most regional trains operate on medium distance routes and do not require a seat reservation.
At Rail Europe World, there are over 40 trains to choose and purchase tickets from - depending on where you're heading to next! As you're purchasing them, just remember to do so via ShopBack Singapore to obtain exclusive Rail Europe World promo codes, Rail Europe World discount coupons, and on top of that, 2% cashback.
How do I buy Rail Europe World tickets and obtain Rail Europe World promo codes and cashback offers?
Easy! Assuming you're taking the Eurostar - a high speed train that links the UK to mainland Europe, you can book tickets directly through Rail Europe World. Simply select the number you need and the time you'll be heading off. Select the class you want to be in - second, first or business - and book as per normal! Enter your Rail Europe World promo codes and make your payment. If you've signed up for a ShopBack Singapore account, your 2% cashback offer will be directed into your ShopBack Singapore account within a few days. It will be redeemable in about 45 days, and you can happily trot off with your savings - or spend it on even more travelling too, if you wish! Enjoy your cashback and discount, courtesy of ShopBack Singapore!
Save more, travel more! Get these savings on top of Rail Europe World discount coupons.
If you're a youth (that's 25 years and below), a senior (above 60 years old) Rail Europe World encourages you to make the most of it! Get huge discounts for youth and senior fares. Furthermore, add ShopBack Singapore's cashback offers above Rail Europe World promo codes to save greater (for your future!)
Rail Europe World mobile apps for easy on the go convenience!
If you're backpacking and have to be on your feet most of the time, it will definitely be a good idea to have the mobile version of Rail Europe World on your phone! This app is designed to simplify your journey by train in Europe!
Get a reminder of your upcoming trips directly in your agenda, check-out your booking information, browse our station guides which include address and location on maps, find trains to reach one of the 15,000 destinations offered by Rail Europe and reach their customer support whenever you want. Plus, you can keep track of new Rail Europe World promo codes and other discounts. The Rail Europe World mobile app is known as 'My Travel Companion' and is available on both the App and Google Play stores.
Stay on track with Rail Europe World
If you're an avid traveller and backpacker with a penchant towards wanderlust and exploration, it'll definitely be a good idea to keep Rail Europe World's promo codes and Rail Europe World discount coupons on your itinerary. Stay connected to Rail Europe World's discount coupons by following them on Facebook, Twitter and Google +. You can also read their blog and head over to their YouTube channel! If you're planning a trip but are clueless on where to head to, why not check out their Pinterest for some travel inspiration? Wherever you're going, do have a great travel experience!
Love Rail Europe World? We think you'd really like ZUJI and Expedia as well - get 6% and 8% cashback offers respectively if you make your purchase via ShopBack Singapore. Remember to sign up with ShopBack Singapore if you want to make greater savings on your travels.