Qatar Airways - The Best Way to Fly
Qatar Airways is one of the world s major airlines. It is the national carrier of Qatar and has a network connecting countries across six continents. With a fleet of 200 aircraft, Qatar Airways flies to over 150 destinations around the world. The airline s primary hub is at Hamad International Airport in Doha, Qatar. Qatar Airways destinations include 350 other countries that it connects to through its code-sharing partners. Qatar Airways flights from Singapore connect to Barcelona, Birmingham, London, Paris and many other major cities in the world.
The Hamad International Airport handles 32 million Qatar Airways passengers annually. Qatar Airways strives towards providing its customers a comfortable fleet on all its short, medium and long-haul flights. The airline s world-class in-flight amenities and customer service makes it an amazingly popular airline in the world.
As a reason to offer its customers the best of services, Qatar Airways introduced the Privilege Club- the loyalty program of the airline. Being a member of the Privilege Club can benefit the customers through Qatar Airways special deals, Qatar Airways special offers and other exclusive privileges at the airports and in the flights. Moreover, during Qatar Airways promotions, sales and offers, the airline gives out vouchers and coupons, making you eligible for great Qatar Airways deals.
Qatar Airways commenced operations in January 1994 as a regional airline. The airline was re-launched in 1997 and started operating on international routes.
Flights to Bengaluru, Tokyo, Phuket and Sao Paolo among other cities were started operating in 2010. In 2011, Qatar Airways reached the milestone of serving 100 destinations around the world. Also, for two consecutive years- 2011 and 2012, the airline was awarded Airline of the Year at the annual Skytrax Awards. Qatar Airways, In the year 2014, became the global launch customer of the first Airbus A350 aircraft. The AL Safwa First Lounge was opened at Hamad International Airport by Qatar Airways in 2015.
The year 2016 was remarkable for Qatar Airways. The airline won The World s Best Business Class, Best Airline Staff Service in the Middle East and Best Business Class Airline Lounge at the Skytrax Awards. The airline also grew in terms of its fleet size. Also, in this year, three private jets were launched by Qatar Airways. Its Premium Lounge at Dubai International Airport opened in 2016. Qatar Airways Airbus A380 commenced operations to Sydney in September 2016.
In 2017, Qatar Airways was again named Airline of the Year, along with Best Airline in the Middle East, World s Best Business Class and Best First Class Airline Lounge at the Skytrax Awards. Also, during this year, the airline started operating flights to Macedonia, Oman, Turkey and Ireland, among many other places.
In-flight Amenities on Qatar Airways Singapore
You will have an amazing onboard experience with Qatar Airways with their world-class service and onboard amenities. The airline offers Economy, Business and First travel classes.
The Qatar Airways Economy Class is spacious and has comfortable seats. The onboard services offered here include dining and entertainment. Qatar Airways serves sumptuous food onboard. You can relish multiple cuisines prepared by the top chefs in the world. From freshly prepared appetizers to desserts, there is a lot of variety in the food offered during the flights. Also, drinks like fruit juices and mocktails are also available onboard. The airline gives you the privilege of ordering special food like diet meals, health care meals and meals for children. You can listen to music, watch your favourite TV shows or movies or play games for entertainment during the flight. On selected long-haul flights, the passengers travelling by Economy Class get amenity kits that have an eye mask, socks, dental kit, lip balm and other essentials. If you have Qatar Airways discount code, then you get great deals and can book Qatar Airways cheap flights to your destination.
The Business Class on Qatar Airways has state-of-the-art amenities. You can stay connected with the world during your flight with OnAir mobile service. USB plugs and power points can be utilized to charge your electronic devices. Wi-Fi services are available on A380, A350, B787, A319 and some A330, A320 and A321 aircraft. You can enjoy endless entertainment onboard with your personal entertainment systems and have the best TV shows, movies, music and games at your fingertips. With spacious and comfortable seats, you can feel at home and work comfortably during the flight. Also, with a wide choice of options for meals, beverages and other drinks, you are sure to have a great dining experience onboard Qatar Airways flights.
Travel in style with the First travel class of Qatar Airways. The airline s First Class is exceptionally good, offering you a seamless travel experience. Get served in your own private space tailored to meet your needs. You are offered complementary amenity kits and sleeper suits onboard. With the lie-flat beds, you will have an excellent in-flight experience. Relish signature dishes and drinks or get your choice of beverages and juices with private dining as your travel on Qatar Airways First Class. Apart from the exceptional in-flight services, you can enjoy speedy check-ins, security clearances, etc. if you are travelling by First Class.
How to Book a Flight with Qatar Airways?
To book a flight online, you can go the official website of Qatar Airways Singapore. The official website not only has provision to book a flight, but also the provision to check in, manage your booking, book special services, contact the airline, check Qatar Airways flight status, etc. The simple interface of the website enables a seamless browsing experience. Also, you can be a member of the airline s Privilege Club and earn Qatar Airways miles as you travel by the airline. You can also look for Qatar Airways cheap flights to your desired destination before you make a booking through the website.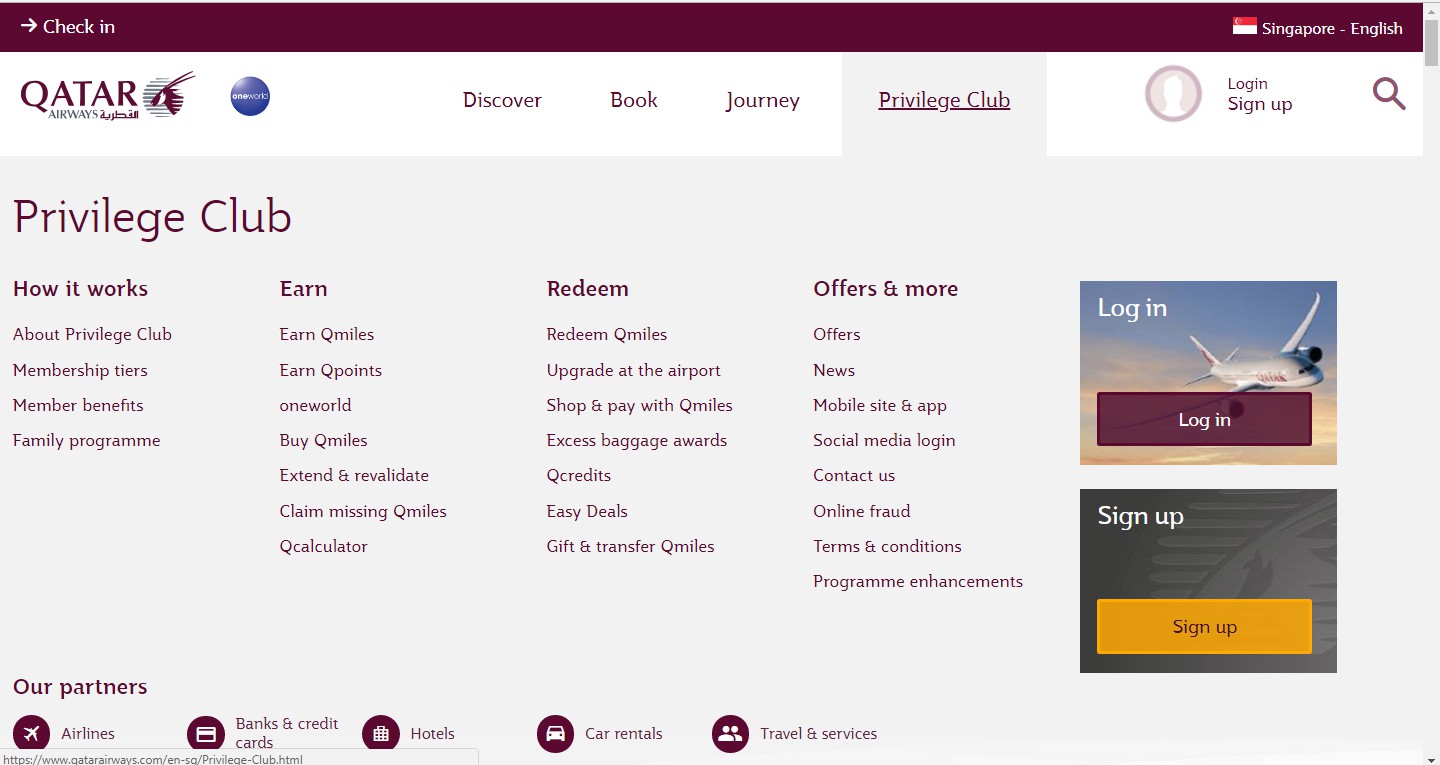 Step 1:
On the homepage of Qatar Airways Singapore, navigate to the "Book" option and select the "Flight" option present on the left side of the page. Doing this will redirect you to the 'Book a Flight page.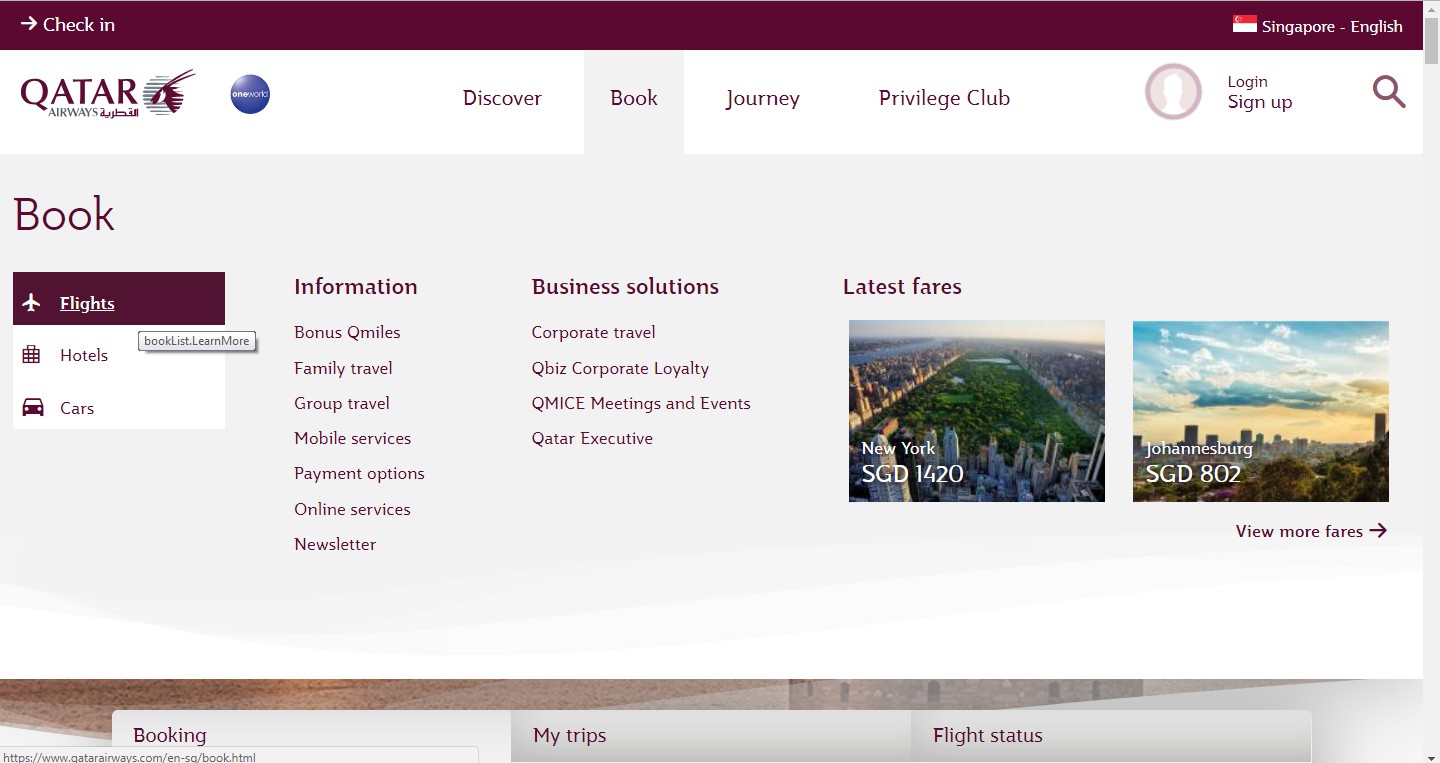 Step 2:
Select the type of journey- round-trip, one-way or multi-city.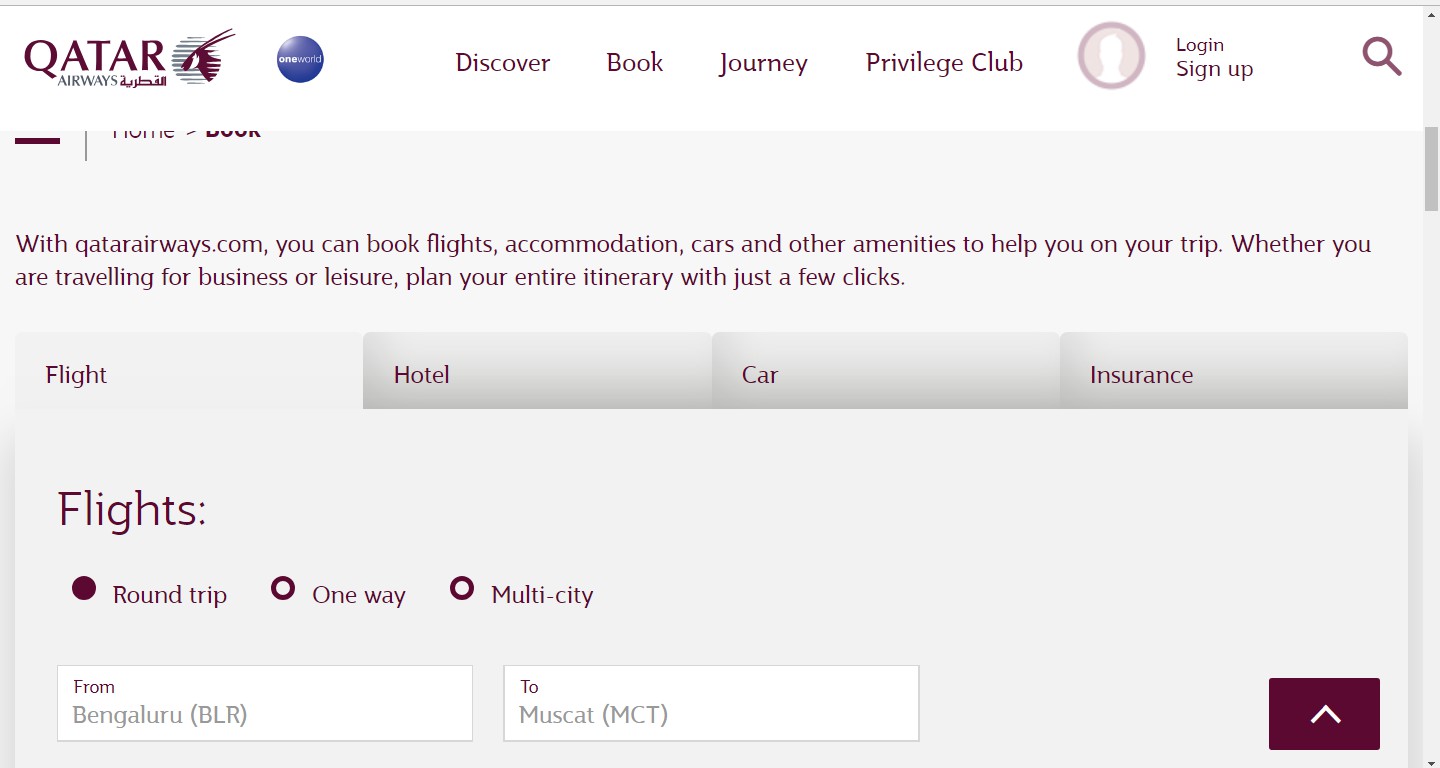 Step 3:
The details of your journey, such as the departure and arrival airport names, journey dates, number of passengers and the Qatar Airways promo code or Qatar Airways coupon code if you have any.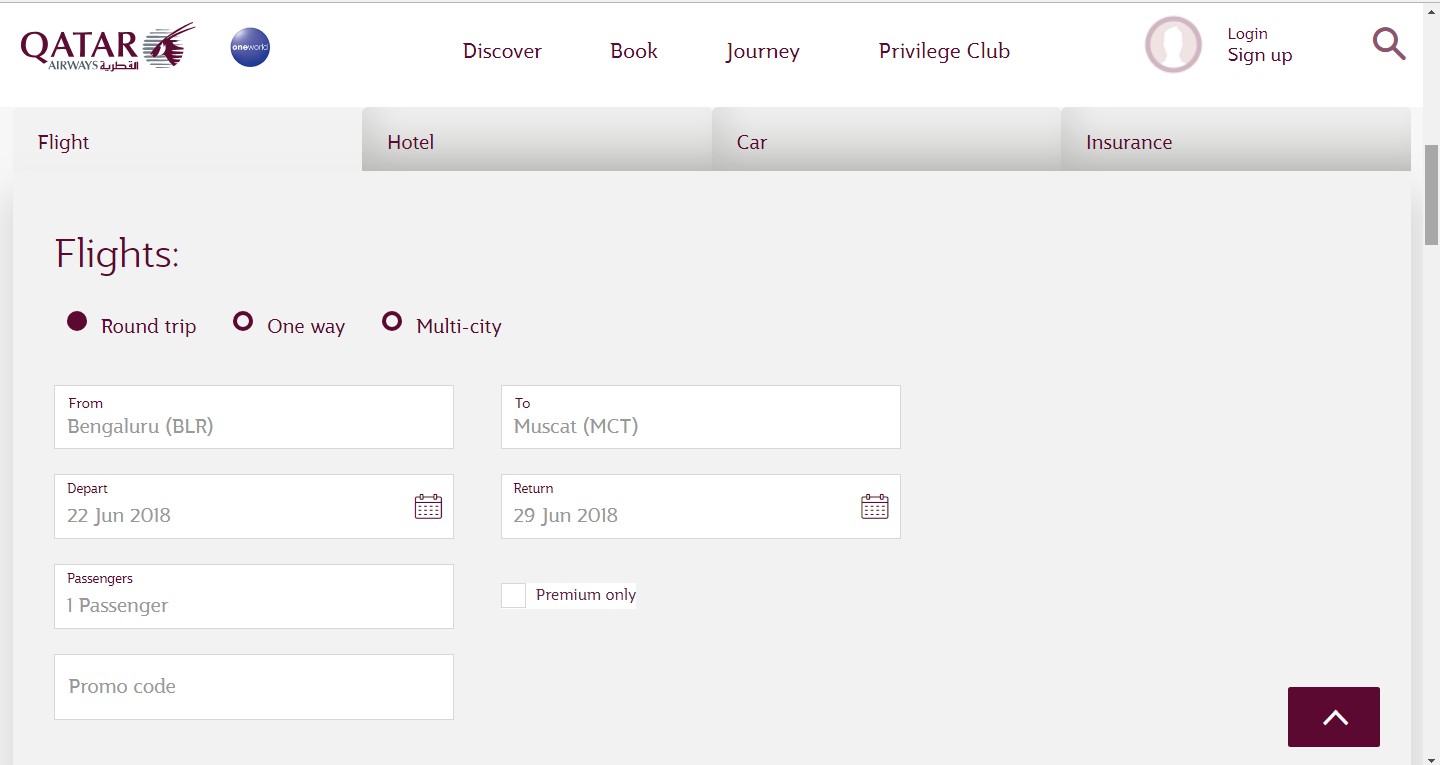 Step 3:
Click on the "Search Flight" button. You will be redirected to a different page displaying the list of flights. On this page, you can check flights for alternative dates by using the tabs for different dates.
Note:
Alternatively, you can directly enter the flight details and Qatar Airways Singapore promo codes under the 'Flights section on the homepage.
Payment Options for Qatar Airways
Qatar Airways offers multiple payment methods when bookings are made through the website. different countries have different options of making payment. Here are some prominent payment methods that the airline offers:
Credit and Debit Cards:

This is the most common payment method. VISA, American Express, JCB, MasterCard, Maestro and Diners Club are some companies whose debit cards can be used to make payments.

Payment through Bank:

In certain countries, the customers can make payments for their bookings at specific local banks.

PayPal:

PayPal is another method of payment offered by Qatar Airways. This is a quick, safe and simple payment method.

Internet Banking:

The internet banking option is available at almost all the countries. For example, customers in Australia can use POLi internet banking to pay for the tickets.
Some payment methods in different countries are Alipay and UnionPay International in China, SEPA Direct Debit and SOFORT in Germany, Knet money transfer service in Kuwait, NAPS through QPay in Qatar and CCAvenue in India.
Different Coupon Codes and Discounts on Qatar Airways
Having the Qatar Airways discount vouchers can get you amazing deals on flights. You are likely to win vouchers and codes during different Qatar Airways Singapore promotions and Qatar Airways sales. Redeem the vouchers to get Qatar Airways discounts on flight tickets and upgrades on flights. Look for various Qatar Airways offers on the official website under the Privilege Club section.
How to Redeem Coupons and Vouchers for Qatar Airways?
On the website of Qatar Airways, look out for amazing deals on flights to gain Qatar Airways discounts. Also, if you enroll into the Privilege Club of the airline, you can win Qatar Airways discount coupons and Qatar Airways vouchers. You can use the Qatar Airways promo and other Qatar Airways codes, etc. And be eligible for various discounts on flights.
By following these steps, you can redeem your Qatar Airways coupons:
Step 1:
On the homepage of Qatar Airways Singapore, select the "Book" tab and click on the "Flights" link under it.
Step 2
: Select the type of journey-one-way, round-trip or multi-city from the options.
Step 3:
Fill in the departure and arrival airports, journey dates, passenger details and your Qatar Airways voucher code.
Step 4:
Click on the "Search Flights" button.
Through the vouchers and coupons, you will be eligible for discounts.
How to book a flight with Qatar Airways using ShopBack
You must have an account with ShopBack in order to be eligible for a Qatar Airways cashback of 1% on the flights that you book. Here are some simple steps to follow for Qatar Airways bookings for flights through ShopBack and receive a cashback:
Step 1:
Go to the ShopBack website for Singapore and log in or sign up. To do this, use the options present on the top right corner of the page.
Step 2:
After you log in or sign up with ShopBack, go to the ShopBack homepage. Find the Travel tab by navigating downwards on the homepage and select the tab.
Step 3:
Click "View all Travel Stores".
Step 4:
Find and select Qatar Airways from the list of travel stores. You will be redirected to the Qatar Airways page of ShopBack.
Step 5:
Click the "Activate Cashback" button present on the left side of the page. A pop-up window will appear.
Step 6:
Click on the "Continue to Qatar Airways" button.
You will be redirected to the official website of Qatar Airways. You can book your flight from the official website and you will be eligible for 1% cashback.
Qatar Airways Cancellation & Refund Policy
Cancellation charges apply for any cancelled ticket. If the ticket is non-refundable, then no part of fare will be refunded. However, even for a non-refundable ticket, the unused coupons are refundable. If you made the bookings through the official website of Qatar Airways, you can request a refund online by filling a form on the website. In case bookings are made through travel agencies, you must contact the travel agent regarding cancellations and refunds. The refund is issued to the original form of payment.
If a flight is cancelled due to unforeseen conditions of weather, air traffic control, etc. then, the airline will provide you an update as early as possible. Also, if you are not informed of the flight cancellation or delay at least two weeks in prior to the scheduled departure, then the airline will
Arrange an alternative means to take you to your destination;

Provide a refund for your ticket if you choose not to travel;

Transfer you to the initial point of departure;

Provide compensation if you reach your destination with more than 2 hours of delay;

Provide hotel accommodation, meals and drinks if necessary
Qatar Airways Customer Service
The customer service centre of Qatar Airways if always available to help you. You can contact the airline in more than one way.
Select the "Contact Us" link present at the bottom of the page and choose the topic regarding which you want to contact the airline. Some topics are refund request, complaints and cargo. Alternatively, you can send fax to +974 4022 5336.
You can also connect with Qatar Airways through social media: