MyRepublic Fibre Broadband Broadband Promotions + CASHBACK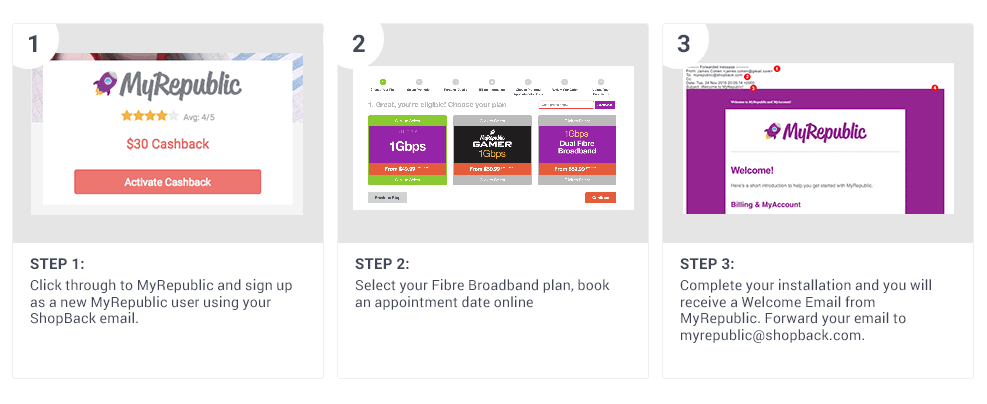 Cashback is temporarily unavailable for this merchant. Alternatively, check out Singtel Prepaid for Cashback.
ShopBack must be the last link you clicked in order to get Cashback. If other website links are clicked after clicking through ShopBack, Cashback will not be tracked (E.g. coupon and deal websites)

If for some reason your payment made on merchant page has failed, do click through ShopBack again and re-do your purchases to ensure tracking is still active

Return to ShopBack and click through to the merchant every time you are making a new transaction.

If you are making 3 separate transactions on the merchant, you should click through ShopBack 3 times, each time before making a new purchase.

For more details: www.shopback.sg/terms-and-conditions
More about MyRepublic Fibre Broadband
MyRepublic – the provider of fast, seamless Internet service in Singapore
Established in 2011, MyRepublic is one of the pioneers of optical fibre National Broadband Networks in Asia Pacific. Undoubtedly, they are best known as the company that rolled out the first 1Gbps fibre broadband plan under $50 in both Singapore and Southeast Asia – which brought about immense convenience to every Singaporean. Today, Singapore has one of the best Internet connectivities in the world – and this can definitely be attributed to the emergence of MyRepublic in the broadband provider scene in Singapore. MyRepublic now provides high-speed Internet service to over 30,000 homes and business in Singapore, and remains at the forefront of industry by constantly investing money to develop cutting edge technology.
Without a doubt, MyRepublic has completely revolutionized the fibre broadband industry in Singapore – and should be the top choice of every Singaporean who wants to have a high-speed and affordable broadband service. With their penchant for quality and customer service, you won't have to worry about dialing the MyRepublic hotline and having to deal with unresponsive staff. All in all, you can expect a pleasant and fuss-free experience when you choose to be a MyRepublic Singapore customer!
MyRepublic promotions help you get the best deal on your broadband subscriptions
The MyRepublic broadband service has got to be one of the speediest in Singapore – try it for yourself and you will be pleasantly surprised! MyRepublic prides themselves on high-speed streaming and their flexible traffic priority system. This only means even greater speed than before, because your downloads will never get a speed cap! When you choose to subscribe to a MyRepublic broadband, you are guaranteed your plan's full bandwidth for everything – be it surfing the net, gaming, or streaming videos. Also, MyRepublic promises to never compromise your streaming speed during peak hours, so you can still enjoy the same great entertainment anytime, anywhere.
Does all this sound enticing to you yet? If it does, you're in for a treat! My Republic has a plethora of MyRepublic promo code 2016 waiting for you on their site, all so that you will be able to get the best out of your MyRepublic Internet subscription! MyRepublic has been long renowned for their excellent customer service, as seen from the multitude of positive MyRepublic reviews – so hesitate no more and become a MyRepublic customer now!
ShopBack Singapore is your ultimate shopping buddy – turn to us for awesome MyRepublic promotions!
I believe everyone knows the pain of dealing with slow, unresponsive Internet – those extra seconds of waiting for the page to load is excruciating, to say the least. However, opting for a speedier Internet subscription can sometimes cost a lot more than we expect it to. But in the 21st century, living with slow Internet is no way to live at all. How else are you going to watch all your favourite Korean dramas and stay updated on all the latest celebrity gossip?
Well, lucky for you, ShopBack Singapore helps all our customers save huge on their MyRepublic Internet subscriptions! Simply sign up for an account with us and gain access to a plethora of MyRepublic promotions, discounts codes and coupons, on top of earning awesome cashback! This way, you can rest assured that you are getting the best deal on all your MyRepublic Singapore purchases – and enjoy surfing with high-speed Internet!
Stay connected to My Republic
Want to get your hands on more MyRepublic Singapore promotions, discount codes and coupons for your MyRepublic Internet subscriptions? Simply follow MyRepublic on their various social media platforms below and stay tuned to all the My Republic latest updates!
If you are an avid tech geek looking for some electronics (e.g. mobile phones, laptops), do check out Lazada for their extensive range of electronics, and earn up to 4% cashback on your purchases!