3 step(s) to get your MyRepublic Fibre Broadband Cashback
STEP 1:
Click on the MyRepublic "SHOP NOW" button and purchase your plan. You will have to sign up as a new MyRepublic user in order to get Cashback.

NOTE: Please create a new account after you have clicked through ShopBack.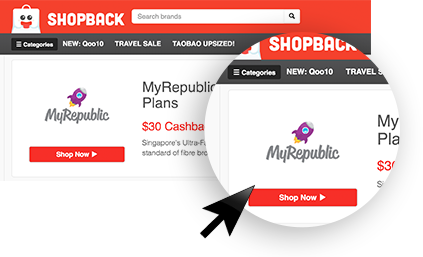 STEP 2:
Sign up as a new user preferably using the same email account as your ShopBack email. Choose your Fibre Broadband plan, book an appointment and complete your Fibre Broadband installation.

NOTE: No Cashback will be given if you have not completed your Fibre Broadband installation.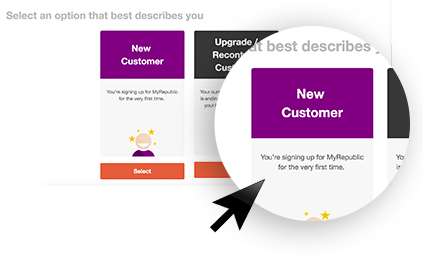 STEP 3:
After the successful installation of your Fibre Broadband, you will receive a Welcome Email from MyRepublic with the subject title "Welcome to MyRepublic!". Forward this email to myrepublic@shopback.com using your ShopBack email account.

NOTE:
#1 Sender Address is your ShopBack Email Account. If you used a different email to purchase your MyRepublic plan, please forward your Welcome Email to your ShopBack Email Account and forward again to myrepublic@shopback.com
#2 Recipient Address is myrepublic@shopback.com
#3 Do not edit your subject title in any way (i.e. it should read as "Fwd: Welcome to MyRepublic!")
#4 Please retain the email in its original HTML format. Forwarded emails in wrong formats such as screenshots, word or pdf will not be valid for Cashback redemption.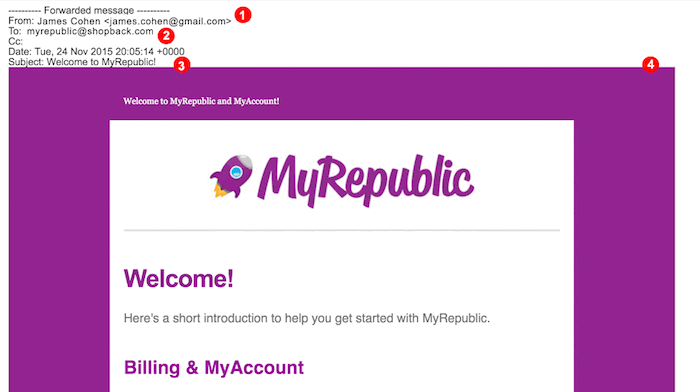 **IMPORTANT: CHECKLIST TO GET SUCCESSFUL CASHBACK
• You will need to be a new MyRepublic user.
• You will need to complete installation of your fibre broadband to qualify for Cashback.
• Please ensure that you do not edit the subject title of the forwarded email in any way or insert additional text in the forwarded email.
• Please use your ShopBack email to forward the MyRepublic Welcome Email to myrepublic@shopback.com. If your MyRepublic email account is different from your ShopBack email account, please forward your Welcome Email from your MyRepublic email account to your ShopBack email account, then forward from your ShopBack email account to myrepublic@shopback.com again.
• Please contact MyRepublic if you do not receive the Welcome Email after installation.

MyRepublic Fibre Broadband Terms & Conditions
- If for some reason your payment made on merchant page has failed, do click through ShopBack again and re-do your purchases to ensure tracking is still active.
- Cashback not applicable to purchases of gift cards, taxes and delivery charges, as well as orders made through the mobile app.
- Returns, Exchanges and Cancellations will not be awarded cashback.
- Accounts that engage in fraudulent orders/activities to game/cheat the cashback system will be banned and cashback forfeited.
- Cashback will not be given for orders made using voucher codes that are not listed on ShopBack. - Cashback is only paid on legitimate transactions.
- Please be aware that some transactions may track at a slightly different rate, but will uplift on a monthly basis, once the transaction is confirmed by the merchant.
- Please note that the use of promo/coupon codes not posted and approved by ShopBack may affect your eligibility for cashback
- Users are required to click through ShopBack's "Get Cashback" button and complete purchase entirely within the same window to qualify for cashback
- Whilst the vast majority of transactions from merchants track successfully, occasionally a transaction may not get reported. If you believe this to be the case, please submit a 'Missing Cashback' query within 100 days of the transaction, as we will be unable to chase up older claims
- Please note that some merchants may not be forthcoming with untracked cashback. We endeavour to chase untracked cashback but reserve the right to halt enquiries at any time.
- From time to time the information displayed here may be out of date.