Dress in Luxury with MatchesFashion
MatchesFashion is a world-renowned luxury fashion retailer headquartered in the tallest skyscraper of the UK, The Shard. The company boasts of more than 450 established designers that include Prada, Saint Laurent, Balenciaga, Gucci, Burberry and Wales Bonner. Customers can shop for these products online, in store or via the company s app. MatchesFashion.com ships product to more than 176 countries and their customer care services are available 24/7. Matchesfashion has partnered with Eco-Age to build responsible business practices via sustainable solutions.
MatchesFashion offers a plethora of stylish modern trendy products for both men and women. Clothing, shoes, bags and accessories from many top designers are available on the website. You can also check out their home décor collection that is delicate and perfect to make your home look classy. Check out the website for MatchesFashion sales that are offered from time to time.
History of MatchesFashion
MatchesFashion was established in 1987 in Wimbledon by Tom and Ruth Chapman. This multi-brand retailer was the first to introduce top brands like Prada to the markets in the UK. They focused on introducing British fashion to the world. Started as a single brick-and-mortar store, the company has now set up 14 stores across the British capital. In 2006, the Chapmans launched their e-commerce store, thereby spreading business across the globe. In 2013, the company rebranded to MatchesFashion.com. In 2015, the pair took on the role of joint chairmen and were succeeded by their chief operating officer Ulric Jerome. In 2016, MatchesFashion moved their office to The Shard and launched a mobile app. In 2017, the brand celebrated its 30th anniversary by hosting events in New York, Los Angeles and Paris, along with launching a social campaign.
Products sold by MatchesFashion
MatchesFashion is a perfect destination to spoil yourself and your loved ones with luxury outfits and accessories. Be it for an evening party, a formal business meeting or just a casual gathering, MatchesFashion offers a marvellous collection of clothing, shoes, bags and accessories for all occasions. What else? These luxury items are available for both, men and women. A short preview of product categories available at MatchesFashion.com is provided below.
Clothing –
This website is sure to leave you with an amazing shopping experience as you shop for clothing. Men can pick their favourites from a classy collection of activewear, blazers, cashmere knitwear, coats, denim jackets, formal shirts and so on. Women are spoilt for choices as the collection on this website include beachwear, cardigans, blouses, coats, dresses, gowns, lingerie, nightwear etc.
Shoes –
An exquisite collection of shoes from top designers like Aquazzura, Chloe, Prada, Gucci and Jimmy Choo are available on the website. Ankle boots, boots, espadrilles, evening flats, heels, mules, platforms and many more are available for women. Men too can shop for boots, deck shoes, derby shoes, lace-up shoes, loafers etc.
Bags –
Love stylish bags? Then, MatchesFashion.com is the right shopping destination for you. Belt bags, briefcases, backpack, cross-body bags, beach bags, clutch bags, mini bags, micro bags and many more designs from top brands like Prada, Gucci, Burberry and Osoi are available on the website.
Accessories –
The website offers an interesting range of accessories. Women can shop for belts, cardholders, cosmetic cases, gloves, glasses, hair accessories, hats, scarves, socks and so on. Accessories for men include sunglasses, technology-related accessories, travel accessories, wallets etc.
Home –
Beautify your home using various products available on the MatchesFashion website. The items available are candles, fragrances, cushions, home accessories and tabletop.
The below table provides information about the categories and sub-categories available on the website for ladies. For categories and sub-categories for men, check out the website.
| MatchesFashion Product Category | Products |
| --- | --- |
| Clothing | Activewear, All-in-ones, Beachwear, Blouses, Cardigans, Coats, Day dresses, Denim, Dresses, Embellished dresses, Gowns, Jackets, Jeans, Knitwear, Lingerie and nightwear, Short, Skirts, Suits, Sweatshirts, Tops, Trench coats, Trousers, T-shirts |
| Shoes | Ankle boots, Boots, Espadrilles, Evening flats, Evening heels, flatforms, Flats, Heels, Knee-high boots, Lace up boots, Loafers, Mid-heels, Mules, Platforms, sandals, Slides, Sneakers, Wedges |
| Bags | Backpacks, Bag accessories, Beach bags, Belt bags, Bucket bags, Clutch bags, Cross-body bags, Evening bags, Luggage and travel bags, Mini bags, Micro bags, Shoulder bags, Top handle bags, Tote bags |
| Accessories | Active accessories, Belts, Cardholders, Cosmetic cases, Glasses, Glove, Hair accessories, Hats, Key rings, Scarves, Socks, Sunglasses, Technology, Travel accessories, Wallets, watches, Jewellery, Fine jewellery, Gifts |
| Home | Candles & home fragrances, Cushions and throws, Home accessories, Tabletop |
How to Shop at MatchesFashion?
MatchesFashion website is simple and user-friendly. Choose the country from the drop-down menu in the top-left corner and then click on "Men" or "Women" based on whom you wish to purchase for.
The homepage contains information about newly introduced products, events, MatchesFashion promotions and so on. The header contains categories that lead you to sub-categories, when clicked on. The Search box at the top-left corner can be used to find the required products. You can also perform a brand-based search.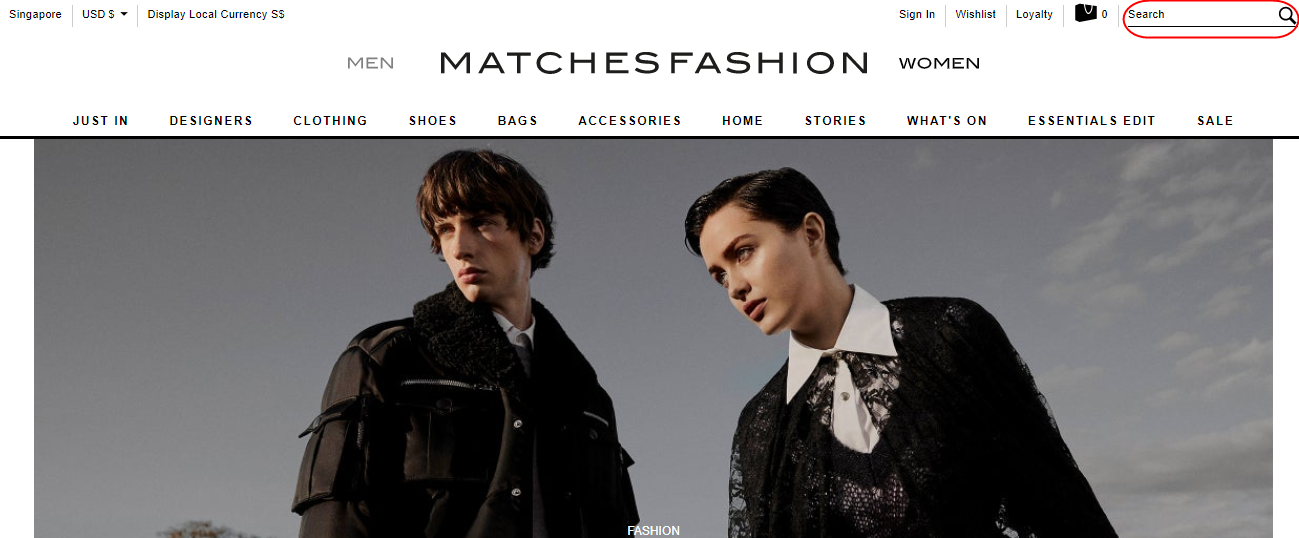 This section explains how to shop for products using the categories provided in the website header. Click on a category to view a list of sub-categories.
Click on the required sub-category. A page containing the products is displayed on the screen. Click on the product you wish to purchase. The website provides options to filter your search based on designers, colours etc. The price of the product is provided below the image.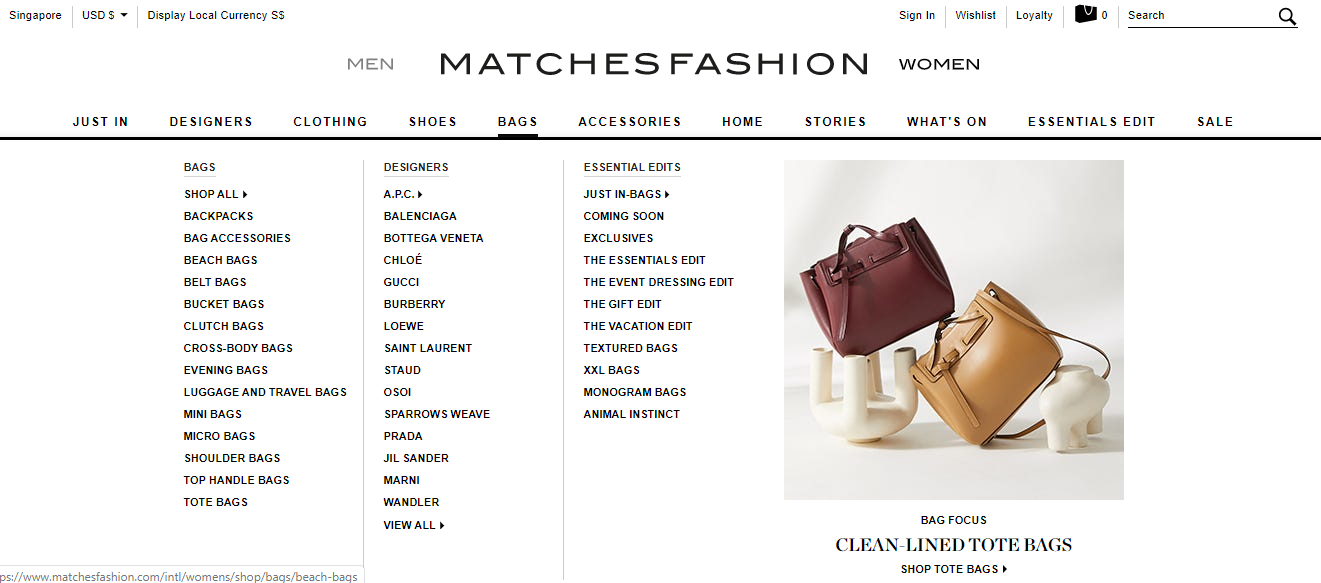 After you click on the required product, you can view the product page. Go through the information provided such as product photos, description and details. If applicable, you can also view the product s MatchesFashion promo code. To purchase the product, click on the "Add to Bag" button.
After this, click on the bag icon located at the top right end of the webpage and click on the "Proceed to Purchase" button.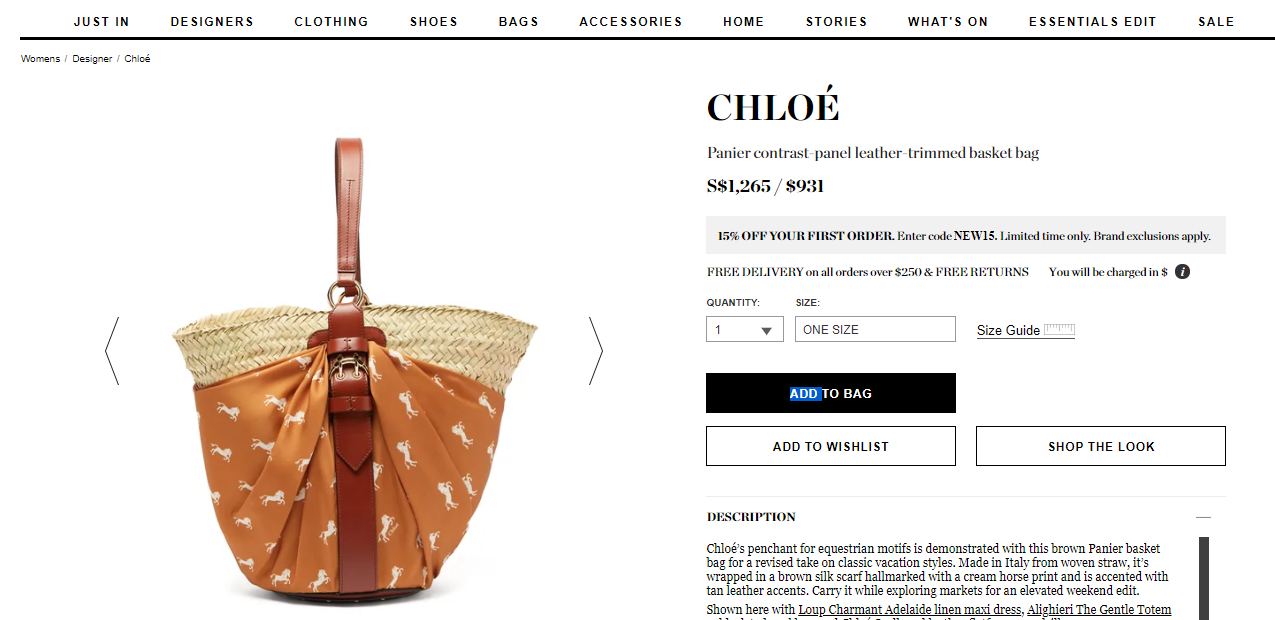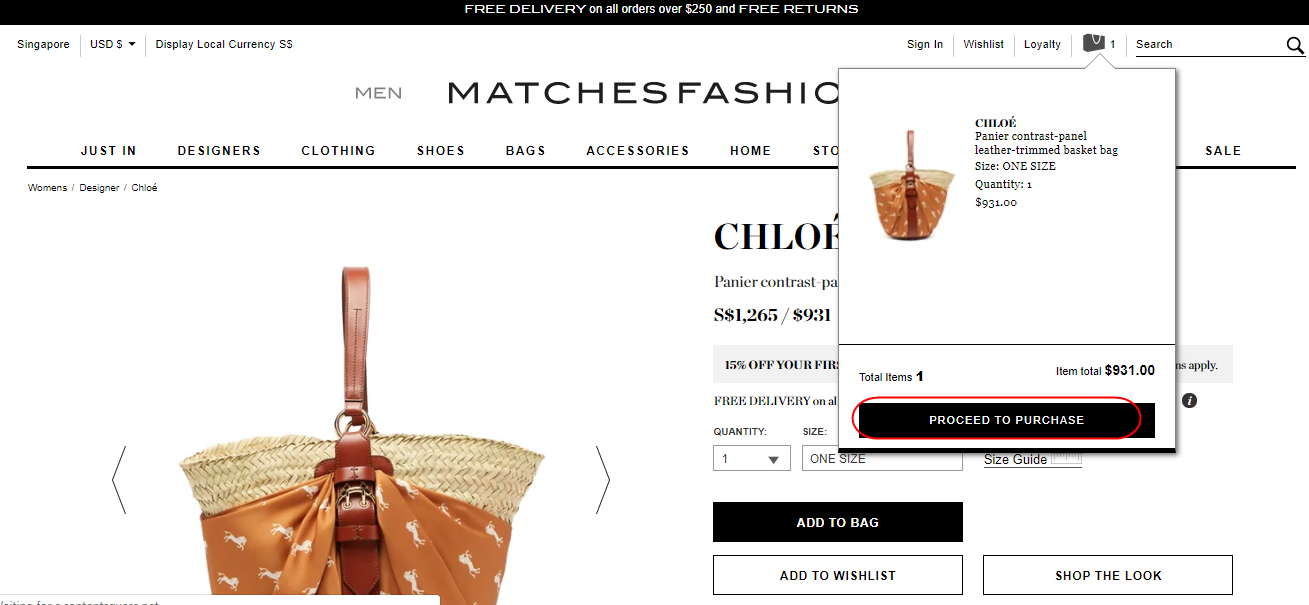 If you have a MatchesFashion coupon code or MatchesFashion promo code, enter it in the 'Promotional Code box and click the "Submit" button to avail discounts. Next, click on the "Proceed to Purchase" button.
In the 'Sign In page, you can proceed by entering your email in the 'Guest Checkout section and clicking on the "Continue" button.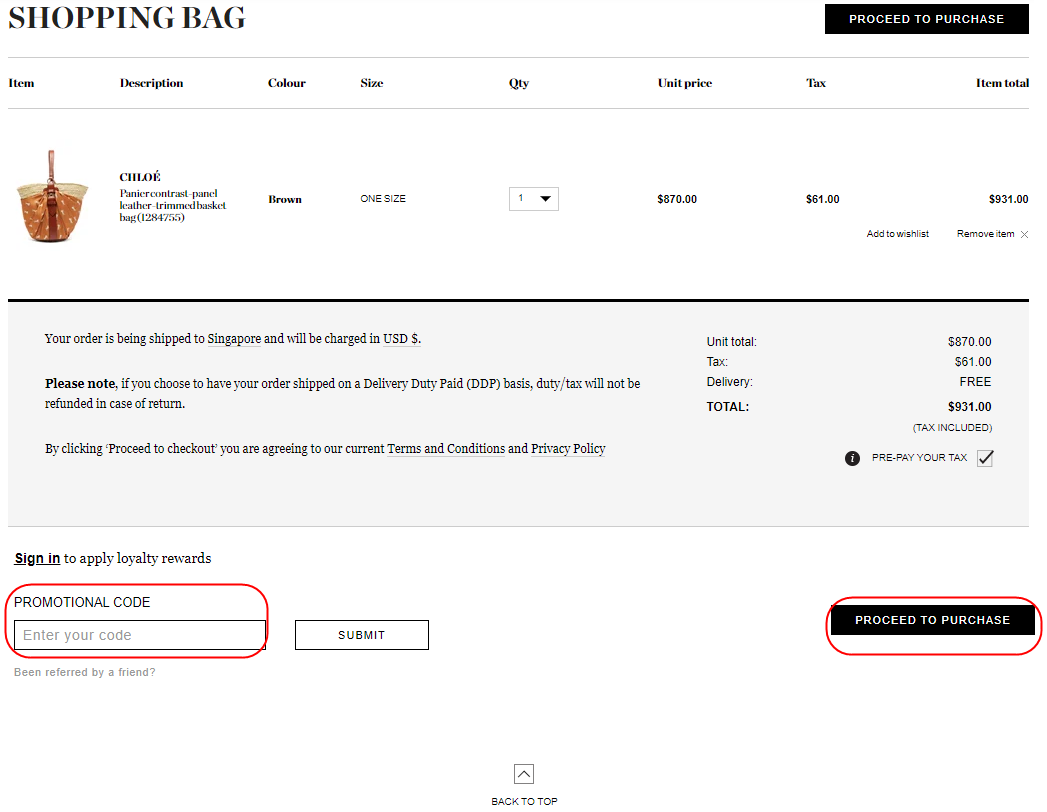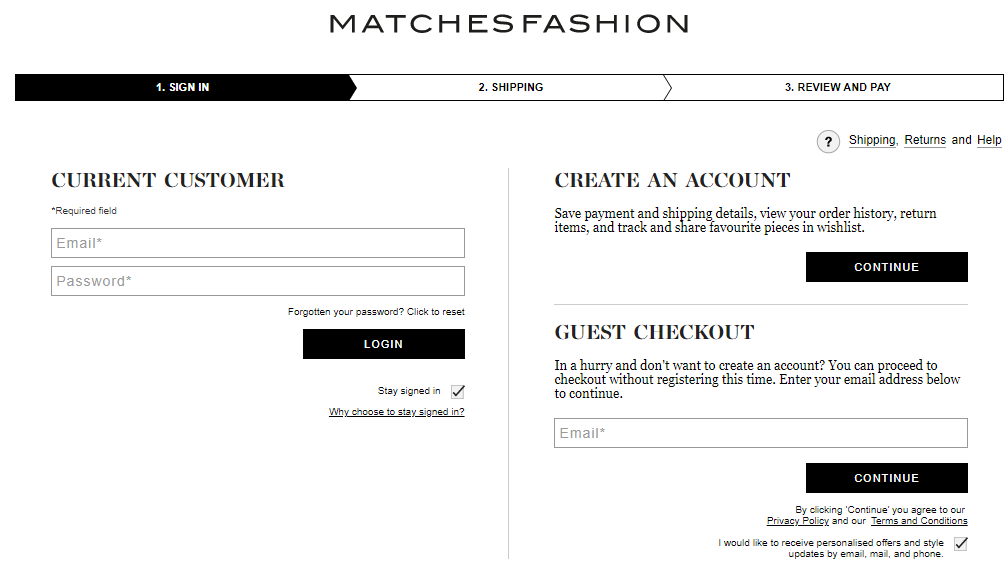 In the 'Shipping page, enter your shipping address. You can also select your shipping method, gift message and packaging options, if applicable. Next, click on the "Continue" button.
In the next page, review your order and make the payment. Check the website for MatchesFashion promotions, a great time to shop at discounted prices and save money. Purchasing on this website is safe and secure as all the orders go through a thorough fraud-checking process.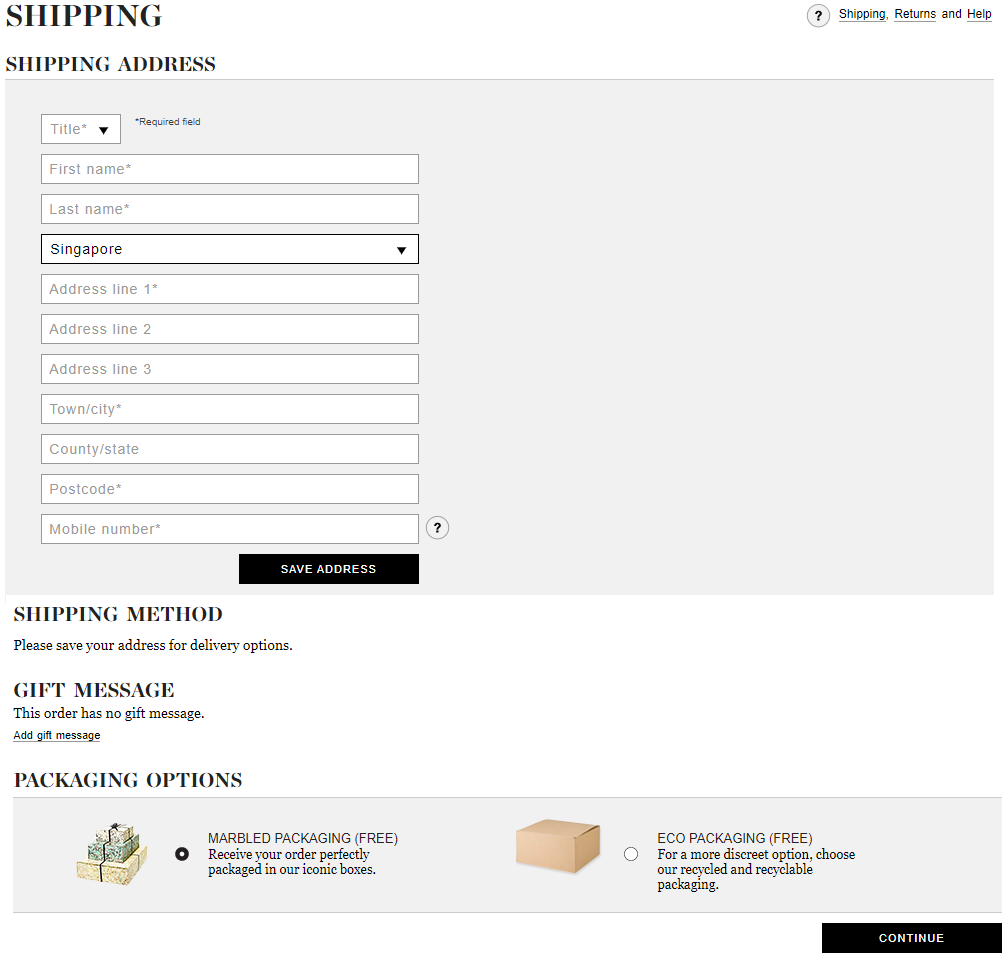 Payment Options on the MatchesFashion Website
MatchesFashion.com offers multiple payment options to its customers. The following are the payment options available on the website:
Payment via cards:
Customers can pay for their purchases using American Express, Mastercard or VISA cards.
PayPal:
Customers can also make payments via PayPal, a secure online payment system that lets you make digital transactions.
MatchesFashion Discounts and Coupons
Shopping on MatchesFashion.com can be even more delightful while you use MatchesFashion coupons to avail discounts. Enter your codes during checkout to save some money while you shop on this website. Several websites provide MatchesFashion cashbacks. For example, currently, Shopback is providing 5% cashback to all customers who purchase from the MatchesFashion website via a registered account on Shopback.
How to Redeem Coupons and Vouchers at MatchesFashion?
Redeeming coupons and MatchesFashion vouchers is a simple process and can be completed in just a few clicks.
Here is a step-by-step tutorial on how to redeem coupons and vouchers at MatechesFashion.com:
Step 1:
Select the product that you wish to purchase and click on "Add to Bag".
Step 2:
Click on the bag icon located at the top right end of the webpage and click on the "Proceed to Purchase" button.
Step 3:
In your Shopping Bag, you will see the "Promotional Code" box. Enter MatchesFashion promo code, MatchesFashion voucher code or any other MatchesFashion code and click the "Submit" button.
Step 4:
Proceed to the Checkout page and fill in details such as shipping address.
Step 5:
Select the payment method as per your convenience and enter payment details to complete the transaction.
You have successfully redeemed your coupons and vouchers at the MatchesFashion online store.
How to Shop on MatchesFashion using Shopback
Customers registered on Shopback will be delighted to know that the website is offering 5% cashback for shopping on the MatchesFashion website using their Shopback account. Here are the steps to be followed to earn cashback from Shopback:
Step 1: Visit the ShopBack website and select MatchesFashion store from the list of merchants and brands on the homepage. You can also use the search box to find the link to MatchesFashion store.
Step 2: Go through important information given in 'Cashback Details , 'Tips to ensure cashback and 'Other Terms and Conditions sections.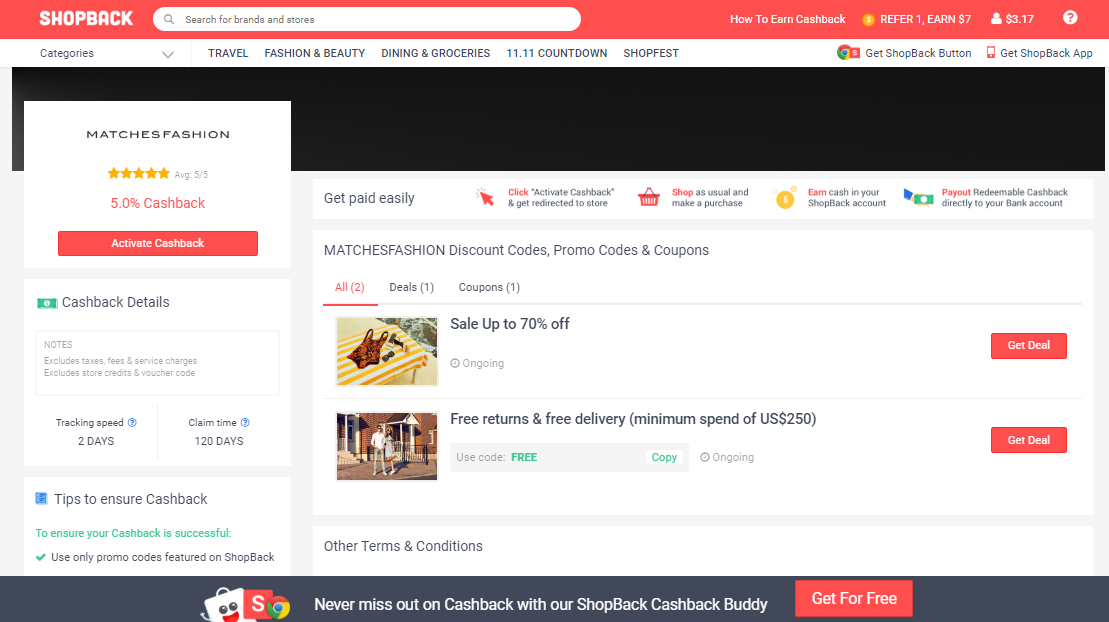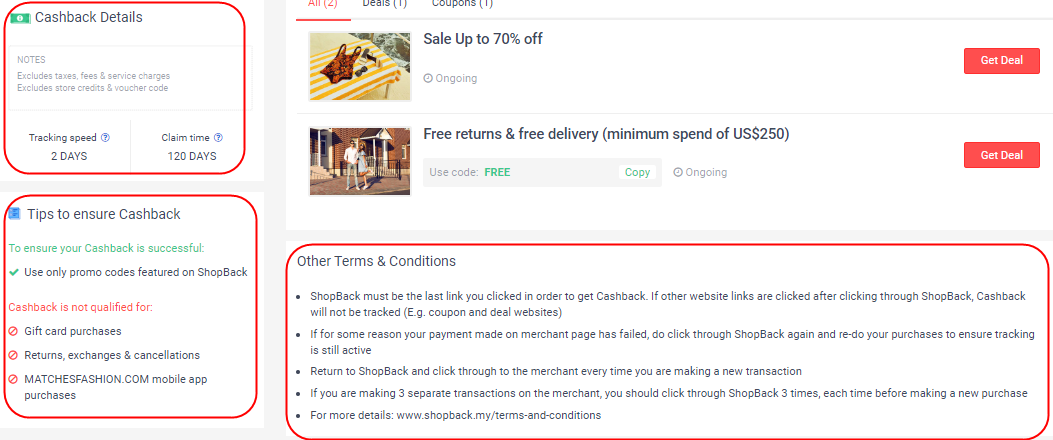 Step 3: For more attractive deals and coupons, check out the MatchesFashion Discount Codes, Promo Codes and Coupons section.
Step 4: Click on the Activate Cashback button located at the top left corner of the page.
On clicking the button, you will be redirected to the MatchesFashion website to browse and select products that you intend to buy. Please note that cashback is not qualified for returns, exchanges and cancellations, and also for MatchesFashion.com mobile app purchases.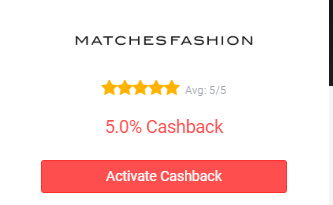 MatchesFashion s Shipping and Return Policy
Given below is MatchesFashion s shipping policy.
MatchesFashion.com delivers to Singapore in 3 to 5 working days at a rate of $15.

In case of the following countries: Australia, Bahrain, Kuwait, Saudi Arabia, Switzerland, Singapore, Canada, Japan, Qatar, UAE and USA, items are shipped on Delivery Duty Paid (DDP) basis and this is included in prices shown for the products. However, customers have the option to opt out and pay on delivery. In case you wish to opt out, the shipping company will call you once your items are in customs to inform you about the cost. Please note that goods held at customs will be your responsibility.

MatchesFashion.com does not deliver to PO Box addresses. When your delivery arrives, their courier company will contact you for a physical address for delivery.

The company provides an option to ship to BFPO addresses and hotels.

Customers can track their order by logging in to their MatchesFashion account. Alternatively, customers can also log on to DHL.com and enter the tracking number received via email.
Given below is MatchesFashion s return policy.
If you are not satisfied with the item, you can return it within 28 days of purchase. Request for return numbers within the first 14 days and you have the next 14 days to return your order.

All refunds will be credited to the original payment method. However, original shipping charges will not be refunded.

Please note that refund can take up to 10 working days.

The item must be returned unused and in its original form in the original packaging.

If you wish to exchange the item for another one, you must return the item and place a new order.

For more information on returning products, visit the MatchesFashion website.
MatchesFashion Customer Service
For any inquiry or help, customers can contact the MatchesFashion customer service by filling the form provided here. Customers can also call +852 5808 7188 or +44 (0)20 7022 0828 for further assistance. Customers can email at [email protected]
Connect with MatchesFashion: