Save on Motherhood with Mamahood.com.sg
Mamahood.com.sg is Singapore s biggest marketplace for parents. With all parenting essentials available on the online store, Mamahood is the one-stop destination to buy everything for babies and parents. From baby diapers to kids learning material, you can shop for anything at Mamahood.com.sg at great prices. Also, with the Mamahood app available on Google Play and the App Store, it is easier to shop on the go. With amazing promotions and deals on a variety of baby products, Mamahood.com.sg is the most favourable and trustable marketplace for parents.
Products Sold on Mamahood.com.sg Singapore
Mamahood is the one-stop destination for all the baby and mom essentials. From diapers to toys and from moms food to maternity wear, you can shop for everything at Mamahood.com.sg. The online store saves you from the trouble of switching between websites to buy different things or going from store to store to find what you are looking for. Here is a description of everything available at Mamahood.com.sg.
Diapers:
Under Diapers at Mamahood.com.sg, you can find diapers, baby creams, baby wipes and other accessories for babies. Disposable diapers, cloth diapers and swim diapers, changing mats and diaper bags are some things that are available in variety. Also, accessories for potty training are available at Mamahood. If you apply a Mamahood voucher code or Mama promo code, you can buy the products at a discounted price or avail other exciting offers.
Feeding:
Breast feeding accessories like breast pumps and nursing covers are available at Mamahood.com.sg. Everything you need to bottle-feed babies and toddlers can be bought from here. Bottle sterilizers, bottle warmers, bibs, pacifiers, bowls, cups and other necessities are easily available at Mamahood.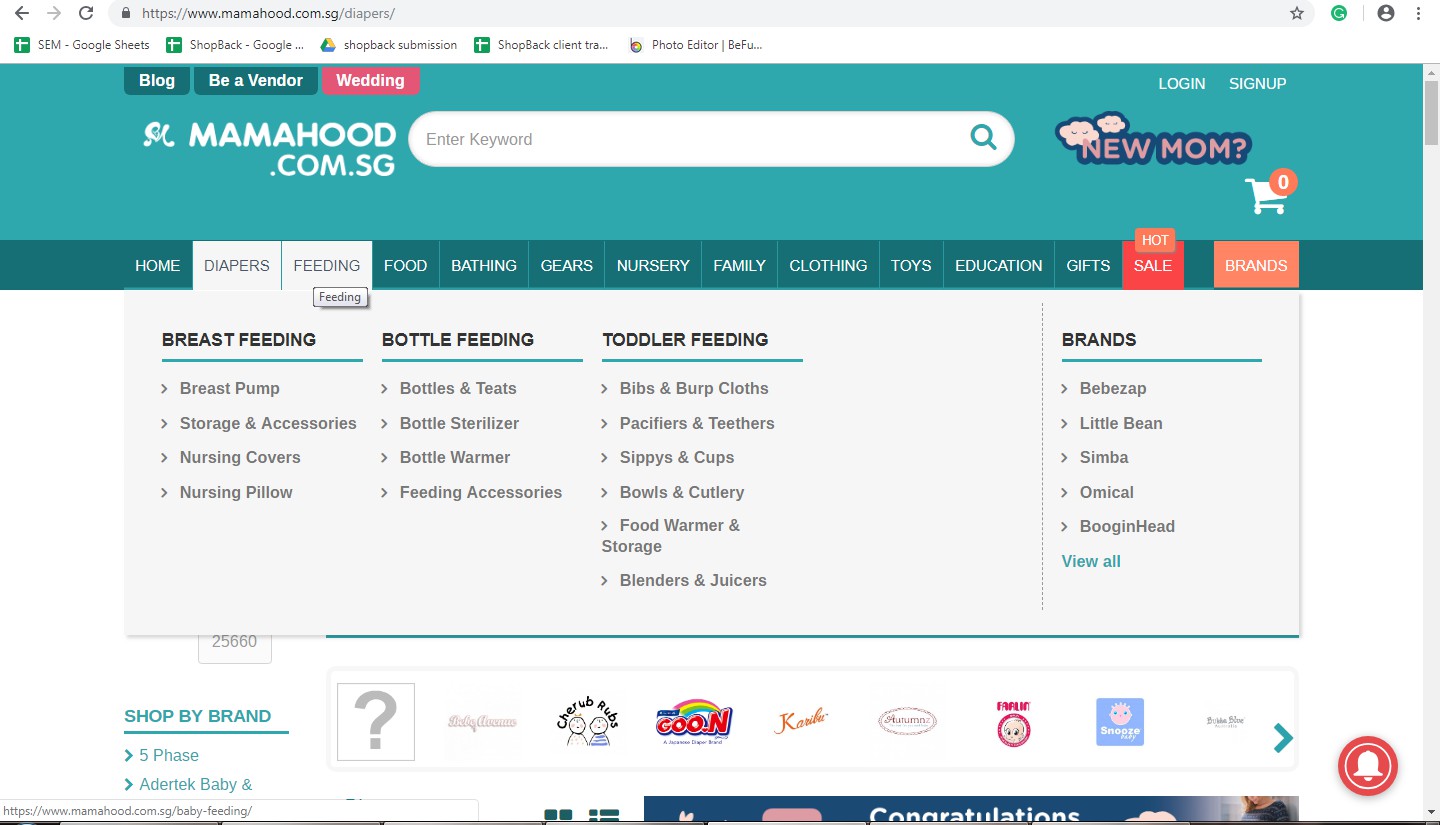 Food:
You can find formula milk for babies and toddlers, cereal, biscuits and other snacks under this category. Milk boosters and other supplements for mothers are also available here.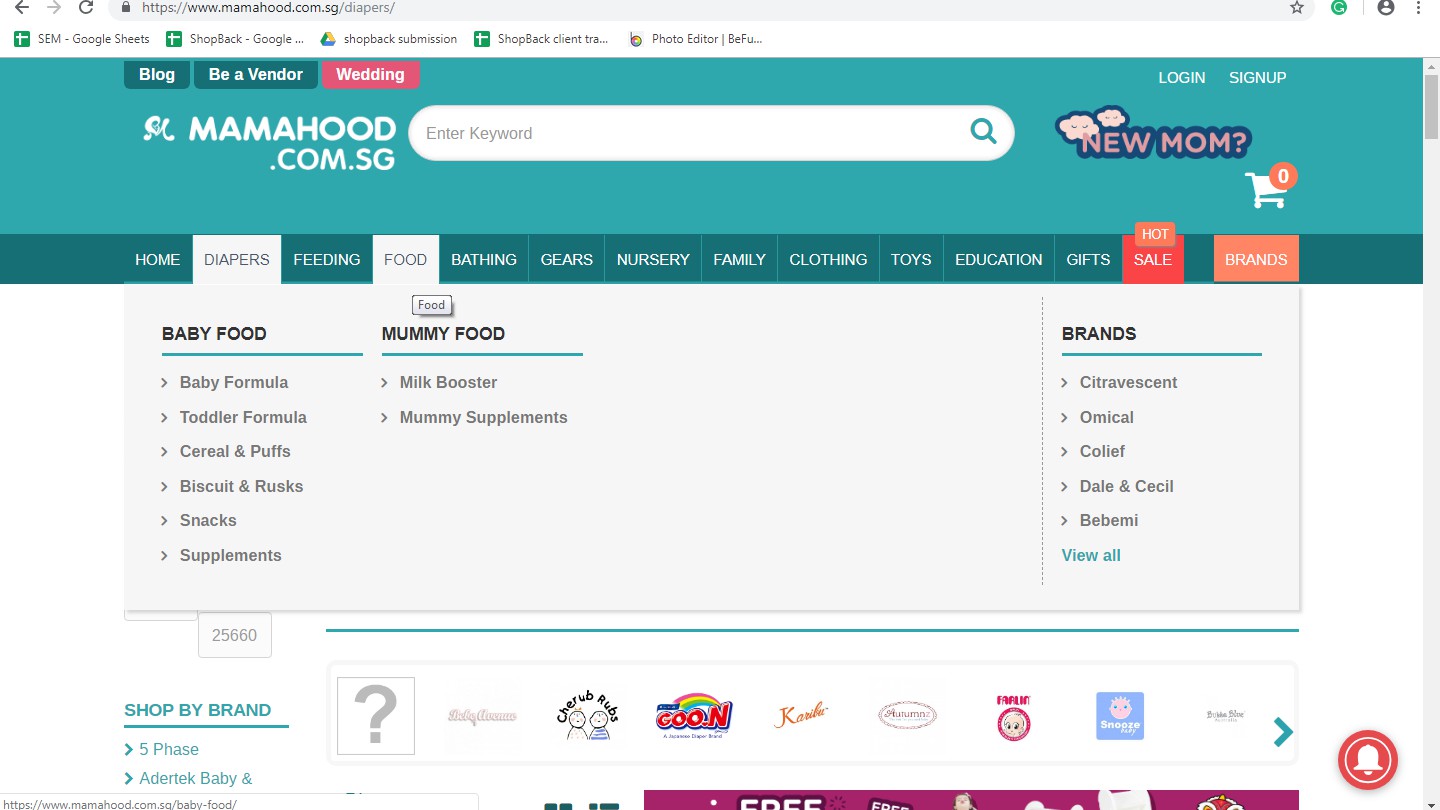 Bathing:
Bathing products at Mamagood.com.sg include body washes, shampoos, baby oil and lotions. Bath accessories for babies like bath toys and towels can be found here. Also, moisturizers and other creams for expecting mothers are available under Bathing at Mamahood.com.sg.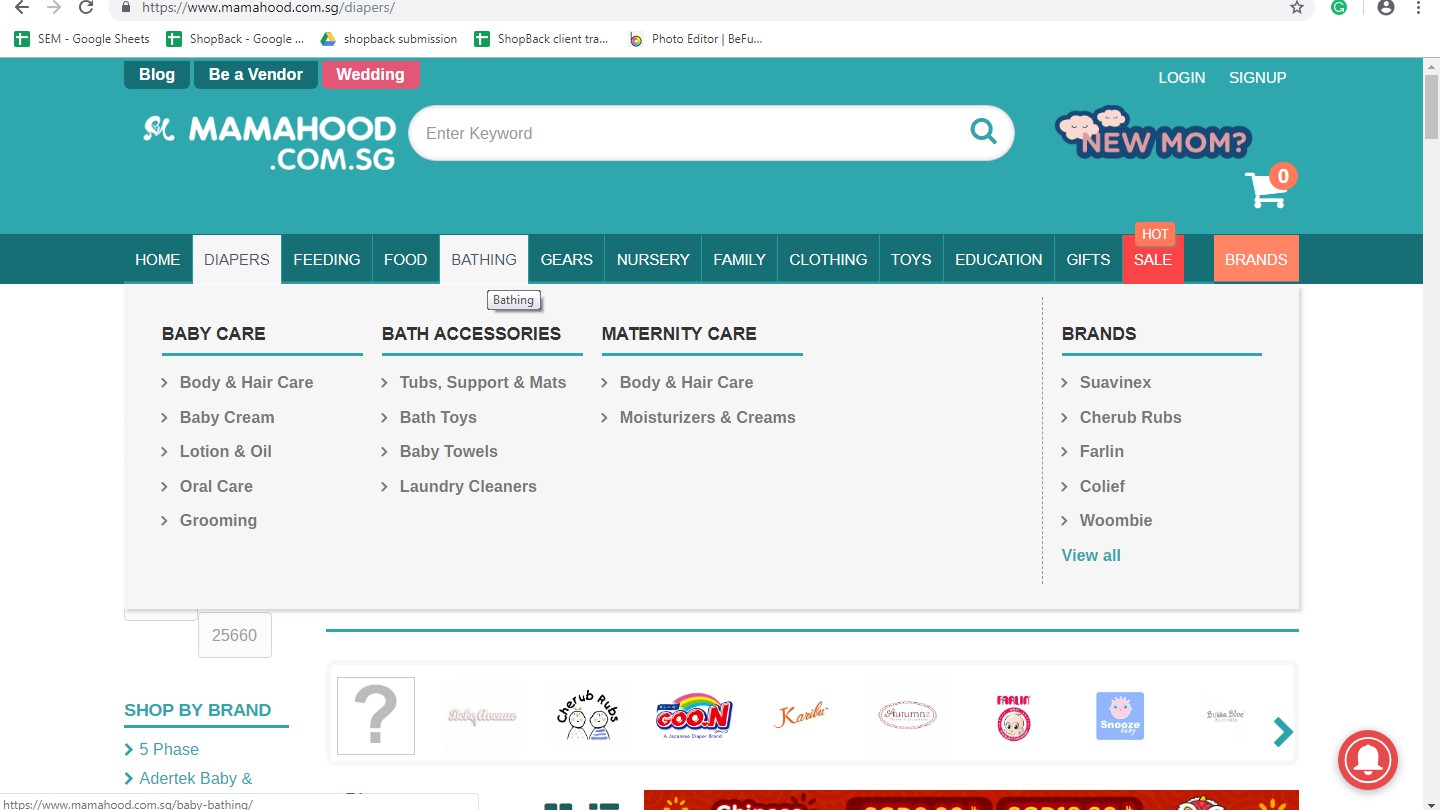 Gears:
For convenience when you go out with babies, there are various products that you can buy at Mamahood − strollers, car seats, convertible car seats, carriers baby walkers and other accessories. To get amazing deals on these products, apply a Mamahood promo voucher during purchase.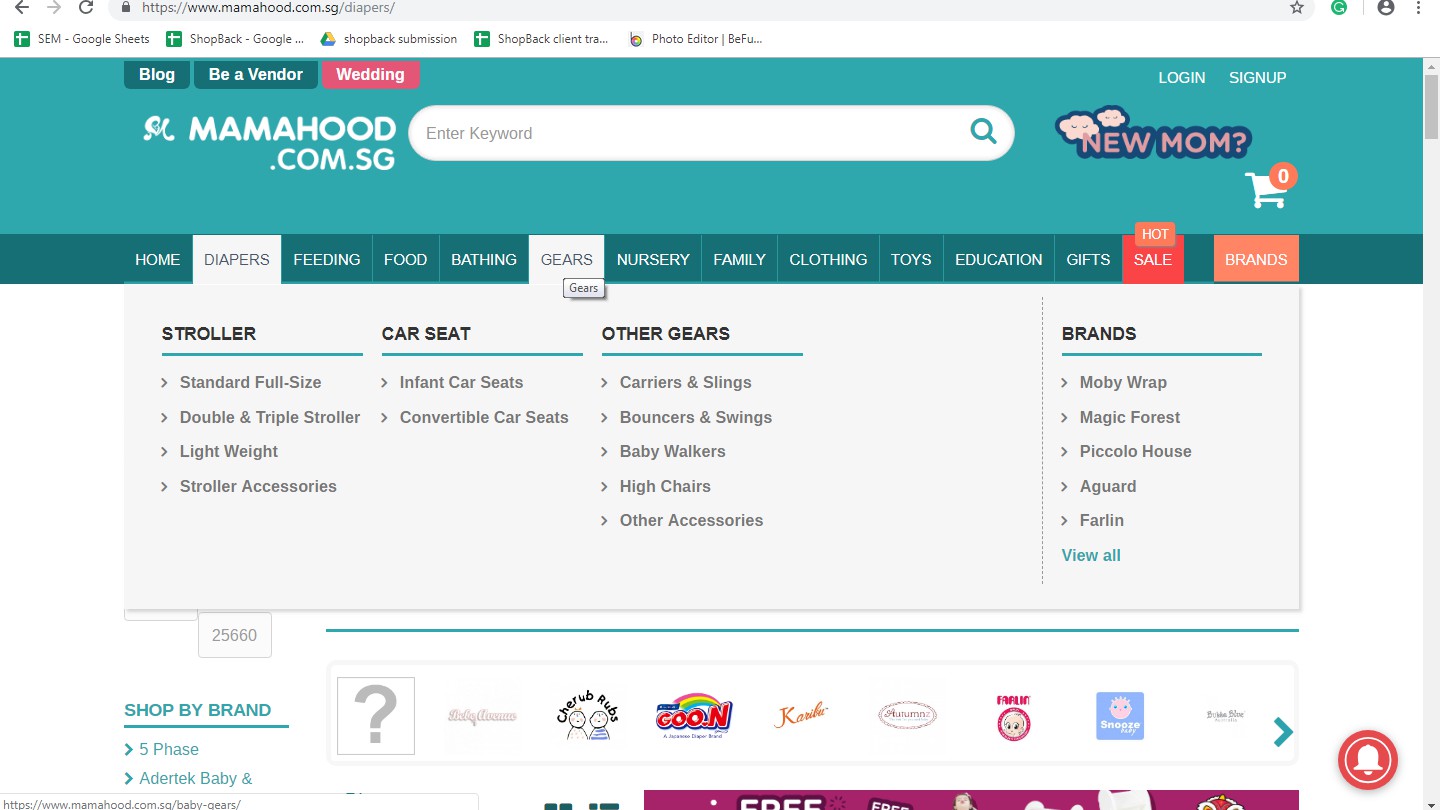 Nursery:
Under Nursery, you can find bedding and playtime products. Baby cribs and mattresses, bedroom sets, sleeping bags, blankets and pillows are among the products under Bedding. Play pens, play mats and many other things can be bought from Nursery Playtime at Mamahood.com.sg.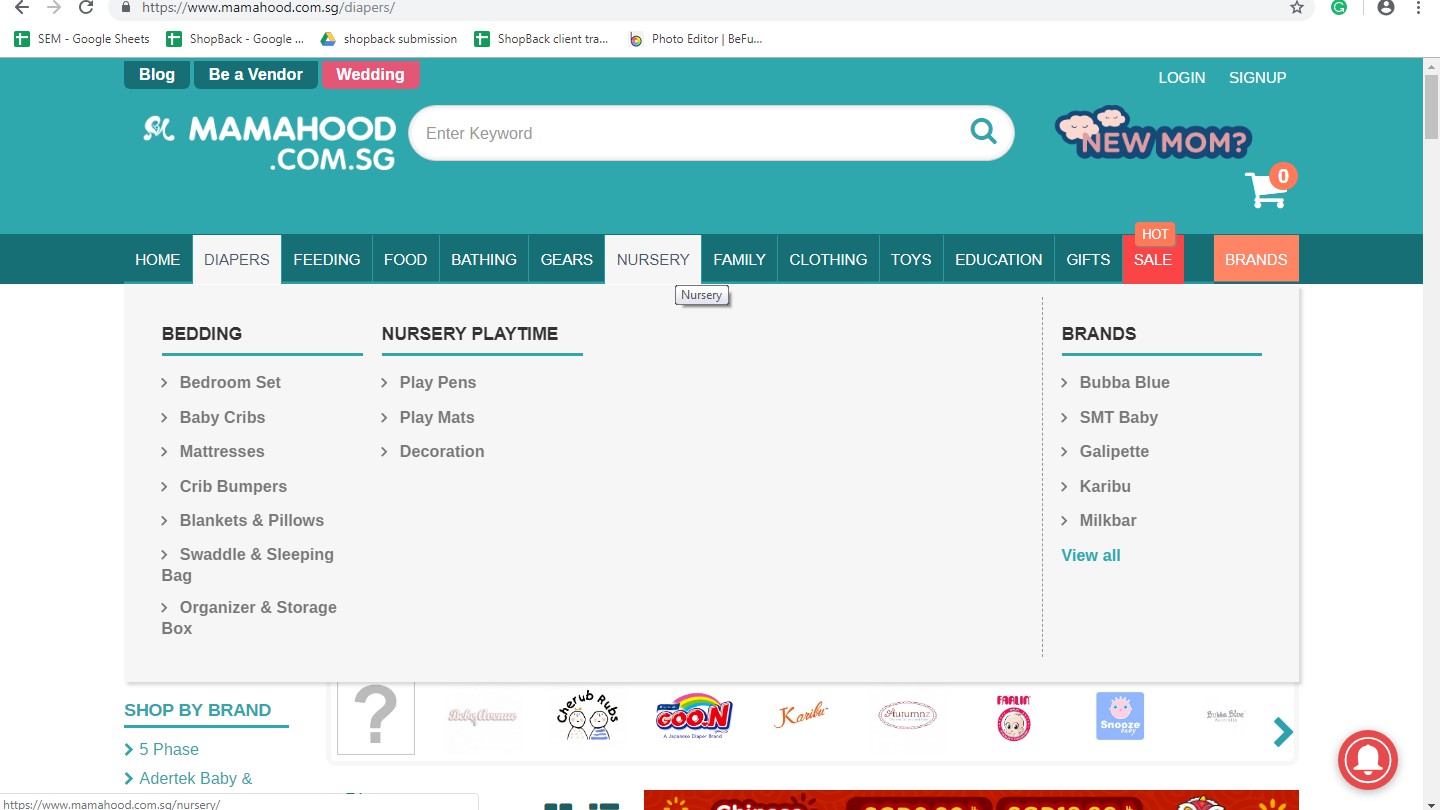 Family:
Family safety and healthcare products are also available at Mamahood. Air purifiers, nasal aspirators and thermometers are some products under Family Health. You can also find baby monitors, safety gates and other essentials under this category. Shop for the products at a low price or be eligible for great offers by applying a Mamahood discount code or other Mamahood coupon codes.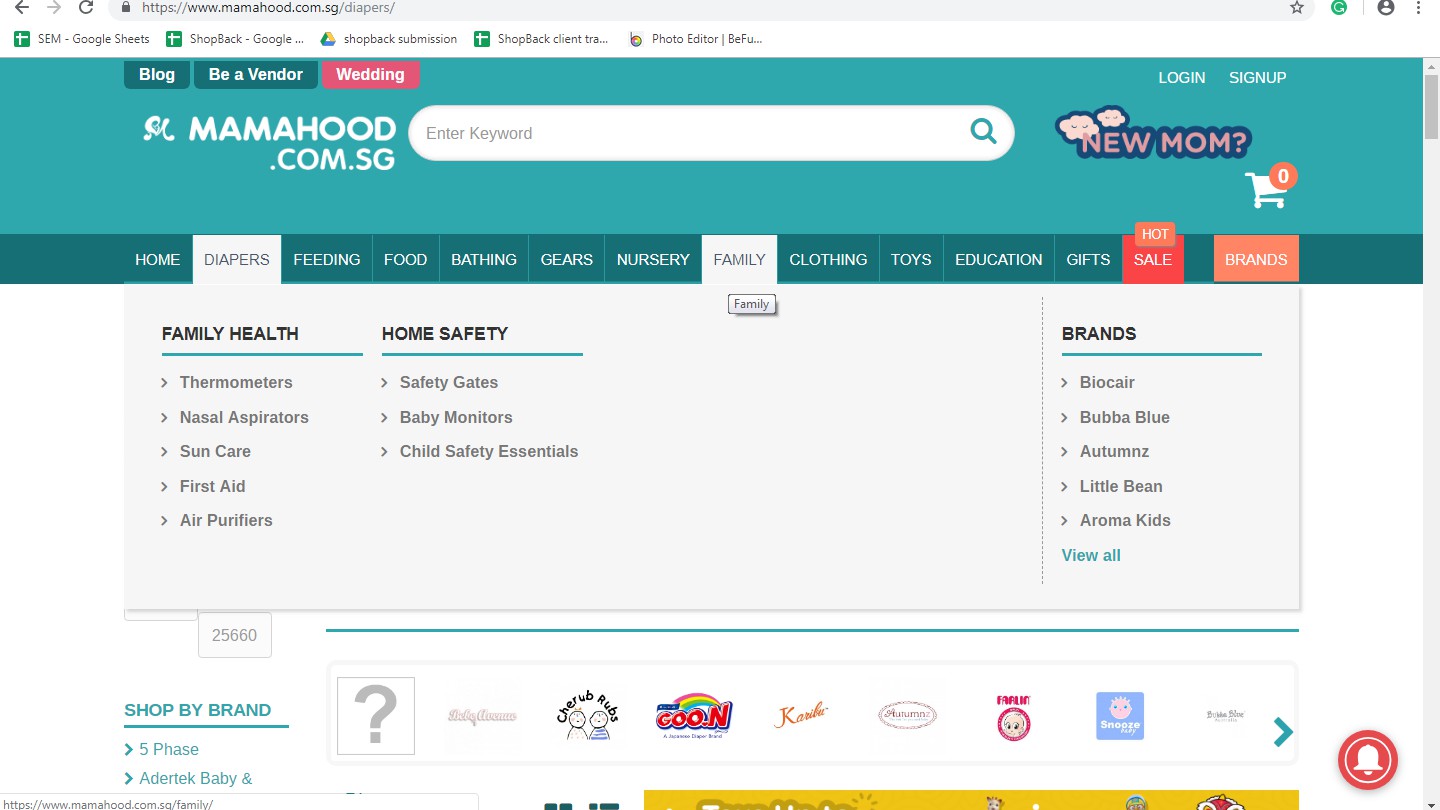 Clothing:
From baby wear to kids wear, everything you need to style your kids is present at Mamahood.com.sg. Find your favourite products by clicking the 'Clothing menu and browsing through the list of products. Maternity wear like dresses, nursing bras and pyjamas can be found in variety and bought easily from Mamahood s online store.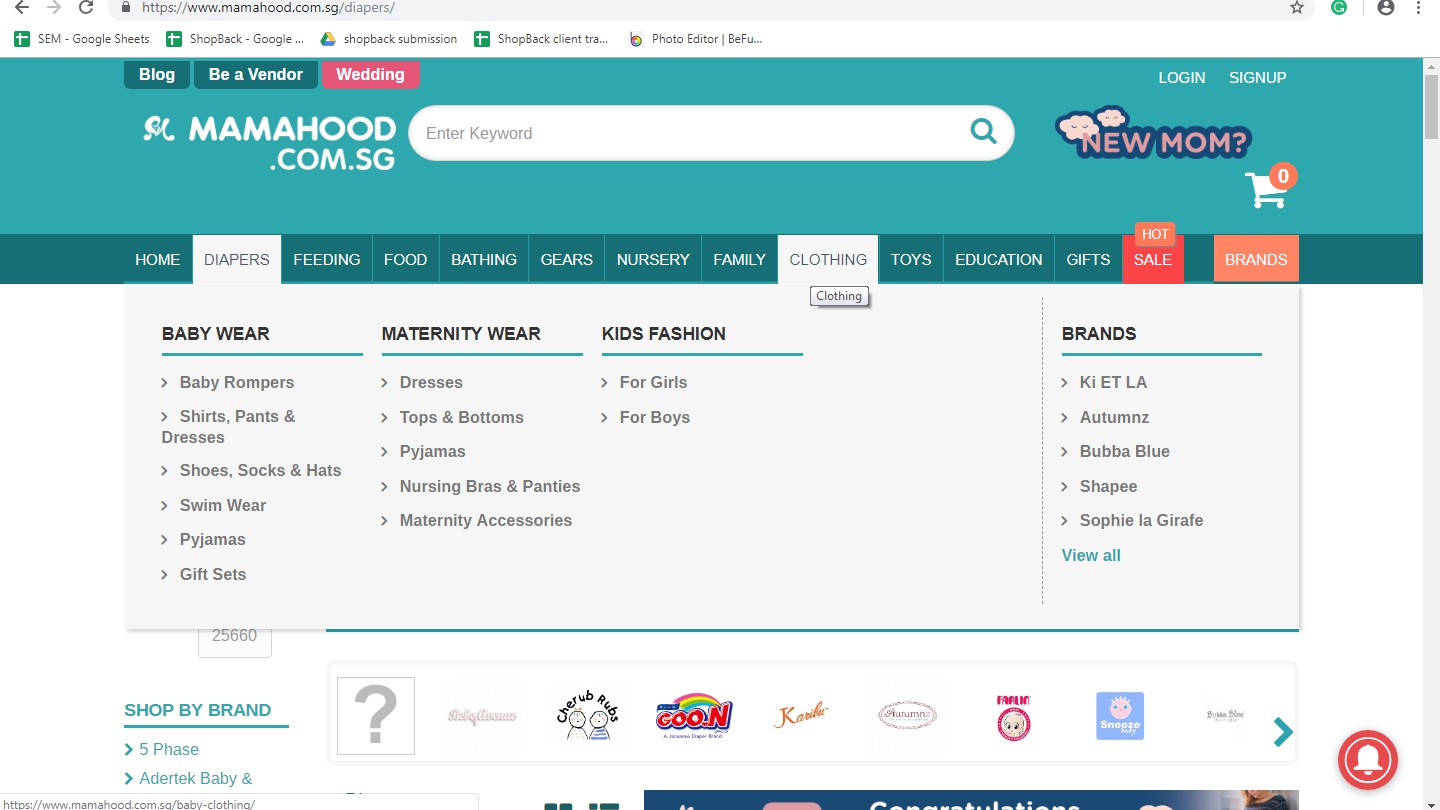 Toys:
Mamahood.com.sg has the best collection of toys for babies and kids. You can shop for musical toys, soft toys, wooden toys and dolls here. Stacking and sorting toys, study tables, puzzles and other games are available at Mamahood. Buy them at amazing prices by applying at Mamahood coupon code.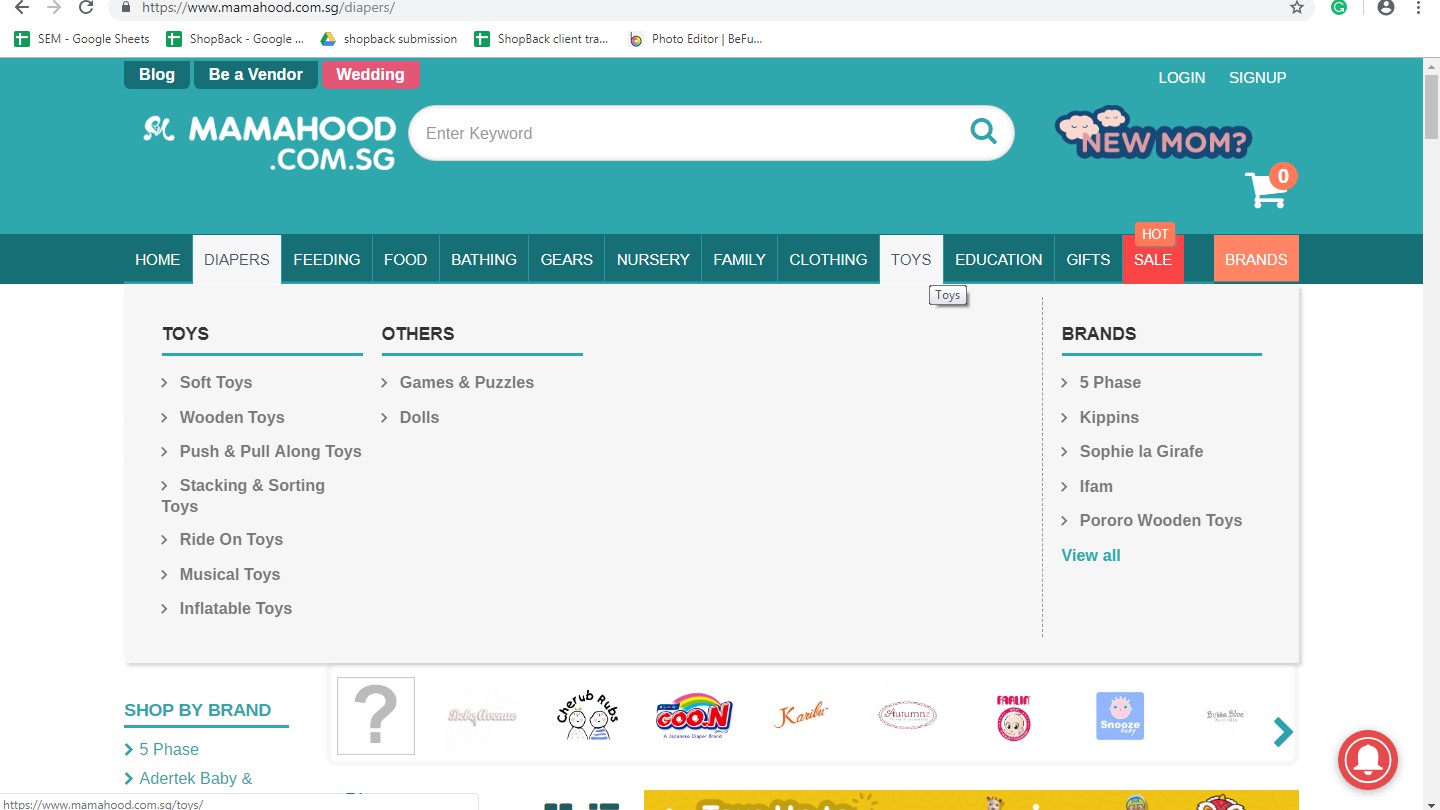 Education:
At Mamahood, there are products for children s early learning. Be it music, art or crafts, there are many books available here that can help kids learn. With Mamahood coupons, you can buy them at prices lower than usual.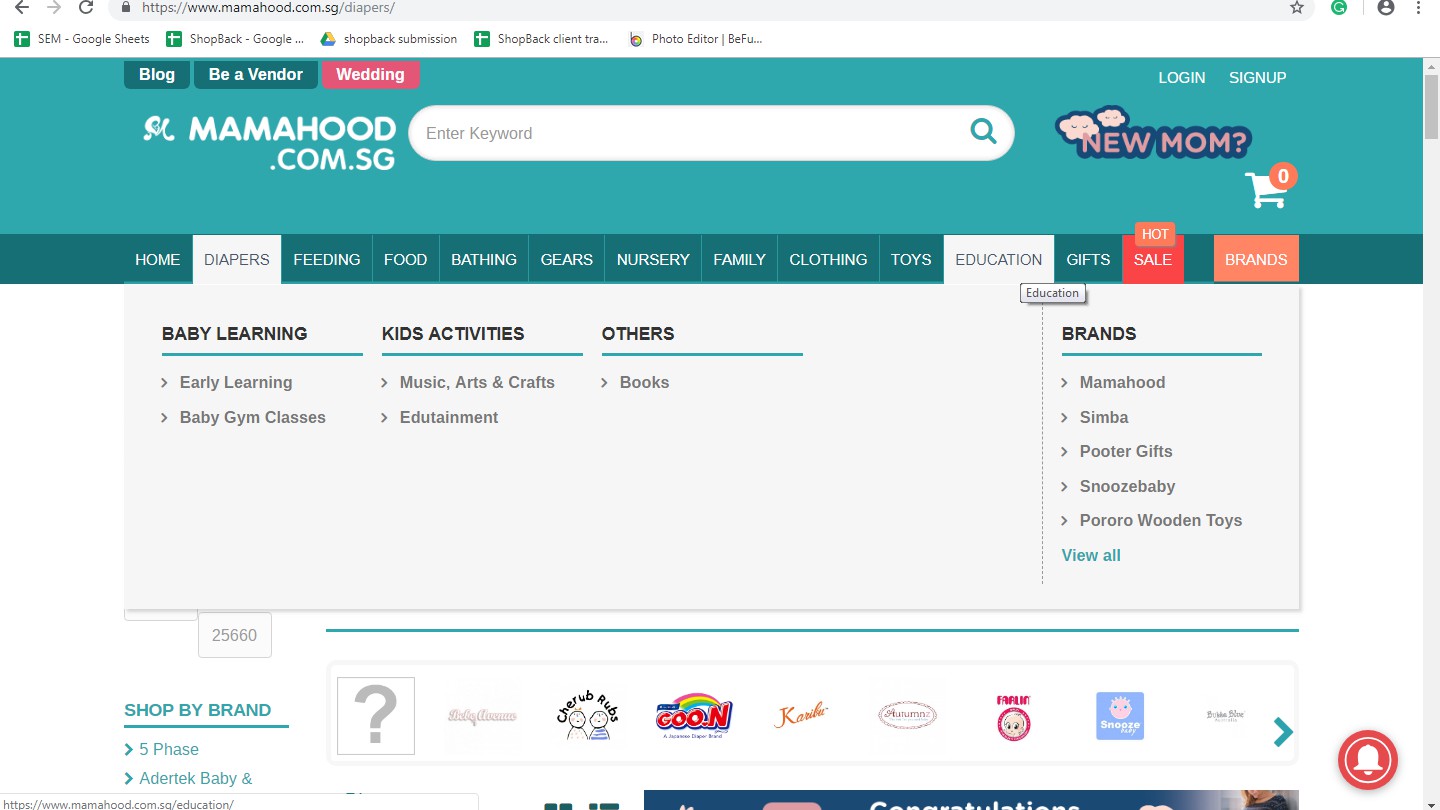 | Categories | Products |
| --- | --- |
| Diapers | Baby Diapers, Wipes & Creams, Accessories |
| Feeding | Breast Feeding, Bottle Feeding, Toddler Feeding |
| Food | Baby Food, Mummy Food |
| Bathing | Baby Care, Bath Accessories, Maternity Care |
| Gears | Stroller, Car Seat, Other Gears |
| Nursery | Bedding, Nursery Playtime |
| Family | Family Health, Home Safety |
| Clothing | Baby Wear, Maternity Wear, Kids Fashion |
| Toys | Toys, Others |
| Education | Baby Learning, Kids Activities, Others |
How to Shop at Mamahood.com.sg
On the homepage of Mamahood.com.sg, you can find different categories of products. By simply browsing through the categories, you can find out where the product you are looking for can be found, in just a few clicks.
Step 1: Find the product of your choice by going through the categories on the homepage.
Step 2: On the product listing page, click "Add to Cart" for the product that you want to buy.
Step 3: Click "Proceed to Checkout" to buy the products that you have added to your cart.
Step 4: Log in or sign up to proceed with the purchase. You can also apply a Mamahood voucher in the space provided.
Step 5: Fill in the form with your name, delivery address and other information.
Step 6: Agree with the terms and conditions, select a payment method and click "Place Order".
Step 7: Enter your payment details and click "Submit Payment".
Payment Options on Mamahood.com.sg
At Mamahood, you can pay through your credit or debit card. For this, enter the card number, card holder s name, CVV and expiry date. Mamahood accepts payments made via Visa and Mastercard credit or debit cards.
Different Coupon Codes and Discounts on Mamahood.com.sg
Mamahood.com.sg runs promotional sales and offers, which is when most of its products are available at great prices, lower than usual. Also, during a sale, Mamahood vouchers and Mamahood coupons are issued, which can get you great deals on a variety of products. The coupons and vouchers can be used to avail cashbacks, discounts and other amazing offers. Information on current offers and sales can be viewed in the Sales, Promo & Discounts page by clicking the "Sale" link on the homepage. Mamahood s Loyalty Reward program is a 'refer and earn program where the referrer and referee are both rewarded. Check out Mamahood.com.sg for more details.
How to Redeem Coupons and Vouchers at Mamahood.com.sg
To apply a Mamahood promo code during your purchase, follow the procedure below.
Step 1: Add the product you wish to buy to your cart.
Step 2: Go to the checkout page.
Step 3: In the 'Voucher Code section on the checkout page, enter the Mamahood promo code and click "Apply".
After entering the Mamahood vouchers codes, the offer mentioned on the vouchers will be applied to your purchase.
How to Shop on Mamahood.com.sg using ShopBack
Amazing cashback offers are available at ShopBack on various brands. On shopping at Mamahood.com.sg, you can earn a cashback amounting to 5% of your purchase amount. To be eligible for the cashback offer, sign up with ShopBack or log in to your ShopBack account by using the Log In/ Sign Up link present at the top-right corner of ShopBack.sg. Then, follow the procedure below.
Step 1: Select the Home & Living tab on the homepage and click "View All Home & Living Stores". A list of all the Home & Living Stores on ShopBack is displayed.
Step 2: Find and select Mamahood.com.sg from the list of Home & Living stores. You will be redirected to ShopBack s Mamahood page.
Step 3: Click the red "Activate Cashback" button present on the left side of the web page.
Alternatively, you can view the various deals and coupons available at Mamahood and check ShopBack s terms and conditions on this web page.
Step 4: Click "Continue to Mamahood.com.sg" to go to Mamahood s official online store to shop.
You will be able to get a cashback of 5% after making a purchase at Mamahood.
Mamahood.com.sg s Shipping & Return Policy
Shipping & Delivery: Mamahood s shipping charges depend on the seller. If any special shipping conditions apply to a product, you will find its details in the product description. Orders across Singapore are delivered usually within three days; however, oversized products take longer to be delivered.
Return & Exchange: Mamahood offers returns and refunds only on damaged and defective products. Items can be returned within seven days of receival. Refunds are provided in the original form of payment. 'Change of mind returns are not accepted.
Mamahood.com.sg s Customer Service
Click on the "Contact Us" link under 'Learn More at the bottom of Mamahood.com.sg. Fill in the form on the Contact Us page with your details and message and click "Send". You can call on +65 3159 1211 or even write to [email protected] for inquiries. To reach Mamahood through social media, follow the links below.