1. Choose Your Season & Destination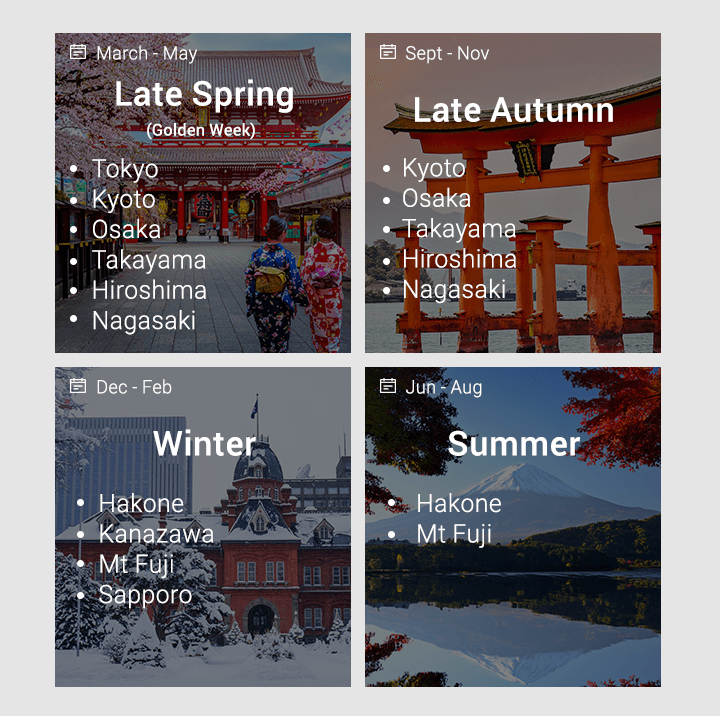 2. Book Your Flights & Accommodations
Book at least 8-12 weeks in advance
The best time to book your flights is during lull periods such as school examination periods where airlines will start their sales. According to Economist Makoto Watanabe, the best timing to purchase a ticket is 8 weeks before your flight. However, if the demand for more popular Asian destinations during peak travel periods of long weekends and school holidays, 12 weeks in advance is the best rule of thumb.
Join mailing lists & follow social media
The best way to book your flights is to also anticipate when are the golden periods of booking. For example, Scoot has their Morning Glory Tuesdays, Tigerair has Flash Thursdays, Jetstar has Friday Frenzy promotions. Singapore Airlines has a Global Sale until 31 March. Signing up for the airlines mailing lists will notify you of the best deals and periods to buy. Take note of the following dates below:
| Airline | Sale | Date | Cashback |
| --- | --- | --- | --- |
| Scoot | Morning Glory Tuesdays | Every Tuesday | 1.0% via ShopBack App |
| TigerAir | Flash Thursdays | Every Thursday | 0.5% via Expedia |
| Jetstar | Friday Frenzy | Every Friday | 0.5% via Expedia |
| Singapore Airlines | Global Early Bird Sale | Now till 31 March 2018 | 0.5% via SIA Visa |
| Thai Airways via Zuji | Limited Time Offer | Now till 31 March 2018 | 0.75% via Zuji |
For cost savings, try indirect flights
Booking indirect flights to Japan might save you more money. For example, indirect flights on Expedia shows that you can save at least $74 to Tokyo and $56 to Osaka. If you don't mind the wait, you can select stopovers at Hong Kong airport where you can do some duty-free shopping while waiting for your next flight.
Maximise Your Miles with Kaligo
Kaligo is a hotel booking platform that allows you to earn extra miles and rewards (i.e. free flights, upgrades) as you book your hotels. Simply, select from over 50+ loyalty partners when you book your hotels including KrisFlyer, AirAsiaBig, Citi PremierMiles Card & more.
Use the best Credit Card to make your travel bookings
3. Get Your Travel Essentials
4. Plan Your Itinerary With Klook