iShopChangi, Online Tax and Duty-Free Shopping
iShopChangi, a tax and duty-free e-store, boasts of presenting its customers with more than 14000 products from across 500 different brands. It nestles in one of the world s best and busiest airport, Singapore Changi Airport. This online shopping portal was launched mainly for passengers who wish to pre-purchase their products from the comforts of their home or anywhere else, prior to their flight and then pick them on arriving at the airport.
iShopChangi offers an array of products and the popular ones are wines and spirits, cosmetics and fragrances, food, souvenirs and electronic products. Apart from these, customers can shop for electronic goods, apparels, bags, jewellery, food items, personal care items, food supplements, products for kids, prepaid SIM, travel accessories, watches etc. All these are available from premium brands and for reasonable rates.
Passengers can place their orders 30 days in advance up to 18 hours before the flight departure. Passengers can shop across all three terminals of the airport and pick the goods at the departing terminal before take-off and in case you do not want to carry along your purchases, you can avail of their home delivery services (only on selected items).
Realizing the craze for online shopping nowadays, Changi Airport developed its e-store, iShopChangi. Established in 2013, iShopChangi has steadily grown to meet the demands of passengers who prefer to shop online. This online portal is quite a hit among passengers travelling in and out of Singapore. Between 2016 and 2017, the sales of iChangi shop have increased by 60%.
Products sold by iShopChangi
iShopChangi aims to make your tax and duty free shopping a delightful one. The e-store offers an extensive range of goods that includes beauty products, electronics, fashion, food, health-related items, kids items, prepaid SIM, souvenirs, travel accessories, watches, wine and spirits from world s top brands as well as the lesser known. Brief description of some of the popular product categories available on iShopChangi is given below.
Wines and Spirits
– Consumers can pick their favourites from a list of high-quality wines and spirits that include armagnac, bourbon, baijiu, brandy, cognac, Japanese whiskey, Champagne and sparkling wine, dessert wine and red wine. This is one of the top selling product categories on iShopChangi.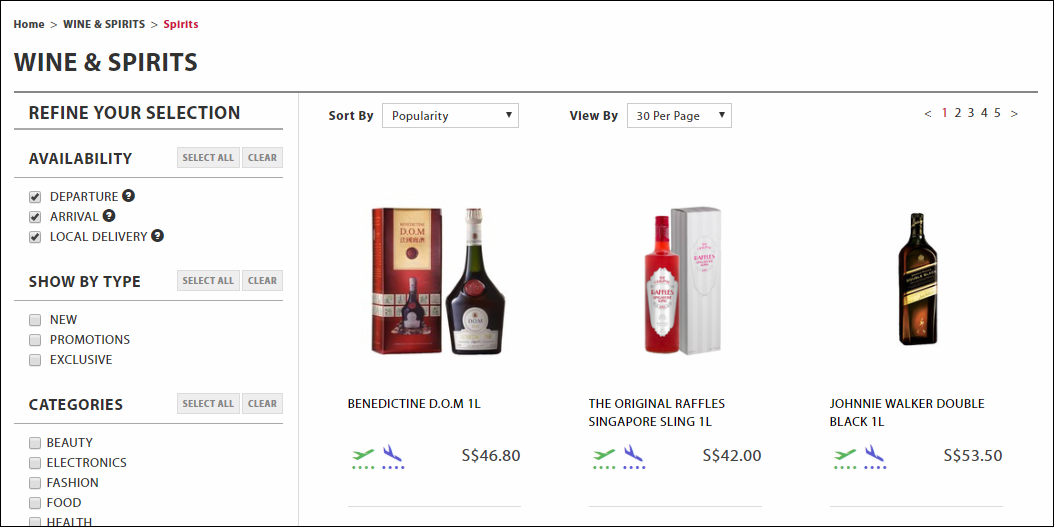 Beauty
– From body, hair and skin care products to fragrances and makeup, you will be pleased to find a huge collection from local and international brands.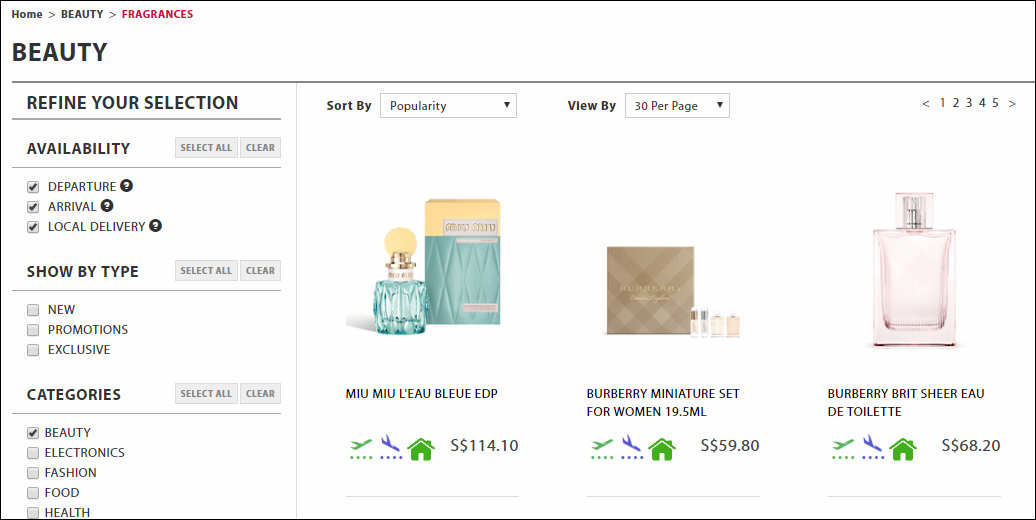 Food
– If you love chocolates and looking to purchase some? Log on to iShopChangi s website and pick your favourites. Assorted chocolates, candies, dark and mint chocolates, fruit and liqueur chocolates are available on the website. Customers can also purchase coffee, tea, delicatessen and souvenir foods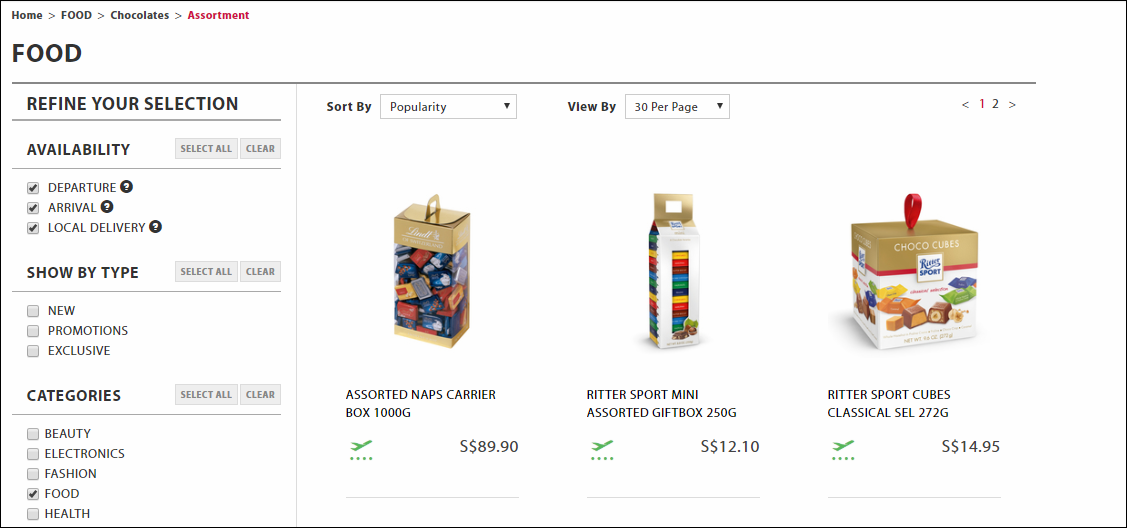 Electronics
– Customers can select from the best range of headphones, speakers, computers, gaming and toys, home appliances and more. Rest assured that the electronic goods from here are of premium quality. Some of the top brands on offer are Acer, Audio-Technica, Bose, Canon, Casio, Fujifilm and JBL.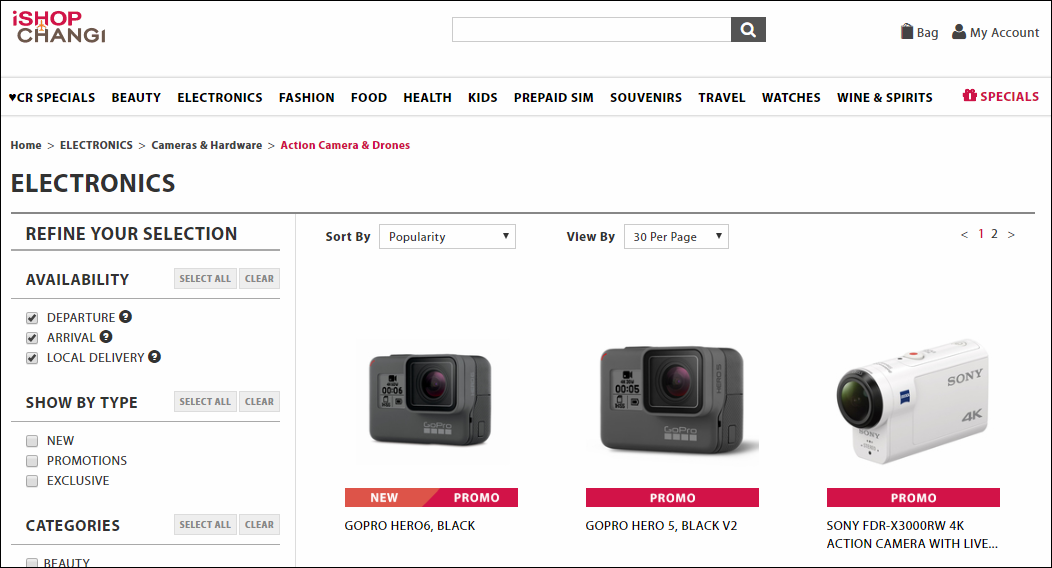 | iShopChangi Product Category | iShopChangi Product Sub-category |
| --- | --- |
| Beauty | Body & Hair Care, Fragrances, Makeup, Skincare |
| Electronics | Audio, Cameras & Hardware, Computer, Gaming & Toys, Health Care, Household Appliances, IT Peripherals, IT Peripherals, Mobile and Smart Devices, Personal Care, Travel Accessories |
| Fashion | Bags, Footwear, Jewellery, Wallets and Accessories, Writing Instruments |
| Food | Chocolates, Coffee and Tea, Delicatessen, Milk Powder, Souvenir Foods |
| Health | Food Supplements, Over the Counter, Personal Care |
| Kids | Accessories, Baby Carriers, Bags, Bedding, Feeding, Food, Health, Personal Care, Shoes, Stationary, Toys |
| Prepaid SIM | Africa, America, Asia, Europe, Global, Oceania |
| Souvenirs | Changi Exclusive, Fashion, Gifts, Health, Home and Decor, Kids, Local Flavours, Premium Gifts, Travel |
| Travel | Accessories, Bags, Electronics, Kids Books, Luggage |
| Watches | Fashion Watches, Fine Watches |
| Wine & Spirits | Beer, Spirits, Wine |
| | |
How to Shop at iShopChangi?
The iShopChangi website is simple and easy to navigate. All the product categories are listed on the header, from where you can navigate to the sub-categories. Alternatively, you can search for a product of your choice using the Search box located on the top of the page. The homepage also displays some popular products. You can click on these products to proceed with the purchases.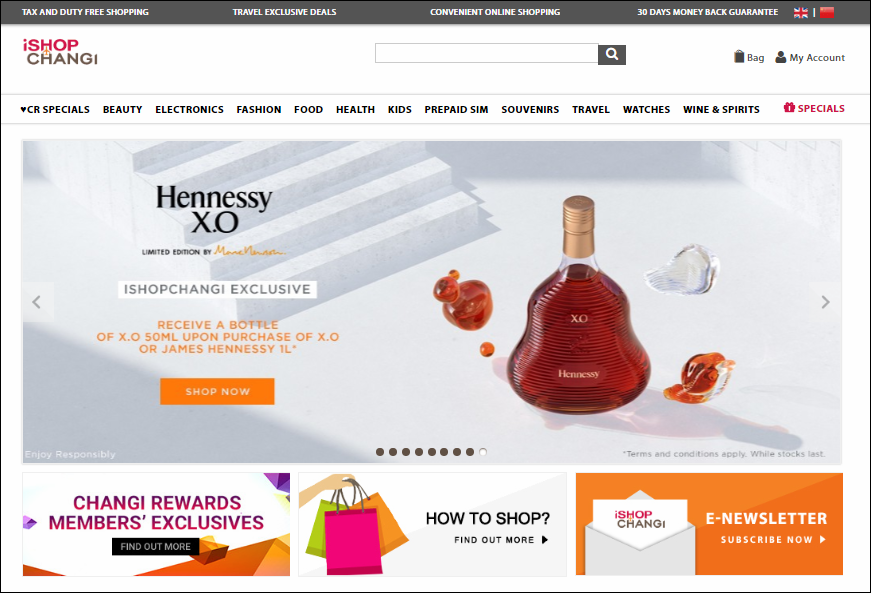 Customers must click on the product categories to view the sub-categories.
Customers can avail of great offers on iShopChangi SK-II, iShopChangi Laneige and iShopChangi Sulwhasoo during iShopChangi promotion.
Payment Options on iShopChangi
iShopChangi ensures smooth payment process for the customers via highly secure payment modes that have been added during the years.
Payment via credit cards: You can pay for your purchases on iShopChangi via Mastercard, VISA, American Express, UnionPay and JCB credit cards.
Alipay: You can also make your payments via Alipay, a leading third-party and online payment platform, with over 520 million users world-wide.
Different Coupon Codes and Discounts of iShopChangi Singapore
Passengers travelling in and out of Singapore look forward to shop at iShopChangi because they can save a lot of money as they buy products offered by some of the top brands in the world. The products sold here are tax and duty free and the travel exclusive deals and offers are quite attractive. Customers can use their iShopChangi promo code and also earn Changi reward loyalty points, which can be redeemed immediately. To avail discounts, you can apply the iShopChangi discount code, iShopChangi coupon code or any other iShopChangi code during the purchase process.
A lot of websites offer iShopChangi discount coupons, promo codes and vouchers. For example, at present Shopback is offering $6 cashback on iShopChangi products to those who shop through a registered account at Shopback.
How to Redeem Coupons and Vouchers at iShopChangi?
Customers can avail discounts by using their iShopChangi voucher and iShopChangi coupon during the checkout process. The step-by-steps procedure is given below.
Step 1:
Select the item that you wish to buy and click on Add to Bag .
Step 2: After selecting all the items that you wish to purchase, click on the 'Bag icon. Here, below the order summary, you will find a box to enter your iShopChangi promo code.
Step 4:
Enter the promo code, click on the "Apply" button and proceed to the Checkout page.
Step 5:
Enter the required details and click the "Review Order" button.
Step 6:
Select the payment method as per your convenience and enter the payment details to complete the transaction and avail the discount.
How to Shop on iShopChangi using ShopBack
ShopBack offers $6 cashback on various items if you shop from iShopChangi via a registered account at Shopback. Currently, it also offers discount coupons. The steps to earn cashback from ShopBack are listed below:
Step 1:
Visit the ShopBack website and select iShopChangi store from the list of merchants and brands on the homepage. You can also use the search box to find the link to iShopChangi store.
Step 2:
Read the terms and conditions, cashback details and tips to ensure cashback.
Step 3:
If you are looking for more attractive deals and coupons, check out the iShopChangi Promos & Discount Codes section.
Step 4:
Click on the Activate Cashback button located on the top left corner of the page.
Step 5:
You will be directed to the iShopChangi website to browse and select the products you intend to buy.
Step 6:
You can earn cashback from ShopBack after placing your order.
Please note that the cashback offer is not applicable on gift card and iShopChangi app purchases.
iShopChangi s Collection of Goods Policy
Here is what you should know about delivery and collection of goods.
The date and time by which you can receive the goods from the collection centre is indicated in the acknowledgement of the customer s order. The collection centres operate 7 days a week, from 5 am to 12 am (GMT+8).

To collect their goods, customers must produce their passport, boarding pass and acknowledgement of their order at the designated collection centre.

In case, you do not collect the goods within the specified time or do not produce the documents mentioned above, the goods might not be handed over to you and may be re-sold by the retailer (through CAG). In situations like these, refunds will be provided to the customer.

30-days money back policy is applicable for online purchases on the portal.
iShopChangi Customer Service
For any inquiry or help, you can contact the iShopChangi customer service by providing your details. The concerned people will contact you within 7 working days.