Get gorgeous and flawless skin with Hermo skincare products!
Hermo, Southeast Asia s renowned ecommerce website, puts forth an exclusive collection of beauty products from premium brands, mainly from South Korea, Japan and Taiwan. Based in Malaysia, the site is actively available in Singapore and Indonesia. Hermo Singapore presents its consumers with an exclusive range of more than 500 premium brands. It boasts of attracting a base of more than 250,000 consumers and processes about 2,000 orders daily.
The user-friendly website flaunts an array of products for skin, hair, body and face, including the all time favourite Korean beauty products, which you can purchase at a reasonable rate. To make the product search easy and interesting, their product category includes a section for luxe products and best sellers. Apart from these, women can purchase their favourite perfumes and beauty masks by logging on to the Hermo sg (Singapore) website or downloading 'HERMO – Makeup & Skincare Shopping mobile app.
'Hermo is derived from the word 'Hermosa , which means Beautiful in Spanish. Without any prior experience, Ian Chua and PS Chong, from Malaysia, established the business in June 2012. Their aim was to set up a Malaysian platform to sell women s beauty products. At the time of their business conception, the duo felt that there were few successful Malaysian e-commerce websites that sold women s beauty products and there was scope for more. They were later joined by Ian Mok as the COO.
Immediately, after its formation, this startup saw immense growth to become number one in Malaysia. The team then set up business in Singapore and Indonesia, soon to become one of Southeast Asia s largest ecommerce website for women s beauty products.
Hermo is popular among women for its cost-affordable prices and high-grade beauty products, all on a single platform. Consumers can purchase beauty products for skin, hair and body, makeup, bath care products, beauty masks and fragrances from Southeast Asia s premium brands. Here is a brief overview of the items available on Hermo.
Skin Care
– Hermo offers some great skin care products to pamper your skin. These include cleansers, moisturizers, makeup removers, toners, exfoliators, scrubs etc from top brands like Naruko and CNP Laboratory.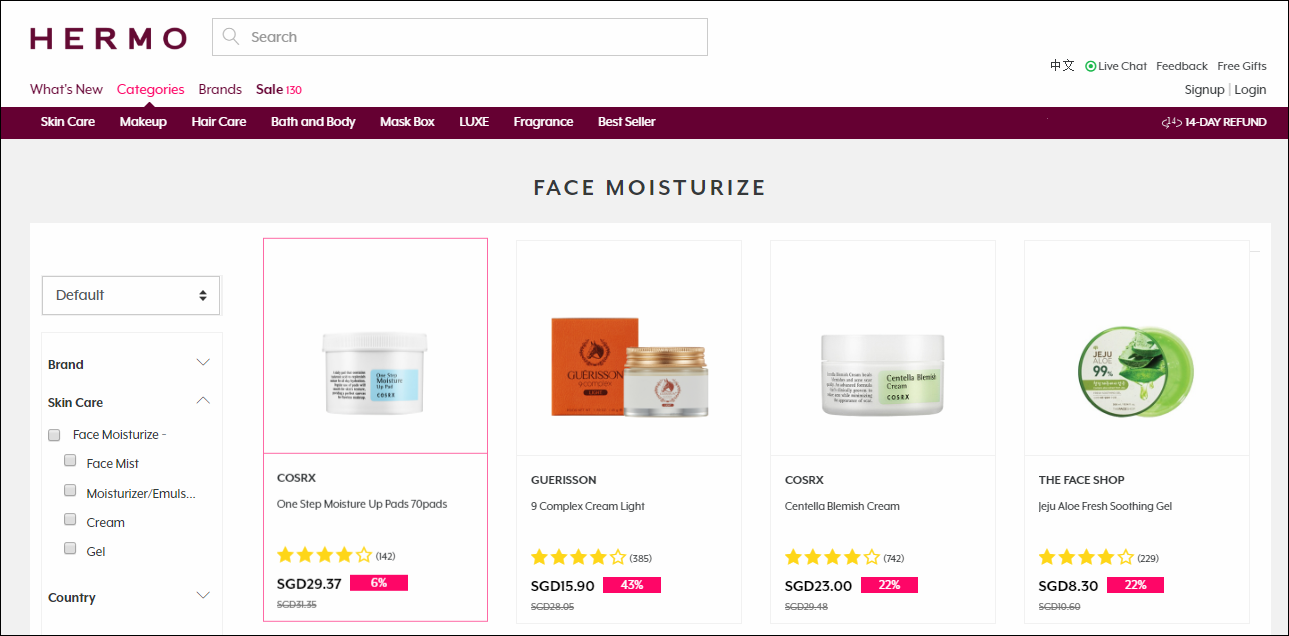 Makeup
– Hermo is a one-stop shopping destination that meets all your makeup requirements. From foundations, primers, face powders to blushes, luminizers and concealers they have it all! Information about every product along with the reviews is easily available on the website.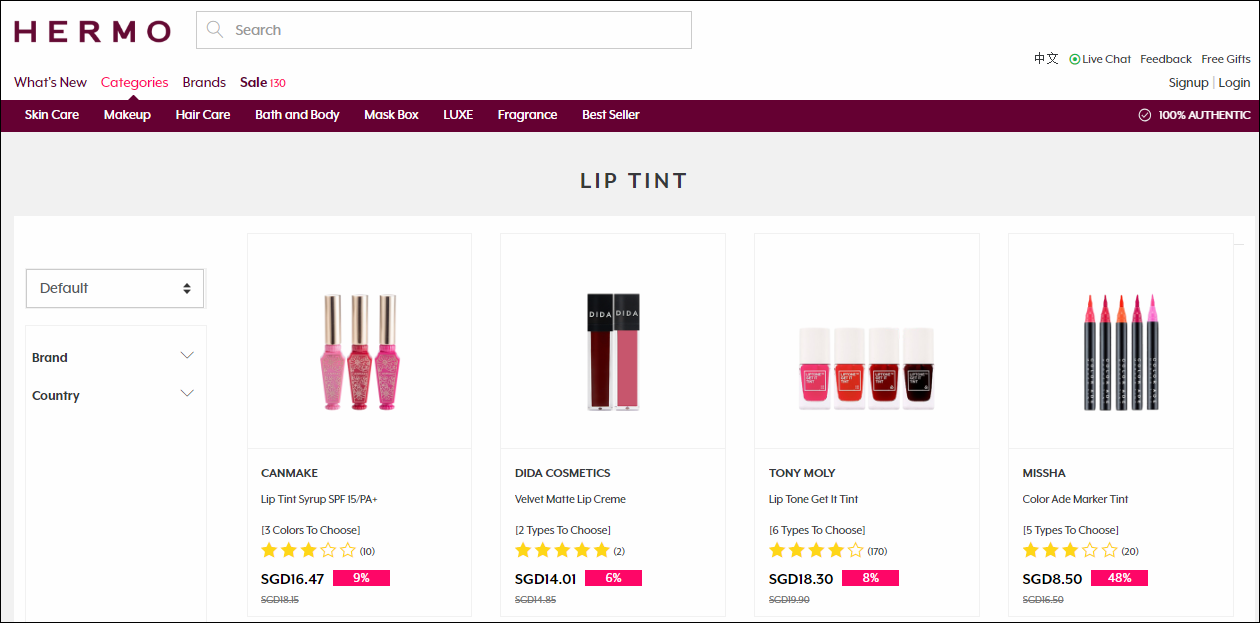 Hair Care
– Finding hair products to suit your hair type has become relatively easy on the Hermo website. Pamper those luscious locks with shampoos, conditioners, oils, hair masks and creams, hair colours and styling products from some of the well-acclaimed national and international brands.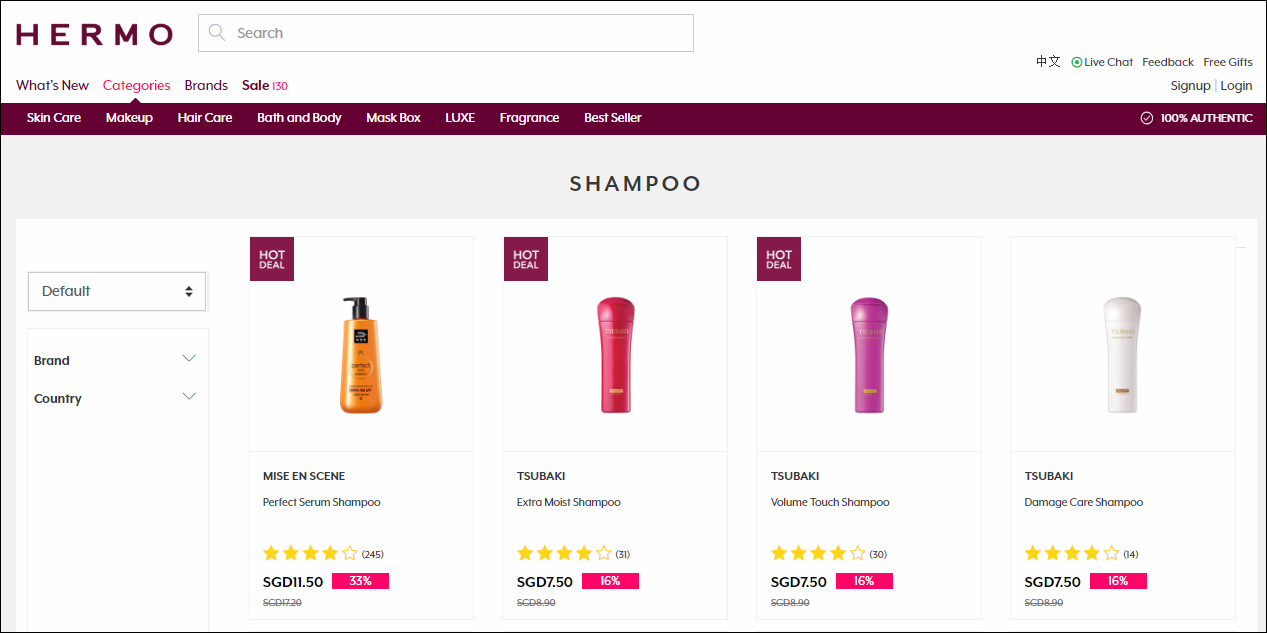 Similarly, Hermo offers a plethora of premium products for bath and body, luxe products and fragrances.
| Hermo Product Category | Hermo Product Sub-category |
| --- | --- |
| Skin Care | Cleanser, Makeup Removers, Mask, Moisturizers, IIntense Care, Eye Care, Lip Care |
| Makeip | Face, Eye, Lip, Nails, Beauty Tools, Makeup Set |
| Hair Care | Shampoo & Conditioner, Hair Care, Hair Styling |
| Bath and Body | Bath & Body, Hand Care, Foot Care, Oral Care, Personal Care, Beauty Wear, Toiletry/Travel Set, Supplement |
| Others | Mask Box, Luxe, Fragrance, Bestsellers |
| | |
Hermo offers an extremely easy-to-use platform. All the products are well categorized based on product type, newly introduced ones, brands and products on sale. The search box at the top of the website page allows users to perform a product-specific or brand-specific search. The different categories of products on the header of the website are skin care, makeup, hair care, bath and body, mask box, luxe, fragrance and best seller. From here, customers can access the categories they want to explore and shop.
The homepage is divided into sections featuring list of popular products during the week, hot deals, popular beauty must-haves, beauty reviews from customers and so on.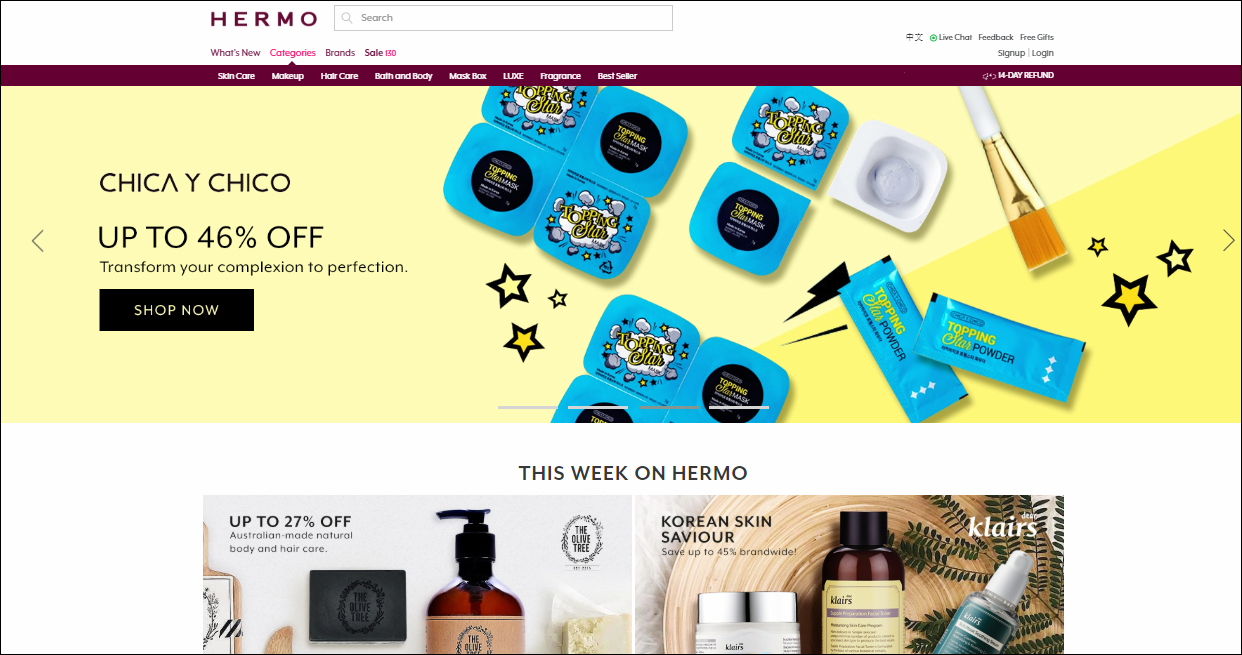 Customers can find great deals and discounts on products during the Hermo sales or Hermo promotions displayed on the homepage. Customers can avail the discounts by using the Hermo vouchers and Hermo coupons during the checkout process.
Making the payment on the Hermo Singapore website is very simple and easy. You can view the payment page after clicking the 'Checkout button. Use the following options to make your payments through the website.
Payment via debit or credit cards:
Customers can make payments via Mastercard, VISA, Discover and American Express cards. Hermo ensures that your financial details won t be shared with the merchant.
PayPal:
PayPal, the award-winning online payment system, can be used by customers to process online transactions on Hermo, in Singapore currency.
Different Coupon Codes and Discounts of Hermo Singapore
It s fun to shop on Hermo sg (Singapore) not only for its array of interesting authentic products available at reasonable prices, but also because of the deals and discounts. Some Hermo discount coupons and Hermo discount vouchers are available regularly, while some are for a limited period. Enjoy shopping on the website as you save some money by using the Hermo discount code, Hermo coupon code and Hermo voucher codes.
Currently, Shopback offers 3.5% cashback to its customers on purchasing items using Hermo via a registered account at Shopback.
How to Redeem Coupons and Vouchers at Hermo?
The wide range of authentic beauty products can not only make your shopping at Hermo worthwhile, but the plenty of deals and discounts offered can make it rewarding too. There are several websites that offer coupon codes and vouchers, which can be redeemed for discounts and cashbacks.
A simple step-by-step process to redeem coupons and vouchers at Hermo is given below:
Step 1:
Select the product that you want to purchase and click on Add to Cart .
Step 2:
Proceed to the Checkout page and select your shipping address, delivery courier and payment method. The page also displays
Step 4:
Apply Extra Promotion . Here, enter the Hermo promo code, Hermo voucher code or any other applicable Hermo code to avail the discounts.
Step 3:
Select a payment method of your choice and enter payment details to complete the transaction.
How to Shop on Hermo using ShopBack
ShopBack offers 3.5% cashback on various items if you shop from Hermo. Given below are the steps to be followed to earn cashback from ShopBack:
Step 1:
Visit the ShopBack website and click on the Hermo store listed among various other merchants and brands on the homepage. You can also use the search box to find the link to Hermo store.
Step 2:
Go through the terms and conditions and other information such as the cashback details and tips to ensure cashback.
Step 3:
Click on Activate Cashback button located on the top left corner of the page.
Step 4:
To find interesting deals and coupons, check out the Hermo Promo Codes + Cashback section.
Step 5:
You will be redirected to the Hermo website to browse and select items that you intend to purchase.
Step 6:
You will be eligible to earn cashback from ShopBack after placing your order. The cashback rates can differ based on product categories and whether you are a new or existing customer.
Please note that cashback is not applicable for Hermo app purchases.
Hermo s Shipping and Return Policy
Hermo offers shipping services to Singapore, Indonesia and Malaysia. A lot of customers prefer to make their purchases of beauty products via Hermo due to its excellent shipping services.
Hermo offers free shipping on all orders up to S$25 and above and shipping services only within Mainland Singapore. Customers cannot change the mailing address of the goods during the processing stage. You can view the shipping fee in your order summary before you make the payment.
If you are unhappy with your order, you can cancel it and return the products to Hermo (subject to conditions). You must contact Hermo by email ([email protected]) on receiving the product and the company s customer service will assist you to return your product and receive your refund, subject to the following terms and conditions.
Products must be returned within 14 days from the date of purchase.
You must first inform the company via email before returning the product (s) for a refund. Your return inquiry will be processed within 7 working days.

Product must be returned with the original packaging and invoice.

Products purchased during promotional events like sales, anniversaries and Christmas, cannot be exchanged or returned.

Company will choose the courier service to pick the returned goods.

For a faster return process, the customer must include information, such as pictures of the items, its conditions and order details in the email.

The customer shall bare the postage fee when shipping back the product during the return process. The company will refund a maximum of S$5.00 for your return shipping charges to your account.

Customers will receive their refund or new item(s) in minimum 14 working days from the date the company receives the return package.

During the final refund, voucher and credit discount will not be converted into cash term.

The company will refund credit only on a full order refund. No credit refund will be available for partial order refund.
For any inquiry or help, the customers can contact the Hermo customer service by sending an email to [email protected] or dial 800-852-3908.