Hardware City: Your One-Stop Shop for Hardware Solutions
Hardware City is a one-stop shop for all kinds of hardware solutions. They specialise in selling products for the industrial and building hardware industry of Singapore. They supply hardware, offer online purchase services and also provide online quotations. Hardware City boasts of being the top shopping destination for major brands and the chief web-based industrial distributor in Singapore.
The company provides services to countries across the globe. The industries served by them include aerospace, military, energy, oil & gas, facility management companies, government sectors, marine & offshore, building & construction, major manufacturing companies and logistics. They help customers identify product benefits and features, and offer competitive comparison of tools and troubleshooting/product repair services.
Visit their site to browse and shop for the best industrial hardware solutions, and enjoy amazing Hardware City discounts during Hardware City promotions.
Founded in the year 1979, 'Chong Brother Hardware Supply was merely a one-store operation during the initial days. The company was rebranded as Hardware City in 2008 and today, Hardware City Singapore is the leading hardware solutions provider in Singapore. It has its major branches at Sakra Oasis, Choa Chu Kang Ave 1, Pioneer Junction and the Airline Road. The 4 arms of this major firm are Retail and Distribution, the B2C e-commerce team, PunchOut Catalog team and B2B ecommerce team.
Hardware City won the SME Award in 2014 and it continues to offer unparalleled services to its customers.
Products Sold by Hardware City
Hardware City offers a wide range of industrial and building hardware products for all your needs. Shop for the best quality products only on Hardware City and enjoy exciting deals during Hardware City offers. The table below lists all the product categories and some of the products available on Hardware City.
Make sure to check for the Hardware City coupons and Hardware City vouchers offered during their sale period before you proceed with shopping.
| Hardware City Product Category | Products |
| --- | --- |
| Hand Tools | Hand Keys, Wrenches, Stripping & Crimping Tools, Files & Planes, Soldering & Accessories, Pliers & Tweezers, Leatherman, Glass Tools, Bundle Tool Sets, Utility Knife & Cutters, Hammers & Mallets, Pickup Tool & Mirrors, Tube Benders |
| General Tools | Automotive, Welding Accessories, Construction Tools, Flashlight & Portable Lighting, Welding Equipment, Drain Cleaning Machines, Gas Cutting & Heating, Brazing, Grease Guns, Lubricators, Threading Tools |
| Aerospace Tools | Shop Tools, Sheet Metal Upholstery Tools, River Tools, Drilling, Cutting & Microstops |
| Oil & Gas Tools | Non-Spark Wrenches, Non-Spark Hammers, Non-Spark Tools Set, Non-Spark Axe, Shovels, Prybars, Non-Spark Chisels & Punches, Non-Spark Pliers, Non-Spark Cutting, Non-Spark Lifting Hoists, Non-Spark Screwdrivers & Bits, Non-Spark Files & Planes, Non-Spark Clamps & Vises, Non-Spark Ratchets & Sockets |
| Titanium Tools | Titanium Knives, Titanium Wrenches, Titanium Toolsets, Titanium Ratchets & Sockets, Titanium Screwdrivers, Titanium Pliers, Titanium Hammers |
| Stainless Steel Tools | SS Trolley & Carts, SS Hammers, SS Screwdrivers, Other SS Equipment, SS Pliers, SS Wrenches, SS Clamps & Vises |
| Power Tools | Cordless Saws, Lawn Trimmers & Edges, Other Cordless Power Tools, Jets Vacuum Steam Cleaners, Power Chain Saws, Generators, Corded Saws, Lawn Mowers, Corded Grinder, Other Corded Power Tools, Cordless Drills, Wrenches, Corded Glue Guns & Heat Guns, Ventilation Air Blowers |
| Power Tools Accessories | Drill Bits, Rotary Tool Accessories, Saw Blades, Demolition Chisels, Wire Brushes, Mounted Points, Pneumatic Fittings, TCT Carbide Burrs, Router Bits, Batteries & Chargers, Heat Gun & Hot Glue Accessory, Polishing Accessories |
| Test & Measurement | Test Instruments, Clamp Metre, Measuring Tapes, Gauges & Calipers, Weighing Scales, Levels & Combination Squares, Distance & Surface Lasers, Rulers & Layout Tools, Weighing Measures, Voltage Tester Pens |
| Outdoor & Garden | Outdoor Furniture, Outdoor Camping, Barbecue & Grill, Inflatable Swimming Pool, Outdoor Shed, Water Fountains, Pest Control, Irrigation Accessories |
| Tool Box & Storage | Roller Cabinet, Work Bench, Toolbox, River Shadow Foaming, Waterproof Protective Cases, Tool Pouch & Belt, Jerry Cans, Tool Bags, Tool Chest, Tool Panels & Accessories |
| PPE & Safety Equipment | Eye Protection, Foot Protection, Hand Protection, Flammable Safety Cabinets, Respiratory Protection, Spill Control, High Voltage Safety, Marine Safety, First Aid Boxes & Consumables |
| Material Handling | Ladders & Platforms, Hydraulic Jacks, Warehouse Equipment, Hooks & Shackles, Storage Containers, Chains, Ropes & Straps, Castors & Wheels |
| Others | Locks & Ironmongery, Electrical, Designer Lightings, Plumbing & Air Condition, Consumable Products, Household Products, Building Supplies, Paint & Painting Supplies, Lifestyle |
How to Shop on Hardware City?
Hardware City offers an easy approach to shopping and brings to you a number of Hardware City sales from time to time. The homepage displays all the product categories and includes a search icon as well to search for a specific product. You can also find Hardware City promo codes, Hardware City voucher codes and other discounts on the homepage.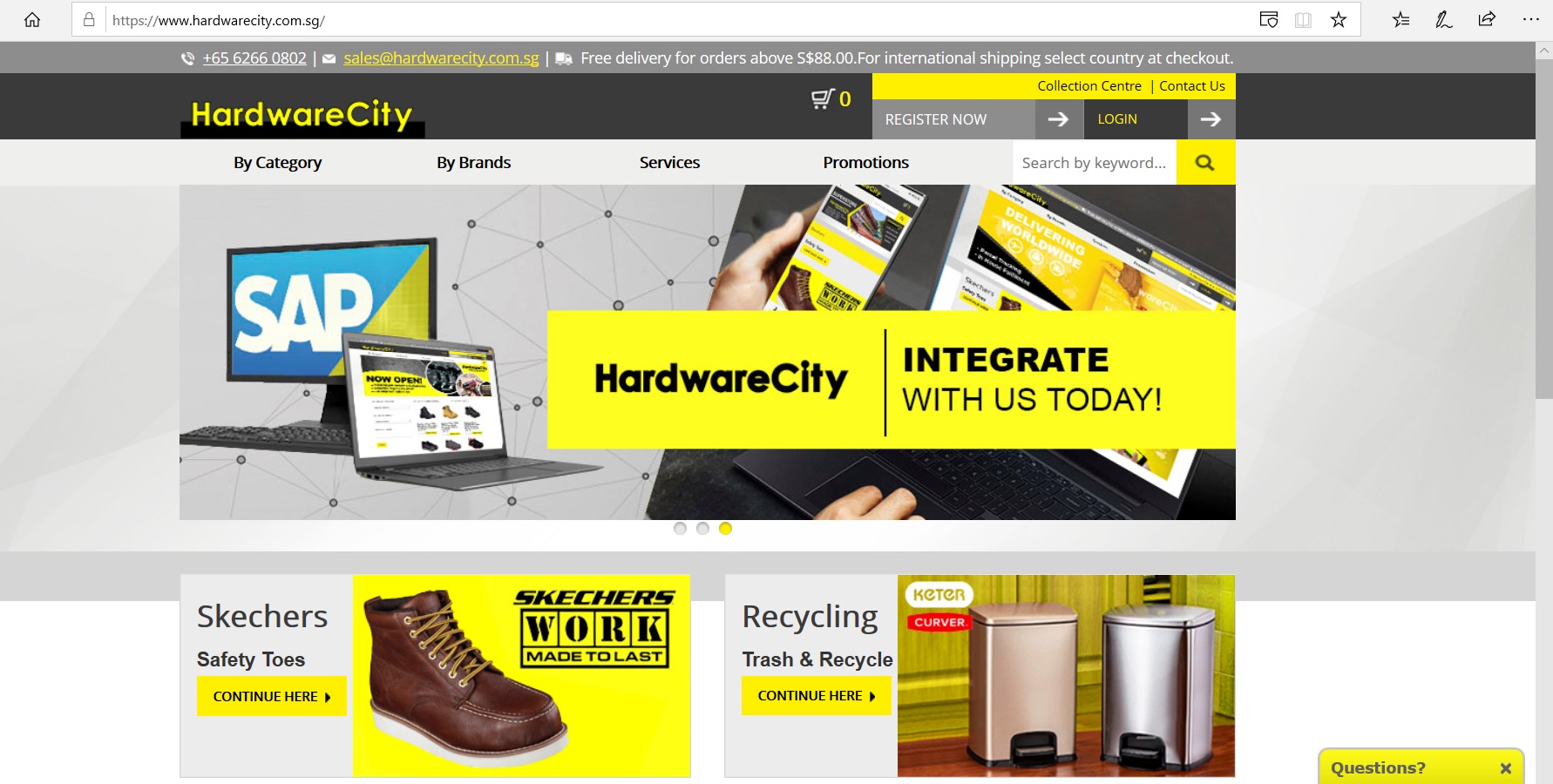 1. Select your preferred category and sub-category. Then choose any product from the list of displayed products.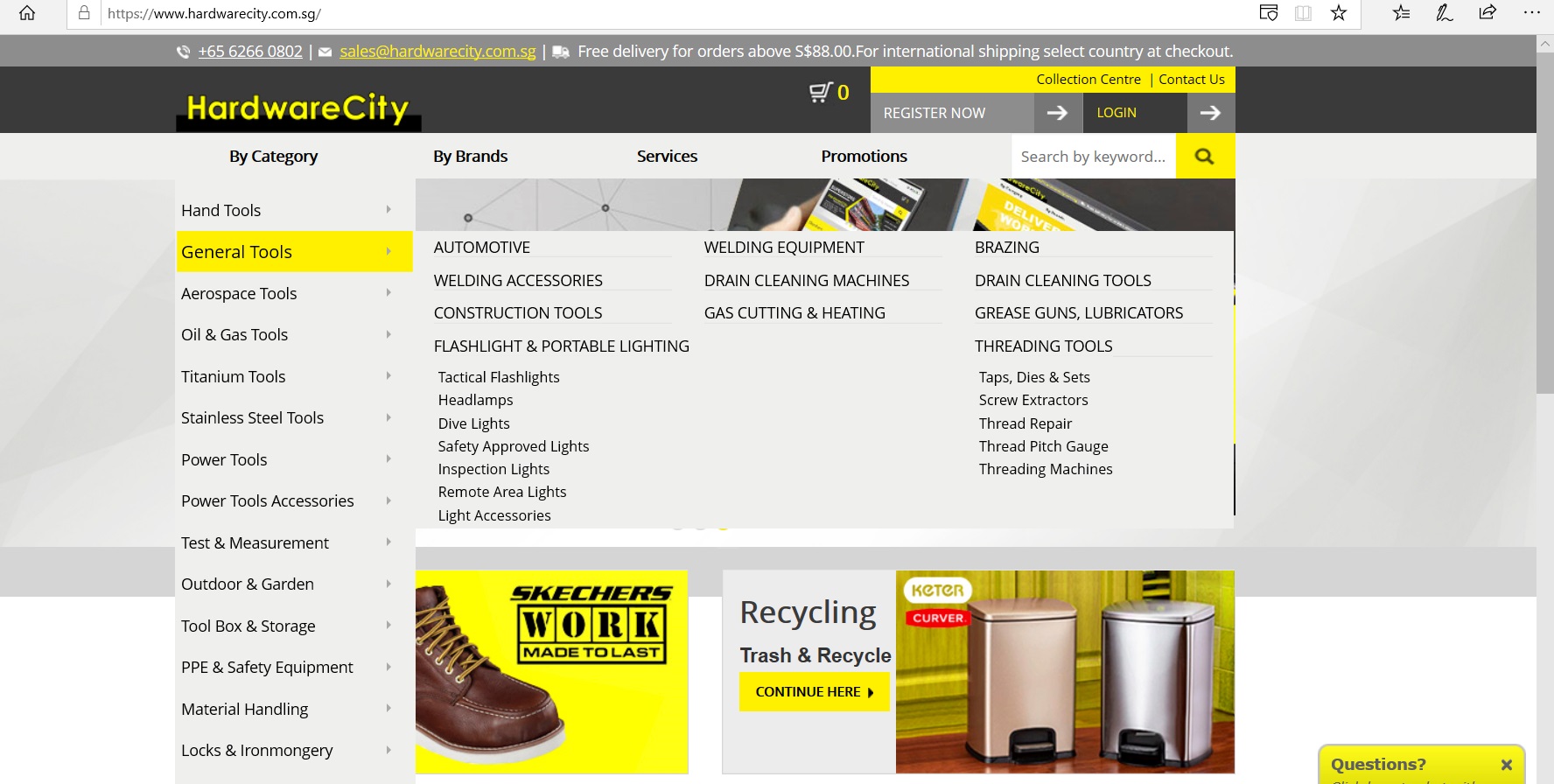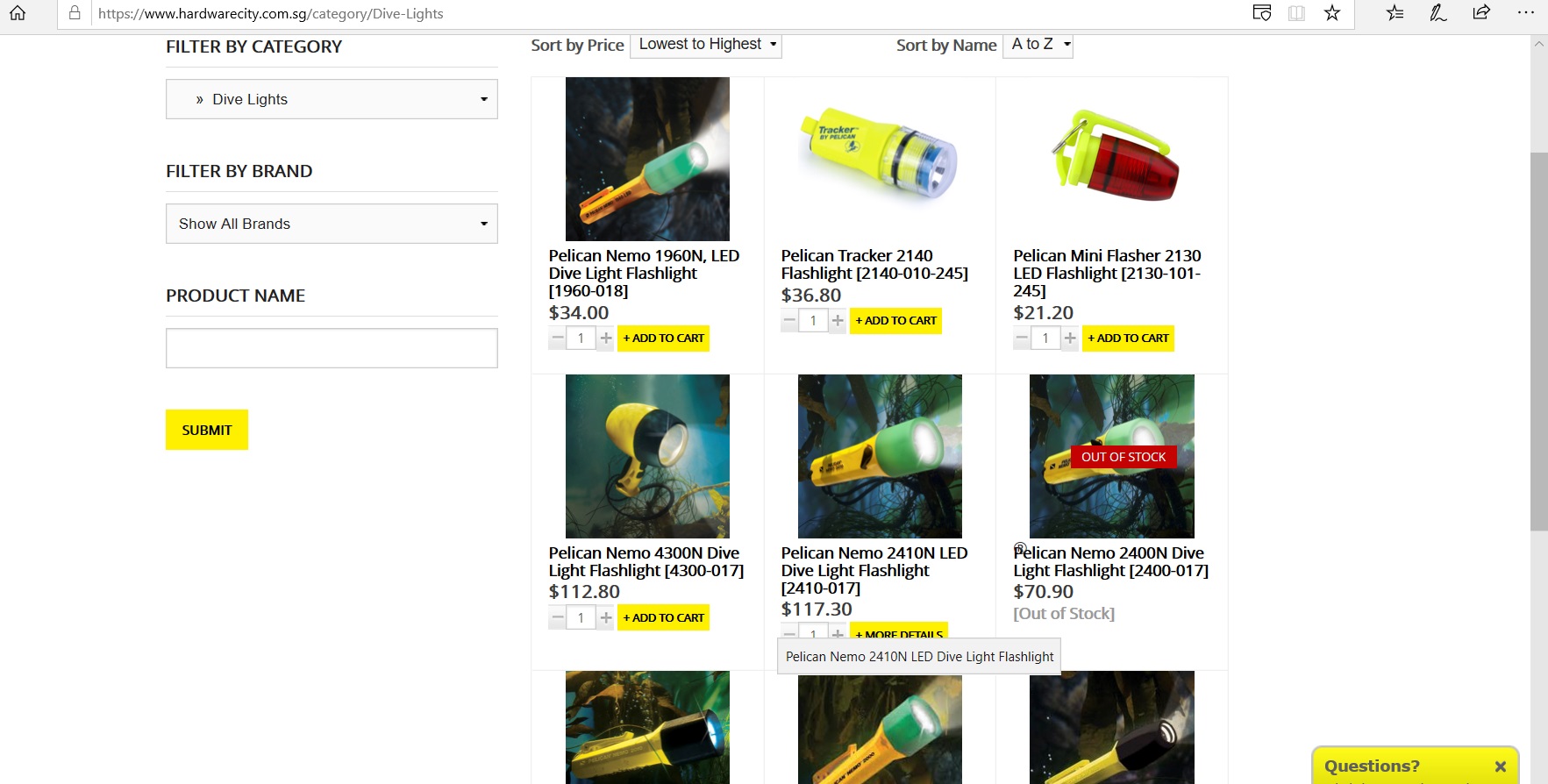 2. The product description, along with its price, technical specifications and an 'Add to Cart button will be displayed. You may go back to browse a different product or select the quantity and click 'Add to Cart . The product will be added to your cart, after which you may continue shopping or proceed further by clicking on the shopping cart. It will display your cart details, with 'Continue Shopping , 'Update Shopping Cart , 'Clear Shopping and 'Proceed to Checkout or Convert Quotation buttons. Click 'Proceed to Checkout or Convert Quotation . There will also be a field to enter the Hardware City promo code during the shopping process.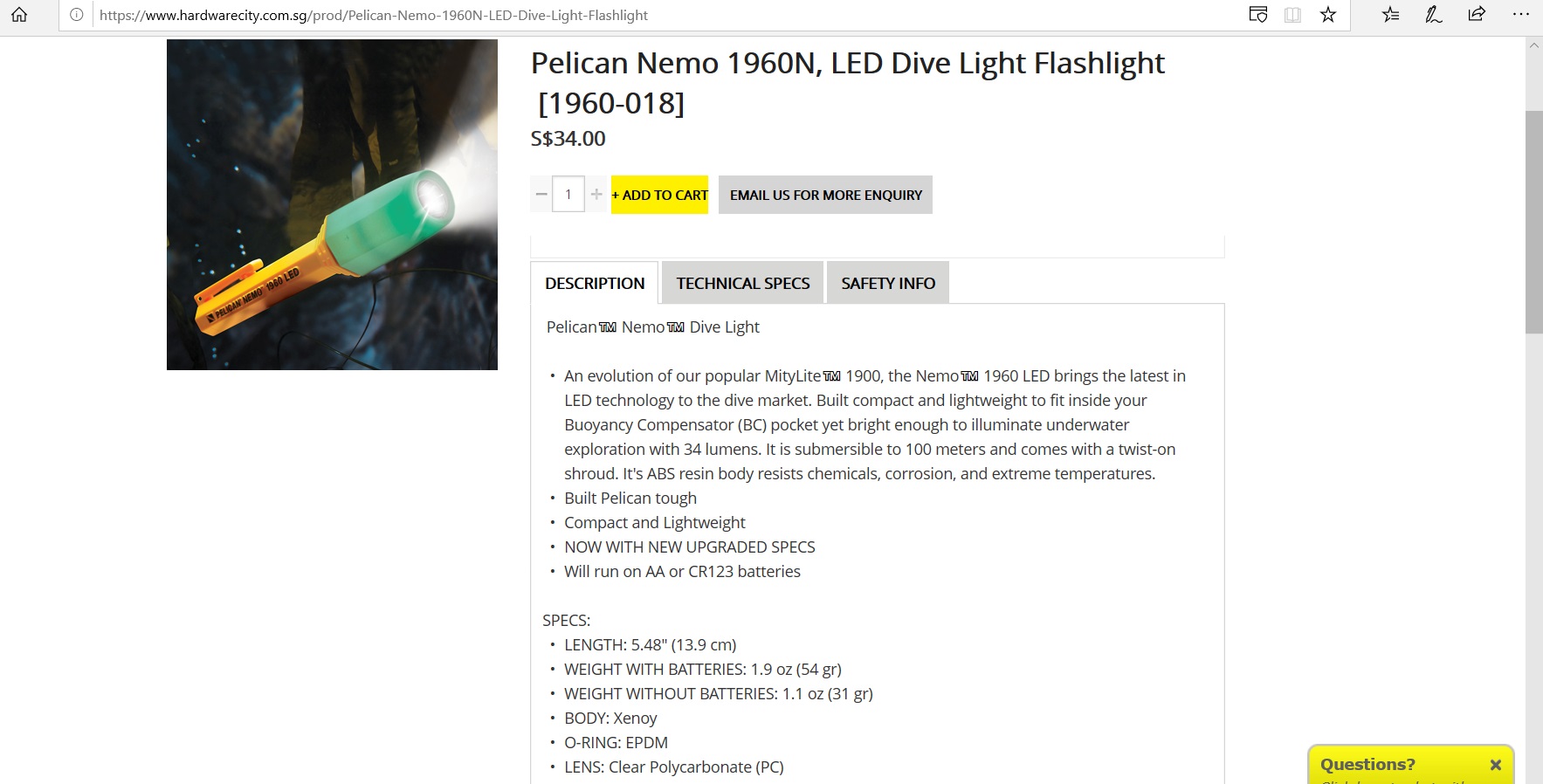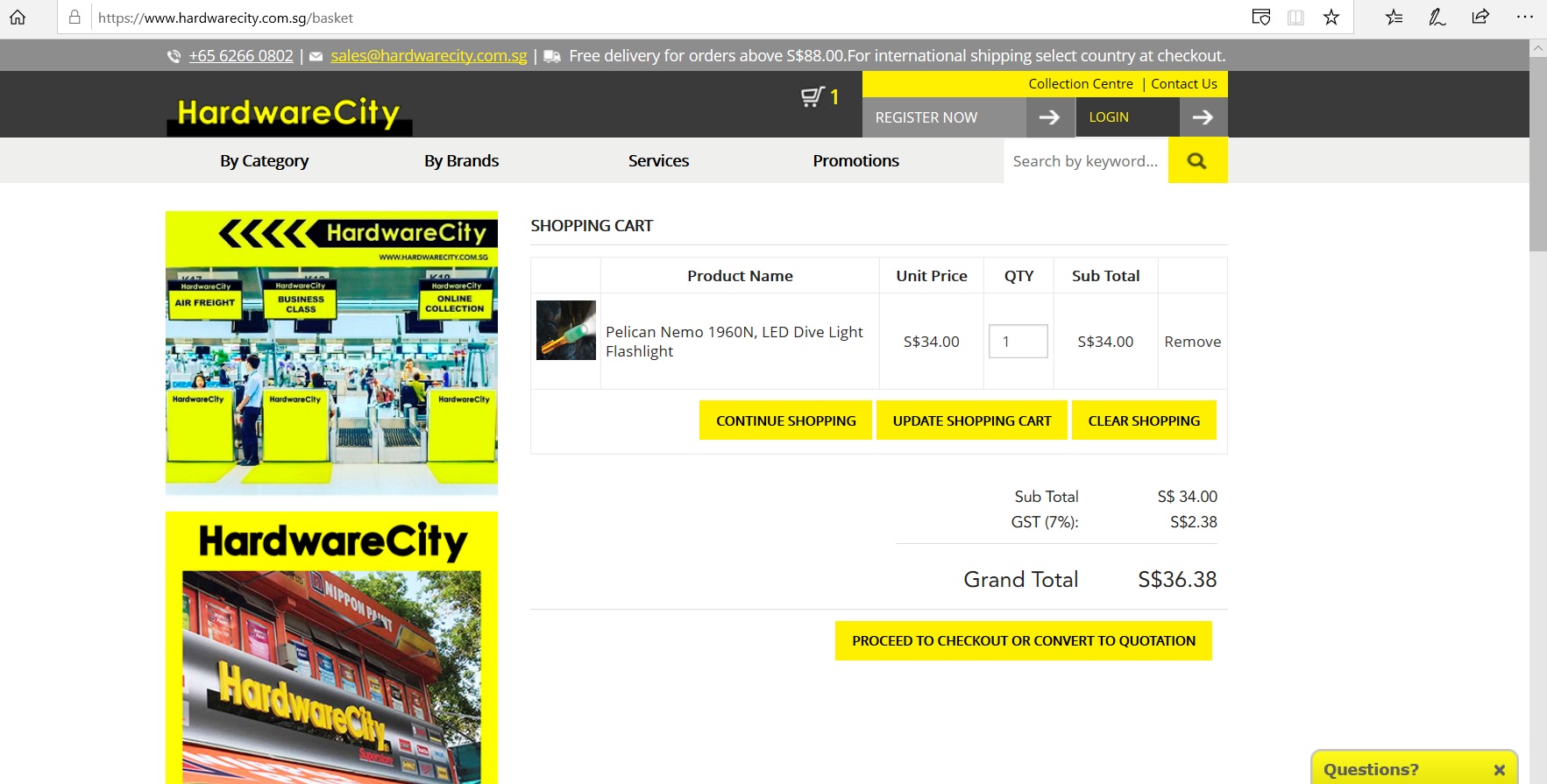 3. On the next page, log in (if you are already a member) or register by entering your details. Enter your shipping information on the next page, choose your preferred delivery method and click 'Continue . Review your order on the resulting page and click 'Proceed Payment . Enter the description on the next page and click 'Continue . It will redirect you to PayPal checkout where you can fill in your payment details and click 'Agree and Pay to complete your purchase.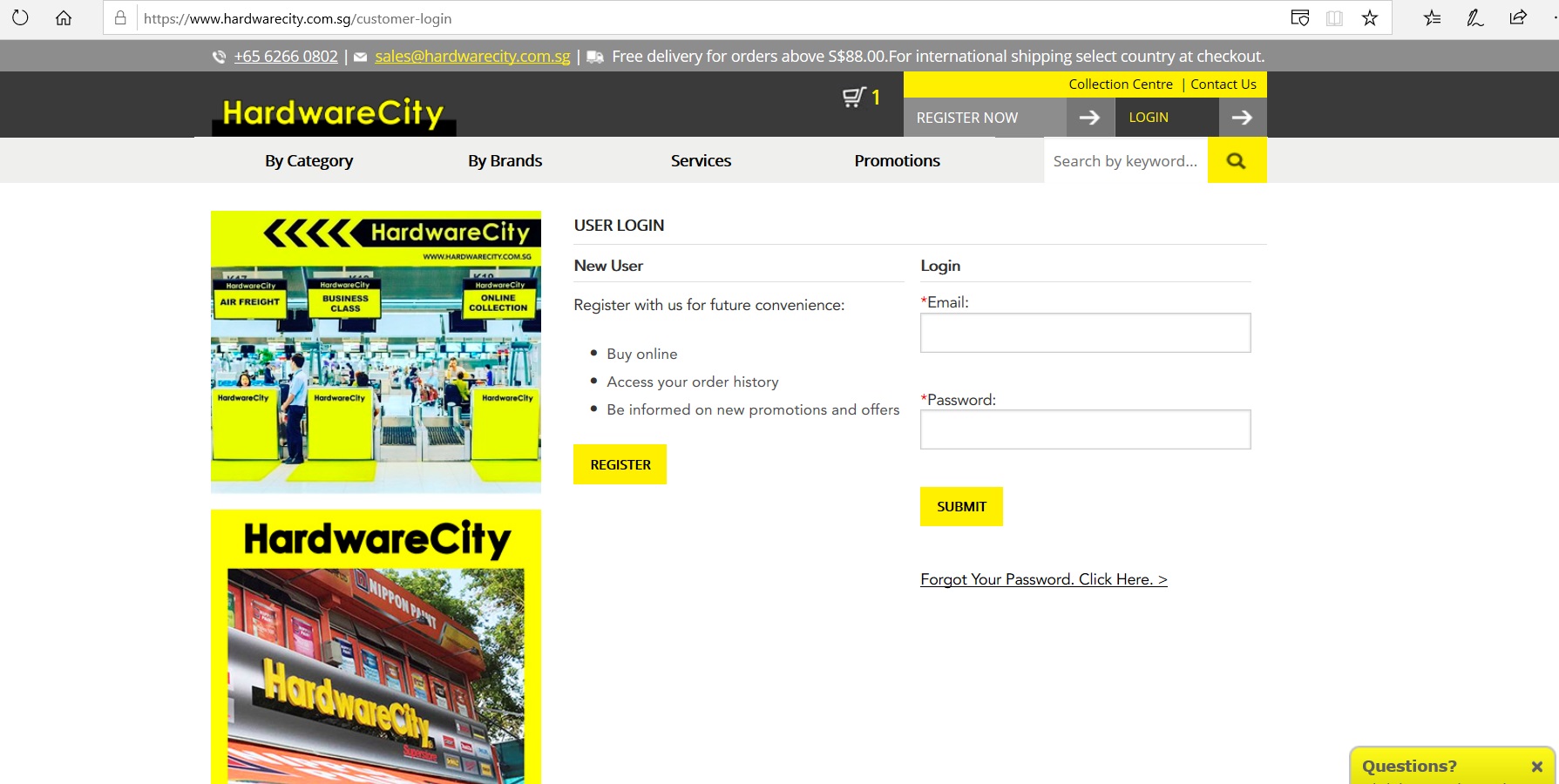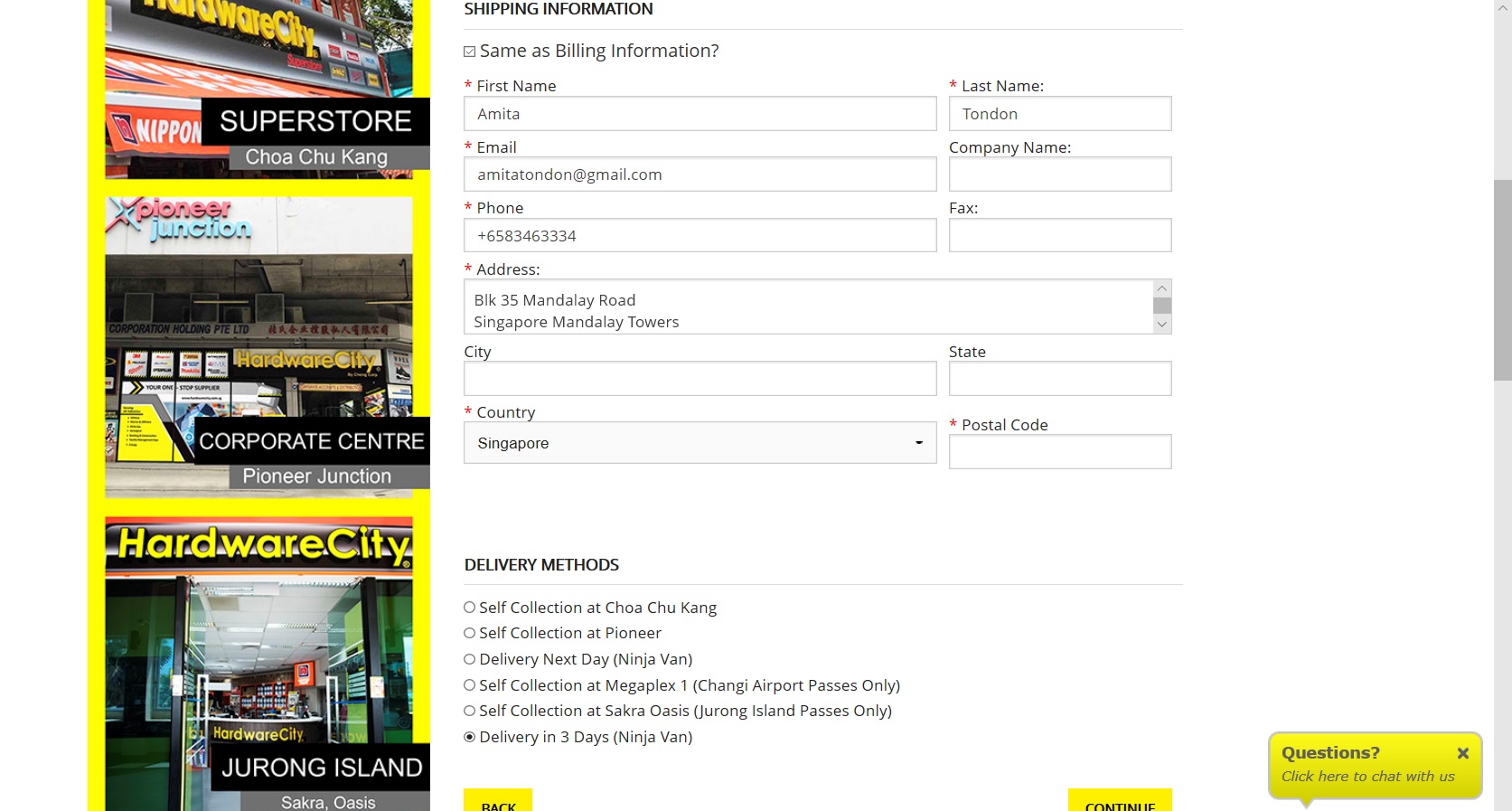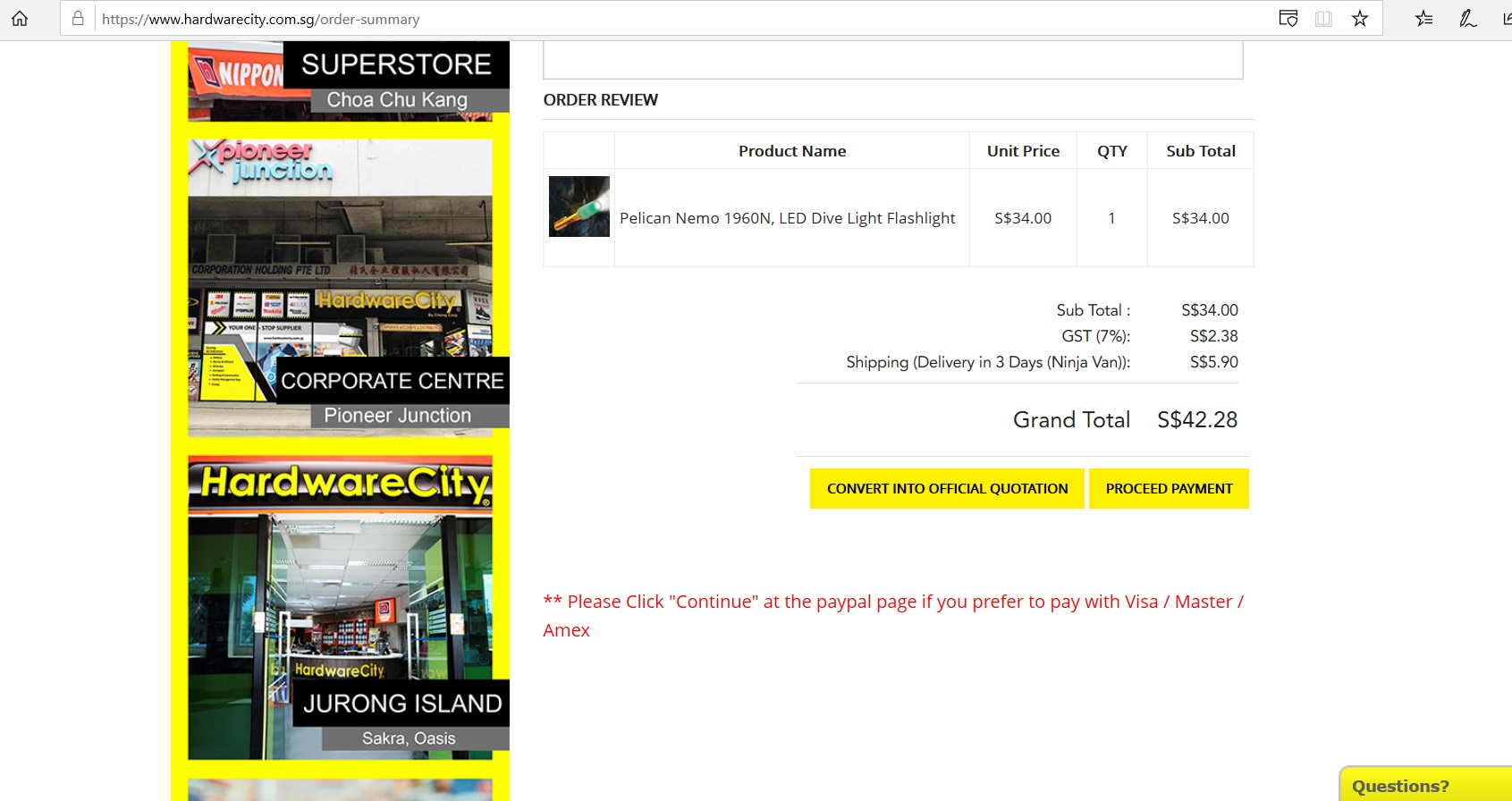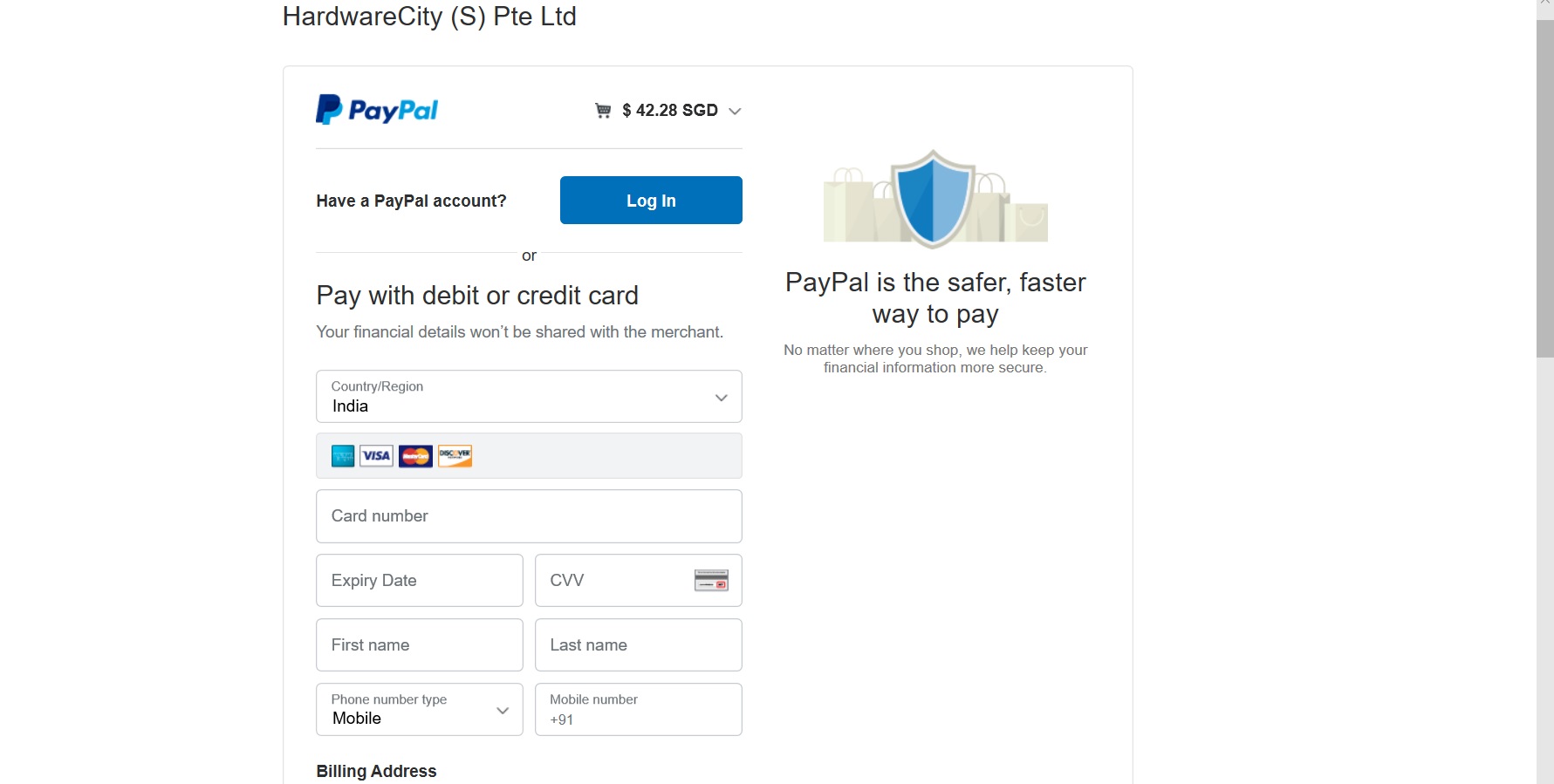 4. You will see your purchase details after placing the order, along with the expected delivery date of your product. An e-mail will be sent to you to confirm your order details.
5. Customers can find great deals on products during Hardware City promos and sales. You can avail discounts by using the Hardware City discount codes/Hardware City coupon codes on checkout. Make sure to check for special deals before placing an order.
Payment Options on Hardware City
Hardware City offers the following payment methods for your convenience.
Credit Card:
Hardware City accepts credit and debit cards for online payments. It accepts VISA, American Express and MasterCard.
PayPal:
PayPal is a popular online payment method that serves as a simple e-transfer alternative to the traditional payment process. Hardware City accepts PayPal method for all your payments.
Different Coupon Codes and Discounts on Hardware City
The website brings to you a number of Hardware City deals from time to time. Some deals are offered for a long time while others are available for a limited period only. Customers can save a lot of money by applying the Hardware City codes.
Currently, customers can earn 5% cashback if they shop with the merchant via a registered account at ShopBack.
How to Redeem Coupons and Vouchers on Hardware City?
Online shopping can be a wonderful, convenient experience, with a vast collection to choose from and ample opportunities to save money on every purchase. Most online shopping websites offer coupon codes and vouchers that can be redeemed to earn cashbacks and discounts on products.
Here is a step-by-step tutorial on how to redeem coupons and vouchers at Hardware City:
Step 1:
Choose from the list of displayed products, select your preferred item and click Add to Cart .
Step 2:
Enter your email and shipping address and proceed to checkout.
Step 3:
Proceed to the payment page. Here, you will find a box under the payment summary section to enter your Hardware City promo code or any other applicable discount codes for availing discounts.
Step 4:
Choose your payment method and fill in the payment details to complete your purchase.
How to Shop on Hardware City Using ShopBack
ShopBack offers 5% cashback on products if you shop from Hardware City. These steps will help you earn cashback from ShopBack:
Step 1:
Select Hardware City from the list of brands on the ShopBack homepage, or use the search box to find a link to the Hardware City website.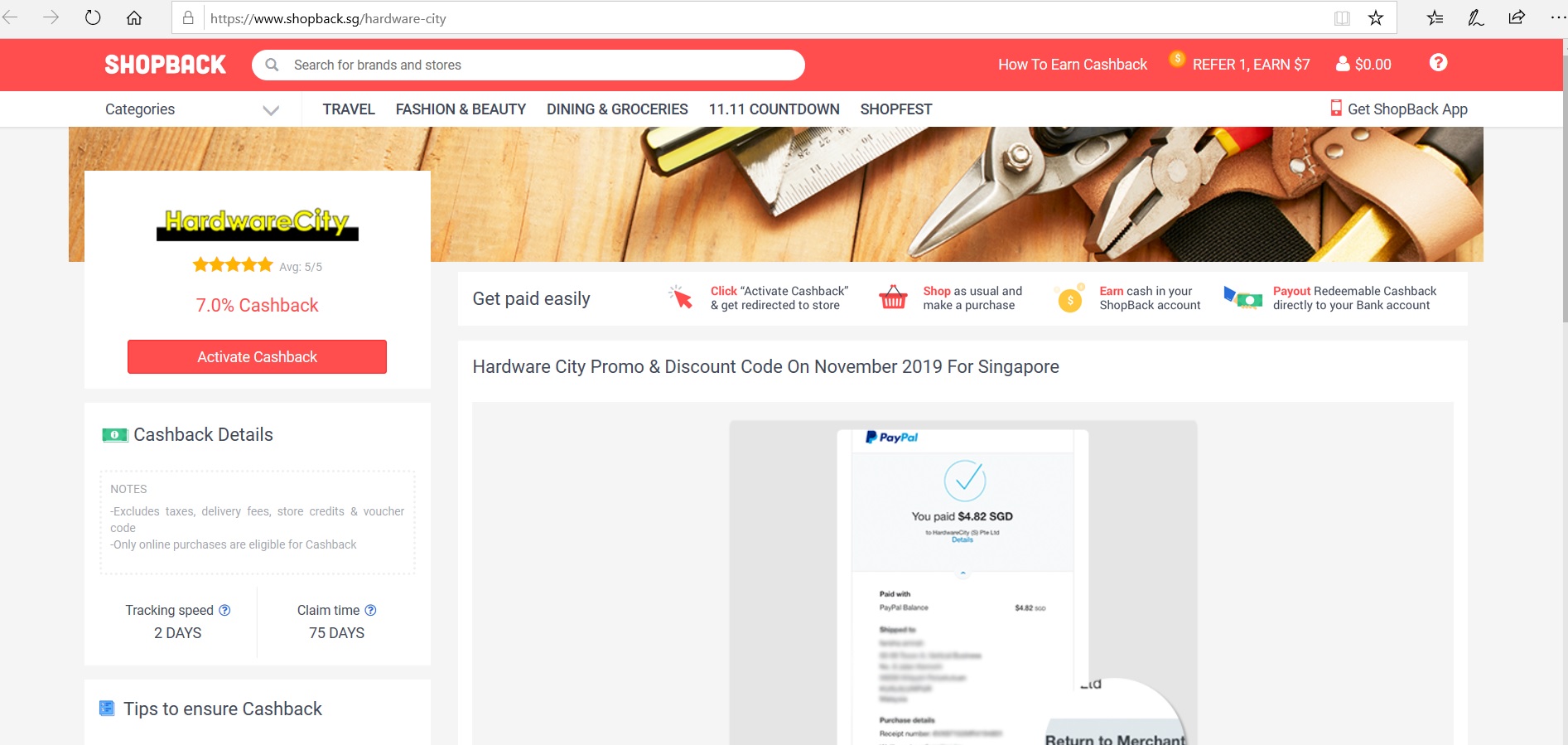 Step 2:
Read the terms and conditions and other relevant information such as cashback details and tips to ensure cashback.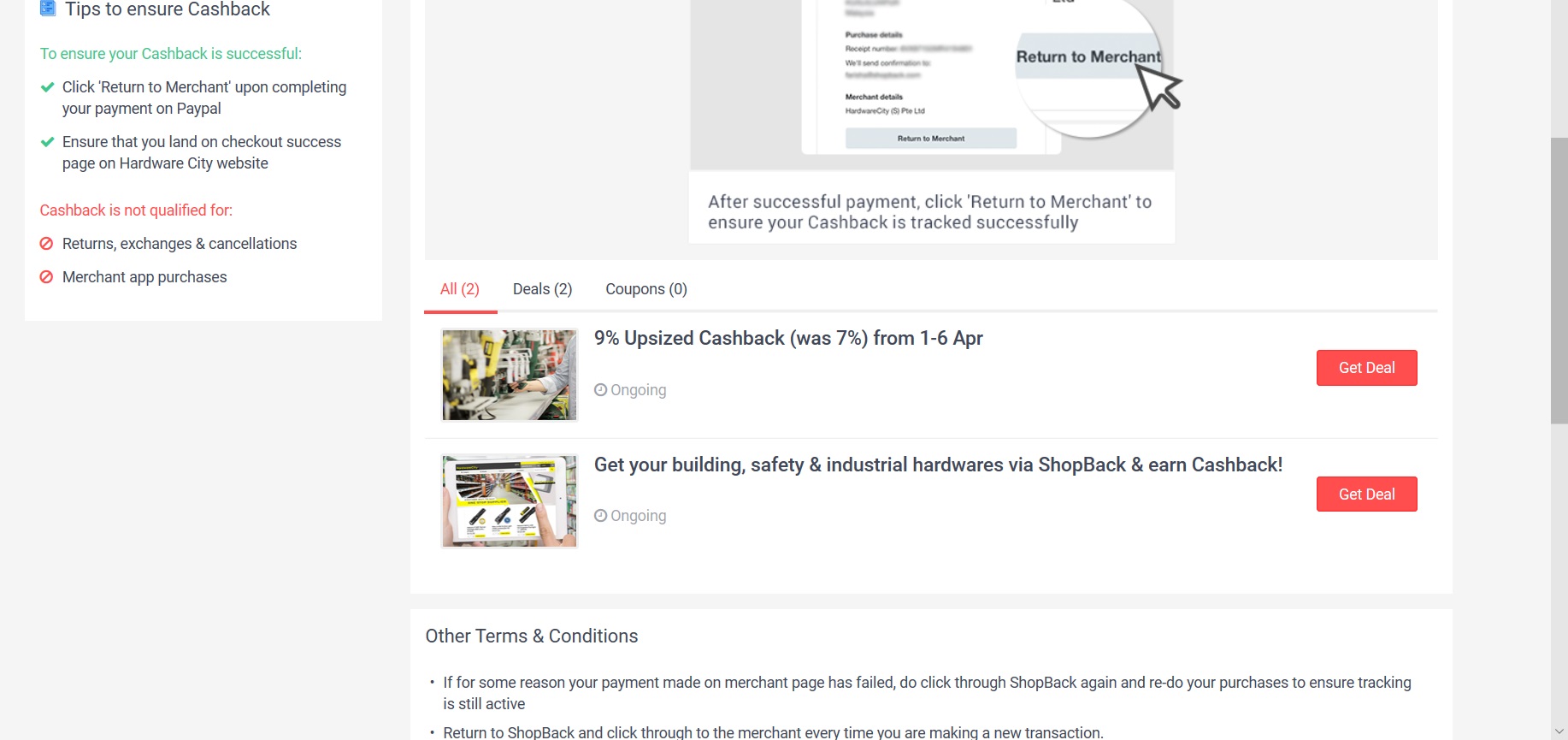 Step 3:
Click Activate Cashback on the left.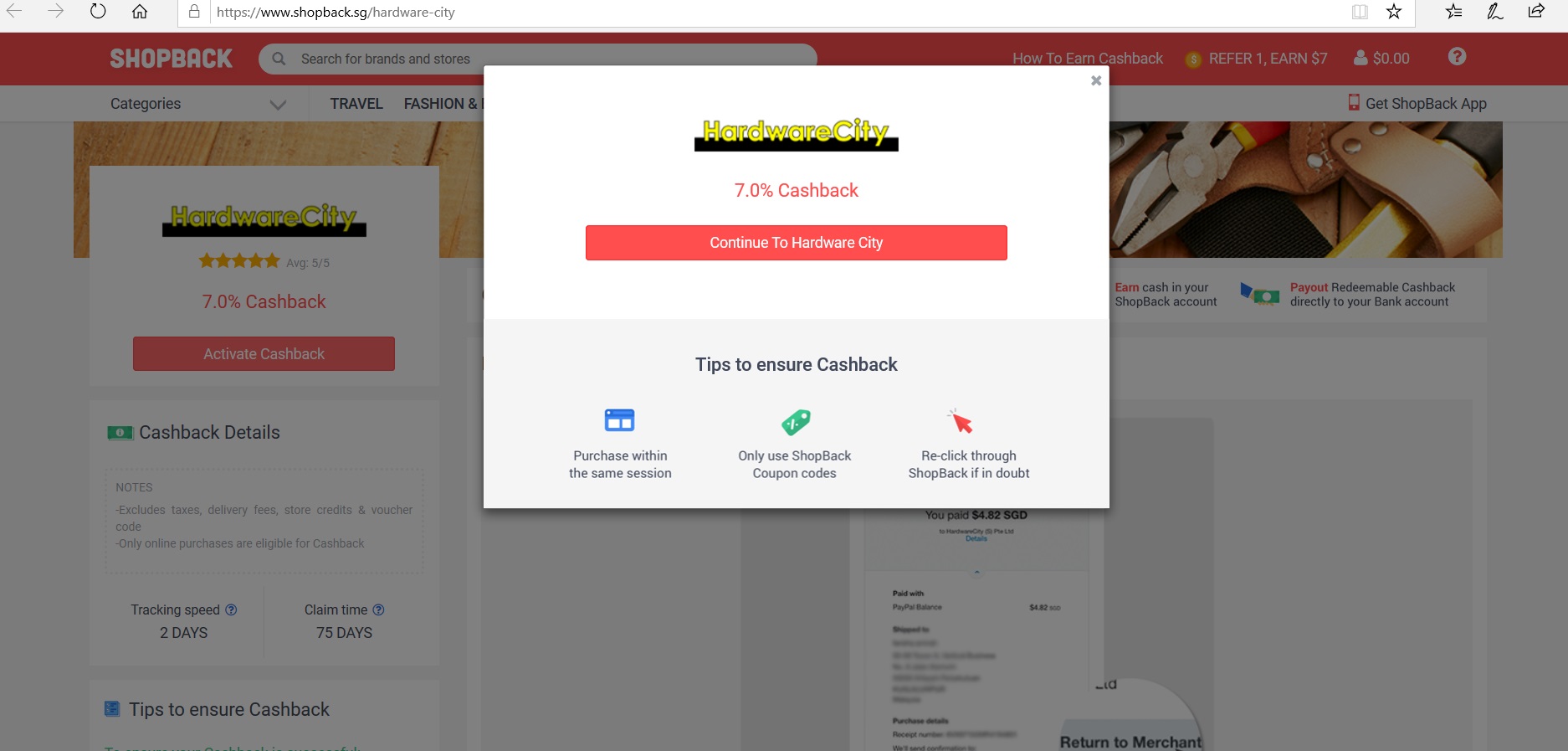 Step 4:
You can find more attractive deals by checking out the 'Discounts + Cashback section.
Step 5:
On placing the order, you will be eligible to earn Hardware City cashback from ShopBack. There may be a variation in cashback rates based on your history with ShopBack. Cashback offer is not applicable on purchases made via the Hardware City app.
Hardware City Shipping and Return Policy
The shipping and returns policy for Hardware City is listed below:
Shipping:

Hardware City delivers the orders on all 7 days of the week, including public holidays and weekends. Delivery of orders generally takes 3 to 5 days (between 12 PM to 10 PM) depending on the availability of items. There may be some delay in delivery during festive seasons. If the items ordered and paid for run out of stock, an email will be sent to you regarding the same and you will be informed about its availability. If the items are not going to be re-stocked, they will cancel your order and refund the full amount.

For international shipping, Hardware City uses SingPost EMS services.

The delivery charge for small parcels (maximum up to 5 kg or 0.8 m) is $5.40; $9.50 for medium parcels (maximum up to 15 kg or 1.2 m) and $14.80 for large parcels (maximum up to 30 kg or 1.8 m). They offer free delivery for orders costing more than S$88.00. Also, delivery charges can be waived off if you choose the 'self-collect option on checkout. However, if you are unavailable at your address at the time of delivery, a delivery re-attempt charge of S$30 will be applicable.

If you wish to make any changes to your order, you can call them on 67691518 or send an email to [email protected] Order cancellation will be on a case-by-case basis.

Exchange and Refund:

If the delivered items are faulty or different from what you ordered, it must be informed to the company by calling 67691518 or sending an email to [email protected] within 7 days of order receipt. It will then be initiated for exchange. Once the order exchange enquiry is received, the exchange location details will be sent to you. Refer their FAQs page for more information.
Hardware City Customer Service
Visit their contact us page or FAQs section for clarifying any query related to Hardware City. Customers can connect with their customer care representatives on +65 6266 0802 for any kind of customer support. You may also chat with them online by clicking on the chat icon at the bottom of the page or email them at [email protected] Their working hours are 8 AM to 6 PM (Monday to Saturday) and 8 AM to 5 PM on Sundays.