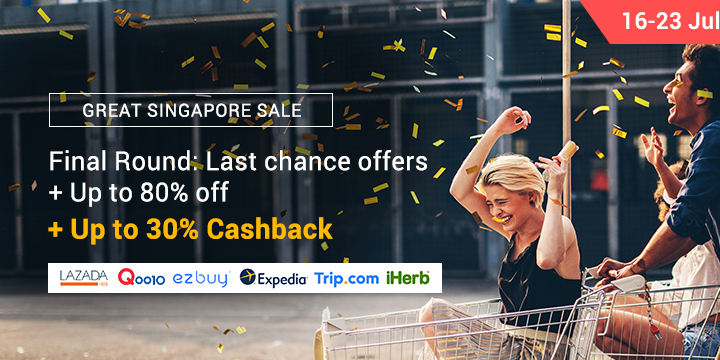 Check Back Here To Keep Updated On The Best Promos
| Store | Promotions | Date | Cashback |
| --- | --- | --- | --- |
| Shopee | 6.6 Flash Sale - Citi Exclusive: $10 off at checkout min. spend $80 | 6-8 Jun | + Up to 12% Upsized Cashback (Ends 9 Jun) |
| | Brands Go Wild from Biore, Huggies and more | 9-16 Jun | + Up to 10% Cashback |
| | Global Marketplace Splashdown Bundle Deals & More | 17-24 Jun | + Up to 10% Cashback |
| | Go Loco, Go Local Up to 80% off | 25 Jun - 2 Jul | + Up to 10% Cashback |
| | Surprise Finale Sale | 3-5 Jul | + Up to 10% Cashback |
| Lazada (App Only) | GSS Pre-Sale | 5-7 Jun | + Up to 10% Cashback |
| | GSS Mega Sale | 8-15 Jun 9am | + Up to 10% Cashback |
| | Taobao Collection 6.18 | 15-20 Jun | + Up to 10% Cashback |
| | Home & Grocery Fair | 20-26 Jun | + Up to 10% Cashback |
| | Beauty Fair | 27 Jun - 3 Jul | + Up to 10% Cashback |
| | Baby Fair | 4-10 Jul | + Up to 10% Cashback |
| | Electronics Fair | 11-17 Jul | + Up to 10% Cashback |
| | Fashion Fair | 18-24 Jul | + Up to 10% Cashback |
What makes Singapore Great for Everyone?
1. A Melting Pot Of Cuisines
4. Shopping
Stores that bring you offline to online experience
Marketplaces where you can find everything you need
Great Singapore Sale 2021
Hang up your coats and get the wallets out of your pockets! Yep, it's the time of the year again. It's the annual Great Singapore Sale, and in GSS 2021 this June, there's something even more special racking up your shores this year - a revolution in online shopping courtesy of ShopBack Singapore. Forget getting out of your house to shop, that's way too passe - because online shopping's in fashion now, and it'll be here to stay. With even more coupons, promo codes and hot deals, we dub this the true blue Great Singapore Sale with amazing online deals you'll never want to miss out! Be it online clothes shopping or online grocery shopping, we've got all your bases covered.
The Great Singapore Sale (GSS) made greater - the new online shopping revolution with ShopBack Singapore
Gone are the days where you have to drag yourself out of the house and compete, squeezing together with other like-minded shoppers just to get the best deals in a brick and mortar shopping mall. Now, nestled in the comfort of your very own home, you can WIN at the Great Singapore Sale 2021 with the whole plethora of Singapore's online shopping sites! Get your online shopping groove on the Singaporean way - sip your a cup of joe kopi-o and get those eager fingers crackin' to your favourite clothes shopping site, or even online sales for online grocery shopping!
Forget about the price tag, just online clothes shopping (You're paying with love tonight - love for fashion, that is!)
If you're an absolute fan of fashion and trends, you'll LOVE what ShopBack Singapore has to offer for the Great Singapore Sale, GSS 2021! With a huge myriad of the best online offers from online clothing sites who stocks high street styles aplenty, like the local favourite ZALORA and even ASOS, you inevitably won't be disappointed! Get superbly dressed from head to toe with their mega-huge fashion selection with amazing Great Singapore Sale 2021 discounts you won't find anywhere else. (Pst, get cashback when you purchase through us too. Don't say we didn't warn ya.)
Oh wait, you're a designer kinda lady? Well, the Great Singapore Sale 2021 has got that going for you too! Give Shopbop a go then - they're an exciting label that curates a whole array of high quality clothes and fashion, some handmade and designed by supermodels! With so many online shopping sites offering the best online fashion sales this GSS, there's no reason why you SHOULDN'T get your new outfit online. It's time for a you reinvention. Do it with the Great Singapore Sale 2021, with online sales made even cheaper with ShopBack Singapore.
Paint the town (and your beautiful face) red - 'cause you'll be so flushed with online shopping induced happiness!
Of course, the Great Singapore Sale 2021 doesn't just involve online shopping for clothes. Make your look complete with a series of beauty tools, beauty products and wholesome skincare goodness that won't break the bank with the firm local favourite Sephora! Now, you can get your Holy Grail beauty goods with online shopping discounts and offers for less the price. Get your game face on, it's time for some serious beauty shopping at the indisputable best online shopping sites in the Great Singapore Sale (GSS)!
Electrify your world with some awesome Electronics with the best online sales
Don't worry if you're not the fashion and beauty person - we get it, more guys are shopping online! Therefore, ShopBack Singapore has just the thing for you - the best Electronic offerings this Great Singapore Sale 2021. Check out online shopping sites that won't let you down - LAZADA Singapore, AliExpress, Fave … and many many more. Tell you something, these onine sales during the Great Singapore Sale (GSS) period may be EVEN cheaper than what you can get during those IT shows - we're not lying! And you don't even have to get out of your house for it. Bonus. Bam.
Kick start your new Electronics collection with online shopping in Singapore right here, right now! It's a great time to be a geek.
Online shopping Singapore - now even groceries are in the bandwagon!
Who ever thought the day would come where GROCERIES can be bought online with sales and promotions you won't find anywhere else, huh? Well folks, online grocery shopping is now a thing. Want to get your essentials for cheap? Now, the Great Singapore Sale (GSS) is just for you then! Head over to Honestbee for all your grocery needs - you get it delivered fresh right to your doorstep too. And if that's not a great thing, we don't know what is. Online grocery shopping also has online sales galore too - who knew online shopping in Singapore with the Great Singapore Sale 2021 could be so GOOD?
Now you do!
Have an amazing Great Singapore Sale (GSS) 2021!
Obviously, that's not all. Keep up with online sales by checking ShopBack's GSS page (this!) for we'll continue updating the best online sales and promotions from all the online shopping sites - the Great Singapore Sale 2021 would be a breeze for you. Have fun online shopping for cheap - and that's the best kind of shopping, we reckon! Hang on your horses, June's a-coming!