Hop On the Latest fashion Trends with Forever 21
Forever 21 is an American fast fashion retailer, famed for its trendy and affordable apparel and accessories. With its headquarter in Los Angeles, the popular brand operates in more than 600 stores across Americas, Asia, the U.K and the Middle East.
Whether you are someone who likes to don casual and comfortable clothing or somebody who enjoys dressing up like a diva in flirty and sensual outfits, Forever 21 is the perfect destination for you! Shop at Forever 21 and let the fashionista in you shine. You can either visit the brand s offline store near you or log in at the Forever 21 website to grab the latest chic outfits that will definitely raise your glam quotient!
Forever 21 was founded by Do Won Chang and Jin Sook Chang in April 1984. The Korean couple established a clothing store called Fashion 21 in Los Angeles which later grew up to be one of the most popular fashion brands in the world. Fashion 21 store sold designs inspired by the South Korean fashion and mainly targeted the Korean American community in Los Angeles. The store was a big success and sold $700,000 worth of merchandise in its first year of operation. Gradually, the business evolved into a multinational brand with more than 480 stores across the globe by 2013, generating a revenue of $3.7 billion.
With time, Forever 21 expanded not just its global footprint, but also its range of products. What initially started as a women-centric clothing store, introduced a range of merchandise for men as well. Forever 21 also forayed into other categories of products such as accessories and home/lifestyle products. Today, the company is the 5th largest specialty retailer in the United States.
Products Sold by Forever 21
Forever 21 is a globally popular brand known for its stylish and trendy outfits and accessories. The brand mainly caters to the young generation of stylish women and men who keenly follow the latest fashion trends. Customers can find a variety of apparel and accessories in contemporary designs at amazing prices on Forever 21 online store. Here is a brief discussion on the various product categories available at Forever 21 Singapore online shopping site.
Women:
This category is a shopping paradise for all the stylish women out there. From dresses, jumpsuits, skirts, tops, jackets, bottoms and intimates to shoes and accessories, this category has it all. Be it summer outfits, winterwear or activewear, there s something for everyone irrespective of their location or climate.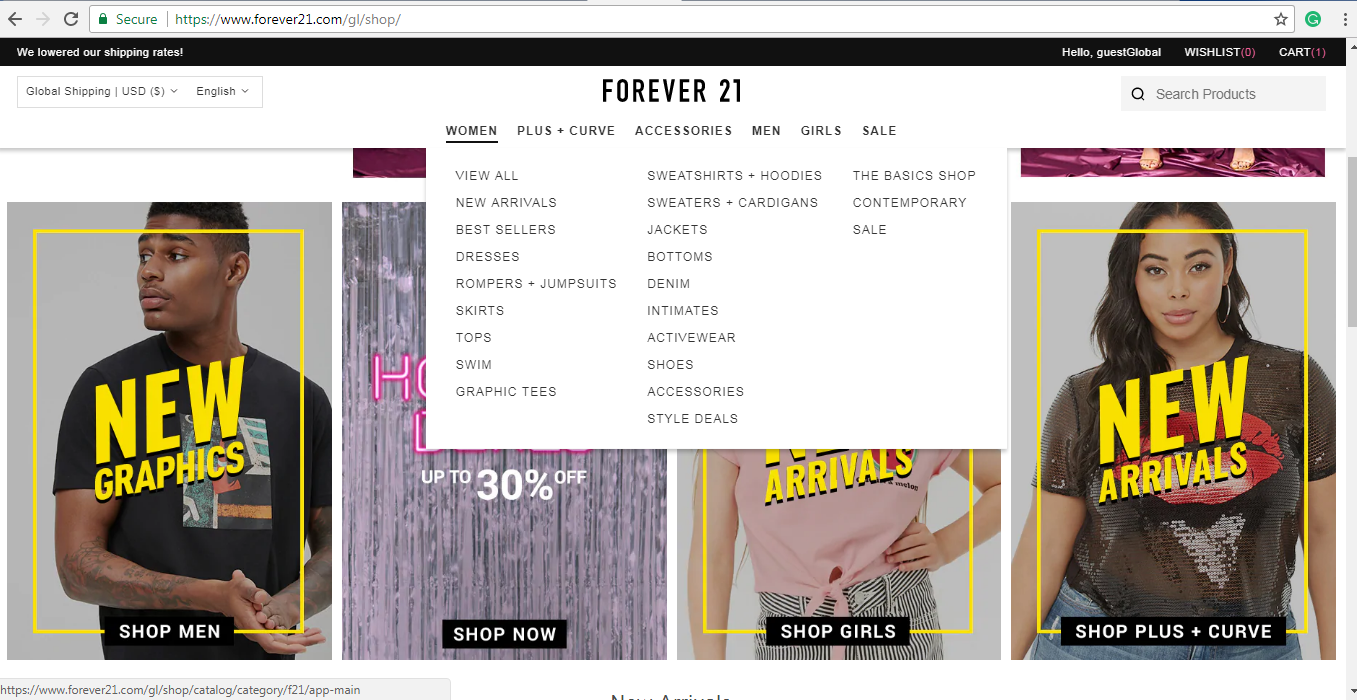 Plus + Curve:
Keeping in mind the requirements of women wearing plus sizes, forever 21 has listed its wide range of clothes and shoes especially designed for the women with curves. The brand celebrates all women across the world and makes sure that every woman finds her ideal style and fit at Forever 21.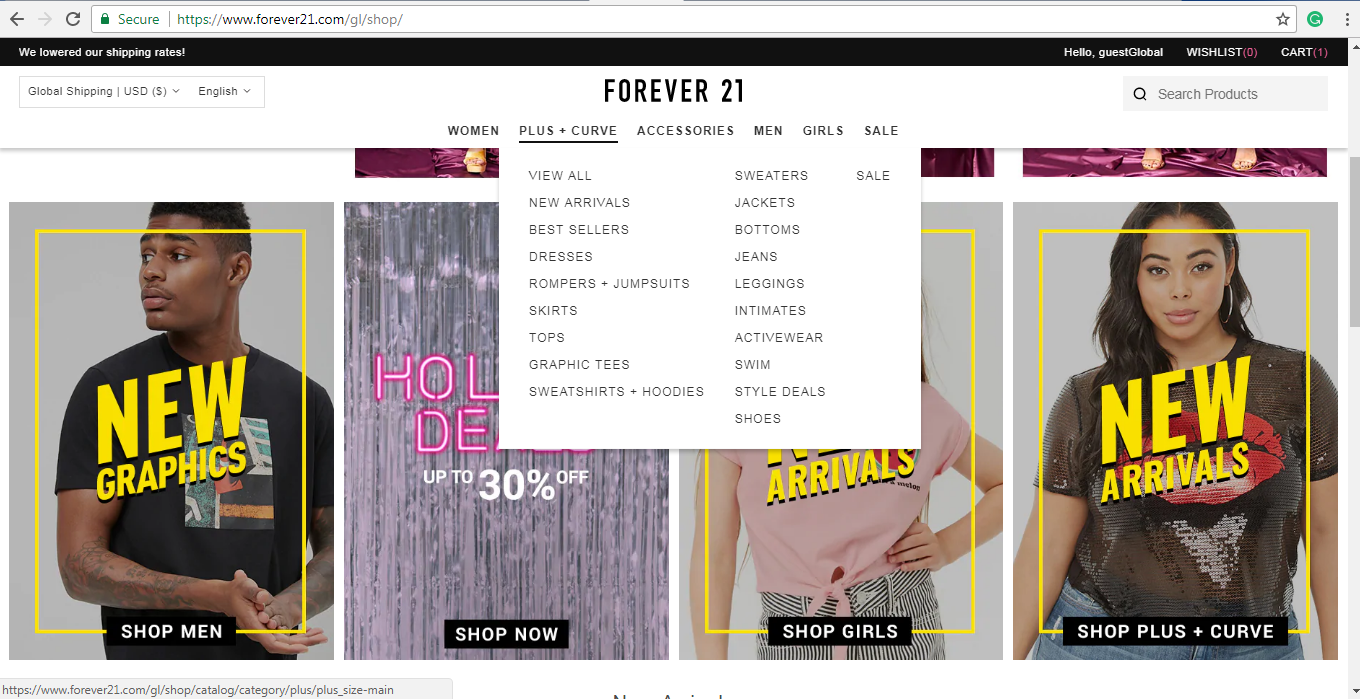 Accessories:
A great accessory can add a lot of glamour to your simple ensemble and Forever 21 has an amazing range of such fashionable accessories. Shop for charming jewellery, bags, hats, belts and much more under this category.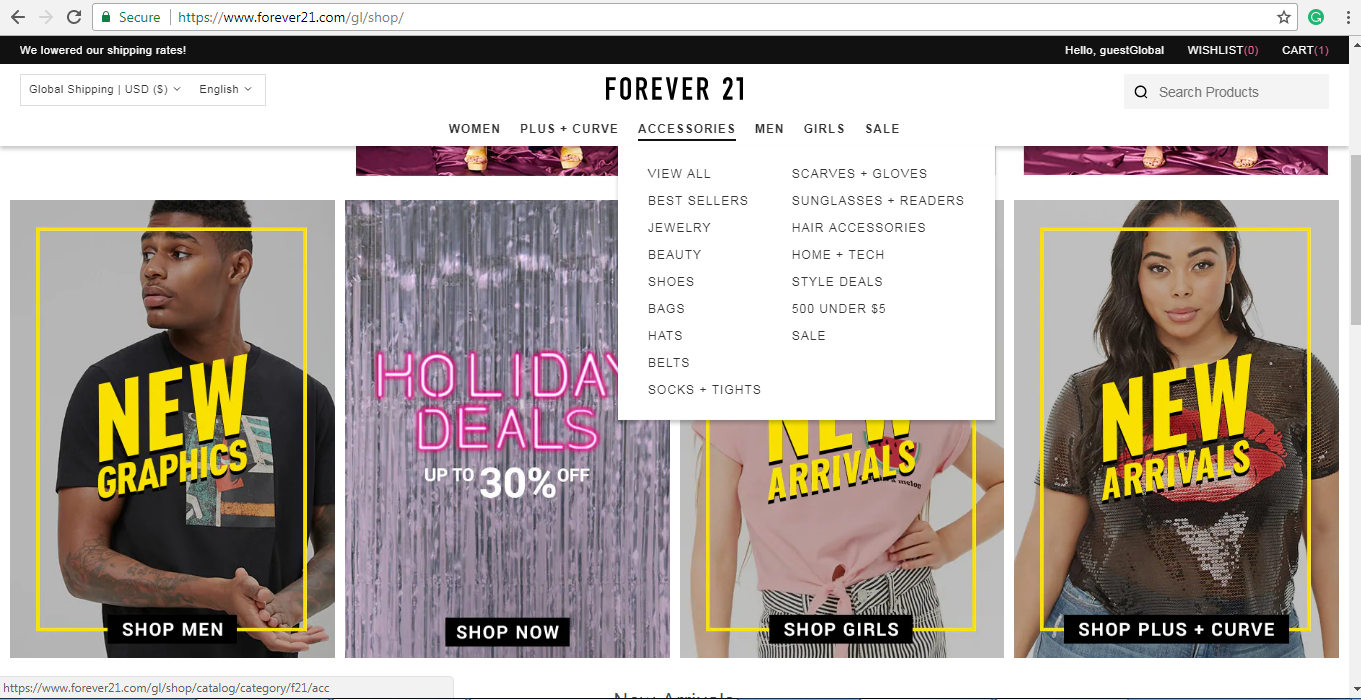 Men:
The fashion line aims at bringing out the best of fashion for modern men. Cataloguing various men products such as shirts, tees, sweaters, hoodies, jackets, shorts, jeans, shoes, sunglasses, swimwear and more, Forever 21 offers a great range encompassing different styles.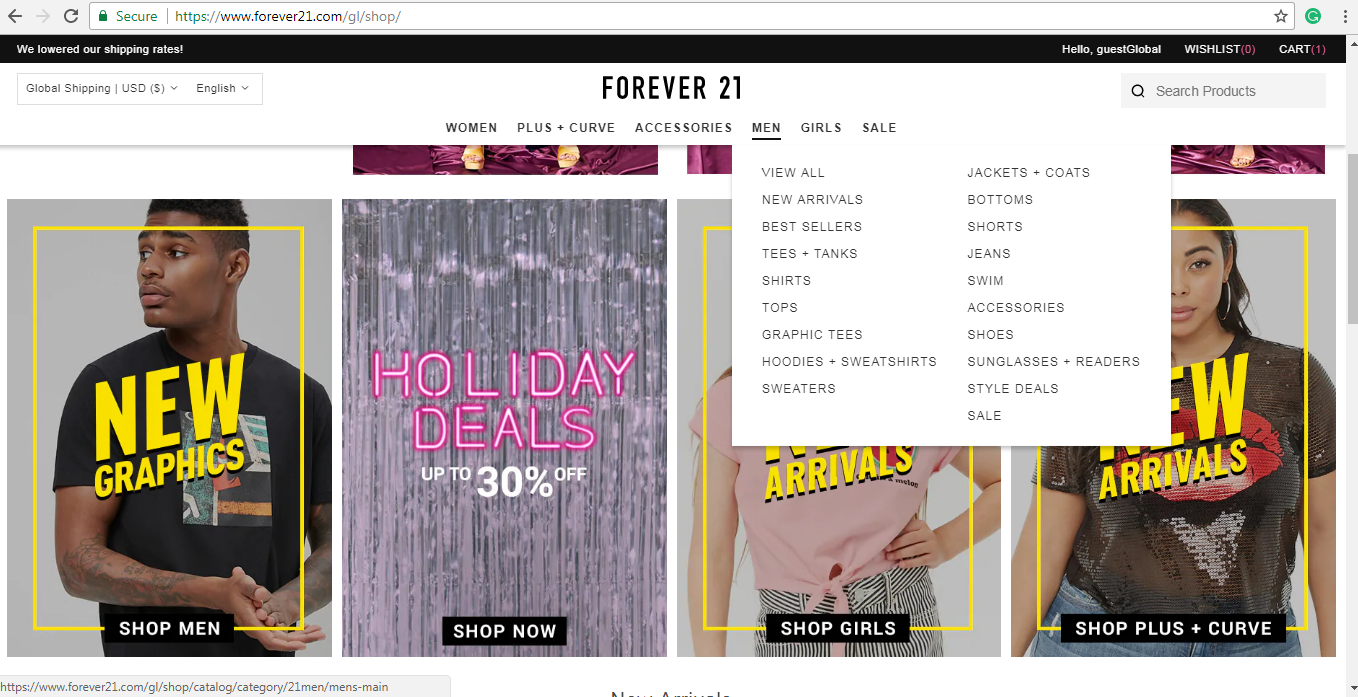 Girls:
The brand features an exclusive range of products for girls that are smart as well as adorable. Buy girls dresses, tops, graphic tees, sweaters, jackets, jeans and accessories at Forever 21 that are not only chic but of superior quality as well.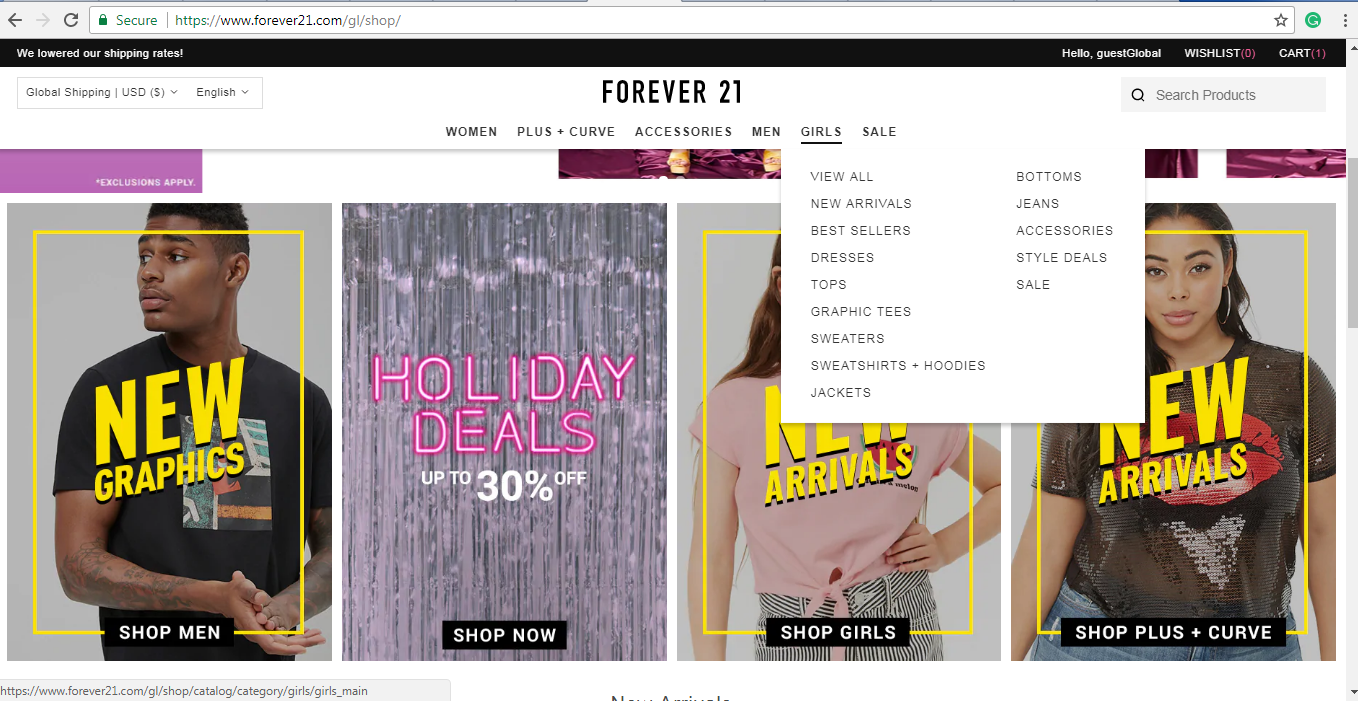 | Categories | Products |
| --- | --- |
| Women s | Dresses, Rompers + Jumpsuits, Skirts, Tops, Swim, Graphic Tees, Sweatshirts + Hoodies, Sweaters + Cardigans, Jackets, Bottoms, Denim, Intimates, Activewear, Shoes, Accessories |
| Plus + Curve | Dresses, Rompers + Jumpsuits, Skirts, Tops, Graphic Tees, Sweatshirts + Hoodies, Sweaters, Jackets, Bottoms, Jeans, Leggings, Intimates, Activewear, Swim, Shoes |
| Accessories | Jewelry, Beauty, Shoes, Bags, Hats, Belts, Socks + Tights, Scarves + Gloves, Sunglasses + Readers, Hair Accessories, Home + Tech |
| Men s | Tees + Tanks, Shirts, Tops, Graphic Tees, Hoodies + Sweatshirts, Sweaters, Jackets + Coats, Bottoms, Shorts, Jeans, Swim, Accessories, Shoes, Sunglasses + Readers |
| Girls | Dresses, Tops, Graphic Tees, Sweaters, Sweatshirts + Hoodies, Jackets, Bottoms, Jeans, Accessories |
How to Shop at Forever 21
The official website of Forever 21 has a simple interface for a fantastic shopping experience. Since, the brand has a global presence, there are different portals for shopping in different countries. Consumers in Singapore must choose 'Asia Pacific region from the drop-down menu at the top-right corner of the homepage, which will direct them to Forever 21 webpage offering global shipping. Here, customers will find all the product available at Forever 21 sg. To shop for these products, follow this simple procedure.
Select a product category and sub-category from the header or from different sections on the homepage featuring Forever 21 sale 2018, Forever 21 offers, best sellers or new arrivals. You can also conduct product-specific searches via a search box on right corner of the page.
You will land on the page displaying all the items available under your chosen sub-category. Browse through the catalogue and select a product by clicking on it.
You will be directed to the product listing page where you will find all the information about your selected product. Once you are satisfied with your choice, select the colour and size and click on "Add to Cart" to proceed further.
A pop-up will appear on the top right corner. Click on "Checkout" button in the pop-up to proceed further or else you can click on the cart icon there. On landing on the cart summary page, click on "checkout" to sign in to your account or you may also checkout as a guest.
On the checkout page, provide your details such as your country, name, contact number, shipping address and preferred shipping method. If you have any Forever 21 promo code or Forever 21 coupon code 2018, you can enter it in the "Promotion Code" section to avail discounts. Continue with the payment of bill with your selected payment method. Click on 'Place Order to confirm your order.
Payment Options at Forever 21
Forever 21 accepts the following methods of payment.
Credit Card:
Customers can pay for their order via a credit card verified by VISA, MasterCard or JCB. This mode of payment is extremely simple, convenient and secure. Simply provide your card number, date of expiry, CVV/CVC number on the payment window and your transaction will be done.
PayPal:
PayPal is another trusted online payment system that can be used by customers to pay for their orders. This secure online money transfer channel is one of the most popular means of transactions and can be used anywhere in the world.
Different Coupon Codes and Discounts on Forever 21
The online retailer offers many deals and Forever 21 discounts to its customers from time to time. Some Forever 21 discount codes are offered for a long time, while some Forever 21 voucher codes are available for a limited period only. Customers can save a lot of money on products available on the website by applying the Forever 21 promo code 2018 or Forever 21 discount code 2018 that the online store is offering. The fashion line regularly offers flash deals and Forever 21 promotions where shoppers can find great Forever 21 coupons and Forever 21 vouchers.
At present, customers can earn up to 3% cashback on Forever21 products if they shop with the merchant via a registered account at Shopback.
How to Redeem Coupons and Vouchers at Forever 21
When you shop online, always be in a lookout for discounts and coupons for a gratifying shopping experience. There are many websites on the internet that offer amazing Forever 21 coupons 2018 or Forever 21 codes 2018. Redeem these offers and save a fortune on your next shopping spree.
Here is the step-by-step procedure to redeem Forever 21 promo or Forever 21 code on the official website.
Step 1:
Select a product of your choice from the online catalogue and add it to your cart.
Step 2:
On the checkout page, provide all your details such as name, contact number and shipping address. On the same page, enter your Forever 21 promo code in the "Promotion Code" section for redeeming it.
Step 3:
Your Forever 21 promo code will be applied to your sub-total and the deductions will be updated automatically. Click on 'Place Order to complete your order confirmation process.
How to Shop on Forever 21 using ShopBack
ShopBack offers 3% cashback on various items if you shop from Forever 21. Here are the steps to be followed to earn Forever 21 cashback from ShopBack:
Step 1:
Visit the ShopBack website and select Forever 21 store from the list of merchants and brands under the Fashion stores section. You can also use the search box to find the link to Forever 21 store.
Step 2:
Read the terms and conditions as well as any other relevant information provided such as the cashback details and tips to ensure cashback.
Step 3:
Click on Activate Cashback button on the top left corner of the page.
Step 4:
If you are looking for more attractive deals and coupons, check out the 'Forever 21 Deals, Offers & Cashback section.
Step 5:
You will be directed to the Forever 21 website to browse and select the products you intend to buy.
Step 6:
You will be eligible to earn cashback from ShopBack on placing your order. The cashback rates might differ based on your history with ShopBack, i.e. whether you are a new or an existing customer.
The cashback offer is not applicable on purchases made on Forever 21 app and Gift cards/ Returns/ Exchanges/ Cancellations.
Forever 21 s Shipping and Return Policy
Forever 21 packs and ships orders from Monday to Friday only. Orders that are placed on weekends or public holidays are processed on the next business day. Most orders are dispatched within 24 hours from the order date.
For Forever 21 Singapore online orders costing between USD 0 to $49.99, the shipping charges are USD 10.00 while shipping charges are USD 13 for order amount USD 50.00 to $99.99. Beyond order amount of USD 100, the shipping cost is free.
The shipments may be subject to import taxes, custom fees and duties, which are levied on the order once it reaches the destination country. These charges are the responsibility of the recipient and have to be paid by them to the designated shipping courier s local country affiliates at the time of delivery.
For online purchases, customers can avail the return and refund services within 40 days from the ship date. The return form and invoice on the order provides a shipped date that specifies the last date of return for the merchandise by mail.
The items must be returned in original condition, unwashed, undamaged, unworn and with all the tags intact. Jewellery must be returned in its original packaging. All return items must be accompanied by the customs documents (when applicable) and return form.
Forever 21 s Customer Service
For any assistance or query, contact Forever 21 Customer service on Singapore toll free number: 800-321-1199 or write to them at [email protected]
Connect with Forever 21 on: