Fairprice On Discount Codes, Promo Codes & Coupons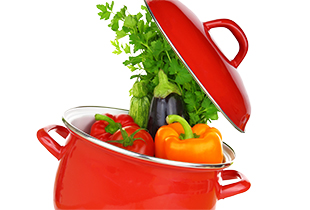 New FairPrice On customers: $10 off (min. spend $49) with code + Additional promo codes for your next two purchases. T&C apply.
-New registered users enjoy $10 off $49 minimum spend by applying code "SHOPON" at checkout....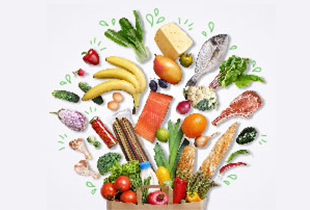 Carton Deal: Fantastic bargains from the best carton deals on FairPrice! Let us do the heavy lifting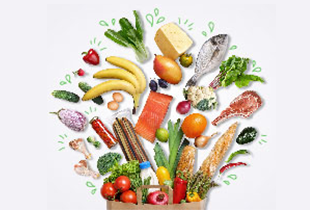 Weekly Must-Buys
More about FairPrice On
Groceries Conveniently Delivered With FairPrice On
FairPrice On is the ultimate destination for all your household needs. It is the online portal for NTUC Fairprice Co-operative Ltd, a well-known name in every household in Singapore. NTUC Fairprice is the largest grocery retailer in Singapore and with its e-commerce platform, the merchant has successfully simplified the lives of millions of busy citizens of Singapore.
From fresh produce to the choicest of wines and home appliances to health & beauty products, customers can have anything they need delivered at their doorsteps or a convenient pick-up point. All they need to do is to log in to the Fairprice On website from their mobile phone, computer or tablet, and enjoy a wholesome shopping experience.
NTUC Fairprice was founded in 1973 as NTUC Welcome Supermarket in Toa Payoh. To tackle the rising prices of oil and products for daily use, the then prime minister Lee Kuan Yew inaugurated the first of its kind supermarket at Toa Payoh Lorong. Around the same time, Singapore Industrial Labour Organisation and Pioneer Industries Employees Union also established co-operatives for running supermarkets. In early 1980s, these two organisations merged to form the Singapore Employees Co-operative (SEC).
Due to competition, NTUC Welcome and SEC came together to form a larger co-operative in May 1983, which was named NTUC FairPrice Co-Operative Limited. From starting a central-distribution system to building, owning and managing its own refrigerated fresh food distribution centre, FairPrice has come a long way.
Products Sold on FairPrice On
Stock up your pantries and replenish all your household supplies with just a few clicks. Fairprice On offers almost everything that you may require. All the products on the online store are carefully catalogued under various product categories such as housebrand, dairy, fresh produce, frozen, drinks & snacks, home care, baby & child and so on. Here is a short preview of some of the product categories on the website:
Baby & Child: The new parents no longer need to worry about going to the supermarket to re-stock supplies for their babies. Fairprice makes sure to deliver highest quality baby products at your doorsteps such as different types of milk powder, baby wipes, medications, toiletries, diapers, organic baby food, cereals, infant essentials and much more.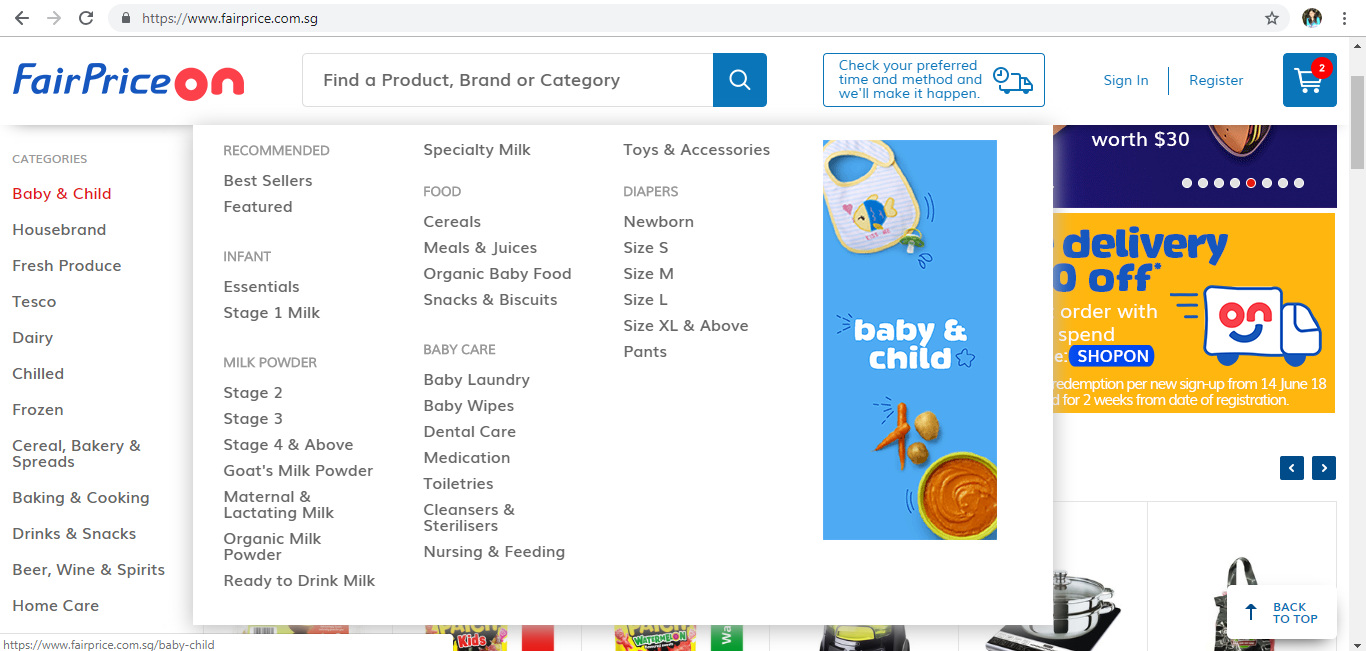 Housebrand: Fairprice has its own label for a wide range of products. The in-house label offers fairprice finest products from categories like dairy, frozen, baking & cooking, home care, health & beauty, home & living, fresh produce, etc. The online store features these products under 5 labels called Fairprice, Fairprice Gold, Pasar, Homeproud and Budget.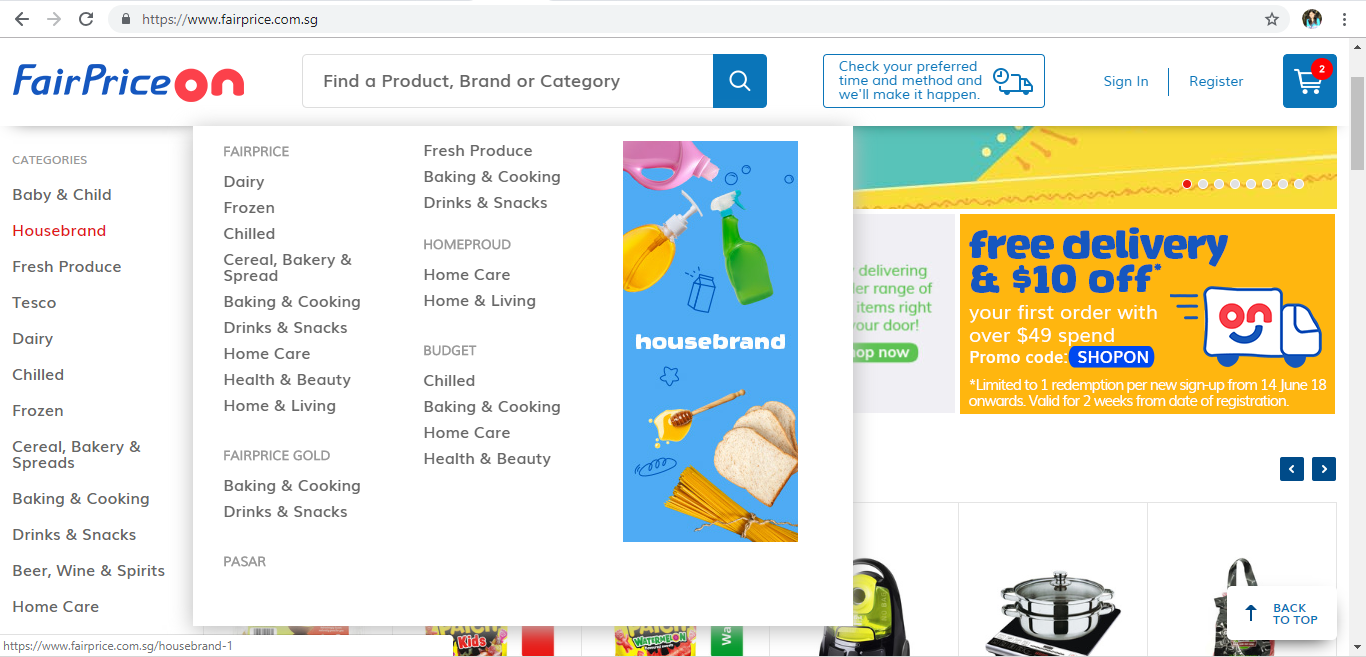 Fresh Produce: Purchase the freshest fruits, vegetables, eggs and meat from this category. Fairprice sells a variety of fresh fruits and vegetables under this category while maintaining high standards of quality and hygiene.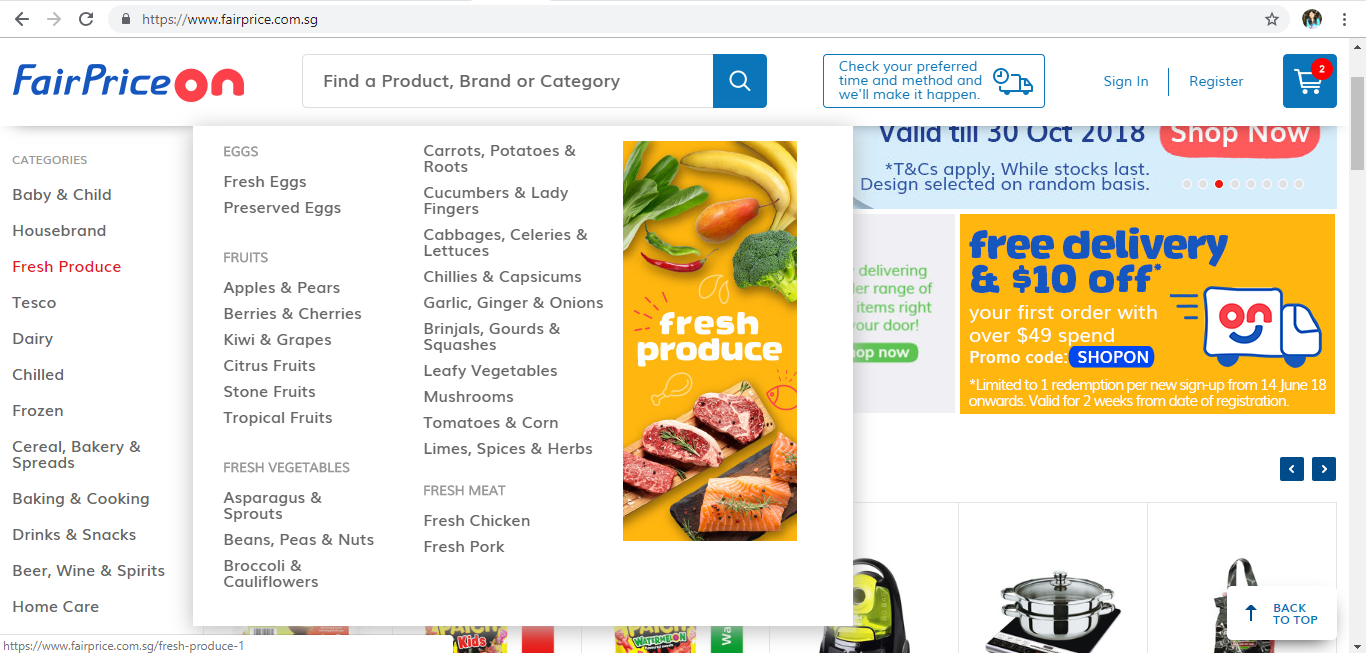 Dairy: This category lists dairy products like milk, cheese, butter, cream and yoghurt from the best brands available in the market. The fresh, hygienic and nutritious milk products are an essential component of daily diet and therefore a must-buy.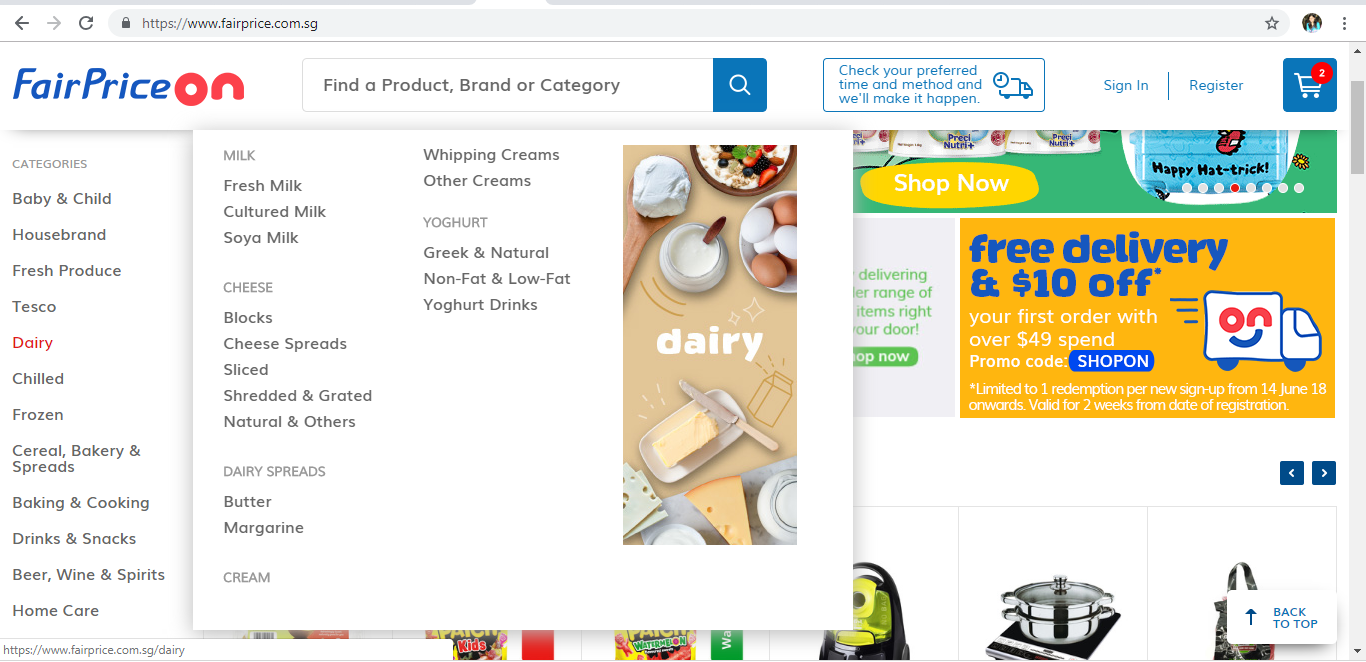 Frozen: Under this category, customers can purchase a great variety of frozen food such as ice-cream, frozen desserts, frozen greens, frozen finger food, frozen food, frozen meat and frozen seafood. These food products have a higher shelf-life and are convenient to cook.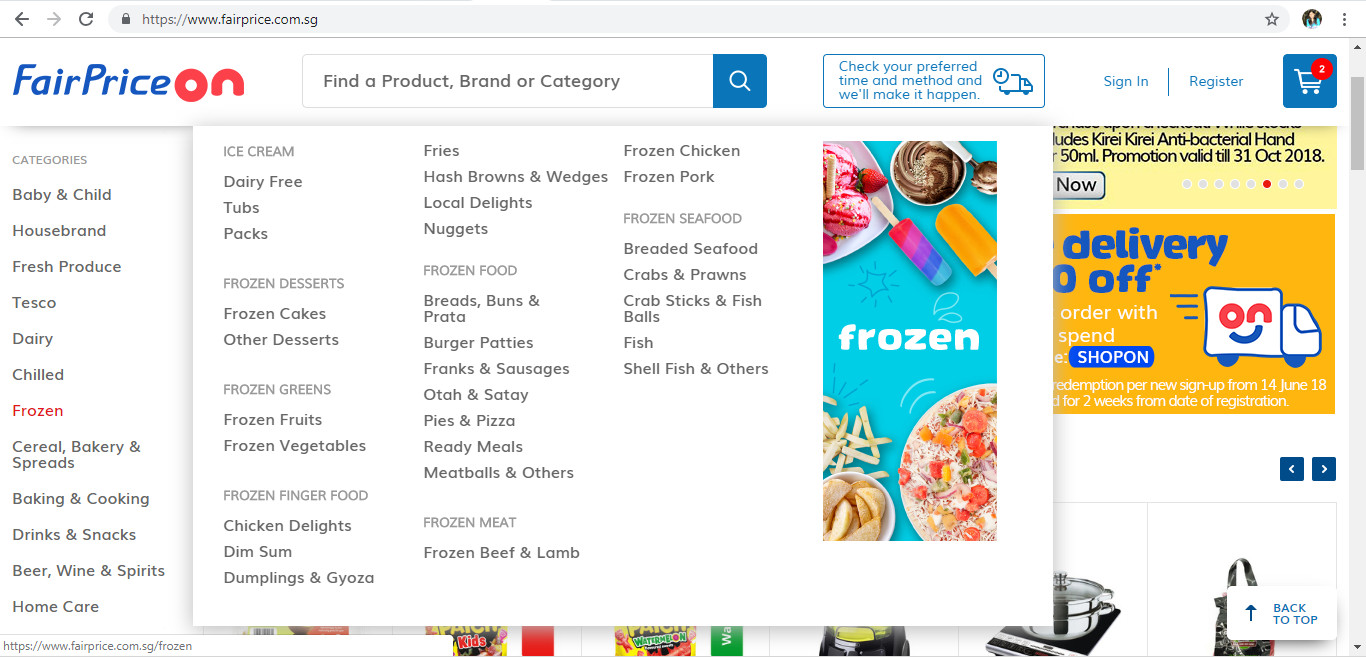 Baking & Cooking: Consumers can buy their favourite ingredients that are catalogued under this category such as baking flour & mix, sweeteners, rice, noodles & pasta, soups & broths, oil, condiments, canned food, dried food and instant meals.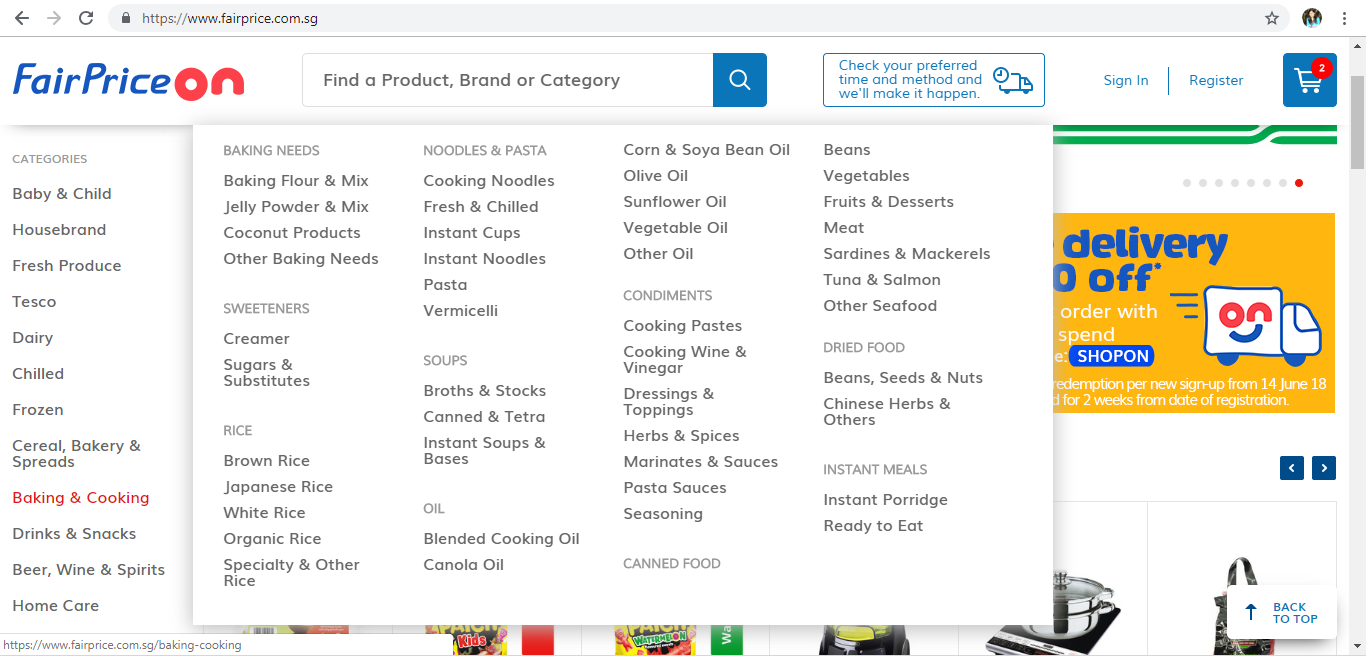 Home Care: Under this category, different products needed for maintenance of a home are listed such as bleaches, fabric fresheners, stain removers, liquid detergents, powder detergents, home cleaners, air fresheners, pest control, kitchen towels, paper tissues and much more.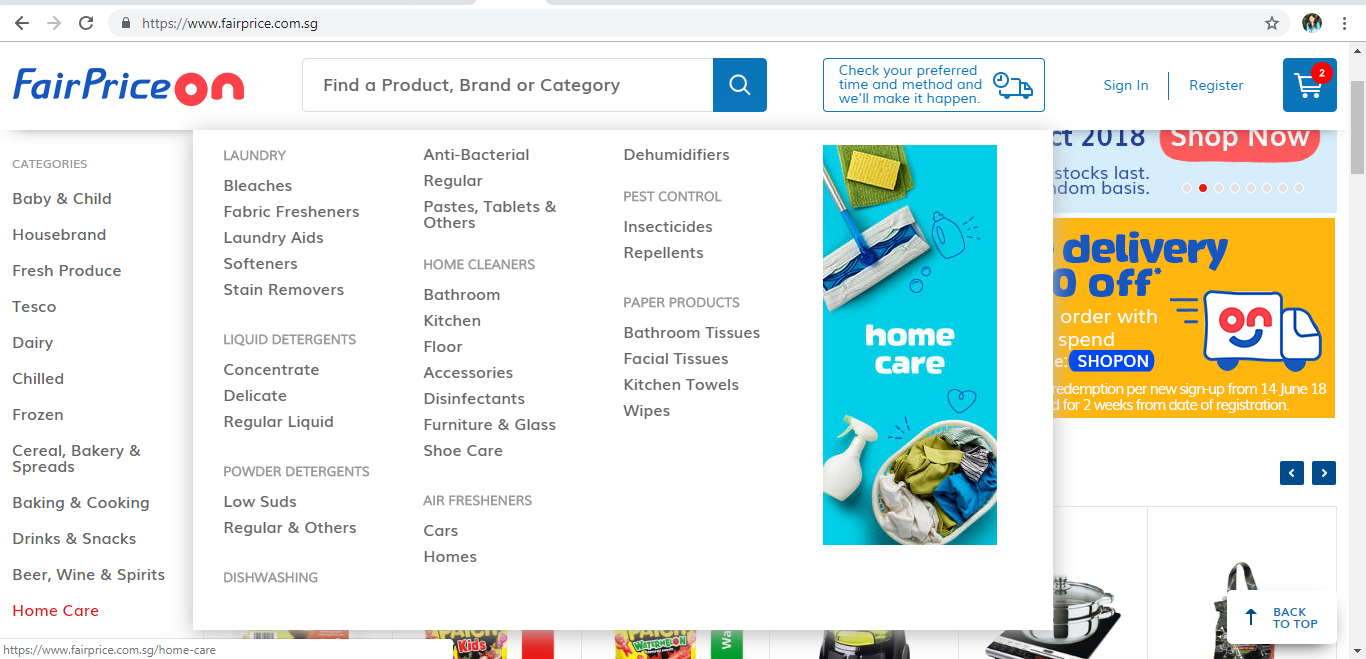 | Categories | Products |
| --- | --- |
| Baby & Child | Infant, Milk Powder, Food, Baby Care, Diapers |
| Housebrand | Fairprice, Fairprice Gold, Pasar, Homeproud, Budget |
| Fresh Produce | Eggs, Fruits, Fresh Vegetables, Fresh Meat |
| Tesco | Tesco Food, Tesco Non-food |
| Dairy | Milk, Cheese, Dairy Spreads, Cream, Yoghurt |
| Chilled | Delicatessen, Chilled Food, Chilled Desserts, Chilled Drinks |
| Frozen | Ice-Cream, Frozen Desserts, Frozen Greens, Frozen Finger Food, Frozen Food, Frozen Meat, Frozen Seafood |
| Cereal, Bakery & Spreads | Breakfast Cereals, Breads, Spreads |
| Baking & Cooking | Baking Needs, Sweeteners, Rice, Noodles & Pasta, Soups, Oil, Condiments, Canned Food, Dried Food, Instant Meals |
| Drinks & Snacks | Coffee, Tea, Chilled Juices, Beverages, Snacks, Biscuits, Chocolates, Sweets |
| Beer, Wine & Spirits | Beer, Wine, Liquor |
| Home Care | Laundry, Liquid Detergents, Powder Detergents, Dishwashing, Home Cleaners, Air Fresheners, Pest Control, Paper Products |
| Health & Beauty | Health Food, Hair, Face, Mouth, Body, Sanitary, Adult Hygiene, Family Planning, Medicine & First Aid |
| Home & Living | Party Needs, Disposables, Kitchen Solutions, Household, Electronics, Batteries, Pet Needs, Stationery, Entertainment, Automotive |
How to Shop at FairPrice On
Fairprice On has a user-friendly interface for effortless and intuitive shopping experience. The website has carefully curated a comprehensive collection of products under various categories for easy access. The search box on top of the homepage facilitates the customers to carry out product-specific searches. The homepage also features several Fairprice offer and Fairprice sales as well as featured and popular products and categories on the website.
Here is the procedure to shop for your desired products at the NTUC Fairprice Singapore portal:
Select a product category from the list of categories on the left corner of the homepage. The moment you place the pointer on a category, you will be able to see all the sub-categories under that category. Select a subcategory of your choice to proceed further.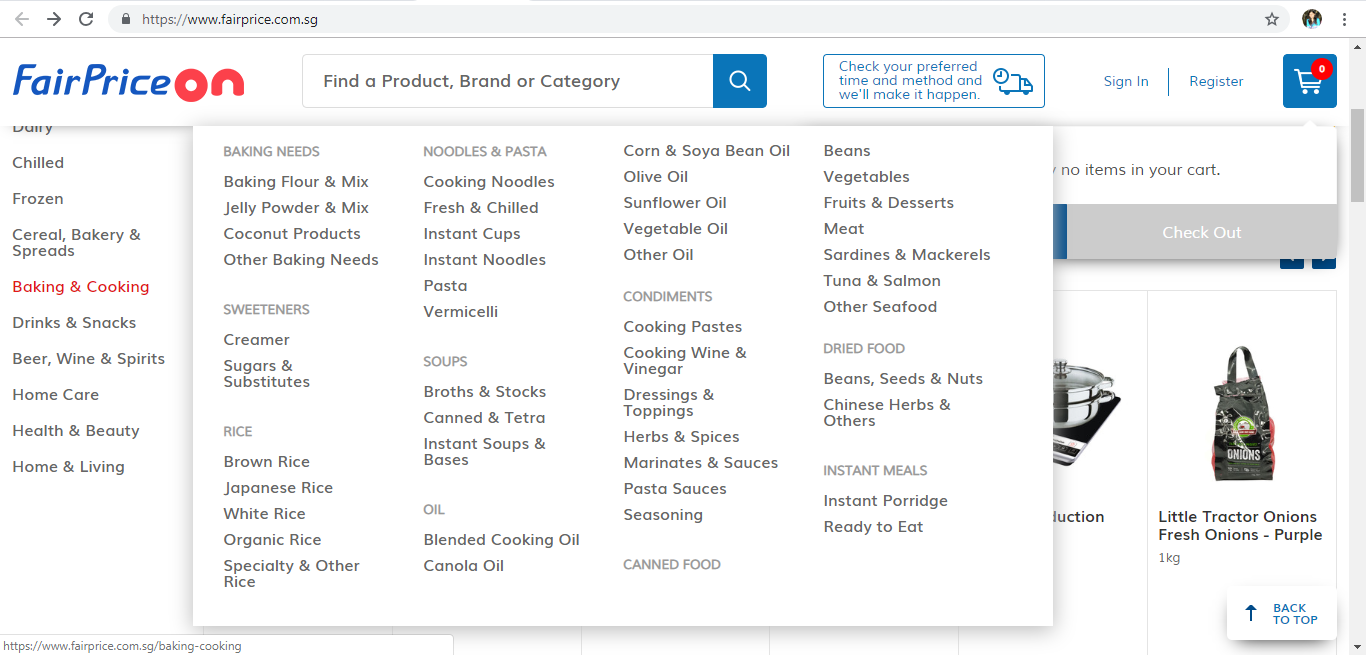 You will be directed to the page where all the products under that subcategory are catalogued. Go through the list and select a product of your choice. Click on the "Add" button to add the product to your cart. You can also select the quantity of each product to be added.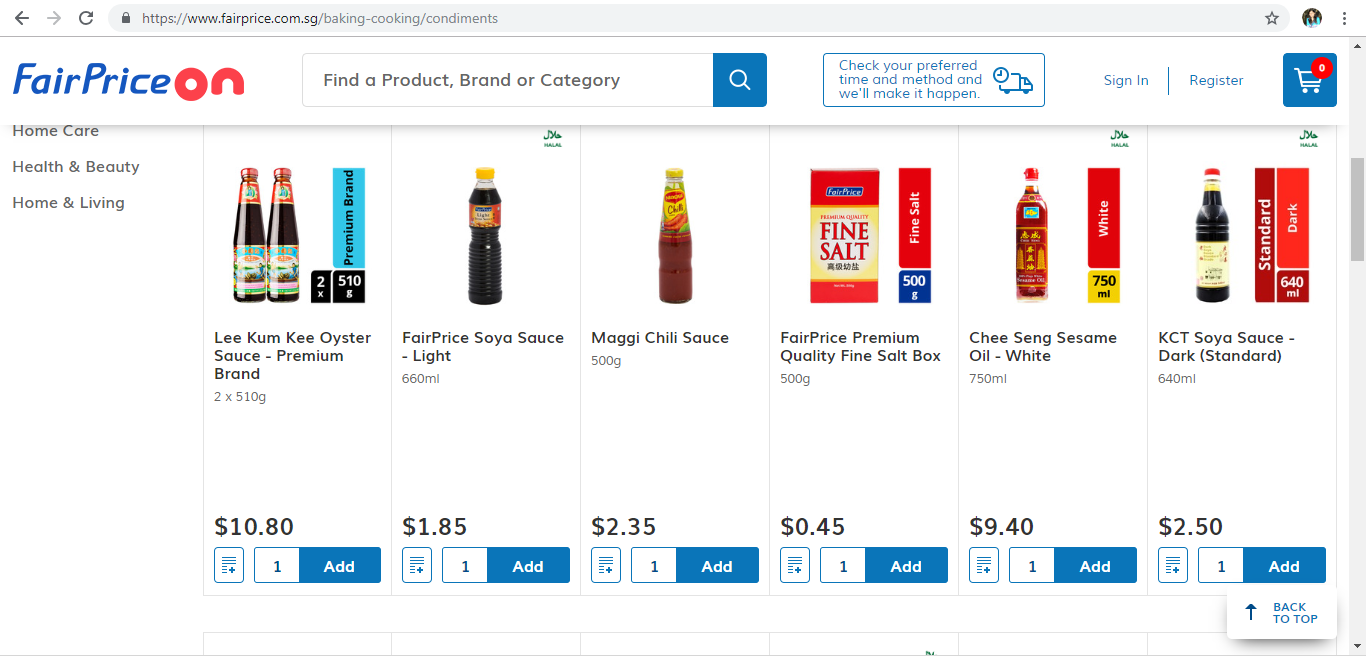 After adding all the products on your shopping list to your cart, click on the shopping cart icon on top right corner of the page. You will land on the checkout page. Take a look at all the products in your cart once. If you wish to add more products, click on "Add to List" to continue shopping. Once satisfied with your cart, click on "Check out" button to proceed further. Customers can also enter any applicable Fairprice coupon code or Fairprice promo code that the website keeps offering during NTUC Fairprice promotions in the 'Enter promo code here" box.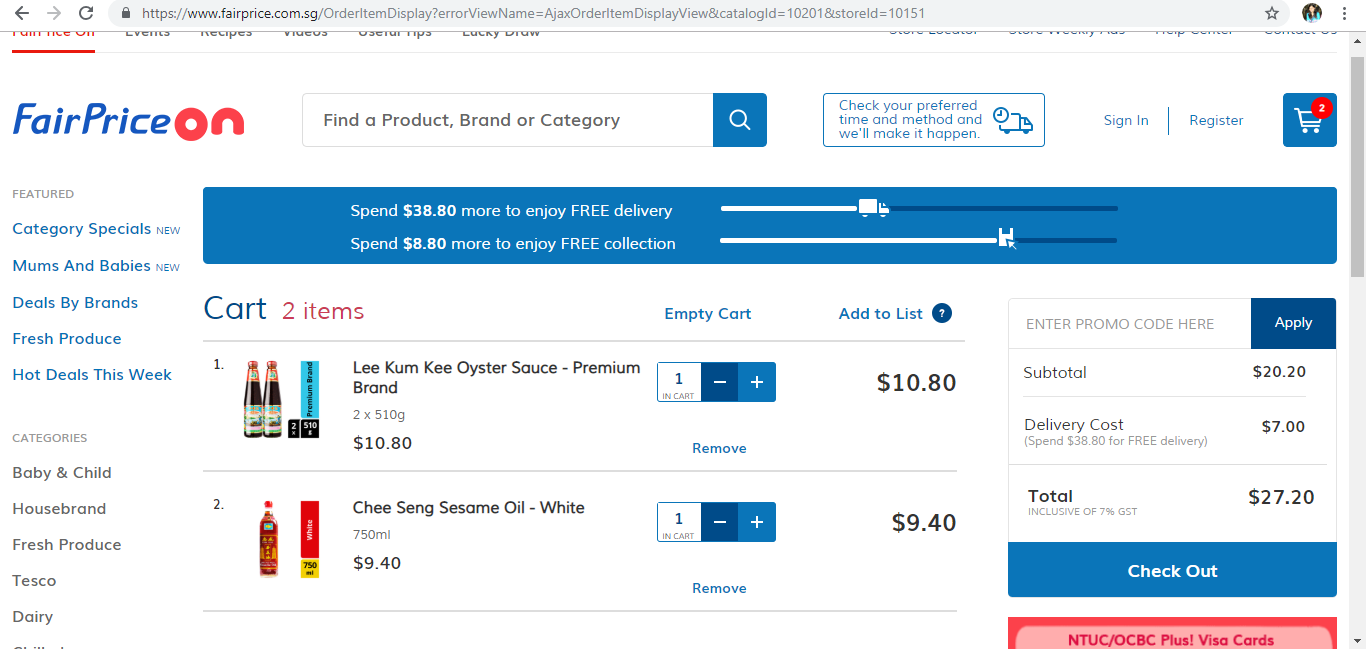 If you haven't signed in to your account yet, you will be asked to sign in through your registered mail ID and password. Log in to your account and continue to checkout by selecting your preferred service (Home Delivery, Click & Collect or Shop & Donate) and payment method. Proceed further to complete your transaction through your chosen mode of payment. Once the transaction is successful, you will receive an order confirmation on your registered email ID and contact number along with the time of fairprice delivery at your given address.
Payment Options on FairPrice On
Fairprice Singapore recognises two types of user i.e. individual user and business user. Here are the following modes of payment available for individuals and business owners:
Credit Card: Individual as well as business users can avail this facility. Credit cards verified by VISA, MasterCard or American Express can be used to make payments for orders on the Fairprice website. Individual users can also use debit cards from VISA, MasterCard and Amex.
Corporate Cheque: Business owners can pay for their orders through corporate cheques made payable to 'NTUC Fairprice Co-operative Ltd'. This is a secure method of transaction for bulk orders.
Different Coupon Codes and Discounts on FairPrice On
The online portal of Singapore's famous supermarket chain offers plenty of Fairprice deals and fairprice discounts throughout the year. Customers can save a lot of money by utilising fairprice vouchers and fairprice coupons that are offered from time to time. All that a user needs to do is enter a fairprice discount code or any other applicable fairprice code such as the fairprice promo code 2018, provided during fairprice promotions 2018 to earn exciting price deductions. The validity of these offers vary. Some fairprice promo codes are available for limited periods while some deals are offered for a long time.
At present, customers can earn up to 4% cashback on their purchase if they shop through a registered account on shopback.
Give the gift of groceries with the best Fairprice On promo at ShopBack!
Save her time and money this Mother's Day and get whatever a mother needs from Fairprice On.. Food, ingredients, cleaning supplies, snacks and many more - you can save them all by looking for the latest Fairprice On Mother's Day offers or promotions at ShopBack!
Find Fairprice On Hari Raya promotions at ShopBack!
One of the things people look forward most to during Hari Raya is the feast that comes along with it. So if you are out to impress your guests and give them the best culinary experience they can get, then you should definitely let Fairprice and ShopBack help you along with that. If there is a Fairprice promo code or offer going on, you can be sure ShopBack has updates on it. So be sure to always visit ShopBack before you start your shopping journey so you can save with the latest Fairprice On Hari Raya promotions!
How to Redeem Coupons and Vouchers at FairPrice On
Online shopping is not only convenient but also extremely rewarding and fun. Consumers get plenty of opportunities to save a lot of money by availing several fairprice promos and deals, given away during fairprice promotions. Here is a step-by-step process to redeem coupons and vouchers at Fairprice:
Step 1: Select the items from the catalogue of products and click on "Add" to add them to your shopping cart.
Step 2: Proceed to the checkout page and enter your fairprice promo code in the "Enter promo code here" box. Click on 'Apply' to redeem the promo code.
Step 3: Once your code is applied to your sub-total, click on 'Check Out' to proceed further.
Step 4: Select your preferred service, payment option and fairprice delivery slot. Complete your transaction for order confirmation.
How to Shop on FairPrice using ShopBack
You can earn up to 4% cashback on various items if you shop at fairprice via ShopBack. Here are the steps to be followed to earn casback from ShopBack:
Step 1: Visit the ShopBack website and select FairPrice On store from the list of merchants and brands on the homepage. You can also use the search box to find the link to FairPrice On store.
Step 2: Read the terms and conditions as well as any other relevant information provided such as the cashback details and tips to ensure cashback.
Step 3: Click on "Activate Cashback" button on the top left corner of the page.
Step 4: If you are willing to find more attractive deals and coupons, check out all the deals and coupons listed on the page.
Step 5: You will be directed to FairPrice On website to browse and select the products you intend to buy.
Step 6: You will be eligible to earn cashback from ShopBack on placing your order. The cashback rates might differ based on your history with ShopBack, i.e. whether you are a new or an existing customer.
The cashback offer is not applicable on purchases made on FairPrice app.
FairPrice On's Delivery Services
The iconic grocery and retail merchant of Singapore offers the following three types of delivery services:
Home Delivery: FairPrice On promises to deliver the best of products and food items at your doorstep. Home delivery option ensures that your orders are delivered at your specified address on your specified time. Fairprice adopts high standards of storage and transportation to make sure that the freshness and quality of perishable goods are intact. The merchant charges a $7 fee on orders below $59. Over that amount, the delivery is free.
Click & Collect: Under this service, customers can shop online and specify their preferred collection time and point where they can collect their order. In case nobody is available at home to receive the deliveries, you can select and pick up your deliveries from one out of more than 70 collection points available. Collection is free on orders over $29, below which customers will have to pay $3 as delivery fee.
Shop & Donate: Customers of NTUC FairPrice Singapore can contribute in Fairprice's philanthropic programmes through their Shop & Donate initiative. You can make a difference in the lives of the needy by shopping items at the Fairprice website and donating them to Social Service Organisations (SSOrgs). The delivery is free for every transaction with no minimum order. The website lists various organisations where you can contribute through this service.
FairPrice On's Customer Service
For any doubts or queries, customers can call on the customer relations hotline of FairPrice i.e. (65) 3138 9191 from 9.00 AM to 10.00 PM on weekdays and 9.00 AM to 6.00 PM on Sundays and public holidays. Customers can also write to them on [email protected]
Connect with FairPrice: