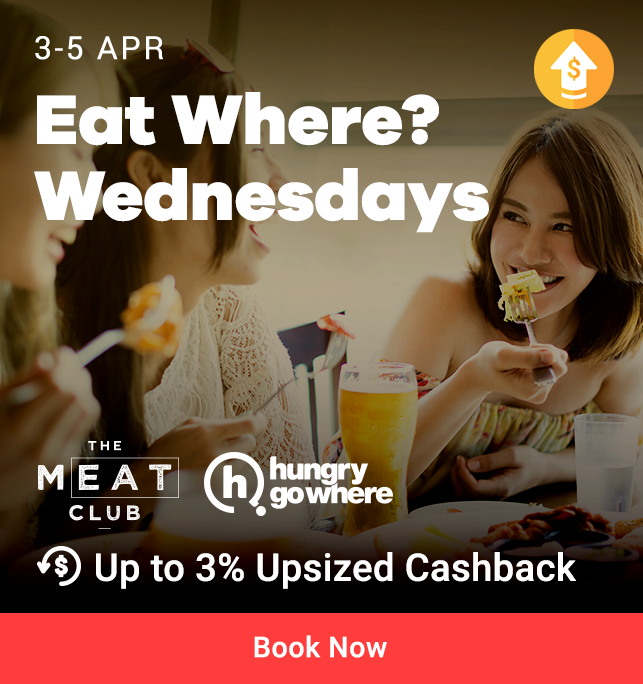 HungryGoWhere this weekend?
Check out the latest promo deals happening this week from 1 FOR 1, 50% off deals or more!
Introducing The Meat Club
Looking for quality meat at affordable price points? Directly sourced and imported from Australia, The Meat Club is a marketplace of premium quality proteins including including Australian cage-free chicken, King Salmon, Cone Bay Barramundi, free range pork and a range of gluten-free sausages.
What makes them stand out?
FRESHER FOR LONGER: Vacuum-packed meat lasts between 14 to 28 days in the fridge.
SAVE TIME: No more trips to the butcher or supermarket. No more needless online browsing. Add products to your cart and let us automate your deliveries.
NEVER BE SHORT: A regular Auto Pilot order means you'll never be without great quality produce again.
SUSTAINABLE FARMS: The Meat Club cares deeply about the planet and sustainable living. We hand select our farmers based on their ethical standards and commitment to the environment.
MONEY BACK GUARANTEE: We are passionate about fresh, premium quality meat. If you find our meat is not up to our high standards, you will get your money back. No questions.
SAVE MONEY: Our subscription model, Auto Pilot, creates the most efficient path from our farmers to your fridge, meaning greater savings for you.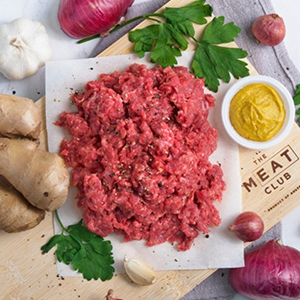 BEEF LEAN MINCE (500G)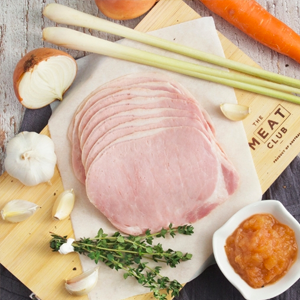 BACON (300G) – CHILLED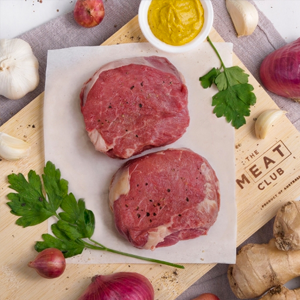 MSA GRADED EYE FILLET STEA...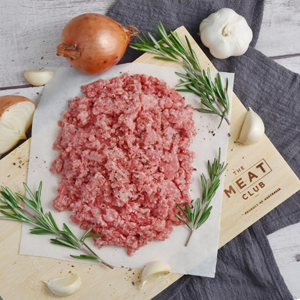 PREMIUM LAMB MINCE (500G)
KING SALMON FILLET (150G)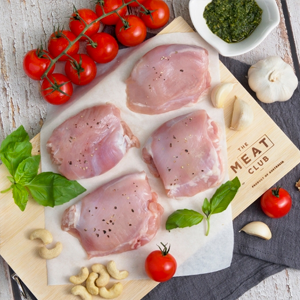 CAGE FREE CHICKEN THIGH FI...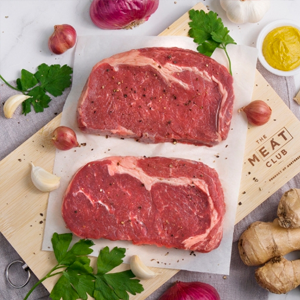 MSA GRADED RIB EYE STEAK (...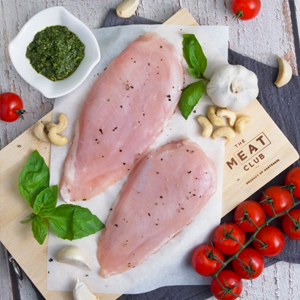 CAGE FREE CHICKEN BREAST (...
The Meat Club Chilli Steak Lettuce Cups
SERVINGS: 6-10 Lettuce cups | PREP TIME: 20 Minutes | COOK TIME:10 Minutes, PLUS 2 Minutes resting time
These san choy bau inspired chilli steak lettuce cups from the Carrotsticks and cravings are great for a light lunch or an entrée to dinner. They are quick and easy to make!
INGREDIENTS
400g The Meat Club eye fillet steak
Juice and zest of 1 lime
1 red chilli
1 clove crushed garlic
¼ cup coconut milk
1 tbsp tamari
2 cups cooked brown and wild
Handful coriander leaves
¾ cup black beans
3 spring onions
Lettuce cups
½ cup peanuts
Extra lime slices, chopped chilli and coriander to serve Sea salt and cracked pepper to taste
PREPARATION
Marinate the steaks with lime juice, zest, diced chilli, garlic, coconut milk and tamari for a minimum of 4 hours.
Mix the cooked rice, together with washed and drained black beans, lime juice, chopped spring onion, chopped coriander, salt and pepper together in a bowl.
In the meantime, grill the eye fillet steaks on a hot grill pan or BBQ for 2-3 minutes each side for medium rare and allow to rest for an extra 2 minutes before slicing.
While steak is resting, toast the peanuts in a pan with no oil until slightly browned and season with salt flakes.
Slice the steaks thinly and set aside.
Make the lettuce cups with rice mixture, top with steak slices, peanuts, coriander, chilli and a squeeze of lime.