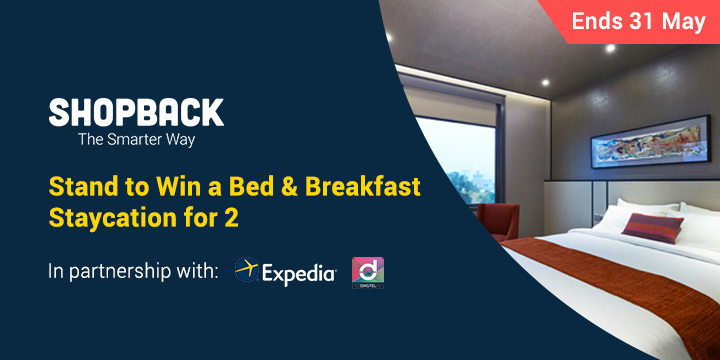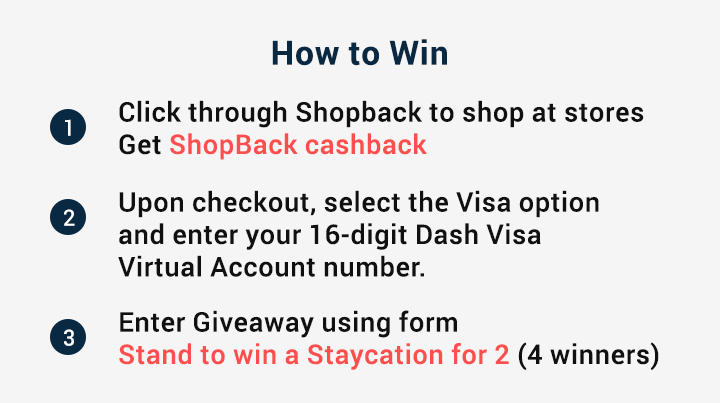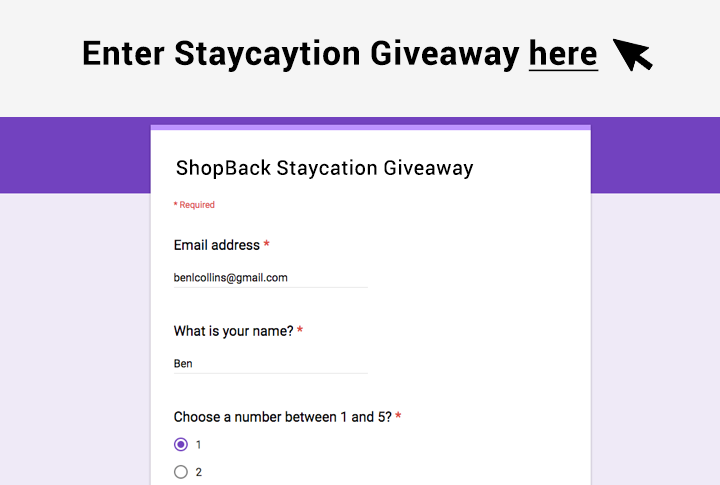 Good Luck!
Increase your chances by making more purchase orders. Winners will be informed by 30 Jun 2018.
Terms & Conditions:
1. Qualifying period: 1 May 2018 00:00 - 31 May 23:59
2. Qualifying customers:
- Valid for new and existing users of ShopBack
- A customer who holds a Singtel Dash account over the entire Promotional Period (as defined below) and at the time of fulfilment and who fulfils these terms and conditions shall be eligible to participate in the Giveaway.
- Orders that are exchanged, cancelled or refunded will not qualify for the Promotion.
- 4 winners will be selected and informed by 30 Jun 2018
3. How to Enjoy promotion:
- Customers must click through this campaign page (shopback.sg/dash-promo) to make a purchase on any of the featured stores and pay with their Dash virtual card.
- No min. spend is required. Each individual purchase qualifies for One chance in the giveaway. Customers can make more purchase orders to increase chances.
- To qualify for the Giveaway, Dash account has to make purchase/purchases via www.shopback.sg/dash-promo between Promotional Period to be eligible for the Giveaway.
- Customers must click on the google form banner on this page and fill up the form with the full details for verification of payment method by Dash
- Payment must be made using a Dash account.
- Dash account holders must enable their cookies to allow their Cashback to be tracked.
- Cashback is valid on top of existing discounts and promo codes offered by the Merchant.
- For more details on Dash cashback, please visit https://www.dash.com.sg
- For more details on Dash's cashback, please visit https://www.dash.com.sg/terms-and-conditions
ShopBack Cashback:
- Customers must stay within the same window and tab to successfully qualify for Cashback
- Upon successful purchase customers will receive Shopback Cashback in their account within 2 days. (If Dash cashback is applicable customers will receive it the following day in their Dash account)
ShopBack Cashback will be invalidated for orders that are:
- Not made via ShopBack
- Suspected to have fraudulent intent (eg. creating multiple ShopBack accounts) and/or violation of t&cs.
- Returned, refunded, cancelled and failed payments
- Hotel staycation T&Cs apply.
- Individual Shopback merchant T&Cs apply.
ShopBack receives the right to amend or remove any T&Cs accordingly.