Courts Singapore Promotions & Vouchers June 2019

Cashback is temporarily unavailable for this merchant. Alternatively, check out other merchants for Cashback.
As of 29 Sep 12:00 Cashback is available for Courts at up to 3% Cashback.

As of 29 Aug 00:00 Cashback for Courts is temporarily unavailable till further notice as Courts website will be undergoing maintenance

ShopBack must be the last link you clicked in order to get Cashback. If other website links are clicked after clicking through ShopBack, Cashback will not be tracked (E.g. coupon and deal websites)

If for some reason your payment made on merchant page has failed, do click through ShopBack again and re-do your purchases to ensure tracking is still active

Return to ShopBack and click through to the merchant every time you are making a new transaction. For more details: www.shopback.sg/terms-and-conditions
Recent Articles
More about Courts
Online home and furnishing with Courts
Have you been looking to buy electronics or furniture items online? Wouldn't you find it interesting if you got the same furniture and electronic appliances at affordable prices? Well, that's Courts for you. You can fulfill all your electronics and furniture related purchases without having to break a sweat. With a massive catalogue of items to choose from, you will almost certainly find what's on your mind. Whether you are looking to gift spouse the latest edition of a smartwatch or gift your geeky nephew the latest gaming laptop, Courts has you covered in all aspects.
An introduction to Courts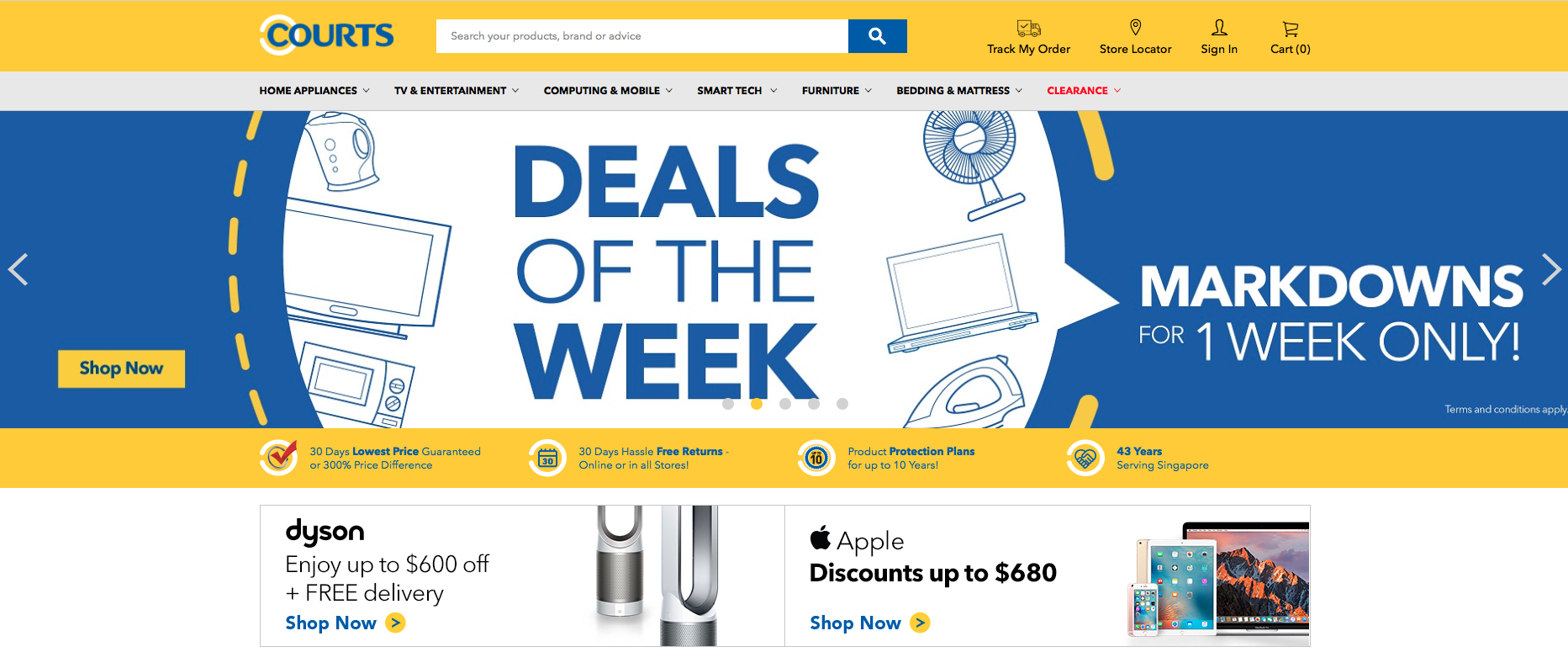 Courts had its roots originating in the United Kingdom in the year 1850, Canterbury, England to be specific. The company was founded by Albert Court and was named as Court Bros. Given its popularity and success over a period of time, the founders of the company did not waste any time in taking the brand global. Eventually, the company went public and got the name that it has today. Courts was established in Singapore in the year 1974 and has grown into a well-recognized brand over the years.
As of now, Courts has more than 90 stores in different formats and spans across a staggering 1.7 million sq. feet of space. Courts opened the doors to its flagship Megastore in Singapore in the year 2006. Since then it has been renovated and is now home to some great innovation such as Cool Zone Plus, Market Hall, Ultimate Screens and YourFurniture. Courts Singapore is dedicated to providing excellent deals when it comes to regular usage items such as mobile phones, cameras, furniture, and other home appliances. At the end, of the day Courts Singapore strives for affordable home building options with its various discounts and promotions.
Services on offer at Courts
We are already in the year 2018 and the chances of you looking for Courts Online options is pretty high. Courts Online Store has been an integral part of the sales and goes hand in hand when it comes to the brand's success. Here are the products and services that you can get your hands-on in Courts.
Home Appliances: You cannot convert a house to a home unless you have all the bare necessities. Court Singapore offers a wide range of home appliances starting from washing machines to coffee making machines. All the products are neatly tucked into four categories namely, Domestic Appliances, Refrigeration, Cooling and Air care and lastly Small Appliances. You will find almost all the home building appliances under this category.
Entertainment: If you are an entertainment fanatic, Courts has plenty on offer for you as well. Entertainment is broadly classified into four categories such as Television, Portable Audio, Home/Audio Players, TV accessories. If you have been looking for a sound bar to enhance your home party experience, vouchers or promo codes at Courts can help you settle a sweet deal.
Computers: Courts Singapore lets you purchase computers and mobile phones from its website with ease. There are a lot of categories and subcategories, which makes your search for anything related to computing, a cake walk. The online store provides you with substantial details as well when it comes to products. You can choose anything from laptops to desktops, from monitors to projectors, from tablets to printers and so on.
Smart Technology: Under the Smart Technology category, you will be able to buy various products such as fitness trackers, gadgets, drones, gaming consoles, cameras and even smart home monitoring systems. Courts filters out items and ensures you have access to only the very best of these items, thereby ensuring a hassle-free purchase experience.
Furniture: If you wish to take a break from all the gadgets and gizmos available on Courts and instead want to buy something more traditional, furniture section is for you. You can choose furniture for your bedroom, living room or dining room. You can pick up a lazy arm chair or an uplifting home furnishing item. People who wish to enhance the look and feel of their house, the furniture section is just perfect for them.
Mattress & Beddings: Each of us has different requirements when it comes to beds and likewise mattress sizes. At Courts, you will find a mattress that not only fits into your bed but also fits into your budget perfectly. With various offers at all times, minimum spend leads to maximum buying without any compromise on the quality.
How to use Courts for shopping?
It is quite simple to shop on Courts actually. In fact, people who are new to online shopping also won't find it very difficult to get hold of the system. One needs to open up a browser and visit the Courts website. Once you land on the website, you can look for a product via the various categories present on the website. Each primary category has sub categories, which eventually lead to the final products. If you want to be spoilt for choices, you can simply scroll down and as part of Courts promotion, you will find sales and discounts on specific items. These could vary from phones to refrigerators.
Scrolling down on the home page is a great way of exploring Courts promo items. Alternatively, you could search for a product in the search bar. Once you are happy with a product, you need to add it to the cart. You could either continue with your shopping or checkout right here. The website would then ask for your contact information and shipping details. Once you provide the same and make the payments, you can sit back and relax. The item(s) will get delivered to the specified address. Courts offers free shipping on its products if they are above $200. However, you might also get access to free delivery during the offer period. You don't even need to fill in any promo codes for deals that provide free delivery.
Flexi Plans for easy installments
Let's face it, at times it can stretch your finances to buy a lot of things together by paying up front. This is when the Flexi Plan on offer by Courts comes to your rescue. The plan is easy enough for anyone to understand and you can get back to your shopping in as little as 15 minutes. It is unlike most other plans where you need to submit and sign a lot of documents. A streamlined process ensures that you can upgrade your home theatre system or kitchen without having to worry about paying a substantial chunk of money. You can resort to easy monthly installments and all this without having to worry about your credit limits. In short, it is a revolutionary product that allows you to make the necessary purchases without breaking much sweat.
Coupon Codes for Economic Shopping
Ever since its inception, Courts has constantly strived towards affordable home set ups. To enable the same, Courts promotion coupons and codes come in handy. The website has several deals happening on a regular basis. You can pick up amazing home decors and functional items either under the deal of the day or deal of the week section. There are frequent clearance sales as well, which usually have no delivery charges. These listings are a simple yet incredibly efficient way of saving your hard earned money. So, if you have any plans of shopping for electronic appliances or gadgets or even furniture, checking out the Courts websites on a regular basis would surely save you a few bucks.
Courts usually has the most competitive pricing when it comes to electronics and furniture. However, if you feel that is not enough and you should be entitled to furthermore discounts, it is worthwhile visiting the clearance section. There are usually year end clearance sales, which is a great place to book some amazing products at stellar prices. Imagine getting a tablet you had in mind at 40% discount, wouldn't that be great! Well, the sale is not limited to just a couple of categories. In fact, you can choose from small appliances, cooling solutions, laptops, printers, bedroom furniture, audio systems and the list goes on. A lot of individuals have come across deals they feel are too good to be true in the clearance sales section. Do not wait and miss out on such opportunities.
Explore ShopBack for even better deals at Courts
Who wouldn't take more discounts if they are available to them? Well, as they say, every penny saved is every penny earned. ShopBack is the ideal platform to make the most out of your money. There are a lot of vouchers and discount code that you can benefit from. You can apply these Courts voucher during your purchase and get discounts on the top of what the website is already offering you. ShopBack comes in really handy at times when there are no promo events going on at the Courts website. The odds that you won't come across interesting deals via Courts promotion is very less. However, ShopBack ensures you do not stop buying something that is important due to the lack of some promotion events.
ShopBack also offers exclusive deals from other online merchants like Lazada and Qoo10 so be sure to check them out or subscribe to our mailing list to be get the most updated news about the best Courts promotions and sales and cashback values through ShopBack.
Confirmation and Cancellations
As soon as your payment is processed, Courts will send out an email with the purchase confirmation. At this point, you really don't have to do anything but track the item should you need to. To track your product, you can select the Track My Order option on the website. You would need to fill in the order id along with your email address and Courts will tell you the status of your product.
There are chances that you might not be happy or satisfied with the product that you receive. In such cases you can return the same within 30 days of purchase. However, one must ensure that the product is in its original condition and preferably in the same box as it was sent. If you wish to return any item, free gifts or gift vouchers that came along with the product must also be returned.
For orders that include specifics such as a size, colour or finish type, the website would deduct a cancellation charge. Also, there are a few items and products that cannot be exchanged or returned. It is thus advisable to go through the returns policy of the product that you are interested in. In general, you will have a pretty smooth experience when it comes buying or in the worst case canceling or returning products from Courts.
One of the pillars of the success or failure of a company is its customer service desk. Courts has spent over 43 years serving the people of Singapore. All of this would not have been possible without strong dedication to customer service. You can find the experience the website has gained over the years in the form of FAQs. However, if you have any queries or questions beyond those, you can visit the website and fill in the contact form along with the queries. Alternatively, you can call at +65 1800 222 6868 for any queries or assistance. For queries pertaining the Flexi Plans, you can reach out to +65 6500 4168. You can also reach them via their social media pages such as Facebook and Twitter.