Best Promo Codes in Singapore 2020

The Best Place For Your Promo And Coupon Code Needs
In search of a discount code or coupon for your online shopping spree? You've come to the right place! Here, you can find the best ongoing deals and promotions that will surely keep your wallet happy. All you have to do is follow these simple steps down below and you'll be surprised at how much you can save when you apply our discount codes!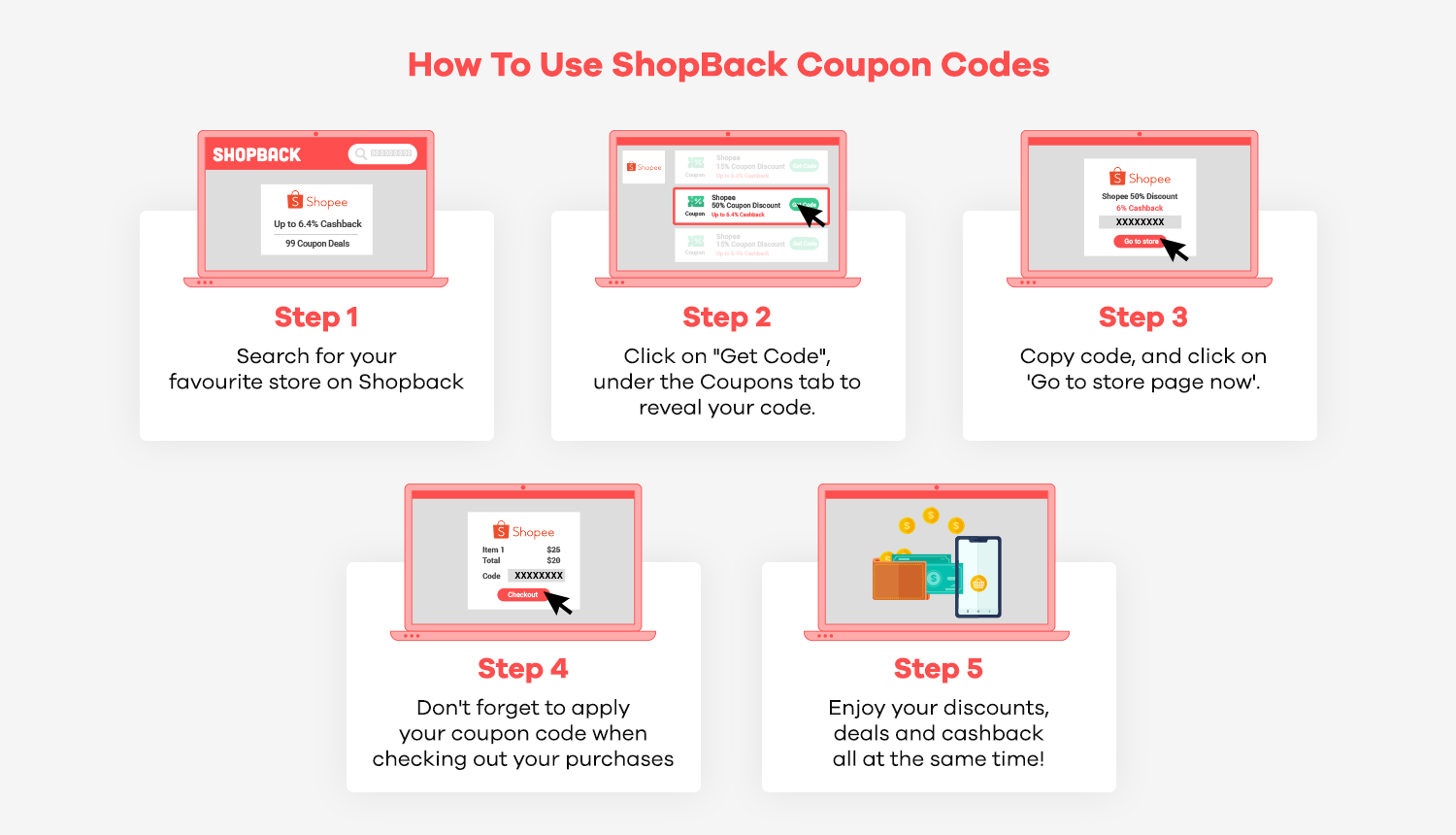 Fashion Promos and Coupon Codes
The Best Beauty Promotions & Vouchers
Health & Fitness Discount Codes & Coupons
Promo Codes For Groceries & Essentials
Home & Lifestyle Voucher Codes & Sales
| Merchant | Description | Promo Code | Validity |
| --- | --- | --- | --- |
| Zalora | Apply Zalora promo code RAYABRANDS to get up to 25% off from 11 May. Valid for selected items only. | RAYABRANDS | Valid till 31 May 2020 |
| Zalora | 15% off Mainshop & Marketplace for existing customers on Zalora. With no Min Spend. Valid for selected items only. Capped at $40. | SBZRAYA | Valid till 31 May 2020 |
| 6IXTY 8IGHT | 10% off clearance on 6IXTY 8IGHT. With $80 Min Spend. Exclusions may apply. | SG20AP10 | Valid till 31 May 2020 |
| Sephora | Free Shipping Promo code for Beauty Pass members on Sephora. With no Min Spend. Valid with purchase of Becca products. Not valid with other offers. | BOTMSHIP | Valid till 31 May 2020 |
| iHerb | 10% off sitewide Promo code on iHerb. With $60 Min Spend. Exclusions apply. Not valid with other offers. | VALUE60 | Valid till 27 May 2020 |
| iHerb | 20% off Select Sports Nutrition Products on iHerb. With no Min Spend. Not valid with other offers. | IOVATESAVE20 | Valid till 31 May 2020 |
| Taobao | 40RMB off for new DBS/POSB card holders on the first order with 100RMB min spend. Limited to the first 3,000 redemptions, for app purchases only | DBSNEW40 | Ongoing |
| Hachi.Tech (Challenger) | $20 off selected HP laptops on Hachi.Tech (Challenger). With no Min Spend. Limited redemptions apply. | HP20OFF | Valid till 31 May 2020 |
| Guardian | $8 off Bioderma Products on Guardian. With no Min Spend. | BIODERMA25 | Valid till 31 May 2020 |
| Guardian | $5 off Best Beauty products on Guardian. With no Min Spend. Valid for selected items including Biore, Liese, John Frieda and more. | KAO5 | Valid till 31 May 2020 |
| Cotton On | 10% off Sale items on Cotton On. With no Min Spend. Excludes Cotton On Foundation and Gift Cards. Not valid with other offers. | OUTLET10 | Valid till 31 May 2020 |
| Lenovo | 18% off sitewide Promo code on Lenovo. With no Min Spend. | Shopback18 | Valid till 31 May 2020 |
ShopBack: The best way to shop online with coupons & vouchers!
ShopBack is a Singapore cashback site and it is the best way to shop online. With the dedication to help you create the best shopping experience like no other, ShopBack features countless merchants like Groupon, Expedia, Sephora and many more – just search for your favourite store with ShopBack's search bar. If you'd rather search for stores by categories, ShopBack has several which includes fashion, travel, electronics, food & beverage, home & living, lifestyle and some others. Get the best Singapore deal with ShopBack – you'll regret if you don't!
Love your wallets, love ShopBack and coupon codes!
Show your wallets some love and love ShopBack! Minimise your spending and maximise your savings with us, simply by using our discount coupons, coupon codes or voucher codes. ShopBack offers you a wide array of sweet shopping deals, all in the form of a promotion, code, offer or promo!
If you've seen documentaries of Americans going crazy over coupons and cutting them out of newspapers or magazines, well, don't be jealous of how much they can save anymore! ShopBack brings you a faster and a more convenient way to get discount vouchers, discount codes and promo codes. Soon you'll be saving just like them, with an additional benefit of shopping online with comfort and convenience. You can see these vouchers, coupons and other promotions either on a specific merchant page or on the coupon codes page.
Sick of waiting for a Singapore promotion or Singapore sale period?
It is a great chore to have to always wait for the annual Great Singapore Sale period to clear the shelves of physical retail stores or even wait for a Singapore promotions for certain chains of stores in malls. It's also tiring and tedious to constantly have to google keywords like Singapore coupons, Singapore discount coupons or coupon codes 2016 – it's all a big mess!
Well, wait no longer and fear no more, for ShopBack is here to make every day seem like a sale day for you! If you want a lovely Singapore coupon code or some amazing Singapore deals, Singapore promo code or any other Singapore offer while shopping online, head over to ShopBack where all of these have been consolidated.
Get a ShopBack coupon, voucher, discount or other deals
ShopBack is the place to get those Singapore discount coupon, Singapore code or Singapore vouchers to make your day. Get a coupon code now and you get to save lots and lots!
Check out Singapore coupons of the day
On ShopBack's coupons page, you'll find some of the best coupons of the day. There are coupon codes and discount coupons listed out for you to choose and shop online with. These voucher codes and their cashback rates are updated daily, so don't hesitate any longer to shop with these amazing deals.
A special offer or deal like no other!
You can't get what this phenomenal Singapore cashback site offers anywhere else. Uncountable discounts and promos with simple discount coupons or a voucher code – you'll definitely be spoilt for choice! Who ever knew that a simple discount voucher or discount code could go such a long way! It's a special offer like no other and you'll be creating a unique and wallet-friendly online shopping experience for yourself!
Get your cash back with ShopBack
It is pretty apparent from ShopBack's description of itself as a Singapore cashback site that it gives you some cash back at the end. Getting cold hard cash back has been made possible with ShopBack and you enjoy this on top of Singapore coupons and Singapore discount coupons. Cashback rates differ across merchants and even then, within each merchant there may be some cashback tiers to take note of. Look no further for the best Singapore discounts or best Singapore offers anymore – they're all here on ShopBack!
It's just so easy to use ShopBack
Register for a ShopBack account to gain access to the Singapore coupon code, voucher code, discount coupon or other deals. Remember to sign in if you already have an existing account.
Search for the merchant that you're looking for, be it Groupon, Expedia, Sephora or any others. You can search for stores using by categories as well.
Choose a coupon, voucher, discount or promotion and click on 'Shop Now'.
Once you click on 'Shop Now', you will be redirected to a page where you can start your online shopping.
Fill your shopping cart with your desired purchases and when you're done, proceed to check out your items.
Once you have confirmed your payment, within a day or more, you will find your cashback in your ShopBack account.
Shop till you drop without being broke
ShopBack offers you the wallet-friendly option when shopping online. With Singapore discount coupons, coupon codes and other great Singapore deals for online shopping, ShopBack will ensure that you can shop till you drop without becoming broke. Fill your tummies, look beautiful, dress to impress, catch up with the latest gadgets or even complement your lifestyle with some new buys with ShopBack and pamper yourself with some guilt-free shopping time!