Cold Storage, trusted supermarket for generations
Cold Storage, a chain of supermarkets, is owned by Dairy Farm International Holdings. It is actively available in Singapore, Malaysia and Indonesia. In 1997, Cold Storage ventured online to become the first online supermarket store of Singapore. Since then, their customers have grown from 6,000 to more than 15,000. Cold Storage boasts of its 3 premium brands – Cold Storage, Market Place and Jasons. It has stores spread islandwide in city centres, public housing and opulent suburbs. What s interesting is that each brand is known for its unique store ideas and innovations to meet their customer needs. The website offers a wide range of products that include fruits, vegetables, meat, seafood, delicatessen, beer, wines, spirits, bakery items, snacks, drinks and a lot more!
Cold Storage s e-commerce website offers effortless shopping as you can shop for your day-to-day grocery requirements from the comforts of your home. People can also avail of the Cold Storage deals that are available during the Cold Storage weekly promotion period. You can log into Cold Storage Singapore online and shop for your requirements without stepping out of your home.
The journey of Cold Storage started in the year 1903 with a tiny storehouse storing and selling frozen meat from Australia. In the initial days, the company concentrated mainly on selling meats and earning a profitable turnover. However, some years later, Cold Storage introduced the supermarket to Singapore. With more than 100 years of experience, Cold Storage is Singapore s oldest supermarket operator. Cold Storage was the first of its kind to receive the CaseTrust mark, an accreditation for receiving a high degree of consumer confidence. It was also the first supermarket in Singapore to receive MUIS certification. Cold Storage was also awarded HACCP certification by SGS for good quality and integrity in food safety.
Products sold by Cold Storage
Cold Storage aims to present their customers with fresh and good quality products from around the world. The store offers a wide range of products through one single interface. As you go through the website you will see that Cold Storage offers an array of products categorized into fruits and vegetables, meat and seafood, delicatessen, beers, wines and spirits, bakery, cereals and spreads, dairy, chilled and frozen, food pantry, snacks and drinks, mum and baby, health and beauty, home, kitchen and cleaning, and Cold Storage s exclusive brands.
Fruits and Vegetables
– Cold Storage website ensures that their customers enjoy a hassle-free fruit and vegetable shopping experience. The company handpicks their items and puts forth the best quality products. The 'fruits and vegetables category in the website is further sub-categorized into fresh fruits, fresh vegetables, salads, dried fruits, canned / chilled / frozen fruits and vegetables.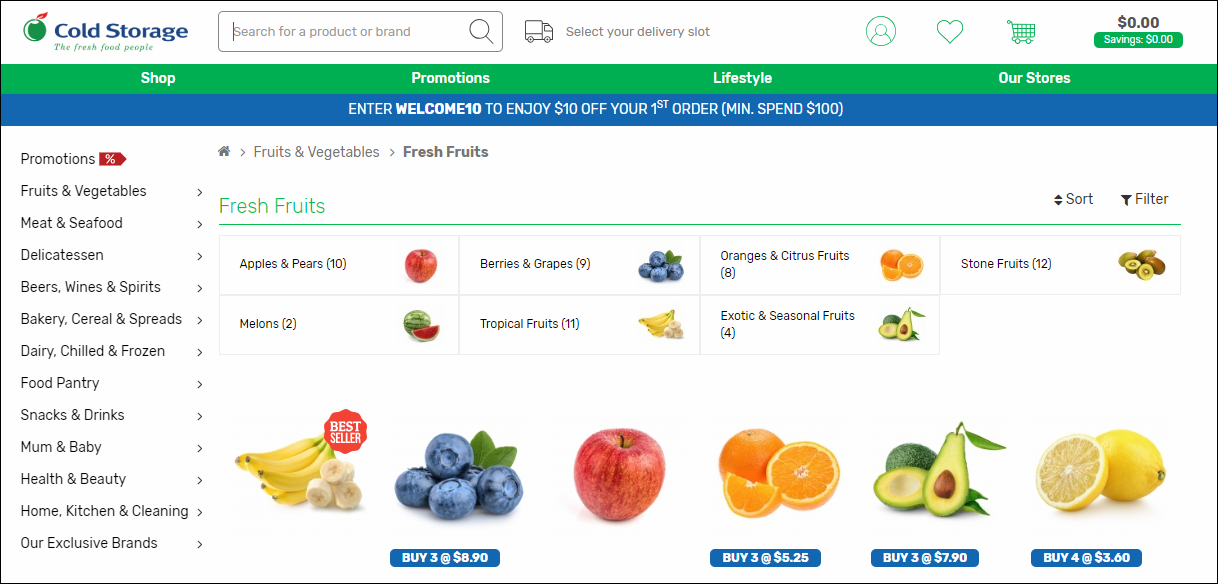 Meat and Seafood
– Customers can shop for premium quality meat and seafood on the cold storage website. Meat and seafood is available both, fresh and frozen. You can also shop for bacon, ham, sausages, salami, deli seafood, fishballs, fishcakes and crabsticks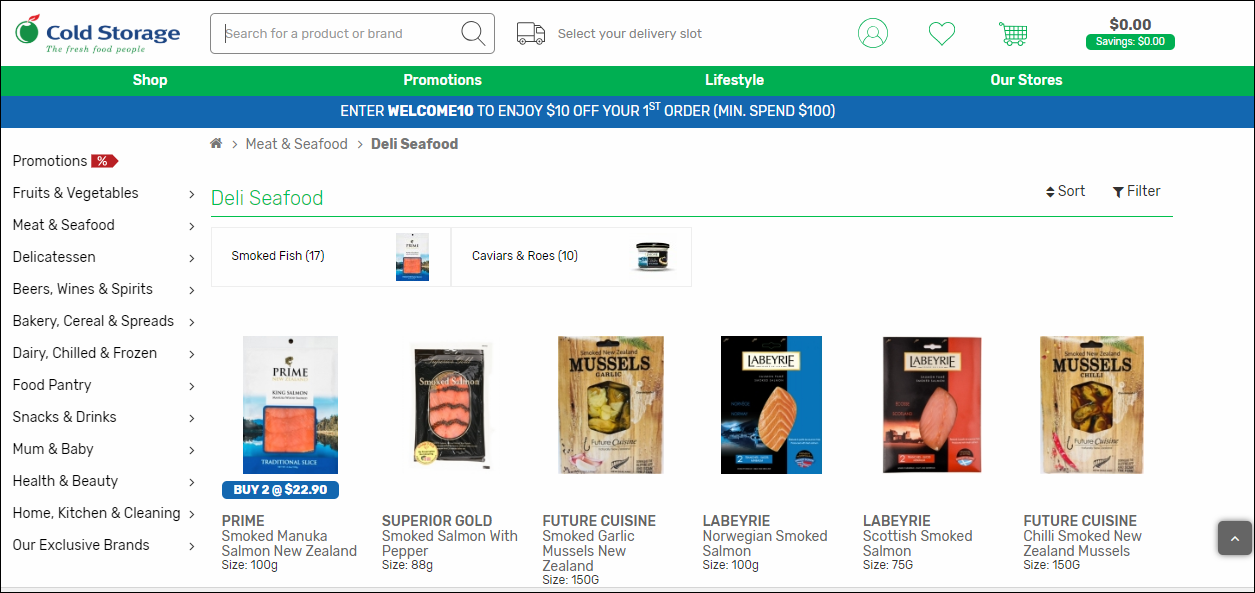 Dairy, Chilled and Frozen
– From yoghurts to gourmet cheeses, ice creams to puddings, desserts, dips and sides, you can shop them all on the Cold Storage website. All these are fresh and of high quality.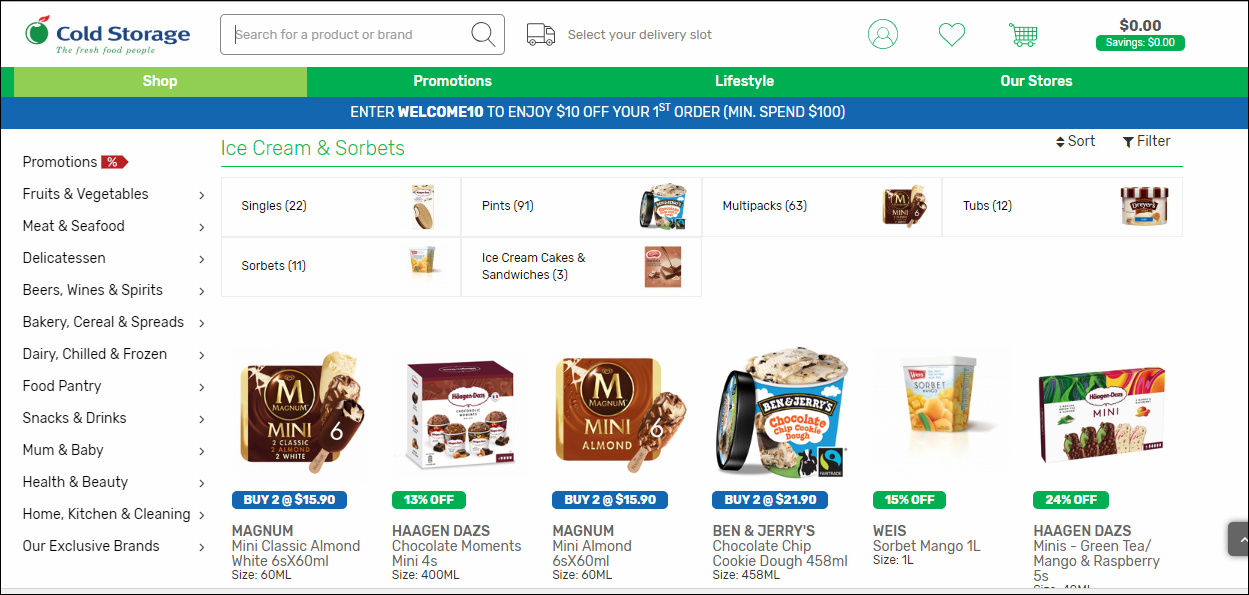 Home, Kitchen and Cleaning
– Apart from groceries and eatables, Cold Storage also offers kitchenware, household cleaning items, appliances, electronic goods, car care items, pet care items and party needs.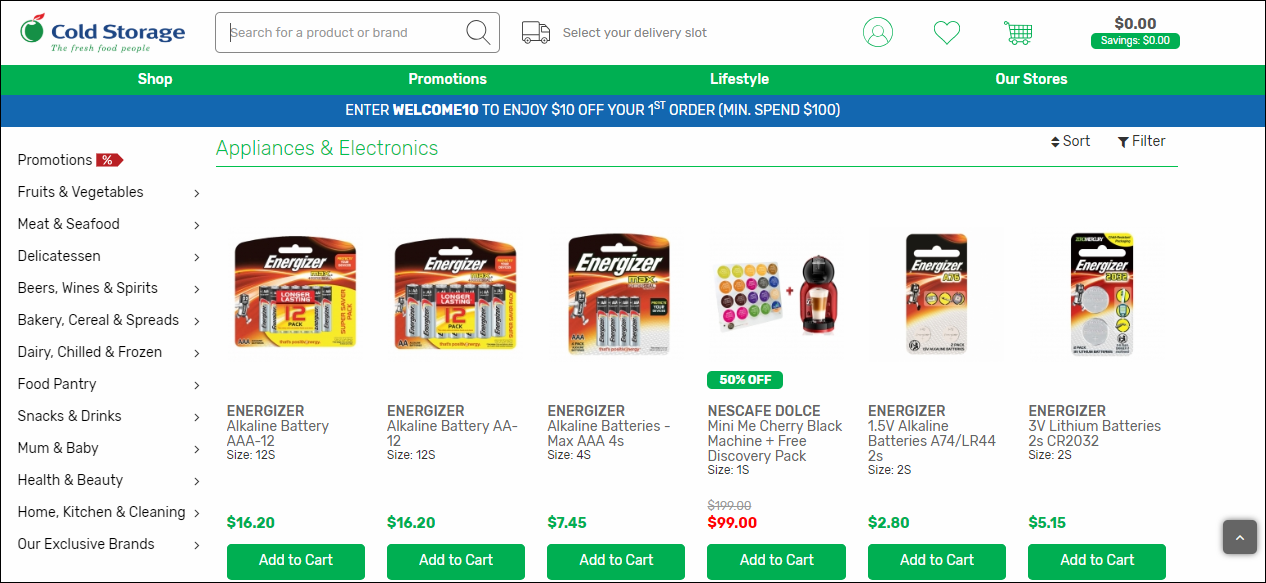 The various product categories and sub-categories offered by Cold Storage online store are given in the table below.
| Product | |
| --- | --- |
| Fruits & Vegetables | Fresh Fruits, Fresh Vegetables, Salads, Dried Fruits, Canned / Chilled / Frozen |
| Meat & Seafood | Fresh Meats, Frozen Meats, Fresh Seafood, Frozen Seafood, Bacon, Hams & Sausages, Salami, Deli Seafood, Fishballs, Fishcakes and Crabsticks |
| Delicatessen | Deli & Gourmet Cheese, Sausages, Bacon, Deli Meats, Antipasto, Deli Snacks and Sides |
| Beers, Wines and Spirits | Wines, Beers & Ciders, Champagne & Sparkling Wines, Sake, Umeshu & Chinese Wine, Spirits, Mixers |
| Bakery, Cereals & Spreads | Grains & Seeds, Bakery, Cereals & Oats, Jams & Spreads |
| Dairy, Chilled & Frozen | Milk & Soya, Yoghurts, Cheese, Creams, Butter & Spreads |
| Food Pantry | Condiments & Dressings, Canned Food, Rice, Noodles & Pasta, Chocolates & Sweets, Biscuits & Cakes, Baking Needs, Grains, Beans and Pulses |
| Snacks & Drinks | Snacks, Water, Coffee, Tea, Chocolate & Malts, Soft Drinks, Asian Drinks, Milk |
| Mum & Baby | Baby Milk, Diapers & Wipes, Baby Food, Baby Toiletries & Laundry, Milk for Mums |
| Health & Beauty | Body Care, Hair Care, Facial Care, Men s Toiletries, Oral Care, Health Care |
| Home, Kitchen & Cleaning | Kitchenware, Household Cleaning, Laundry, Tissue & Paper Towels, Dishwashing, Party Needs |
| Our Exclusive Brands | Bierweg, Yu Pin King, Royal Majesty, Aquabliss, BacAttack, Baker Brothers, Market Garden |
| | |
How to Shop at Cold Storage?
Cold Storage offers a well-designed website to its customers. All products are aptly categorised to make the search easier. The header on the homepage consists of the following four tabs – Shop, Promotions, Lifestyle and Our Stores. The 'Shop tab displays product categories, 'Promotions tab displays brand promotions, bulk specials and weekly deals, 'Lifestyle tab contains recipes, articles for healthy living and the latest copy of the Savour magazine. Finally, 'Our Stores tab gives you the location of Cold Storage stores. The homepage also displays promotions and various product categories offered by Cold Storage. The Search box located at the top of the homepage allows customers to perform a product-specific or brand-specific search.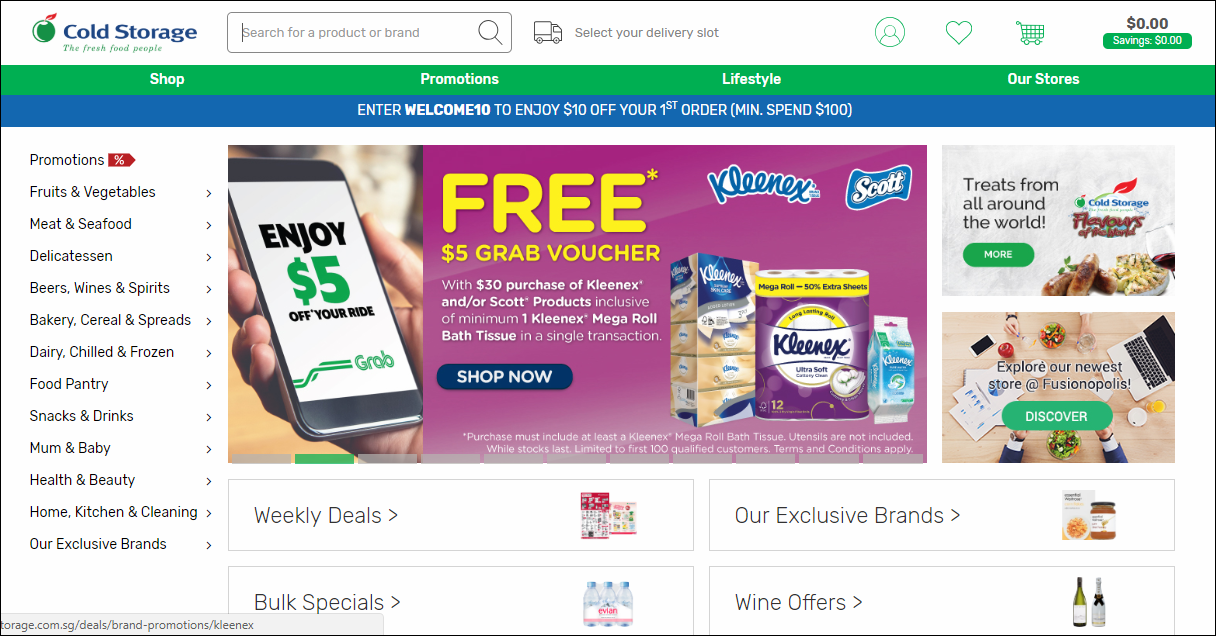 Click on the categories to view the sub-categories. Click on the sub-category to view the products that you wish to purchase.

When you click on a sub-category, a list of products from that sub-category is displayed.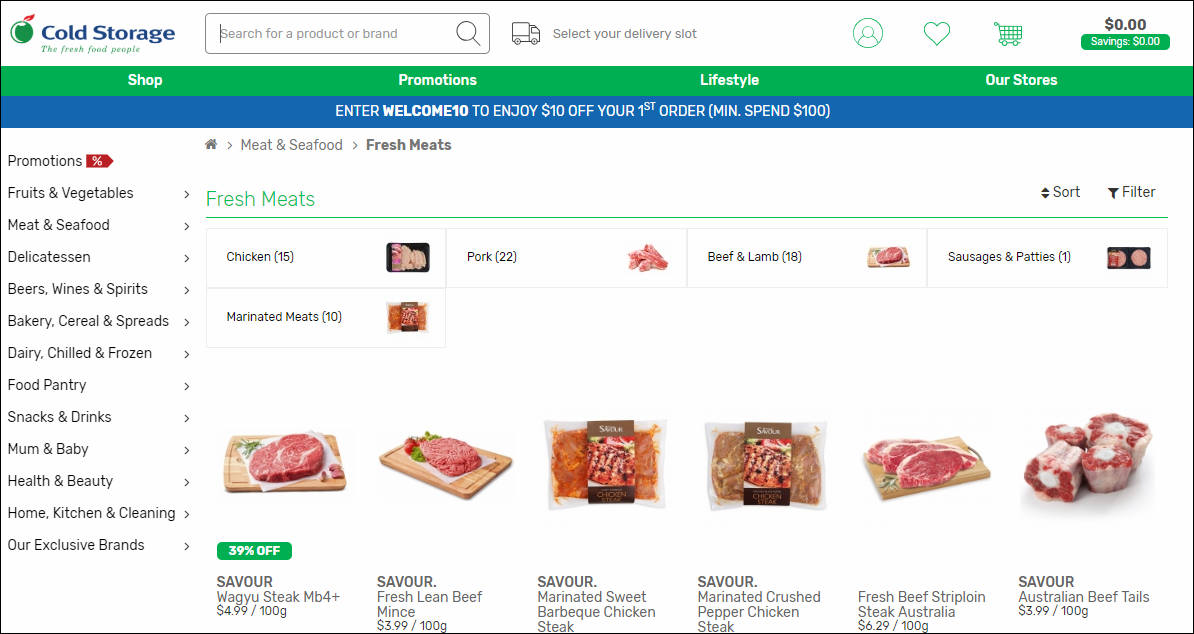 Click on the required product. A pop-up screen indicating the photos, name, size, price and code of the selected product is displayed. Click the 'Add to Cart button to add the item to your shopping cart.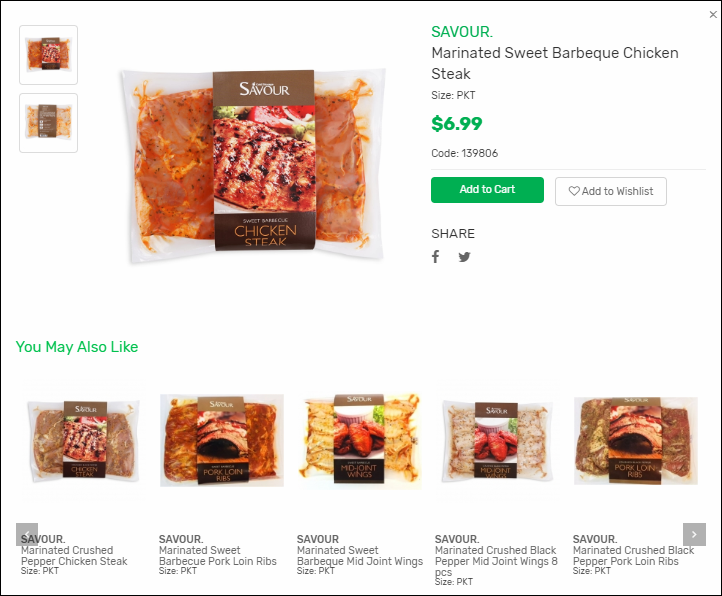 To purchase the items available in your shopping cart, click on the cart icon located on the top of the homepage.

Click the 'Checkout button to purchase the products. If you have not already logged into your account, you will be prompted for your email address and password. You can also login using your Facebook account. In case you do not want to create an account, click the 'Continue as Guest button.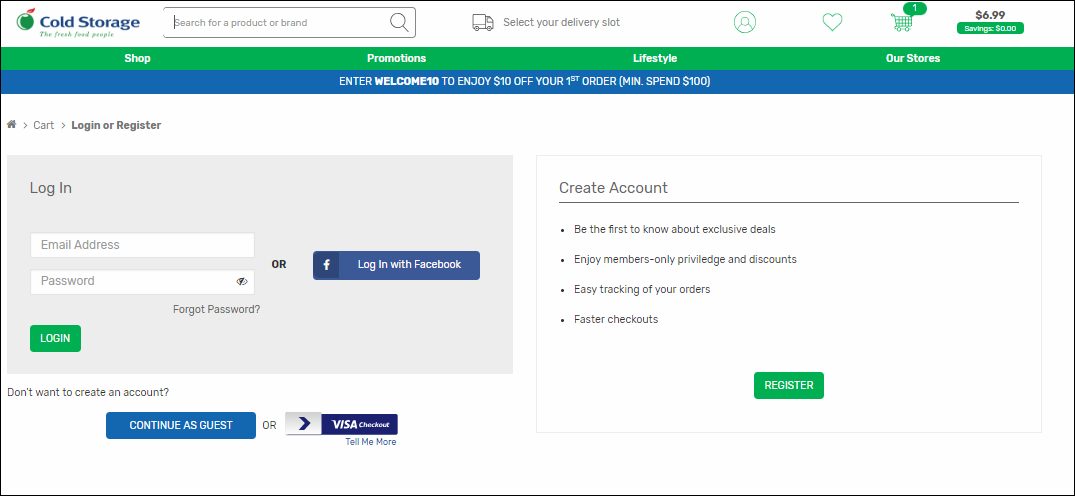 In the 'Checkout page, enter your delivery address, delivery date and time, billing address and mode of payment.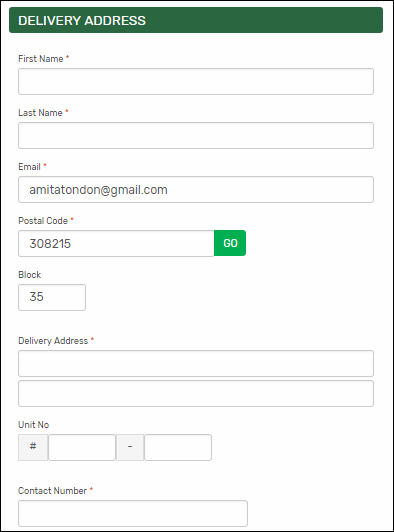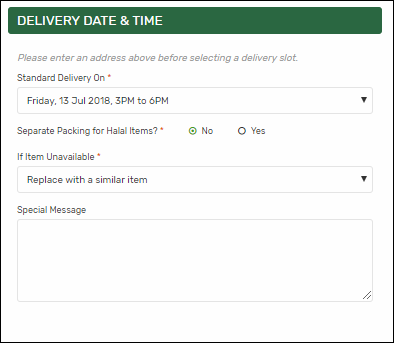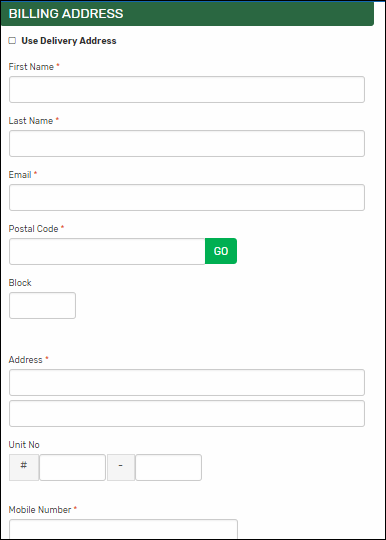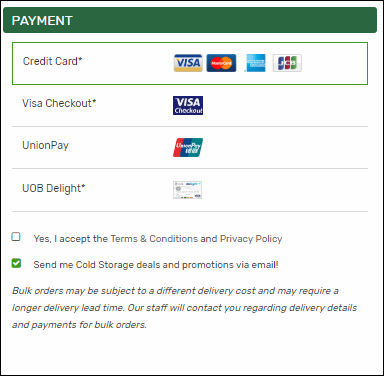 The payment summary is displayed on the right of the 'Checkout screen.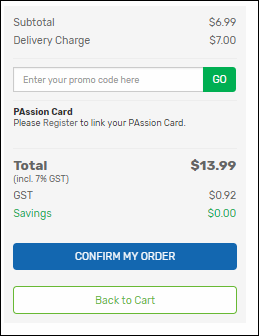 Finally, click on the 'Confirm My Order button to place your order. You are redirected to the page to enter your payment details. Enter your details and submit your order. Customers can find great deals during the Cold Storage promotion period. You can save some money by using your Cold Storage coupon and Cold Storage promo code to receive your Cold Storage discount.
You can click on the 'Our Stores tab to search for Cold Storage outlets and Cold Storage locations.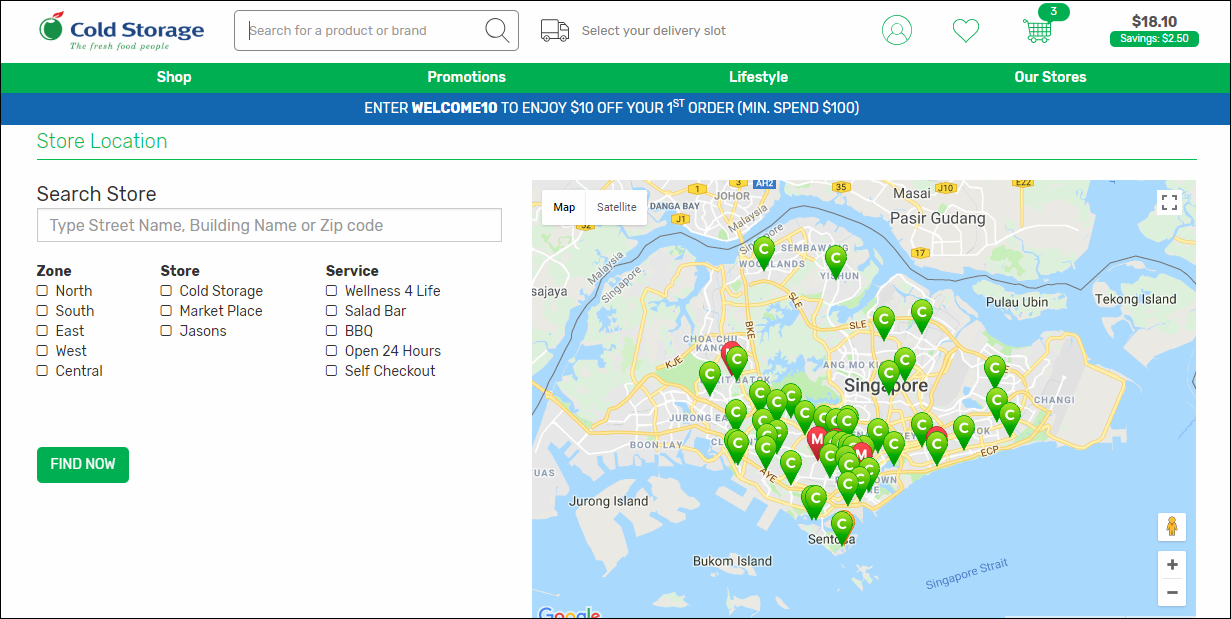 Payment Options on Cold Storage
Customers can pay for their orders via VISA card, American Express card, Mastercard and cheque on delivery payable to 'Cold Storage Retail .
Different Coupon Codes and Discounts on Cold Storage
Buying groceries through Cold Storage online is such a delight as you not only get to purchase fresh food items of high quality, but you also get to save a lot of money during the Cold Storage sale and Cold Storage promotion. Customers can use Cold Storage vouchers to receive discounts. The Cold Storage discount code must be entered during the checkout process.
Check out the 'Promotions tab of the website for Cold Storage weekly offer. Also, Shopback is offering up to 4% cashback on Cold Storage online Singapore products to those customers who shop via a registered account at Shopback.
Surprise a Mom by Stocking up on the Essentials with the latest Cold Storage Mother s Day Promo!
Before doing your shopping at Cold Storage, do check out ShopBack for the latest updates on Cold Storage Mother s Day offers or promotions. That way, you can make someone s day and at the same time, save some money! So be sure to keep an eye out at ShopBack for the latest Cold Storage Mother s Day promos to help you get all she needs and all that she wants.
Celebrate Raya with Cold Storage Hari Raya promotions
Get all your cooking ingredients at supplies at a discount by keeping an eye out for the latest Hari Raya promos at Shopback. ShopBack affords you the most cost-effective way to provide a feast for your friends and family. You can double up on your savings with Cashback on top of a Cold Storage Hari Raya promo code or offer. Get more for less with ShopBack!
How to Redeem Coupons and Vouchers through Cold Storage Online Shopping?
Shopping on Cold Storage online can leave you with a fulfilling experience. You can avail of their discounts as you buy your groceries and other requirements at affordable prices. Check out the 'promotions section for Cold Storage promotion and Cold Storage offer.
Here is a step-by-step procedure to use your discount vouchers on the Cold Storage website:
Step 1
: Select the product that you want to purchase and click on Add to Cart .
Step 2
: Proceed to the Checkout page and fill in your delivery address, delivery date and time, billing address and mode of payment. Below the Subtotal and Delivery Charge, you will be able to view the 'Enter your promo code here box. Enter your Cold Storage promo code in this box and click the 'Go button.
Step 3
: Click the 'Confirm My Order button and enter the payment details to complete the transaction.
How to Shop on Cold Storage using ShopBack
Customers registered on Shopback can earn up to 4% cashback on various products offered on the Cold Storage website. The step-by-step procedure to earn cashback from ShopBack is given below:
Step 1
: Log onto your ShopBack account and select Cold Storage store from the list of merchants and brands on the homepage. You can also use the search box to find the link to Cold Storage store.
Step 2
: Read the terms and conditions, other information such as cashback details and tips to ensure cashback provided on the Shopback website.
Step 3
: Click on the 'Activate Cashback button located on the top left corner of the page.
Step 4
: You can check out some interesting deals and coupons in the Cold Storage Delivery with Offers & Promo Codes section.
Step 5
: You will be redirected to Cold Storage website, where you can select and purchase the required products.
Step 6
: You can earn cashback from ShopBack on placing your order. Please note that the cashback is not applicable for Cold Storage app purchases.
Cold Storage s Delivery and Return Policy
Here are some of the delivery conditions:
Cold Storage shall deliver the products to the customer s delivery address within the time frame specified by the customer. However, the company is not accountable for delays due to causes beyond the control of Cold Storage.

Cold Storage provides delivery within mainland Singapore and Sentosa Island.

Delivery service will not be available on Sundays and Public Holidays. Delivery slots are subjected to availability.

Cold Storage holds the right to decline delivery of bulk orders for whatever reason.

In case of change of delivery address and contact number, the customer must inform Cold Storage, immediately.
Cold Storage provides refunds or returns under the following circumstances:
if delivered products are damaged, out of date, or if a wrong product is delivered.

if the customer is charged for a product that is not delivered.

if a customer is charged more than the value of the product.
Cold Storage Customer Service
For any inquiry or help, the customers can contact the Cold Storage customer service by emailing them at [email protected] along with their queries. Customers can also call Cold Storage Online hotline at 6344 1661 or fax to 6344 1522.
Connect with Cold Storage