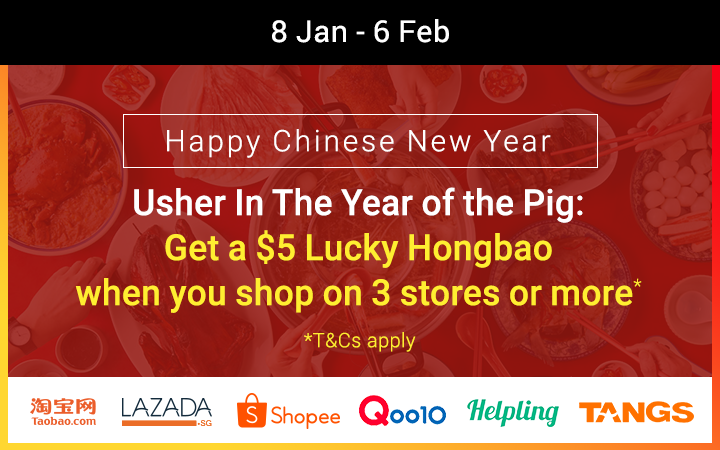 New ShopBack Customers Hongbao Special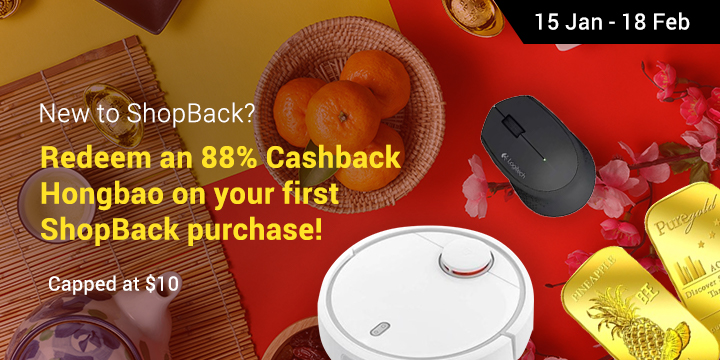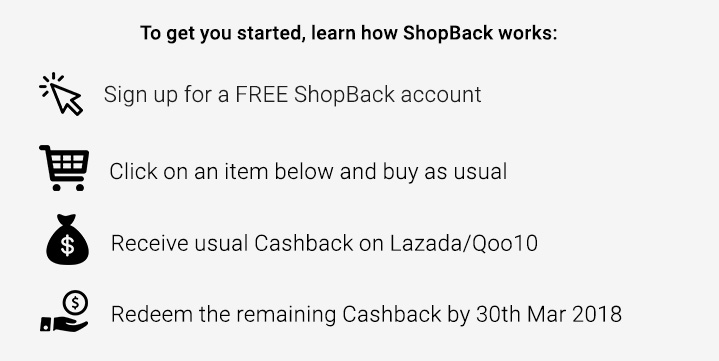 Spring Cleaning Edit
Out with the old, In with the new! Give your home a refreshing makeover with new home appliances from official brands like Philips, Tefal and more. If you need a little help on spring cleaning, try out Helpling cleaning services from only $20/hr. #Protip: For overseas stores that do not ship directly to Singapore, you may consider using Comgateway as your shipping agent with 3.0% Cashback.
Lunar New Year Getaways
With Lunar New Year falling on a long weekend 16th (Friday) and 17th (Saturday) of Feburary, plan a short getaway with specially curated CNY deals for Bangkok, Hong Kong and more. Plus, don't miss Easybook's KTM train tickets for CNY period which is now available for booking. For airlines, check out Singapore Airline's Early Bird fares and Scoot Take-Off Tuesdays for the latest offers.
Activities & Train Tickets
New Year, New Style
This coming New Year, invest in a whole new look to kick off a good year. For the ladies, check out collections from ZALORA, Charles & Keith and Pedro with a whole new bunch of new arrivals to spoil you for good. For the gentlemen, check out style edits from Mr. Porter and East Dane that will teach you how to dress better for the everyday.
New Customers Terms & Conditions:
88% Cashback is capped at $10 per order.
Valid only for purchases via this page from 15 Jan 2018, 0:00 - 18 Feb 2018, 23:59. Bonus Cashback will be credited on 30th Mar 2018.
Valid for first-time ShopBack customers only. Valid only on the first order of a new ShopBack customer.
Valid for new and existing Lazada/Qoo10 customers.
Valid for one-time redemption only.
Limited to 1 quantity of 1 item featured in this campaign page per new ShopBack customer only. Customers can only choose 1 item out of featured items and purchase via this campaign page.
Customers must create a ShopBack account before purchasing with the same account in order to receive Cashback. Not valid with other ongoing New Customer promotions.
Prices are accurate as of 14 Jan 2018, subject to changes in merchant prices. Should the listed price be higher than the store paid price, Cashback received will still correspond with the listed Cashback amount.
Promotional Cashback is only valid on items featured on this page with the exact size, variation, colour, quantity. No Cashback will be awarded for items not featured on this page.
If you click on a product and is redirected to Lazada's homepage, it means that the product is out of stock.
Customers must click through this page and purchase the item within 1 window to successfully qualify for Cashback. Exact items bought via other pages will not qualify for promotional Cashback.
ShopBack reserves the right to invalidate Cashback for orders that are 1) not made via ShopBack, or 2) suspected to have fraudulent intent (eg. creating multiple ShopBack accounts) and/or 3) violation of t&cs.
Items featured are subject to stock availability on store's website and can be removed or replaced at any time. Any order returns, refunds, cancellations and failed payments will be disqualified from this promotion.
ShopBack reserves the right to amend / append / withdraw the terms & conditions without prior notice.
Do you love online shopping? We've got you covered.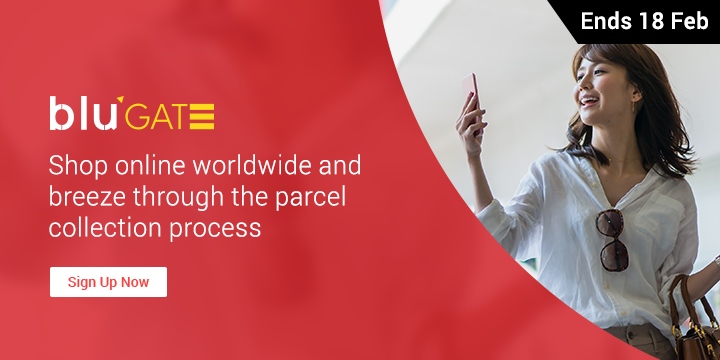 Read our latest posts from the blog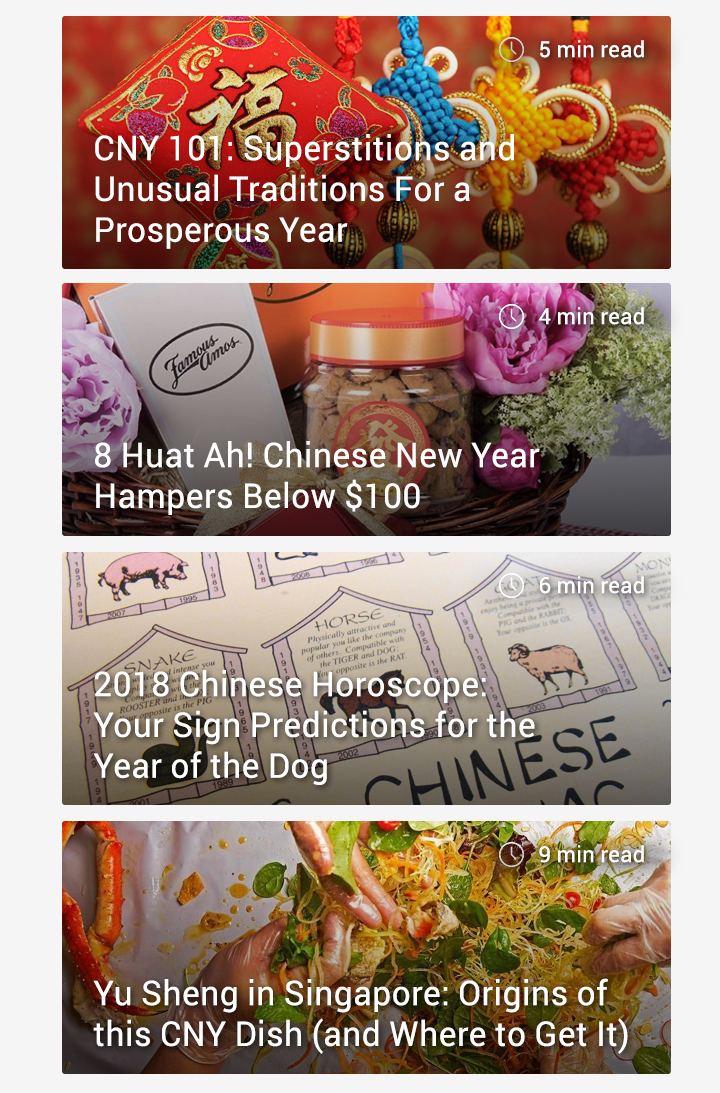 Get a splash of festive red as Chinese New Year is here!
It's the time of the year where you welcome the array of reds into your household. Deck out in the joyous atmosphere with a splash of vibrant decorations around the house and put on brand new clothes this Lunar New Year. Whether you're playing host to the reunion dinner or heading off to your family or friend's place, CNY is all about starting afresh. Set aside the time to clear out old, unwanted things and make space for new things - and new hopes!
This year's Chinese New Year promotions will no doubt bring forth more deals and vouchers! From getting ready to greet your extended family to sprucing up your crib and welcoming guests, here's how you can clinch some good discounts.
Get your hands on a standout CNY outfit
When you visit all your relatives during the festive season, you are going to want to look your best. CNY is the perfect excuse for you to splurge on a good quality dress or shirt! After all, getting decked in a new outfit from head to toe is almost a customary practice. Zalora has beautiful Chinese New Year outfits for both men and women from their new CNY collection. The females can choose to get a floral cheongsam to fit the occasion or a simple peplum top paired with an origami skirt for a more casual feel. On top of that, if reds seemed like an intimidating color, why not try darker shades like plum or maroons? Vibrant shades like pink, pastels, and yellows are not only stylish and modern, they are also fitting of the happy vibes in the air this season.
For the gentlemen, find an array of shorts and sleeved shirts, both long and short, to stay festive and chic at the same time. Opt for printed patterns on a white crisp shirt to add funk and colors to your assemble. Add a cotton blazer from Benjamin Barker and roll up the sleeves for a casual yet smart look. Match them with a pair of sneakers from Nike if you are expected to do a lot of walking in one day, or simply get a pair of loafers, which never goes out of style.
Besides Zalora, other shops like ASOS, ShopBop, Pomelo, MR PORTER, and online marketplaces like Qoo10 are also great spots to get your wardrobe refreshed. Don't forget to check out the accessorizing options for a full outfit. A cute pair of ballet flats or a gorgeous pair of toe-peeking suede heels from Charles & Keith will change up the entire mood of your outfit. Feminine and cute to eye-catching and sophisticated, mix and match to decide your Chinese New Year style in 2018! Keep your eye out on this page to get the latest deals.
Remember, this is the season to mingle, play catch up and have light-hearted fun! Even if you are someone who prefers to stick to minimalistic styles and muted colors, try to pair with one contrasting color as an accent point. A pair of neon earrings or a shiny pair of shoes with studs would make for a great topic starter as well! Experiment more this CNY 2018!
Achieve healthy, glowing look this Lunar New Year
Getting our outfits done is just part one - having a healthy glowing skin and amazing makeup is essential to complete the look. Skincare has been an increasingly looked into topic by both men and women, and for good reasons. After all, who don't want to have healthy-looking skin?
Skincare could be separated into two sections - the cosmetics that you apply on your face, and the supplement and good diet that you consume. iHerbs, GNC, and Brands are here to help you detox and achieve a healthier diet. This is especially important during Chinese New Year, where most gatherings revolved around full and scrumptious meals. More often than not, this results in over-eating, or consumption of high-calorie and unhealthy food. All these could cause stress on the body, causing breakouts - yikes! Grab these detox and vitamins to replenish what you lost from late-night snacking and social drinking.
And then, there is the skincare! For Asian skin types, we often turn towards Asian brands. These brands could be found on Hermo and Althea easily, or on the official sites on Lazada for your online shopping leisure. Alternatively, Sephora also boasts of a great list of mid-range to high-end skincare. No matter what age you are, skincare is important to have great skin in our hot and humid weather. Be sure to moisturize and give that layer of sunscreen this CNY!
For those who go the extra mile, make up is there to conceal any remaining flaws, pores and add a touch of bling to the CNY look. Sephora and Lookfantastic have a list of crowd favourites from brands you might not usually see, including the well-loved UK brand Pixi, or Nyx. Whether you're going for the natural look or the full-on glamour chic, there's an array of items and palettes to get started on. New to makeup and need tips? We suggest going with a good, flattering highlight and contour, which adds depth and dimension to your face. For the eyes, go for a rosy red shade, or opt for natural browns for a soft flattering look. Don't be afraid to try new things this year as well!
Get stuffed on CNY goodies with these awesome F&B deals
With the New Year festivities coming along, you want to make sure that your house has enough food for your guests. Get festive special offers on the ingredients you need for the much-anticipated reunion dinner. There's no faster - and convenient - way to do that than calling grocery delivery services! Need some ideas to get started? Go healthy with organic farm ingredients to put in some needed greens between all the carnivorous cuts, or grab some hot pot materials for a quick and easy meal.
Not to forget, what is CNY without alcohol? Get beers, liqueurs, wine, sake and other alcohols. No matter what kind of guests you are hosting, there's bound to be something for their tastes.
Alternatively, you're an amateur chef and would like some options to fill your table. Getting into the car and driving off to the nearest restaurant might be a possible idea, but another would be to call food delivery! That's right, food delivery services could help you prepare a few a la carte dishes of your choice as you get working on the others at home. With a mix of both homecooked food and restaurant delivery, you are ready for a feast this Lunar New Year!
Also, don't forget to grab some snacks! Dried fruits, biscuits and pineapple tarts are staples not to be missed. They help to keep the guests occupied before the actual meal starts, especially for those who arrived earlier in the day. Plus, they're great munchies to keep you, the host, powering through the day as well!
Travel cheap with ShopBack's special CNY offers
If you're thinking of making use of the long holiday to go on a trip, ShopBack gives you cashback when you travel with our participating merchants. With great discounts on both flight and accommodations, you're off to saving huge bucks on your trip. Before you take off, decide just what sort of traveling do you wish to do?
Looking to unwind and chill, soaking in the sun and the sand? Then check out beach resorts or hotels for your island getaway. Some prime and popular spots include Phuket and Bali. Accorhotels.com boast of a good deal if you're staying in Bangkok, starting from $36.
On the other hand, for people looking to escape from the heat of the Singapore weather, check out cityscapes like Taiwan, Hong Kong, Japan, and Korea, where the ends of Winter still brings snow and a cooling breeze. Throw on a good jacket or coat as you explore the local culture and busy streets. Try heading to someplace new as well - like heading to Kyoto or Nagoya instead of the usual Tokyo, or Busan instead of Seoul. Regardless of where you go, Booking.com, AirAsiaGo, Expedia, Agoda, and Hotels.com all have great spots for you. Take note of these CNY deals are while stock lasts, and you don't want to miss your favourite room when you spent too much time contemplating your schedules.
For the staycation lovers who wish to get away from the bustle of family gathering for some private time with a handful of loved ones, check out our staycation deals on this page. After all, getting away does not have to mean miles of flight from our country. Sometimes, just a change of pace or seeing a new environment is all you need to refresh your mind.
When it comes to flights, several sites and airlines like Zuji, Trip.com, AirFrance, and Singapore Airlines are having Chinese New Year sales. How much of a budget are you looking for? Budget airlines like Scoot would no doubt be a great choice if you prefer more minimalistic options just to save even more. If you have a preferred airline or have a membership for being a frequent flyer, check them out on our site to save even more!
Traveling is a luxurious experience, but with Shopback's cashback, the fees need not be extravagant at all this CNY!
Don't miss out on limited-time-only CNY promotions!
There are more promo deals to be found this year of course! Whether you are looking for items to spruce up your home, like furniture and decor, or resources like Ang Bao (red packets), the best way to discover them is through online marketplaces. Qoo10, Taobao, AliExpress, Shopee and more, find CNY promos abound as you roam for your shopping list.
On that note, it's best to start off having a clear list of what you are looking for! Are you on the search for a large, replacement furniture, such as a new couch or bookshelf? Then better act on it earlier as it takes more time to have them shipped and then for you to assemble it by the time Chinese New Year rolls around. If you're looking for decorations like lanterns, spring flowers and more, jot them down and try to visualize how you want to turn your living space into.
The best part about marketplaces is that you can purchase a large variety of items across different categories. If you can't find a particular shirt or a lipstick color of your favourite makeup brand on the official sites, try your luck here! Keep an eye out for the fabulous CNY events that would take place, on top of these glorious flash deals and festive promos. Clear out your shopping list on a single site or across several, as you will still get cashback whenever you shop via ShopBack!
Cart up, compare prices, and place your orders now! Next, just wait as they get delivered right to your doorsteps. Shopping has never been so easy.
Happy CNY shopping!
Lunar New Year preparations can easily be a source of stress if no planning is involved, so always prepare ahead just in case. With so many Chinese New Year promotions this 2018, you can expect to save a few bucks here and there, accumulating into something more, all the while getting your checklist done! Whether you're traveling overseas or partying hard this CNY, be sure to have a blast and catch up with your loved ones. After all, that's what festivals and celebrations are about - having fun!
Be sure to bookmark this page to catch an updated promo codes and discounts, and get cashback whenever you shop!