CatchThatBus is a popular online travel portal for bus travel and commute in Singapore and Malaysia. The company provides ticketing solutions for express buses and bus chartering. This website is a one-stop solution for all your needs such as information, reviews and tickets to travel in Singapore and Malaysia. You can browse various options and book tickets from trusted operators to more than 500 destinations. The company aims to give their travellers an excellent travel experience through technology and superior operational services. Booking your bus tickets through this website will save you from all the inconvenience in how tickets are actually purchased in Singapore. Customers can use their CatchThatBus coupons to travel at rock-bottom prices. You can also download the app that is available in Android and iOS. So, book your bus tickets at CatchThatBus, select your preferred operator and enjoy seamless bus travels comfortably and delightfully.
History and Salient Features of CatchThatBus
CatchThatBus was established in 2012 by Viren Doshi and Ashwin Jeyapalasingam. Doshi has served as a former strategy consultant for a travel company. He has also worked for Siemens, where he developed technology solutions for major carriers across EMEA. Jeyapalasingam, on the other hand, is highly experienced in IT and procurement consulting. The founders set up the company from their own savings. Gradually, they received grants and seed funding, which helped the business to spread beyond Malaysia.
Some of the important features of CatchThatBus are:
You are spared from the hassle of queuing as you can purchase the tickets online from the comforts of your home.

You get to select your own seat.

You can choose from a wide range of bus operators.

You can avail discounts while purchasing the tickets.

Avoid ticket touts at bus terminals.

You can make payments through a secure payment system and through multiple methods.
Services Offered by CatchThatBus
CatchThatBus aims to make your bus travel easy and comfortable. The services offered are not only high grade, but also convenient for travellers who have to travel every day. The website enables customers to select an operator of their choice and also a price range to suit their budget. Some of the popular operators offered by the CatchThatBus website are Transnasional, Nice Executive Coach, Nice Imperial Coach, Starmart Express, Plusliner etc. Some of the routes offered in Singapore are Singapore (Woodlands), Singapore (Plaza beach Road), Singapore (Resort World Sentosa), Singapore (Boon Lay) and Singapore (City Plaza).
Apart from the website, you can book your bus tickets using the CatchThatBus app. Popular operators and bus routes offered by CatchThatBus are given in the table below.
| Ticket Booking Services | Popular Operators |
| --- | --- |
| Bus | CitiExchange Express & Services |
| | KKKL Singapore |
| | Konsortium Singapore |
| | Lapan Lapan Travel |
| | Luxury Coach Service |
| | Malacca Singapore Express |
| | Nam Ho Travel |
| | Qistna Express |
| | S&S International Express |
| | Starmart Express |
| | Superior Coach |
| | Transtar Travel |
| | Un Express & Travel |
| | WTS Travel Pte Ltd |
| Ticket Booking Services | Popular Bus Routes from Singapore |
| --- | --- |
| Bus | Singapore to Kuala Lumpur |
| | Singapore to Melaka |
| | Singapore to Seremban |
| | Singapore to Ipoh |
| | Singapore to Taiping |
| | Singapore to Mersing |
| | Singapore to Klang |
| | Singapore to Genting Highlands |
| | Singapore to Kampar |
| | Singapore to Kuantan |
| | |
How to Book Bus Tickets on the CatchThatBus Website?
Booking bus tickets on the CatchThatBus website is simple and quick. In the homepage, select a language of your choice by clicking on the required option. Customers in Singapore must select the currency to Singapore Dollars (SGD). Information about CatchThatBus promotions is displayed on the homepage.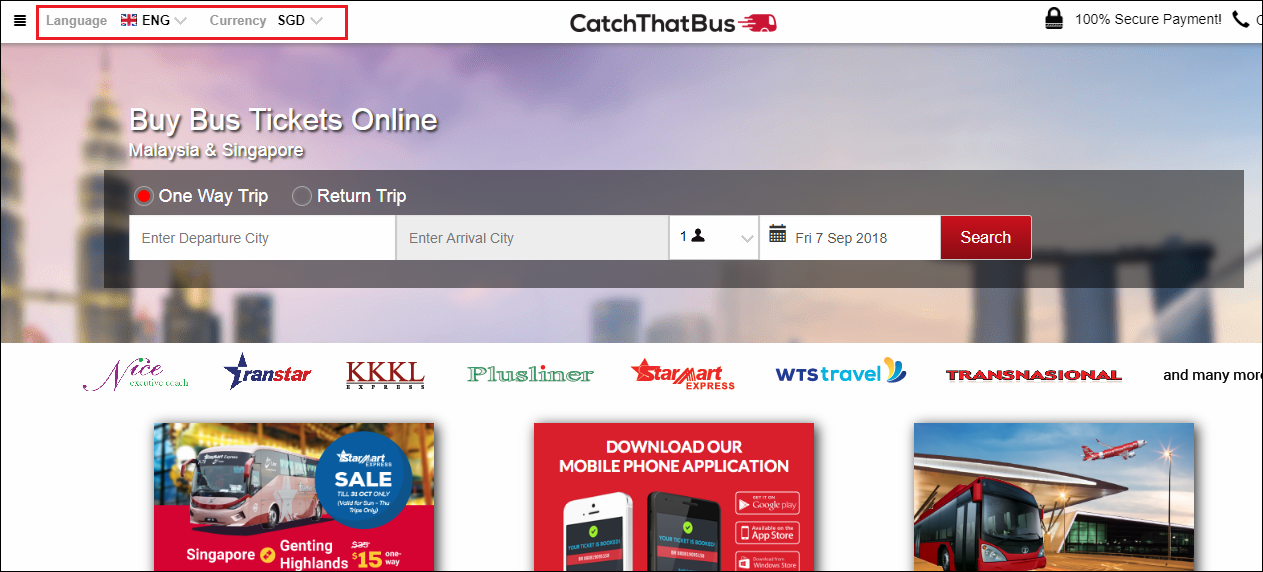 Here is the process involved in booking your tickets online on the CatchThatBus website. In the 'Buy Bus Tickets Online box, click on an option to indicate whether you wish to book tickets for a one-way trip or a return trip. Enter or select the information in the fields provided.
Enter Departure City - Select or enter the city name where you wish to board the bus.

Enter Arrival City - Select the destination location.

No. of travellers - Select the number of people that you wish to book the tickets for.

Travel Date - Select a date of travel in the calendar.

Return Date - Select the return date in the calendar. The 'Return Date box is not available for one way trips.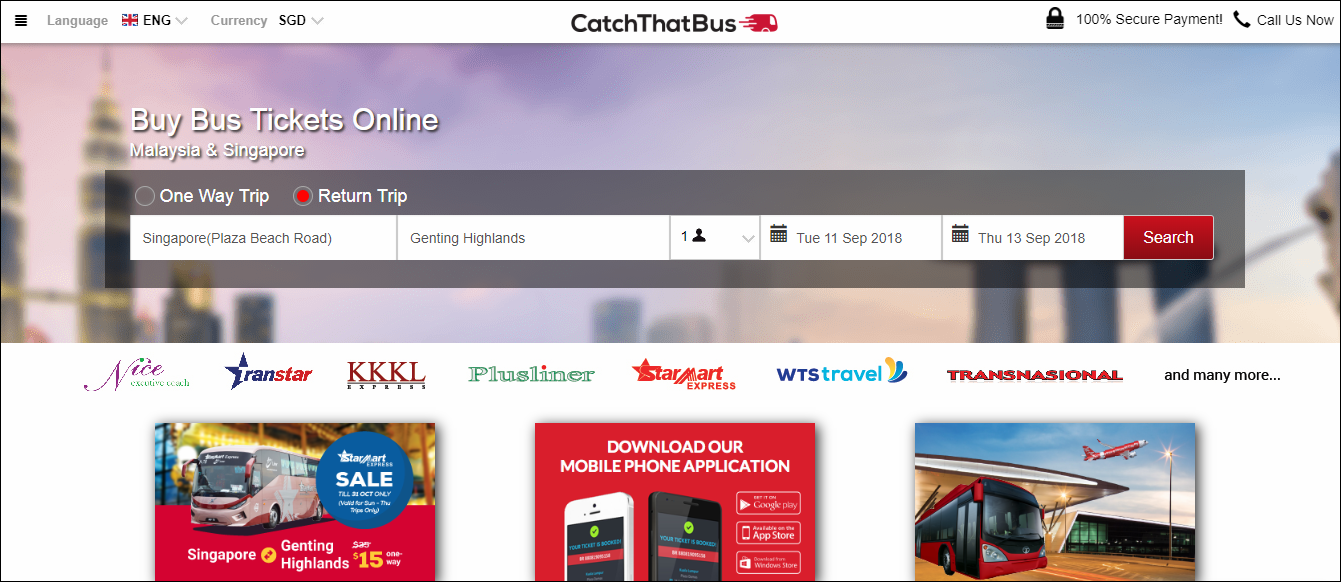 After entering the necessary information in the boxes provided, click the "Search" button. A list of all the available trips offered by various operators is displayed on the screen. Click the "Select" button to select your preferred trip.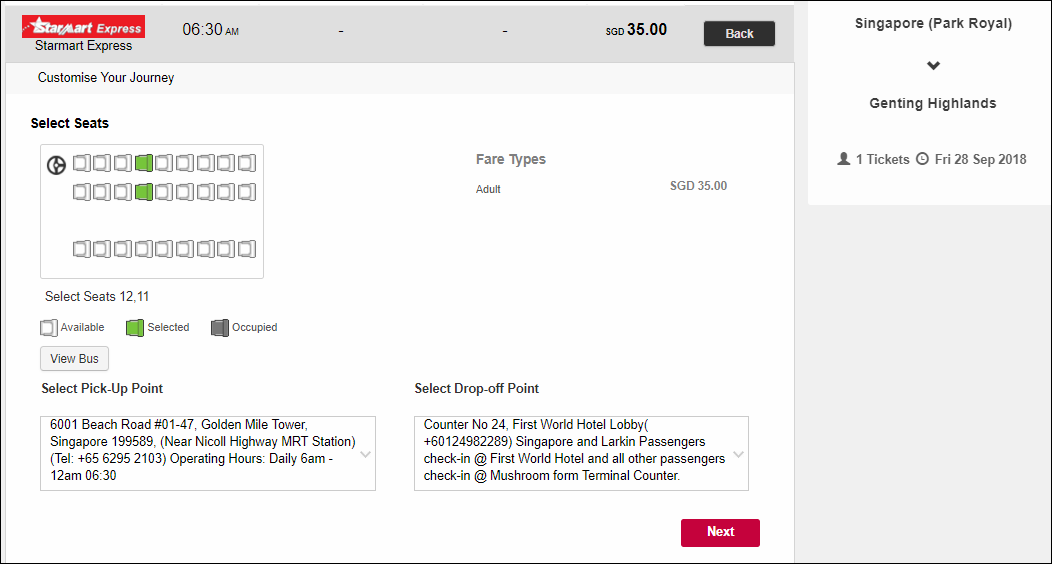 In the next page, select seats, pick-up and drop-off points, and click the "Next" button.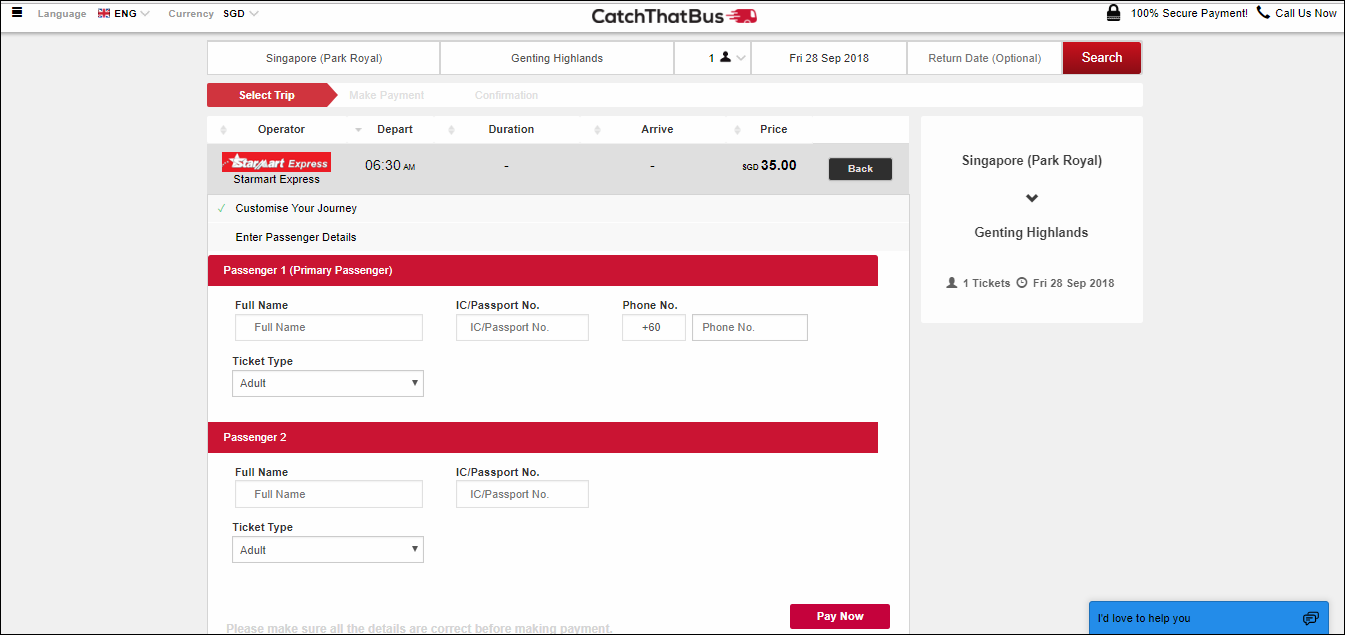 In the Payment Details page, check your booking summary and then proceed with the payment. If you have a CatchThatBus promo code or CatchThatBus discount code, click on the 'Got a promo code option, enter the code and click the "Apply" button to avail discounts. Complete the payment process to confirm your booking and receive a confirmation email with the tickets attached. You will have to take a printout of the tickets and show it to the bus operator at the bus terminal.
To charter a bus, click here and enter the necessary details in the form. A sales consultant will contact you before processing your request. The company gives you the option to choose a bus based on your requirements. For bus chartering, you cannot pay online. Payments can be done via cheque or net banking.
Payment Options on CatchThatBus
CatchThatBus offers a quick, convenient and highly secure payment system. You can pay for your tickets on the website using VISA, Mastercard and American Express debit and credit cards. Your credit and debit card details entered on the website are safeguarded through Secure Sockets Layer. The details that you enter in the Payment Details page are encrypted by SSL to avoid online fraud on the website.
Different Coupon Codes and Discounts on CatchThatBus
Booking bus tickets on CatchThatBus website is quick, convenient and affordable. Customers can use CatchThatBus promo codes and other CatchThatBus codes that are available on the website from time to time to avail discounts and save money. Several other websites like Shopback offers cashback schemes and promo codes to customers who book bus tickets on the CatchThatBus website.
How to Book Services on CatchThatBus using ShopBack
Customers can avail of 3.5% cashback by booking their bus tickets on the CatchThatBus website via a registered account on Shopback. Customers can also find CatchThatBus promo codes on the Shopback website from time to time. To book your tickets on CatchThatBus website through Shopback, follow the procedure given below.
Step 1
: Visit the ShopBack website and select CatchThatBus from the list of merchants and brands on the homepage. You can also use the search box to find the link to the CatchThatBus website.
Step 2
: Read important information such as cashback details, tips to ensure cashback, and terms and conditions.
Step 3
: Read information given in the "CatchThatBus Promo Codes 2018 + Cashback" section to avail more deals and discounts.
Step 4
: Click on the Activate Cashback button. You will be redirected to the CatchThatBus website to browse and book your tickets.
Confirm your booking to earn cashback from Shopback.
CatchThatBus s Terms Regarding Tickets, Refunds, Trip Cancellation and Disruptions
Here are some terms and conditions regarding tickets, refunds, trip cancellation and disruptions.
An email willl be send to customer upon booking Of ticket. However, ontact their customer service by dialling +60392121818 between 9am to 8pm or emailing at [email protected] if no email was received.

In the event of cancellation, refer to the terms and conditions on the ticket for refund details.

There will be no refund in the event of missing the bus and customer will have to book new ticket for the next available bus.

Customer have to inform the company within 24 hours for any amendments. Please take note addtional charges are subjected to bus operators.

Kindly contact the bus operator if the bus is late or have not turn up.

Please note that CatchThatBus is just a ticketing agent and it does not own buses nor operation of the buses.
CatchThatBus Customer Service
For any doubts and queries regarding the ticket booking process, you can contact their customer service by dialling +60 392121818 between 9am to 8pm or emailing at [email protected]
Connect with CatchThatBus: