We're sick of the pervasive mindset that singles who love doing things alone are sad. So we would like to make a PSA for all single people: You're good. Spending time with friends is absolutely necessary, but so is some good ol' solid me-time. If you feel like going for a coffee and enjoy your own company, by all means, go ahead.
If you're single, here's us tipping our hat to you. And oh, a list of 10 cheap and unique activities and things to do alone you don't need a better half to enjoy.
1. Go museum hopping
Singapore may not have many natural attractions, but we do have tons of cool gardens, museums and exhibitions. Where do we begin? There's Gillman Barracks, the National Gallery Singapore, ArtScience Museum, Singapore Art Museum (SAM) and countless more. Just think about it. An admission ticket will cost you less than a boring movie date with a regrettable Tinder swipe.
2. Watch a movie the cool way
Looking for an alternative movie experience? There are a ton of cool theatres in Singapore you can enjoy a film in, sans the cheesy pre-movie ads. The Projector screens everything from International films to cult favourites, and is one of those places everyone should experience by themselves at least once in their lives. The Arts House also does regular screenings, along with other venues like The Screening Room and The Substation.
Read more: The Best Unconventional Cinemas in Singapore For A Unique Movie Experience
3. Shop online and treat yo' self
The best part of being single? Having more money to spend on yourself! Yes, that's it, shopping therapy.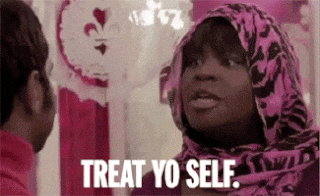 You can either hit Orchard road or do it online with us here at Shopback. Ready your wallets this Yes!Fest and enjoy the best shopping deals online during Singles' Day, Black Friday, Cyber Monday and 12.12!
Download ShopBack's browser extension to be notified when cashback is available in the store you are browsing on and activate directly from your browser tab.
4. Travel back in time with the old charms of Pulau Ubin
A cheap 10-minute boat ride from Changi Ferry Dock, Pulau Ubin is one of those last few places in Singapore that can bring you back in time to then simpler Kampung days. You could rent a bike and head to the Chek Jaya Wetlands or explore the mangroves and climb the lookout tower.
Read more: Islands Around Singapore: What to Do on Coney Island, Lazarus & more
5. Stargaze at the Science Centre Observatory
Stars? What stars? Yes, we know Singapore isn't exactly a stargazing haven, but the Science Centre Observatory is one place that allows us to catch a good glimpse of our shrouded stars. The best part is you can do so for free!
Located at Jurong Town Hall, the Science Centre Observatory is open every Friday from 7.45-10pm. Bring a notebook, pen, some good music, and you could very well turn this into an inspired journaling session. Or, just take your mind out of things and stare at the diamonds in the sky.
6. Help out at an animal shelter
We all know that with cat cafes in Singapore, you're basically paying to sit down, touch one cat, and then have the cafe's ten other kitties avoid you like the plague. If you love animals, why not make a real difference by helping out at an animal shelter? SOSD, SPCA, and the Animal Lovers League are just a few of the many organisations that need your help.
Read more: Be An Animal Shelter Volunteer And Help Animals Who Have It Ruff!
7. Go thrift shopping at the Salvation Army
The Salvation Army owns five thrift stores across Singapore and sells everything from furniture to formal wear. Buying preloved goods from the Salvation Army also means that your money goes to supporting meaningful causes and that you're helping to reduce waste. It's a win for all!
Read more: Thrift Shops in Singapore: Where to Shop, Donate & Make a Difference!
8. Enjoy a theatrical dinner
It's time to do away with boring meals. At AndSoForth's mysterious theatrical dinners, the dinner venue is kept secret till the day of the dinner, and guests will be provided clues on how to get to their 4-course dinner, where an interactive performance and gastronomical experience will await you.
9. Sing to a crowd at an open mic event
With the music scene in Singapore rising quickly, it's little wonder there's been a spike in open mic events all across the city. All you need is some beer and a little guts, and we're sure you'll be making friends before the night is over. Worst case scenario: slinking away quietly after a bad performance.
The Diarist Sessions hosts an open mic every first Tuesday of the month
Barber Shop by Timbre does a blues jam every Saturday
The Beast welcomes jammers every Thursday.
Read more: 6 Best Karaoke Places In Singapore That'll Make You Want To Sing K Now!
10. Unleash your inner Picasso at an Art Jam
If crowds and live music aren't really your thing, there are countless studios in Singapore that organise regular art jams. It's time to fuel your creativity at one of Singapore's many art studios, including My Art Space, Arteastiq and many more.
Read more: 9 Art Jamming Studios In Singapore To Release Your Inner Picasso!
11. Pick up a new skill at a workshop
Being single means having more time to pick up new skills. That's right, now's the time to enrol in that pottery class, leather crafting workshop, or calligraphy lesson. Public Garden and Naiise have a wide range of classes on their online workshop schedules, so we're sure you'll be spoilt for choice.
Read more:
Alright! We believe your weekend should be pretty set with our list of unique activities. Know of any other cool activities that can be done alone other than what you've read? Tell us in the comments below. Till your better half comes along, here's a toast to all the #SingleAndHappy people out there. C'est La Vie!
Recent posts