I grew up knowing that Saturdays were the official cleaning day around the house. Mom said so. Everybody must be present, everybody must work for the cause. In my household, we soon learnt that the fastest we could complete the tasks assigned, the sooner we would be free to enjoy our weekend freedom. Still, we would spend a good couple of hours sweeping, washing, organising…
Image credit: Giphy.com
We all love a clean house but I have yet to know a person that actually loves being the one to clean it. Although this is an unavoidable task (unless you have a helper to do it for you), there are ways to make this task less strenuous. And that's why robot vacuums became so popular.
With so many different models out there now, it isn't easy to make a choice. Worry not, we did all the research so you can easily pick the best one to fit your needs.
---
Is it worth it to have a robot vacuum?
There are several benefits that this piece of technology will bring you. Among them:
Autonomy – robot vacuums will clean without needing your constant supervision or assistance. They are equipped with lasers, sensors and WiFI connectivity that allows them to navigate space. With their own charging docks, they keep recharging and functioning consistently.
Time-saving – they can save you anywhere from minutes to hours by doing the vacuuming for you. Set a cleaning schedule and they will clean even when you're out of the house.
Effectiveness – geared with filters, brushes and advance suction features, they are as effective as regular vacuum cleaners. They are compact and won't take much space in your home.
Connectivity – most vacuum models can be controlled remotely via an app and even be connected to your smart home devices.
It is a big plus for people with pets at home or suffering from allergies – not everybody can afford the time to vacuum the house every day. Having a robot doing it for you, helps you having the floors free of dust and hairs consistently.
---
Buying a vacuum? Here's what you should look out for.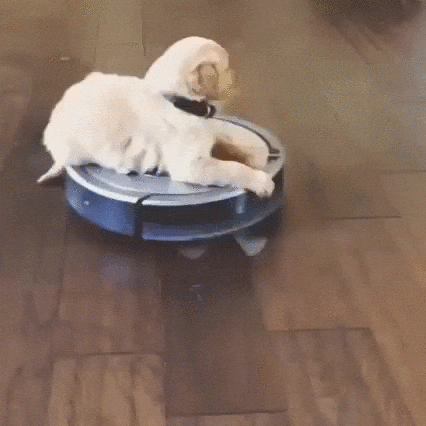 Image credit: Giphy.com
With so many choices in the market, it might be hard to distinguish what is the best robot vacuum for you at first. Here is what you should be looking out for:
How long the battery lasts so you can confirm it will clean the entirety of your home without running low on battery.
How the navigation and setup of the vacuum works.
Confirm if its sensors can recognise obstacles. For example, can it go over a carpet? Does it recognise ledges and steps and stops accordingly?
Waste bin size – smaller waste bin means you need to empty it more often.
If it supports Bluetooth or WiFi and, if it has an app, how is its usability.
You can look for reviews and videos online to confirm all these details. If you don't find the info you need online, head over to a store and ask one of the store assistants. Chances are they will demo the product for you.
---
Top robot vacuum models
A robot vacuum is usually higher in price than a traditional vacuum (unless you are getting a high-end Dyson model). The models listed here range from under $199 to $1299.
(Scroll to the side to see all options in the table.)
| PRODUCT | Xiaomi Mi Robot Vacuum Cleaner 2 | iRobot Roomba 980 | Philips SmartPro Active Robot Vacuum Cleaner | Neato Botvac D7 Connected | Ecovacs Deebot N79S Robotic Vacuum Cleaner | Eufy Robo Vac 11 | Shark ION Robot 750 | Samsung POWERbot Star Wars | Roborock Xiaowa E20 |
| --- | --- | --- | --- | --- | --- | --- | --- | --- | --- |
| Best for | Best value, most features for price. | Thorough cleaning on different surfaces. | Speedy and automated cleaning. | Great connectivity and easy smart home integration. | Easy to use and connection to Amazon Echo. | Effective cleaning on a budget. | Quiet cleaning. | Original design and strong performance. | Cheapest with effective cleaning. |
| Mop & vacuum | Yes | _ | Yes | _ | _ | _ | _ | _ | Yes |
| Scheduling | Yes | Yes | Yes | Yes | Yes | Yes | Yes | Yes | Yes |
| Virtual walls | Yes | Yes | Yes | Yes | Yes | _ | _ | _ | _ |
| Remote control | _ | _ | Yes | _ | _ | Yes | _ | _ | _ |
| Mobile app | Yes | Yes | _ | Yes | Yes | _ | Yes | Yes | Yes |
| Avg Price | from $349 | from $1195 | from $699 | from $1299 | from $695 | from $199 | from $230 | from $1057 | from $199 |
Let's look in detail at a few popular models in the market right now.
---
1. Xiaomi Mi Robot Vacuum Cleaner 2
The second generation of the Xiaomi Mi Robot Vacuum is a strong choice due to its multiple features and for the affordable price. This robot vacuum comes with a Hepa filter and a strong navigation system that maps the area to clean efficiently while avoiding obstacles. It can climb carpets and its strong suction does a good job cleaning them. Also comes with mopping feature and battery that last 2.5h and can be controlled via an app.
2. iRobot Roomba 980
The iRobot Roomba is on the high end, high quality of the robot vacuum spectrum. And, it comes with a price to match. What does the potent 980 model offer? A good navigation system that recognises carpets and adjusts to higher suction when vacuuming them, along with a 2h battery life.
3. Philips SmartPro Active Robot Vacuum Cleaner
The Philips SmartPro Active is a mid-range robot and it does a good job both vacuuming and mopping. It comes with virtual wall and scheduling functions but it doesn't have as many smart functions as other models.
4. Neato Botvac D7 Connected
The Neato model is the "atas" robot vacuum on our list and a favourite brand for many for its quality. This Botvac D7s model shows great performance on navigation and deep cleaning. It comes with an app that allows you to create virtual walls and determined exactly which areas you want to clean. It also allows you to connect the vacuum device with Amazon Alexa and Google Home, or even use IFTTT or Neato Chatbot for Facebook.
5. Ecovacs Deebot N79S Robotic Vacuum Cleaner
The Ecovacs Deebot N79S is a mid-range, easy to use vacuum that can be connected with Amazon Echo and Google Assistant. Although it is not the strongest contestant when it comes to cleaning, it does have good connectivity features.
6. Eufy RoboVac 11
The Eufy Robovac 11 is one of the cheapest options in the list. The low price means that it doesn't have as many features as other models, such an app or all the smart components but it does clean well and can be controlled via a remote.
7. Shark ION Robot 750
The Shark ION is also a budget-friendly option that offers an app to program and monitor it from anywhere. It does have a nice and compact design and is fairly quiet but it is not as strong as cleaning as other options. It has some difficulties climbing thicker rugs and carpets.
8. Samsung POWERbot Star Wars
Are you a Star Wars fan? Get a robot vacuum with a bit of flair. This Samsung POWERbot™ VR7000 will make quite an impression and comes equipped with all the features you need: navigation intelligence, scheduling via an app and cleaning optimisation for different surfaces.
You can find this model in Qoo10. I bet you didn't know you could have a Storm Trooper cleaning your home!
9. Roborock Xiaowa E20
Here is another and more affordable mop-and-vacuum robot combo from Xiaomi. The biggest difference from the model shown above? This comes with a thumb controller for its remote. The mapping and navigation capabilities are similar to the ones from their big brothers. Expect a basic but effective vacuum.
Where to buy robot vacuums online:
Lazada: Good offers and variety of models. You will often find lower prices than offline retail stores.
Shopee: Offers plenty of brands and some at very attractive prices.
AliExpress: Good offers and selection of products mostly on Chinese brands, like Xiaomi.
Qoo10: You can find some very good deals on Qoo10, but it takes some research.
---
Before you start shopping, know that you can get up to $82 cashback with ShopBack's Tic-Tac-GO
Chalk up more savings (on top of your usual Cashback) as you complete ShopBack's Tic-Tac-GO game, exclusively with UOB Visa Cards!
How to play:
1. Link your UOB Visa Card on the ShopBack app to receive S$2 cashback
2. Complete one row (3 tiles across) to receive an additional S$10 cashback on top of cashback earned from the merchant
3. Complete entire ShopBack's Tic-Tac-GO to receive a total of S$80 cashback
Marta Gaspar
Marta is a content crafter at ShopBack. She reads in her free time and spends her money on travel and frozen yoghurt. She will also exchange travel advice for free coffee.
Recent posts
Related Posts
ShopBack Stores in Other Countries