Ma La Xiang Guo: what was a novelty dish a few years back is now a familiar staple food on almost every hawker centre across Singapore. This favourite Sichuan dish appeals to all that love spicy food, the hungry ones that need a sizeable flavourful meal, the ones who like sharing meals and even to vegetarians. We dare to say, Ma La is almost as addicting as "crack pie".
The Ma La Xiang Guo appeal lies in its fresh ingredients and in its super spicy sauce. It is said that the best Mala sauce is one that is handmade with around 20 different types of herbs and spices (Chillies galore!). The tongue-numbing effect experienced after having Ma La is caused by the use of Sichuan peppercorns. Yes, this is not a dish for weaklings.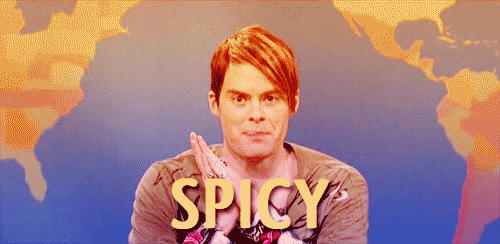 If Ma La is something you crave often, we're right there with you. Most likely, we share the same challenge: Ma La is not the cheapest lunch option and often busts the monthly food budget. So, how to get a delicious fiery Ma La dish that doesn't cost too much? We will share our tips below.
On the contrary, if you are not convinced about trying Ma La or feel intimidated by the number of red chillies you usually see on a Ma La bowl, this article is also for you. We will tell you what to expect, how to order, how much you should be spending and where you can go to find the most popular Ma La Xiang Guo across the island.
How to order Ma La Xiang Guo
Ordering Ma La is a no-brainer. Similar to Yong Tau Foo, the ingredients are displayed on refrigerated shelves and, in most of the places, you can serve yourself with whatever ingredients are available. In some other eateries, there will be someone to fill up the tray for you. In both cases, you control the ingredients that will go into your dish.
Take a tray and choose your ingredients.
Take your tray to the server and let them know if you want soup or dry. If you want rice on the side, now it is the time to order it.
Indicate how spicy you want your Ma La to be. Levels of spiciness: xiao la (less spicy), Zhong la (medium spicy), Da la ('carry an extinguisher because it's about to get hot' kind of spicy).
Pay and wait for your meal to be cooked.
It only takes a few minutes to prepare the dish. If you 'cannot tahan' too much spice, don't try to be bold and order da la. Stick to xiao la and get a milky drink to help you cope the chillies burning effect.
Choosing the ingredients like a Pro
There are few places in Singapore that offer a non-spicy Ma La but, c'mon… The secret of Ma La's flavour is in the sauce, and the sauce is meant to be spicy. 'Non-spicy' is the death of Mala. If you prefer to eat non-spicy, it will be safer to stick to Yong Tau Foo.
Do you know what to order? Here are some of the popular combinations for Ma La Xiang Guo:
"I have a few (favourite ingredients)! The bean curd skin, noodles, cabbage, bacon, seaweed. I can't resist luncheon meat too, but I always regret!" – Karen
Popular opinion is that the basic ingredients in any Ma La dish are 1 meat (pork is a favourite, but chicken comes at a close second place), 2 or 3 veggies (Chinese spinach, cabbage and kai lan), and 1 tofu.
A simple meal for 2 people can include 2 portions of luncheon meat, 2 chicken meat, 1 golden mushroom, 1 tofu plus 2 Maggie noodle.
A more expensive but tastier popular choice for an individual portion includes 1 meat and 1 seafood, with 1 leafy vegetable, lotus root, black fungus, beancurd skin, enoki mushrooms and Maggi Mee. This is a flavour-packed meal that will keep you full for hours.
From a vegetarian's perspective, here is a winner combination:
"For me, mushrooms, Eggplant, Brocolli are the main ingredients. The rest are Ladies Finger and the peas." – Akhil
Some ingredients add more flavour to the dish and among the top favourites are luncheon meat and Lap Cheong (Chinese sausage). We know that they aren't the healthiest choice but the tasty meaty flavour they add makes it hard to resist them.
"I always get black fungus, pork or beef because I don't like chicken, a small vegetable, bean sprouts, lotus root and a bowl of rice. But I always feel like I over order." – Georgia
Why is adding a side of rice important? Rice fills you up, it is cheap and will help you with the burning from the sauce.
The special touch: The crunchy peanuts and the chopped coriander add that finishing touch to the dish. In case you are allergic to peanuts make that very clear when you are ordering mala.
"You know, I only add the broccoli to feel like I'm eating healthy. Nobody actually loves broccoli." – Jake
Pro tip from the community: If you want to reduce cost and you are eating by yourself, don't order too many veggies with your Ma La. Vegetables tend to be on the pricier side and will add to your final bill.
---
How much will you spend?
Charging a fixed price per dish is not the norm for Ma La Xiang Guo restaurants. Since the dish varies depending on the ingredients you choose, you will find 2 types of pricing at Ma La stalls.
Fixed price by each portion of ingredients: Prices vary depending on the ingredients.
Price by weight: have a fixed rate for each 100g of each ingredient. Obviously, premium ingredients will have a higher price/100g.
So, how much can you expect to spend on a regular Ma La Xiang Guo meal? A reasonable, acceptable price for a Mala dish would be $8 to $10 per bowl for 1 person. Anything above that is considered to be on the pricier side. Anything below $8 is considered affordable to cheap.
For a tastier, more filling Ma La (or in case you really need proper sustenance), you can expect to spend around $15. In some of the places listed below, you can find a delicious Ma La bowl enough for 2 people for $15/16.
Average price list of the ingredients:
Vegetables – $1
Meat and premium vegetables – $2
Seafood – $3
Total prices are harder to calculate whenever the restaurant charges by weight. Usually, the price scheme is very similar to the one above, but the final price per serving will vary depending on the quantity and weight of each ingredient. In this case, prices of meat vary between $2 and $3 per each 100g serving.
---
The Ma La Diaries: Can we keep within budget?
We decided to test different Ma La places and see how much we would spend on average. As our first stop, we headed to Sengkang Kopitiam for dinner to try their two Ma La stalls: a Ma La Xiang Guo and a Ma La Hotpot. We got one individual portion from each stall and both stalls met the mark in terms of flavour. In terms of price, we got carried away.
Both stalls charge based on weight, and none of us managed to keep it under $8. After a long day of work, we were famished and ordered a bigger portion. Both places charged an average of $2.30 per 100g of meat and premium vegetables and $0.90 per 100g of regular vegetables. We chose sizeable portions for each ingredient, and that added to the total price. Could we have spent less?  Yes, we could. See below how we could have cut the cost.
---
How to eat Ma La without spending too much? Tips to order a satisfying Ma La below $15
Ma La Xiang Guo connoisseurs will tell it is difficult to keep the price at $15 and still get a decent-sized and satisfying meal for two. We say it is possible. Based on our previous experience, here are some top tips to follow:
Check the prices for each ingredient before putting them on your tray. Are you getting charged by weight? Watch your portions. Are you getting too many "premium vegetables? Look for cheaper options.
Don't over order. Since you choose the ingredients, it is easy to let yourself get carried away by all the delicious food in front of you and keep filling up the tray to the brim. Don't! Fight the urge and keep it to 5 ingredients.
Avoid "empty" ingredients. For example, capsicum or celery are great for taste, but they aren't that nourishing and are usually charged as premium vegetables. If the goal is to keep it affordable and wholesome, avoid these type of ingredients.
Share the 'Ma La love'. Get one or two buddies to dine with you and order one bowl for everyone to share. Get a side of rice (usually cost $0.50) or add extra Maggi to your dish and the entire thing will turn out to be cheaper but equally filling.
A basic strategy to keep Ma La for one person within budget is to only to add 2 vegetables, some kind of carb (potatoes are an excellent choice but Maggi mee is cheaper) and one tasty meat such as pork belly. This is a balanced and cheap combination for a quick dinner meal.
Is Ma La healthy?
If you are concerned about calories, any healthy meal depends on the portion you choose to have. Moderation is the key to health so some will argue that there are no unhealthy meals, just unhealthy portions. If you control your portion and choose quality ingredients for your Ma La, you don't have to worry.
Now, if your concern is calories and the fat content, know that our beloved Ma La Xiang Guo is not that high in calories, but it packs a high-fat percentage. You can blame it on the sauce. You average Ma La can contain up to 6g of fat per each 100g, depending on the ingredients in the dish.
Can I eat Ma La if I'm on a keto diet?
Some say Ma La is a good option for everyone following a ketogenic diet. Ma La is high in fat, and you can control how much protein you want to include. If you do your best to choose ingredients with lower carbohydrates, you will have a satisfying meal made of fat and protein with a side of peanuts. No rice or noodles for you, though.
If you are a keto diet follower and have no choice but to eat out, Mala is a good option for you. You know the drill, count your macros, choose your ingredients wisely, and you will have a balanced meal.
Pro tip: MyFitnessPal app will help you log your food and will help you keep track of your macros.
---
Ma La DIY: another option of eating a "value for money" Ma La
Cooking Ma La at home is not complicated. If we narrow it down to its purest form, Ma La is basically a stir-fry with a special sauce. You don't need to be an accomplished chef to make your own if you buy the readymade Ma La sauce. The sauce is inexpensive and you will be saving some money if you buy the ingredients and decided to cook them at home. All you need is a big frying pan.
Where to find Ma La sauce in Singapore
1.Yue Hwa Department store carries it, and it is a sure place to find stock of it. Prices average $3 for each packet.
Address: Several Locations. Chinatown location: 70 Eu Tong Sen Street Singapore 059805
Tel: (65) 6538 4222 (Department Store)
Operation hours for Chinatown: 11am – 9pm (Sun-Fri) / 11am – 10pm (Sat)
2. Redmart sells Chuan Wei Wang Hot And Spicy Stir-Fry Mala Pot – Ma La Xiang Guo Seasoning for $2.65 per pack.
3. Taobao also offers several brands ranging from $2 to $3 per packet.
4. Qoo10 offers an exciting Bundle Deal – Instant mala spicy sour glass noodles/ hot noodles/ spicy mala mee hun kueh dry noodle for $24.65.
5. At Amazon, you can get a pack of 3 for $9.74.
Cook You Own: Recipe for dry Ma La Xiang Guo

Get your favourite ingredients at any supermarket or wet market. The portions indicated below are enough for 2 people.
Ingredients
1 Bag Bean Curd Skins ( These are $3 at the Asian market)
2 Chinese Eggplants
1 Large Bag Bok Choi
1 Pack of Enoki Mushrooms
100g of sliced pork or chicken
Check if you have any vegetable leftovers on your fridge and add those as well.
2 to 3 garlic heads
Chilli and salt as per taste
1 packet of Ma La sauce
How to cook it?
Wash and cut all the ingredients
Blanch the veggies first.
Heat up the pot with a bit of oil and saute the garlic and chilli till fragrant.
Add the sauce into the frying pan
Add the ingredients in. Start with the meat. Follow with the veggies.
Stir fry in high flame for up to 5 to 10 mins. Cooking time differs depending on the type of vegetables.
Top it up with peanuts and fresh coriander.
Option to serve with white rice.
---
Ma La places to try in Singapore (as recommended by the community)
Still not convinced to cook your own Ma La? That is ok, you can eat Ma La Xiang Guo all over Singapore. Check here our suggested Ma La Xiang Guo and Hotpot eateries.
1. Food gallery at T1 Changi Airport Changi Airport T2
Why is this place good? Picture this, you went on a months-long exchange to Europe or the US. You have been craving good Asian food for weeks and, after a tiring long-haul flight, all you want it is to fill your stomach with local food. You don't have to go far to curb your cravings.
Spiciness rating – ??
Price rating -??
Overall rating – ⭐️ ⭐️
Address: Staff Canteen by Kopitiam, Level 3, Departure Lounge (Central), Transit Area, T1 Changi Airport Changi Airport
Opening hours: 24 Hours
Tel: 62141387
Spiciness rating -??
Price rating -???
Overall rating -⭐️⭐️
Address: 313 Orchard Road, #05-01/02/03 [email protected] Food Republic Stall 20, Singapore 238895
Opening Hours: 8am to 10pm (Mondays to Thursdays), 8am to 11pm (Fridays to Sundays); at Katong I12, 10am to 10pm (Sundays to Thursdays), 10am to 11pm (Fridays & Saturdays
Tel:+65 65096643
3. RI RI Hong at People's Park, Chinatown
Spiciness rating -??
Price rating -?
Overall rating -⭐️⭐️⭐️
Address: People's Park Food Centre, 32 New Market Road #01-1042 & #01-1052 Singapore 050032
Opening Hours: 11am to 9pm daily
4. Tian Tian Xiang Shang, Pasir Ris Hawker Centre
If you are looking for an affordable Ma La in a place that can accommodate a large group, this is the place.
Spiciness rating -??
Price rating -?
Overall rating -⭐️⭐️
Address: Tian Tian Xiang Shang, 110 Pasir Ris Central, Pasir Ris Central Hawker Centre #02-21, Singapore 519641
Opening times: 1am to 9pm daily except on Mondays
Tel: 8298 8511
5. Mala Xiang Guo at Clementi
Spiciness rating -??
Price rating -??
Overall rating -⭐️⭐️
Address: 443 Clementi Avenue 3, Food Pavilion, Singapore 120443
Opening hours: Daily 11:30am to 11pm
6. Fat Bird Ma La Buffet

Fat Bird serves a unique Ma La buffet which comes with free-flow iced tea and white rice. Located at [email protected], this ia a real 'value-for-money' meal.
Spiciness rating -??
Price rating -?? ?
Overall rating -⭐️⭐️⭐️
Address: 11 Bedok North Street 1, #01-24, Heartbeat @ Bedok, Singapore 469662
Opening hours: Daily 10:30am to 12am.Buffet hours: Daily 12pm to 4pm, 9pm to 11:15pm.
Buffet prices: Mon to Thur $14.80++ for adults, $9.90++ for children, Fri-Sun, eve of & PH $17.90++ for adults, $9.90++ for children.
Tel: 6284 0473 Website https://www.facebook.com/fatbird.sg/
7. The Kitchen, Star Vista Food Court
Spiciness rating -???
Price rating -??
Overall rating -⭐️⭐️
Address: #02-25/26 The Star, 1 Vista Exchange Green, Buona Vista 138617
Opening times: Daily
Tel: +65 6506 0161
8. Cookhouse's Mala Xiang Guo, JEM
Spiciness rating -??
Price rating -??
Overall rating -⭐️⭐️
Address: Cookhouse's Mala Xiang Guo – Address: 50 Jurong Gateway Road, #05-01 Jem Cookhouse, Singapore 608549
Opening Hours: Daily, 10:00am – 10:00pm
9. Da Hai Mala Hotpot, timbre+
Spiciness rating -???
Price rating -??
Overall rating -⭐️⭐️
Address: 73A Ayer Rajah Crescent, #01-25 Timbre+, Singapore 139957
Opening Hours: Daily, 11 am – 5 pm
10. Paya Lebar square food court
Spiciness rating -??
Price rating -???
Overall rating -⭐️⭐️
Address: 60 Paya Lebar Road, #B1-51 Paya Lebar Square, Singapore 409051
Opening Hours: 7AM – 10PM, Daily Telephone: 6702 1877
BONUS – A personal favourite: Ding Ding Hong Mala Xiang Guo, Maxwell Food Centre
This one of our go-to Ma La shops. If you like Sichuan Pepper and don't mind the numbness, this is a good choice for you. Price is fair for the portion served. We usually pay around $7 to $8 per meal with one meat, noodle and a couple of vegetable options.
Spiciness rating -???
Price rating -?
Overall rating -⭐️⭐️⭐️
Address: Ding Ding Hong Mala Xiang Guo: #01-41, 1 Kadayanallur Street, Singapore 069184 | Tel: +65 9168 2851
---
The mystery remains: why is Ma La so addictive? We didn't solve that riddle yet but despite the chilli burn, we keep coming back for more.  Share your wisdom with us. What is your favourite Ma La place?
If spicy food is not your thing, check our Japanese buffet restaurants suggestions.
Marta Gaspar
Marta is a content crafter at ShopBack. She reads in her free time and spends her money on travel and frozen yoghurt. She will also exchange travel advice for free coffee.
Recent posts
Related Posts
ShopBack Stores in Other Countries